This post is sponsored by thredUP.
One of the rules of being a grown-up woman is that you have to share your secrets with your friends. I mean, not all of them, but at least the ones that can help a sister out. Like, "For Pete's sake, Mary. It's called dry shampoo–get some." Okay, perhaps a gentler approach would be better. ("You're beautiful, I love you, but Mary, you have your hands full and I noticed you don't have time for showers. Here, I bought you something I thought you could use.") All my best life hacks–the money savers, time savers, sanity savers–came from friends who have passed on their secrets. There's that 2-minute eggroll-in-a-bowl recipe from Heidi, grocery shopping pick-up service tip from Lindsey, introduction to herb scissors from Nici, and the link to the best smoothie protein powder from my sister. Before I tell you one of my favorite money-saving life hacks, let me tell you that some tips can seem overwhelming at first. Like when my friend texted me a recipe for corn with Cotija cheese, and I got bent out of shape thinking it must be too complex a recipe because I can't pronounce the cheese. Turns out, it was easy–and the corn recipe has been added to our favorite meal repertoire.
Which brings me to thredUP, the largest online consignment and thrift store–and we're talking good stuff, our favorite brands and designers–for up to 90% off retail price. Corn with Cotija's got nothin' on it. I've blogged about thredUP before and am excited to have them back for a fall closet makeover. Have you shopped there? If you haven't and don't know where to start (stick around–there's a 40% off code at the end for thredUP newbies!) or have but haven't yet figured out how to find the good stuff, I'm going to dig in a little today on how I shop and find the best treasures for our family. Because thredUP has so many choices, it can feel overwhelming at first, but when you get the hang of how to use their filters, you'll be hooked and so happy with how much money you save. I find great stuff for both me and the kids every time I shop thredUP, and several times I've found things I had actually been eyeing a year earlier in Anthropologie or in the Hanna Andersson catalogue.
Look at all these beauties I got from thredUP for fall! Anthropologie brands like Elevenses and Maeve, J Crew, Zara, Banana Republic, Vince jeans and more. If I paid full retail, this clothes line would have maybe two thion it, for what I paid for all of them. And I can mix and match all of them to create 20 different outfits from 7 items.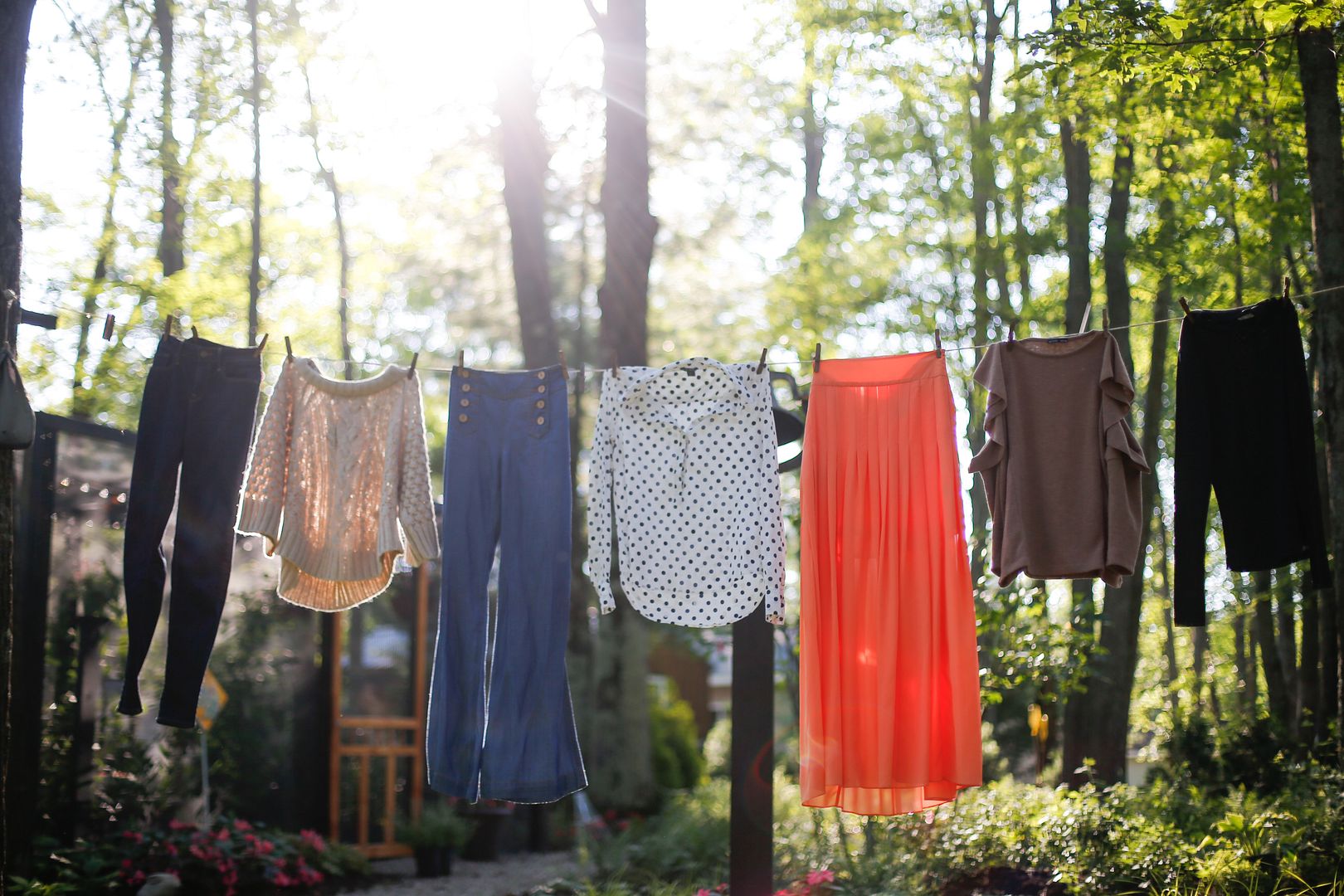 There's a couple different ways to use thredUP. I usually start with a few minutes of "fun shopping" like I would if I walked in to one of my favorite stores. thredUP's home page is super engaging with categories that usually lead me to great things (boho chic trends, pops of color dresses, etc.) just by browsing. Plus, if you shop there regularly, the site gets to know you better, saving your sizes and styles so that top picks for you pop up on the home screen–and they're always spot on. Which is why those gorgeous vintage-looking Coach ankle boots popped up yesterday and I was all, "Damn you, thredUP!" (size 9, someone take them so they quit tempting me).
After a few minutes of fun clicking around, I use their magic filters to find more specific things I want–styles (wide leg jeans, maxi skirt, kids' overalls, booties), brands (J.Crew, Anthropologie, Free People, Milly, Hanna Andersson, Mini Boden, etc.), sizes, colors and even specific things like 3/4 length sleeves, leg width, STRIPES!, etc. Once I set the magic filters, I get a nice curated selection of beautiful things to choose from. And the best part? Secondhand prices! Every item thredUP sells is triple-inspected by hand to ensure the highest quality and styles, and very often you'll find brand new, never-worn items, tags still attached.
Once you make your selections and order, the real magic happens. Your items are neatly folded, packaged in thredUP's signature polka-dot packaging, and shipped (free shipping on qualified orders) to where you wait, patiently, for the mail worker to ring your doorbell and make your day a little happier (are package days not the best?!).
Let's talk about what I found this fall because that's where I get all excited.
First, these Anthro Elevenses wide-leg jeans. The buttons! I love them so much. Retail: $119. thredUP price? $27.99, baby. That's 75% savings–$90 in my pocket. The black high-neck shirt is also thredUP–H&M–and thredUP price: $4.99.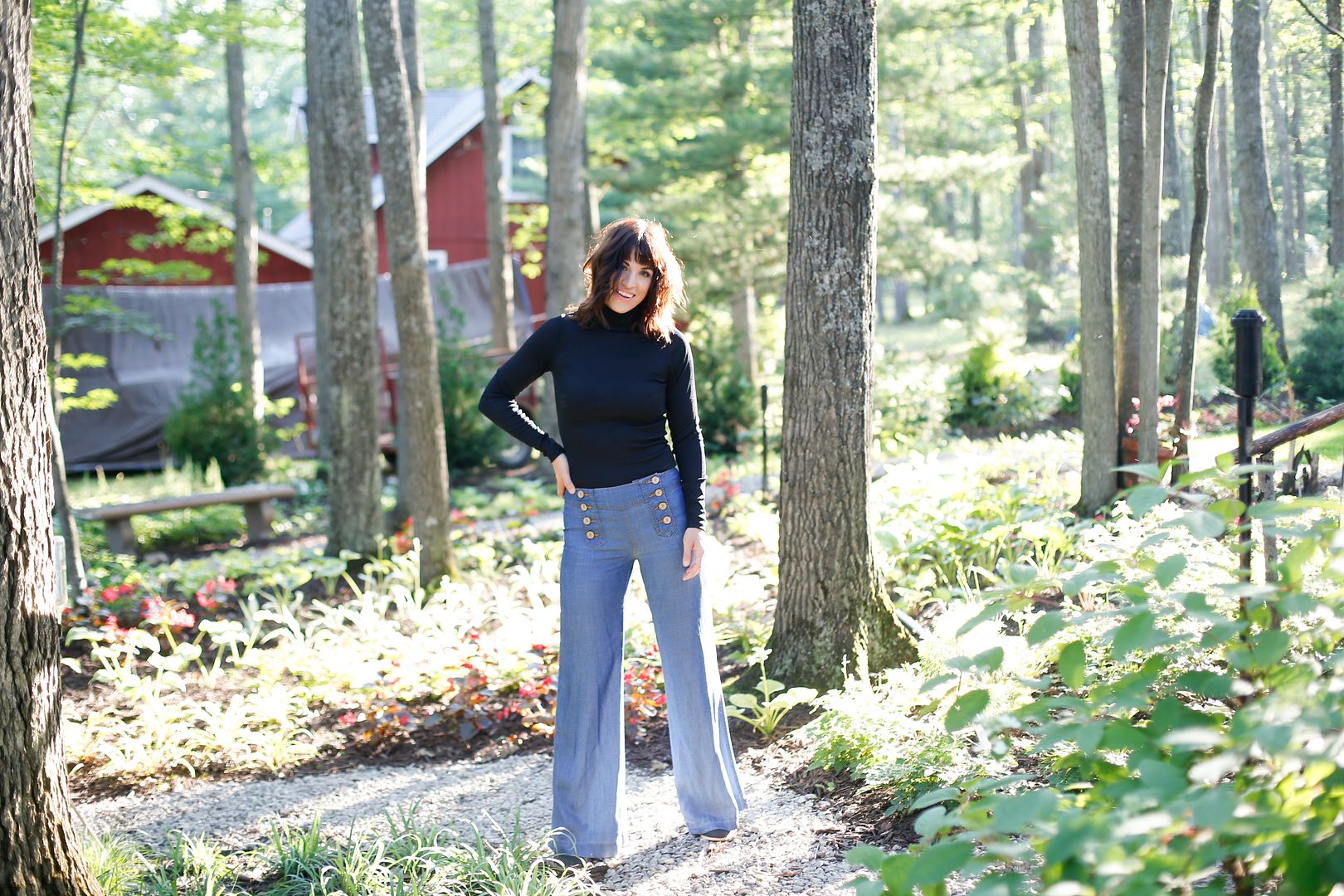 Same shirt here with this gorgeous Maeve skirt (another Anthropologie brand) which is the perfect color to bridge the summer/fall gap. Retail price, $89. thredUP price: $18.99
But wait, the Kelsi Dagger Brooklyn boots. These babies couldn't have been worn but once (if that?). Saved $82 buying them thredUP. That's definitely worth reporting to the husband because husbands love hearing about how much you didn't spend.
I hate spending retail on sweaters and cold-weather items because we don't get a whole lot of wear in Florida, but we do get our cold fronts and with a little bit of cooler-temp travel, I need a few pieces. Plus, you know I love my seasons and come late October, I will play the part to satisfy my heart even if I'm sweltering. This Banana Republic sweater will do the trick–retail, $78; thredUP, $22.99. And the Vince skinny jeans! They're perfect and retail for $195, but I got them on thredUP for $38.99.
Kids' shopping on thredUP is equally fun (stretch your Back to School budget!), and I never fail to find our favorite brands. I fell in love with this Hanna Andersson dress for Nella (saved $22) and these adorable H&M overalls for $11.99.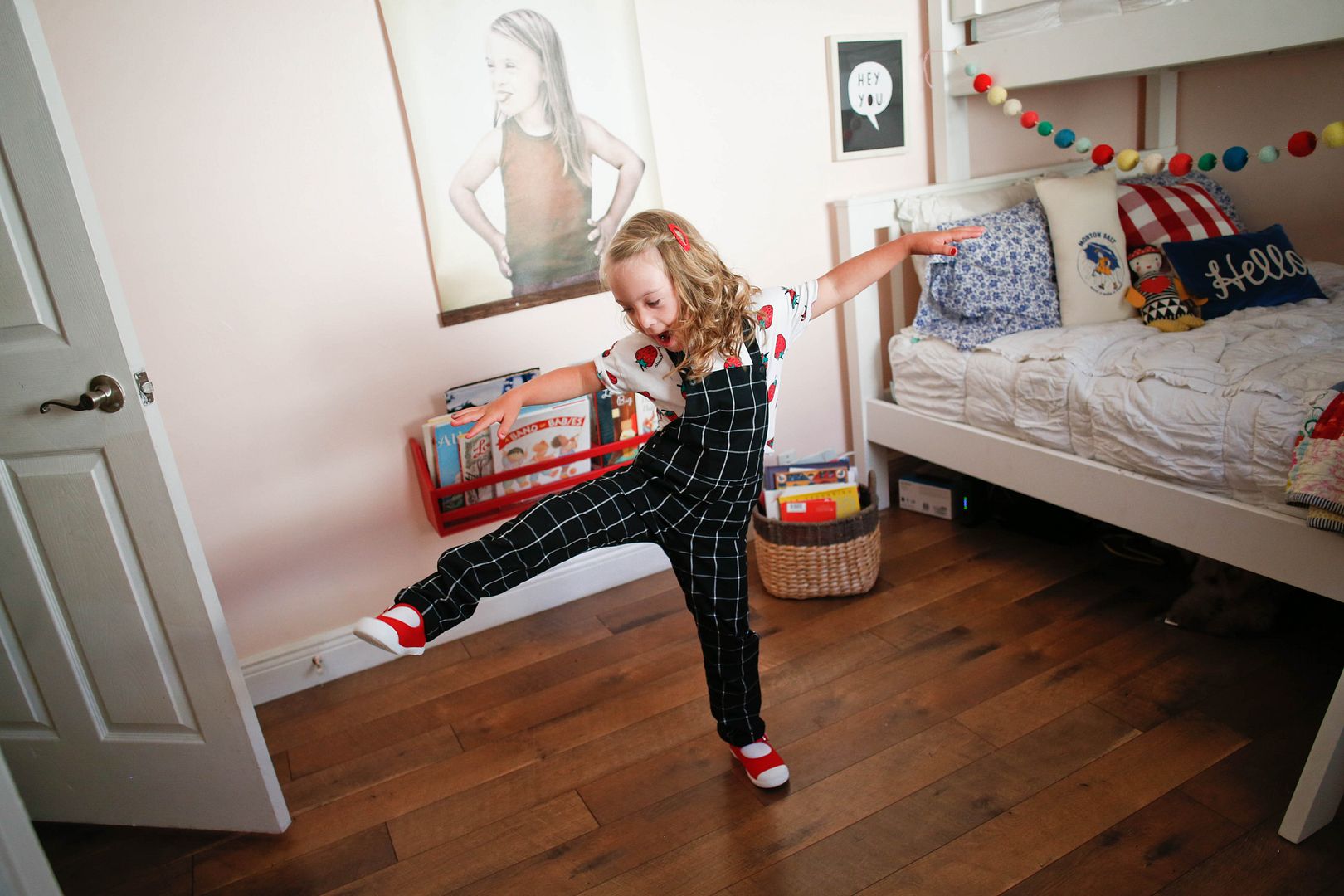 So here's what I have for you: If you've never shopped thredUP, they're offering our readers a special discount! The first 100 people to use my code KELLE40 will get an extra 40% off their first order! (Applies to new US customers only. Redeemable online only. Discount up to $50).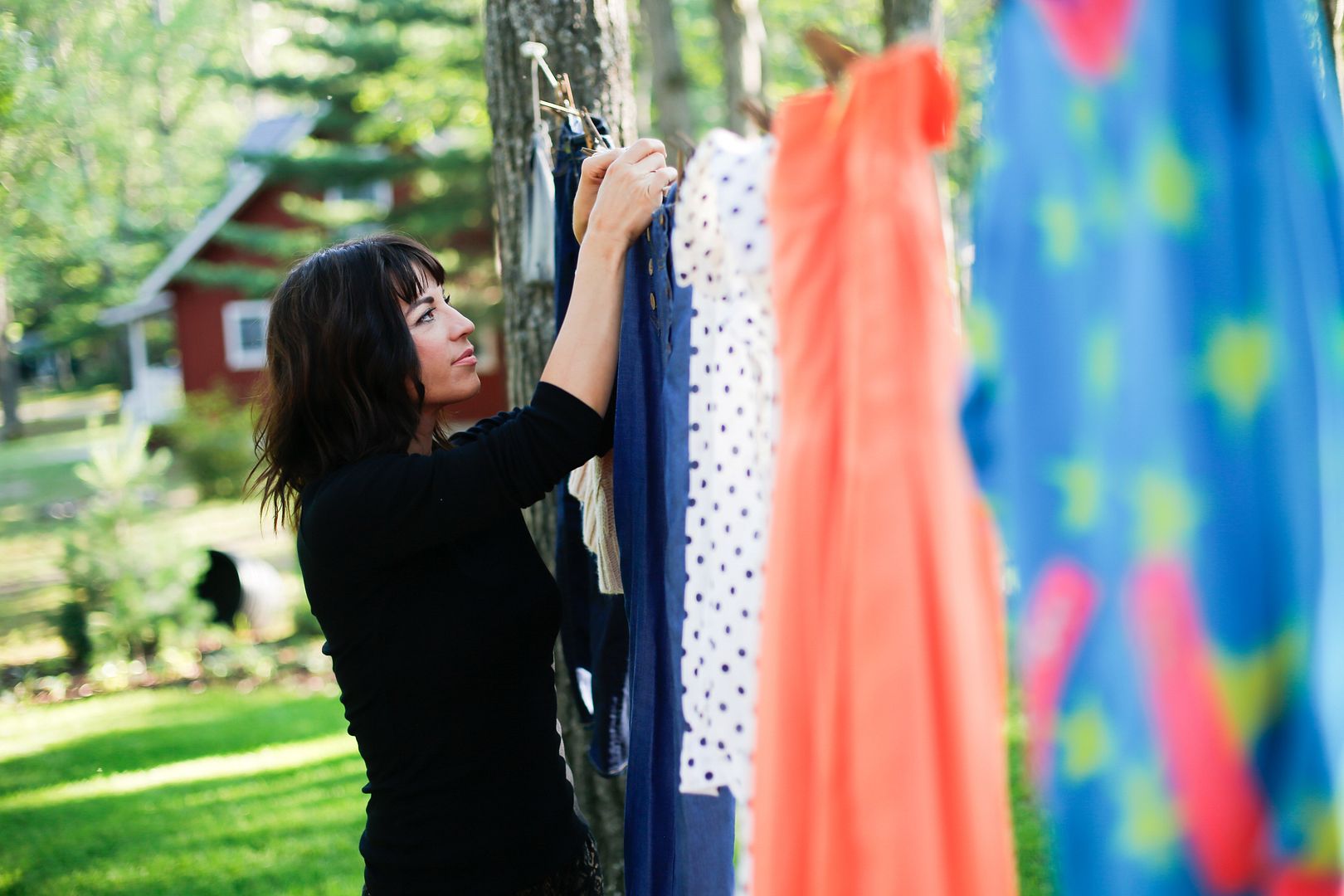 There, I've shared a life hack. I won't tell you now about the fitted sheet folding trick I finally mastered because I can't let all the good tips out at once.