Happy Friday! We start school next week, and as much as I'll miss these slow mornings, I'm ready to get back into a more productive schedule. This is the first year that I'll have every weekday morning to myself, and I'm excited about what I'll get done during that time. I know. You're laughing, right? Those of you who also once thought that everyday morning preschool would suddenly mean you'll have time to work out, paint a room, organize your pantry, clean up your e-mail box, write two chapters and throw together a crock-pot meal? You're on the floor, right? I'm going to drop them off at school, run to the grocery store, look at the clock and realize it's pick-up time already, aren't I? Wait, don't tell me.
Whatever the case, here are our last bits of adventures away this summer. We weren't planning on visiting Chicago, but when it was getting closer to leave, we were all craving a good dose of big city excitement after a month long hibernation in a small town.
Plus, we have cousins there, and Lainey was hoping to get some time with her bud. A little out of our way, but so worth it. Chicago at Christmastime is still my favorite, but there isn't a bad time for this city, and summer delivered some of the best adventures Chicago has to offer kids–Maggie Daley park, Navy Pier, a symphony in Grant Park and the splash pad at Crown Fountain.
But first, the most important attraction…revolving doors.
My lord, the little ones were obsessed. I mean, it became a problem. Like every time we passed a revolving door (which is pretty much every door in Chicago), they'd dart to spin through them before I could stop them. Around and around and around. Which is fine if around lands them back outside where I was with the stroller. But then there was that one time they went in the 4-story Forever 21 revolving doors and then took off on the inside. And I couldn't chase them because my stroller wouldn't go in the door (the attempt was funny). And the handicap access door wasn't working. And I set Lainey loose to chase them, but she came back to the entrance (after 6 people helped me get in the door) and reported she couldn't find them. And I started to hyperventilate until I heard giggling and saw feet sticking out of a rack of festival dresses.
Moral of the story: NO MORE REVOLVING DOORS.
But Magnolia cupcakes and Garrett popcorn…a big resounding YES.
Nella loved how the city provided the perfect stage for her wand act.
And we could not get over the fabulousness of Maggie Daley Park. It was like an entire village of play buried in the heart of the city.
Every time we thought we had seen it all, we turned a corner and there was another attraction. Oh, a lighthouse slide. Oh, a magical forest of mirrors. A climbing rock wall, a skate rink, a giant city of bridges and slides.
We also got lucky and happened to be in the park just as an orchestra performance was beginning.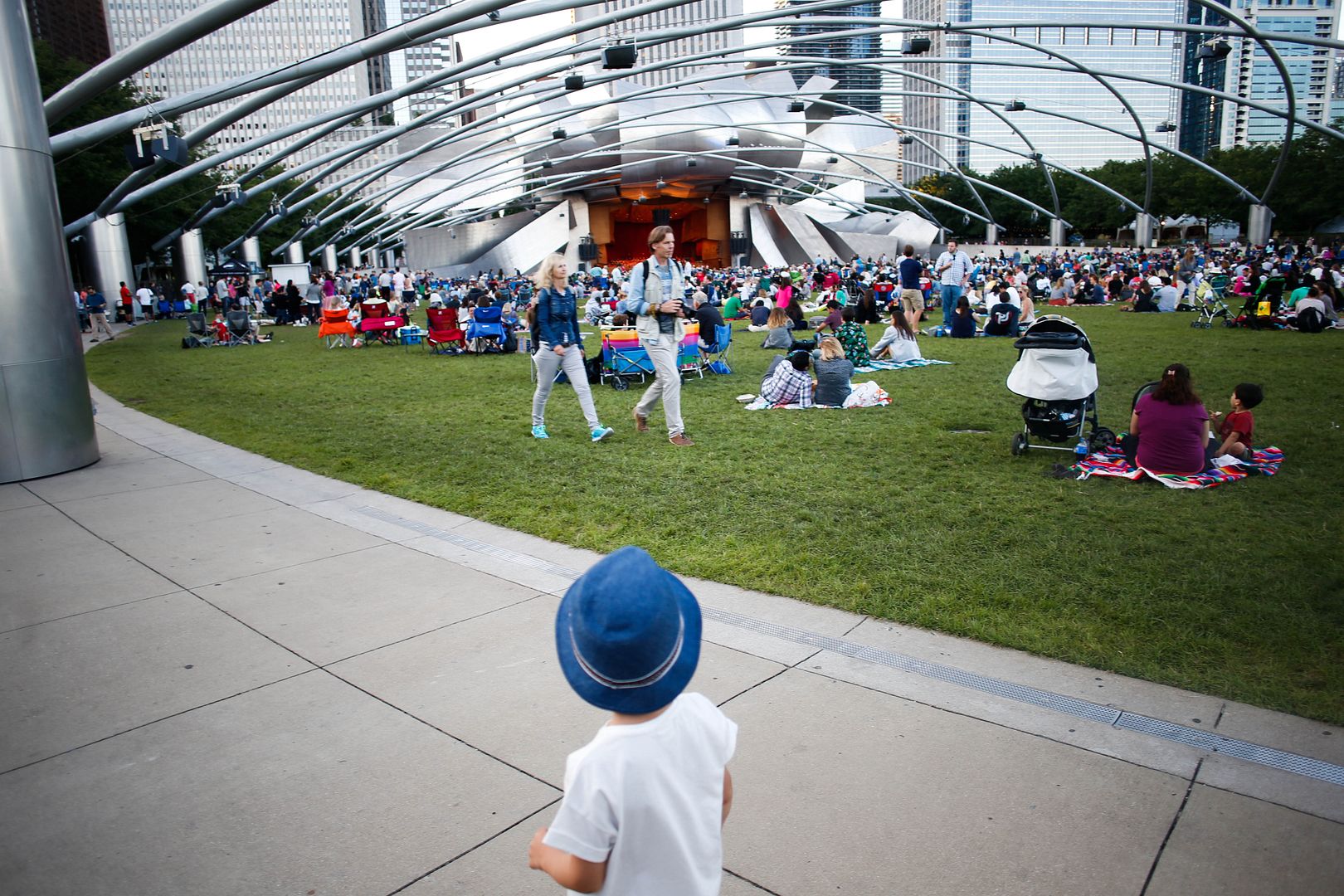 And while we had planned to visit the Museum of Science and Industry (one of my favorites as a kid), it was just too beautiful a weekend to be spending time inside. So we did all the outdoor things…
…and were lucky to meet up with cousins, friends and Brett's sister, not to mention discover that half of the people we know just happened to be in the city at the same time. We actually bumped in to our babysitter at Pizano's, I got a text from my niece that she was at a hotel a few blocks away, and received messages on Instagram from three different friends that they were in the city too. Which just proves what I already knew: Chicago is awesome.
That lady behind Nella thinks so too.
Ice cream street vendors came in handy for the hot day. So did Aunt Trish who had cash when Mom didn't.
We snagged my cousin's little girl for our last day there and spent most of it at Navy Pier which was the cherry on our summer sundae after already experiencing lake life and cabin sleepovers.
Nella made some huge milestones this summer. She's been terrified of ferris wheels and wanted nothing to do with them but decided to give it a shot this time. LOVED it.
She got off and went right for another ride she had yelled "NO!" to when we first arrived. Loved that one too.
Even put her arms up.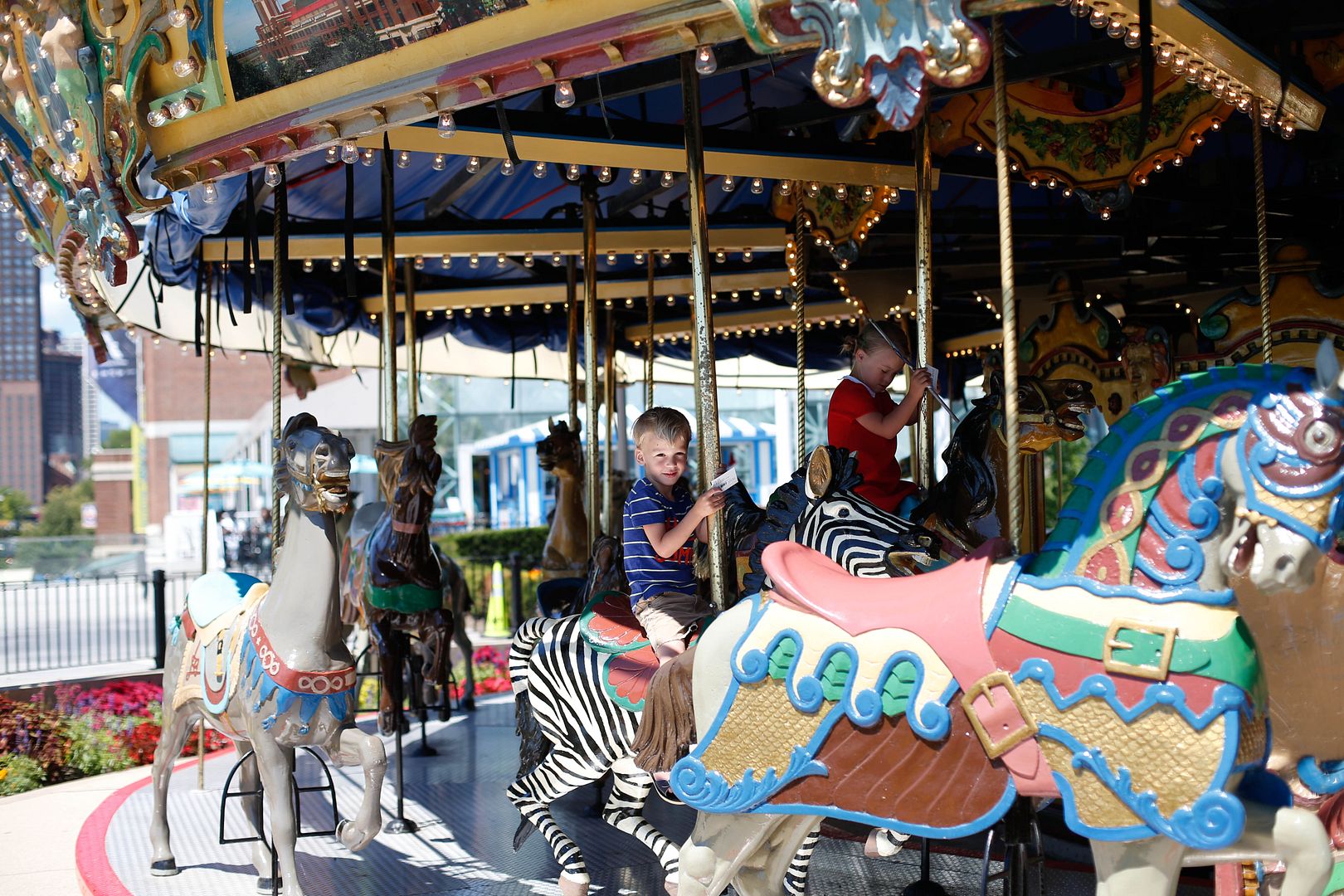 And just when we were ready to fold up all this summer and get ready for school next week, Nella surprised us again yesterday. She learned how to swim, thanks to her sister and friend who stayed in the pool with her over an hour, coaxing her through her fears. She swam like a confident little fish.
Happy Weekend, friends!  Let the games begin.