We rolled in from Michigan late last week, and by rolled, I mean after seven days on the road and four stops, I pulled in to the driveway with three obnoxious honks, pushed the magic minivan door button, and the entire contents of the Earth spilled out.
It feels good to be home. The intersection of post-summer-adventuring and pre-back-to-school always ignites a mad burst of nesting for me, aroused by being away from home for so long and scraping up all these little "living" inspirations we've collected on our travels–the way my sister's cozy bathroom makes me feel at home, the way my dad's entertaining makes me want to beef up my cheese plate game, the way the little home shops on Mackinac Island give me new ideas for my kids' rooms or enjoying a big family dinner around my friend Tali's table in Nashville makes me want to pour more nurturing and togetherness into our dinner routine.
While we've said our goodbyes to our beloved Michigan and transitioned back into our home routine, there's one summer treasure I've committed to keeping around though…the Summer Bucket List.
It started as an enthusiastic attempt to celebrate the last day of school. While speakers blared Alice Cooper screaming "School's Out for Summer!" and kids ran to get their bathing suits, I smoothed out a white paper roll, grabbed a fistful of markers and started to create the list I had no idea would inspire our summer fun as much as it did. Any simple summer pleasure I could think of–"twirl in a sundress," "walk through a corn field," "buy a tourist t-shirt," "paint nails a summery pink"–I added to the list, sketching fun corresponding pictures next to the check-off box. A couple pieces of tape later, and it was hanging in the main area of our home where we'd see it every day, reminded on all the stir-crazy summer days when we're running out of ideas that there's a whole world of little pleasures just waiting to make us happy.
When we left for Michigan, we took the list with us. It had gained significance as we realized those first few weeks of summer the role it was playing in guiding our adventures, so we referred to it as "The Holy Grail" and protected it with utmost care during the transfer to Michigan. "Put this in the ark of the covenant," I instructed my cousin as I wrapped the roll in protective paper and handed it over for safe keeping on the road trip up. Once there, we found the perfect spot to display it–on a wall in my dad's garden bunk house–and returned frequently to check off adventures we had "accomplished" and scan the list for more inspiration.
Because we took the time to write it on the list, we were a little more inspired to do spontaneous things like…
…pull over in the middle of nowhere to walk inside a corn field. Also known as "expose the kids to their first misdemeanor, trespassing."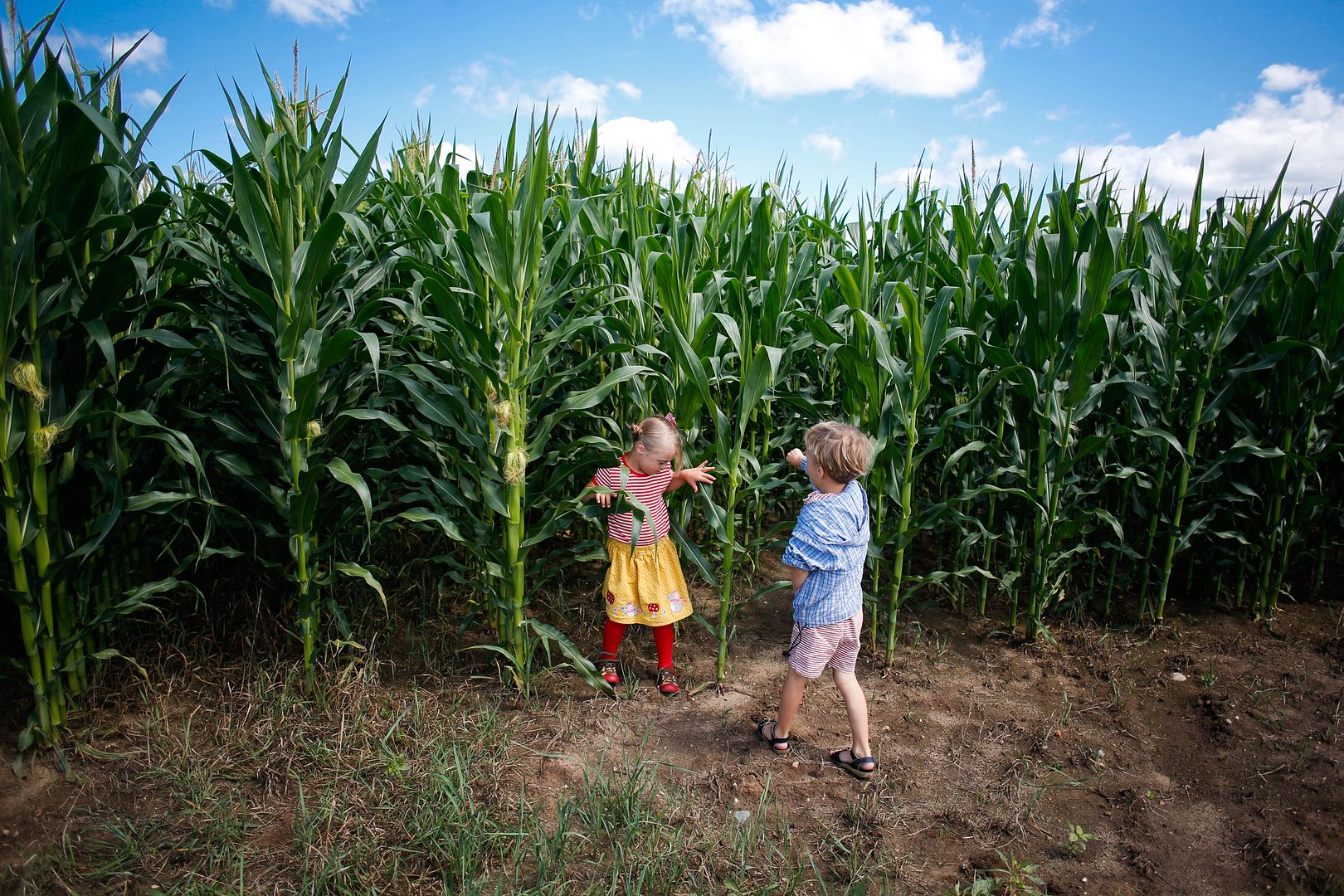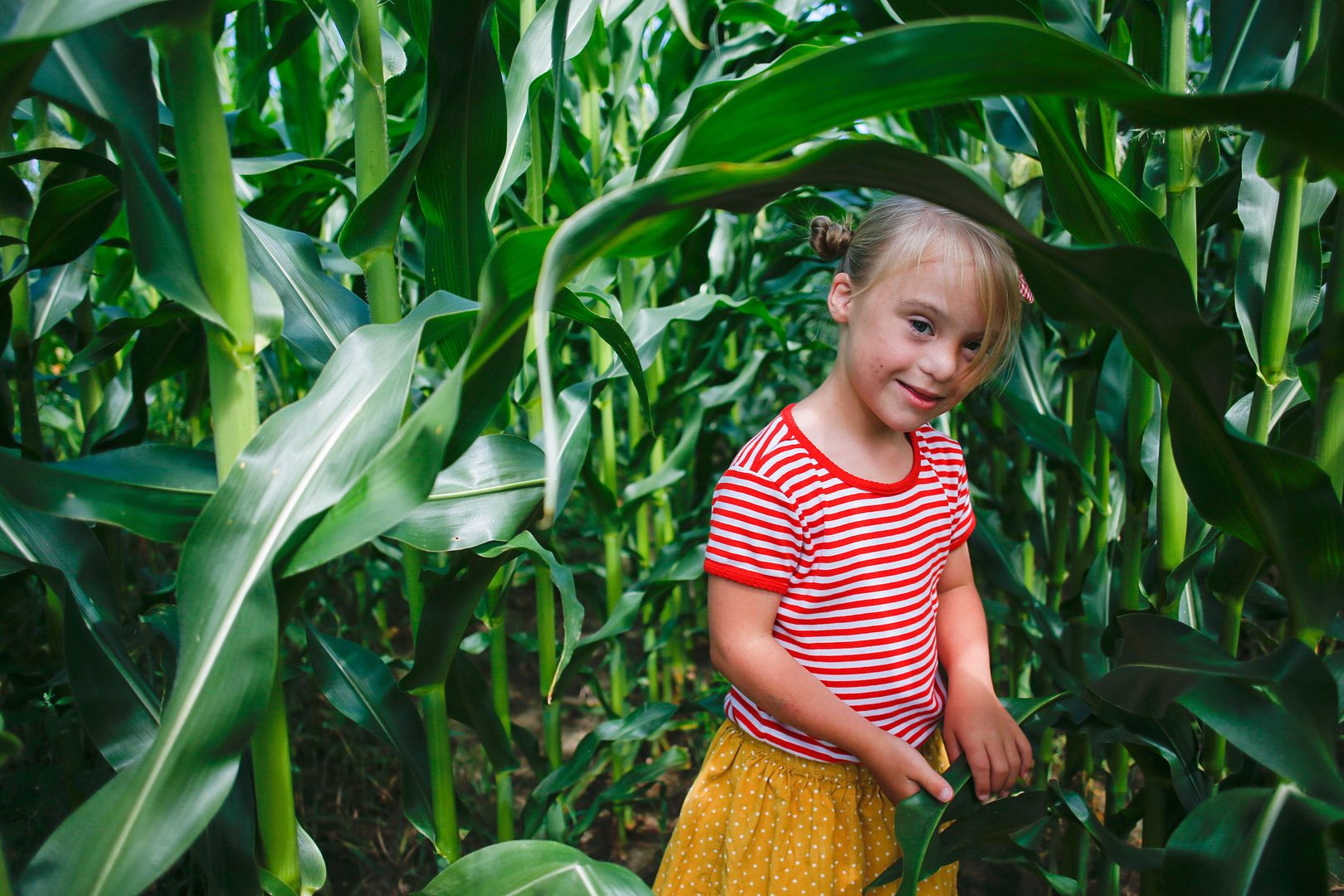 …or hit up a small town ice cream parlor for evening double-dip cones.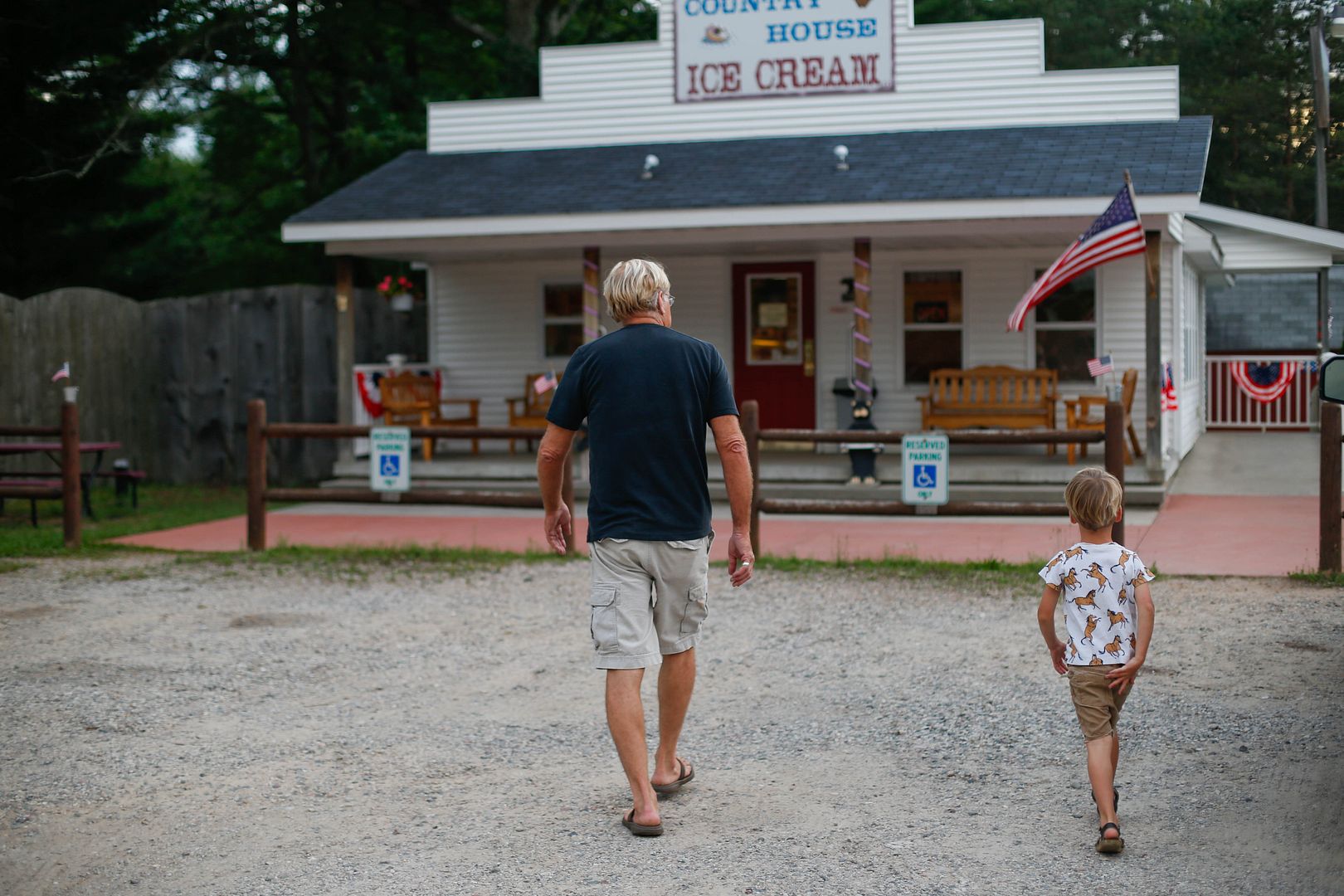 While the list wasn't at all about creating pressure to check things off (Rule #1 of list-making–keep things simple!) and I made it a point to leave some things unchecked in the spirit of "the beauty of incomplete imperfection," it did inspire us to enjoy some meaningful moments we might not have enjoyed otherwise. I had "lake swim at dusk" on the list and hadn't checked it off near the end of our trip. I was going to let it go, but on one of the very last evenings in Michigan after the kids had fallen asleep (past dusk but I counted it), I thought "Do it, check it off"–grabbed a towel and flashlight and hollered to my dad, "I'm going for a swim."
"At this time of night?" he asked.
"The most magical time to swim–it's on the list, I'm checking it off."
I'm so glad I did it because out there in the dark lake, floating alone on my back in the still water, I saw the stars like I've never seen them. I heard my heart as loud as it's ever beat this year, and I felt the pulse of summer beating in perfect rhythm with my own. I memorized that feeling along with the pattern in the sky that night, the feeling of weightlessness, the intersection of complete peace in nature with the thrill of uncertainty–of not being able to see what's around me. I swam underwater for as long as I could to make the satisfaction of coming up for deep breaths of summer night air even better, and when I had my fill, I climbed back on the dock, dried off and walked back to the cabin under the moon, stopping before climbing into bed only to pick up a marker and check that box off the summer bucket list.
The entire family had fun with the list:
"Mom, look! I caught this with my hand! This counts, right? We can cross it off the list!"
…and there were many a slow day that prompted Lainey running to see if there was something on the list we could attempt–heading to the movie theater on a rainy afternoon (loved it, check.), completing a large puzzle (so much fun! check.), writing vacation post cards to friends and sending them off (keep snail mail alive! check.).
But really, the list was for me–another living reminder that, in every place and in every season, there are invitations to find, create and love all that life has to offer.
Find the hidden bookstores nestled in Main Streets across the country.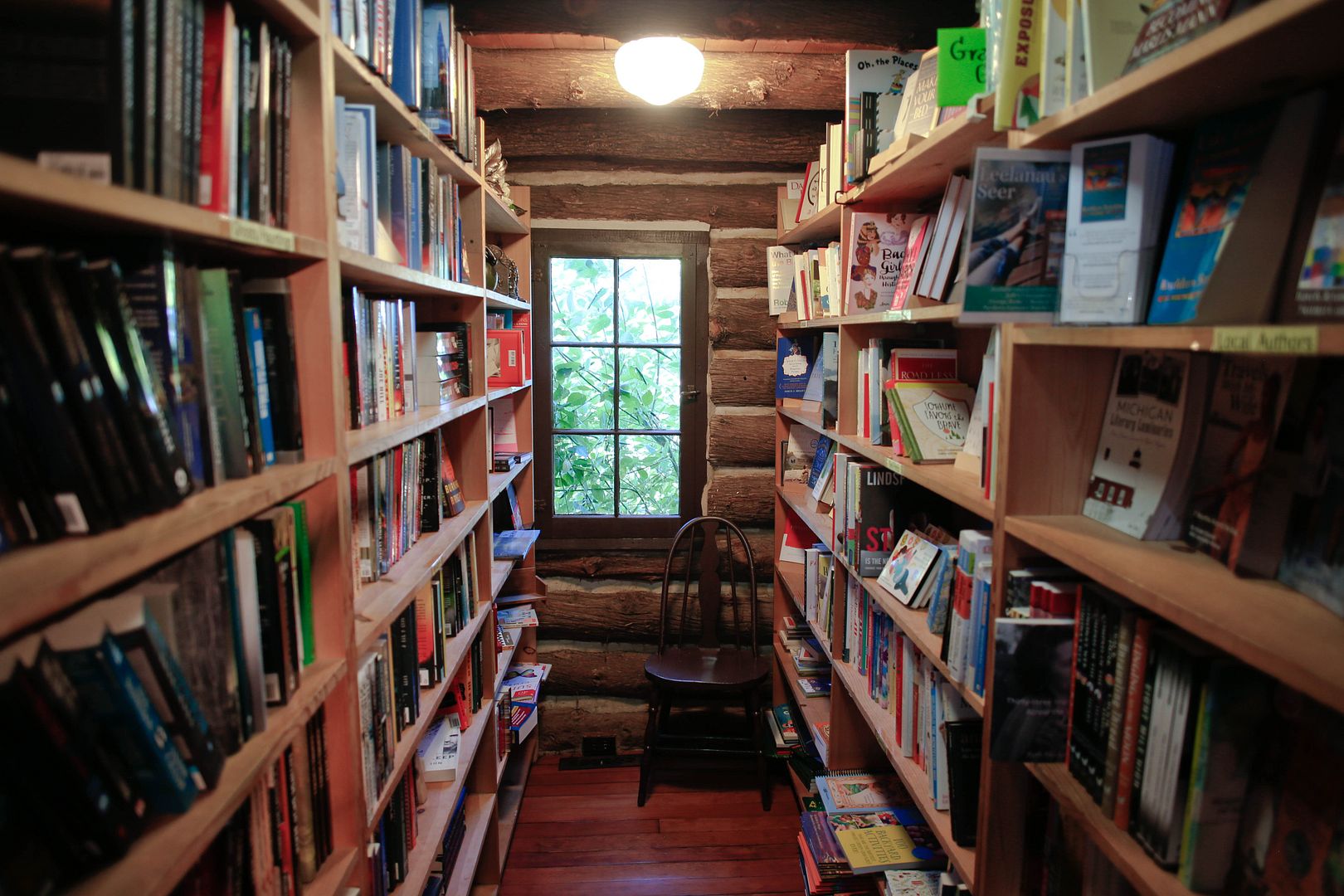 Stop at wildflower fields for pictures you'll treasure later.
Buy pretty handkerchiefs. Hang them to dry.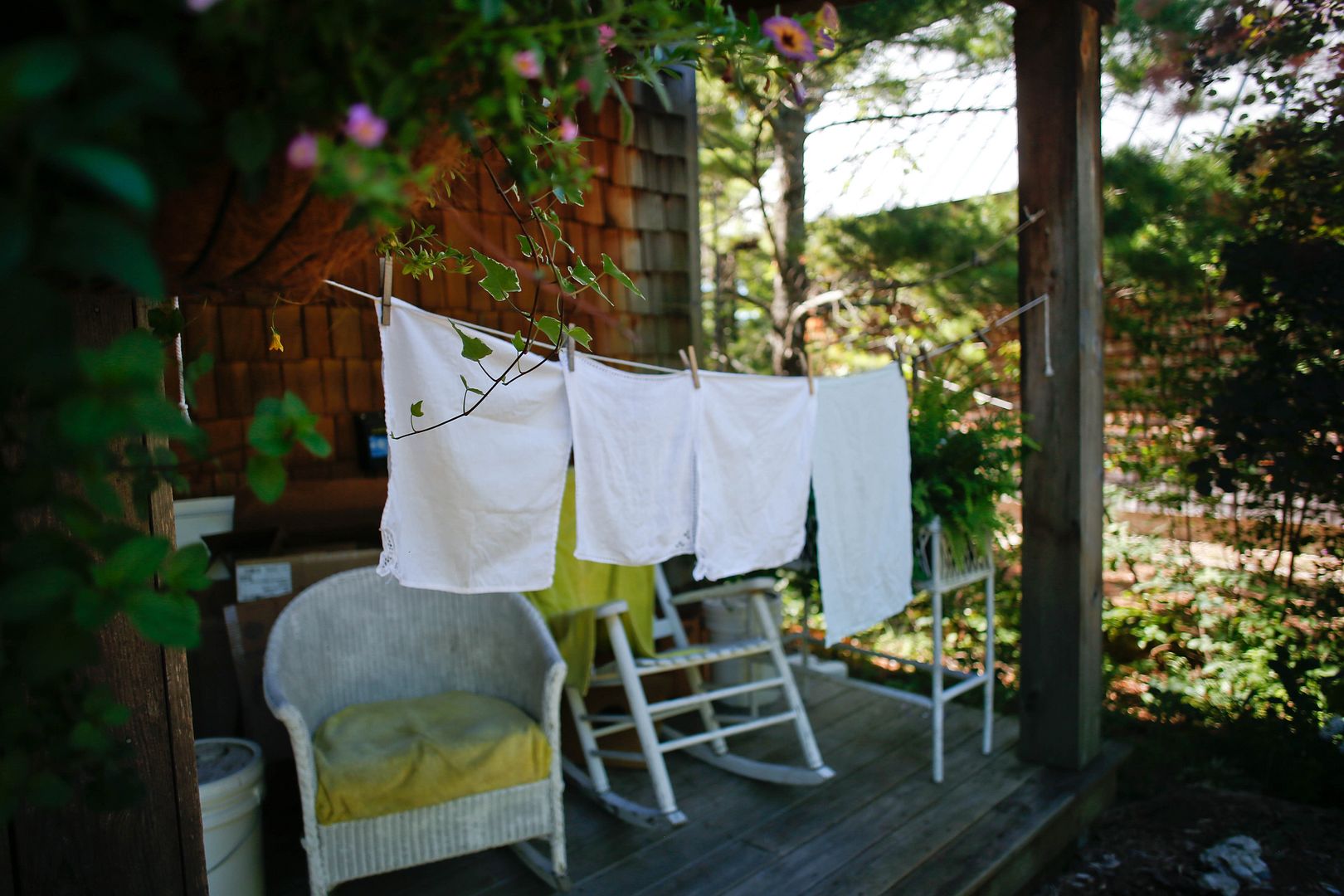 Walk to the dock in your pajamas; sip coffee until it's cold.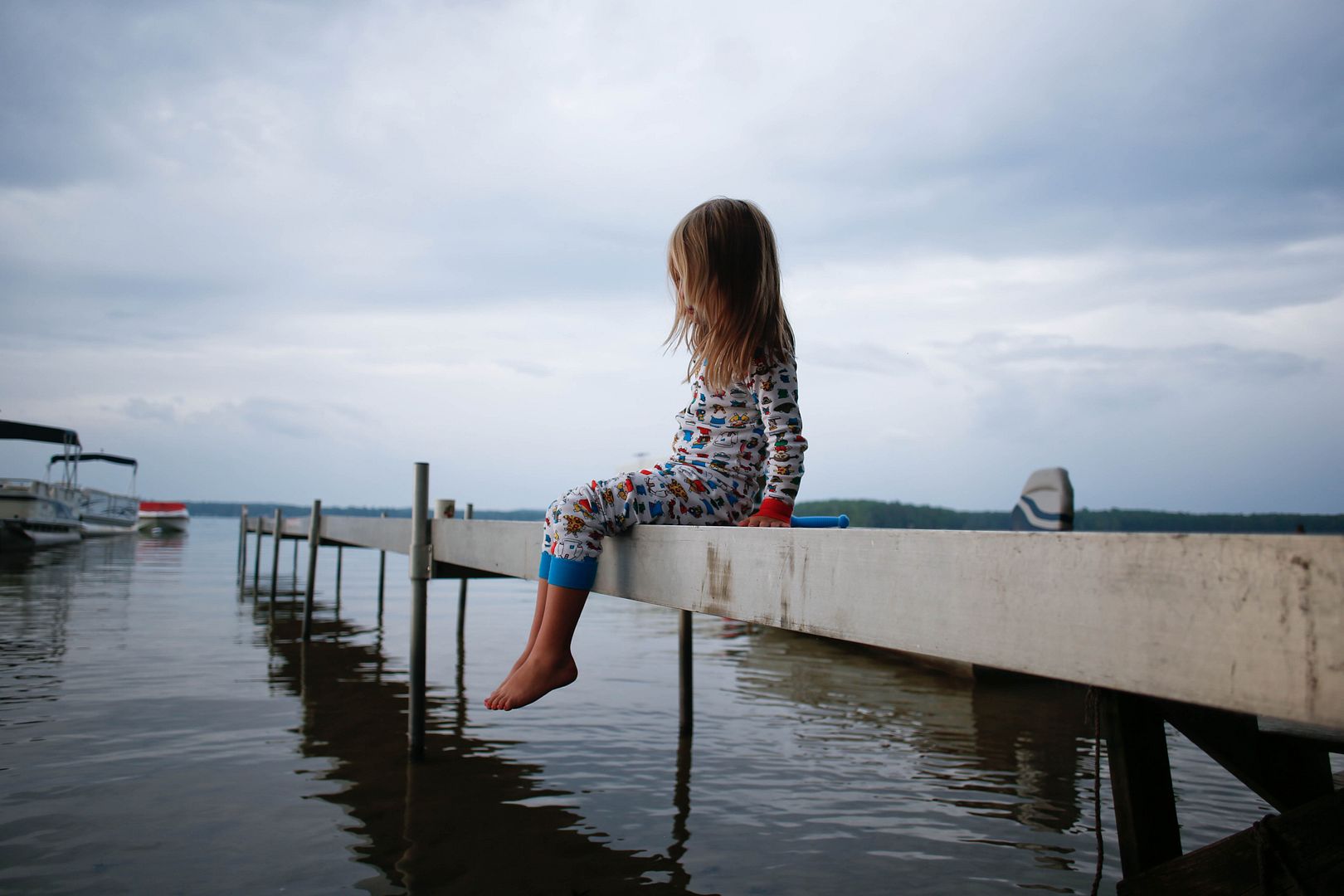 This summer brought a few moments of sad nostalgia, watching my kids growing and changing against a summer landscape I've always associated with their littleness…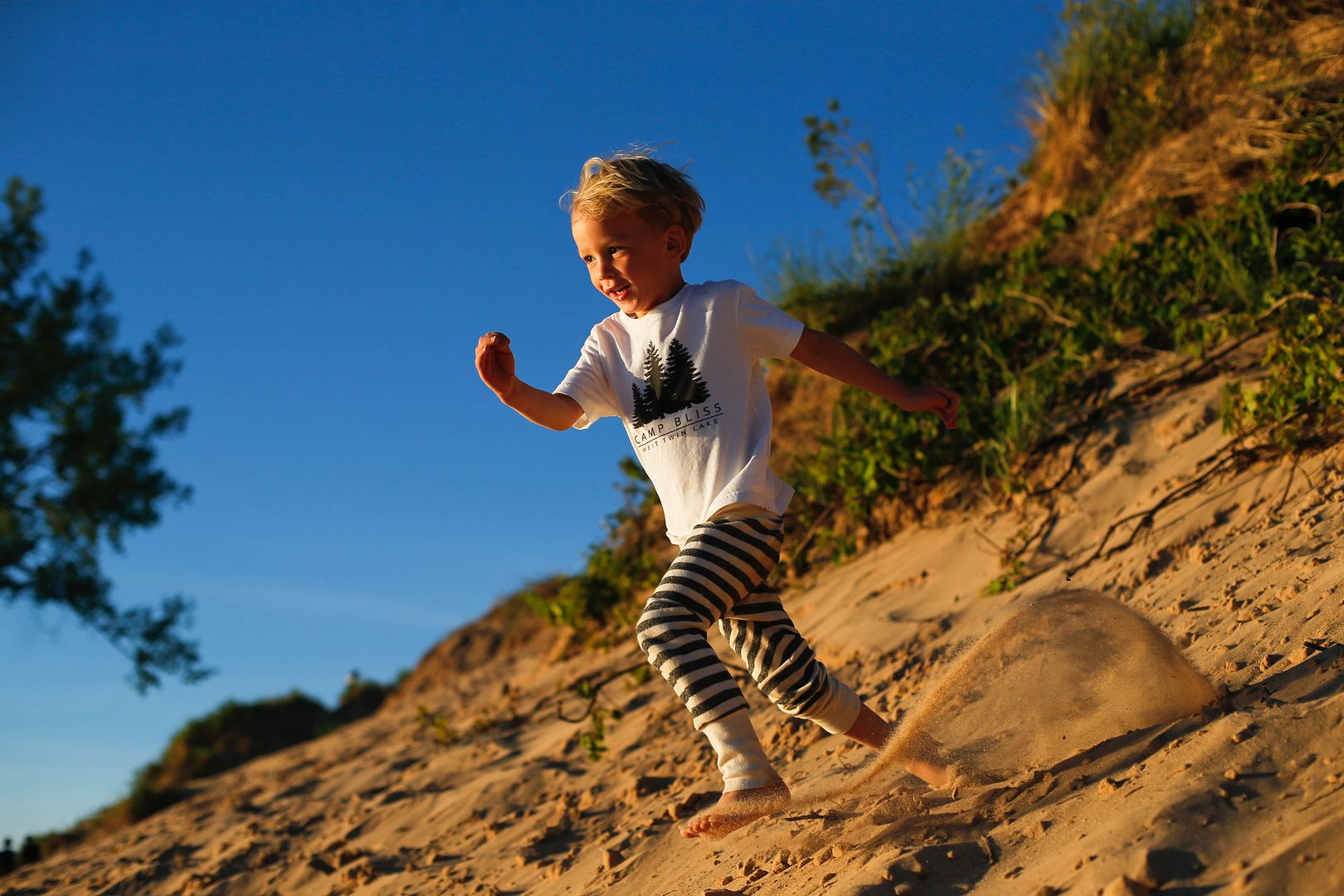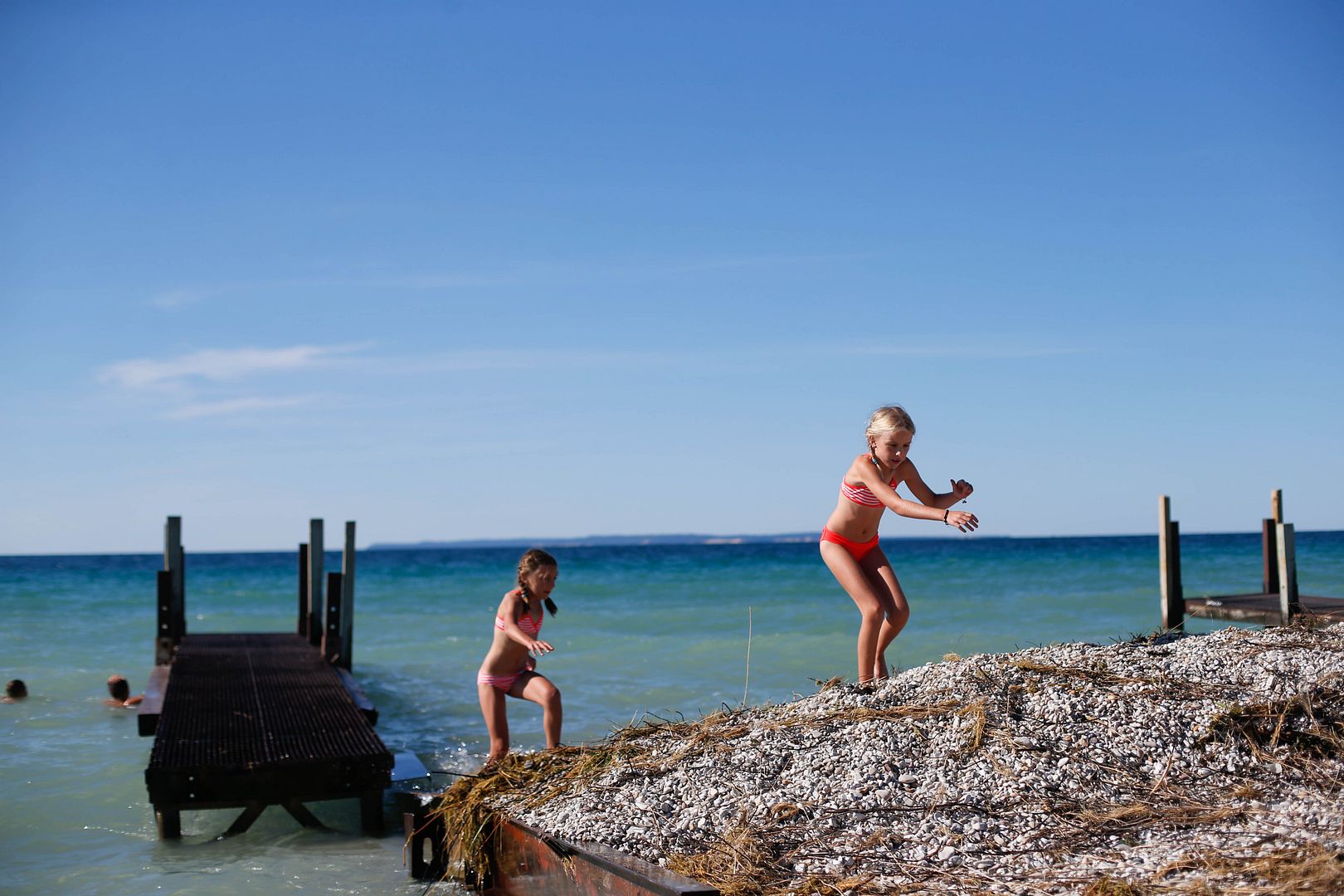 …the dunes they were once too little to climb, so I carried them in a backpack…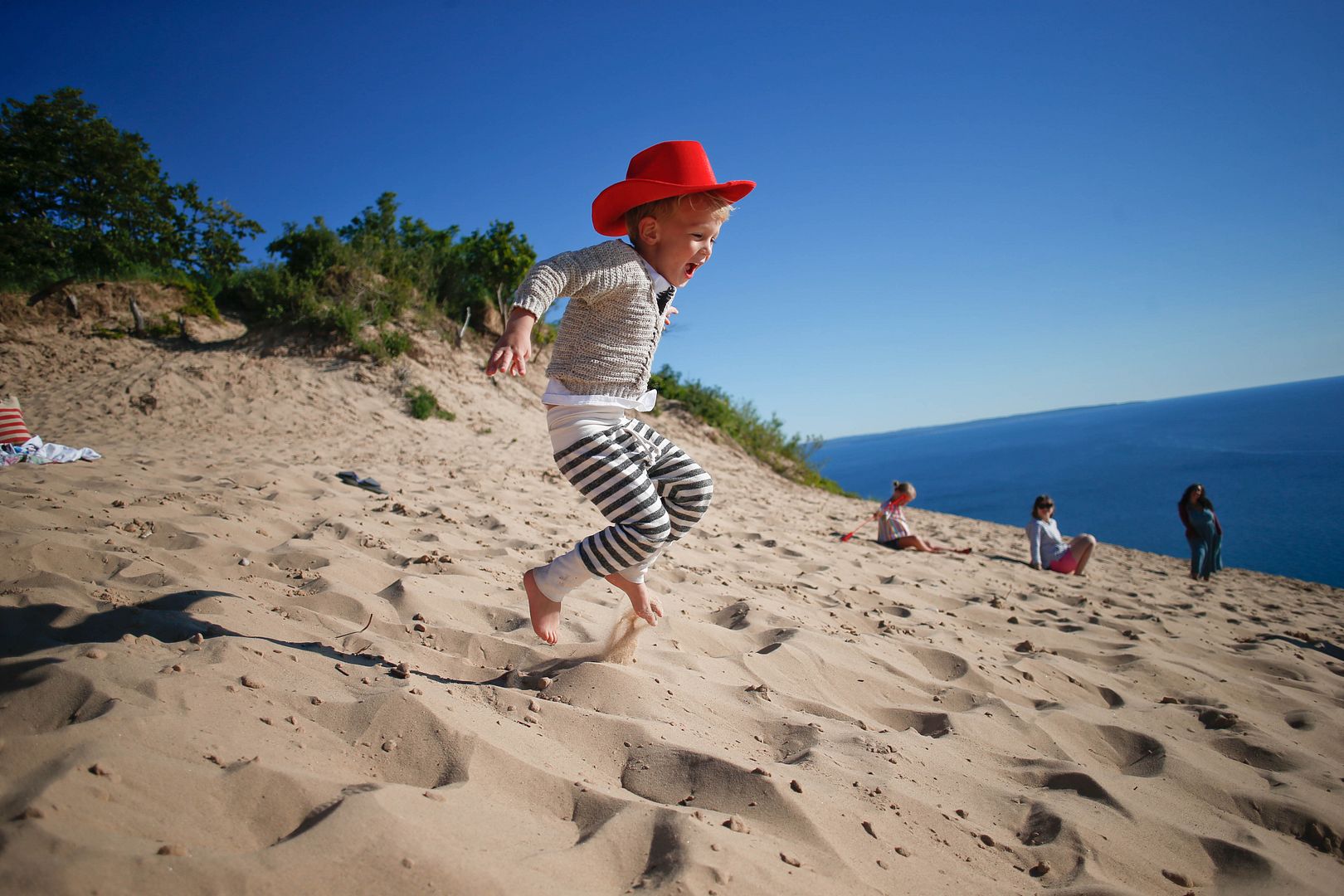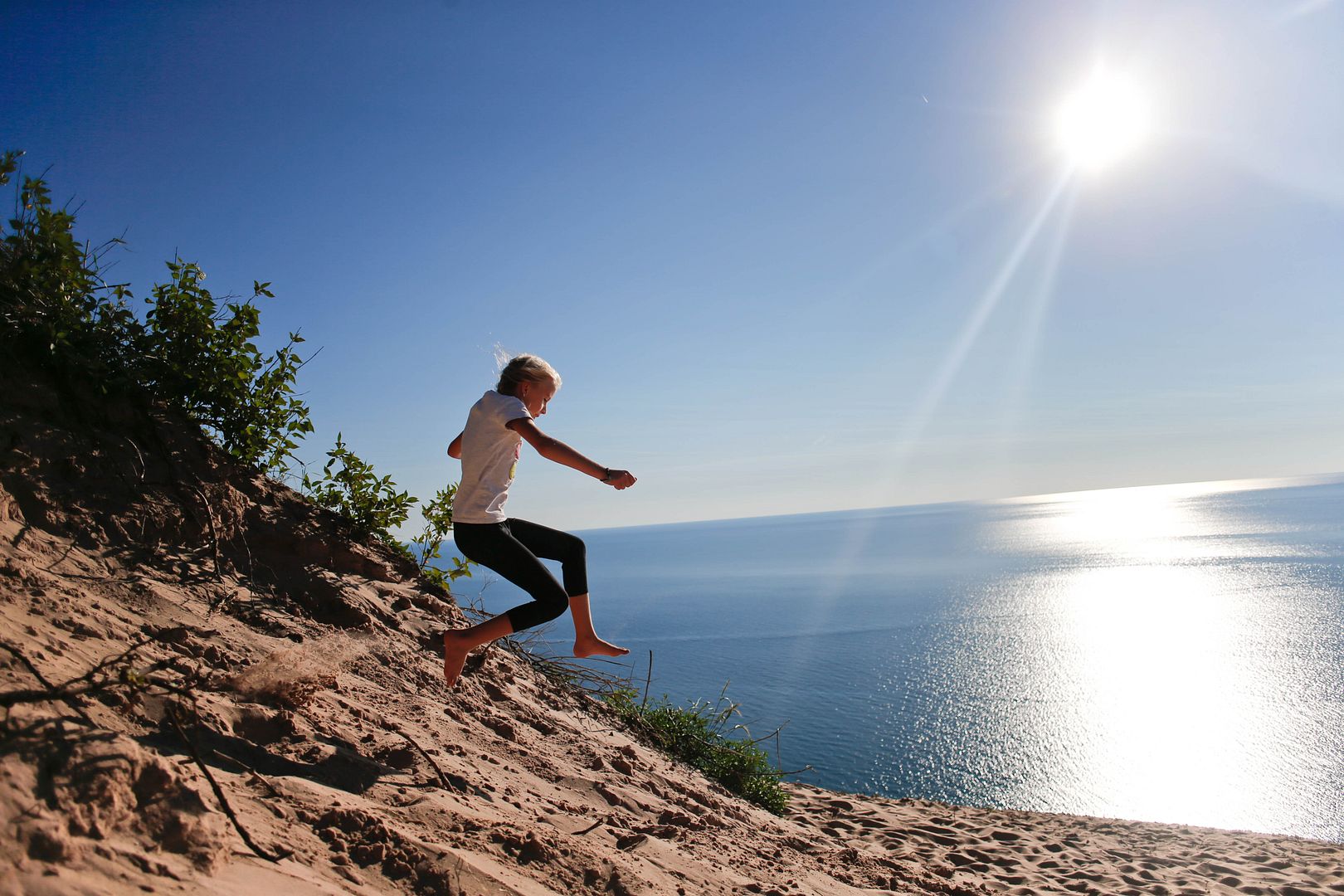 …the tree stump they used to have to hold my hand to climb.
On one of the last days of our trip, it hit me that next year, our return to our summer Narnia and the petri dish where the most wonderful moments in the young golden period of motherhood for me have lived so favorably would be in a new season–with an official middle school student and my baby prepped for kindergarten. The spirit of this bucket list reminds me that it isn't their littleness that makes me happy. It isn't Michigan or summer or having a kid who still totes stuffed animals on our adventures (although, that's perfectly lovely and heck yes, I get joy out of it)…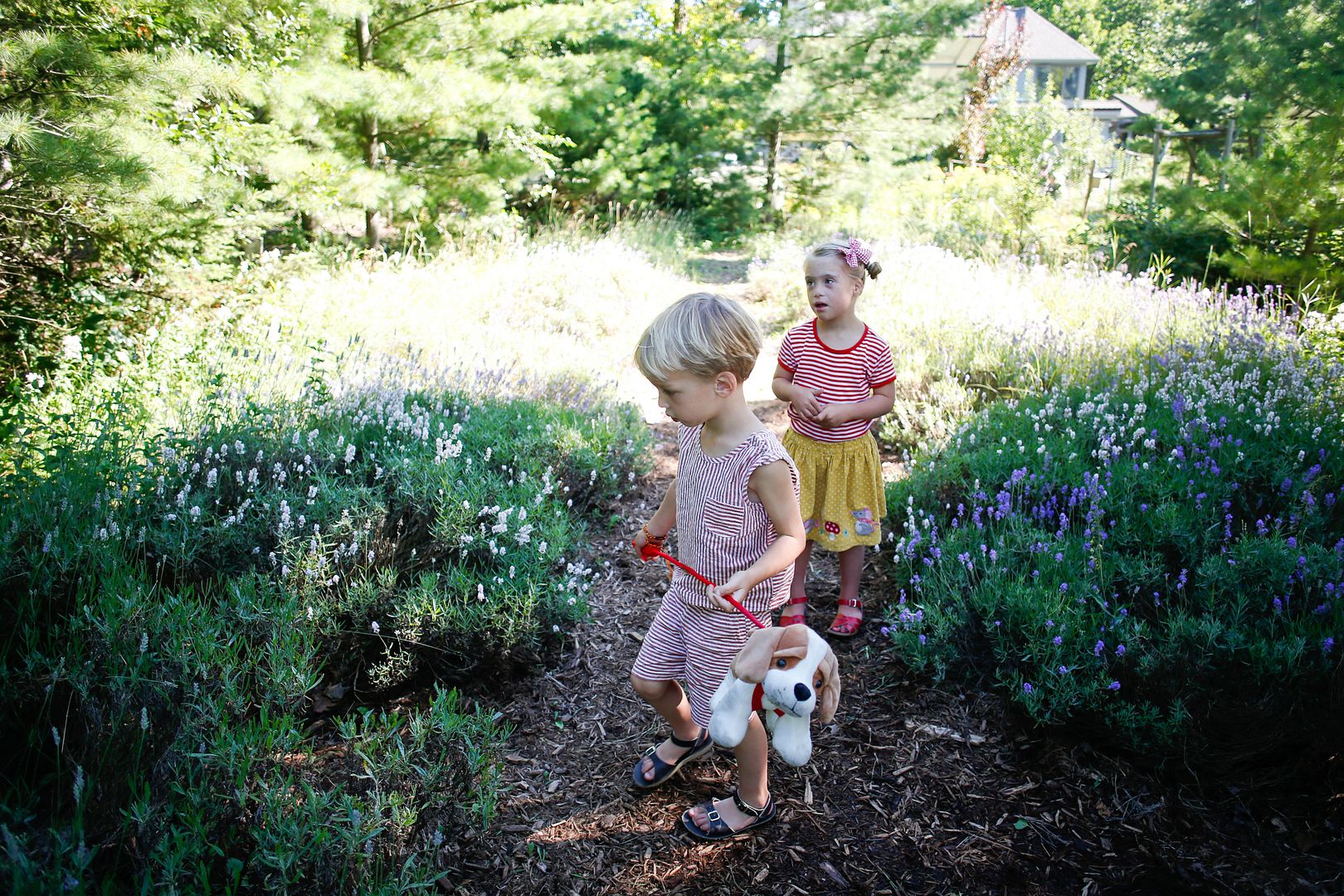 It's ME that makes me happy. It's loving the season I'm in. It's realizing that joy and all the simple pleasures of life that inspire me are not confined to specific seasons.
Which is why the Summer Bucket List lives on this year, now taking the form of "Weekly Bucket"–a list of simple pleasures that will inspire our week.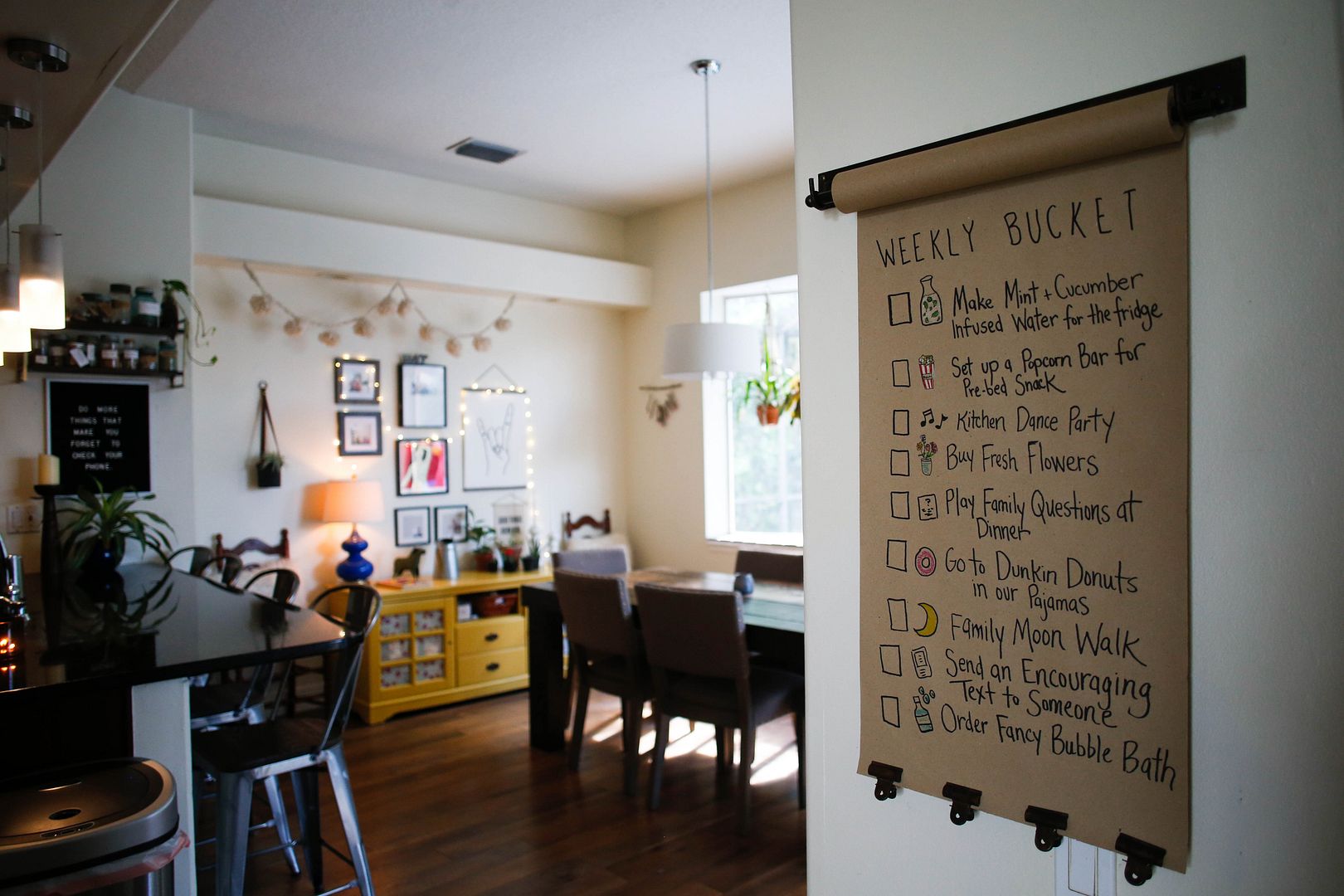 (You can find our hanging paper roll here)
And before we completely transition into a new season, a little more from our summer…
On our last week in Michigan, my dad told me about a place he had heard of–some Wild West town a man had created, inspired by his love of John Wayne. "I bet Dash would love it," he said. I put the address in my GPS, packed up the kids and drove out to find it–like 2-tracked in the middle of nowhere. The result? Such a fun adventure.
It's called Coopersville–completely free (donation-based), and there wasn't a soul there on our visit–just me and the kids, walking through the saloon…
(I taught her how to do the dramatic Wild West bust-through-saloon-door move, sans gun)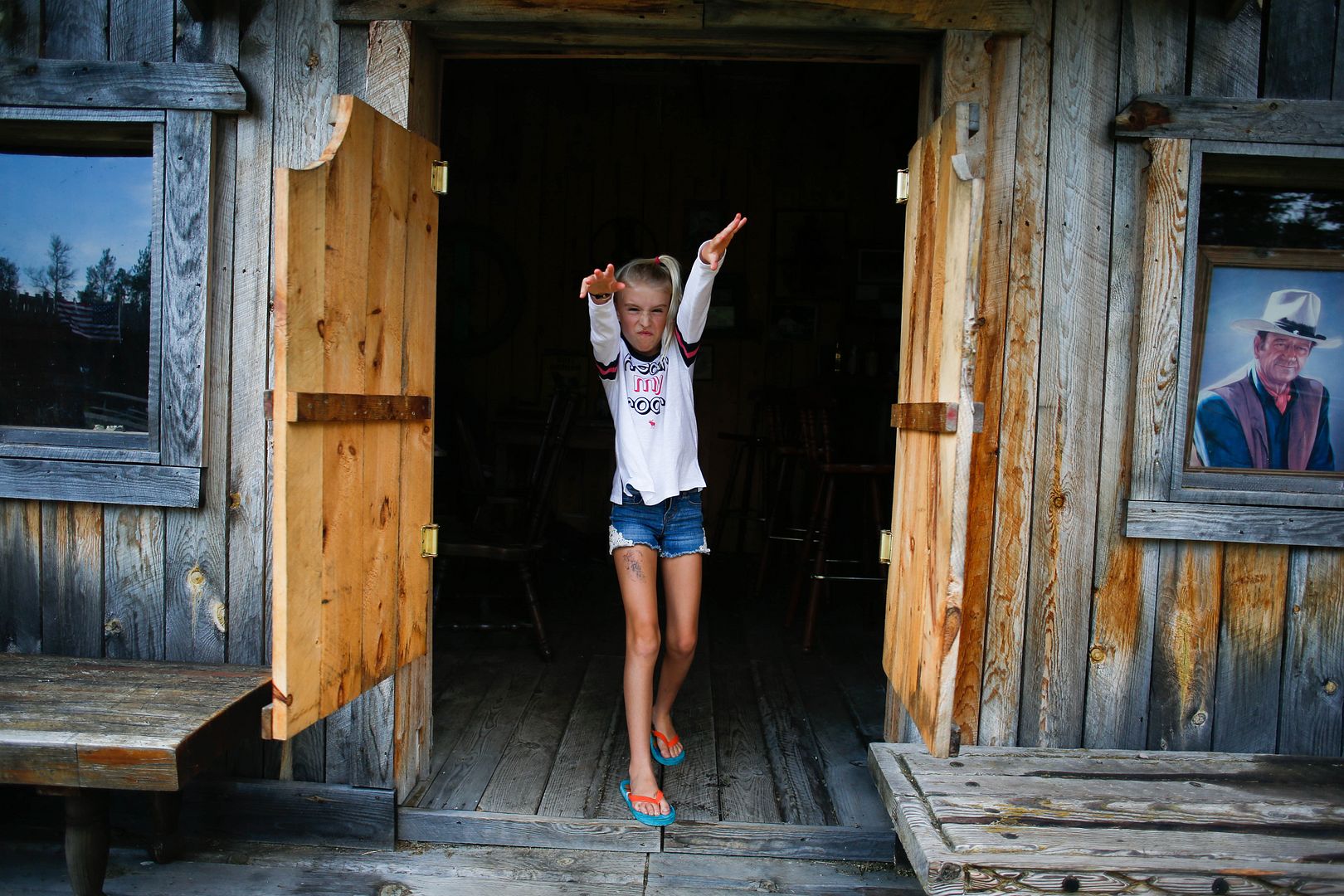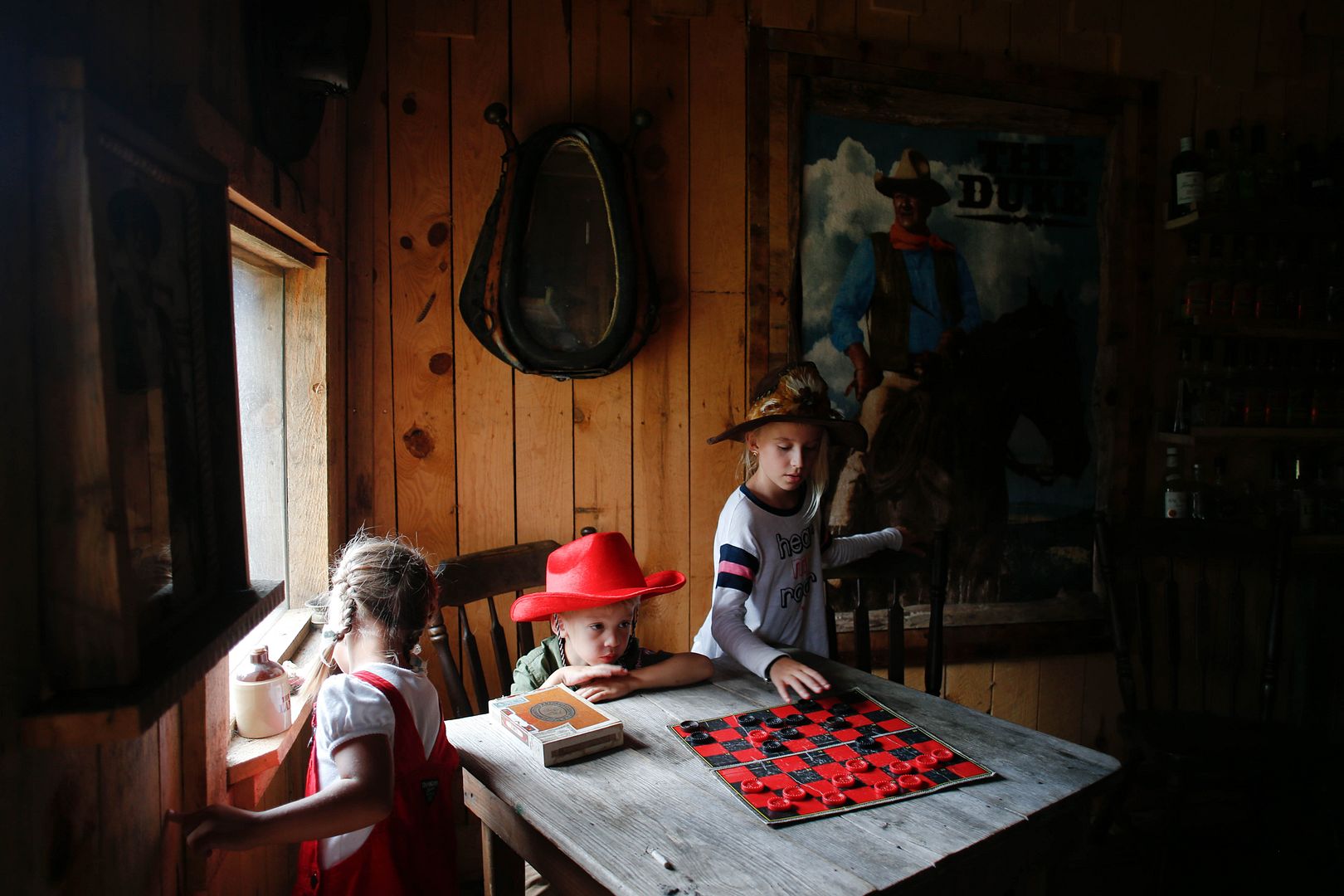 …playing Cops & Robbers in the jail…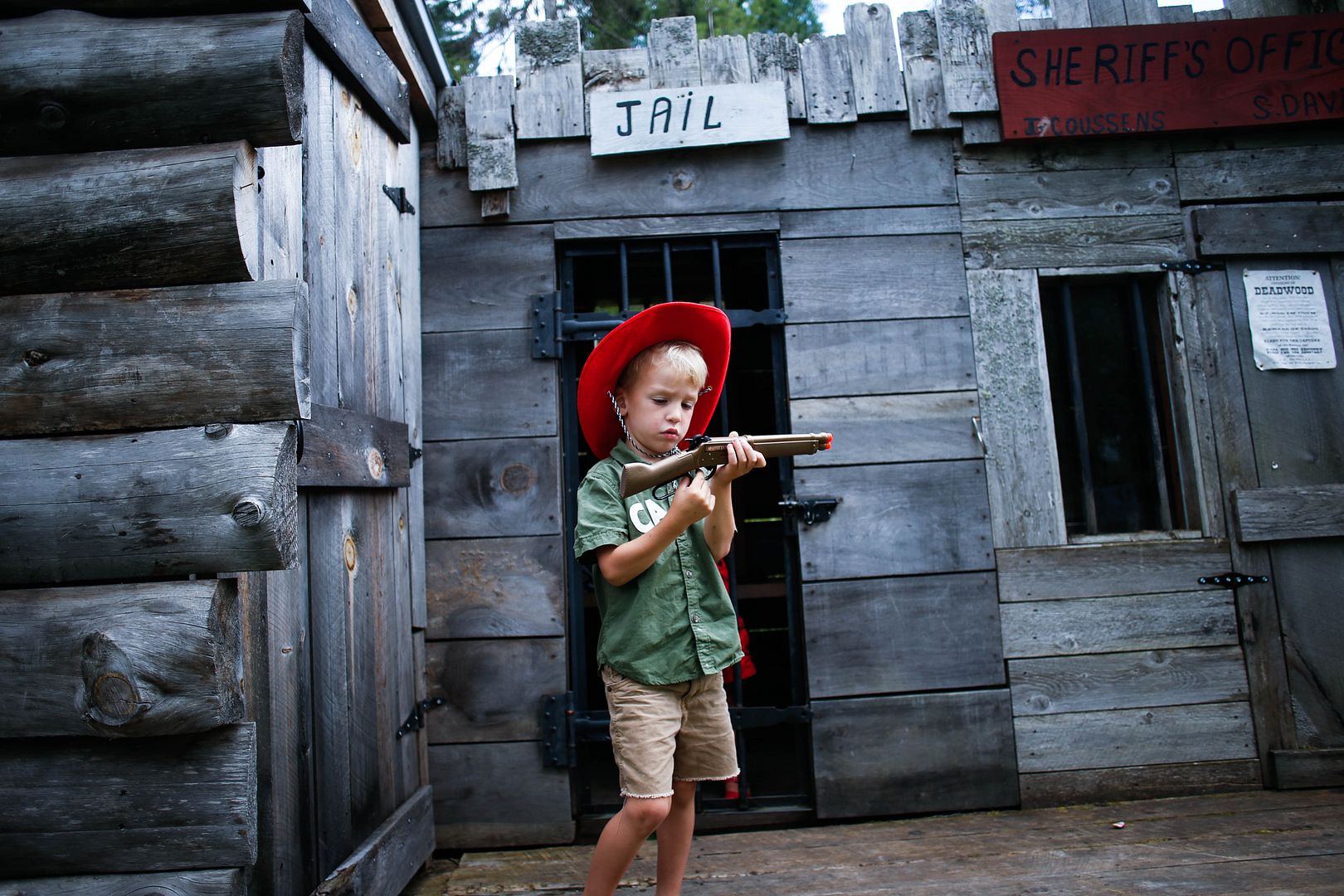 …and hoppin' on the stage coach for a quick getaway.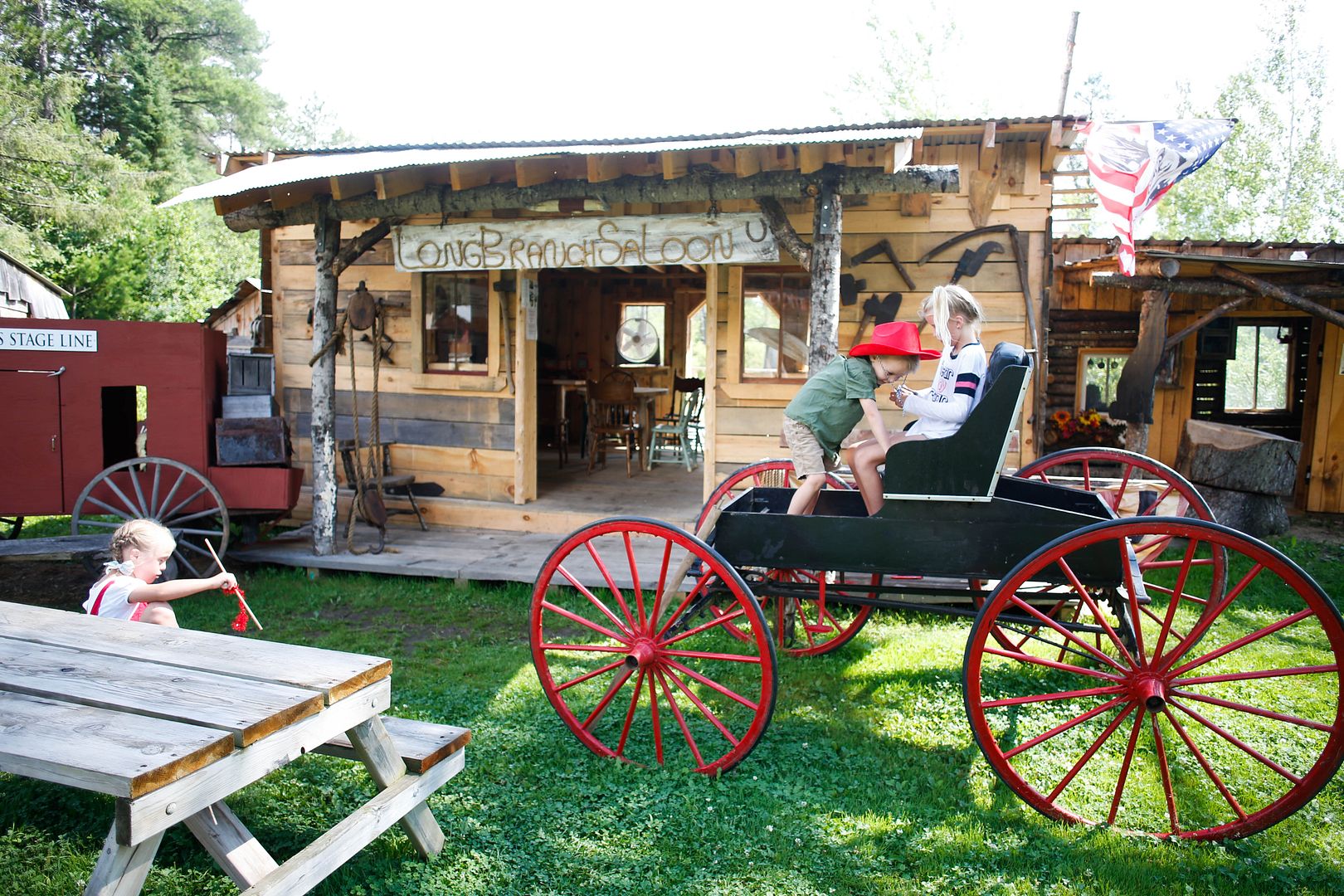 Everywhere we turned, there was another building to explore, completely set up like John Wayne just stepped out for a moment.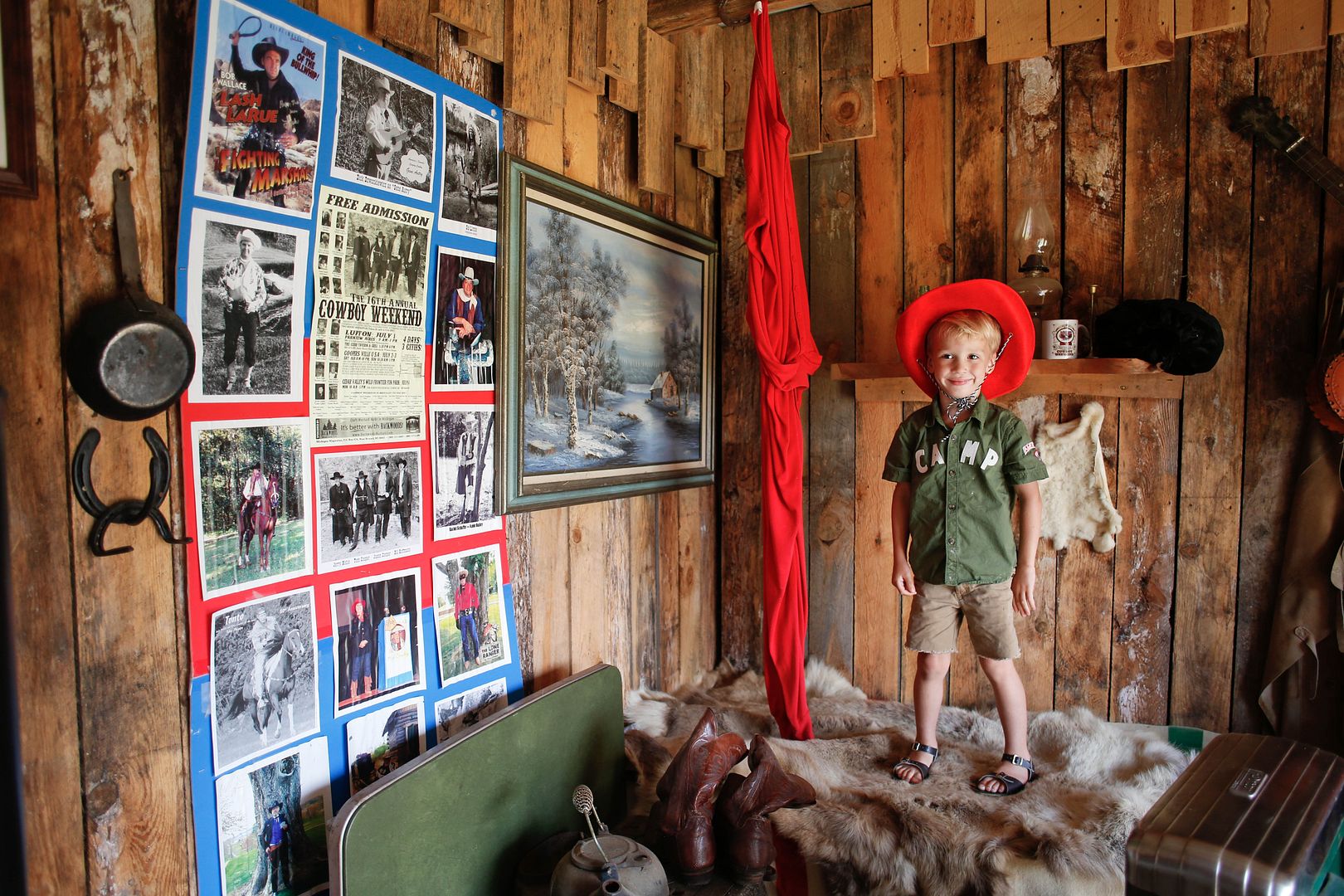 Dash loved the handcuffs.
(she's skeptical of the gun shots we heard in the distance…hunters, I'm guessing…or the ghosts of cowboys.)
And we couldn't leave Michigan without a visit to our favorite little town, Glen Arbor and Sleeping Bear Dunes.
Watching the kids spit cherries from the wine tasting deck:
Bay Lavender Trading Company gardens:
From a Glen Arbor beach (this dog introduced himself by grabbing one of my kids' stuffed animals and BOOKING across the beach with it):
Those dunes though. We came later than we usually do and discovered that's the way to do it–with the sun setting across the lake. It was breathtaking.
We stayed for over four hours. I even offered for us all to go get ice cream, but the kids didn't want to leave. They did nothing but climb and jump, climb and jump, climb and jump.
And the amount of sand we collected stayed with us for days.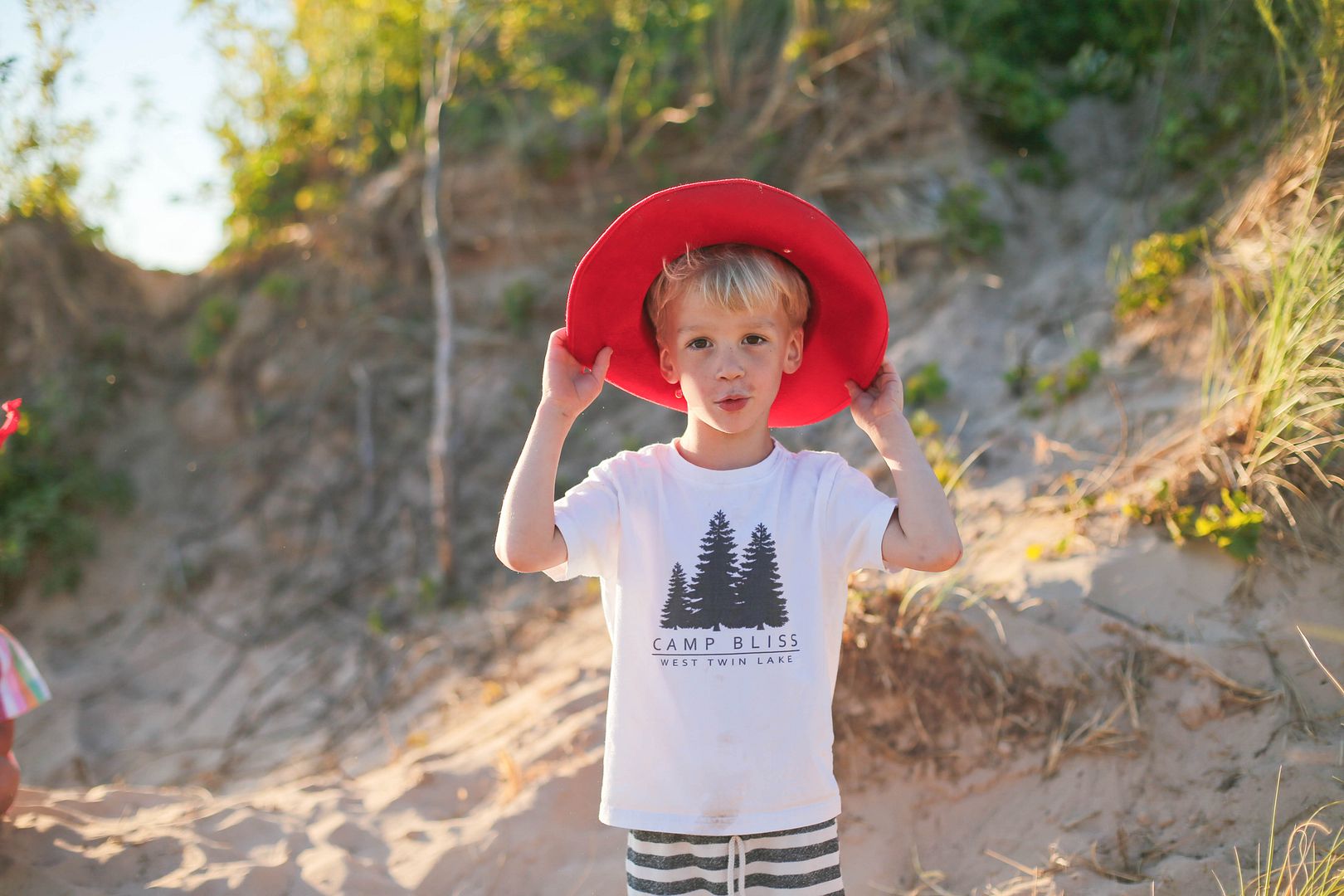 Dash wiped out once, rolling down the hill, thought it was the funniest thing ever and then repeated the move about a hundred more times.
We ended our trip with a pontoon breakfast ride–a full pancake breakfast buffet with orange juice and coffee. Almost skipped it, but it was on the list and we went for it.
So glad we did.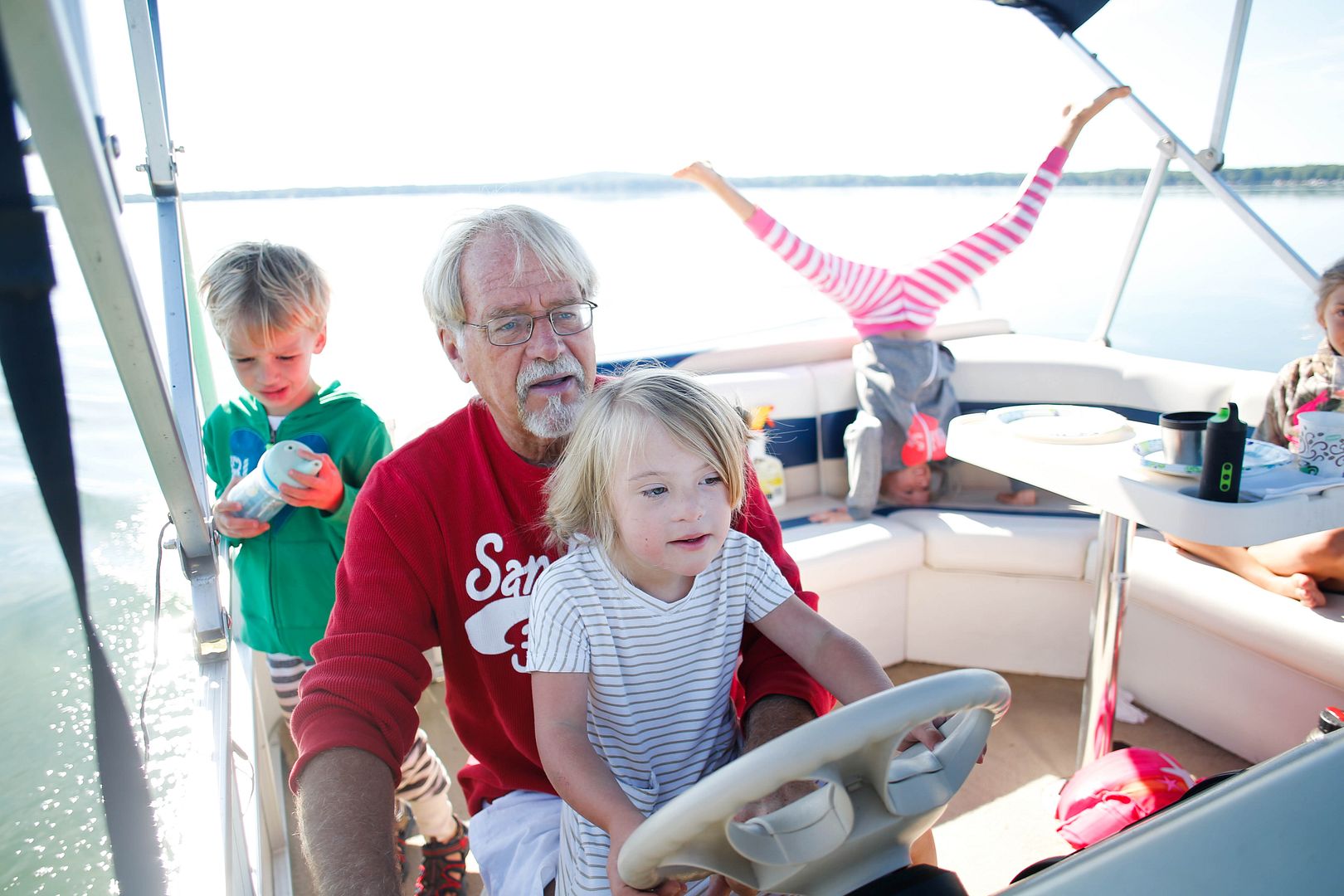 Honorable mention for the unchecked items this year:
__  Buy corn from a Midwest farm stand.
__  Go Tubing (can't do it all, and that's fine).
__  Cracker Barrel Breakfast (needed some fun to take home–we'll hopefully do it this week before school starts)
__  Family Slide Show with Old Pictures (still time–we've got this)
Everything we've loved about summer? It won't end. Because all those joys are buried in other places throughout the year, waiting for us to discover it.
"August has passed, and yet summer continues by force to grow days. They sprout secretly between the chapters of the year, covertly included between its pages." ―Jonathan Safran Foer
A knotty-pine lodge bar Cheers! to that.