This post is sponsored by Hallmark.
Of all the cures I've ever tried for anxiety or exhaustion or a temporary funk where I can't find my groove, there is one thing that has always proven to be a healing antidote, and that is taking time to do something for someone else–to recognize another's struggle, help relieve a friend's burden or simply let someone know, "Hey, I see you." Hallmark built their entire business around this mission and launched the #CareEnough campaign to celebrate their kindness roots and recognize stories about caring acts that can inspire others to get out there and do something kind for someone. Because behind their product line of cards and gifts is a more fervent mission to spread kindness and go the extra mile to make someone's day. I'm thrilled to be partnering with them once more in this campaign, bringing you an easy way we can show some kindness within our mom circles and brighten a friend's day. with a little surprise "bath bomb. "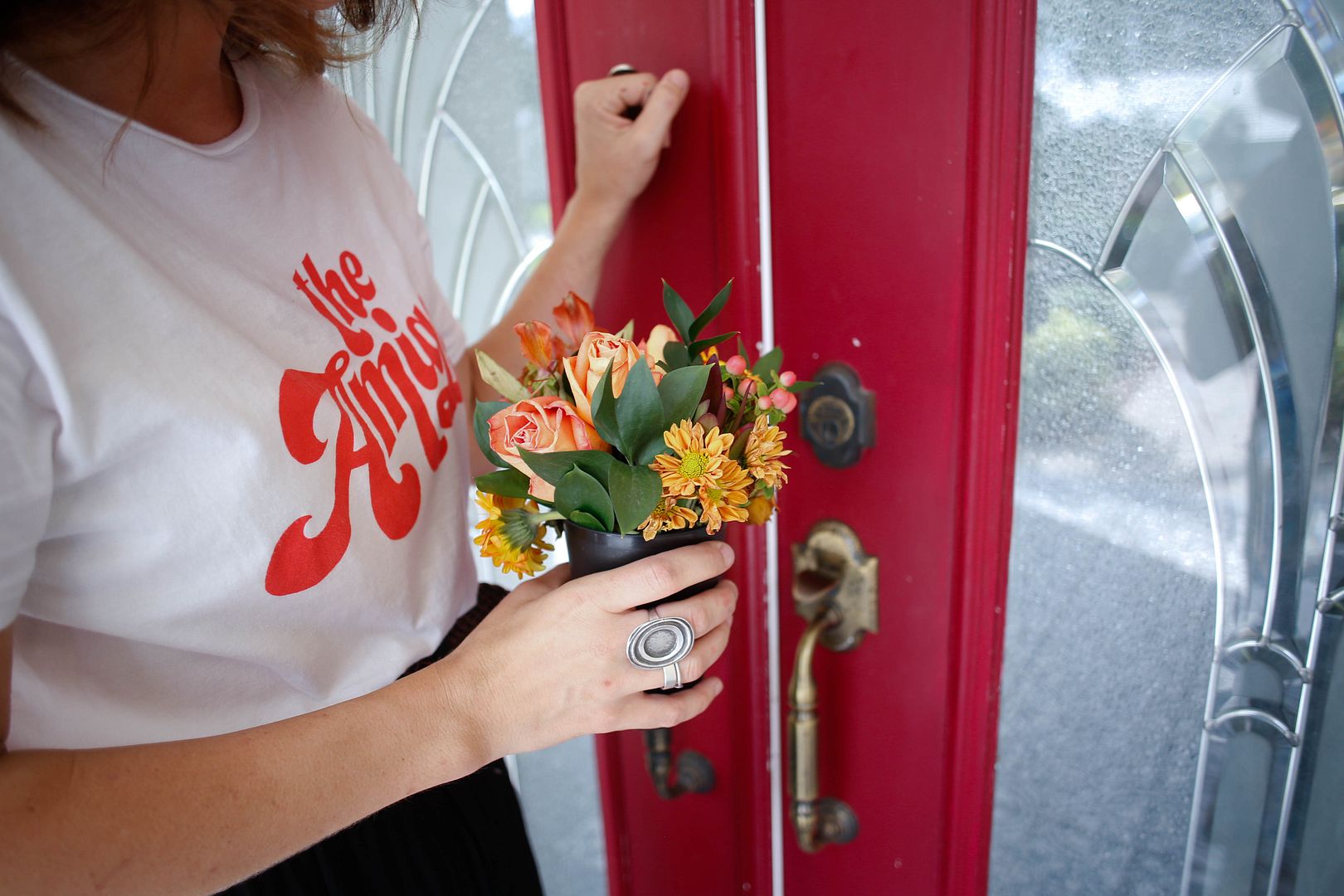 There is a certain secret language special among moms, and if you've ever slipped away to take a bath only to be joined two seconds later by kids shedding their clothes to climb in with you, you understand this language. It's called a quiet relaxing bath, and if you–like me–are a bit unfamiliar with the term, let me further explain. A quiet relaxing bath does not include any of the following:
Legs everywhere.
"Please stop splashing."
Fights over water temperature.
Bath toys and Barbies creeping into places where they should not be (I'm talking to you, Ken.)
Even when I attempt to lock the door and pull the "Time for Mom to be selfish" card, I end up half reading my magazine behind the bubbles and half pretending not to notice the tiny fingers wiggling under the door or the muffled, "Mom, can I come in? Hey Mom. Mom. Mom. Mom. MOM. MOMMMMMM."
It dawned on me what a gift quiet baths are to moms when, after driving four days with three kids up to Michigan this summer, my sister announced five minutes after our arrival that she was taking my kids to go grocery shopping with her, and the bathroom was ready for me. "Use the good bubble bath, grab something to drink from the fridge, towels are on the shelf. We'll be gone for a while, so take a good long bath."
"Wait, you're taking ALL THREE?" I asked. "Do you know what you're committing to?"
"Absolutely. Now go."
She might as well have just offered me her kidney.
That quiet little sliver of alone time initiated our welcome to Michigan and replenished all the parts of me that had depleted on the road up, but really it was more about feeling so nurtured by one simple act when I spend my life nurturing others. So I tucked that feeling away, knowing I wanted to pay it forward. Several weeks later, I stopped by my friend Tali's house on the way home, and the subject of baths came up again when, late one night while I was finishing some work, she drew a bubble bath for my kids and helped them get ready for bed. I took my laptop in the bathroom and sat on the floor with my friend while the kids played in the tub. "Thank you," I told her. "What is it about baths that is such a nurturing act of love?"
"I know! My sister always makes me a bath every time I visit her, and I almost made one for you," my friend laughed, "but I didn't want you to think that was creepy."
"Oh my God! Not at all!" I told her, "My sister just did it for me in Michigan, and it was such a gift. Maybe we're on to something. We should go around making baths for our friends."
Sound crazy? It's not. When I got home, that's just what I set about to do.
I pulled my best friend Heidi to help me with this #CareEnough mission, and we chose our friend Lindsey to "Bath Bomb"–surprise her on a Friday afternoon (with help from her mom who did some stealthy investigation to make sure we chose a night when there were no plans and Lindsey would be home) by knocking on her door, dropping off a basket of everything she'd need for a relaxing bath and night home alone, and taking her kids for the evening. Lindsey has five kids (including baby twins), and even though she never complains about being overwhelmed, I know with just three kids that sister's not getting much alone time.
What to put in a Bath Bomb basket? Fancy bubble bath, a nice candle, a split of champagne (chilled), a bath brush, chocolates and some reading material–home magazines, beauty magazines, maybe a humor book, a compilation of encouraging essays or something to suggest "I see you, and you're doing a great job."
Heidi also made a plate of appetizers to set up next to our friend's bathtub for the ultimate nurturing touch.
And the surprise? It made us just as happy as it did our friend. Heidi and I arrived together with our basket of goodies and food, rang the doorbell, and when Lindsey opened the door–confused–we announced that we loved her, recognized what an amazing mom she is and thought she might need a break with a quiet bath. "We'll take the kids and return them with their jammies to you at 9:30. We have a fun night planned for them. Now go relax and take a bath." And that's when our sweet friend put her face in her hands and cried–said "Are you kidding?" and "Thank you," and I'll tell ya, it makes me want to bath bomb a friend once a week.
Our kids all won in the end because they got to have a great big party together that night, Lindsey got a quiet bath and an evening out with her husband, and Heidi and I? We couldn't stop talking about how good it felt to make someone's day. We're already picking out the next person to be bath bombed, and there's a growing collection of bath goodies in my office for the next basket to be delivered.
That's the great thing about the Care Enough effort–it's intended to make someone else's day, but it's two fold. Because nothing feels better than knowing you helped make someone feel loved.
Thank you, Hallmark, for being a brand that inspires us to care more and make the world a kinder place.