This post is sponsored by thredUP.
I'm going to compose myself a moment to keep a mature level of enthusiasm here, but just so you know, when it comes to talking about dressing for the holidays, I'm one Rockette kick away from turning my enthusiasm into a one-woman road show called "Plaid, Peppermint Stripe and All That Jazz". Except I think "All That Jazz" is trademarked, so nevermind. We'll skip the show and put it in a blog post.
It's November which means Game Time which means the next two months are going to get a little busy–good busy, festive busy. We'll be hauling turkeys to family gatherings, hitting the city for Christmas shopping, taking the kids to the Nutcracker, scrambling to find a babysitter for the Christmas cocktail party and squeezing in that family photo shoot for the holiday cards. Here's where it gets fun–all those things in that last sentence? I've got the outfit covered–everything you need in one capsule wardrobe. I've never been one who could strictly adhere to a capsule wardrobe, but I might be able to pull off a holiday one because there's a festive factor, and festive is my middle name (no seriously, it almost was–well, Noel because I was born four days after Christmas. Damn nurse had to be such a charmer though, so my mom named me after her instead. How I wish her name had been North Pole Twinkle.).
Building a capsule wardrobe may sound expensive, but that's only if you're not holding the Golden Ticket. What's the Golden Ticket, you ask? Alright, Veruca, I'll tell you. It's thredUP–kind of like a magic chocolate factory, except there's no chocolate; there's clothes. Secondhand clothes–beautiful ones from all my favorite stores and brands and designers (Anthropologie, J Crew, Free People, Madewell, Boden!) except way less expensive than retail. If you've never tried it before, there's a major discount code for you at the end of the post, so hold your reindeer…er, horses.
Let me show you how thredUP worked for building an entire holiday wardrobe. I found every single item on thredUP and geeked out so much with what I found that after I opened the box and went through it, I e-mailed my thredUP friend with this gushy "Oh my God, best box ever, I found everything I wanted and it's all fabulous" e-mail.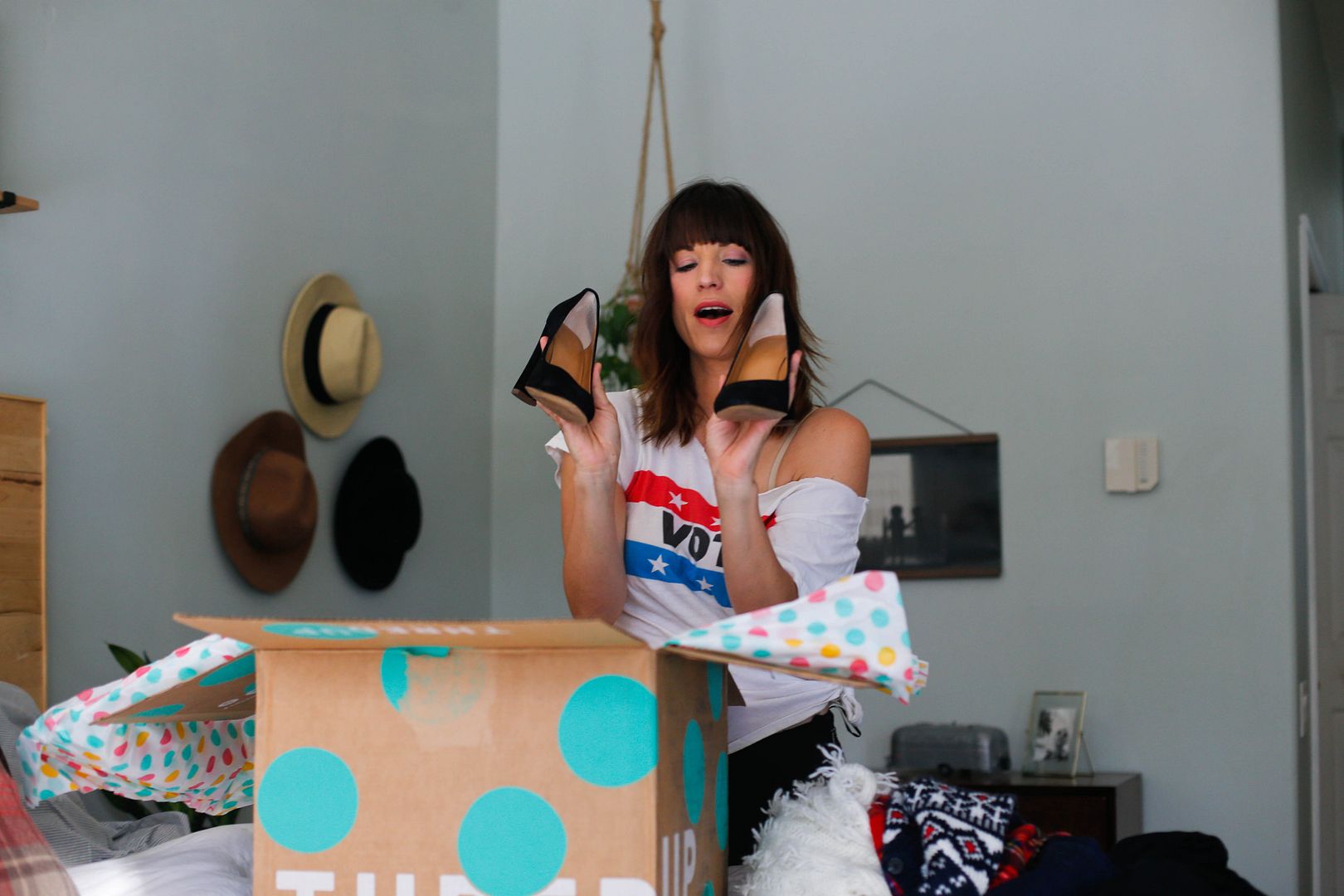 I think some people get frustrated shopping second hand because it feels hodgepodge or hard to find what you really want, but thredUP is way more convenient being all online, not to mention they have such an extensive selection of clothes (all hand-expected 3x to ensure the best quality) and installed so many filters that you can refine your search to very specific things you want from size and color to brand names, prints, sleeve length and dress cut. Mama wants red plaid? Mama gets red plaid.
Alright, here's everything I need in a holiday closet in one thredUP box. This will get me from a fancy party to casual wrapping days at home, from shopping and hot cocoa by day to the 4th grade Christmas program at night.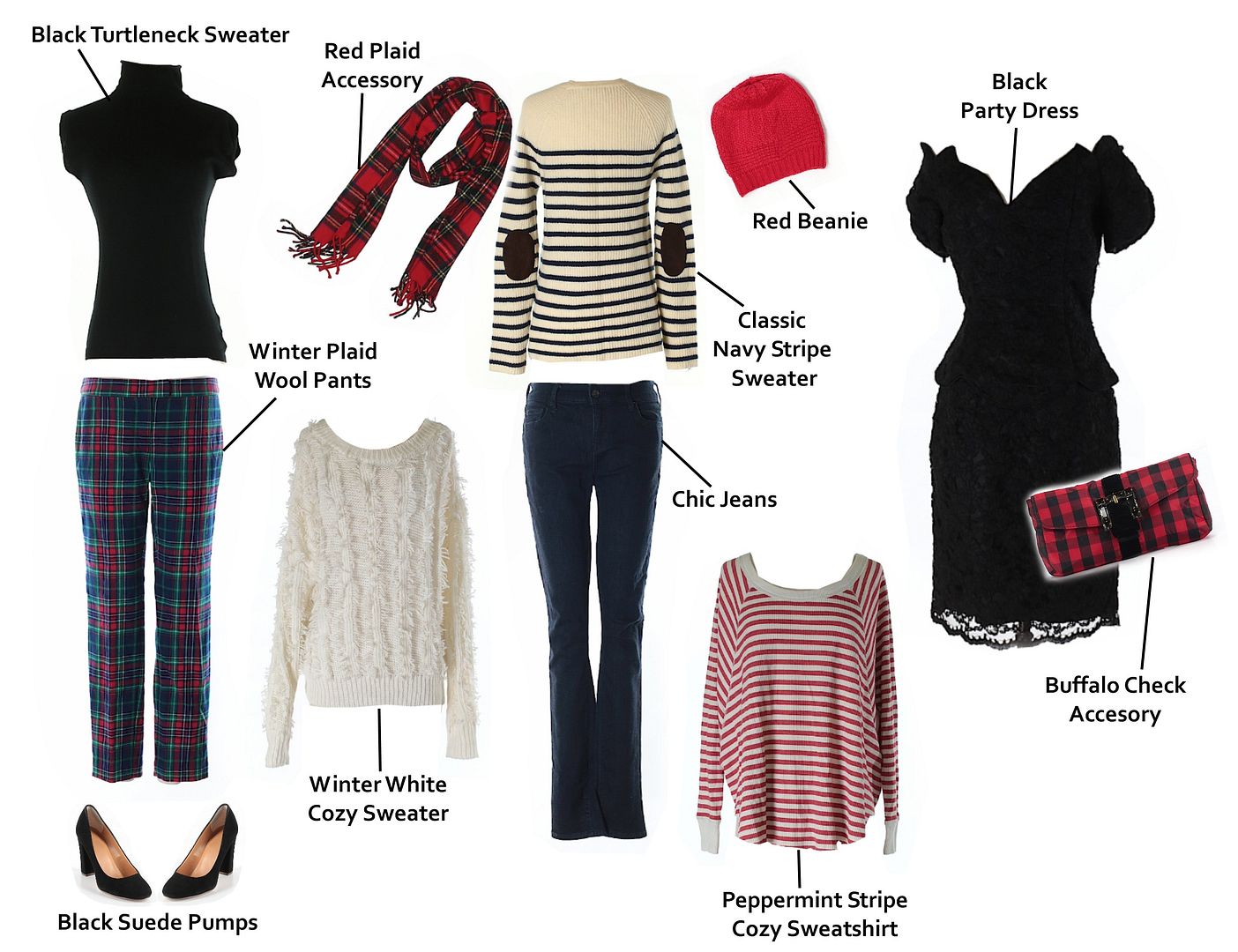 Let's see this box in action.
"You're invited to a Christmas Cocktail Party"–WAIT! I HAVE JUST THE DRESS FOR THAT!
Jessica McClintock cocktail dress: $74 retail, and I got it for…wait for it…$14.99. WHAT?! I love the length–above the knee for leg-lengthening, but not too short for butt cheek gazing (why is everything so short these days? Don't these people know we have to bend over to help our kids?). And I love the sweetheart neck with a tiny bit of an off-the-shoulder cut–a little 80's throwback without being too Molly Ringwald.
And that's a $98 J Crew clutch…thredUP price: $24.99.
Okay, on to the next one.
Holiday lunch with friends, Christmas program at school and date night (at the restaurant with the most twinkle lights in town–duh)–all in one day. (raising hand wildly, wiggling in seat) OH! PICK ME! PICK ME! I HAVE THE OUTFIT FOR THAT!
Vineyard Vines plaid wool pants ($119 retail, and I got them for $34.99). The turtleneck sweater is Banana Republic–retail $78, thredUP price $19.99–and is so perfect for Florida because it has that winter look with the turtle neck/sweater knit, but it's a really nice thin knit with a short sleeve, so I can wear it all year long here.
Check out the little bows on the back of the pants! Give me all the tiny Christmas details. Those J Crew heels are thredUP as well, and are now my go-to classic black heels in my closet.
Moving on. Hot cocoa date? Christmas tree farm with the kids? Bad Moms Christmas movie night with friends? Go for winter white. This sweater (brand is J.O.A. Los Angeles) is pure perfection–I love the fluffy fringe that almost gives it a "snowy" look. It was $16.99, $54 less than its retail price.
Note to self: Photoshop some snow in this pic:
Wrapping day at home? Got it covered. The peppermint stripe sweater is one of my favorite brands, Free People's "We the Free line," a $71 sweater I snagged for $19.99. It's super comfy and almost pajama-like, so this baby can go from a day of holiday shopping in the city to up late wrapping presents and then slip right into bed, if you wish.
Keep it on to drop the kids off at school the next morning, and no one will think a thing.
Alright, I saved the big dog for last–the cozy of cozy, the holiday trifecta: stripes, red plaid AND a red beanie. Wear it anywhere, for anything during the holidays.

Beanie: $5, red plaid scarf: $7.99, and Madewell stripe sweater (with leather elbow patches–EEK!): $41.99 compared to its estimated retail price of $179.00. Cue Price is Right "Oh-my-God-I-WON!" lose-all-control celebration dance.
If you want to find some key holiday pieces by your favorite brands for way less, here's your chance. Take this Golden Ticket…thredUP is offering our readers a special discount! The first 100 people to use code KELLE40 will get an extra 40% off their first order! (Applies to new US customers only. Redeemable online only. Certain restrictions apply).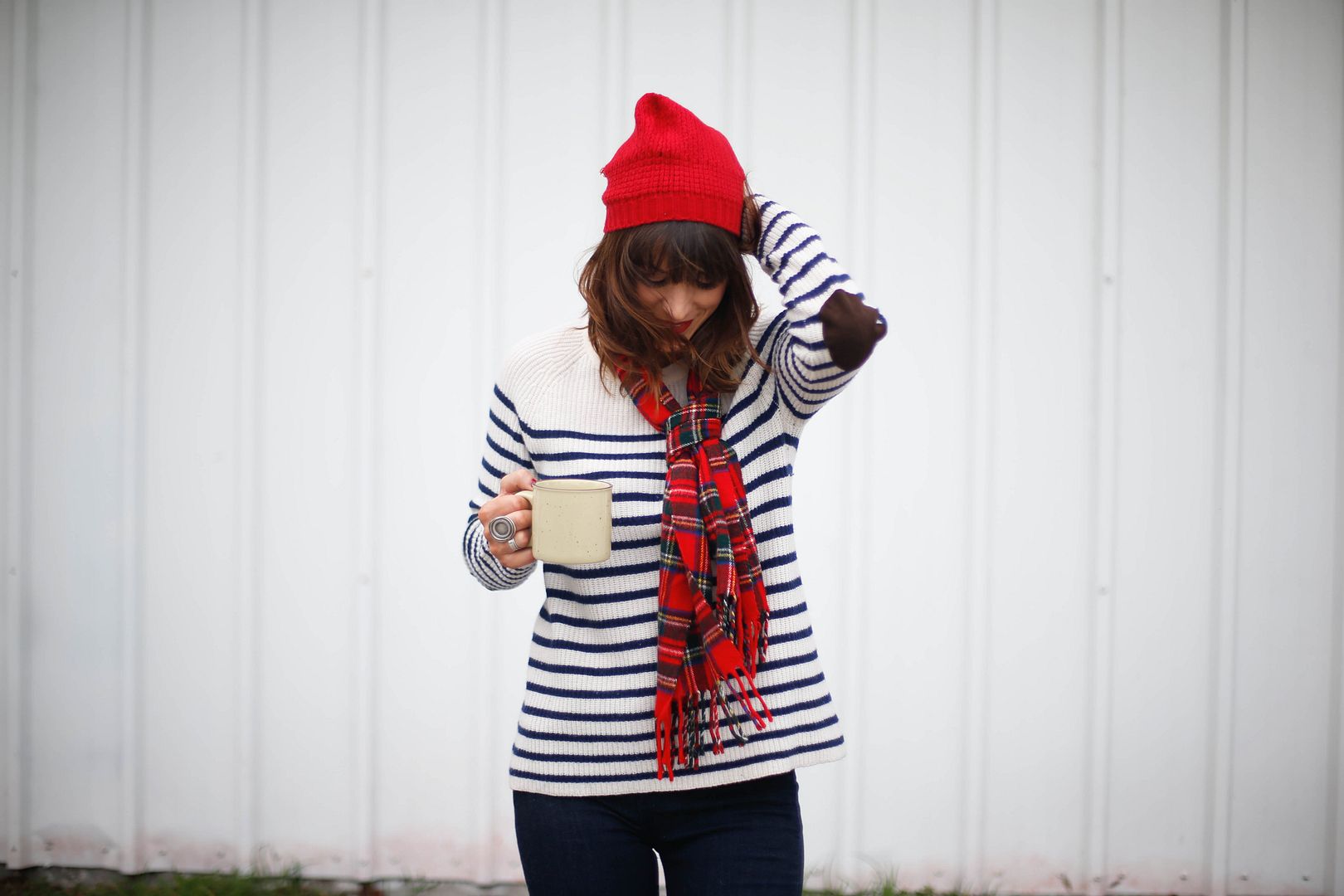 …closing out my road show post with two high kicks (in plaid pants), a toss of the buffalo check purse into the crowd…and Christmas jazz hands, jazz hands, jazz hands.