One of the greatest satisfactions of Christmas morning growing up was gathering all my opened presents into a big loot pile I'd just sit back and survey. Surrounded by wrapping paper shreds and a sea of shag carpet was my heap of treasures–the Cabbage Patch doll, the new legwarmers, the Kissing Coolers and Bonne Bell chapsticks all pushed into a pile that was mine. Before I even played with any of it, there was that moment amid the mess of Christmas morning that the simple sight of those gifts, arranged in a pile together, made me feel so lucky and loved and full.
Thirty years later, I sit on the floor of my living room next to a fire, second cup of coffee in hand. The sun has just barely risen, but the house is fully awake. Three piles of treasures begin to form amid scraps of wrapping paper, and I watch as my children gush over new Barbies and Legos and more glue to make slime. I slowly survey the living room and take in every bit of the scene–the way Brett gently calls "Hey Buddy" to Dash to distract him from opening his sisters' presents, the chipped nail polish on Nella's little fingernails as she carefully peels back the paper on her gifts, the ribbon Lainey tucked around her neck like a scarf, the dog asleep on the couch, my dad and Gary excitedly making over every little thing Dash holds up to show them, the music, the warmth, our home.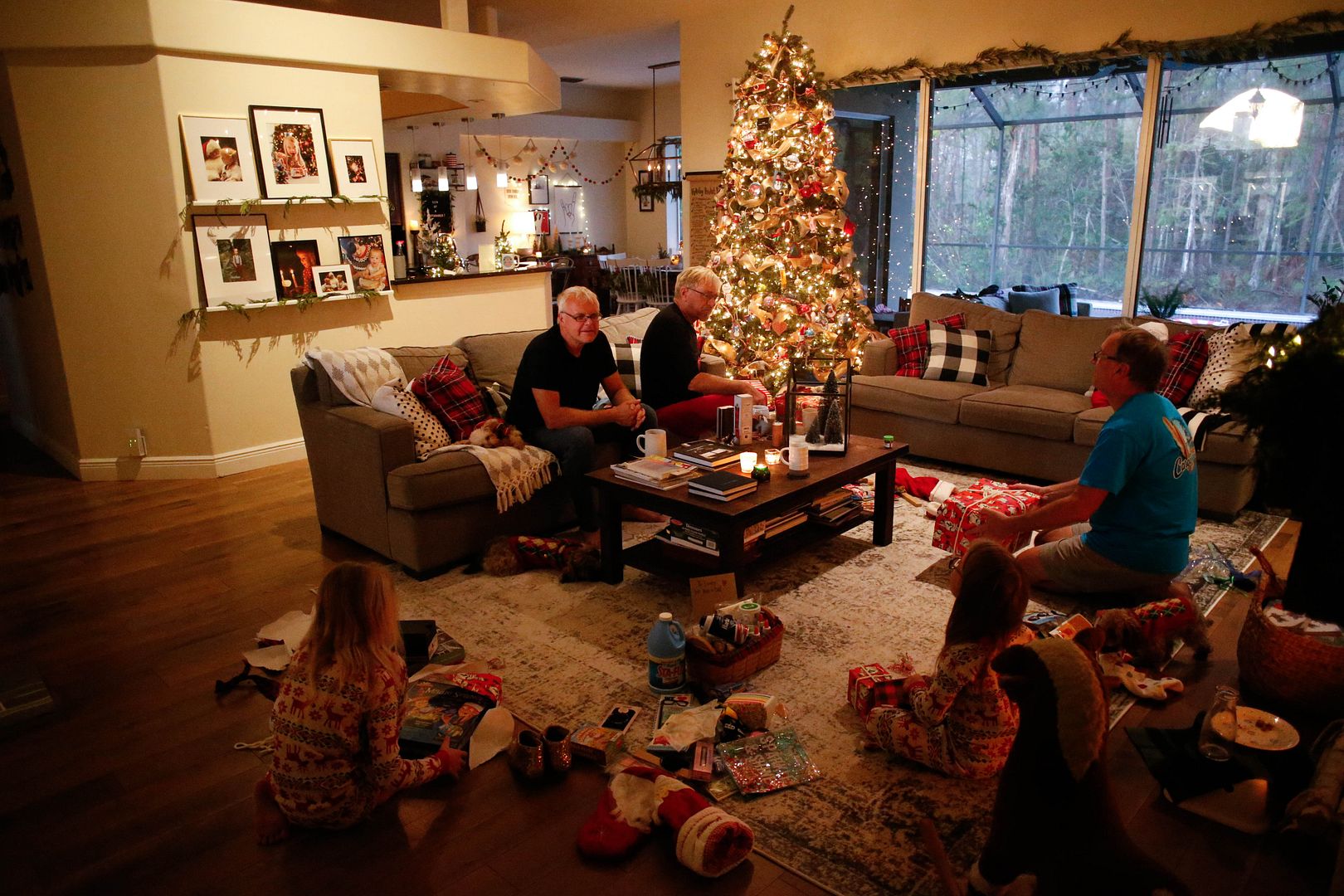 This is my pile of gifts, this is my Christmas treasure, and though the greatest excitement of this morning is associated with childhood, nothing can compare with how lucky and loved and full I feel at this moment.
Yes, the living room's a mess, and yes this recognition of gifts comes with the pain that life is so very fragile and this scene will change every year, but for a moment, everything I love is pushed together into a pile in my mind, and I sit back and survey it and whisper a million thank-yous before I get up to refill my cup, grab a garbage bag, take a picture, wipe a nose, pull the sticky buns out of the oven. This...this is my favorite thing about Christmas.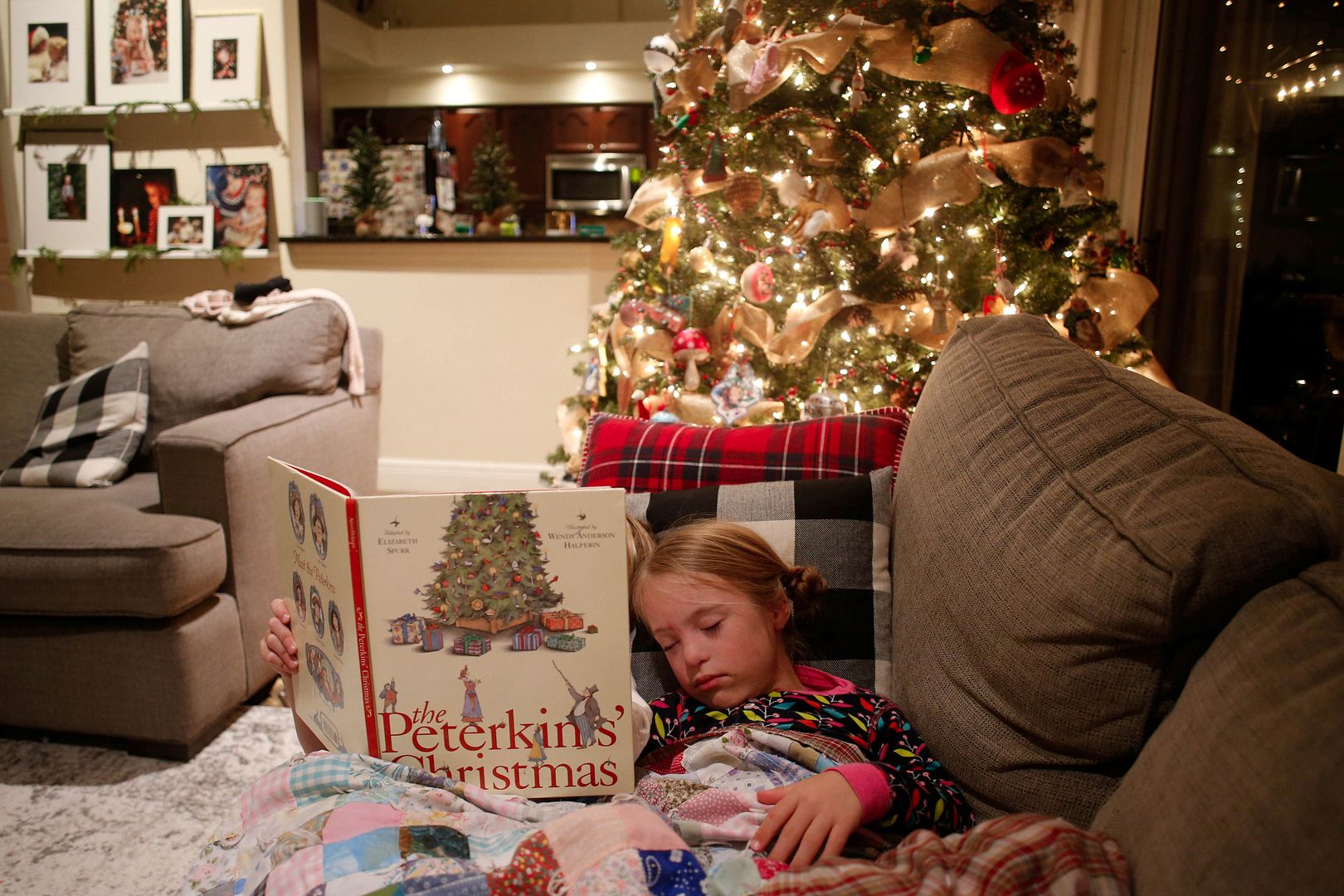 Looking back, a few scenes from our Christmas:
Making Florida snowmen Christmas Eve from frozen corn starch, shaving cream and peppermint oil.
Our Christmas cake that Dash slowly devoured little by little every chance he had to sneak away and help himself.
Baby of the family motto: Just give it to him.
Christmas Eve bar with our signature drink "The Rudolph": 1.5 oz Bourbon, 1 oz. fresh lemon juice, 3/4 oz. rosemary simple syrup, shaken and poured on ice. Garnish with rosemary sprig (and a cranberry Rudolph nose, suggested by Instagram followers who were clever to tie in that title).
Dash wanted to address his own presents, and in true baby-of-the-family fashion, he wowed us with how many letters he can write on his own. My favorite for all my kids has always been their first capital "E" with, like, 19 lines coming out of it.
Crossing off some of the last things on our Holiday Bucket List (taking it down, dating it and tucking it away in our keepsake drawer today)…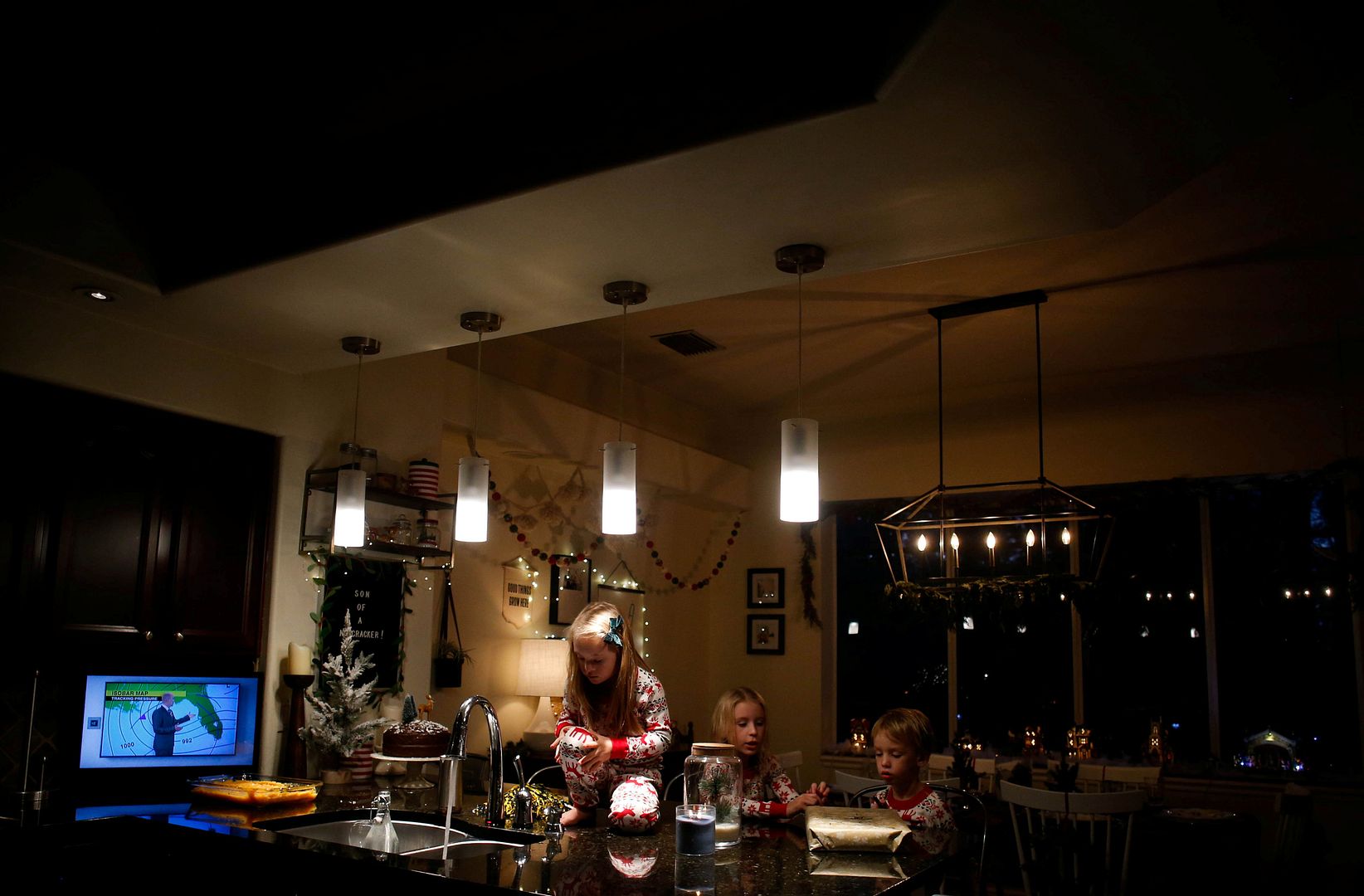 Setting up our reindeer runway and sprinkling some treats for Santa's reindeer…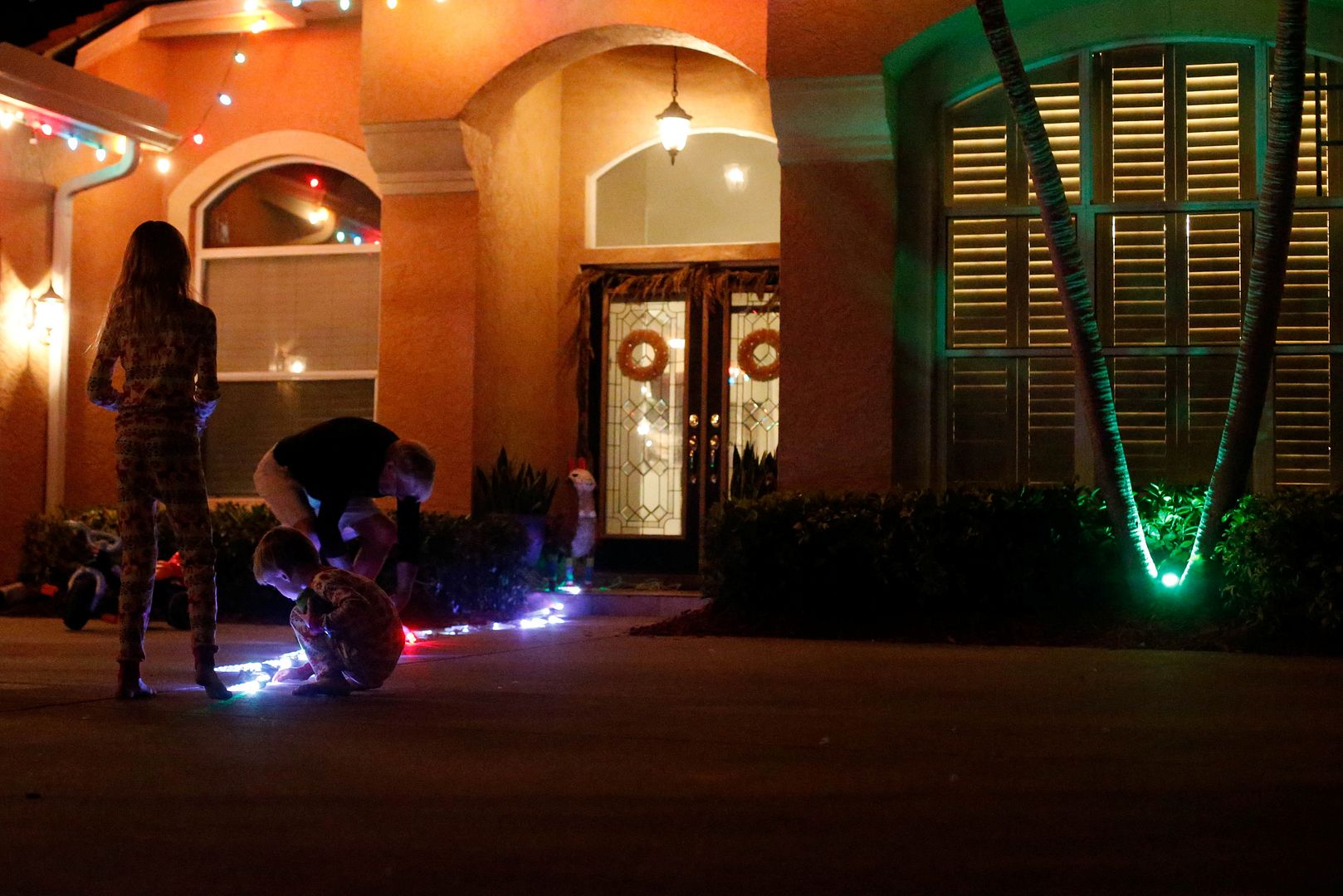 Milk & Cookies for Santa…
Watching The Family Stone Christmas Eve, my favorite…
Santa's gifts waiting…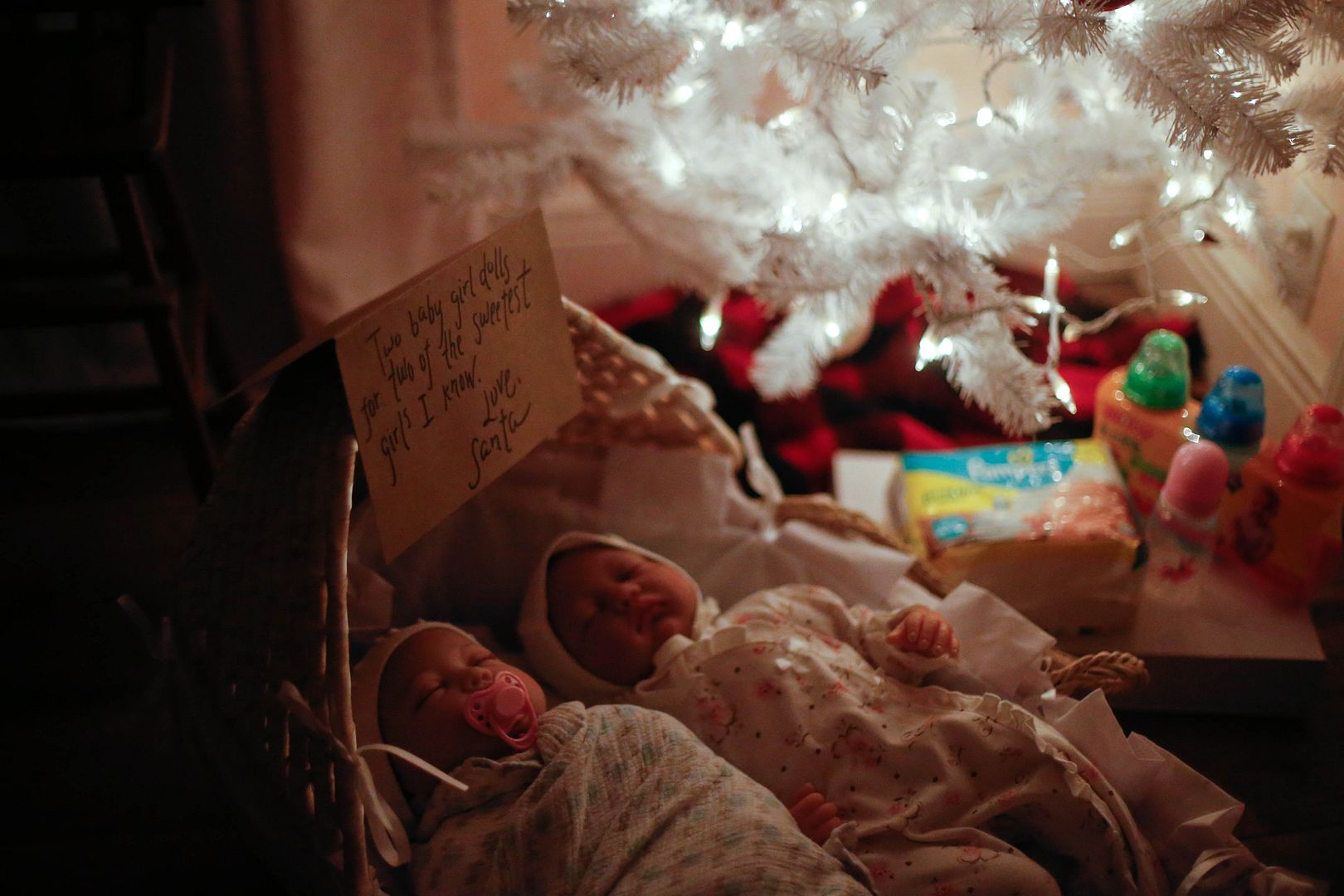 Christmas Morning.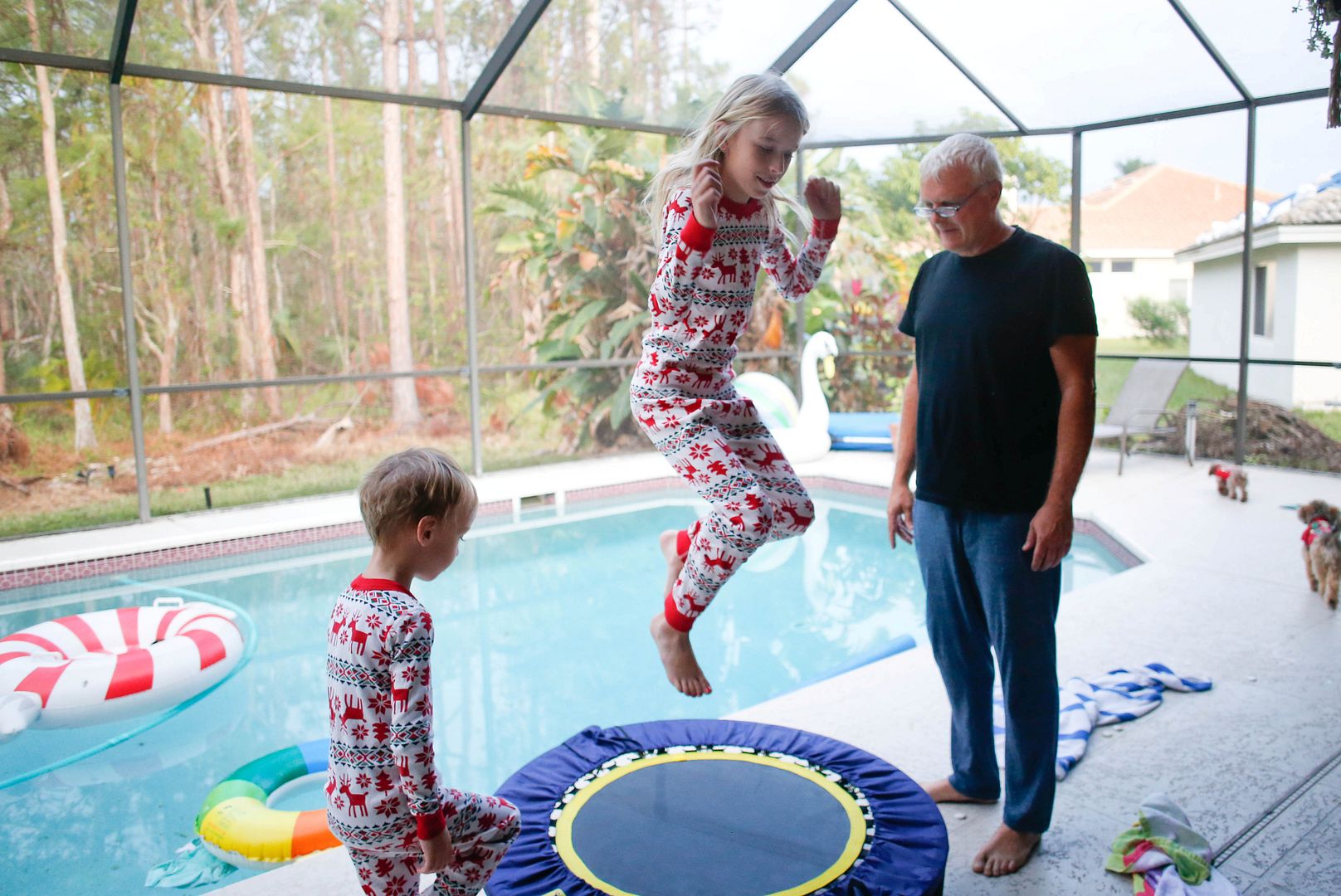 The girls wanted "real baby" dolls, and Santa delivered. They played with them all day Christmas day and requested we pull out the old baby car seat from the attic.

(Santa purchased this doll for the girls, for those who asked).

(Palm Springs Playhouse from Land of Nod.)
Lainey does not gush emotionally, so it meant a whole lot when she looked at me and said, "I can't even tell you how happy I am this Christmas."
My Christmas spirit may be a festive little elf for the month of December, but every year on Christmas Day, it goes into this deeply reflective place that–this year–had me crying in the bathroom. I feel too much–this is my burden to bear, and it does come with bonuses, so don't feel too bad. "I don't even know why I'm crying," I told Brett. My sister recently likened this feeling to therapy dogs–a friend who had one said that on therapy days, the dog gets more exhausted than when he runs at the park. On therapy days, the dog soaks up the emotions of all those he's around and loving, and that's a lot to bear. Even when I tell myself "low standards" and "just chill" for Christmas day, I can't help but feel so aware of how much I love the people I'm with and everything everyone is feeling–even if it's all good–that I just go into therapy dog mode and soak up too many feelings and then fall into an exhausted heap Christmas night.
Loving people is so hard and so wonderful. And as much as I love Christmas, there's a reason it only comes once a year.
Taking this heap of gifts into the week as we continue to soak up family, feel grateful for everything this year has given us and move forward toward the new year…onward, my friends.
I hope you all had a wonderful holiday…wishing you more love into the new year. xo
Leaving you with my post on Instagram from Christmas night: Lying in bed with the girls as they fell asleep tonight, I heard the ghost of Christmas past…quiet little sobs: "I don't want to go to bed, Mom, because when we wake up, it will all be over." My mom reminded me today that I was exactly the same (and maybe still am ????)–cried every Christmas night growing up, so sad for the end of the anticipation. So I held Lainey's hand and told her about the words that have become my anthem…There Is More. We are the keepers of the secret power of recognizing and creating celebrations among ordinary days, and that power lasts all year. Everything we love about this season is scattered throughout the rest of the year too–opportunities for gathering, music, giving and gratitude. How many sunsets will take our breath away this next year? How many nights will we fall asleep, feeling warm and full and loved? How many adventures await us? "There's so much to look forward to," I told her. "Let's start tomorrow with a walk on the beach." ❤️ Merry Christmas…there is more.