One of my favorite things about young mothering is the impromptu adventures. Before school, we had the liberty to do it as often as we liked, and I can't tell you how many precious memories I have of calling Heidi at 8 a.m. with "Hey, want to pack up bags and go somewhere?" and hearing her answer an enthusiastic YES before I ever elaborated on where we were going or how far we were driving. Back in the day, I could break down a stroller in less than six seconds, pack an overnight bag in two minutes and have the kids buckled in their car seats in less than one.
It had been a while since one of those adventures, and a day of hooky was calling. I noticed a couple of weeks ago that the famous Museum of Ice Cream (basically a colorful Children's Museum built completely around the theme of ice cream) had a Miami pop-up. That was all I needed for an adventure invite, so I bought tickets, booked a hotel and planned a day of hooky.  Two days later, the Museum of Ice Cream announced that the Miami location was sold out of tickets for good, so perfect timing. I'll post about the museum in Part II of this post next week. The kids loved it (like a giant interactive playground with free sweets), but it's such an interesting concept, built heavily on the Instagram generation. I'm wondering if twenty years from now we will laugh when we look back and say, "Oh my God, do you remember the Museum of Ice Cream?" like we remember 24-hour streaming of music videos on MTV.
But on to Miami…
Here's how we do Miami: full throttle.
Miami is colorful, diverse, loud, electric, and about as extra as you can get. I love it, I love it, I love it, but at the pace at which we hit the city, I get my fill quickly, so 24 hours is usually how we do it. Basically, we ride a unicorn through South Beach–and forget the saddle: we go bare back. Full speed, until the unicorn passes out. Let's put it this way. If Miami was a massage therapist asking how much pressure I wanted on my shoulders, I'd say, "Make it hurt." We go to the most electric part of the city though, which is just a portion of what Miami really offers in terms of culture and opportunities. I'd like to explore some of the other areas in the future.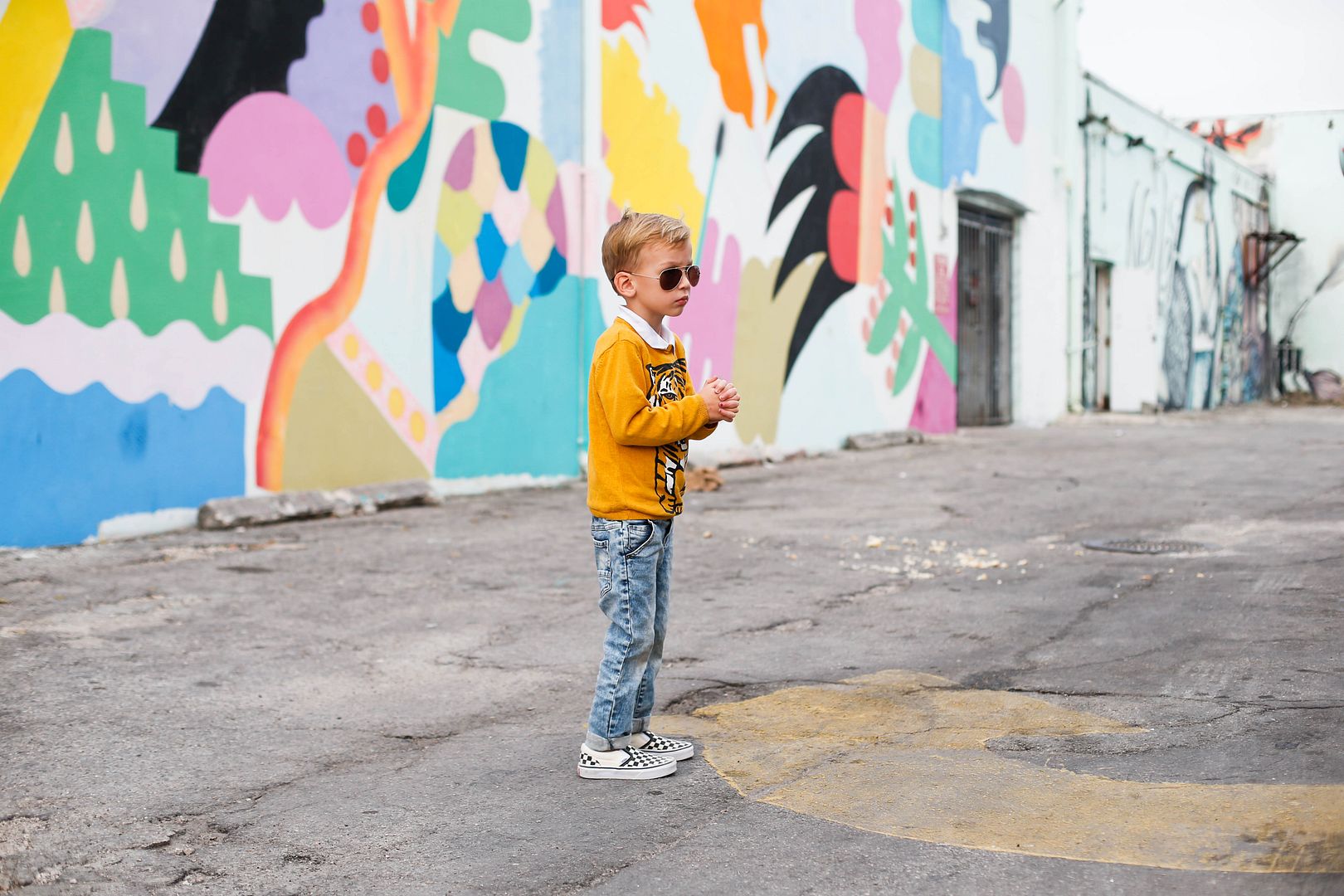 Is Miami kid-friendly? Absolutely. We love South Beach and found a little boutique hotel on Collins, one street behind Ocean Dr., which feels a step removed from all the middle-of-the-night partying and yet still part of the scene we come for.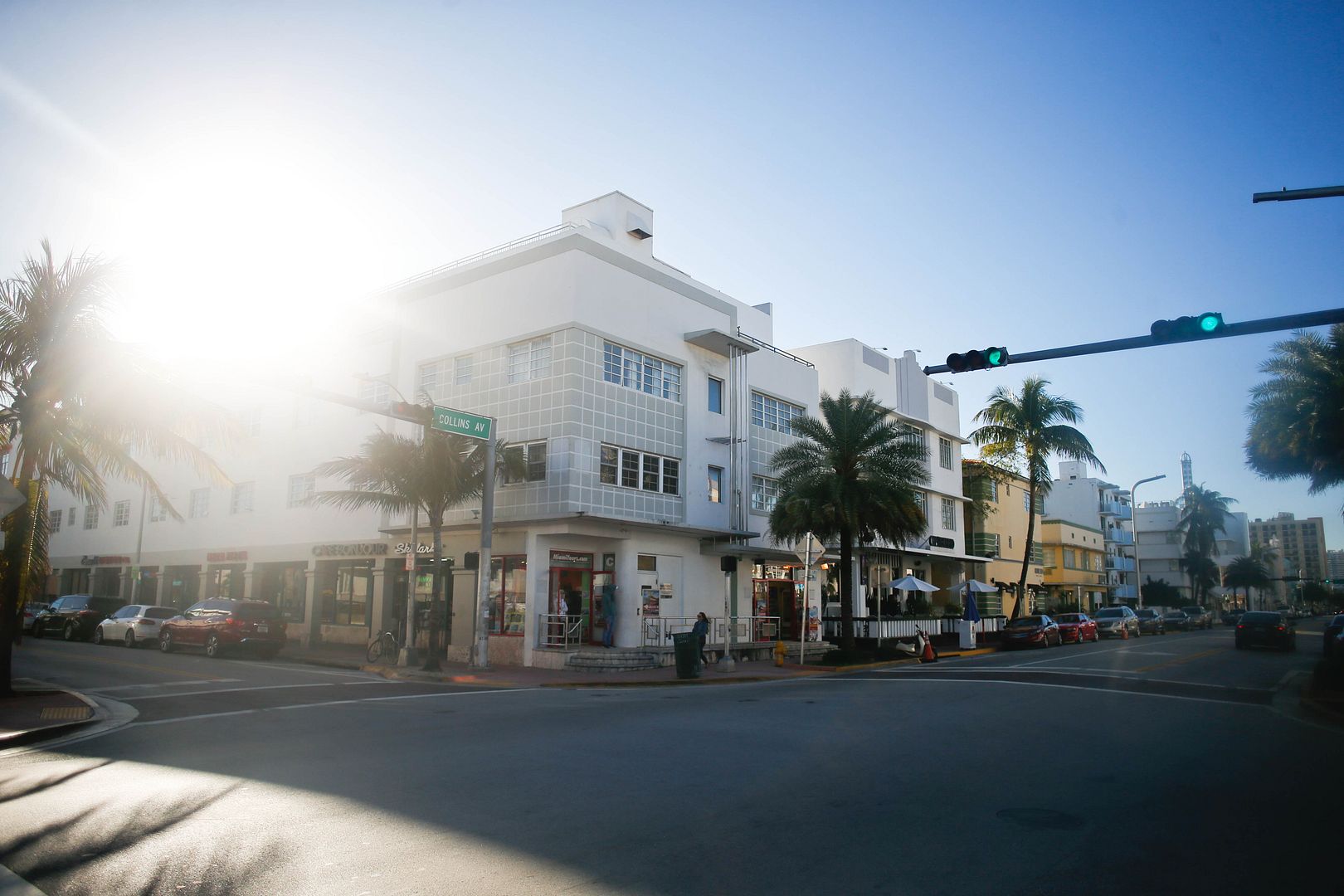 First stop: The Wynwood District which is probably where I'd stay next time if I came without kids. Wynwood Walls, an outdoor museum showcasing large murals by some of the world's best known street artists, is definitely the highlight of the area, but the surrounding streets are just as colorful, full of warehouses that have been converted into craft breweries, art galleries and hip bistros. Even the sidewalks are covered in art.
Wynwood Walls was like a giant playground for the kids with several outdoor "rooms" to hide in.
They played Camouflage Hide-and-Go-Seek which was so much fun. Can you spot the kids in the two photos below?
Lainey went through two rolls of Instax film and put another photo in our Handstands Against Cool Walls collection.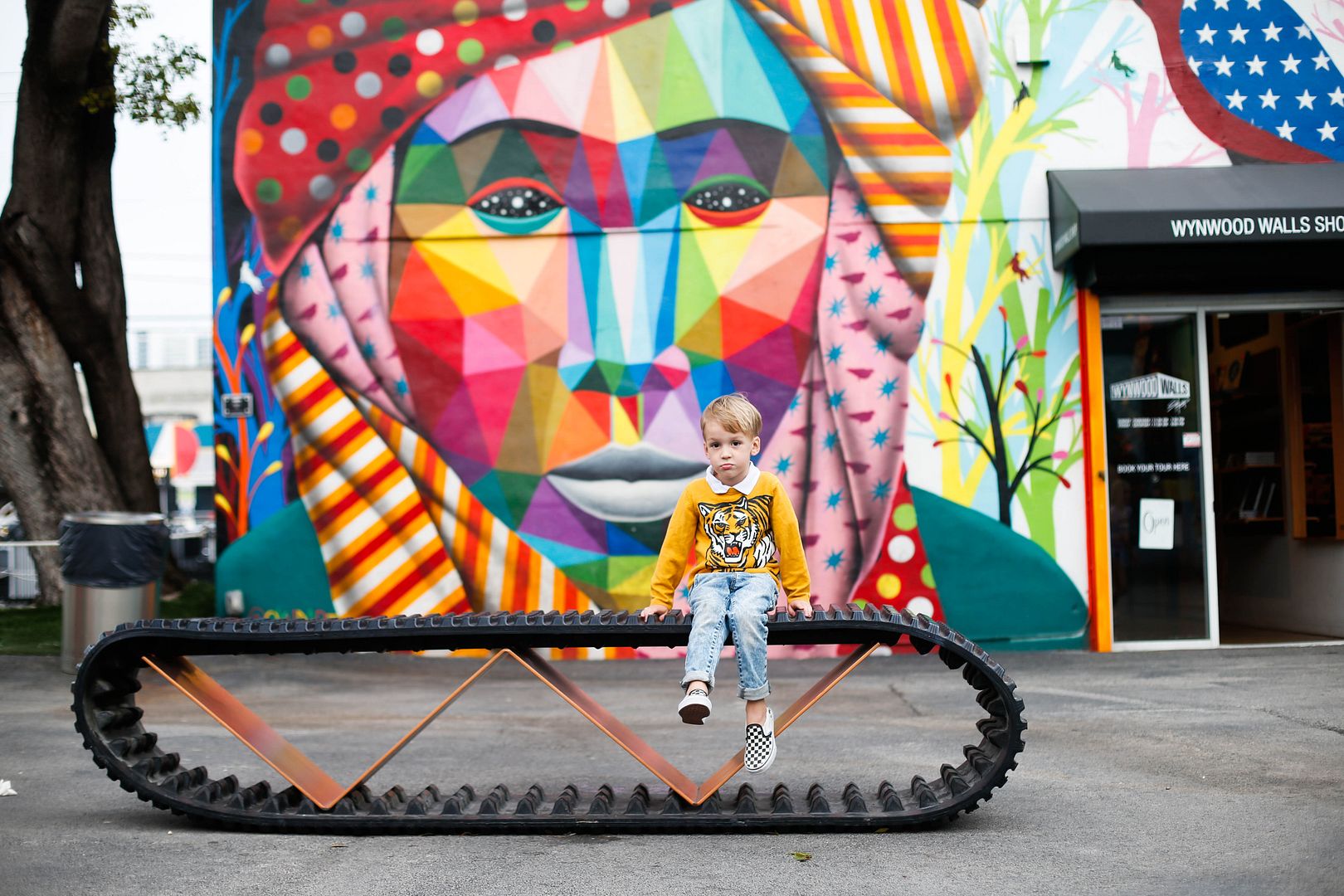 Another great Wynwood find: Cielito ice pop shop. Oh my God. The popsicles don't have any added water, so they're just pureed fruit, cream, etc.
The big kids got unicorn pops (some creamy/sprinkle concoction with candy ears and a horn), Nella got watermelon (soooo good!), Dash got chocolate, and I got what quickly became the best popsicle I've ever eaten–pineapple jalepeno with some sort of chili salt.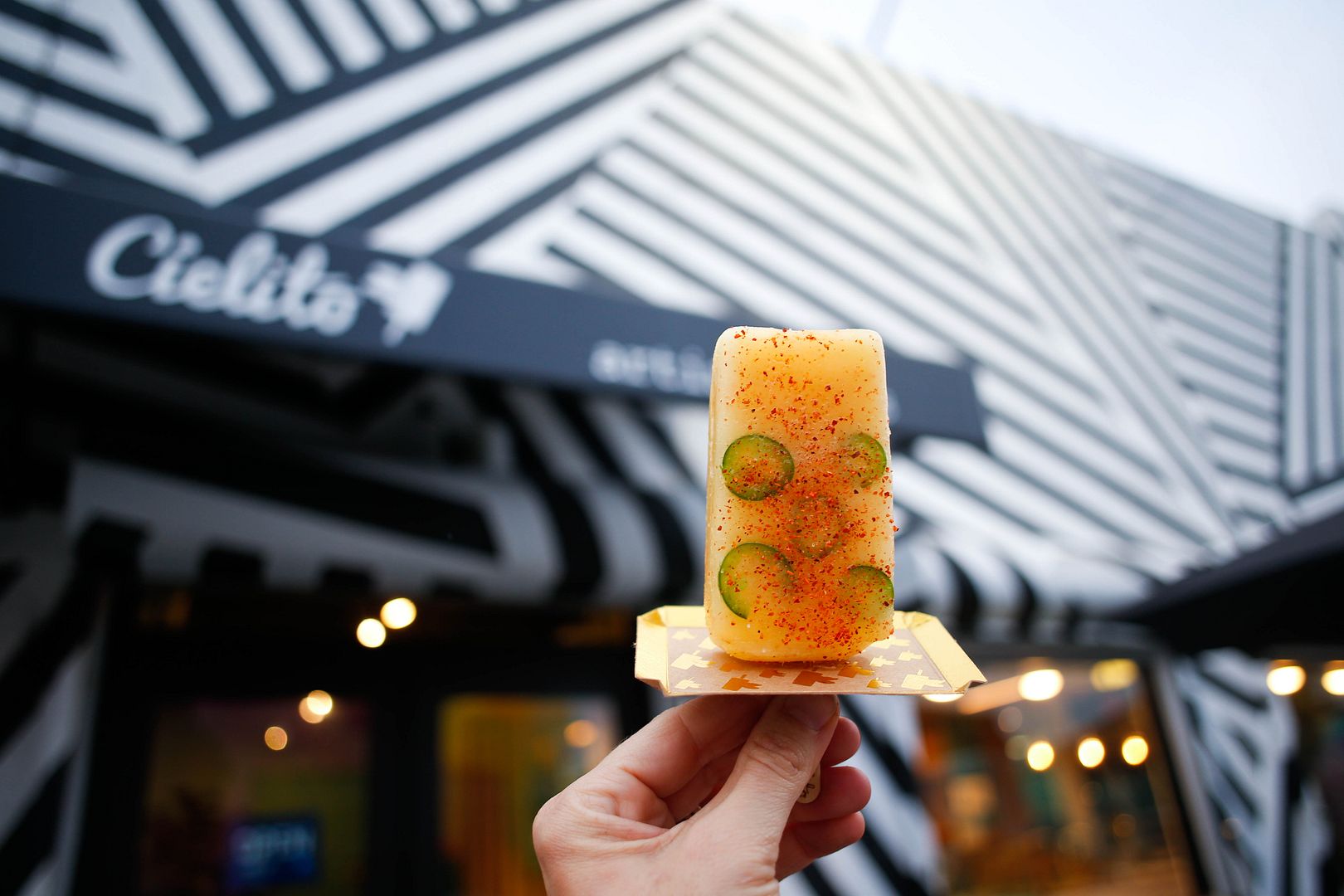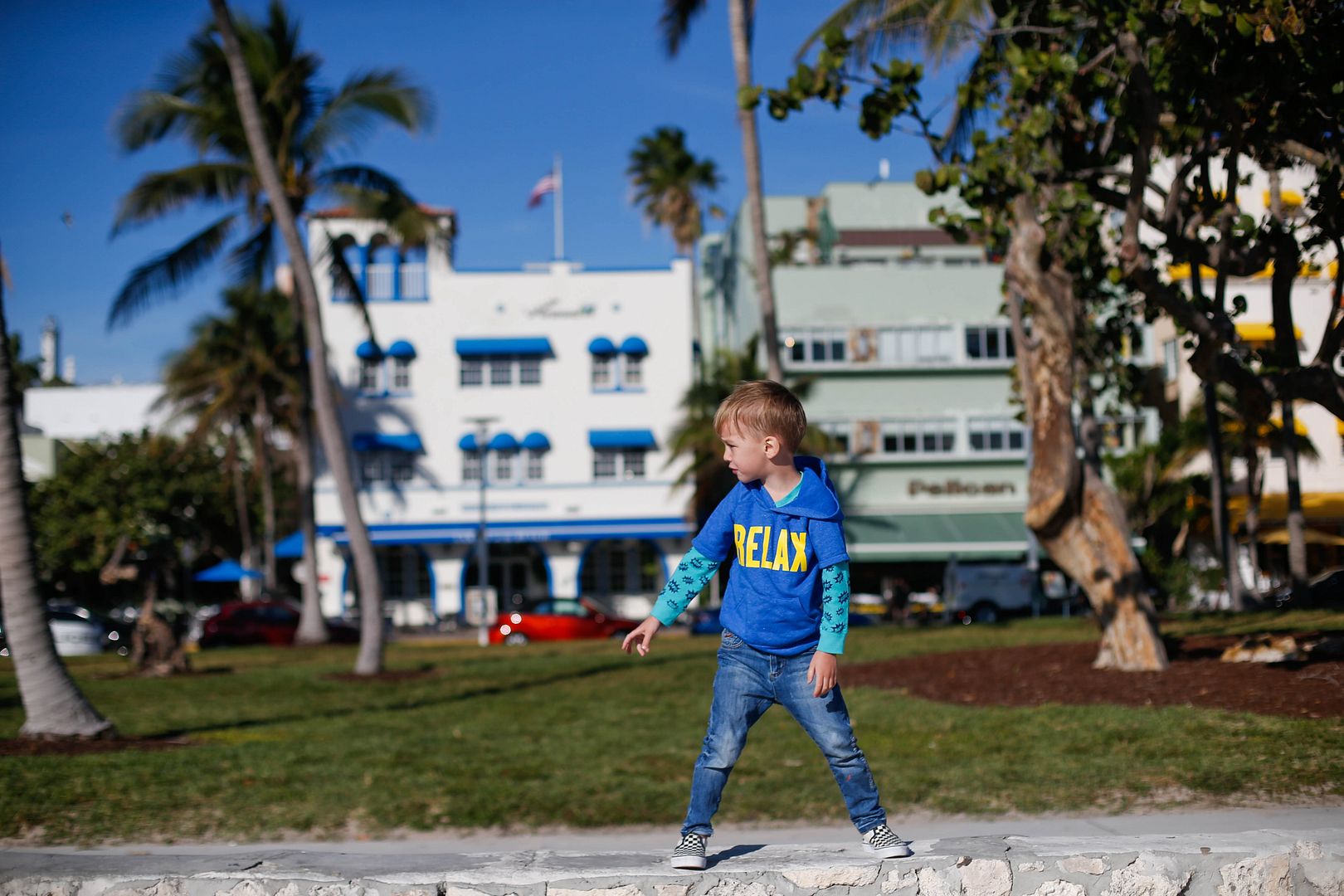 We happened to book our trip during a Florida cold front, but thankfully the sun wasn't shy, so the beach still felt warm and inviting.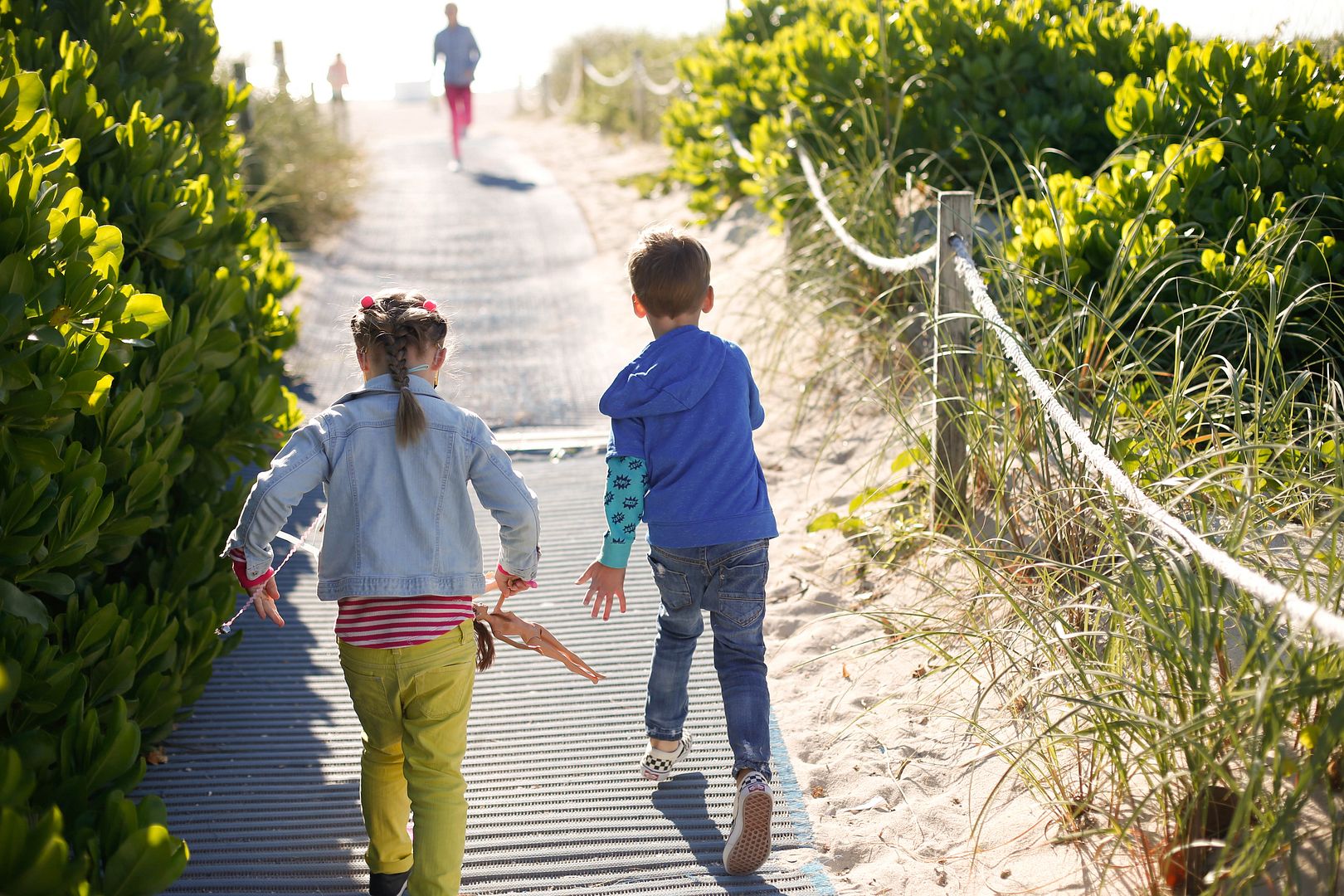 Walking the beach is always a fun experience in South Beach as the lifeguard stations are all designed and painted differently, but all of them representative of Miami's art and style.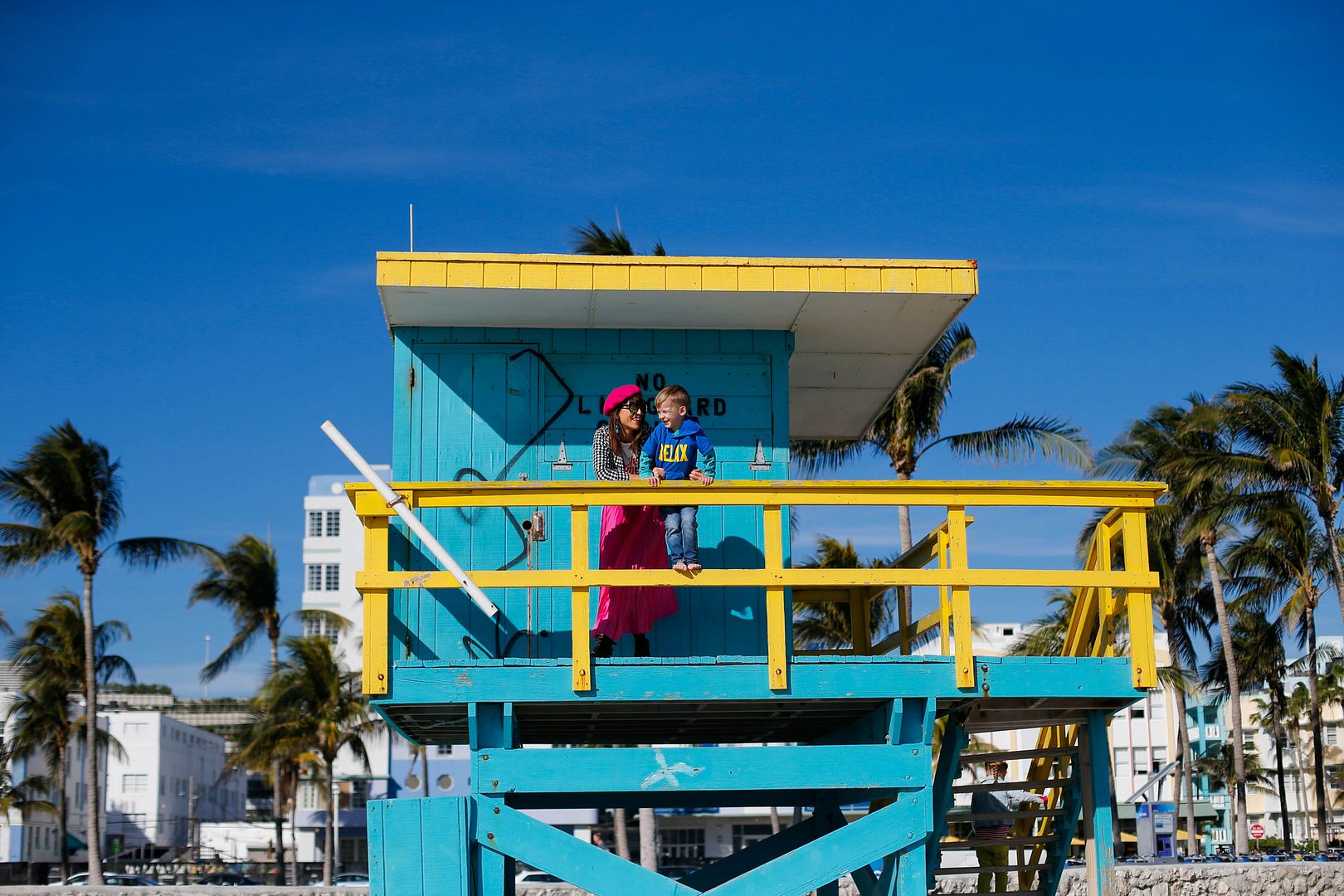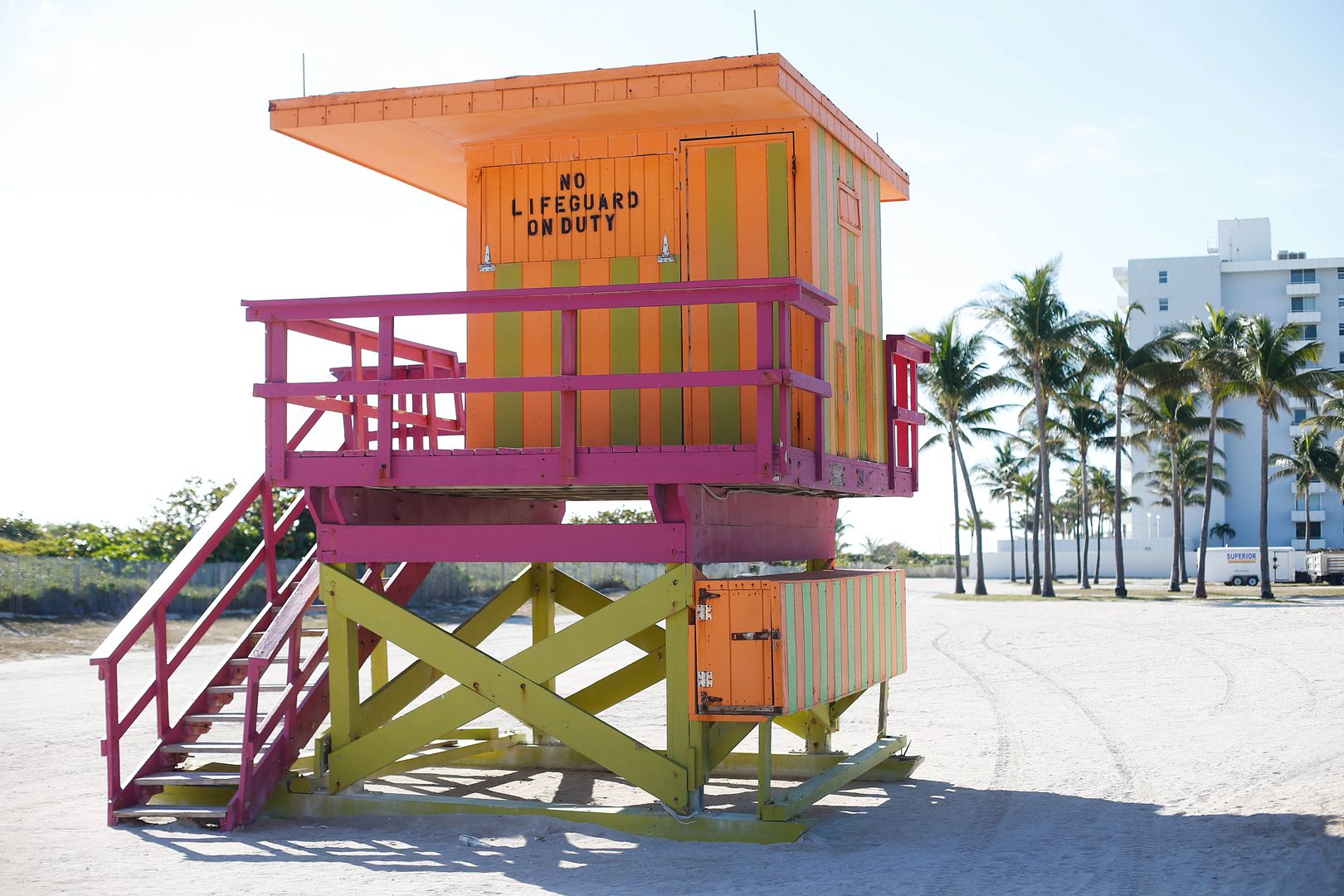 We found a decent kids' menu at The Beacon Hotel on Ocean Dr. (where Brett and I stayed a few times before we were married :o) for dinner, and Dash was cracking us up with his night time shades that he refused to remove.
Notice Dash's store behind him. :o)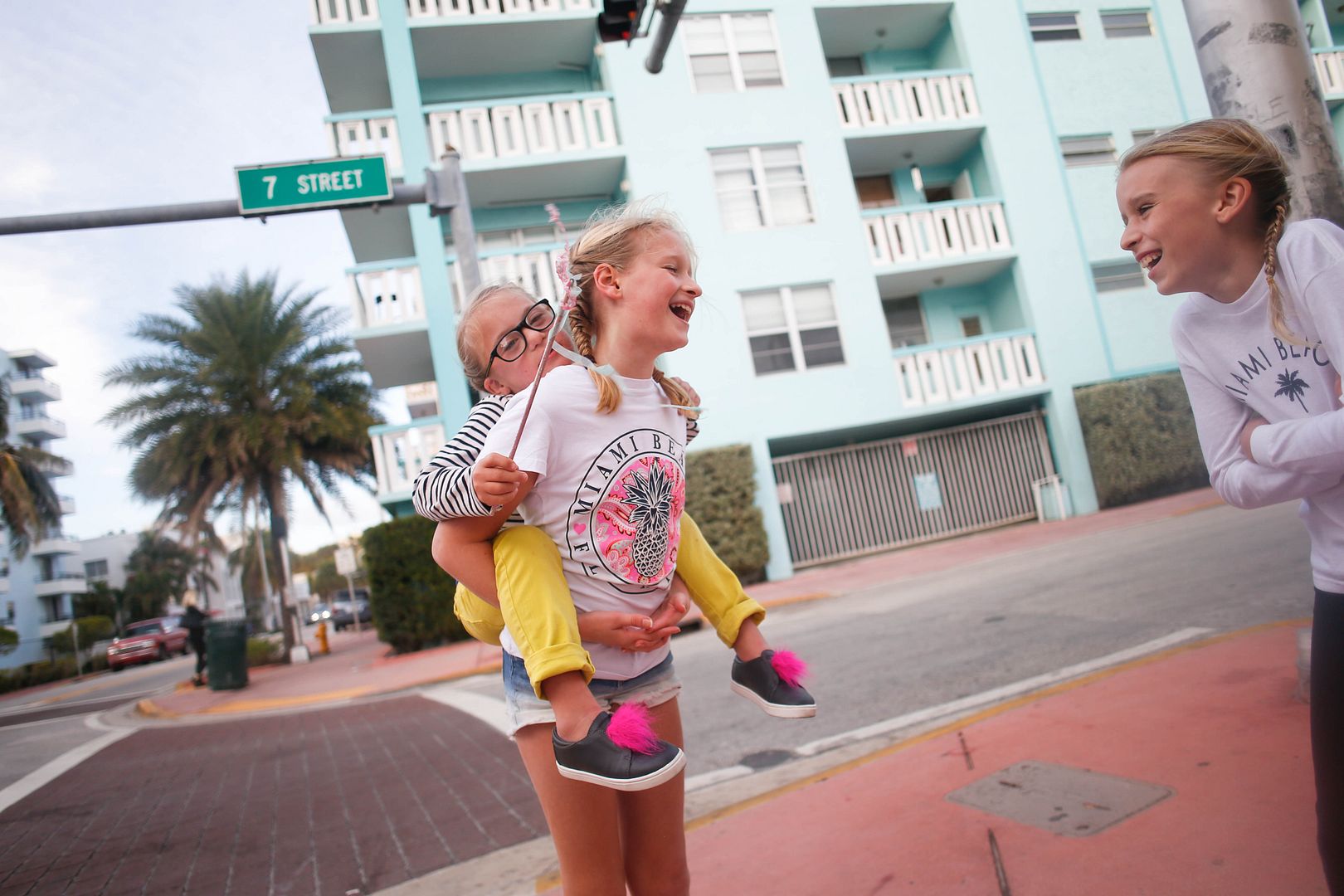 I know it won't be long before I look back and wish I would have done more of these adventures. I fell asleep in a tiny hotel room Wednesday evening with Dash and Nella cuddled next to me, listening to Lainey and her friend laugh and play Uno in the bed beside us, and I felt so grateful for this little window of life, the way the kids are growing, the times we have to squeeze in crazy little adventures like this.
I'll share the carnival that is the Museum of Ice Cream next week. The kids are still talking about it.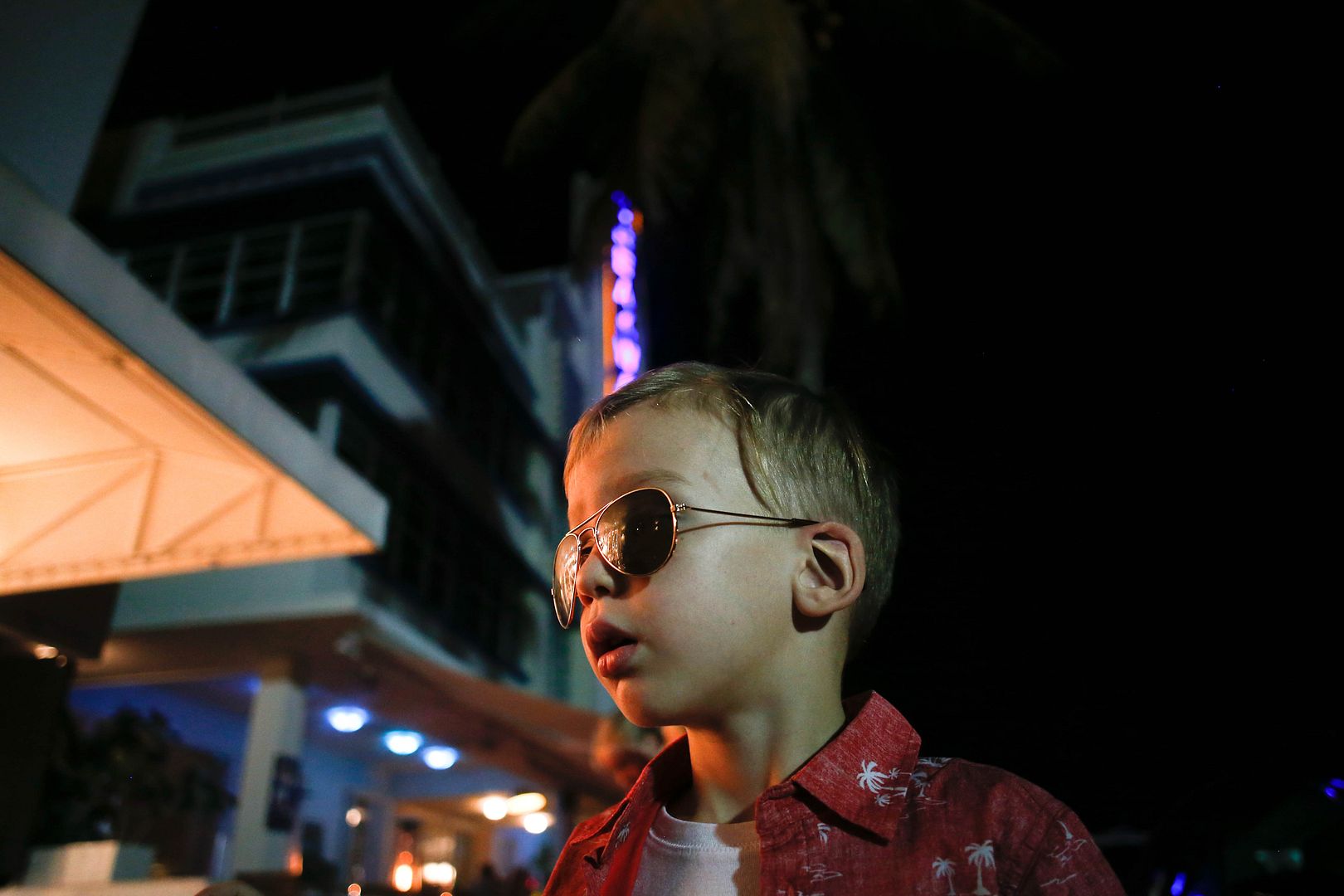 (past Miami trips:  2010, 2011, 2014, 2015)
Happy Weekending!