One of the great things–among many–about children getting older is that they begin to call you out on your crap. I say this joking, of course, because it isn't exactly a moment of great parenting joy when your ten year old informs you that you are clearly driving over the speed limit, or points out that you too leave your pajamas lying in a heap on the bathroom floor after you climb out of them (we call that "rapture clothes"), or that you "always forget to sign my folder." When I'm being fired too many of these parenting infractions, I have a snappy comeback–and feel free to borrow it because it works wonders.
"I'm sorry," I'll say with a smile after being corrected for leaving my purse in the car when I tell them not to leave their backpacks. "I have a question for you–" which is basically cue for "Run!" because everyone knows what comes next.
"DID YOU PUSH ME OUT OF YOUR VAGINA?!!?!?!?"
Here's my parenting tip of the year: Kids love to hear their mom say vagina. You're welcome. Use it well.
Despite my commitment to reminding everyone around here what my bizness has been through and how it earns me the right to make the rules and call people out on them, last week my kid called me out on something that stopped me in my tracks.
I was right in the middle of pulling out one of my trusty sermons on gratitude–the one with the overused lines I've regurgitated so many times–"We have so much" and "If only you knew" and sometimes goes so far as to include the line about kids in third world countries who wear the same shirt everyday and play with nothing more than old rubber tires "WITH JOY," I add.
And then she brought it up…"But Mom," she said. And though it wasn't the best time to do it, it was strategically effective: "I heard you on the phone yesterday. You weren't being grateful either."
I was just about ready to take it back to the vagina, but I remembered the phone call and knew everything she heard. Well, shit.
"Tell me," I said.
"You told Heidi that our bathrooms are so old and that everything feels outdated and that there's so many changes you want to make, you don't know where to start."
"I did say that, didn't I?" Crap crap crap.
The fact is that in a perfectly human low moment of griping about Things People Gripe About (subtitle: "and have no business doing so"), my daughter heard me and made note of my attitude, and–while perhaps manipulating it to get out of her own gratitude shortness–made a point I needed to hear.
So we talked about gratitude. I told her how lucky we are to have a beautiful home and pointed out the things I love about it–the cozy corners that make me feel so happy and the projects we've taken on to make it more "us". We made lists of little things we are grateful for in this house–silly things like "my favorite blanket on the couch," "that moon night light you love" and "a bathtub for long Sunday morning baths." I told her that she was right. She caught me in a moment where gratitude wasn't shining very brightly, but that it happens sometimes, and that gratitude is a life long practice–like eating well and taking care of our bodies. Sometimes we eat the cake we know isn't great for us, but we get back on track.
This time of year–a week before Nella's birthday–I always go back and read the things I wrote around the time she was born. Yesterday, I read this from her birth story, a reference to another time in my life when circumstances stripped gratitude down to its bones:
When Lainey was in the hospital with (alarming, unexplainable and unresponsive) jaundice, I remember hugging Brett and crying. I told him if God would make her better, I'd do anything. I'd live in a box, I'd sell everything we had, I'd be happy with nothing…just make her better. When she did get better, that feeling of raw gratitude was real, but it wasn't long before real life set in and I was complaining once again about the dirty grout in our cheap tile and how much I wanted wood floors. I've often thought about how quickly that feeling left because we have a perfect, healthy little girl running around that erases all the painful memories of when we thought something might be seriously wrong. But I felt that feeling again last week. And as the pain has slowly dissipated, I've realized…I will always be reminded.
The house comment Lainey heard me say was silly and more representative of my creative brain that loves transforming and beautifying hings more than my displeasure with a wonderful space to call home, but the situation did call to attention something I've let slip–my relationship with gratitude and the practice of keeping it alive. When marriage relationships get challenged or feel dull, we stoke the fire with therapy and date nights and critical attention. When our gratitude relationship–which is basically our relationship with the world and life itself, what more importance could it have?–gets challenged, it calls for the same, if not more. I want to stoke the fire of my gratitude flames, notice more the thousand tiny things that are worth celebrating, let my children hear me speak of how much I love the jasmine that blooms on our front yard bushes, the way our windows let all that glorious afternoon light come pouring in, this strong healthy body of mine that can run and move and take care of everyone, the sweetest ripe strawberries in our refrigerator right now. Let them know my gratitude not just by what I say I'm thankful for but how I spend my time.
Mary Oliver said, "Ten times a day something happens to me like this – some strengthening throb of amazement – some good sweet empathic ping and swell. This is the first, the wildest and the wisest thing I know: that the soul exists and is built entirely out of attentiveness." I want to up the ante and make it twenty times a day–to feel that strengthening throb of amazement, that attentiveness for all the good and wonderful things that exist and happen around us…and not on our phones, might I add.
There are some little adjustments I'm making with my gratitude relationship that I'm excited about–from writing gratitude prayers in my journal and pulling out the old Mary Oliver books to reevaluating my "inspiration" social media and magazine input.
With that said, lately we've been enjoying…
Things Dash Says.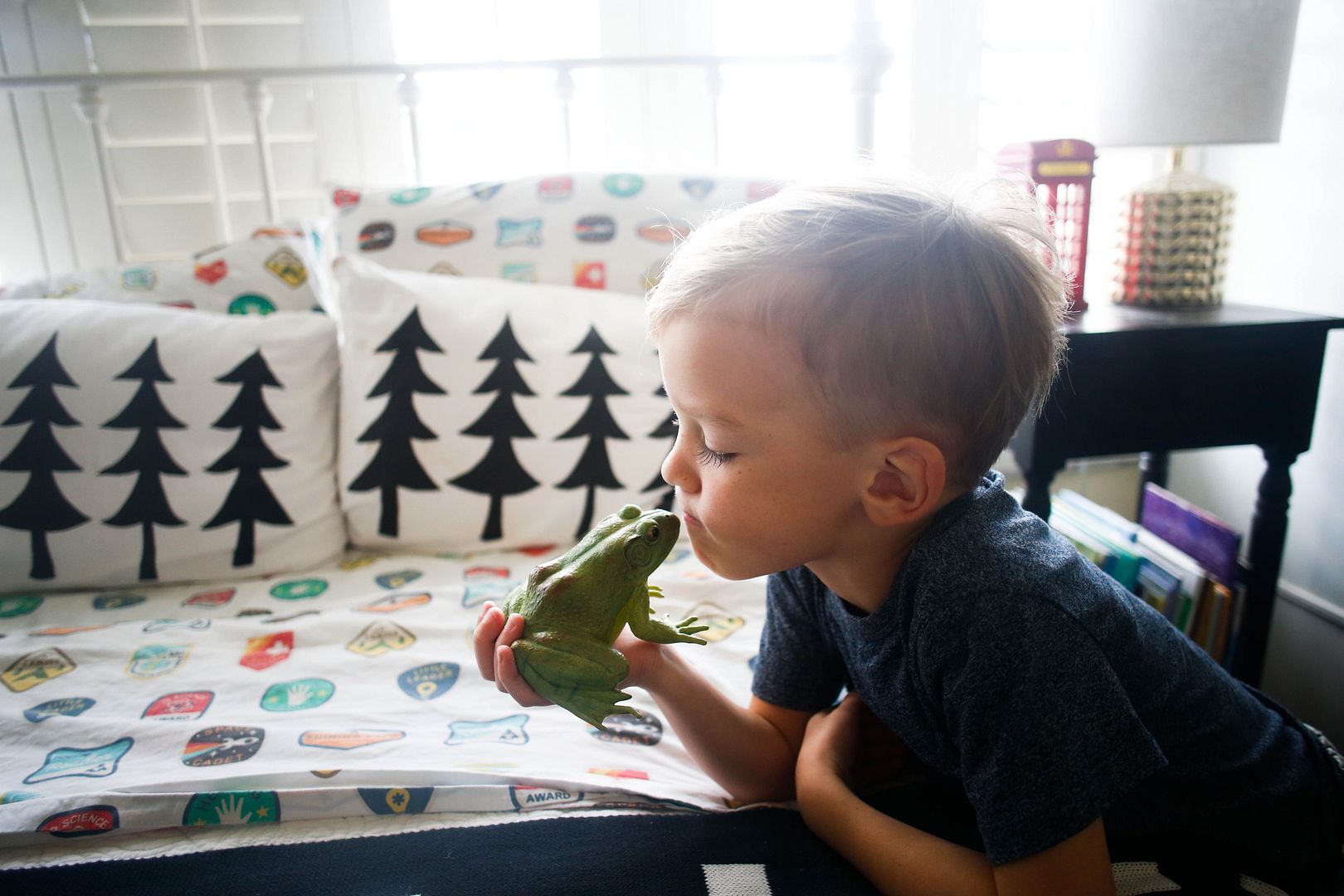 I've never written down so many funny things for one kid. His crazy imagination goes non-stop, and his brain filters nothing before it comes out of his mouth.
Even when he's not being funny, we hang on to all the little phrases and pronunciations that keep that sweet preschool vibe alive and well in our house. My favorite? "Pizuzz" for "Because". As in: "I'm going to wear a sweater pizuzz it's cold outside."
Siblings That Care of Each Other.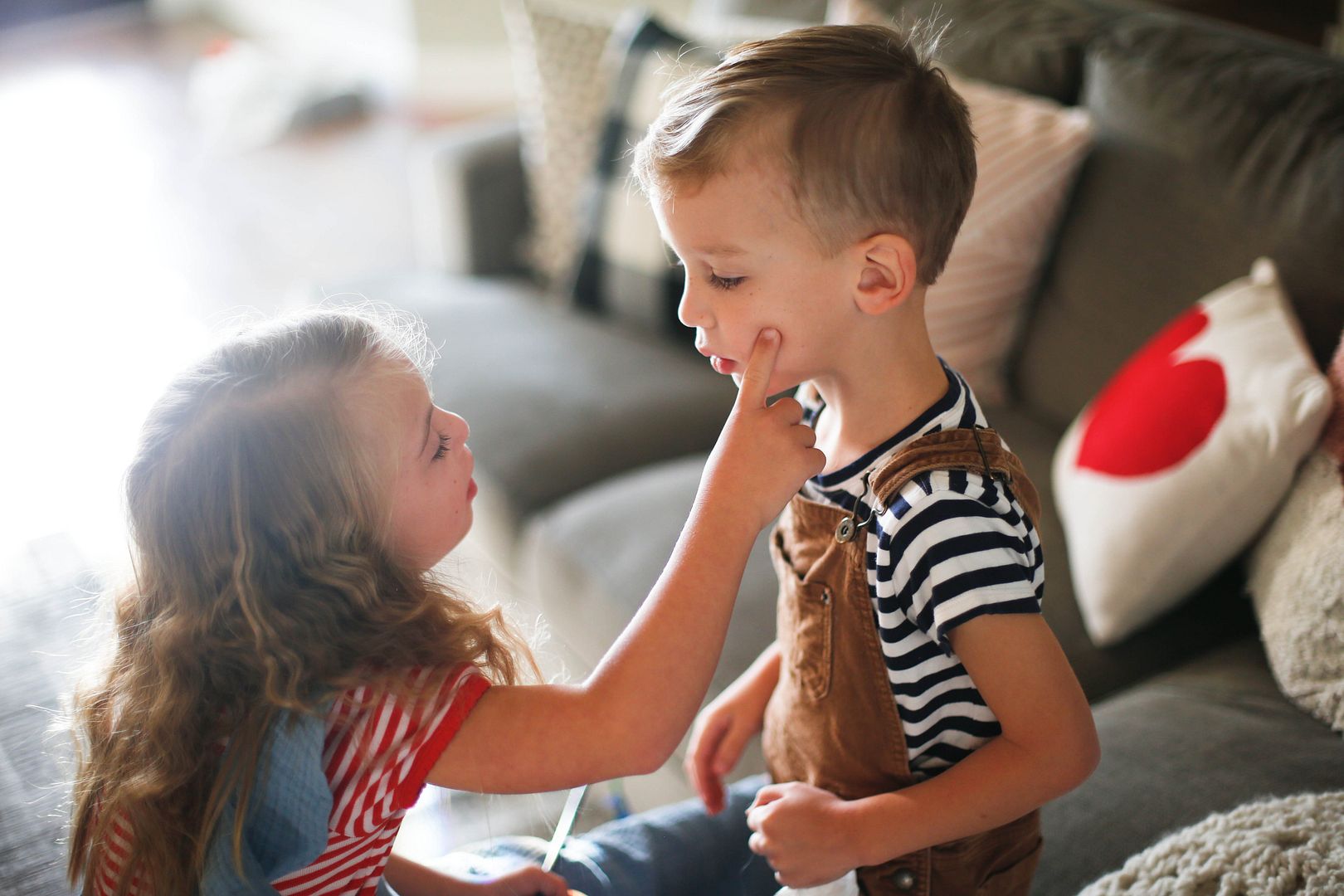 He panics on the way to school if he notices I forgot to wipe cream cheese off Nella's face. She double checks his preschool bag to make sure I packed him a water.
He reminds me to put Nella's glasses on her, never asks for a vitamin without holding out his other hand "for Nella" and runs to pick out a nightgown for her when it's time to go to bed.
It never gets old…watching them love each other.
A Vine-Hugged Wall.
The Sound of a Remote Control Car in Our House (translation: Childhood dwells here.)
A good bandana scarf, Chuck Taylors, Florida sweaters in January, 2 braids, the color yellow, big sisters who amuse little sisters, a simple stick bringing this girl so much joy for 10 months straight now.
The intersection of youth and everything that lies beyond.
Slime. Even though I also say I hate it. Do I contradict myself? Very well, then. I am large, I contain multitudes.
Off to clean up the rapture clothes I left on the bathroom floor this morning…the bathroom that has running water–water that gets hot, might I add–and two sinks, and a big window, and a tub that brings me so many happy, relaxing moments that make life easier. And for that, I am grateful.