Eight years ago, I was holding a three-week old baby and learned about Down syndrome those first three weeks only enough to know that the D was capitalized and the s wasn't. That knowledge came from spelling it wrong a few times and being corrected, but that was as far as I'd go. I can spell her diagnosis. I can hold her. That's all I can handle right now. Immersing myself into anything that would reflect what adulthood would look for her was off the table. In fact, it wasn't until she was six months old that I agreed to attend an event for adults with Down syndrome, and even then my stomach was in knots on the way there because I had reached a really good place, and I was terrified that what I would see and experience would make me sad. It didn't.
Since then, I've been to a number of events for adults with special needs. I've sat in living rooms with these friends, watched movies with them, visited their college dorms, joined them at Target to shop for towels, texted back and forth with them regarding which sweater they should wear to a party and my personal favorite–dropped it like it's hot on a dance floor. I got to do the latter again Friday night at Night to Shine, a prom for individuals with special needs, sponsored by the Tim Tebow Foundation and hosted on the same night every year by churches all around the world. Some of you know I've had my issues with the organized church, but this? THIS IS MY CHURCH. The faith encompassed in this event is a faith in humanity and goodness and love, and that is a faith that belongs to all of us. If you're hesitant to step in churches like I sometimes am, this is the event where you will be glad you did. If churches did more of this, churches couldn't contain a world in need of affirmation and love. This is what churches should be doing.
Every guest at Night to Shine spends the evening with a buddy (this is Allie, my beautiful date) and receives the ultimate prom experience from the moment they arrive.
(All photos in this post shared with permission from Jesi Cason Photography.) 
Guests choose jewels, have their hair and makeup done, take a limo ride and arrive back to the red carpet where fans are lined up on the sides, clapping and cheering their name as they make their entrance.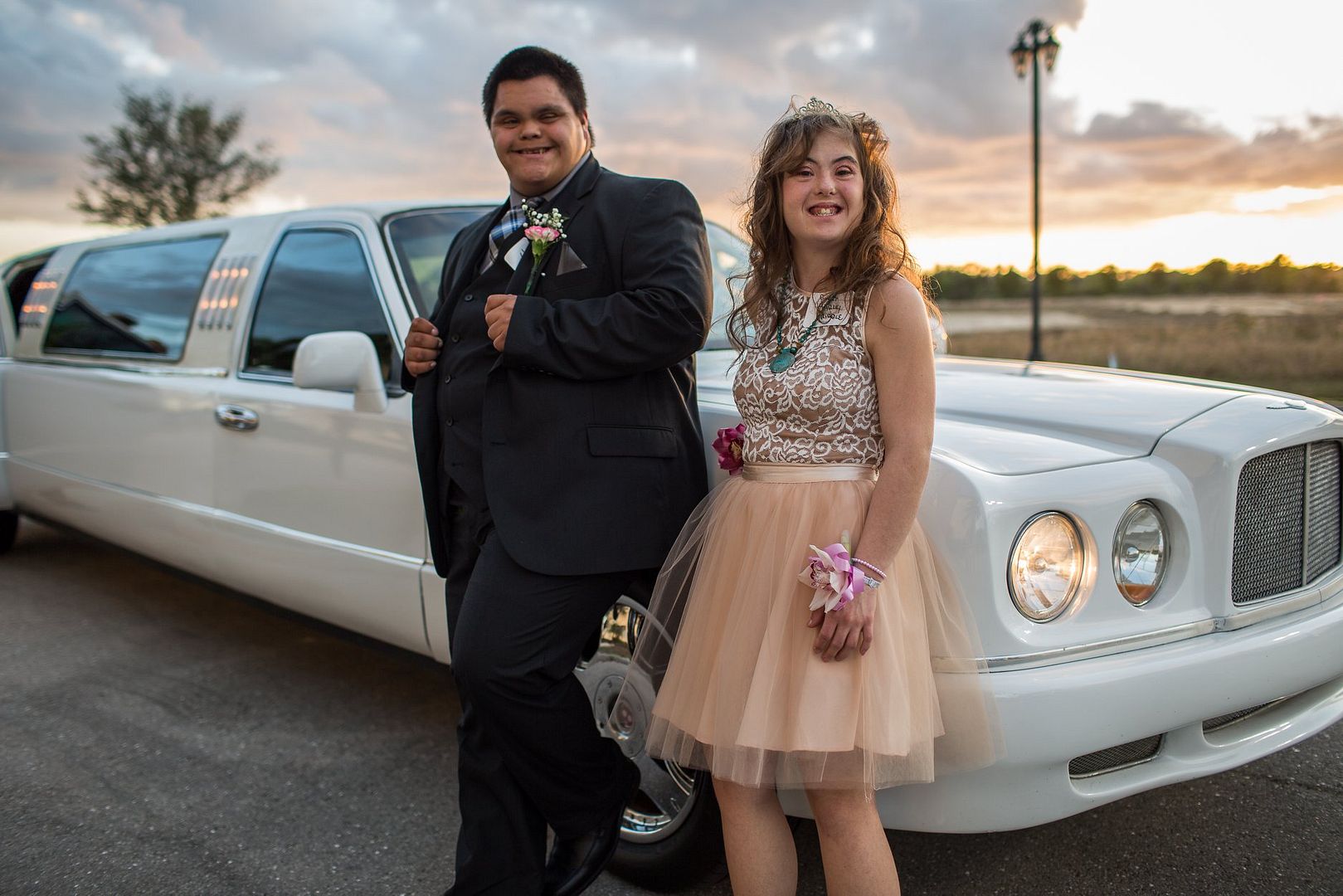 There are so many stories I want to tell you about the evening–about the moments of pure love I witnessed and felt. While every time I go to events like these, I know I am going to smile the entire night and cry from feeling overwhelmed with love, there are always unexpected things I take away–humbling lessons where I am stretched.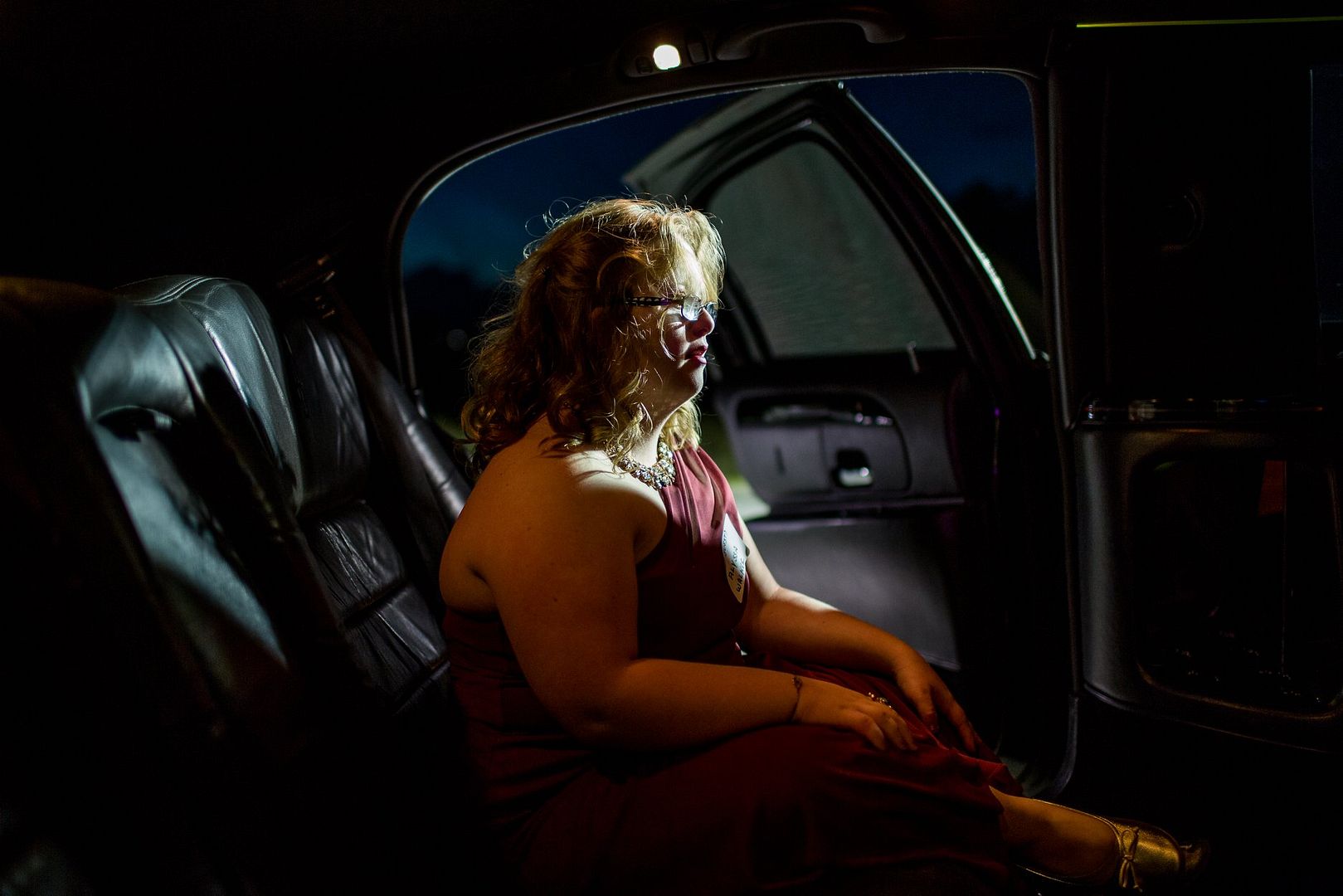 Heidi and I were talking about the event the next day (she did hair and makeup for it) and what we learned from it, and both of us took away similar lessons I think are relatable for anyone talking to people with special needs. I showed up putting so much thought and effort into making sure the people around me had a good time and felt love that I got in my head a little bit too much–Are you saying the right things? Are you asking too many questions? Is your tone of voice condescending? Is she having fun? Does she want to dance? Don't talk so much. Talk more. Until I realized I was doing exactly what I don't want people to do with my daughter. I was talking to a person with special needs rather than to a person. I was in my head, trying to say and do the right things when really all I needed to do was be myself. I had the opportunity to spend the evening with a beautiful woman, and all she needed was the same thing everyone else needs–to be seen and to be shown love. Turns out we had a lot in common–both in our thirties and drawn to the craft table.
So we colored and made Valentines and later headed out to the dance floor where you couldn't not smile from all the love.
At one point in the night, I remember being surrounded by people dancing. It was dark, lights were flashing, and I couldn't make out who was a guest and who was a buddy, but I finally saw my people in the far corner of the room–my dad and Gary who made this community their family too the day Nella was born. Gary signed up to park cars for the evening but ended up on the dance floor at the end of the night, and my dad? Well, he's good at loving, and watching him dance with Stevie, his date for the night–hands in the air, his signature dance floor moves I know too well, huge smile and fully present with this woman who later told him "I hope you're my date next year too"–it made me cry.
Eight years in, and sometimes I still feel so new to this world–ashamed it took having a child with special needs to truly pay attention to the love this community needs. I still worry that I'll say the wrong things sometimes and even scanned this post with my "Wait–can I say that?" filter. It's just that the love of this event and the people there is so concentrated, it strips me raw.
My dad told me a story from something he witnessed that night–a mom who was telling her son's buddy a little about him before she walked away from him for the evening. "He understands every word you speak although he will not say a word," she told him. "He will enjoy tonight like you can't know, although he may not smile." And then she turned to her son, held his face and said, "I'm the proudest mother here. I'm pointing you out to everyone and telling them, That's my boy! That's my boy!"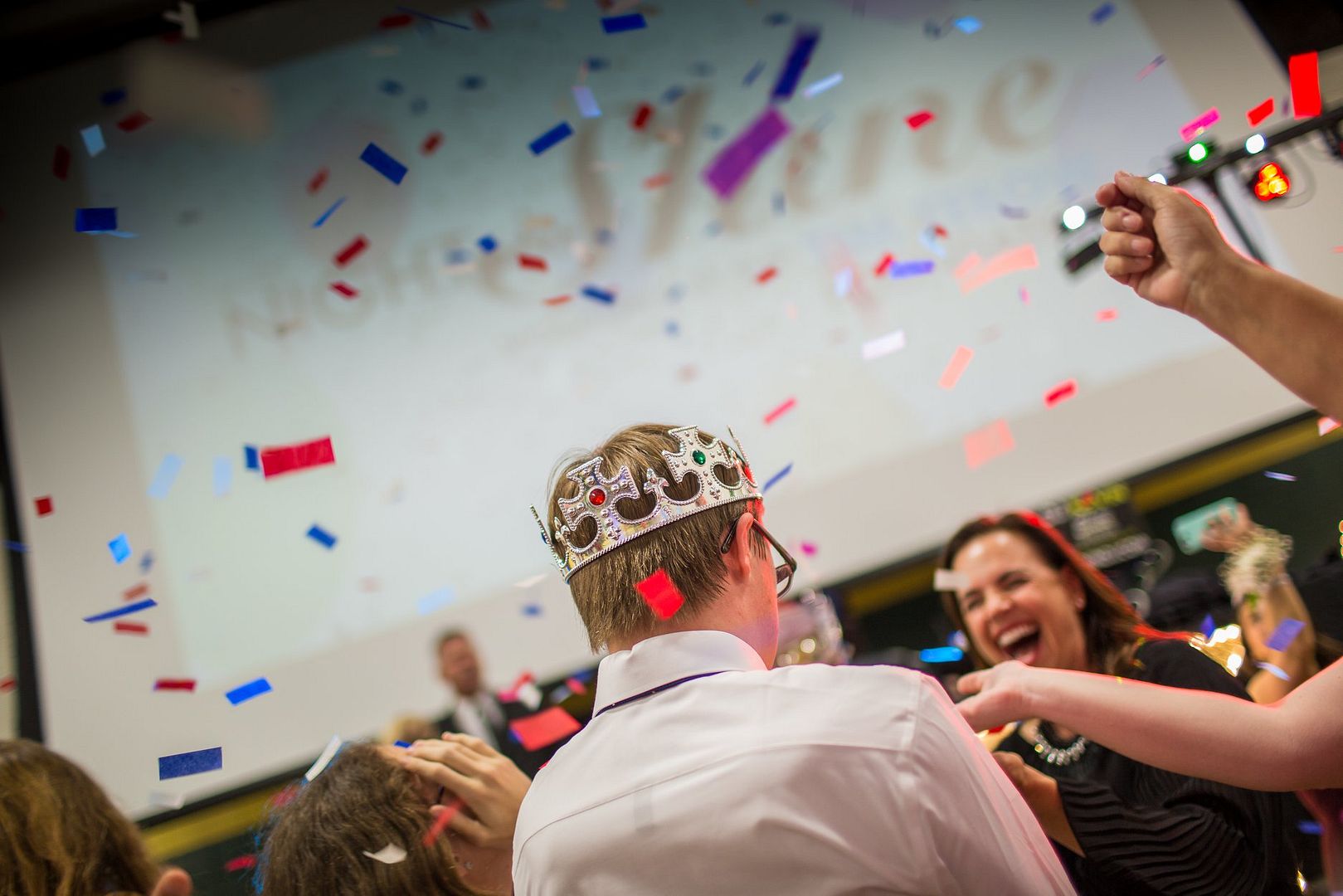 I can't wait to be a part of Night to Shine again next year. You can too. Next's year's event will be held on February 8, and you can sign up now to find out more about one being hosted in your area and how you can get involved.
Watch last year's video, and you will be ALL IN.
And if you are a parent wondering if this event is right for your child (age 14 and up), let me assure you that the event planners and volunteers thought of everything. EVERYTHING. The love and attention they gave was outstanding. They met the needs of individuals who have sensory issues, had multiple people spread throughout the event to make sure everyone was happy, taken care of, had an exit for a break if they needed one, had skilled caretakers who knew all the ins and outs of special needs, and the love–Dear God, the love they gave to everyone who showed up.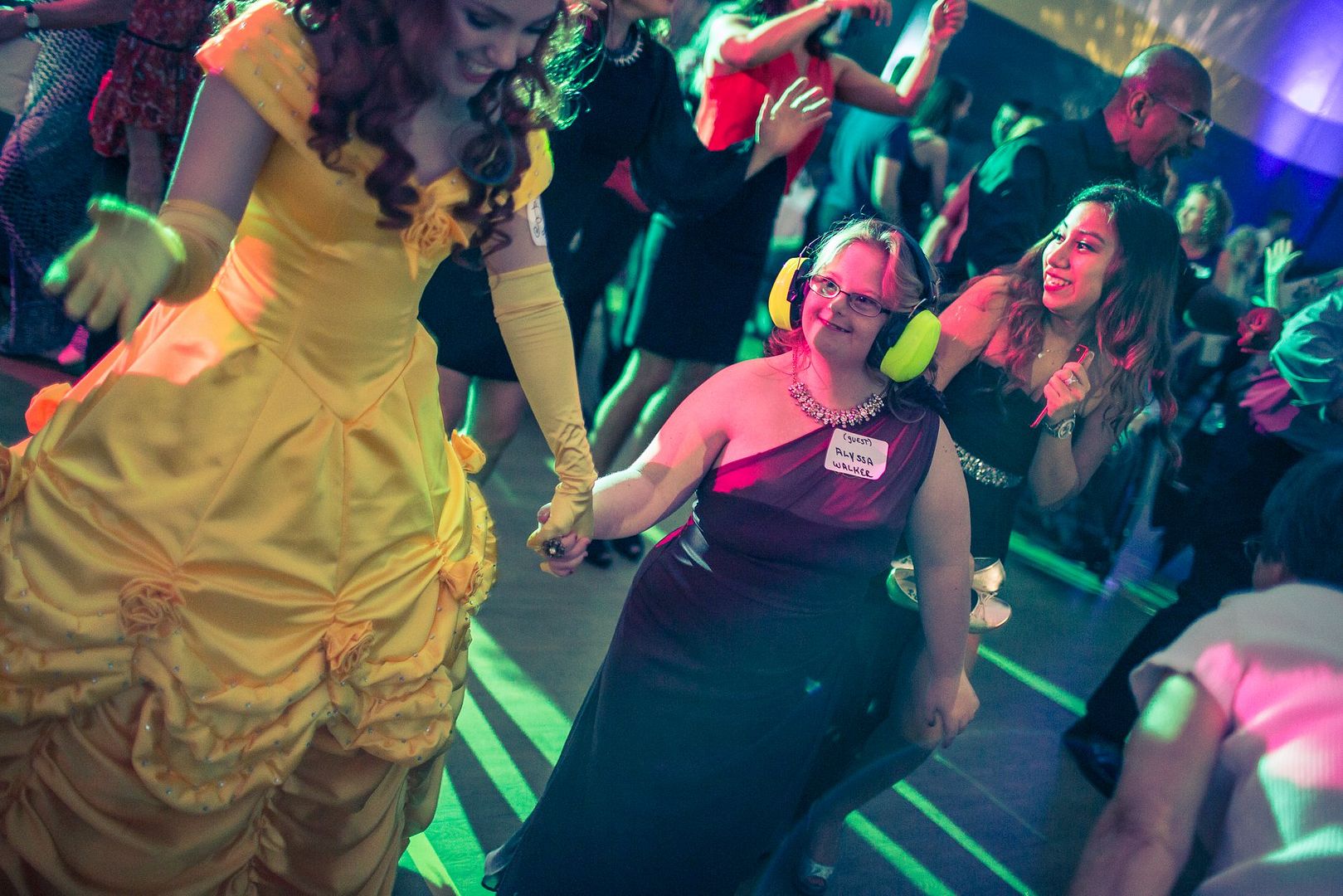 I am reminded once again what a privilege it is to be part of this community and to understand a little more each year with every event, each encounter, every handshake and hug, that we are all equally worthy of what the world has to offer, and that there is infinite beauty in our unique abilities.
And for anyone who's ever looked at a parent of a child with special needs and thought "That would be hard" or "I could never," let me remind you what every parent was thinking from the sidelines of the dance floor that evening: I'm the proudest mother here. I'm pointing them out to everyone and telling them, "That's my boy! That's my girl!"