This post is sponsored by thredUP, the world's largest online thrift store. If you've never shopped thredUP before, stick around because I'm sharing some tips and tricks for browsing their site to find the best on-trend items for a fraction of retail price, and because there's a code for 30% off your first order at the end of this post (applies to new US customers only, items priced under $150).
I officially made it!
I, the "I could never do a capsule wardrobe" girl, have maintained the capsule for over a month now, cheating only a few minor times (I can't help it with the shoes!). What I've learned and am sticking with: SMALLER CLOSETS WORK FOR ME. As much as the thought of whittling down my closet to 38 staples felt limiting at first, I felt more creative and more inclined to wear fun fashion, partly because I purposely chose fun items as part of my 38 staples. I'm more likely to wear the fun overalls or the frilly skirt I had forgotten about when it's standing out among a handful of clothes rather than being buried between drawers of things I hardly wear. Plus, my brain felt more free with less clutter in my closet and a very manageable laundry basket. (The selection guide I used for choosing my capsule items can be found here.)
But with spring on its way, I'm ready to put the long sleeve items and wintery things away (sadly, I think Florida is done with its cold fronts) and add in some colors and trends I'm craving as I peruse new catalogues and spring fashion magazines. The best part? I can do this without breaking the bank.  With $150 budget that might get me 1-2 items full retail, I'm stretching that to buy SIX new spring pieces by shopping thredUP for like-new items up to 90% retail price. I bought two new dresses, a skirt, a shirt, a clutch and a pair of sandals, all for $150.
There are several ways to shop thredUP, and if you're not looking for something in particular, might I suggest pouring a drink on a free evening, sitting down at your computer, typing in your size on thredUP and scrolling through pages just for fun. With over 35 thousand brands to choose from and thousands of items added every day, you'll no doubt find something you didn't know you needed.
I love to use thredUP's filters though. People always ask me how I find such great stuff on thredUP, and it's all about knowing what you love. As I'm shopping my favorite brand sites, flipping through new catalogues or scrolling Instagram, I make note of what's inspiring me and what's giving me "the wants." For spring, my wardrobe inspiration board in my brain looks a little bit like this:
Bright, fun colors that pop: hot pinks, greens, yellow. Spring flower field.
Sweet and feminine details: light sundresses, blush, whites, off whites
White leather slides/sandals (easy to pull off in Southern Florida)
Tie-front button-up shirts: I'm obsessed with them right now because they go with everything (skirts, jeans, shorts), and they are so flattering. They draw the eye in to define your waist.
Then I take those inspirations to thredUP's site to see if I can find them for less. I use their search bar to find the brands I love as well as their fine-tuned filters that help me narrow my search down to color palettes and particular styles. I score every time. And when you know you've done good, you freak out a little bit when that polka dot box hits your steps.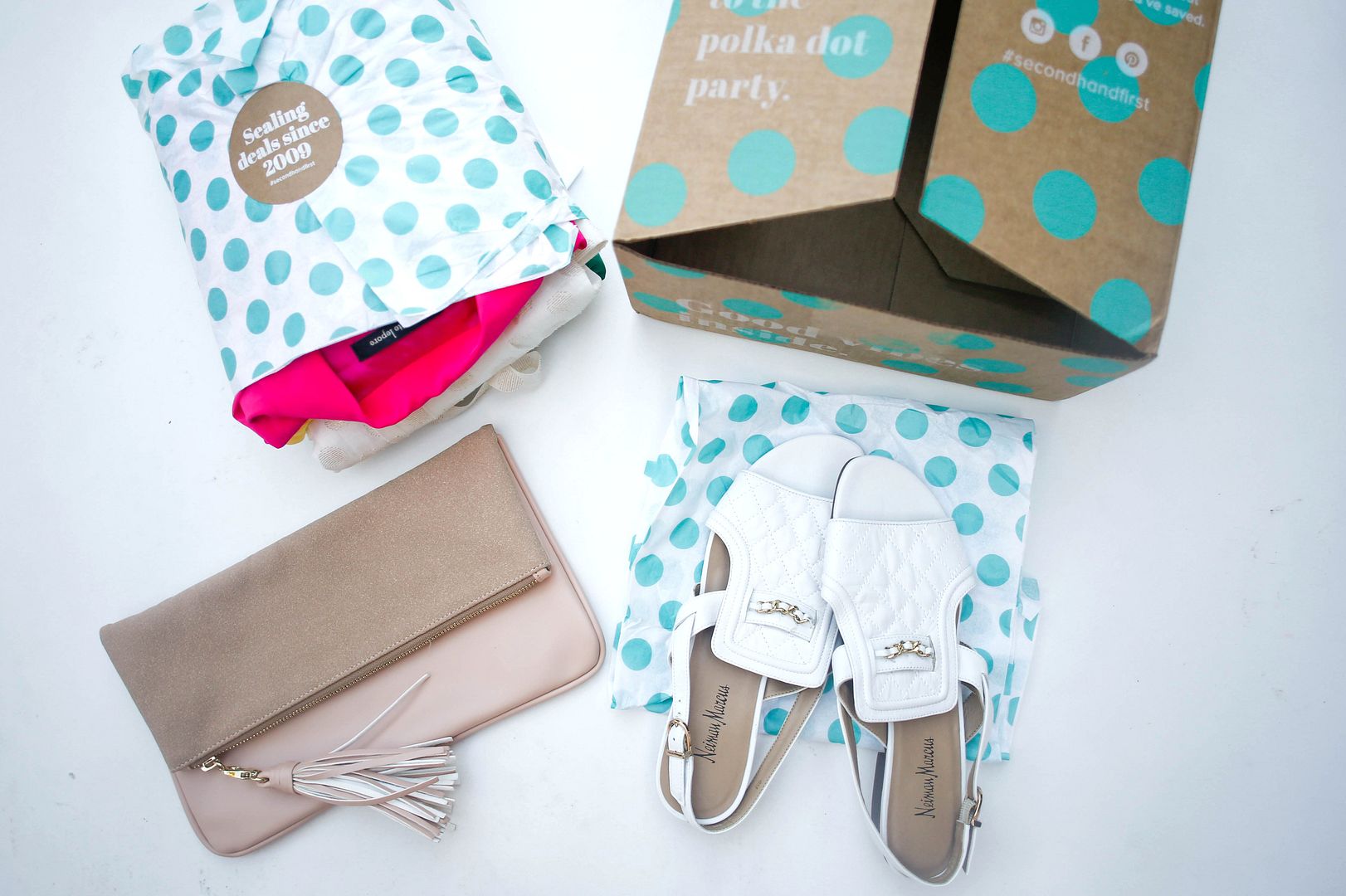 Let's start with the sandals. I know white shoes with gold accents could be categorized as Chic Old Lady Gone Yachting, but if Chic Old Lady Gone Yachting is wrong, then I don't want to be right. These Nieman Marcus leather sandals could pass as brand new and were only $30.99 on thredUP, a fraction of their estimated $143 value. They feel a little Chanel.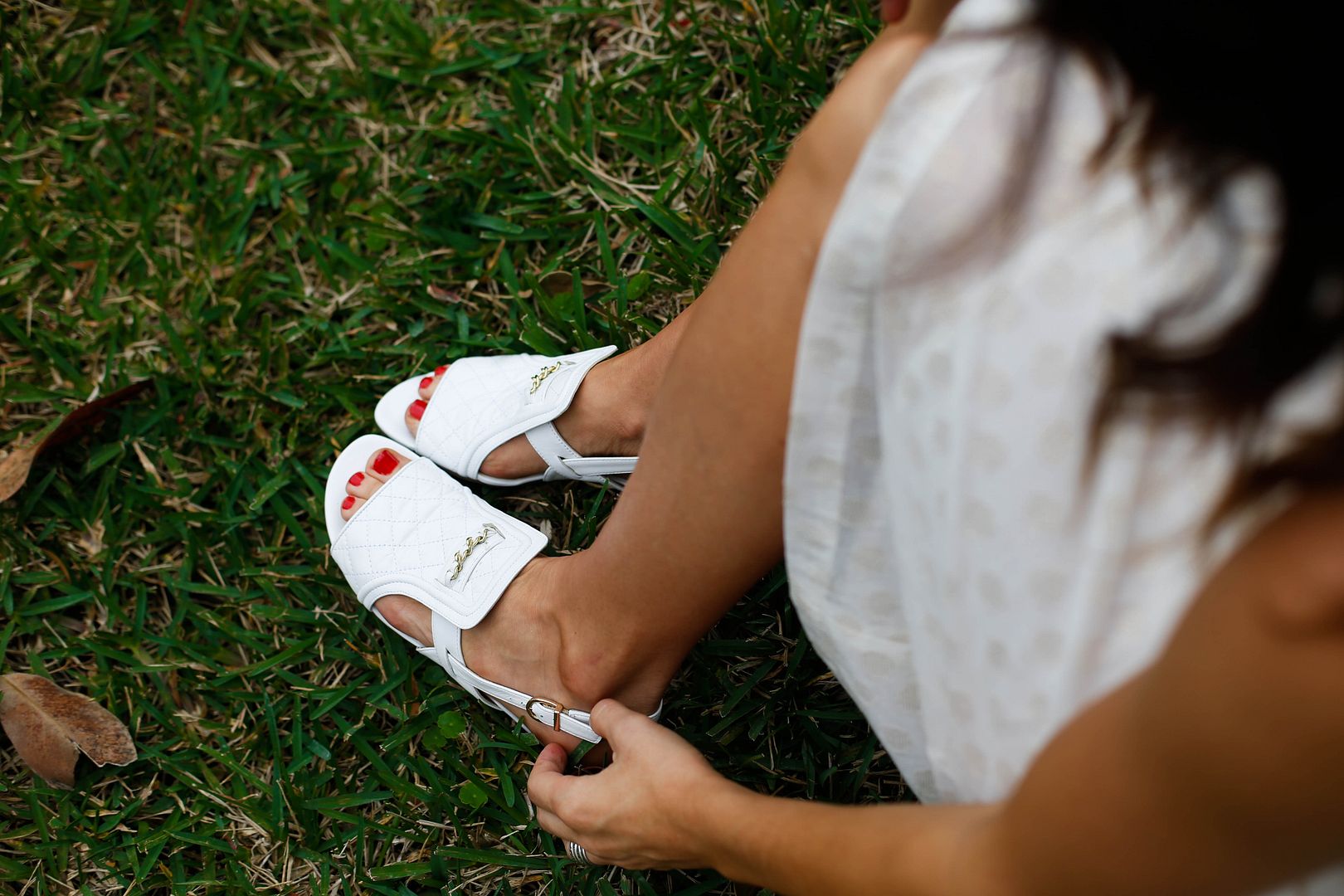 I texted Heidi a picture of them when they came with "You like?"
"Oh my God, they look like what my grandmother in Italy used to wear to get gelato," she texted back.
"Exactly what I was going for."
The white sundress is also thredUP and came up under my "Anthropologie sundress" search. The brand is Maeve, an Antro dress brand, and this dress is perfection. It was $119 retail; thredUP price: $19.99. The fold on the collar is the sweetest detail, and it has textured polka dots all over it.
Now for my spring color pops.
I never met a yellow I didn't like, and this sunny Shoshanna dress (new, with tags!) is no exception. The price on the tag? $330. thredUP price I paid? Wait for it…$58.99.
It fits like a glove, and is begging to be paired with bright contrasting colors. I went for turquoise earrings and royal blue shoes with the added accessory of a daughter in a rainbow shirt.
And finally, my favorite…this Nanette Lapore silk shirt I've been wearing non-stop. Estimated retail: $278, and I paid $24.99 on thredUP.
I'm loving the super flattering tie-front detail on shirts lately, and this one's another fun one to pair with other bold colors to scream Spring! rather than whisper it. I love it paired with bright green (Gap skirt, thredUP price $7.99). The finishing touch? This blush Who What Wear leather clutch. Retail price $45; thredUP price: $19.99.
And because my little capsule closet is all organized and doesn't take up too much space, these new items were slipped on pretty hangers and tucked right into place, ready to be chosen when a day calls for sunshine and happiness.
If you're ready to try thredUP for the first time, you can click right here to start shopping. The first 100 people to enter the code KELLE30 at checkout will get an extra 30% off their first order (applies to new US customers only, items priced under $150).