oh, i am a mess. barely typing the first words of this very long post and already crying long-awaited restrained tears…exhaustion and love and the tail end of a bad cold, work finally winding down, hormones and the realization of all that is to be done and all that is to come…and family. i have reached an emotional crescendo like the summit of a mountain, and i am sitting here, taking it all in and feel completely inept at putting it into words.
brett is in chicago this week, i dropped my family at the airport last night and drove away like a bat out of hell, wiping hot tears before the dam broke…and now it's quiet, and lainey is sleeping on the floor next to me, curled into a big pillow and snuggled under her sister's blanket…because i think we both wanted to be near each other.
it started a couple weeks ago when i was pulling one a.m. bedtimes trying to finish orders and design cards and take on the onslaught of last-minute holiday photo panics. and i kept saying 'yes' when i should have said 'no'…but i love to please…and my house was falling apart in the meantime…and a horrible cold was trying to birth itself onto my exhausted body. and last thursday, while lainey napped, i sunk into a warm tub, closed my eyes for a second…and woke up twenty minutes later in cold water. yes, i was that exhausted.
i held out for so long…until two days before my family got here. the timing was horrible…but that wacky sense of 'work-is-almost-over' kicked in and my body told itself it was safe to take on the sickness despite my 'no, not now' pleas. so my cough thickened and my head swelled heavier.
then the day my family arrived, it all just sort of happened. brett informed me he had to travel north for business unexpectedly. i had a few significant braxton hicks. my friend's new baby was very, very sick. i was contemplating life and its vulnerability and emotionally drained from the end of a pregnancy and wanting to hold this baby and the holidays, etc. and then lainey slipped on a pile of dog pee and hit her head hard on the tile. …and i completely lost it. somewhere, in the middle of the day on friday, i shrunk into a fetal-ish position on brandyn's bed in a heap of tears mumbling something like 'this isn't how it's supposed to go'…half crying, half falling asleep until i realized a client was picking up her order in ten minutes. not to be known as the photographer who lost her mind, i picked myself up and stopped.
i smiled. and walked into the bathroom, wiped my eyes with the cheap commercial toilet paper i accidentally bought at costco (and have 34 1/2 more rolls to go through before i can buy more), and pulled it together. my niece walked in and i filled her in before she could ask.
'i'm fine. i was sad, but i'm not anymore. it's all in what you make of it, savannah, and i am going to make this a fabulous weekend.' she walked out and mumbled, 'so, did you get that from my mom or did she get it from you?'
…and so it goes.
i feel so completley healed by the immersion of what matters most to me these past several days.
family.
we lounged on couches and laughed about memories of childhood: stunts that put us in the hospital…games of cops & robbers with our cousins…teasing my poor mom…christmas mornings.
we ate buttermilk pancakes and watched as the littles welcomed the morning from the hot tub.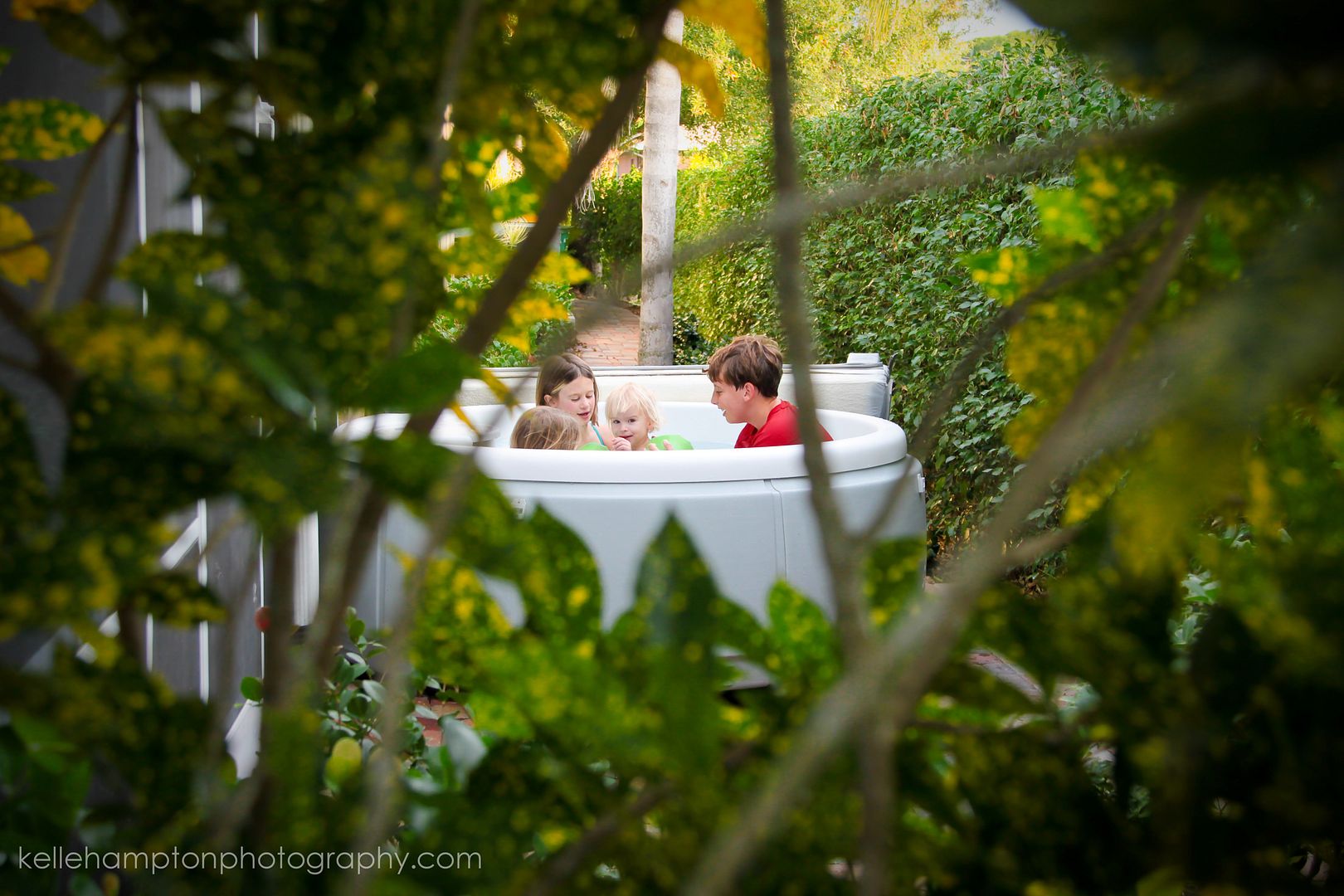 we gathered on blankets for sunset and champagne-toasted togetherness before dancing silhouettes in front of that big, pink sun.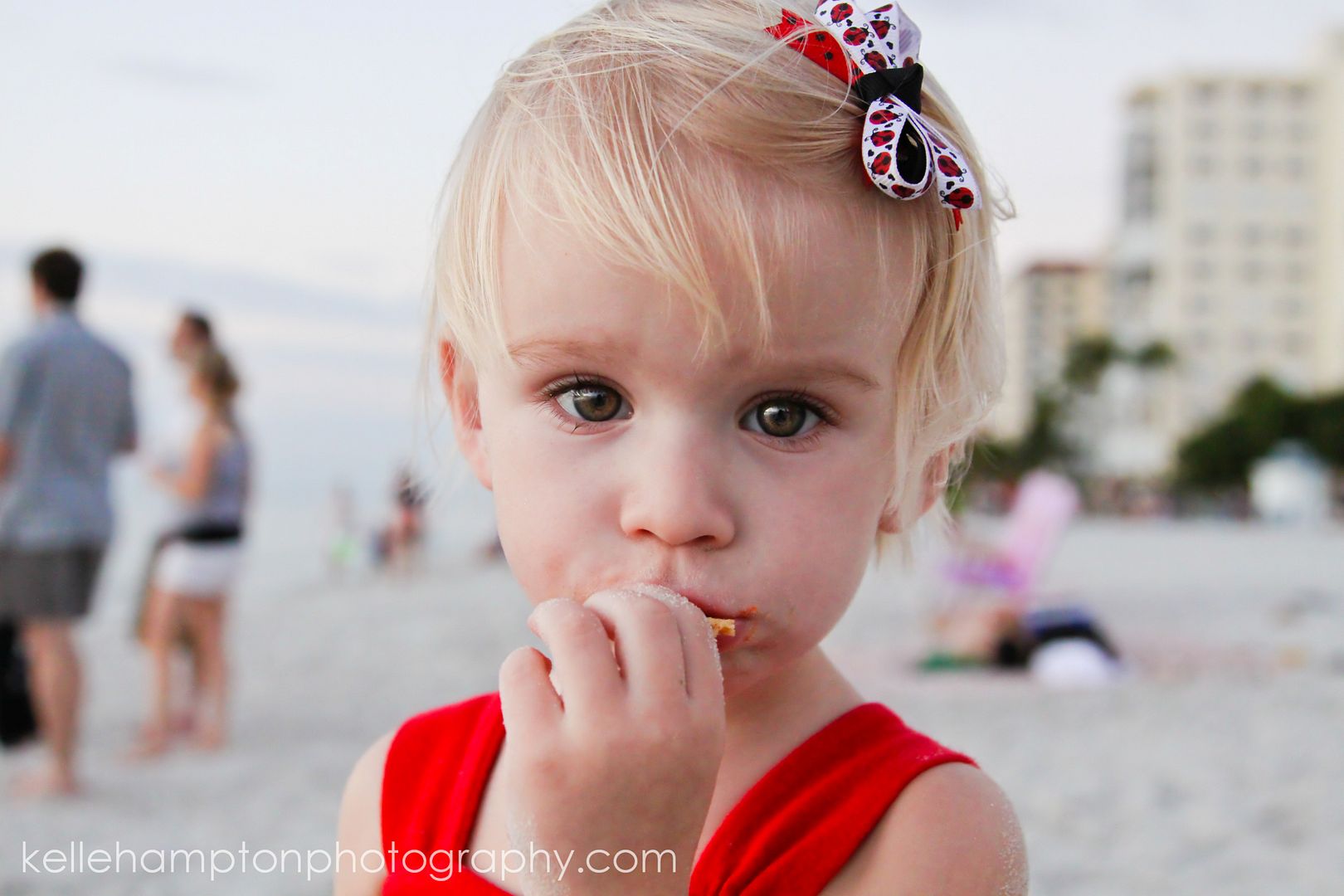 …nestled later into our kitchen where we stood and laughed some more, watched our wedding video once again and reminisced about that incredible week of family…and later toasted marshmallows in the dark outside our woods while we talked above the glow of smoky embers.
we returned to the beach the next day for peace and tranquility i didn't realize existed. we traveled an hour to a new beach on the very end of marco island in search of the best shells…trudged through this lagoon-ish body of water hoisting bags and chairs with my mom whimpering 'i don't think this is a good idea' behind us, past another cluster of sea oats and trees to reach this empty heavenly space of gulf and sand and vivid blue skies that waited for us.
it was breath-taking. and it was there, in the quiet of a sunday afternoon, that i let it all go. just took in the moment without thinking about anything else but right now. with my girl. and the balled-up little bulge on the right side of my stomach that moved away from the sun as i walked the edge of the tide.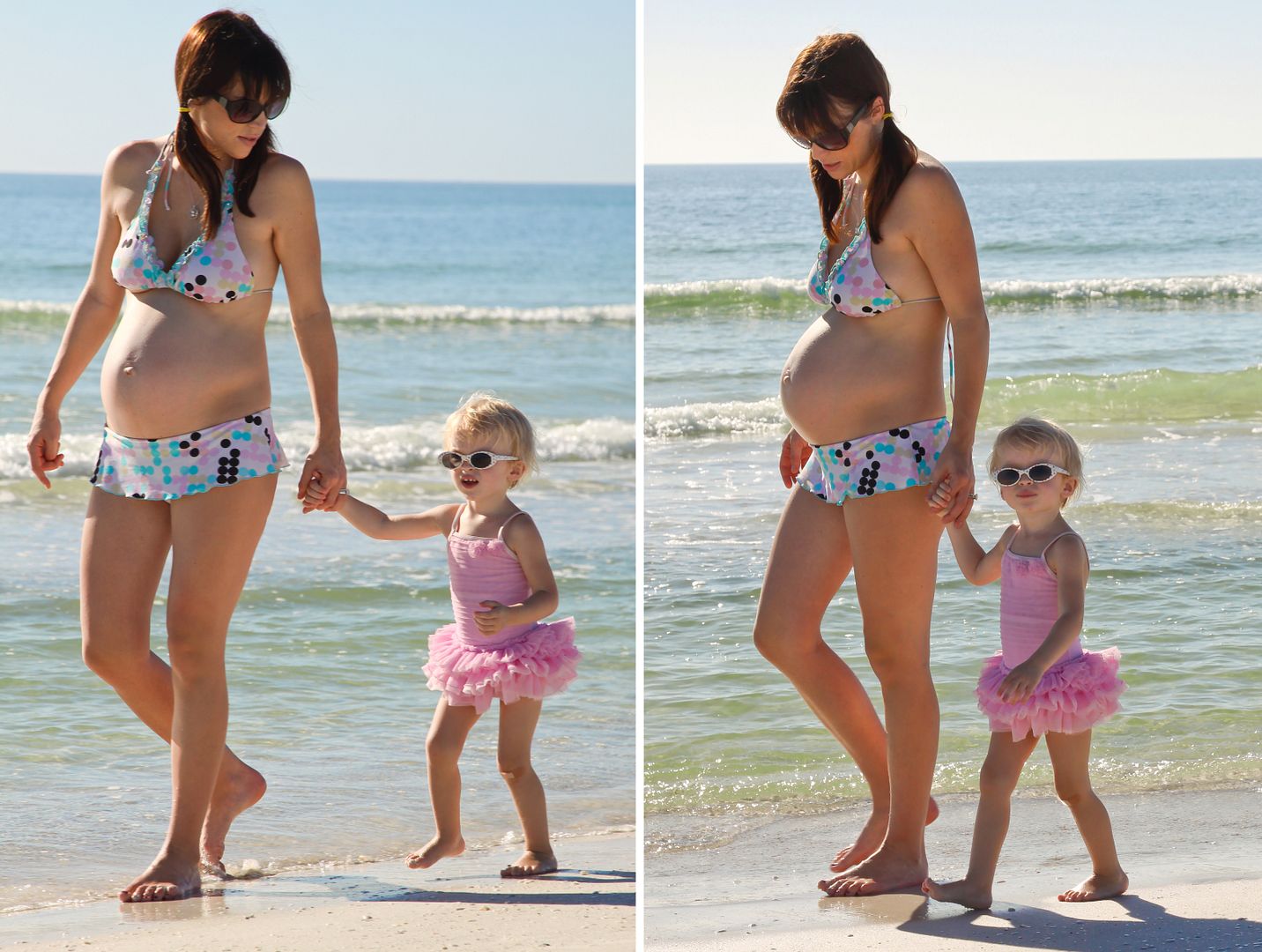 i watched as my sister helped her littlest collect shells in the big pink pail for all her classmates back home…as my mom closed her eyes and relaxed on the quilt spread in front of the backdrop of sea oats. as brandyn glided his wake board happily along the shallow waves…and later at the bubbly sea foam on my toes as i sank into a chair at the edge of the water and my tired little girl flopped into a sleeping heap around the big round belly.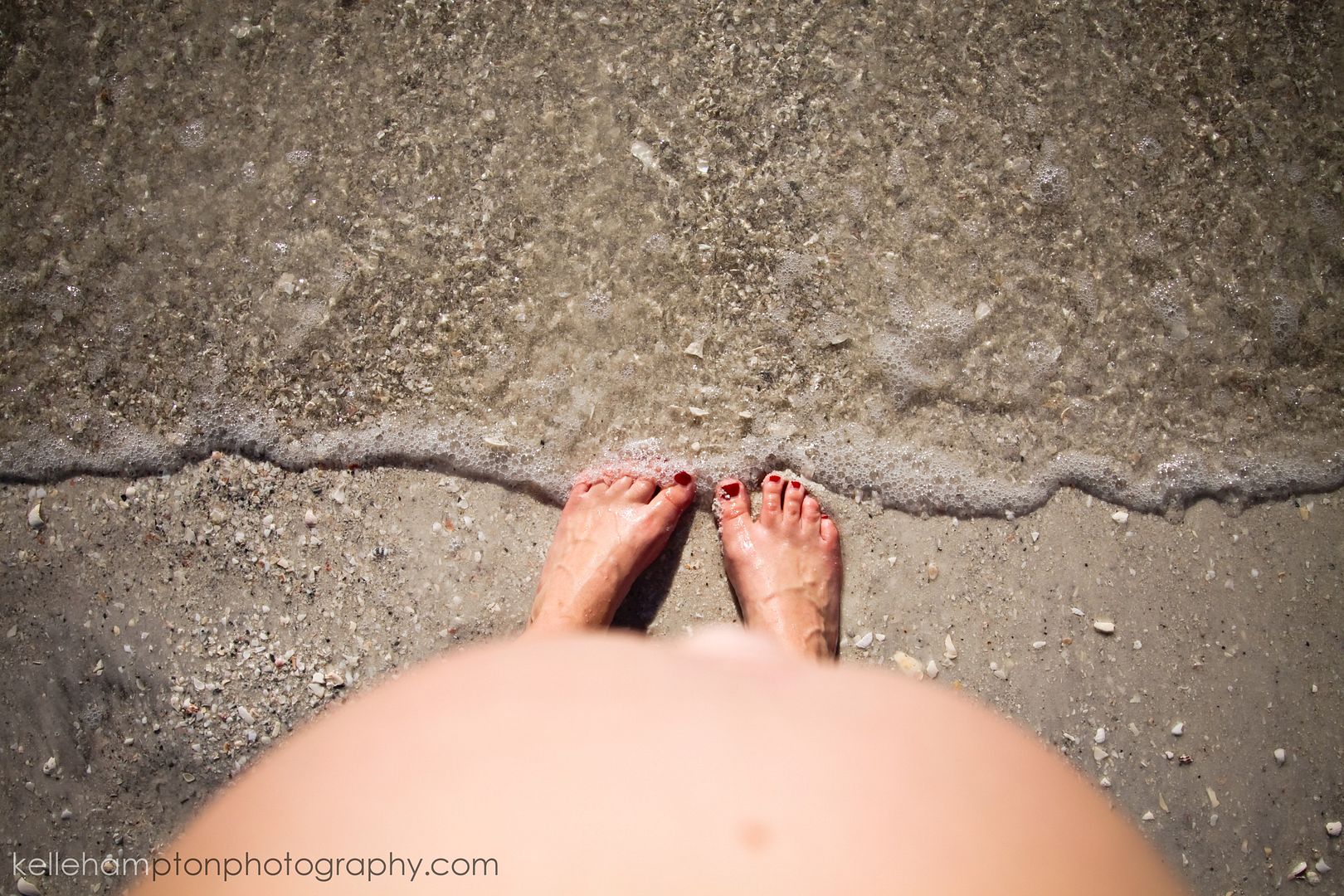 and, after we were all packed up, we trudged back through the red sea, this time carrying more stuff over our heads…shlepping a sleeping baby, tents, wet towels, buckets of shells…and laughing hard trying not to drop anything. unsuccessful, to say the least. try not dropping an overstuffed armload while laughing hard. completely not possible. needless to say, this is what happened, not to mention my sister wet her pants.
the rest of the weekend just played out without any planning…perfectly and completely, as my nieces would say, chillaxed.
cold cones for sandy bodies outside the old dq…right as the sun set after a long day at the beach.
and, oh, how my heart puddles at the sight of my girl being loved by those i love. i don't get to see it much because we live so far away…but then, here they are, scooping her up and kissing her and stroking her blonde hair like she's one of theirs…all because she's mine.
one of my favorite moments this weekend happened a couple of times…when my sister and brother played doctor with lainey. it's a huge production…one that's been videotaped and witnessed by the rest of us that are curled into heaving heaps of laughter during the ordeal.
it's a serious production…my sister & brother masked and goggled and talking all sorts of medical jargon while they baby lainey with sweet words and she looks up at them with giant eyes, completely mezmorized by the attention. she told me she 'bwoke mine ahm' about fifteen times this weekend after the love she got the first round of doctor. there was root beer medicine, lots of ointment, an entire box of band-aids and a sling to boot.
…and then the cousins. i hardly saw lainey for three days as she tramped behind bigger feet, climbing into beds with them, holding their hands, being smooshed and kissed and loved on.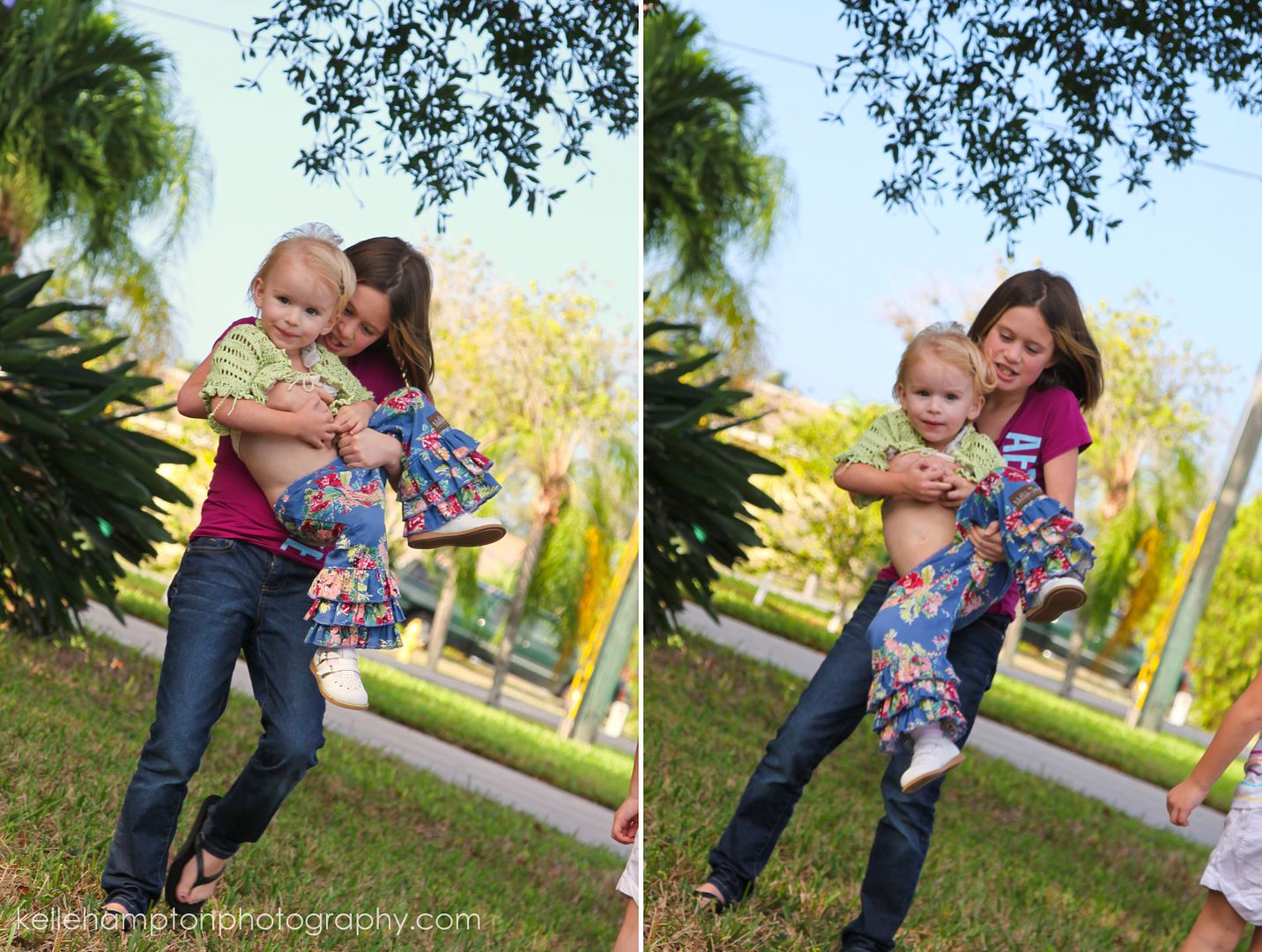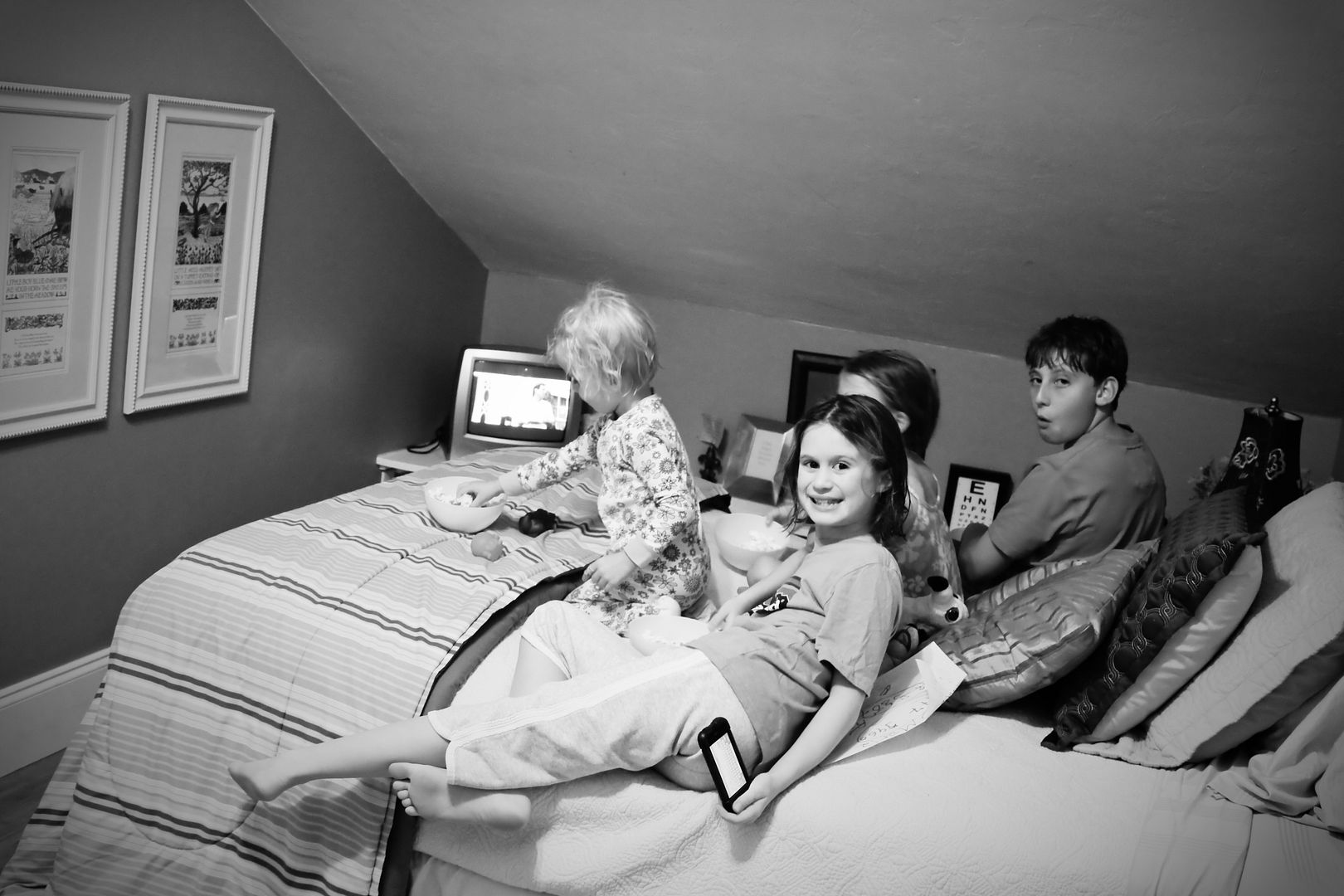 grandma krissy once again took our family's 'jesse bear award' with lainey's christmas present that made me cry…but then again, what doesn't these days…
she's been working on it for a year.
a little vintage ginette doll…made in the 50's by vogue. she got it on ebay along with an old madame alexander trunk…and then set to work making tiny clothes for her. crocheted sweaters and hats, slippers, little sewed dresses from vintage fabric…bonnets, shoes…pajamas. lainey played with it the entire day yesterday. named her 'baby kendall' (we almost named the baby that).
my mama is amazing…and wait 'til you see the head-to-toe ensemble our little bean will wear home from the hospital that she's put her heart & soul into. heaven, i tell you.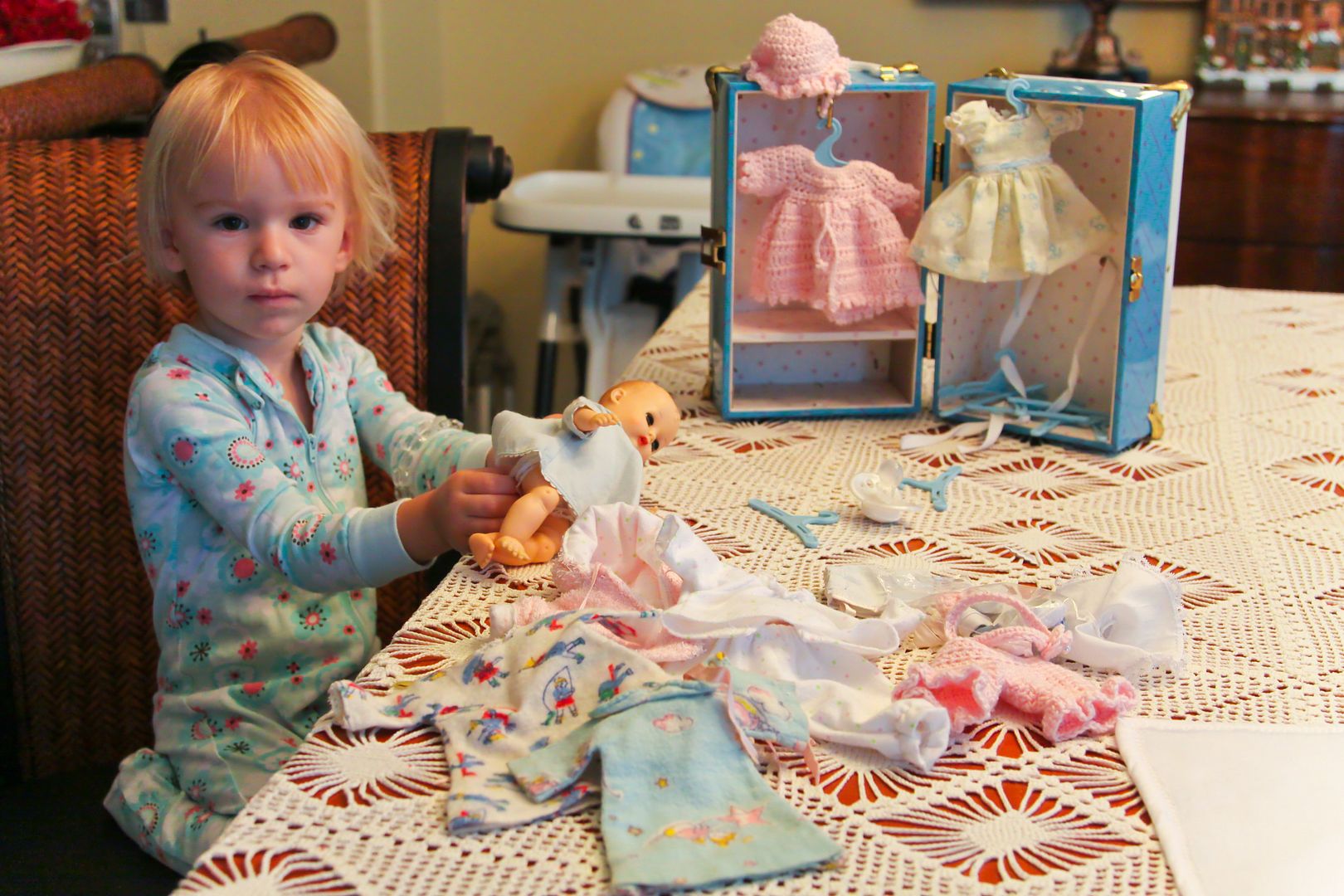 and, so now here we are. it's tuesday, things have slowed down, brett will return later this week, next week is christmas, and i have done so much thinking these past several days.
this year has been different and how many times i've wanted lately to reach out and grab the reigns to our ever-changing, busy life and just yank hard…pull back with everything i have and slow things down and take control and 'whoa-horsie' the heck out of it. but, that's impossible and, if you think about it…bridled, trained horses are just boring compared to the wild ones…the crazy free stallions that run their sleek bodies unrestrained in golden fields and along ocean cliffs and have nowhere to report to.
the only predictable thing about life is its unpredictability. it's unbridled and wild and beautiful. …and that's our life right now.
i took a bath with lainey this morning and, for the record, did not fall asleep.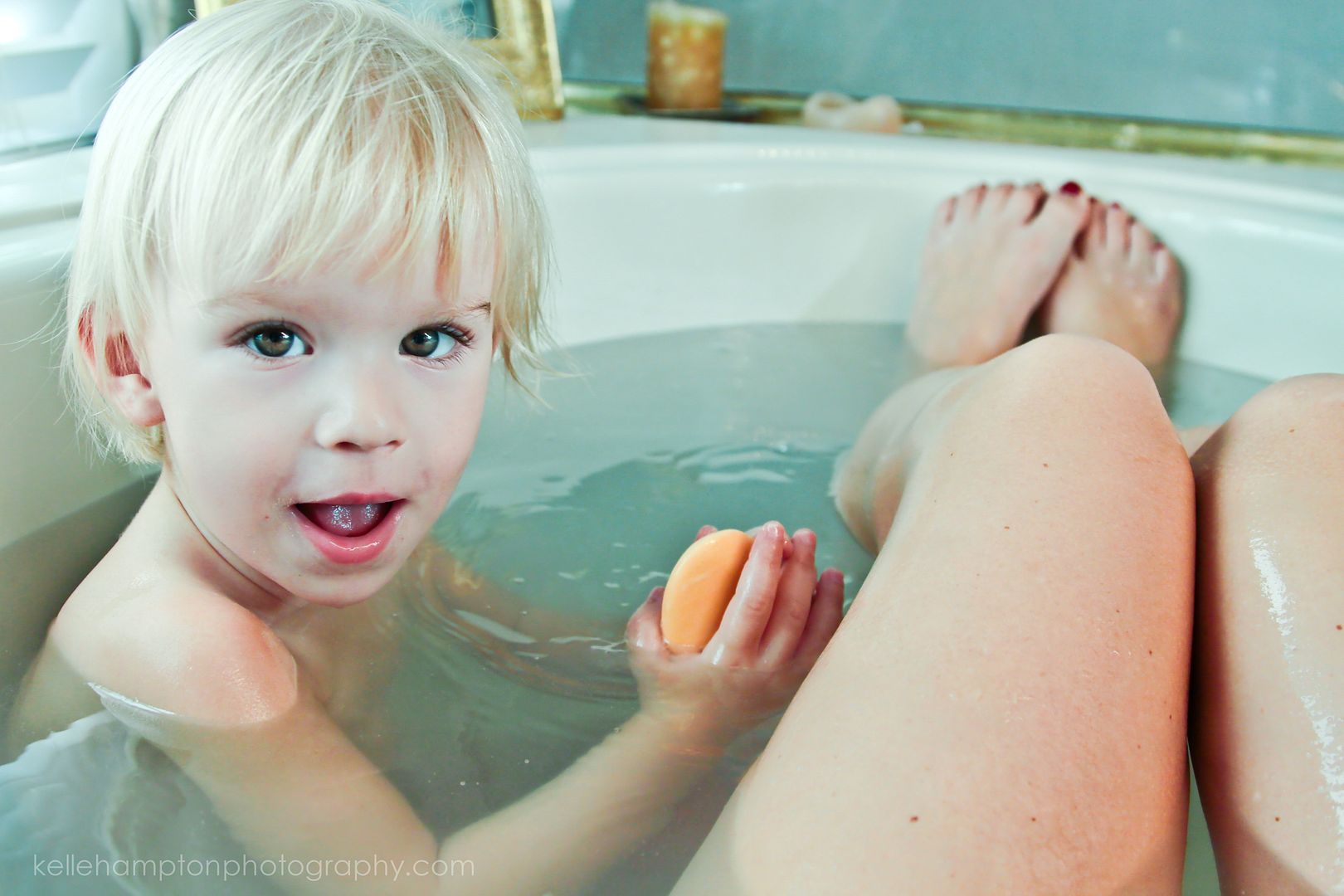 and whether it was my sister who told me or me who told my sister…it's all in what you make of it, and i am going to make the rest of this year completely beautiful.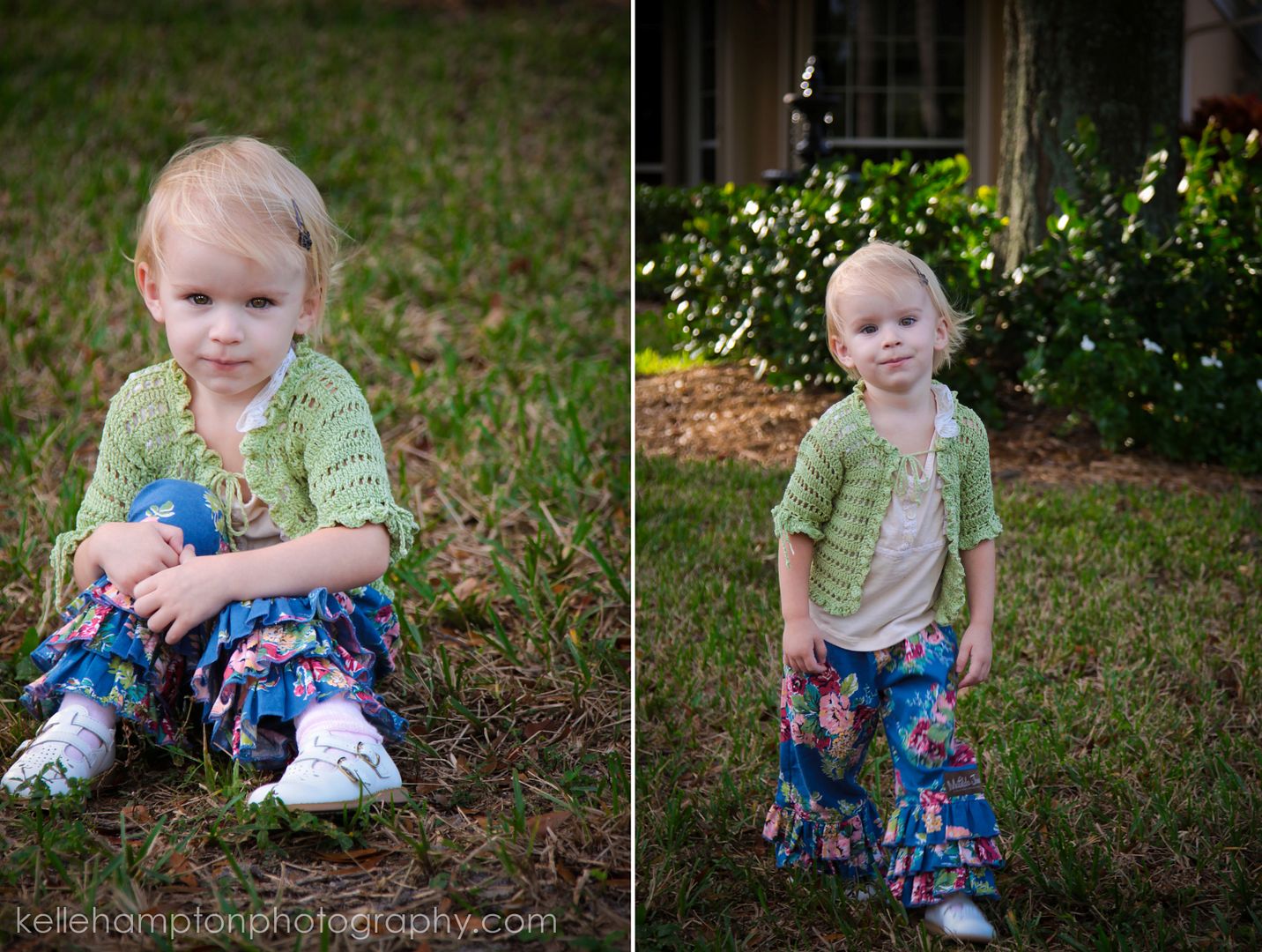 i do miss my family, but i have them…and so much more. both brett & i are so grateful for healthy moms & dads, brothers & sisters…and ones that are good and normal and fun and loving and just lovely to be around.
we have so much. and so much more on the horizon.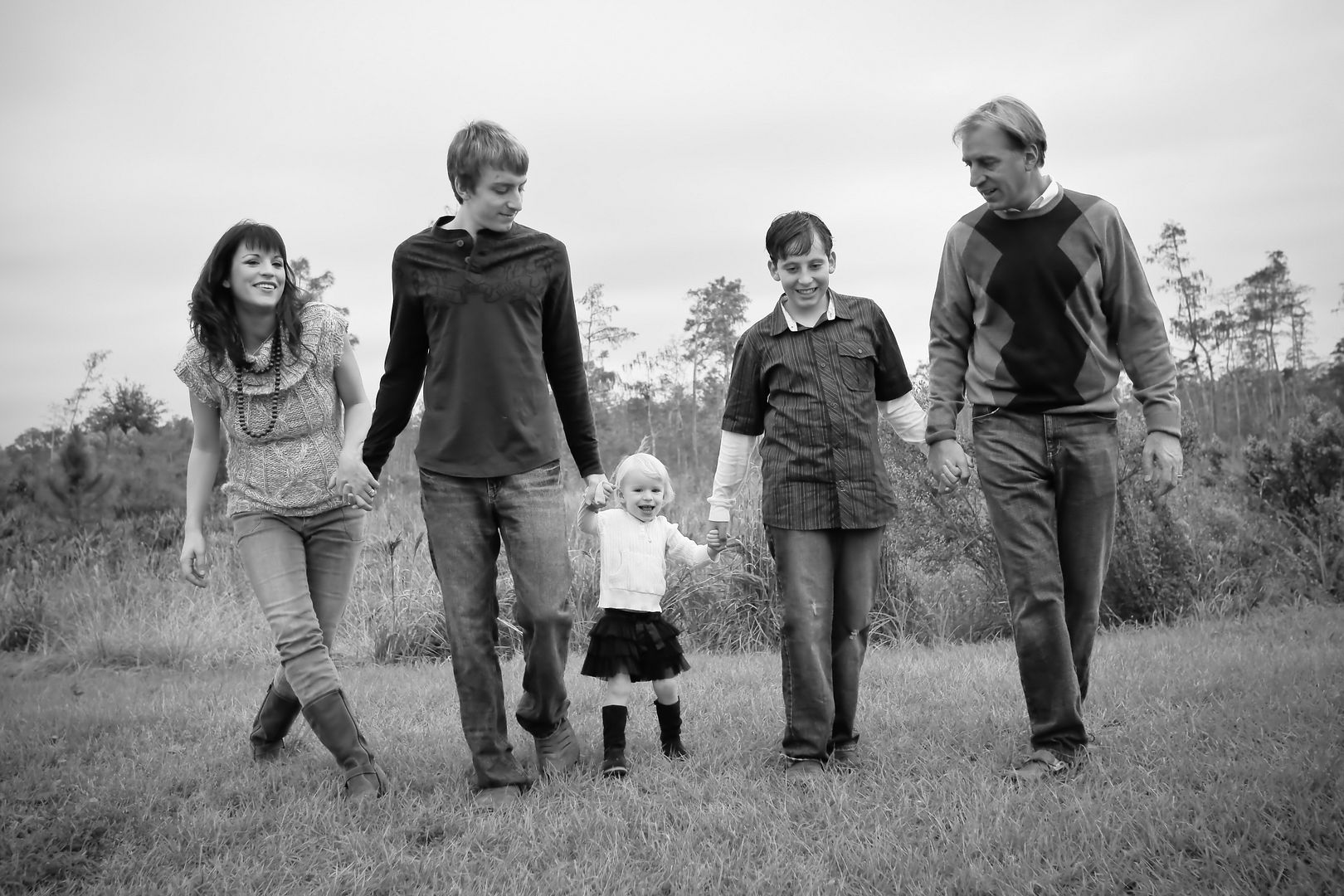 i'll take our big, unbridled wild and beautiful life…just the way it is.