by Poppa
(continued from Part I)
Kelle has more than impressed me with her photography. I especially appreciate the subtle adjustments she makes with the lens to focus on one element and send all the rest into an ambient blur. So it was when I stepped into the birthing room. Moments ago it was filled with such abandon and joy. Now it seemed so still. The only thing in focus to me was my daughter's face as she held our new gift, amplified by the echo of the nurse's words "She wants her dad." Everything and everyone else slipped into a blur. The glisten in her eyes told me there were tears. And she wore a smile…not the smile I so often saw on this happy soul. No, this was the smile reminiscent of the little girl years ago who tried to muster a smile after a deep hurt. This was a pained smile. The smile was for me; the pain was for us all.
Her voice, as she began the six words that would forever change our lives,
was apologetic…almost an appeal. An appeal to accept, to love, to receive.
"They think she has Down syndrome…." were her words—no softening preface, no commentary after…just fading down to the smile still sending its plea to accept the news and the sweet one she was snuggling close. While something within me wanted to cry to the heavens, "No…." a softer yet stronger voice simply said, "Well, we love her…she's our gift."
Other words were spoken, I am sure, but I don't remember them. I was reordering myself—walking around in my mind, looking for doors to be opened, finding them only in my heart. I just wanted to hold my baby and have everyone else go away. I wanted to begin to feel what this was and where we were going. And then I heard my daughter's voice again, as she lifted Nella toward me, asking, "Can you pray?" And my throat suddenly burned as my arms moved without thought to cradle this little one who fit so beautifully in them. And I suddenly just wanted to thank God for her…for all of her…for what we knew and what we didn't know. And I wonder if gratitude is the uniformed doorman of the heart needing to be healed. I do know tears must improve vision, for Nella looked even more beautiful through my weeping eyes.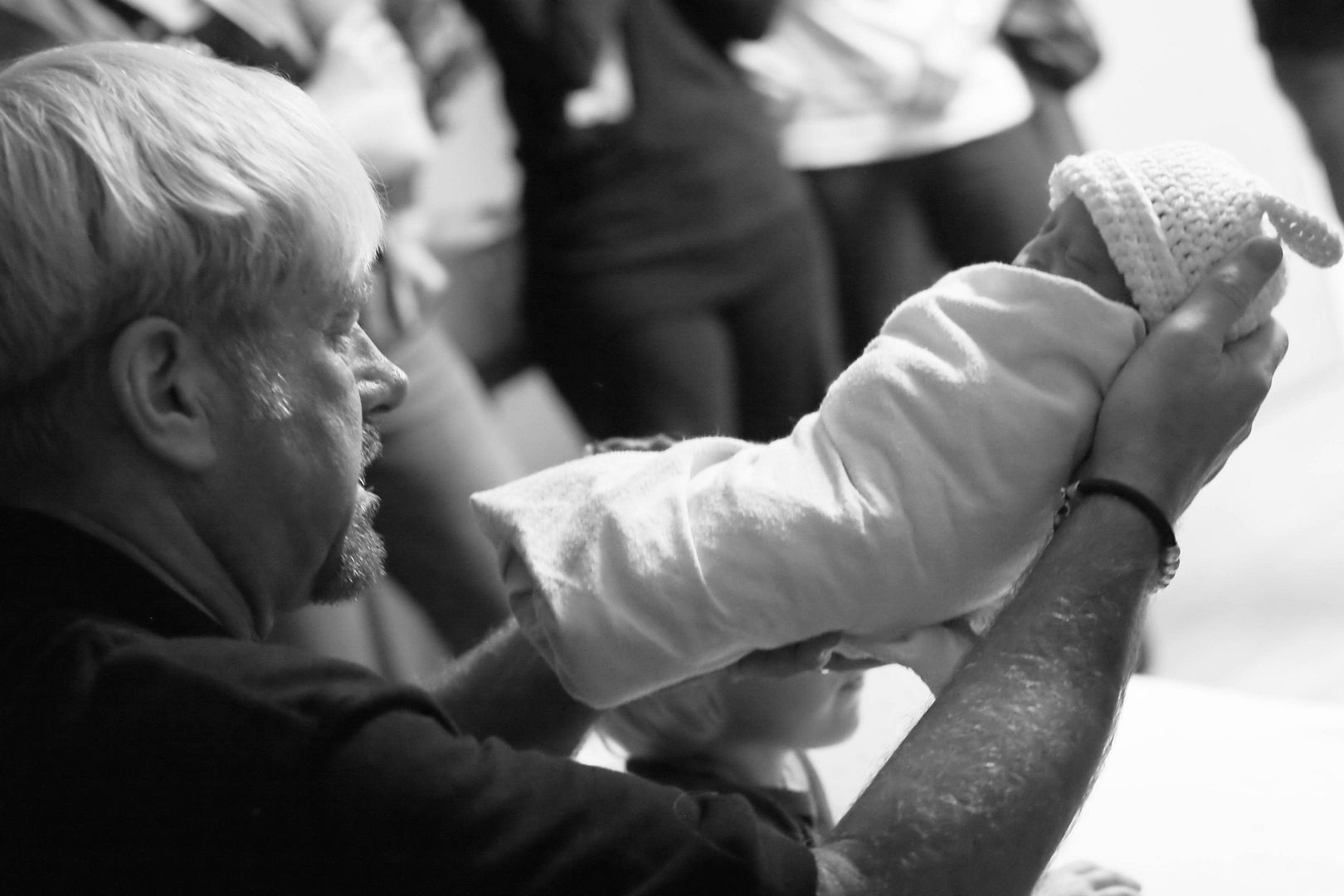 I am not sure when or how I arrived back there, but I stepped back into the corridor. Kelle had asked me to call Brett's Dad and Donna Nana and tell them…she wasn't sure Brett could quite yet. And she wanted me to call all my family, tell them and ask them to pray. She wanted everyone in the corridor to know…now.
Like tidewaters fingering up the beach, the news spread. Words were shared, tears were released and friends connected in embrace all down the corridor. These beautiful friends—who moments ago looked like a casting call for Sex and the City as they crowded into Kelle's room—now cared nothing about running mascara or those really face-distorting sobs. All this, I thought, was Nella's welcoming embrace…it was her first glimpse of her loving "family." It was good.
Brett joined us in the corridor. Strong, sure and solid, he had been Kelle's rock in the birthing room. His first question there, after hearing the pediatrician, Dr. Foley's strong suspicion, was to ask, "Well, we can take her home can't we?" That is classic Brett. Home is his Command Central. It is "The Bridge" of his USS Enterprise. It is where he sets his strategies for life and solves his problems. He needed to get his baby home and all would fall into place. But for the moment, he needed the corridor. I remember seeing him and Poppa Gary—two non-criers, holding each other and actually shaking as they wept…no words, no consoling comments, just shared tears between silent souls. Weeping in a safe corridor. The embrace of tears ended without a sound. The two stepped apart and Brett spoke. They weren't profound words about destiny and accepting the challenges of life. They were practical words about a decision to stay the course of celebration and welcome a present that was present:
"We need more champagne…more people are coming" (he knew the rescuing troops would quickly be deployed). Wise words. Good plan.
And then he broke my heart. I don't know why his simple words and daddy plans caught me off guard, but they did. Maybe it was the timing. Maybe it was the wounded-soldier-struggling-to-raise-the-flag image I seemed to see. Maybe it was how very important this was to him. In these first moments of life after Nella, Brett asked Gary to look for one of those big pink stork lawn signs used to announce a baby's arrival—as big as he could find. He wanted it on his lawn. He wanted it there soon. And pink balloons when Nella came home. Lots of them. This is so Brett. This is why I love him so.
From there, it was in and out of the corridor to the room where Kelle and Nella were. No one told us to close the door between. We just did. We did because we needed it closed—we needed our backstage. It was where Kelle's friends cried. It was where secret strategies of support were arranged. It was where honest cell phone conversations were connected and we could say words and express feelings we couldn't yet in that room. It was where we could be broken and be put back together. It was where we could greet the just-arriving, receive them in our arms and send them into the room and onto the stage.
And then…after some time and what seemed a hundred friends' arrival later— about the time a quick transfer to a post-partum room upstairs was to be made—it seemed we were done with the corridor. We didn't need it any more. What was happening IN the room seemed real and even relaxed now. Oh, there would be new arrivals still and there would be tearful reunions, but the two realms seemed to be blending like dawn blends night and day. Nella's world now knew. The champagne run had been made. And a very large pink stork was on its way to the yard of a very pretty little girl and her new family. She was here now—and her little loveliness was even seeping into the corridor.
As I helped those who were enlisted to pack up the bags and bundles of the very well-planned Welcome Nella Celebration onto wheelchairs and shelved carts for the move upstairs, I watched Kelle take one last look at the birthing room that brought her more than a baby. I followed the parade to the elevator and, before boarding turned for my own farewell glimpse—of the corridor. Yes, we were now done with the corridor—with its little alcove where I had paced while talking on my cell phone to Brett's dad and my family, with its tiled floor where I saw Jeff and Heidi, hugging, slumped and weeping and then on their phone to help fly Kelle's sister down and with its long window where I saw dads and grandparents I didn't know greet friends they did with laughter and levity. Yes, I was leaving our consoling corridor and it was ok. Even the little lighted arrow on the button by the elevator reminded me…we were going up.
Once again, I am brought back to that evening and the pain becomes more beautiful every time I go there. If I could go through that evening again–even the rawest, most painful parts–I would, in a heartbeat. It changed me and, in the end, we get Nella. How cool. Thank you, Dad. I love you. Yes, Up we go. Can't wait to see the view from the 31st floor.