If days of the week are ice cream flavors, then Monday's about a vanilla and leads up the flavor wheel respectively until the weekend which is definitely a Peanut Buster Parfait. It's nutty and chocolatey and melts into sweet puddles of milky swirls that pool at the bottom of the cup.
I love weekends.
I love sunshine that fingers its way through curtain openings and wakes us with its happy plea to join it for coffee on the lanai and pajama trike rides in the driveway. I like my girl's crazy hair that twists into wild tufts of spun sugar overnight and stays that way until our bath.
It was the perfect weekend. Nowhere to be in the morning so we lazily moved about, refilling coffee cups and lying around in sun spots, playing with babies and dogs and taking breakfast short orders.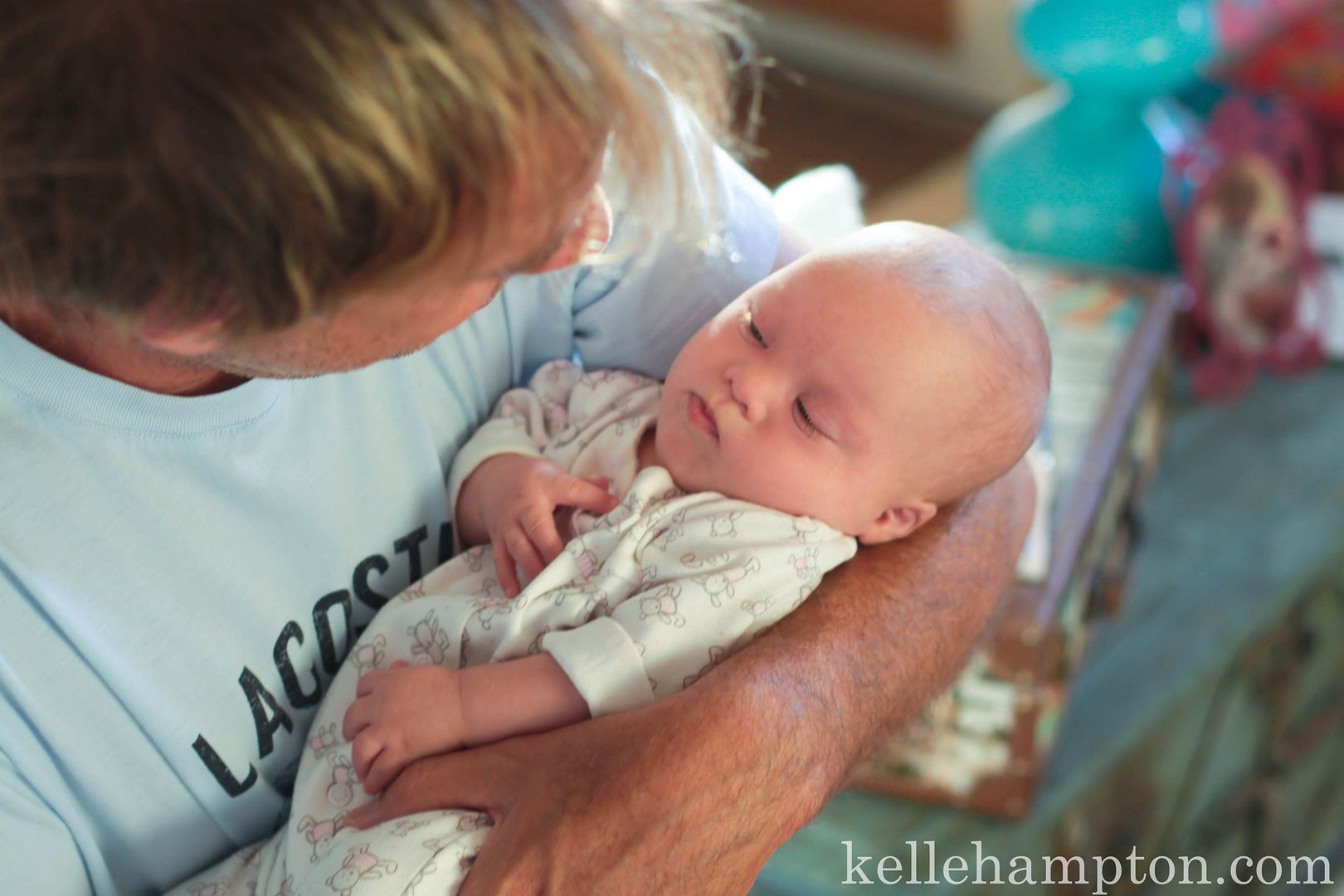 We've tested just about every 'waterhole' in the house for Nella's baths, alternating between tubs and sinks until we found her favorite–safe and secure nestled into the small bowl of the bathroom sink with folded towel cushions and Burt's Bees bubbles. She loves it.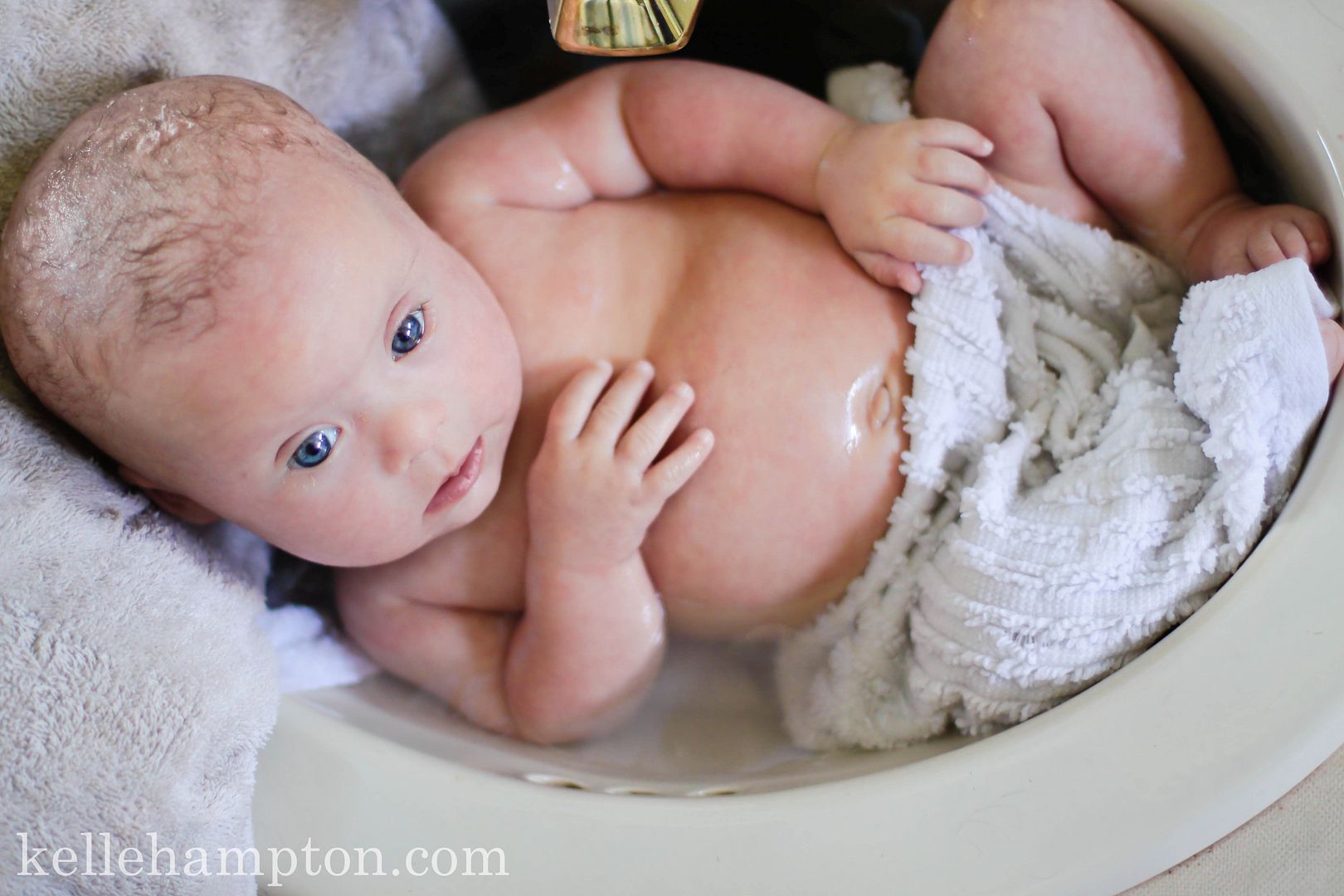 She fits perfectly and snugly, and the sight of her little froglegs curled up in that pool of water with her drippy lashes and rosebud lips and the way she coos when I wring out the washcloth with warm water that rains down on her little cherub cheeks…well, I wish I could share that with every scared pregnant mama out there who knows she's getting a little something extra too. It's pure loveliness and just the kind of love I thought I was going to have.
This weekend brought its usual loveliness with sunscreen-greased cheeks and sweaty babies. We had company and stayed up late sipping wine and swapping stories, and I cooked–like really-good cooked–pasta with homemade alfredo sauce and lemon caper chicken yesterday and taco soup and biscuits today. Brett washed cars in the sun today to the sounds of the Zac Brown Band humming from the little beat-up radio in the garage while rivers of sudsy water rinsed out faded chalk stains on the driveway. And the sprinkler once again proved its worth as it double-dutied drenching parched, brown grass spots and sun-kissed blonde pigtails simultaneously.
We were blessed to celebrate the birthdays of two of our sweet friends this weekend.
Chase turned one…and I'll never forget walking in the delivery room just minutes after this sweet boy tasted his first breaths one beautiful year ago.
And our bud, Samantha, turned two and celebrated today with an Elmo party at the park.
And I could not stop laughing at this scene…
Elmo just showed up and walked across the park to the party under the pavilion and it was hilarious watching him make his way there–like he was just there, taking a walk and happened to say 'hi.' Lainey was glued to my hip during his stay, but she did manage to shake his hand…and was very proud for doing so. Me shake Elmo's hand was the first thing she told her daddy when we got home.
In traditional Hampton fashion, I ran through the house fifteen minutes before the party, scrounging for some kid wrapping paper. We found none. We did, however, find some nice Christmas paper which rocked out nicely with a white bow.
If weekends are Peanut Buster Parfaits, then celebrating a little's birthday on a weekend is the heaping dollop of whipped cream on top and watching them play and grin and drink in each others' company? Well, that's the cherry.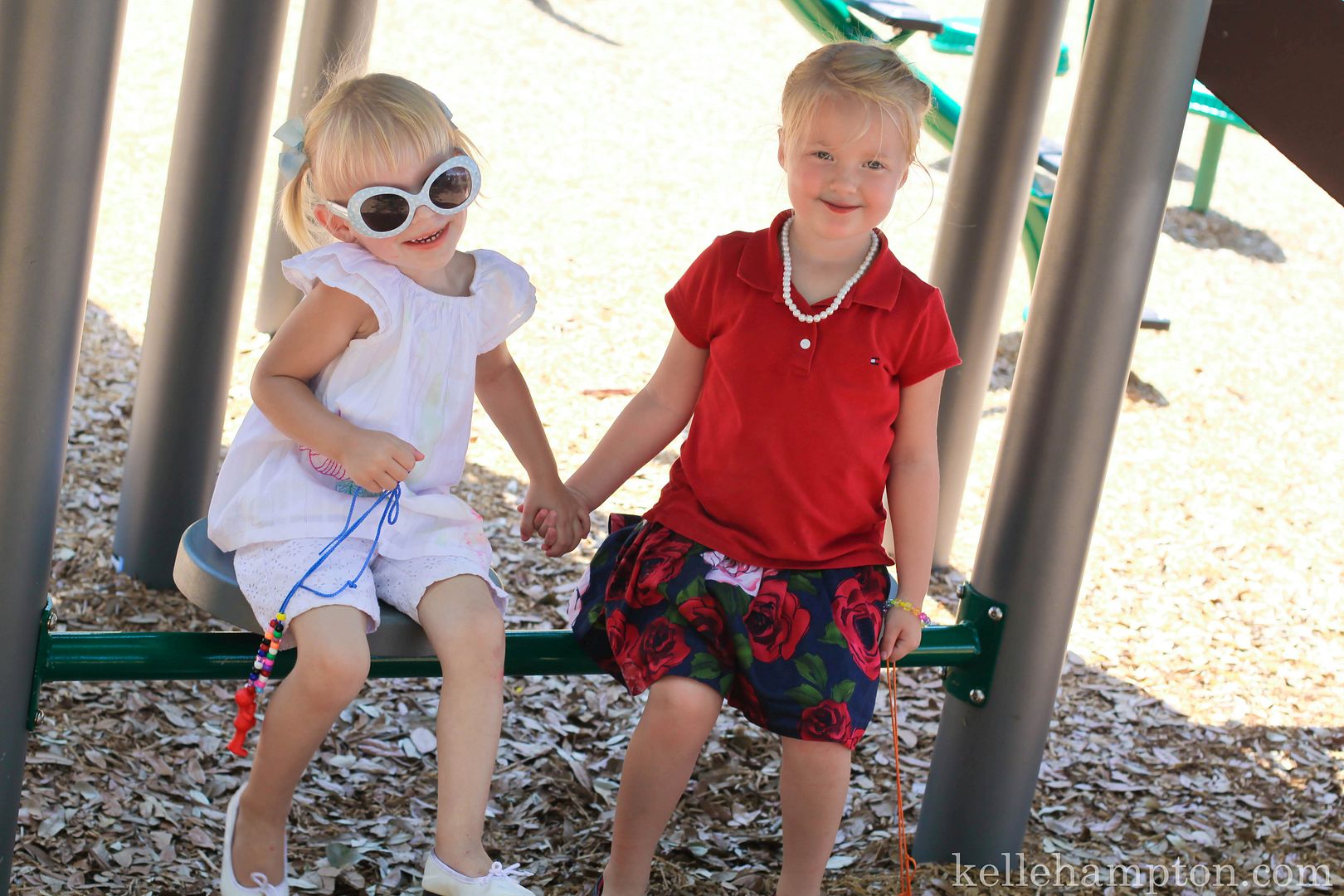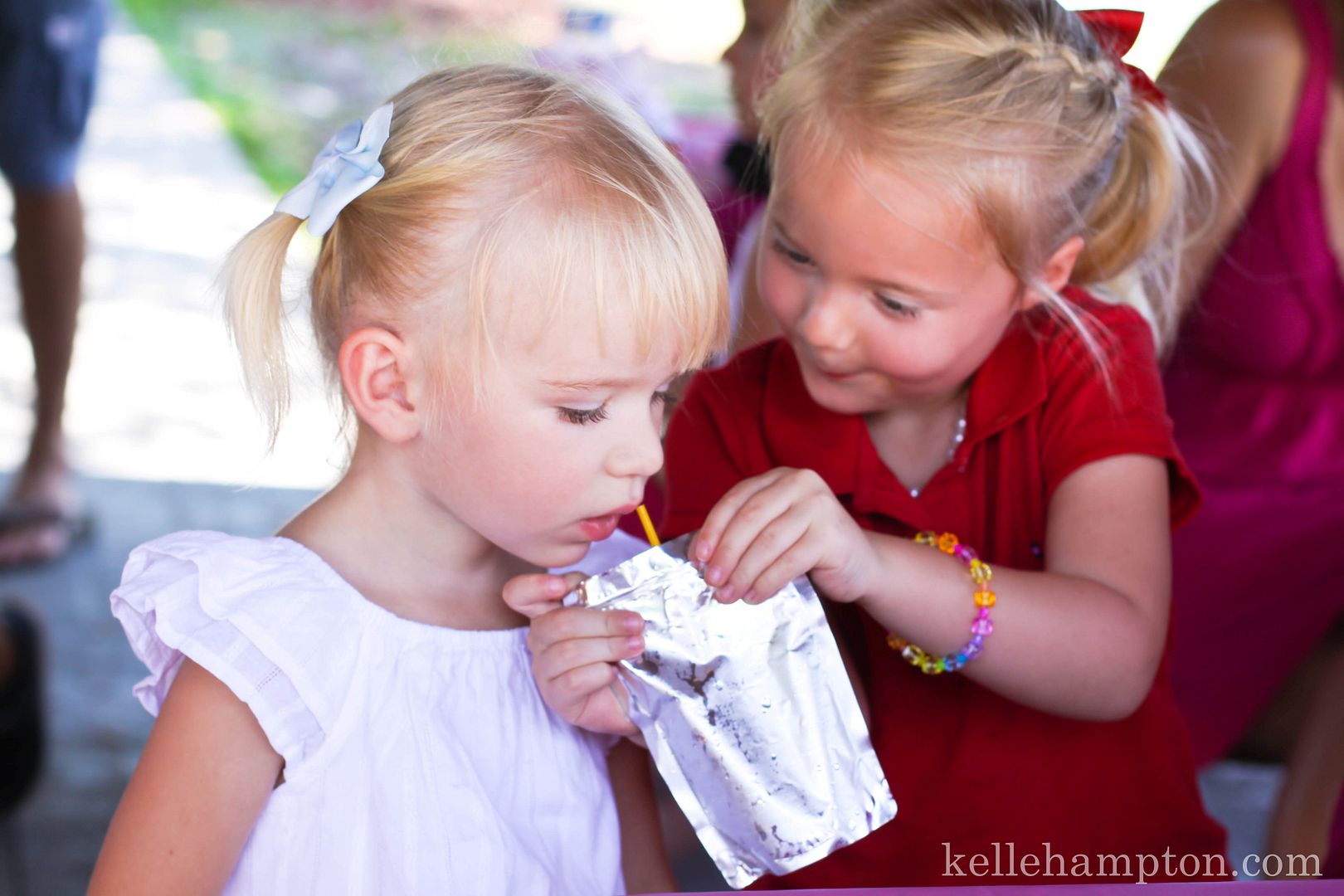 High on life. Because it's delicious and grand and missing out on loving it would be such a pity.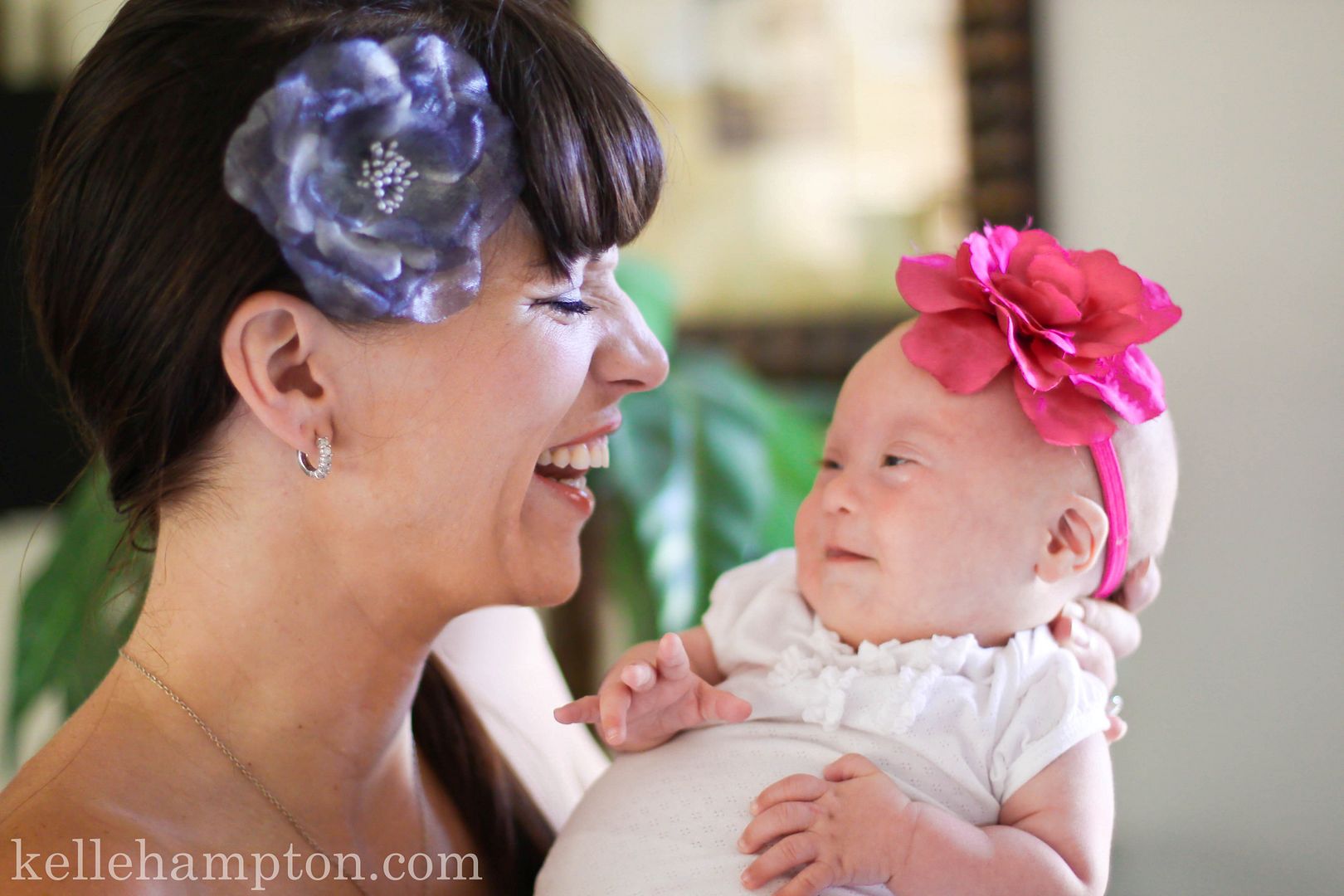 "I will not die an unlived life. I will not live in fear of falling or catching fire. I choose to inhabit my days, to allow my living to open me, to make me less afraid, more accessible, to loosen my heart until it becomes a wing, a torch, a promise. I choose to risk my significance; to live so that which comes to me as seed goes to the next as blossom and that which comes to me as blossom, goes on as fruit."
-Dawna Markova (thanks again, KC)