Monday arrived like the day after a fabulous vacation ends. With a big fat decrescendo where my mood bottoms out and I'm shaking sand out of my beach bag and reorganizing sunblock bottles. It didn't help that the only thing that could have topped Sunday's Eutopian level was if unicorns galloped their way across the beach and the Northern Lights lit up the sky. But recovery is all part of the game, and I'm getting pretty good at it.
And so I bake. Because I always feel good when I tie on the old worn apron that my Jo's beloved mama used to wear when she made her famous cakes. And I like the way I feel when I'm measuring and pouring and wiping sweat off my brow with a floured hand. I like that I can ferociously stir all my frustrations out into one little bowl or whisk away my stresses with a few quick rotations of my wrist. But mostly, I love that moments in my kitchen glue me to my girls, Nella slung close to my chest just above the apron and Lainey by my side, mimicking my every move. Like 'dis Mama?
We made oatmeal cookies, undercooked just a little so they're chewy and soft.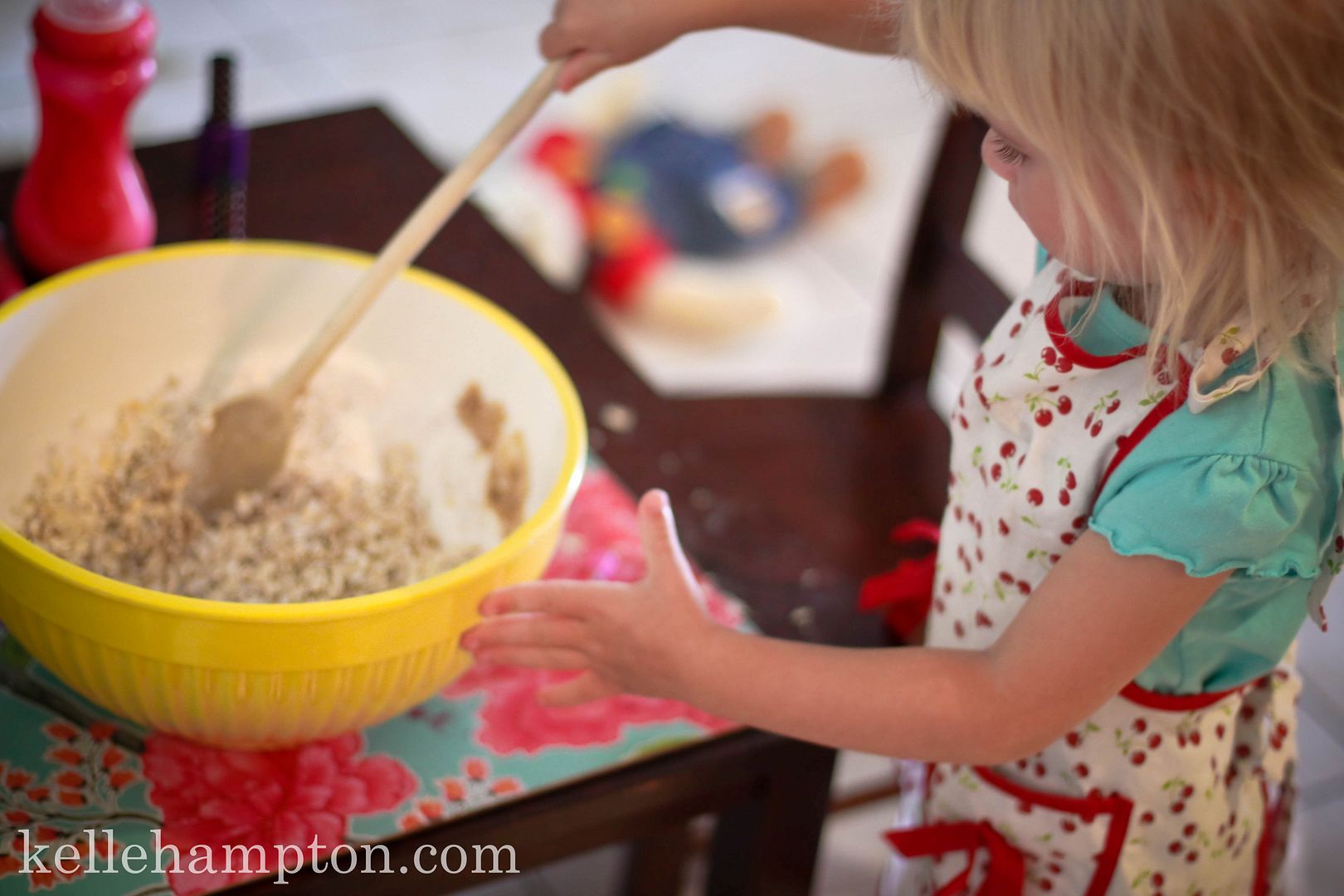 …and we finished one off, with milk before dinner.
As usual, I'm not ready for a party this weekend, so I will mad-dash in shake-down fashion for the rest of the week, throwing things into closets and staying up far too late hot-gluing flowers to various objects to fairy-tize them. We did manage to make some very easy fairy cone hats out of poster board with some elastic ties. Can't wait to see them on cute fairy faces.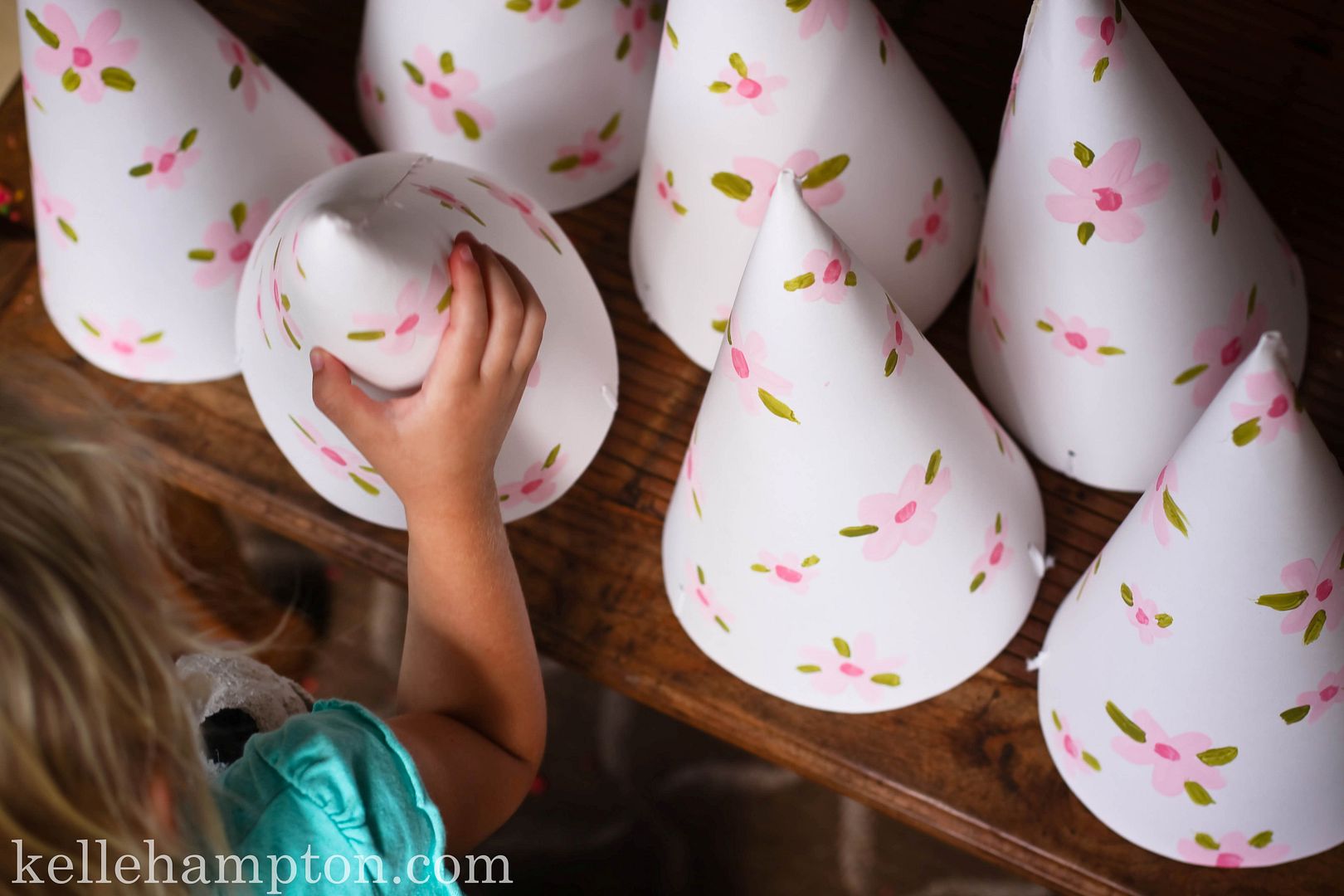 And while we procrastinate a little more, we are still enjoying delicious small things…
Afternoon nursing on Lainey's bed where the sun magically trickles in the blinds and I half fall asleep relaxing to little breathy suck-suck sounds and tiny fingers grasping to find my skin. It's quite heavenly as Brett managed to capture in these shots…and I love, love, love her one little eye that peeks up to find me. *whale-eye* as Cousin Emma calls it.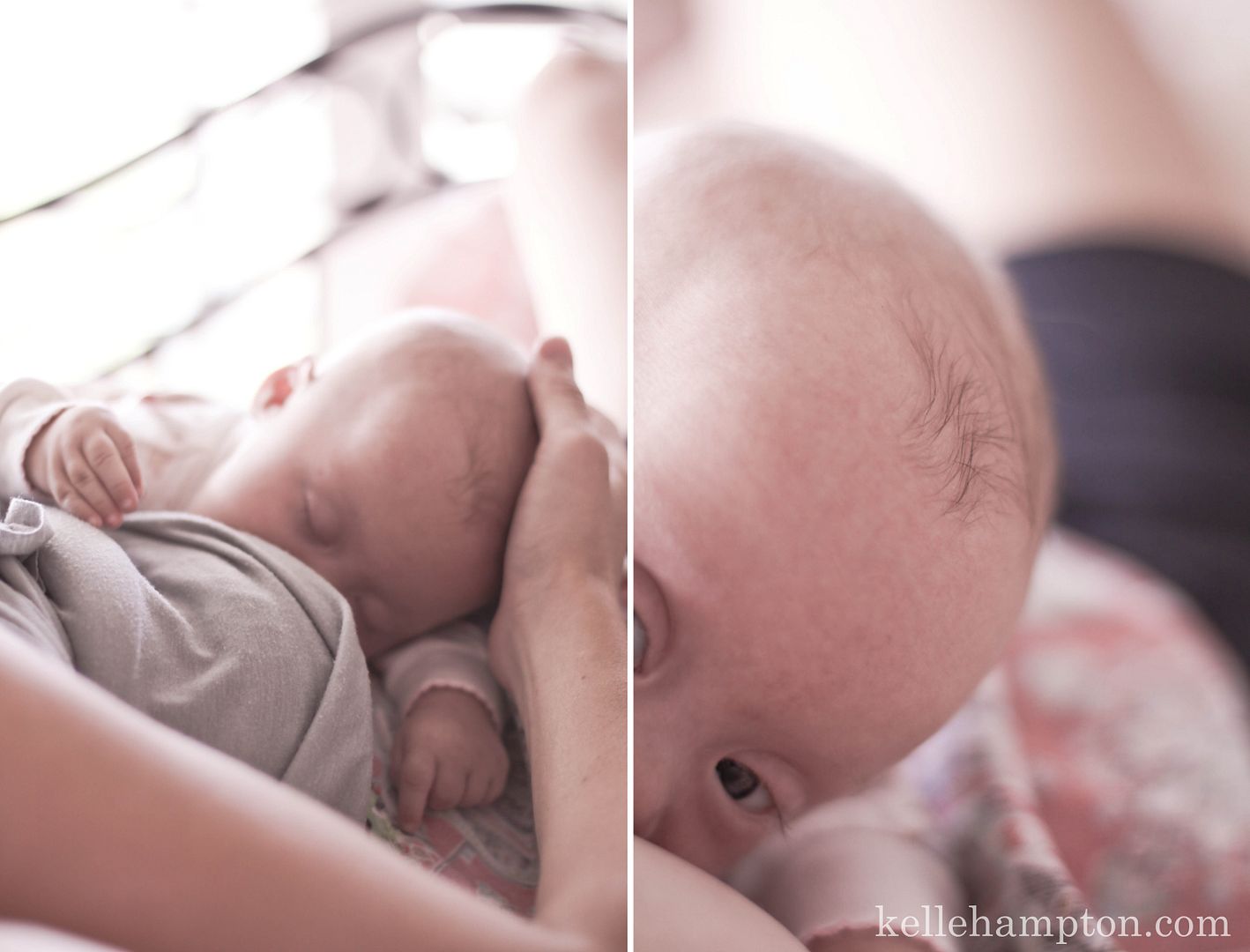 She loves her hands and when they're not in her mouth or grasping at dangling toys, they are peacefully clasped out in front.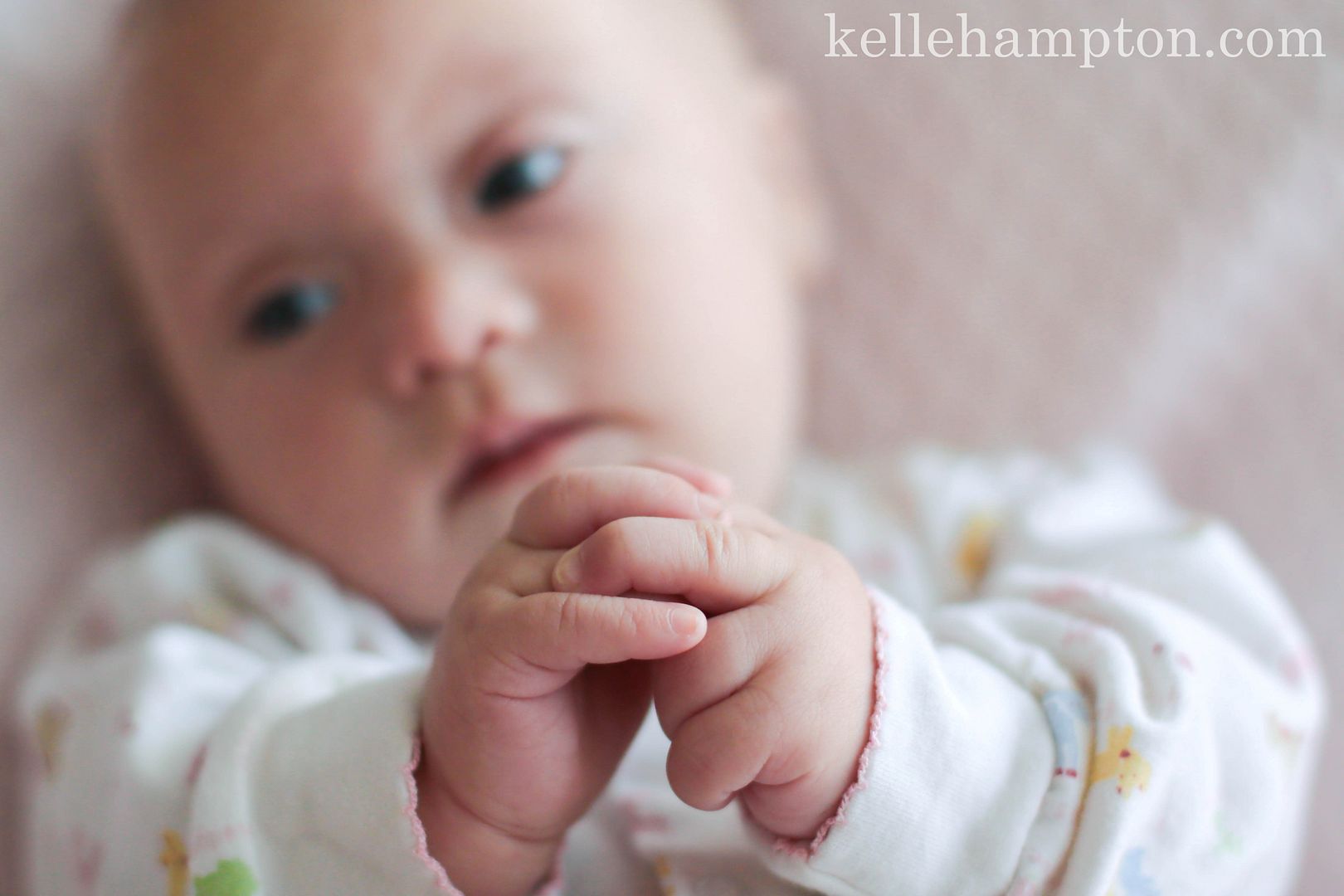 Lainey somehow overnight mastered a black belt in baby-holding because she suddenly knows how to do it just right. No flopping head or flailing arms–no screaming baby while the big sister strong arms her into headlock. Just peaceful sisters and one very proud smile that says she totally knows she finally rocked this out.
And I can put my money on always, always drawing out a magic smile in the middle of a deep sleep. I barely have to whisper just the beginnings of some sweet nothings and the tiny corners of that mouth are turnin'.
Her body has graduated from a form-fitting football hold to a heavier flour-sack that just melts into the crook of your arm. But don't let her comfortable recline fool ya…she's strong and fiesty and has been known to arch quick and determined where we're grasping to keep her put. Mellow little bunny with a pinch of firecracker…I like it.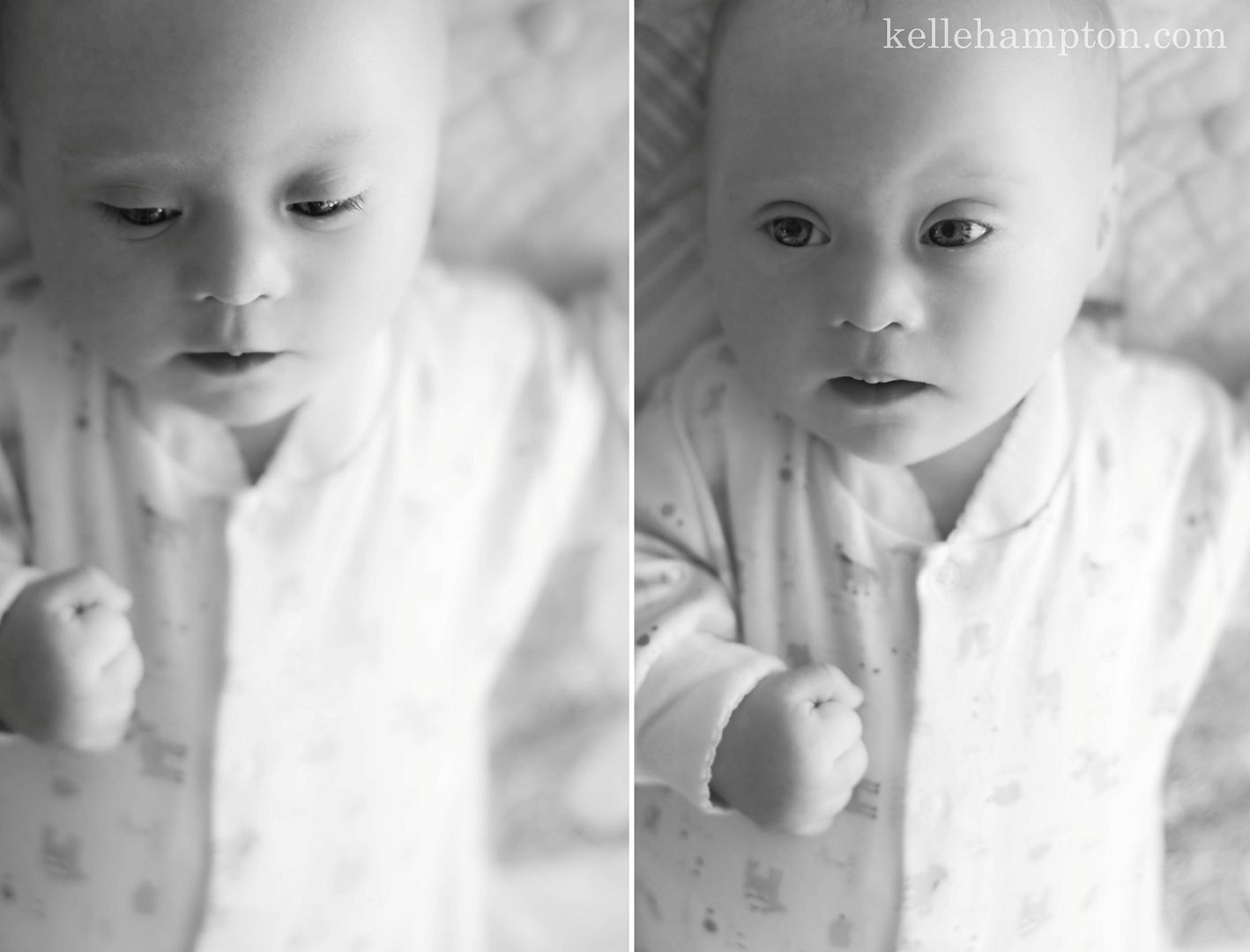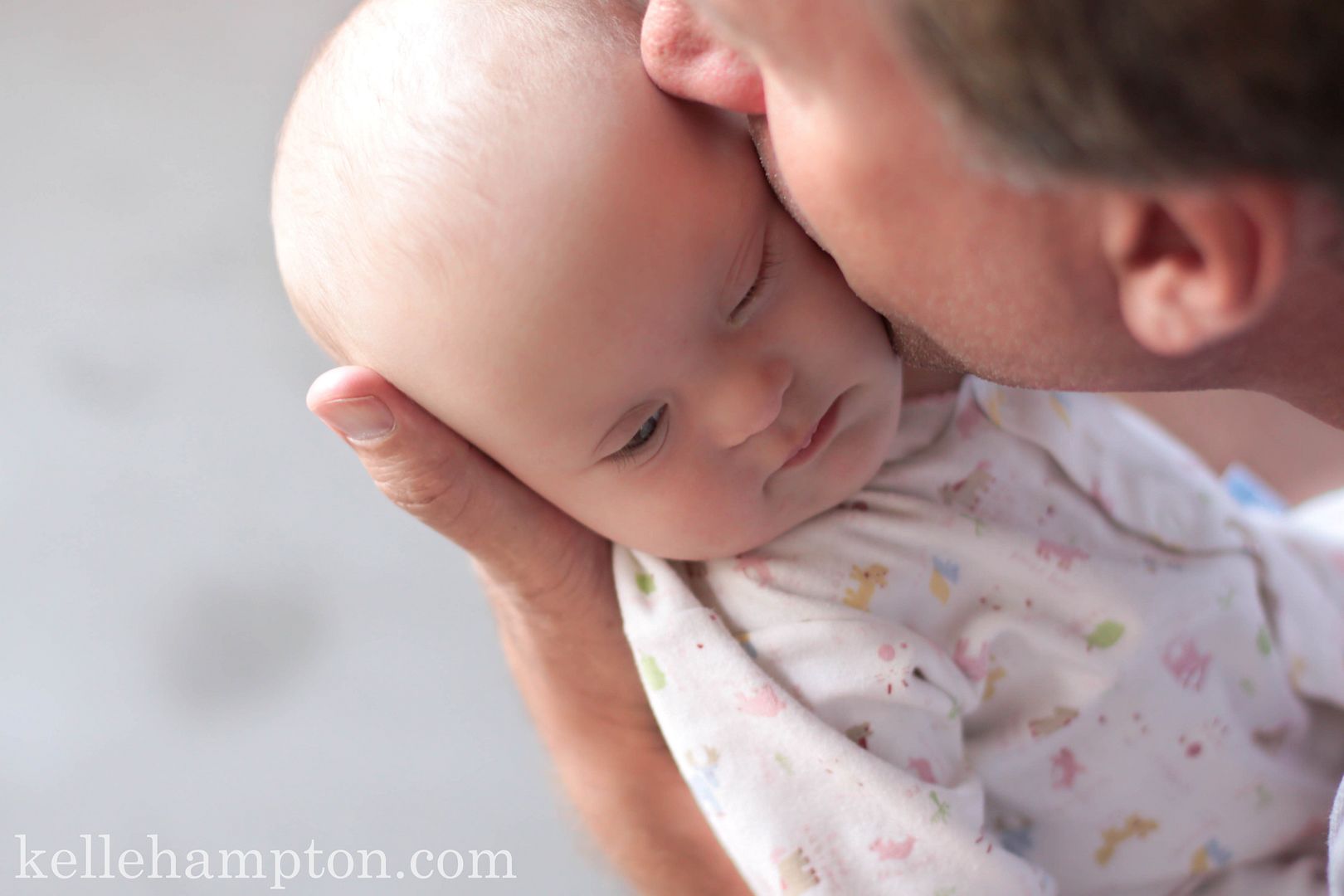 And poor little sprite had a fever last night and was all groggy and clinging to her puppy blanket, but we are happy to get it out of the way because we are going to celebrate big this weekend. And when we celebrate life, we celebrate life, baby.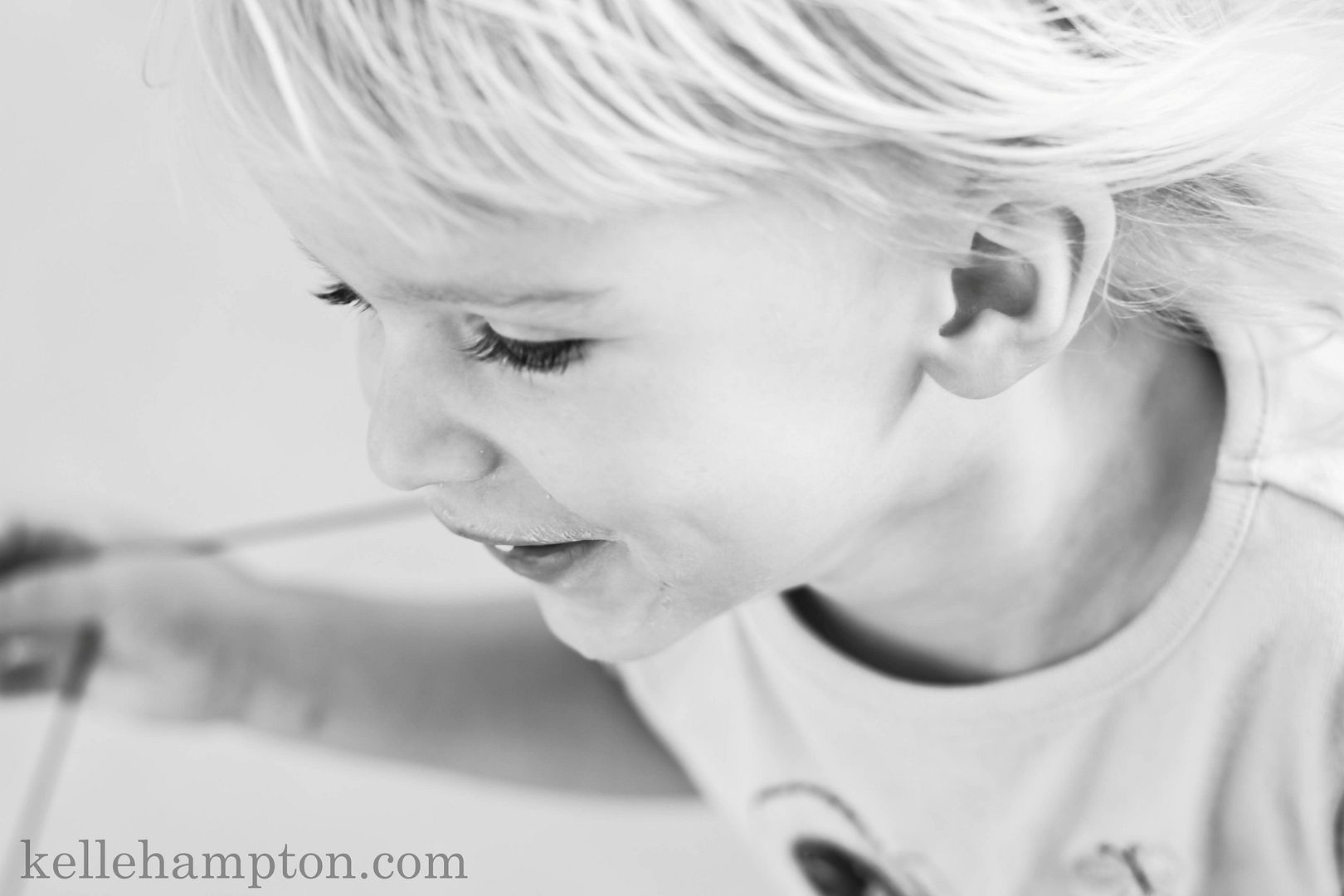 And the winner of the bathing suit. Random.org drew #619.
MWD: beautiful day! me and my little will forgive any "fewchure" grammatical errors if you forgive all the times in the "fewchure" that we will come here for a read and then i turn the speakers on the computer and we spin around the office:) love the music selections as much as i love your blog!
MWD, e-mail me your contact info and pick out a suit on Popina. Let me know what size you want and we'll get one sent out to you! Congratulations Girl, and go buy a lotto ticket 'cuz you just won over 1482 comments.
Happy Wednesday!