Crafts just done went and blew up in our house this week. It's been a craftastic preparation for the holidays, and I'm loving it.
I used to think the word "crafts" was dorky. Like, if Brett asked "are you doing crafts again?," I'd clarify "I'm creating homemade splendor" as if "homemade splendor" was more cool. I downplayed my scrapbooking as "photo journalistic memoiring" and pretended I didn't have a collection of cool stickers and zig-zag shears hidden under my bed.
But, I'm cool with it now. I'm a crafter. I like crafts. I smoke the craft pipe. I fly the crafty freak flag and admit that my heart does a little two-step when I enter the threshold of Michaels. I can only hope my kids will be droppin' terms like ric-rac and vellum and battenburg lace while they're still wee littles.
Just wish I could sew. I toy with a needle and thread once in a great while and pretend I know what I'm doing, but oh the joy if I could really sew.
I am a mad gluer though.
Exhibit A: The holiday freak flags that dangle over the playroom now…(pardon the mess)
Tree Decal on Wall…totally love. Get one HERE and use code DDFREE088 for a free owl decal gift with purchase.

A little bit of ribbon, tacky glue, fabric and pinking shears. Voila.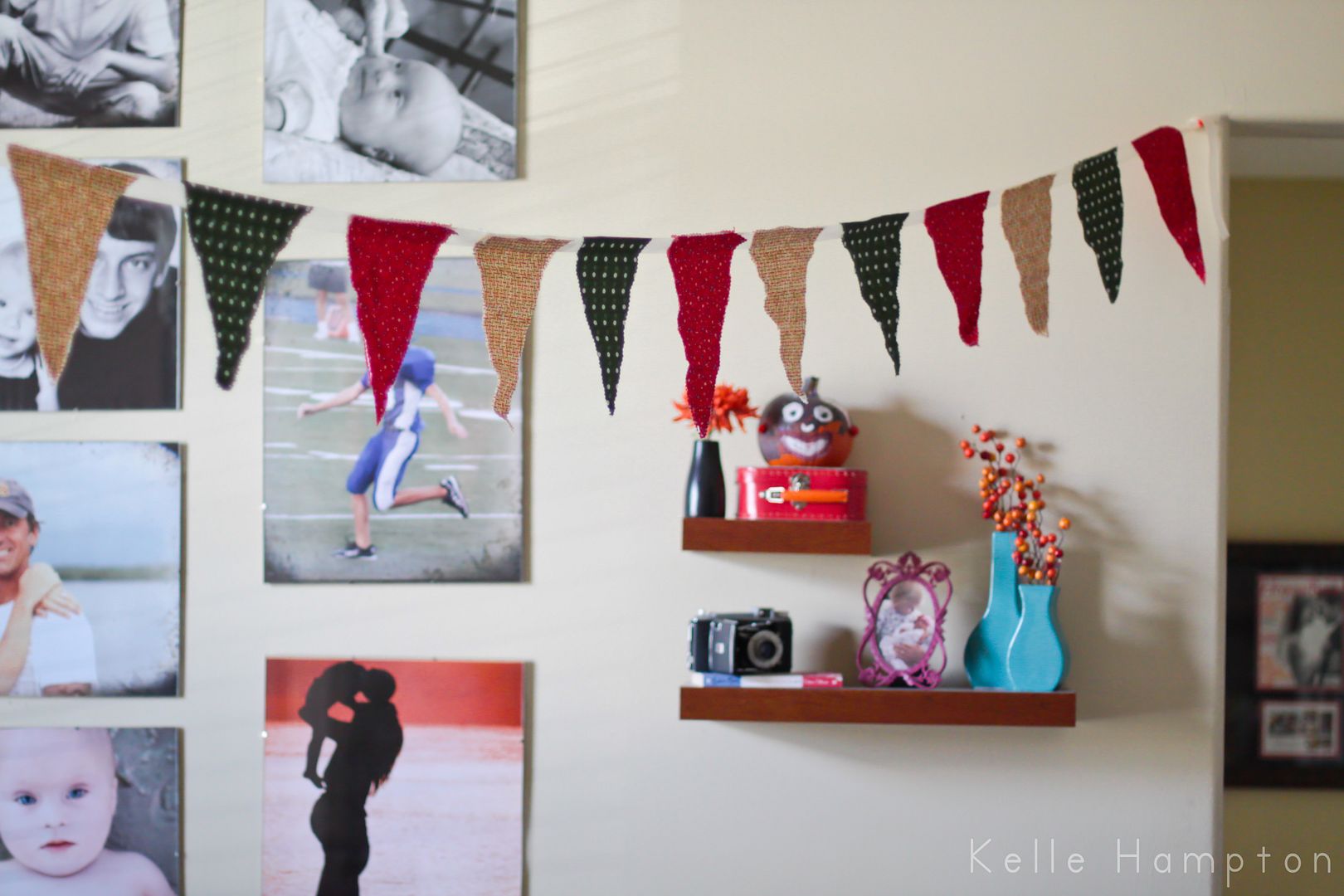 And likewise, another craft with little effort and perfect for the Thanksgiving table…
Our Thankful banner. Fabric remnants, cut and glued onto stiff felt, trimmed with lace (yup, glue there too), soft felt letters appliqued (oh, who am I kidding…glued there too) and um, glued again to ribbon.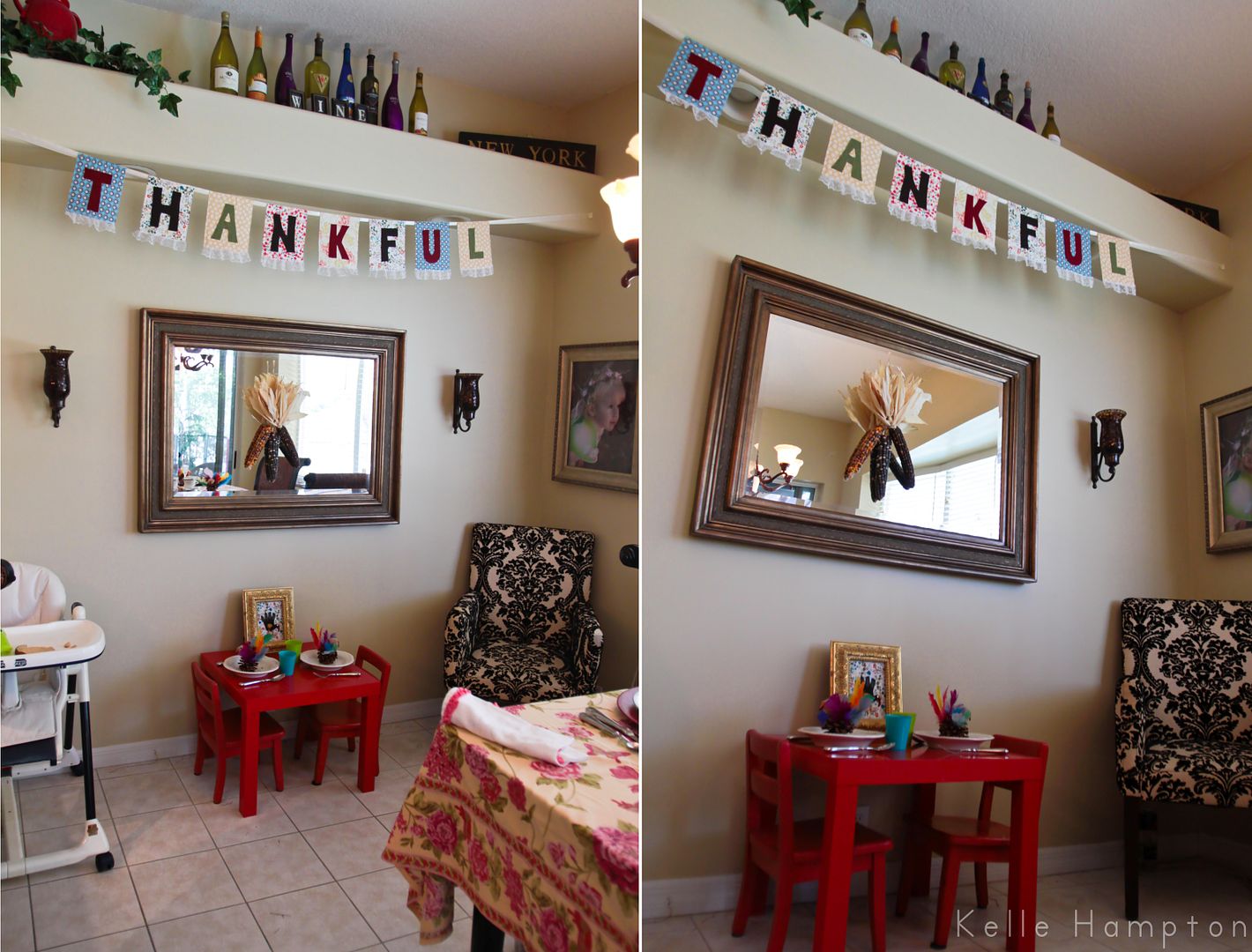 Table's already set for our annual neighbor Thanksgiving pajama breakfast, not because I'm so put together and prepared but because the house is such a mess and I'm so behind, I needed something pretty that would inspire me to put the rest back together.
Super easy and inexpensive homemade holiday gift: Button Napkin Rings.
We made ours for our Thanksgiving table this year. Unfinished napkin rings from craft store (you can get a bag of four for a couple dollars), spraypainted and, yes, glued with vintage-looking buttons.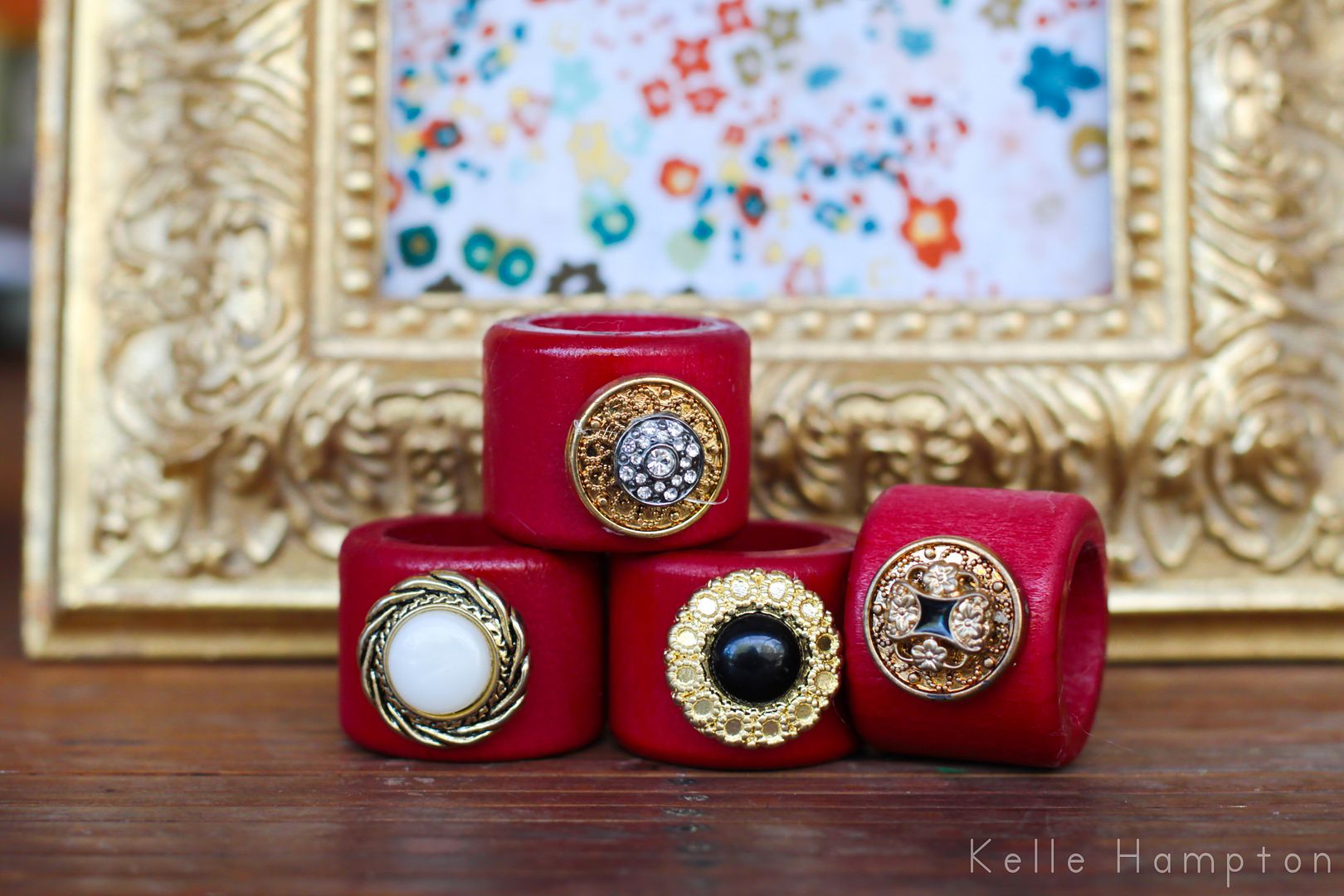 Lainey had fun helping. These would look lovely wrapped with cloth napkins and tied with rafia for a gift, or keep and use for your own table like so:
Place settings this year are the trusty old kindergarten craftastic pinecone turkeys.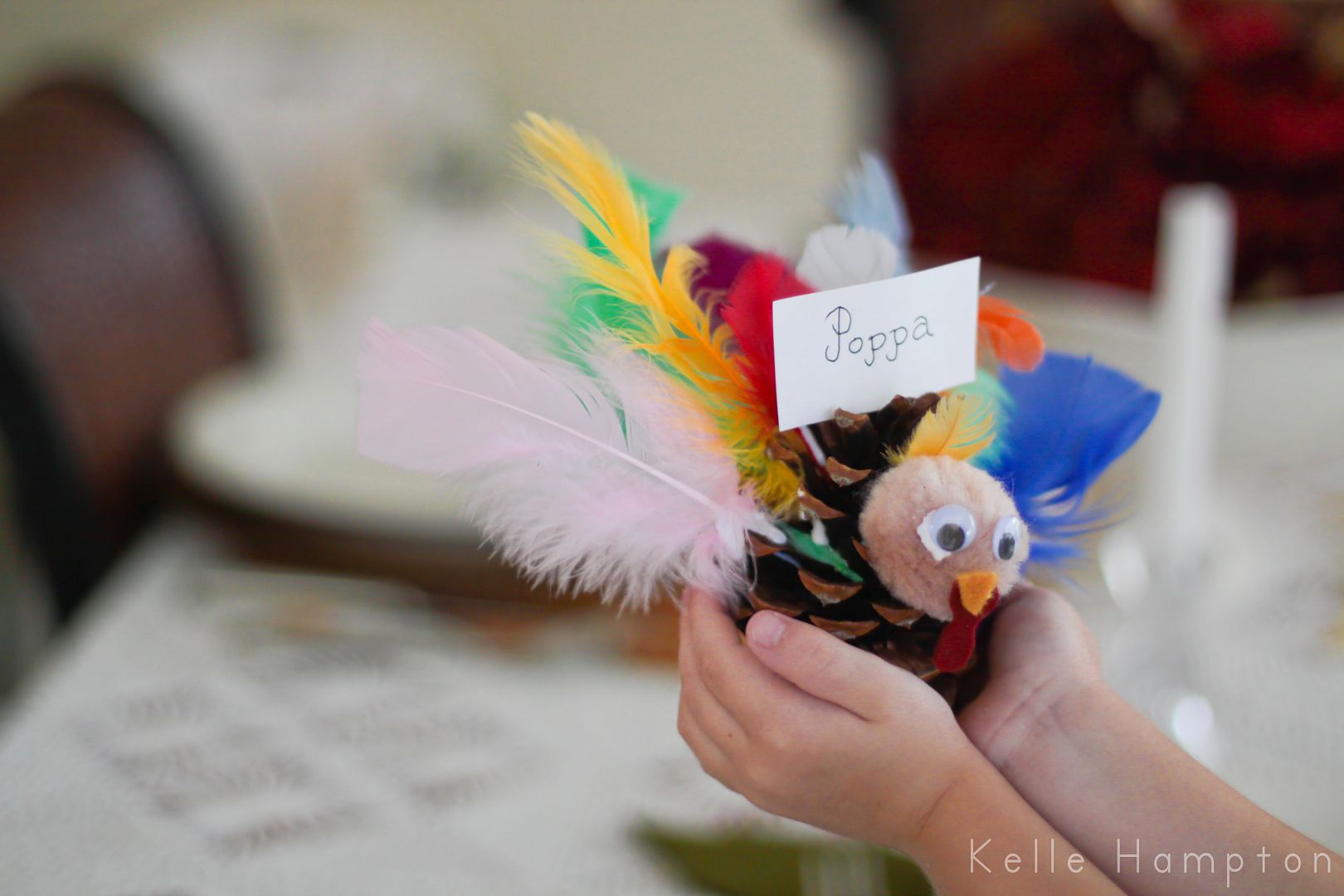 We made eight of them yesterday, and Lainey named them all. In no particular order, we have Turkey Dan, Lappie, Little Dan, Little Lappie, Yahkie, Lotsapew, Chili and Dookie. Yes Dookie. She named 'em, not me.
This wouldn't be completely craftastic if we didn't throw in a couple more, so hang on. Although our town's tree lighting is this Monday (wahoo…come down to Third Street, Neapolitans!) and our official family tree ceremony is next week, we jumped the gun just a teensy bit on our fireplace.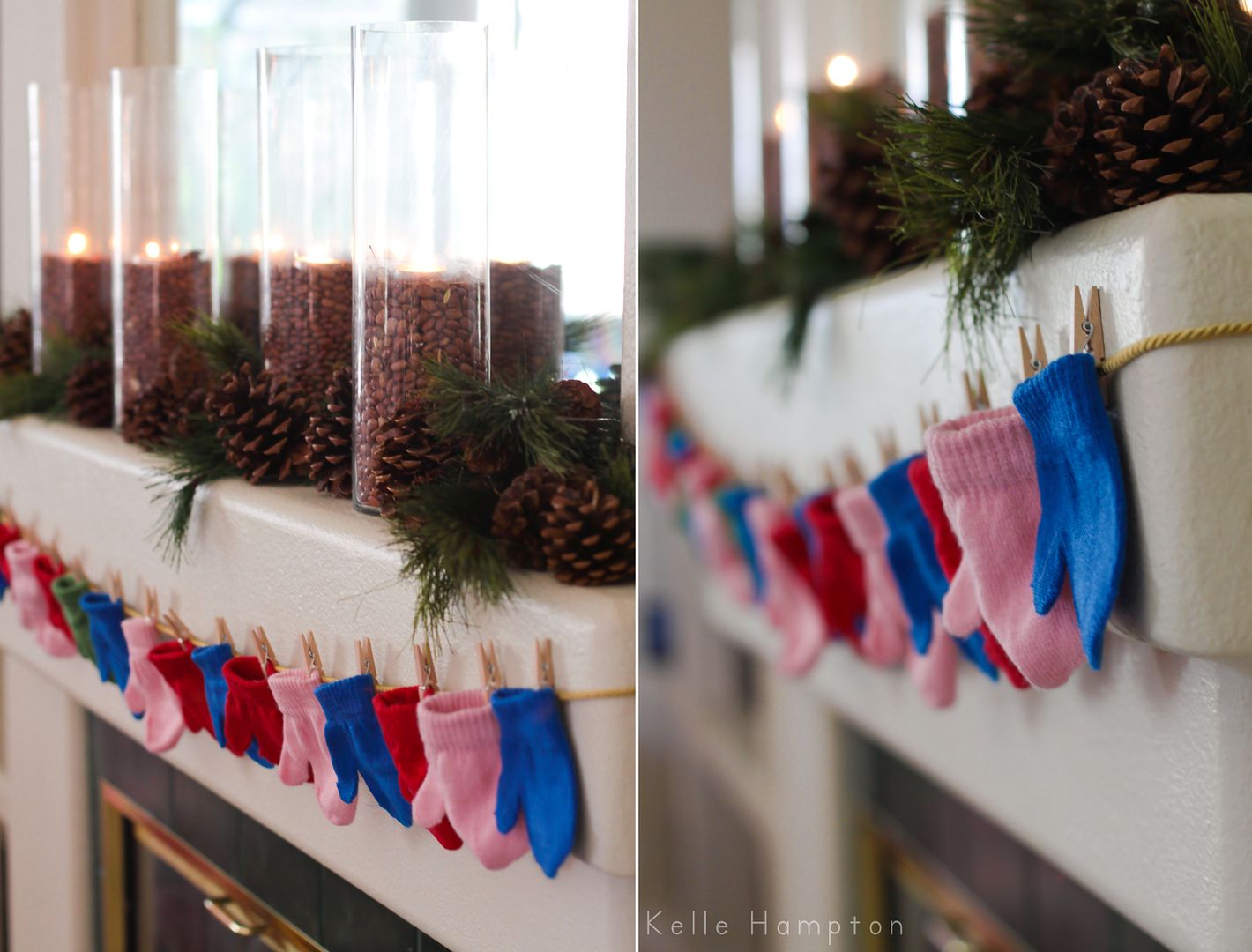 Mittens serve dual purpose of advent calendar (countown to Christmas…whatever you call it) as you fill each one with a couple treats and pull them off one by one with each day in December.
Toddler mittens in the dollar bin at the check-out in Joanns plus 2 yards of gold cording plus mini clothespins for a grand total of twelve dollah, no hollah.
Last two…
Material plus felt plus frame plus Nella letting me borrow her tiny little hand to trace equals fun kids table decoration.
…and another great easy Christmas gift. Unfinished wood tray ($5, Joanns), spray paint and creative toddler…
Add a fun mug, some favorite coffee, a doily…what have you…wrap in celophane, and you have a pretty gift for coffee/tea lovers. We use trays all the time. I love to serve company on them, and this one's extra special because it bears Lainey's smiley faces.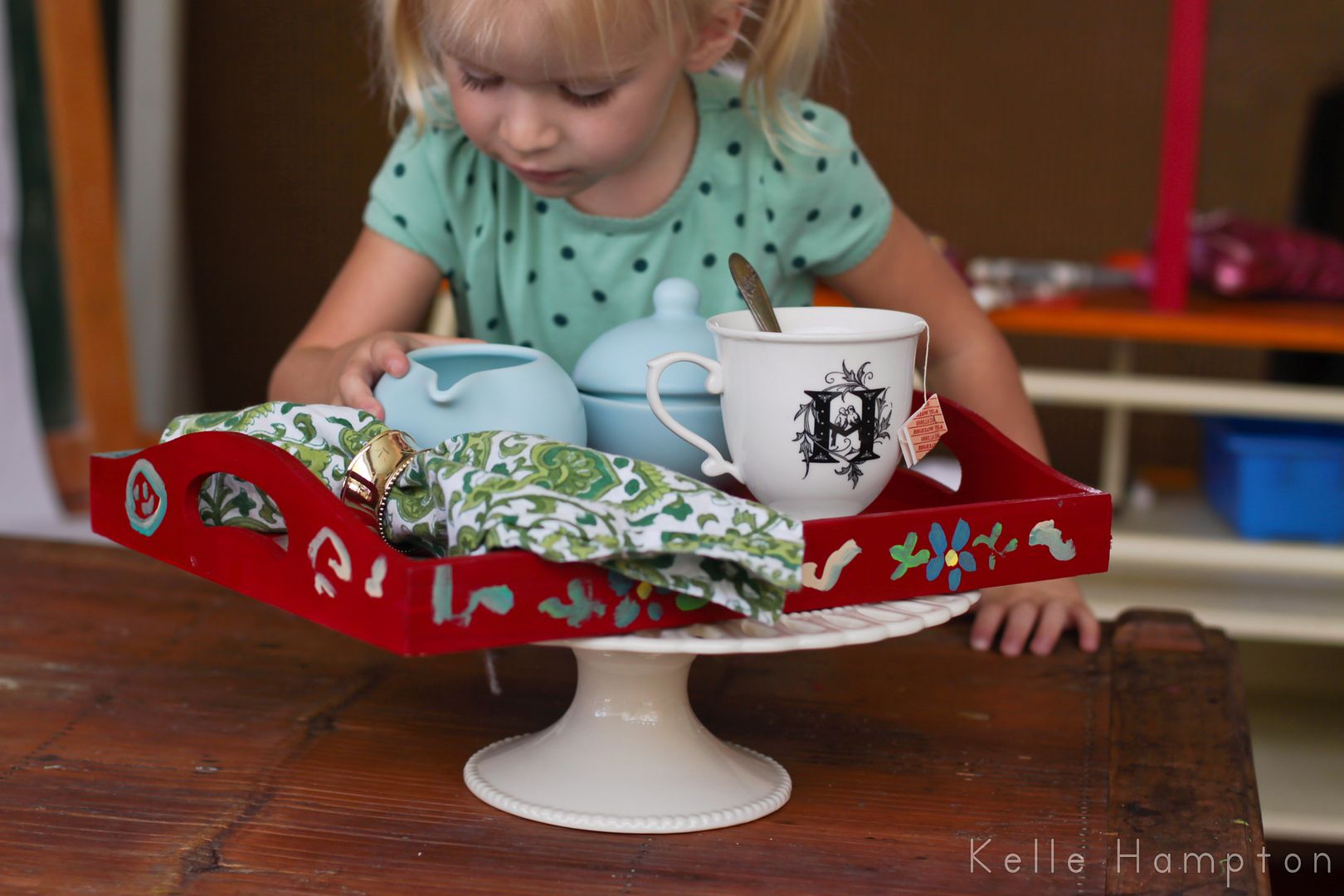 Before I wish you Happy Friday…
For all those that commented on the beach pictures last post, here's your chance to come visit. In case you haven't noticed, Poppa's vacation rental homes has a button up on the sidebar. The homes are entirely dreamy…lots of bedrooms, pool, hot tub, garden nooks for morning coffee. Anyone in the market for a getaway, they're offering a 25% discount until December 25 (and any other time, 10% off to anyone who mentions Enjoying the Small Things).
I've also updated the F.A.Q. tab on top and will try to add to it as common questions come up.
Also, voting for The Bump's Best Blog award ends Tuesday. How awesome would it be to have "Special Needs" category win…to remind the world that beauty and joy abound within the households of families who may happen to include a child with special needs? Please help us share this message of inclusion. Click HERE. (you have to scroll down to vote)
And a few from Nella's outside therapy session this week: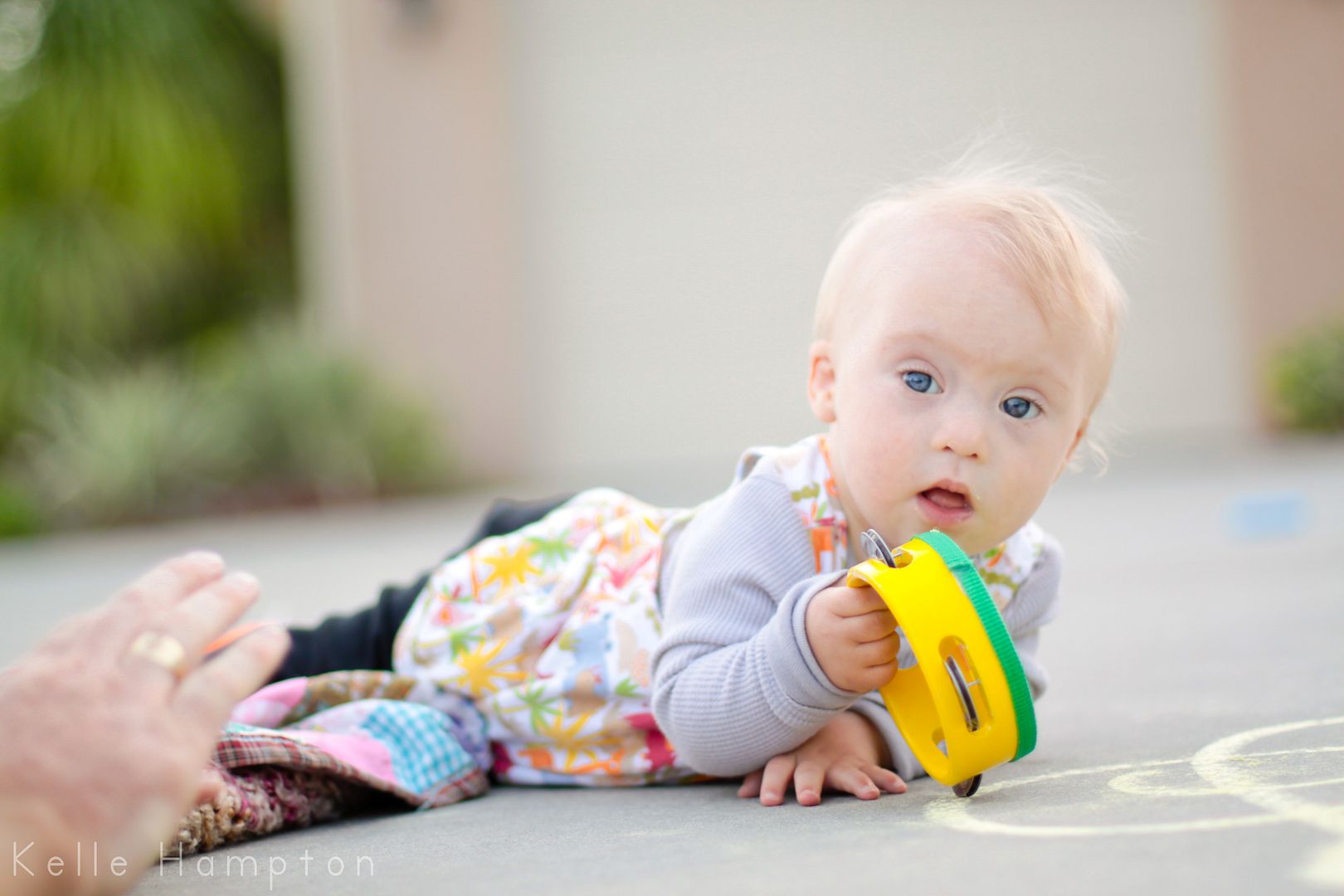 the tamborine, her favorite toy.
Have a fantastic weekend. Or if you feel really crazy…get craftastic.