Some years ago, before my friend Kelly birthed two beautiful children, she went through a hell of a lot of pregnancy tests. Surgeries, miscarriages, tearful phone calls and texts that broke sad news. She needed her friends, and we were there for her. Answering calls, showing up. We'd cry over beer in big bar booths and drop off cards and casseroles when hopes were shattered once again. We promised her it was going to happen someday, and it did.
I remember huddling in the back seat of her car one day after the second miscarriage. She was devastated, and we didn't know how to fix it. But we were there, silent and strong. "We're here for you," we said. Because it's all we knew to say.
She created an expression during that time, one that's stuck with this group since. "The Net," she called us. Because we caught her when she fell.
As years have passed, we've all taken our turns jumping in. We promise to catch each other, and we do our best. Sometimes we screw up. Sometimes we fall apart. New friends join forces, old friends strengthen theirs. But, in the end…we are there.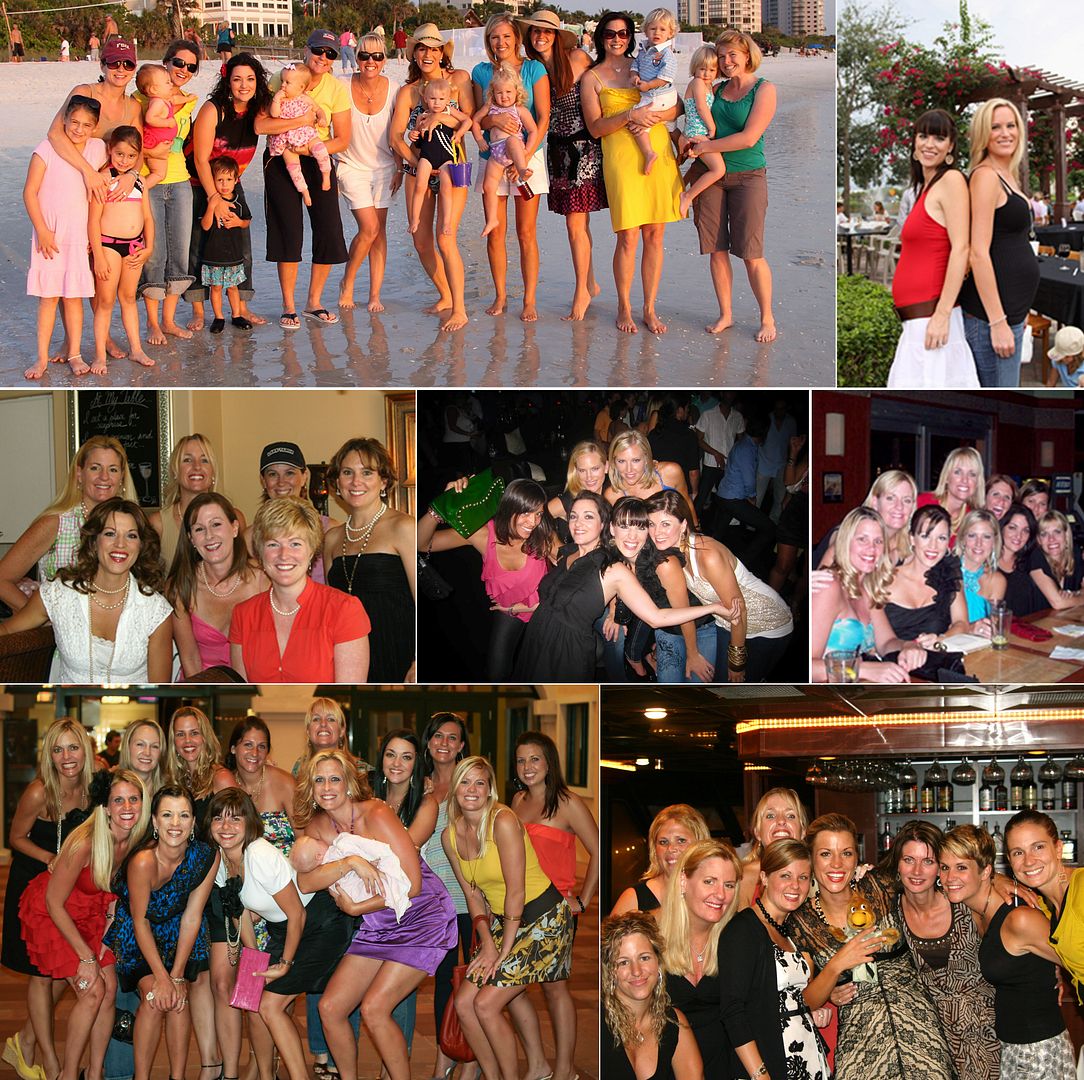 This year, when I was down and called for help, The Net showed up. Every one of them. Braiding their fibers together to make something stronger. I jumped, and they caught me. And I will never forget what it felt like to fall–softly, safely–in that place.
On the anniversary of the night where, a year earlier, I needed them more than ever, I wanted to celebrate them.
I dreamed of what it would look like. And, like Christmas morning, I dreamed big. I wanted a circle. I wanted love. I wanted music and candles and something no one would forget. I wanted summer camp kumbaya but the grown-up kind, with drinks and sex jokes and laughter that organically shifted into tears and sharing and "I love yous." I wanted everyone to really, truly feel connected and loved in that circle but, at the same time, I didn't want some cheesy "Wind Beneath my Wings" stunt either. Because I'm the first one to roll my eyes at a baby shower when we have to play one of those games where some girl loses an eye when she says the word "Baby." I just wanted it to be real and good and meaningful.
So, a couple weeks ago, Heidi made plans and called our friend who owns a restaurant while I sent out an e-mail and asked The Net to come. I asked each woman to bring a charm–something that would be given to another woman that night. Any charm that represented the celebration and power of women–a favorite memory, a word of advice, a symbol of strength. It was a stretch, sure, and could damn near head down the cheesy "Wind Beneath my Wings" road, but maybe…just maybe…it would be magic.
Saturday night, twenty-eight women stepped into the candle-lit den of Lucarelli's to celebrate each other.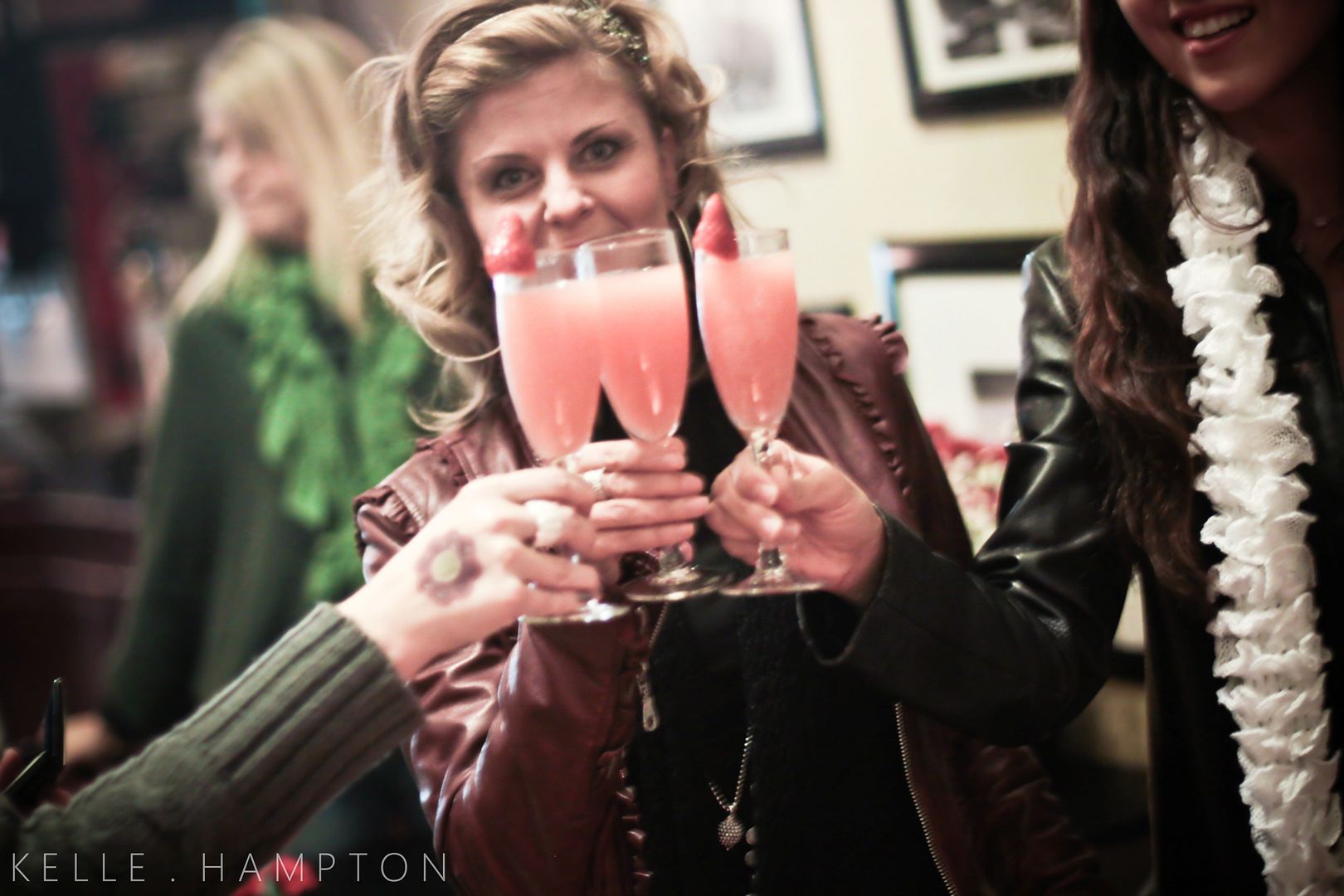 There was music. And candles. And a special menu created just for us that night…with Nella Bella-linis.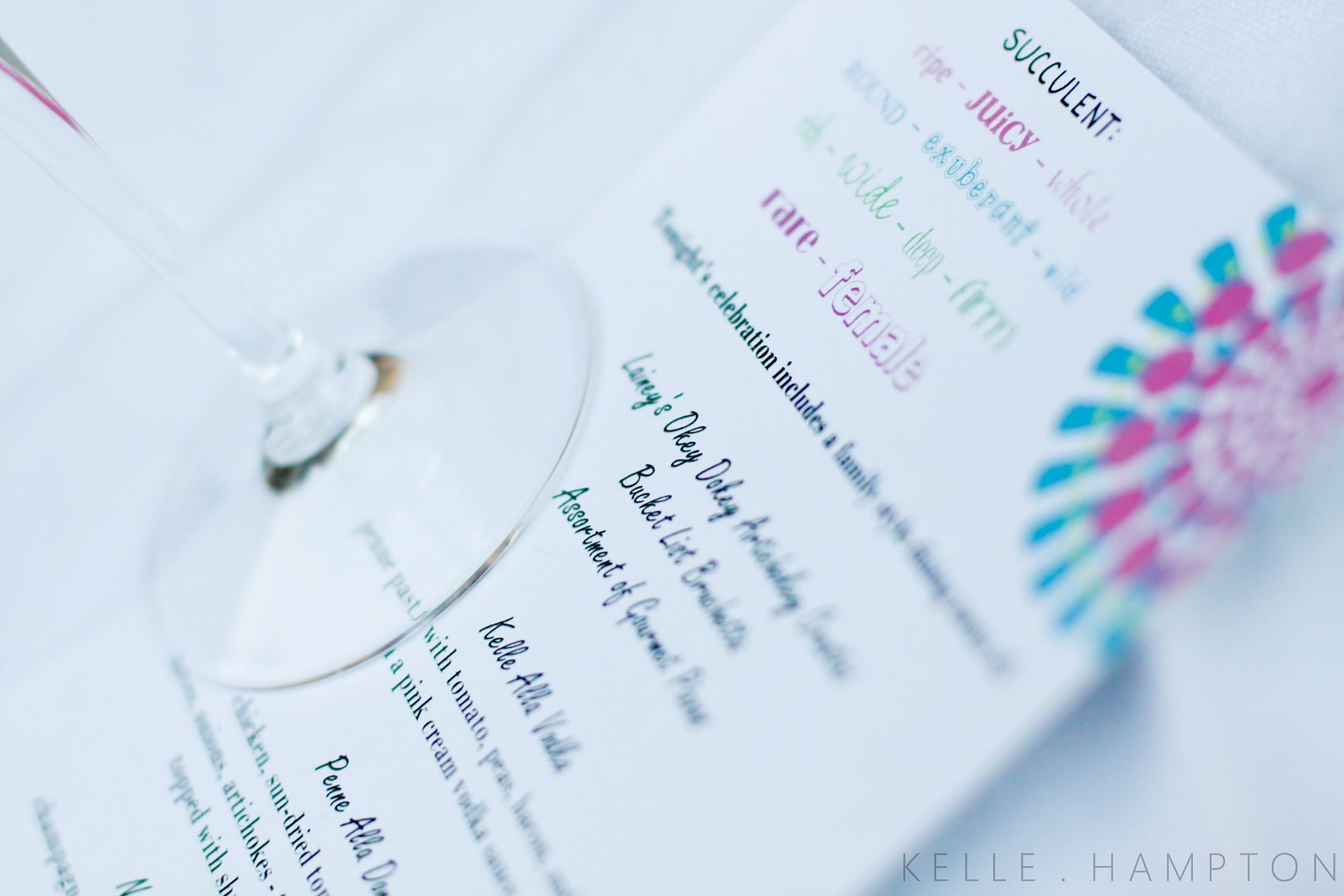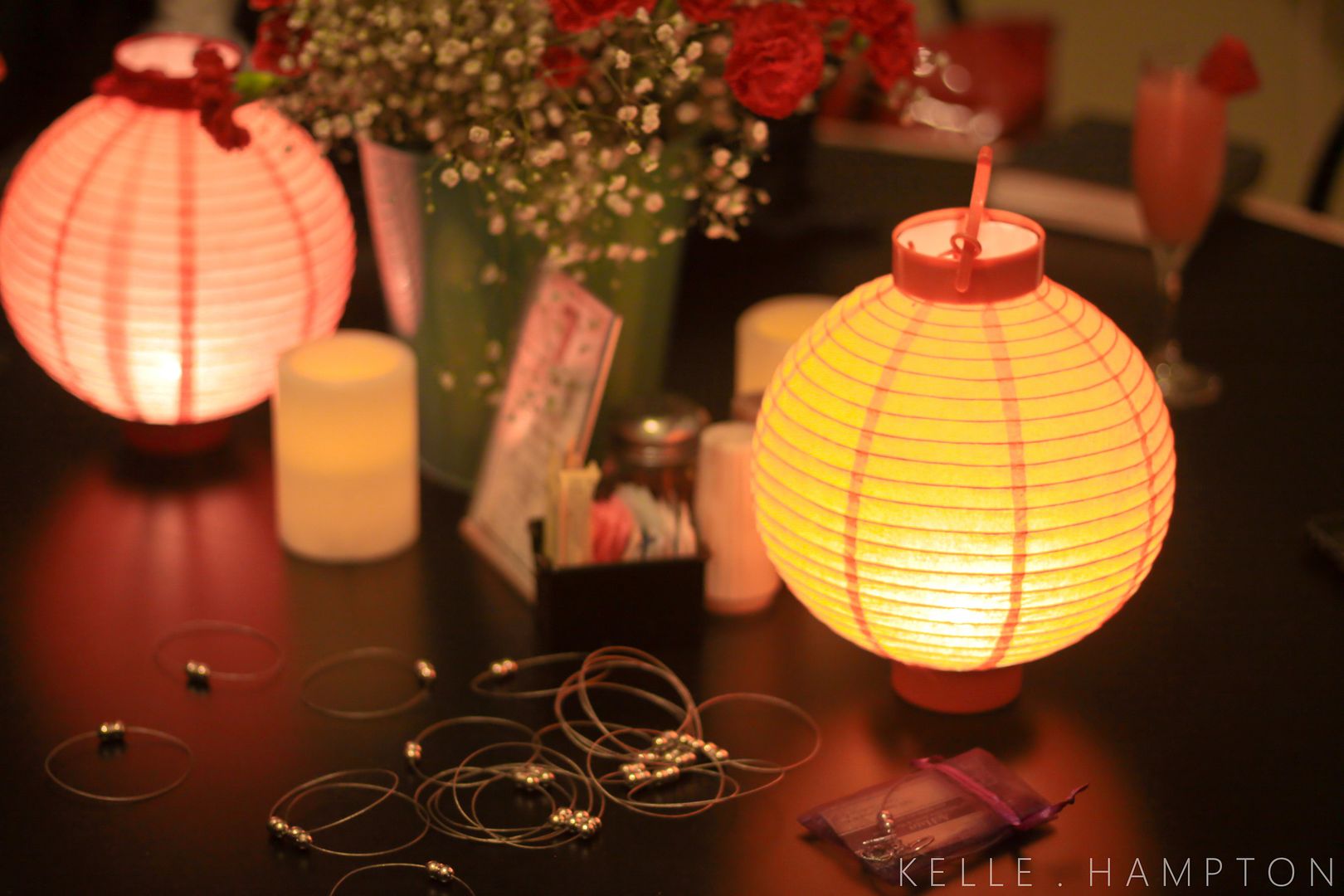 I brought new friends and cousins and smiled as I watched my old friends lovingly welcome them, embrace them, treat them like sisters. I felt so proud of my friends, happy to show them off.
There was laughter and bruschetta and peach fizzy drinks named after my girl. There was wild, good energy that wafted through the room like the first spring breeze that sweeps through open windows. And slowly, chairs gathered. First a few, then a few more. Bodies crowded, quilts spread out, and soon, there it was…one beautiful circle. No Wind Beneath my Wings cue or all-call to prick fingers and share blood. It happened, just like that.
"Look, it's happening," Heidi says.
"I know…it's just like I imagined," I replied.
And the rest of the night was magic. The Net at its finest.
We shared, until 2 in the morning, our pains, our joys, our challenges. We cheered each other on. We cried and hugged and thanked each other for being there. We said "this is incredible" and "how come we don't do this more often?" and inside we knew it was really special, meant to be saved for moments like this.
There is no way to really explain what happened in that room. The way each woman told her story. The way everyone listened. The way it seemed every charm was hand-picked for its recipient. The way I didn't want the night to end.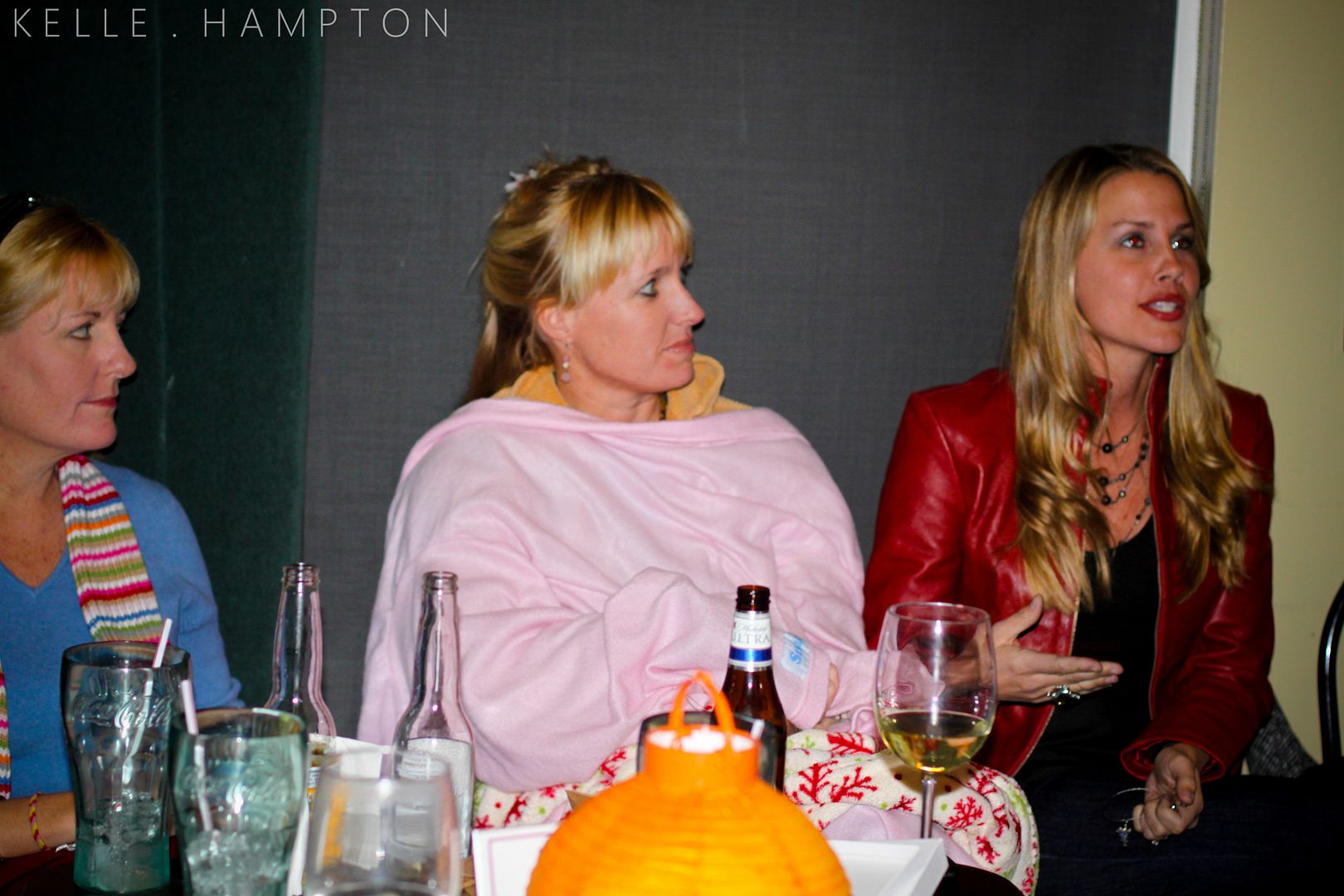 Twenty-eight women. All different, all passionate, all capable. We have our issues–our drama, our fall-outs, our misunderstandings. Because we are women, and with that comes spunk and vigor and the need to be heard and validated. With that comes the beautiful storm of strong opinions and the force of which we express them. There are pains. But, underneath all that, there is so much love. There is the need to answer a call when it comes forth. And when it does, it's truly a beautiful thing.
I've been there.
I couldn't help but scan the room and think of every one of these women's journey. We've showed up. At funerals, in birth rooms, at parties, in the middle of the night. We've taken phone calls, e-mails, held, hugged and prayed. And we'll do it again.
I feel so privileged to know these women. They are strong, beautiful souls, and I am daily inspired by what they bring to my life.
These women are bona fide rockstars. …and I have the charm to prove it.
I made them all promise to remember that evening. To not wake up the next morning and regret opening up, crying, saying "I love you." And I promised not to post the other pictures.
We danced. We loved. We celebrated. We balanced the heavy emotion and puffy eyes of meaningful stories with really funny moments that can't be repeated. It was perfect.
And I couldn't help but think a hundred times that night where I was exactly one year before. Huddled in a dark room, out of breath, out of tears, and certain life would never be the same.
Thanks to these women, life is so much more. We are all so very capable.
We will move on. We will tuck our charms in drawers and soon forget they're there. We'll stop talking about that night and what was said.
But, when one of us falls, we'll remember. We will be there…the ever faithful, loving Net.
After three hours of sleep that night, we huddled the next morning in the party-crashed living room, clutching coffee cups, rubbing dark eye circles, and reliving the magic. It was that good.
Bless poor Brett's heart.
And bless the $100 Little Lesiw gift certificate winner, Commenter #631, Melissa Marie: Been following for a little less than a year. Your words are true and honest. Thank you for not sugar coating it all! Heading over to buy some beautiful head bows. 🙂 We are anticipating our third foster baby…a little girl! (we have had her brothers who are 2 and 1 for the past 12 months. Thank you for your honesty!
Congratulations, Melissa. Please e-mail your contact info to [email protected], and you'll be picking some blooms for that sweet baby's hair in no time.
And because giveaways are better when you double your trouble, how about another one?
Returning sponsor, Loving Shop Tutus is giving away a handmade tutu to one lucky commenter on this post. And use Coupon Code ENJOY to get 10% off your order at Loving Shop (great for Valentine's Day!)
And to my Net…to every woman present the other night…you are amazing and I love you.
ADDENDUM: Several have e-mailed about the bracelets and how the charms worked. Simple, inexpensive bracelets were purchased at Joann's (or I found the same ones HERE) and each woman brought with them a charm they had already purchased (search 'silver charm' on Etsy or Google…it's amazing what they have charms for. EVERYTHING) Each woman present had their name written on a slip of paper, and all the papers were put in a bowl. Everyone drew a name (putting it back, of course, if they drew their own name) and your own charm went to the woman whose name you chose. Circle starts and you tell your story and what your charm means, give your charm away, etc. Make sense?