Sometimes when I write, it just works. The keyboard and I are practically lovers, and a half hour of pecking paragraphs is like a good make-out session. Like I could smoke a cigarette when it's done and feel good because writing did exactly what I wanted–provided this magical outlet to express myself. (For the record, I've only smoked three cigarettes in my life and two of them were under the bleachers at a Montrose Highschool Football game when I was Homeschooled Girl flirting with disaster).
It doesn't always happen. Sometimes, it's laborious and I'm critical and it just feels like I'm trying too hard. Sometimes that's true. Sometimes I hit "publish" thinking "this isn't very good" and sometimes I'm right. That's part of any passion. Artists paint crap sometimes and photographers take blurry photos. Teachers have bad days and accountants make major errors in tallying receipts. But you do what you do because you love it, not because you're good or getting there or very bad and trying.
My point is that my last Hallmark piece was a difficult piece for me to write. I had a horrible case of writer's block and when I hit publish, I winced. I wasn't happy with my product, and I didn't think it was any good.
And it really doesn't have anything to do with writing but more with the presented subject–the idea of women wanting to be the best moms, the best wives, the best people despite our limited circumstances. I realize how powerful we are when we listen to each other. And I really listened in your comments. And I smiled realizing that what I thought was not my best writing was still honest, and it brought some poignant responses that made me think.
I want moms who struggle to feel better about themselves. I want women who have to work to pick up their kids from daycare, drive home and spend those couple precious hours before bedtime knowing that quality is valued more than quantity. I want my friend who is going through chemo and feels guilty for what she can't do with her babies right now to understand: Good Lord, they know! They know you love them, they feel it with the precious time you do give them. And I want to believe this myself–because sometimes I forget.
You take what you are given and you work with it. You smile and you love the bejesus out of everyone around you for every second you're blessed to do it. You make it work, and you give it–you give them–your all, your passion, the secret part of your heart that says things you want them to hear. Like "you mean more than any of this."
*****
After a busy day today, I figured I'd prove my point. One hour. One hour that extended six minutes past. I took my girls and buckled them into their seats and told Brett we'd be back in an hour. And, in the span of sixty-six short minutes, I gave them my all. I was funny. I was attentive. I poured out motherly love from a gushing hose.
We played I Spy in the car and I purposely didn't say "the sky" for my first guess on Lainey's "I spy something blue" even though I knew it was the sky. I wanted her to have the satisfaction of stumping me. And when I looked back at her in her car seat, I really looked. I smiled with my eyes and I said I love you with every cell in my body.
We went to the beach. A short drive and a very short trip to the shore just to sink our feet in, grab a few shells, chase a few seagulls.
Our pants got wet, and sand stuck to Nella's sticky palms, but that's okay.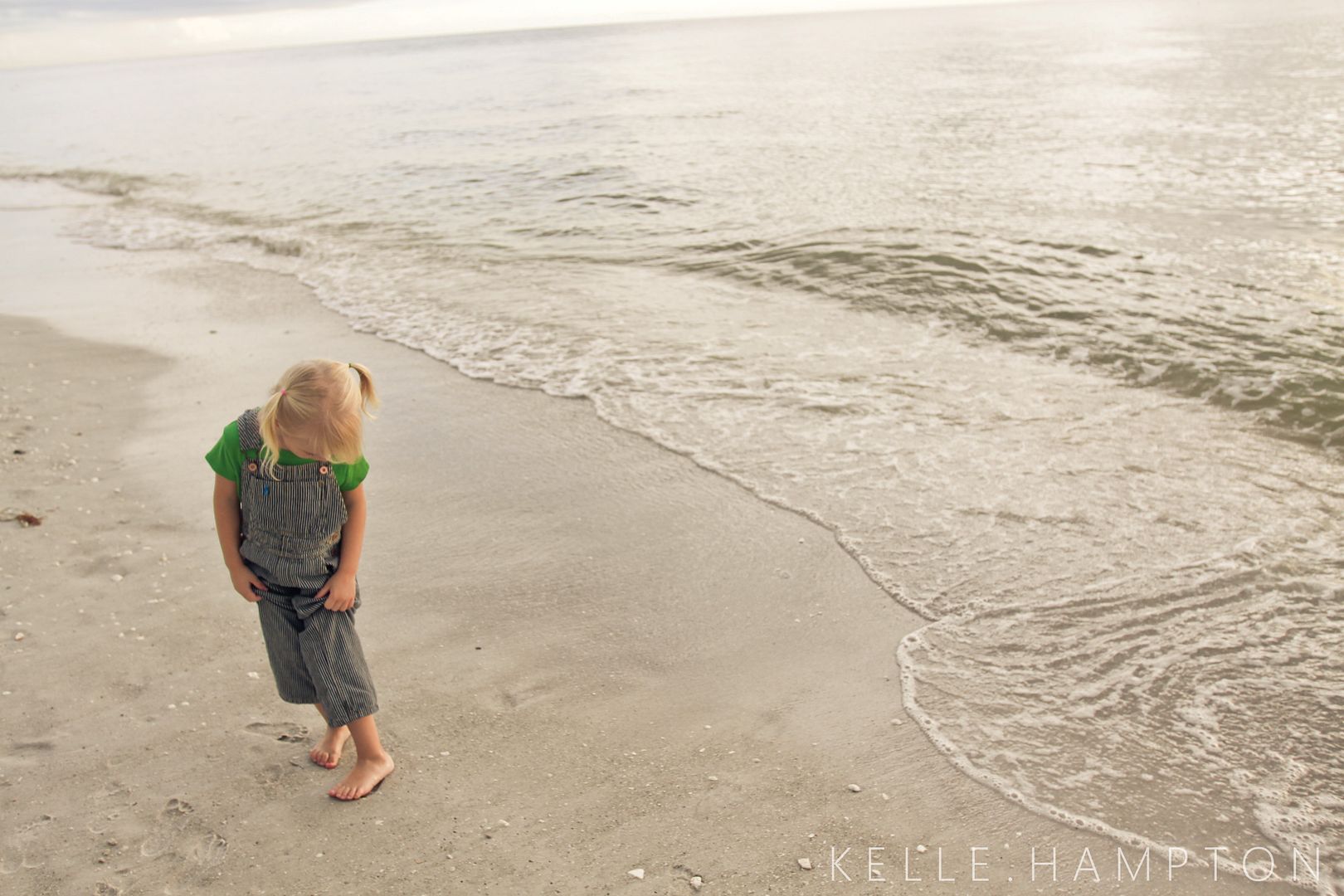 We didn't stay long. It didn't matter. Lainey can't tell time yet, and she only measures anything by how much fun she has anyway.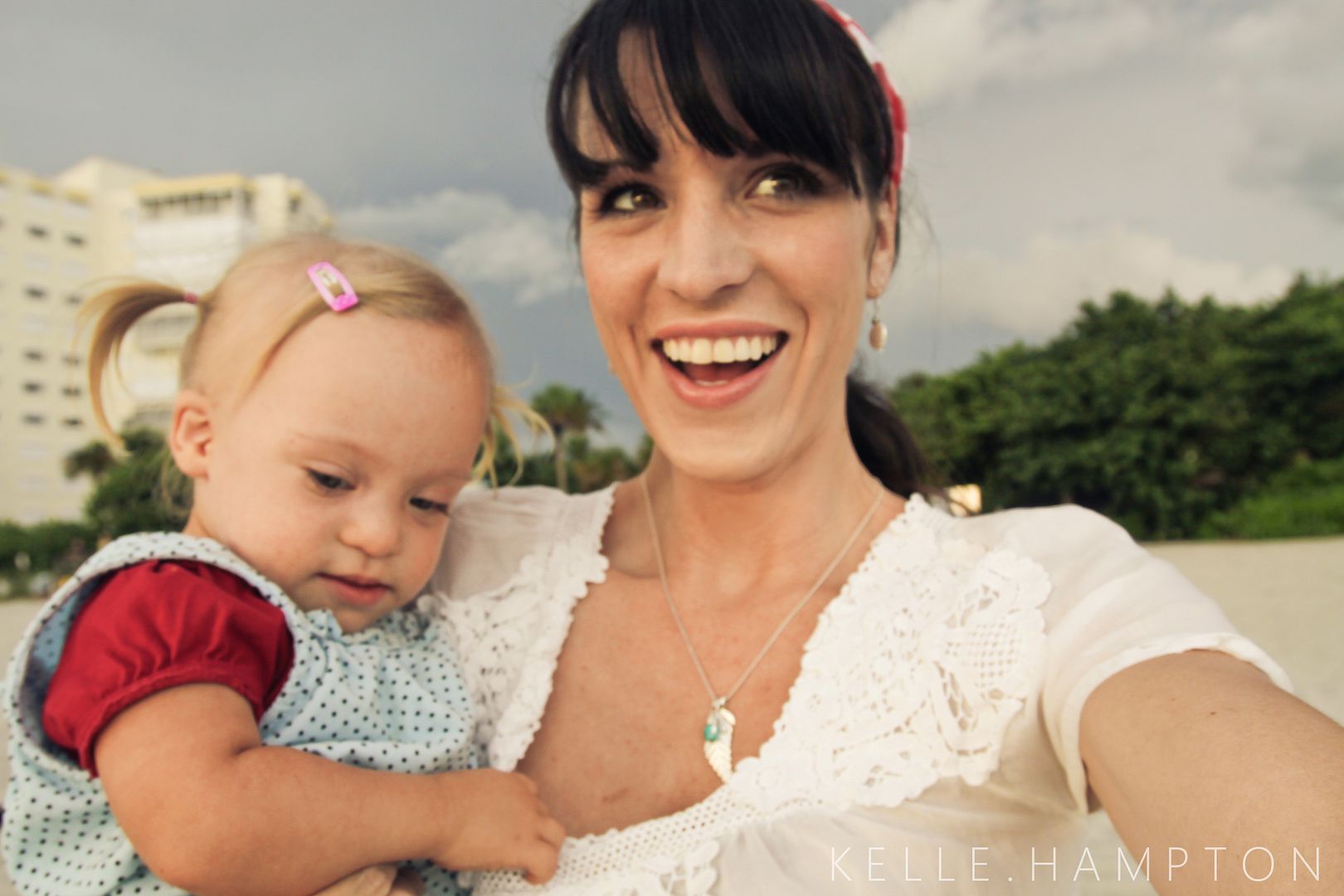 I love this necklace: Stella & Dot

Our favorite beach store was closed, so we skipped popsicles to take this picture in front of the ice box…
…and scurried on our way with thirty-four minutes to spare.
We decided to cross off a quick swings & slides from our adventure scavenger hunt and mad-dashed through puddles to make it to a soggy playground while time was a-tickin'.
Butts got wet, clothes got soaked–kids smiled.
And then it got really fun. Lainey caught on to this how-much-fun-can-we-have-in-one-hour game, and we were flying. Laughing, running back to the car, checking the clock to see what else we could cram in our Hour of Power.
Fifteen minutes to spare. We'd hit a Whole Foods on the way home, its juice bar perfect for our grand finale smoothie treat.
We pulled in as it was getting dark, and I snapped a picture of my dashboard clock to say we did it in an hour, even though we intended to take our time inside.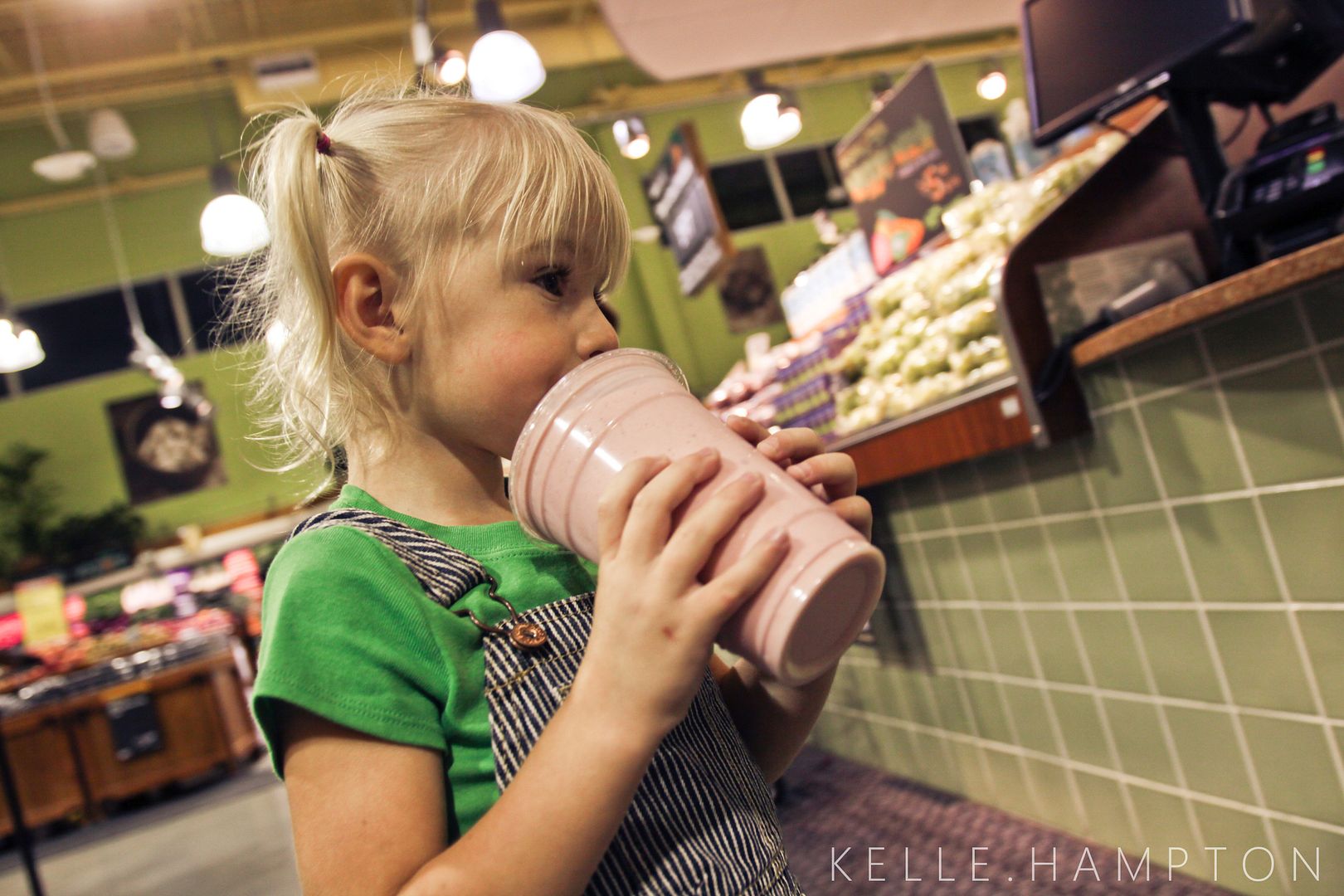 And we did. We slowly rolled our cart through aisles, taking time to sniff sandalwood soaps, roll on essential oils, browse the colorful produce display. I forgot what time it was and brought two happy kids home ready for bed.
Lainey asked if we could play our game again tomorrow. Because she had more fun in sixty-six minutes than she had in a while. Quality. Not quantity.
You take what you have been given and you make the most of it. Your kids will know you love them.
Kids just know these things.
*****
Giveaway winner for a free baby blanket, courtesy of Cozy Rags:
Commenter #472: Jenny–We in sunny California are soaking up the last bits of summer before we dive head first into fall baking, pumpkin patches, crock pot cooking and cuddling under cozy blankets! Can't wait until fall hits us!
Congratulations, Jenny! Please send your contact info to [email protected] and type "Giveaway winner" in the subject line.

*****
Okay, this new sponsor is the bomb. Introducing Okllo, maker of unique, meaningful kids' tees that feature historic Americans. Oh, I love these. I loved being able to tell Lainey, as I slipped her Amelia Earhart t-shirt on, all about that strong, adventurous woman who had a dream.
And when I read the quote on the Benjamin Franklin tee, it had my Nella's name all over it. "Tell me and I forget. Teach me and I remember. Involve me and I learn."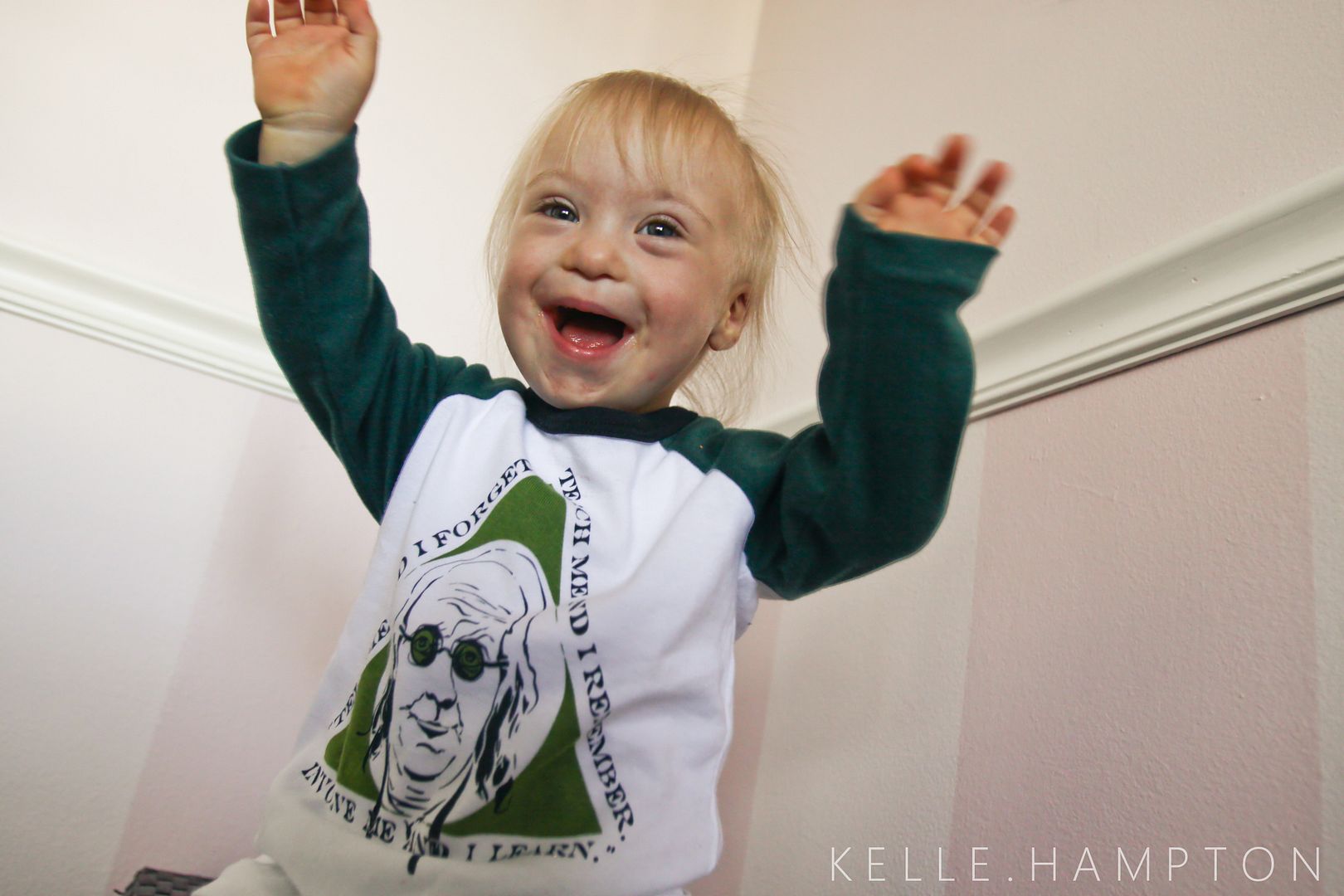 I'm a huge fan of the baseball style t-shirt. Plus, it's good thick cotton, and they're very well made. These shirts have a voice, and they're perfect for your child or a gift for a child you love. Check out Okllo, and use Code ENJOY20 to score 20% off your order.
One commenter on this post will win a free t-shirt of their choice, courtesy of Okllo.
*****
Sending you off with my two favorite funnies from today.
A: I randomly happened upon this and laughed: Lainey tucked in Olivia and her brother under the covers–a.k.a., tears in her quilt.
B: Gross but true: Nella challenges the dog to kiss her.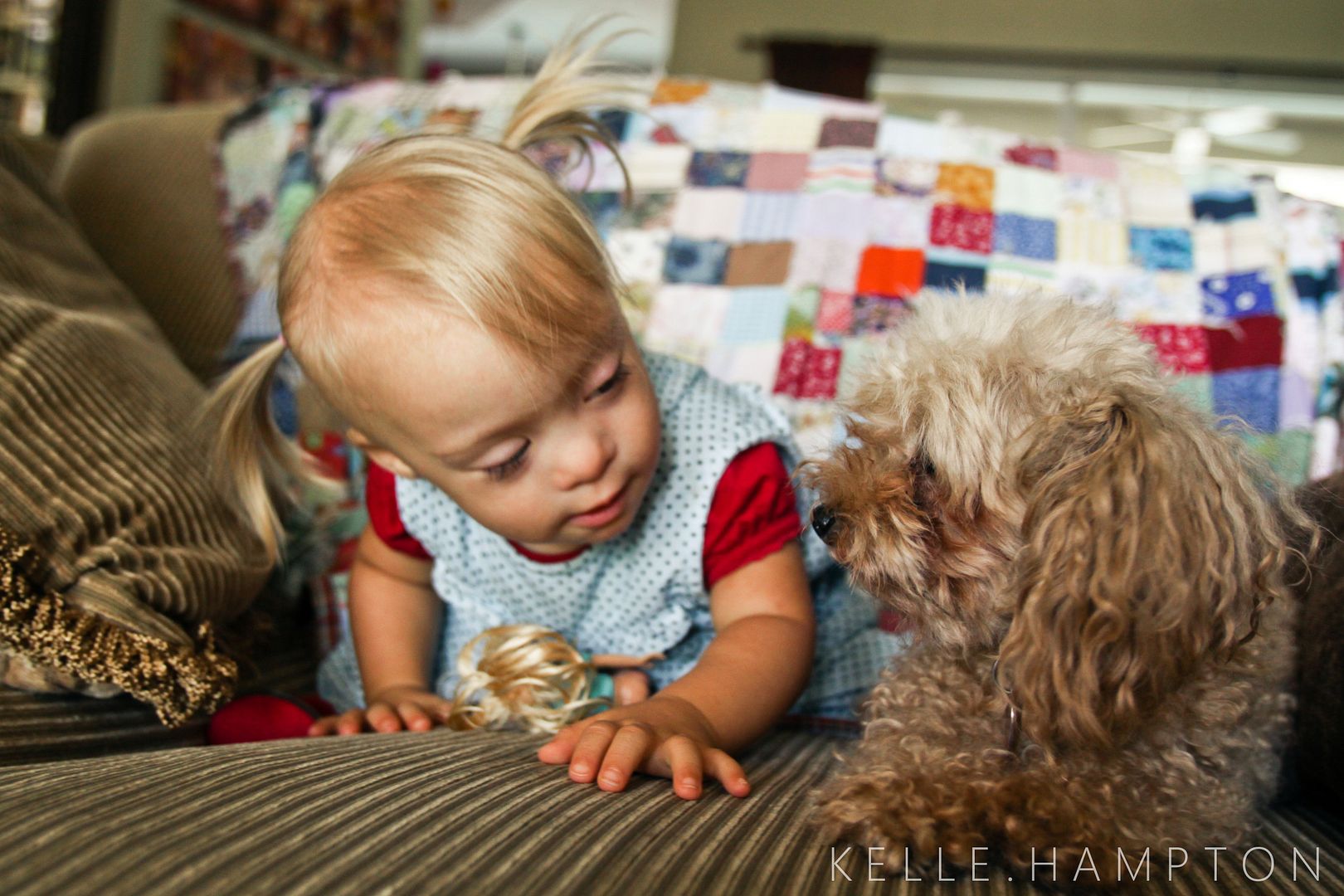 On the mouth.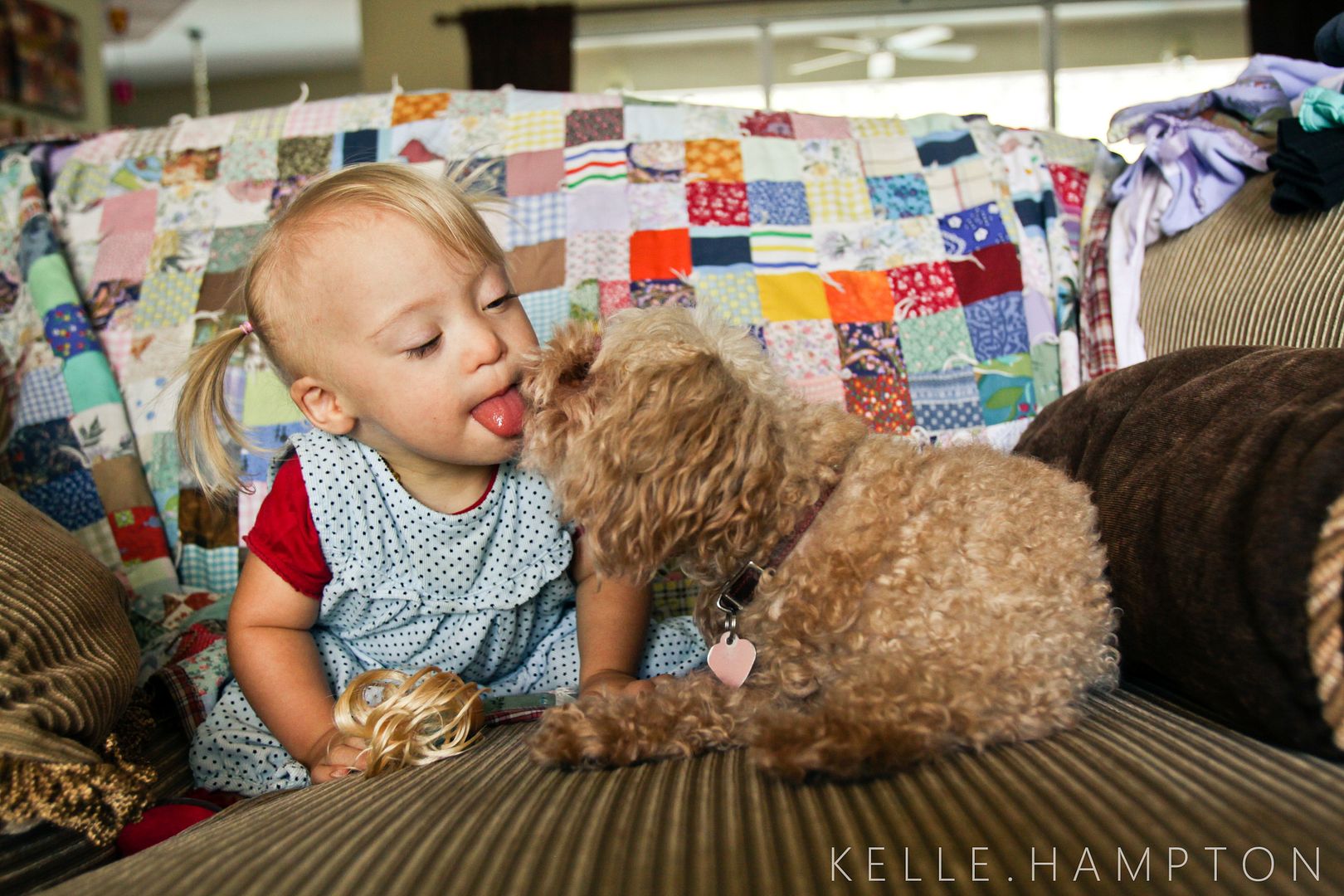 Brett thinks it's disgusting because–and I quote: "Dogs lick their butts with those tongues."
His disgust only makes it ten times funnier.
Happy, Happy Whatever-Day-It-Is when you read this.