Beware of the Christmas unicorns. They're flying all over this post, and you're going to have to bat them off with a big stick.
So get a bat; prepare to swing.
Evidence A:

Christmas in the Park, Bonita Springs, Tuesday night
B:

Snow! Snow! Even if it's mechanically shot out of a street light blower.
And C: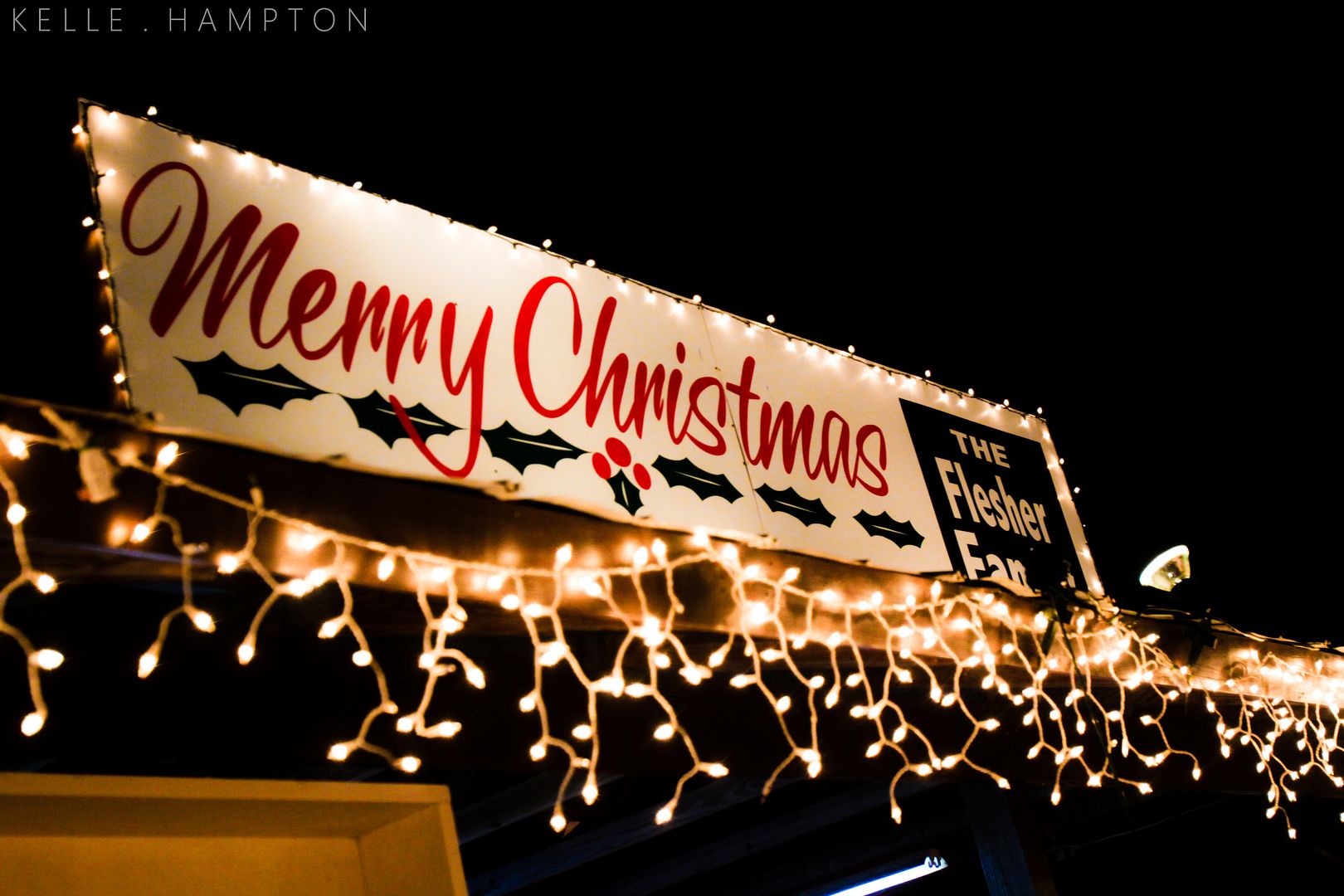 Gary found the Naples version of Christmas Light Holy Grail
I can sniff a Christmas unicorn from, like, miles away. And I feel it is my duty to share.
*****
We snuck out of the house in our pajamas the other night to go searching for Christmas lights. Gary found the muthaload at Flesher Farms, not too far away from our house. It's so grand, they have a parking assistant flagging people in. And then you get out of your car and tour the property.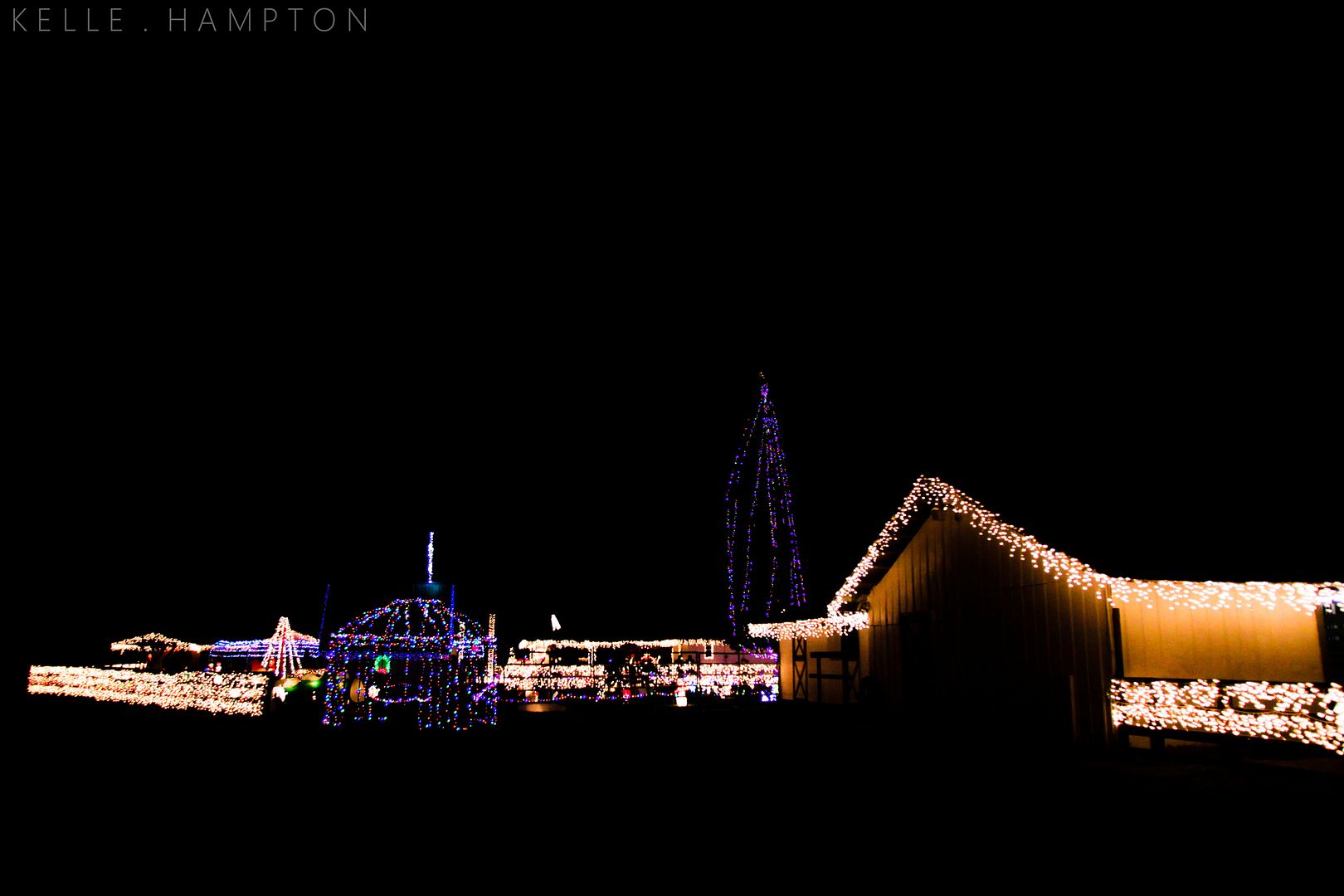 Nice, eh?
And they have reindeer disguised as horses.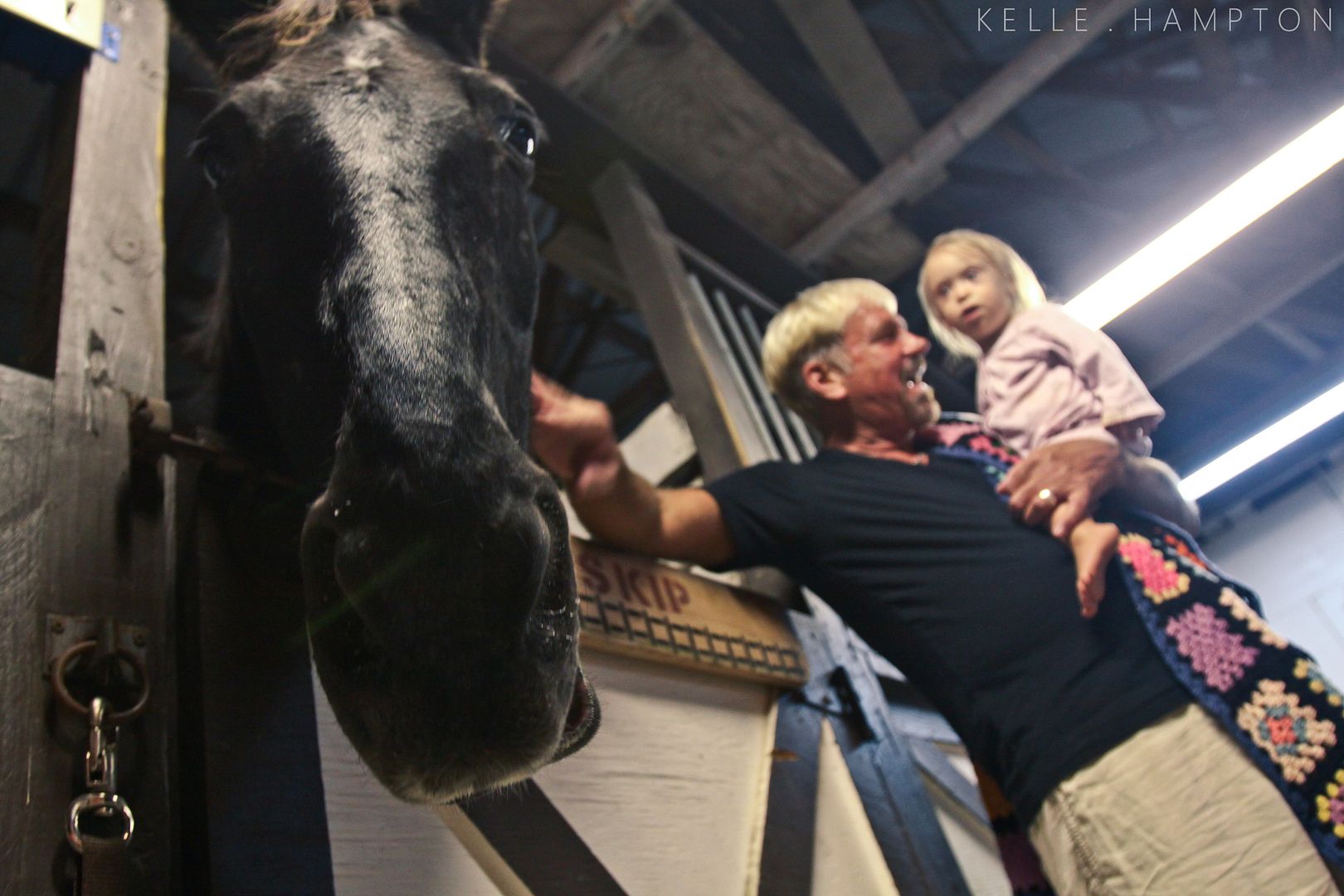 I think this is Vixen, evident from the strong snout and chiseled jawline. His alias is Skip.

You like Christmas?
How 'bout them Christmas apples?
Upon being smitten with Christmas wonder in the form of piped-in country Christmas tunes and a garage transformed into the biggest Christmas village ever (and watching my girls' eyes get all twinkly), I did what any good friend would do–I called Heidi and told her to throw her kids in the car, STAT, and meet us. She was on the way home from a Christmas preschool program and her responsible husband insisted they needed to go home; school night, and they had homework. So she put me on the phone with him and made me convince him (I'm good at this). I was this close to breaking into a warbly, theatrical performance of "Fahoo For-aze, Dahoo Dor-aze," but turns out I didn't have to. Ten minutes later, they showed up.
I'm beatin' a dead unicorn here, but holiday memories rock. Cross stitch it on a pillow and never forget it.
*****
Christmas Unicorn, take two.
If you can't beat 'em, join 'em. I cracked because everyone was doing it, and they're saying the kids are loving it…
Meet Elf on the Shelf who made his debut, swingin' in on a candle this morning.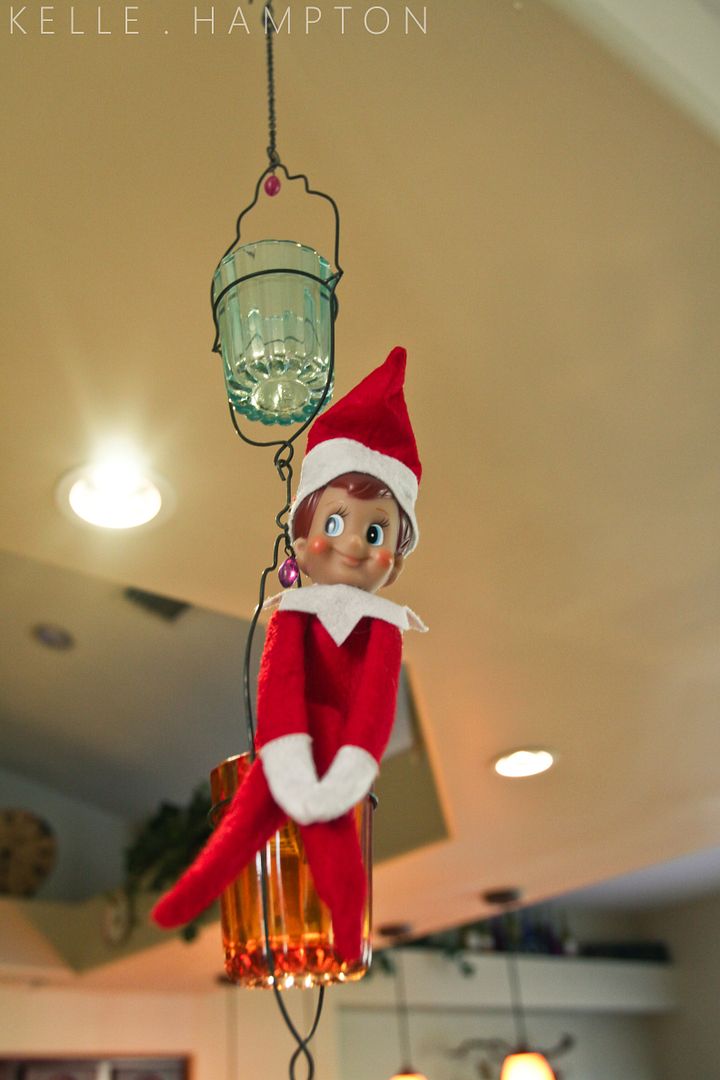 You're supposed to name him first. I wanted a cool name–like Frank. Or Winston. Or Cornelius the Third. This elf's going to be with us for years, and his name goes down in family history. But as I was reading the book last night, Lainey smiles and blurts out that she wants his name to be Elfitty. "Elfitty?" I smiled, validated her suggestion and began to cleverly steer her toward more names–other names. Brett was secretly listening though and he interjected from the kitchen, "Kelle, don't you dare!" I knew he was right. I knew he was right. Let go of the reins–it's her creative, not mine.
"Elfitty. That's beautiful. Perfect."
So his name is Elfitty. Alright, I confess, it was really Elfitty Happy Santa, but I cut the "happy Santa" and she hasn't noticed.
Fahoo For-aze, Baby.
*****
I catch moments like these and, literally, I get a rush.

They make each other laugh in the wagon. Lainey squeezes Nella's cheeks to make them into a funny face, and they both start cracking up. I freaking love it.
*****
We've been making plans to return to Bob & Judy's U-Pick Citrus, and they kept falling through. So, it was come hell or high water today, and the weather happened to lay out the red carpet.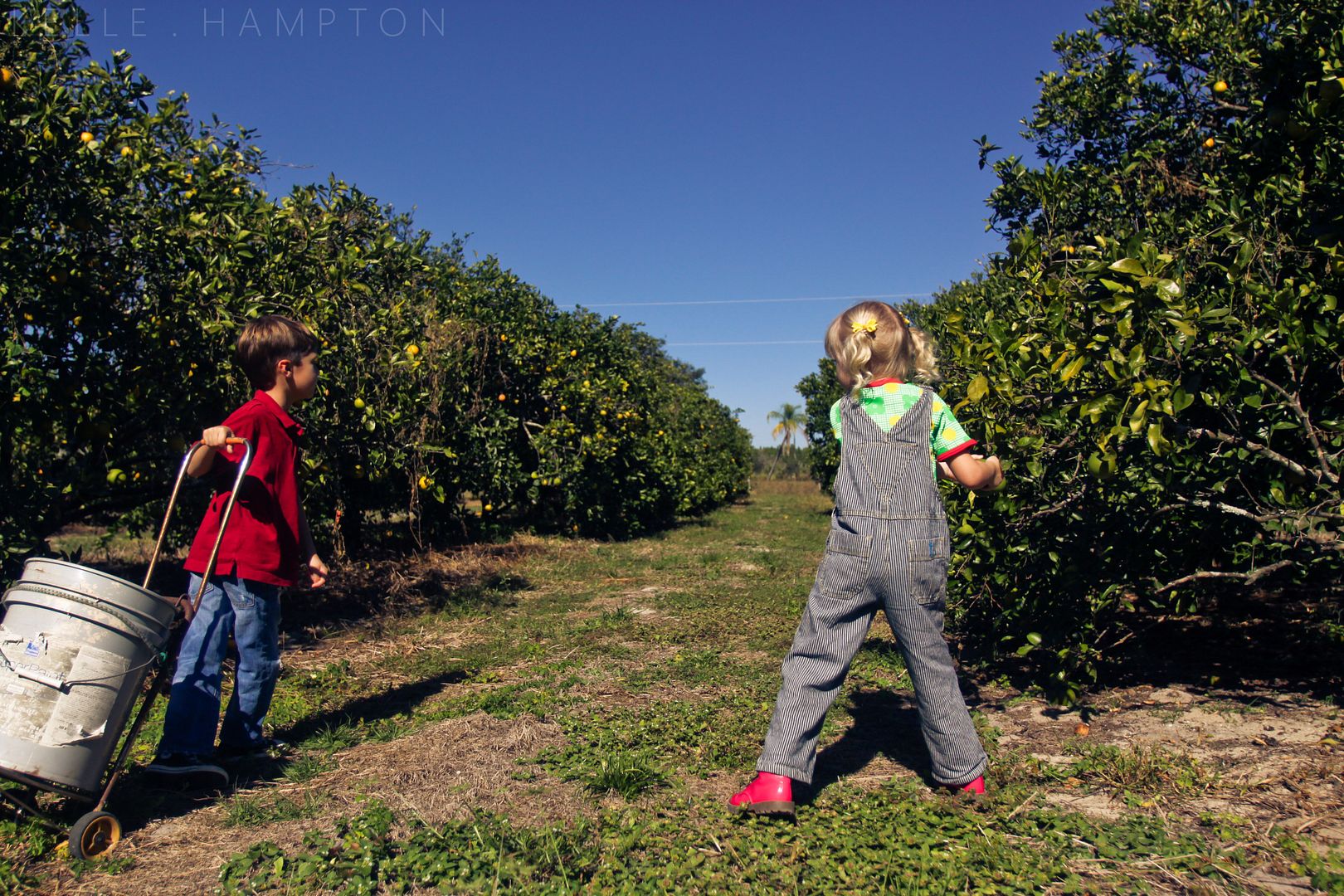 My friend Rebecca and I drove a little ways on I-75, then a lotta ways on a long country road, then a little more ways through a tangled grid of dirt roads until we landed in God's country. Horses, goats, cows–and Bob and Judy who open up their citrus haven home for public picking.
It was all kinds of lovely.
We ate snacks under the shade of an orange tree, lured the resident cat into our laps (didn't take much work), participated in grove races, and stopped to eat our oranges right then, right there because that's when they taste the best.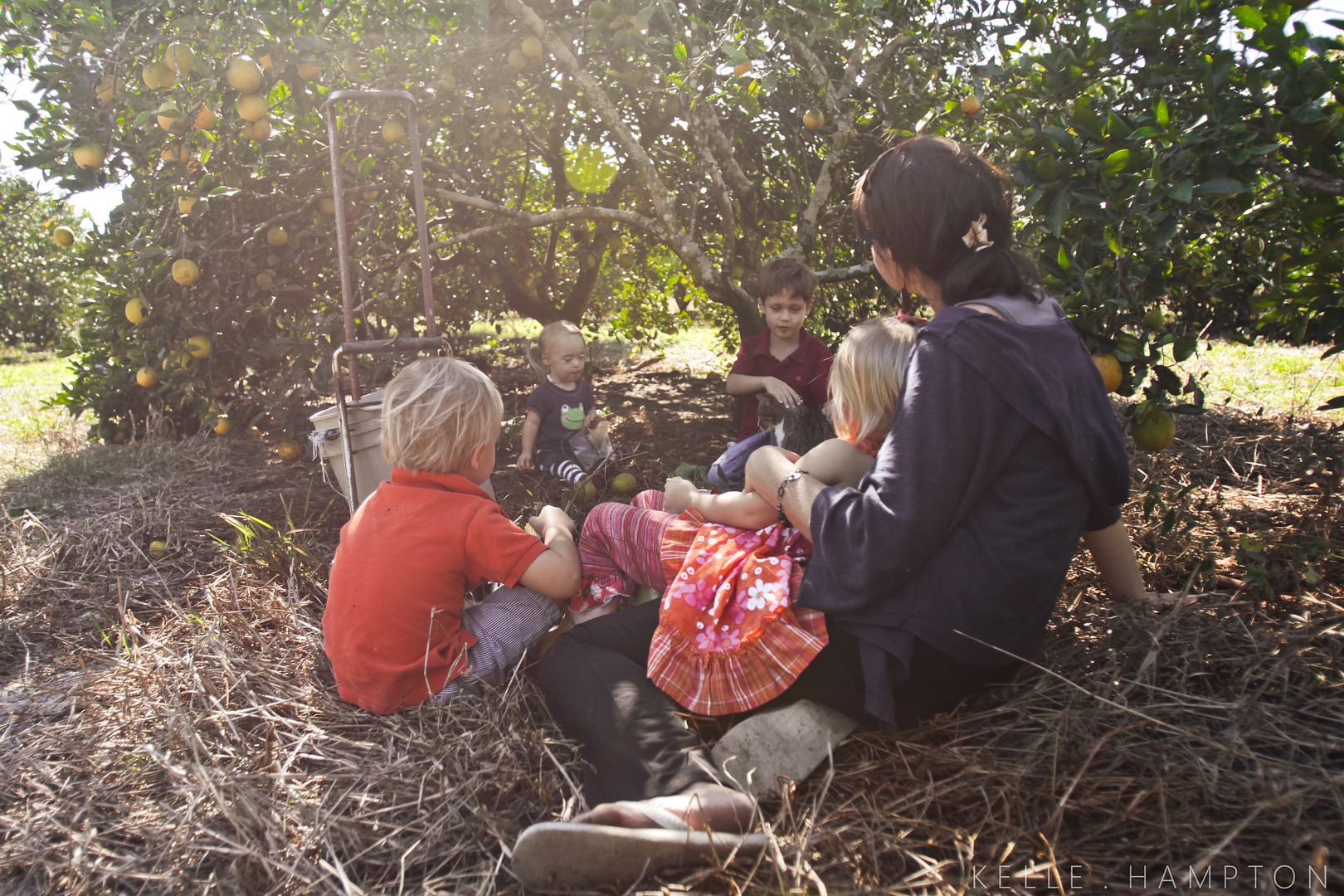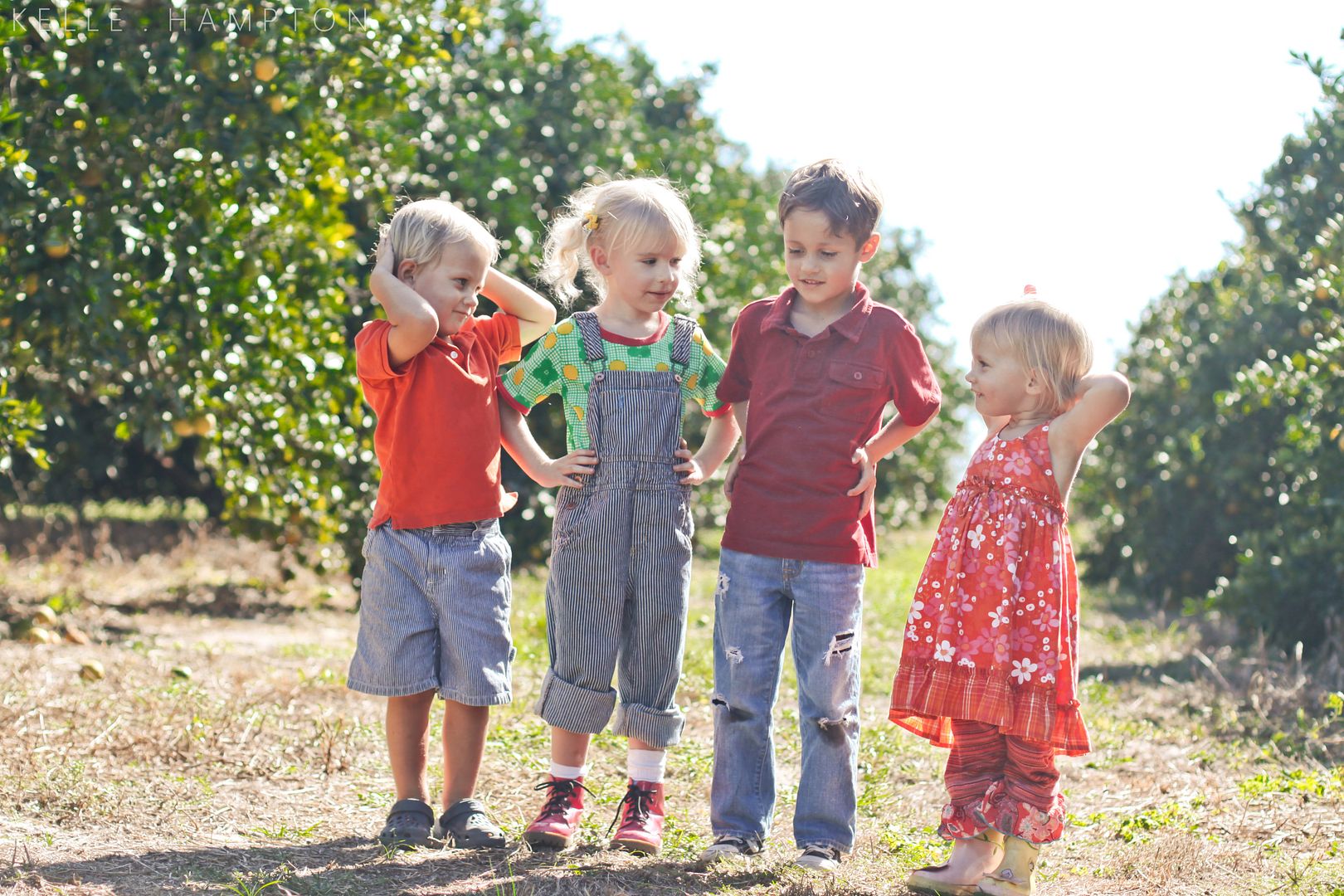 Lainey and Beckham loved the game of pull, snap and fall.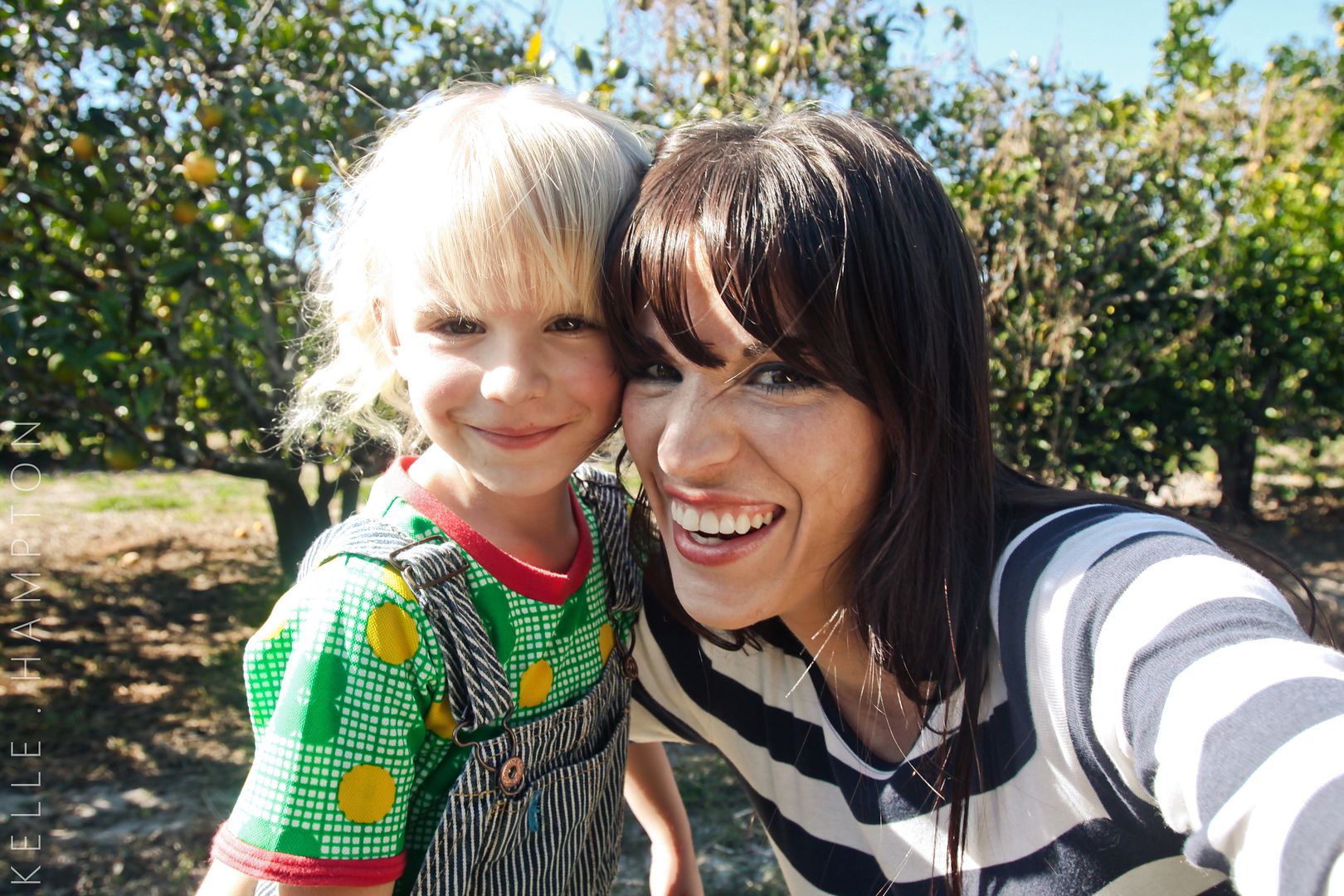 And Nella was happy to be in the middle of it.
This is Florida, at its best–sun spilling starbursts through pockets of leaves and oranges and branches, the air thick with the ripe scent of tangy citrus, blue skies and the December crispness–not too hot, not too humid. And friends and cats and Bob and Judy's charming grove.
Toto, we're not in Naples anymore.
On the way home, we found an off-the-beaten-path country store. And, by country, I mean Country. We bought water and lollipops and stayed for an hour. Country store happens to come with a little bonus–an open field, a friendly tree, a tire swing and a homemade wooden amphitheater where the kids performed and danced for an audience of two.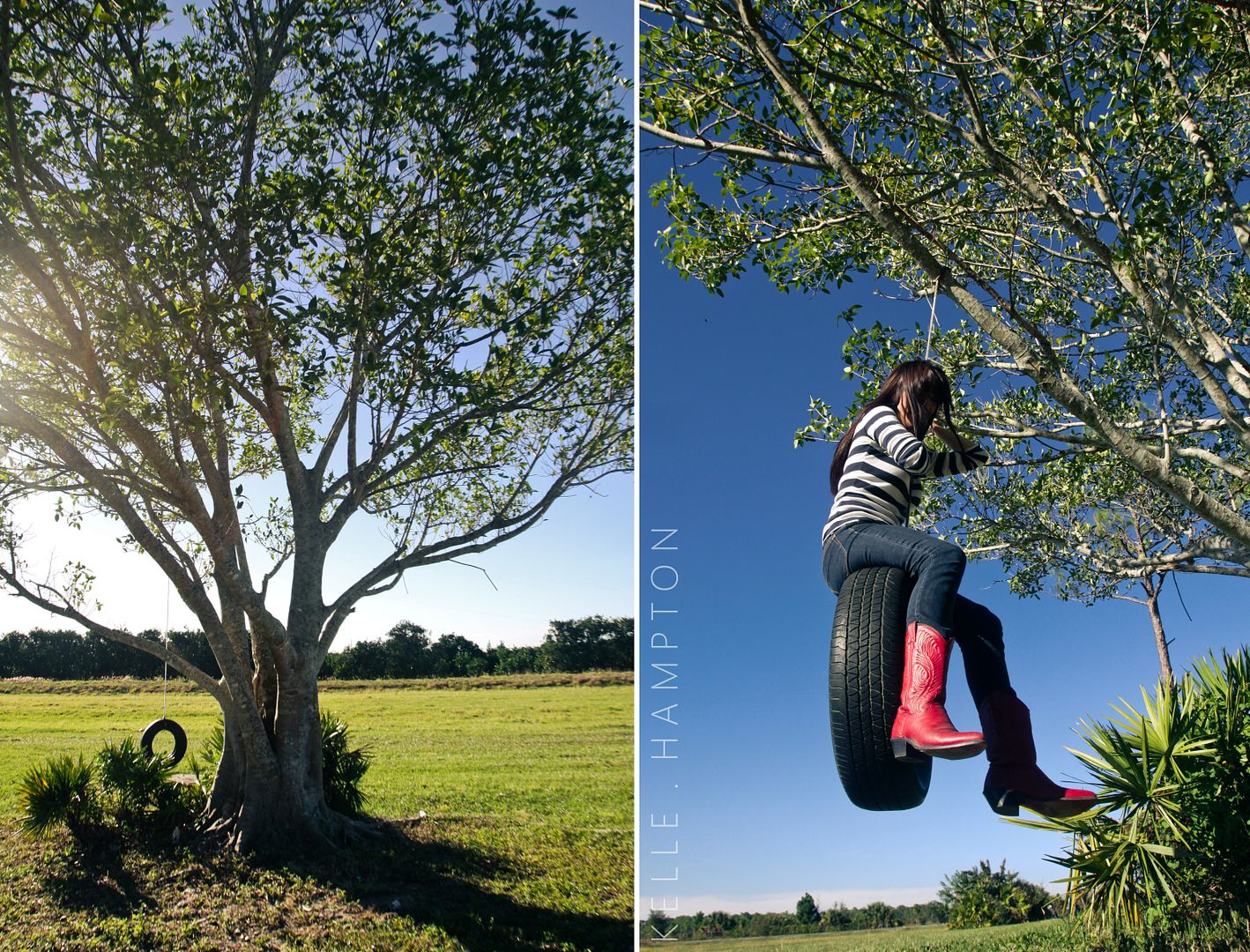 At the end of the day, we were happy. I thought a lot about homeschooling today–how much we learned, what we experienced, how good it felt to be out, doing, seeing, learning and how good it felt to be with her while it happened. There are days I think it might not work out and days like today when I think…it could happen. There are pros, there are cons, there is a bit of time before we need to decide.
Until then, there are adventures. And a frickin' elf named Elfitty Happy Santa who needs to find a hiding spot.
*****
Congratulations to the I Dream of Toffee $30 gift certificate:
Comment #175, Baby by the Sea: I love the look of lights on a palm tree. As usual, quite a pleasure reading your post…

Baby by the Sea, please send your contact info to kellehamptonblog@comcast.net with the subject TOFFEE GIVEAWAY WINNER, and you'll soon be richer in the delicious caramel corn department.
*****
Ya'll (I had a country day, I'm in the mood) remember that awesome t-shirt company, Okllo, that offered those great historic American tees? There is so much I love about these shirts–their message, their quality (nice thick cotton), the colored sleeves and collar. They're back this month in sponsorship with those same great shirts and some new art products for kids.

The Abe shirt–seriously. I love his face all front and center. And give it up for Mama with his quote: "All that I am or ever hope to be, I owe to my angel mother." Lainey's sweet purple-sleeved shirt: Sakakawea tee
And their art supplies? I have a new crayon obsession, and I know a good crayon when I see it (I'm usually still coloring long after Lainey's left her coloring book).
Hello Stocking Stuffer, Stockmar Beeswax Crayons (available in blocks–great for O.T. beginners–and regular sticks).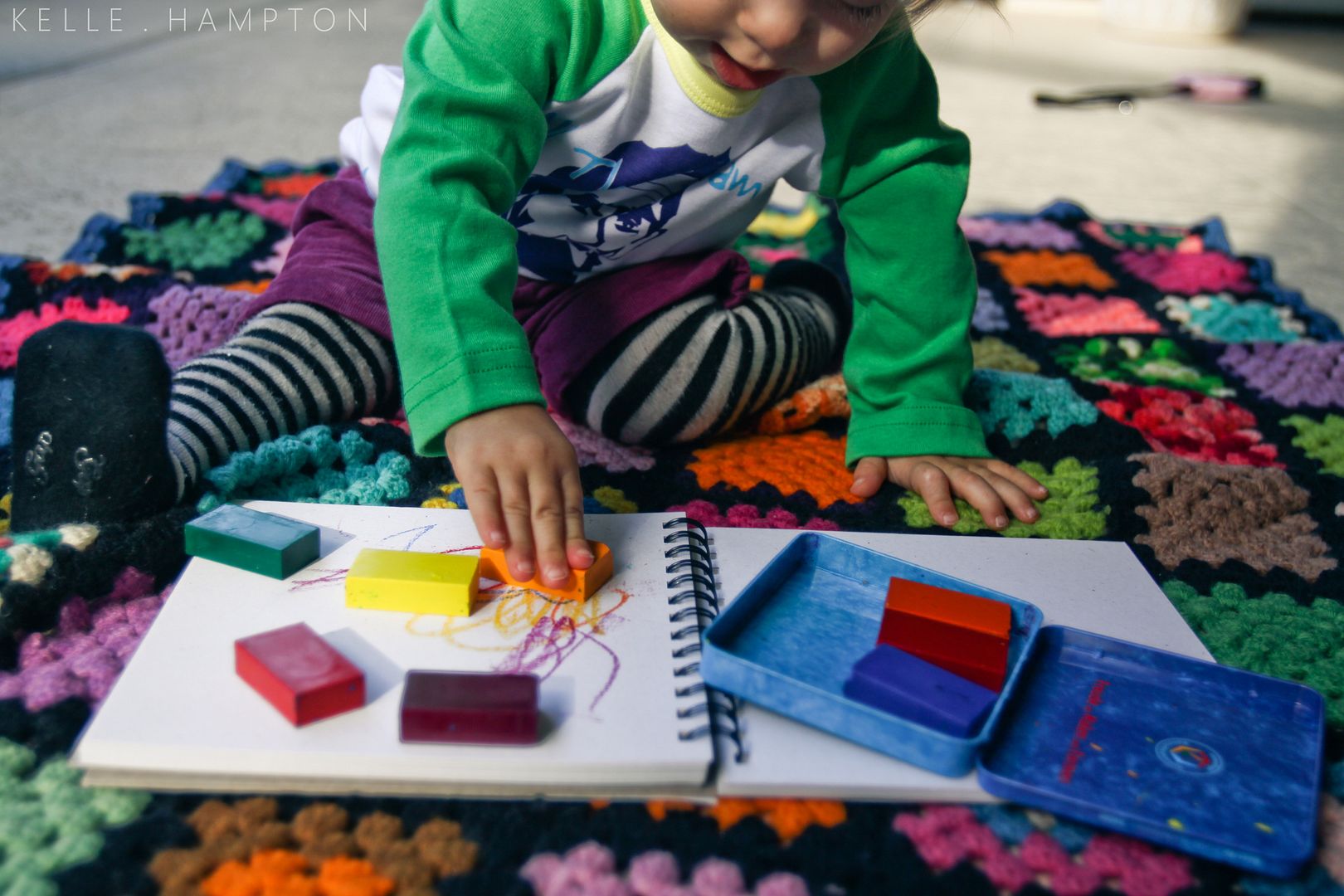 Okllo has an additional selection of quality art supplies for kids (we love our new kid scissors!) as well as their one-of-a-kind Great American tees, and they are currently offering FREE SHIPPING! Plus, get an additional 10% off using code ENJOY10. One lucky commenter on this post will be randomly selected to win a $35 gift certificate, courtesy of Okllo. Happy Shopping!
*****
Oh, it is late. Happy Dreams!