Want the satisfaction of feeling all adventurous-go-get-'em without really having to go get 'em? Make a bucket list of very doable things and then do them. Cross them off your list with a big fat red marker just for the heck of it.
Like…
Eat day-old birthday cake using my hands for a plate. Check.
Brush my teeth with Dora bubble gum toothpaste. Check.
Do a crappy job painting my toenails and don't bother to clean up the smudges. Check, check.
Ooooh, look at me, I'm knockin' off my bucket list.
'Tis true, there are cake crumbs, a bubble gum after taste and a pedicure that looks like I painted my toes with a blindfold. I ran out of polish remover. Thankfully, I'm headed to a closed toe shoe region later this week.
*****
Our weekend was quiet and homey, just the way it's supposed to be.
Brett and I cleaned the house together yesterday, making trades like "I'll do the kitchen if you do the bathroom." It all came together swimmingly for a perfect evening of family and celebrating two very special years.
I didn't even notice when 4:24 p.m. slipped by. We were busy, happy, making cake.
I started shoving candles into her cake and convinced myself that more candles represented more love. So I used the whole box and lit that muthah on fire.
Brett practiced blowing out candles with her all day yesterday so that by the time her moment was up, Sister took a bow.
Three out of four sets of grandparents (ah, the one bonus of divorce) allowed for a more harmonious chorus of "Happy Birthday," and oh, did it feel wonderful to have a house full.
Right before bed, Heidi said "I love you" to Nella, and you know what my girl said back? "Love you." We reacted appropriately. Like maybe we fell off the couch.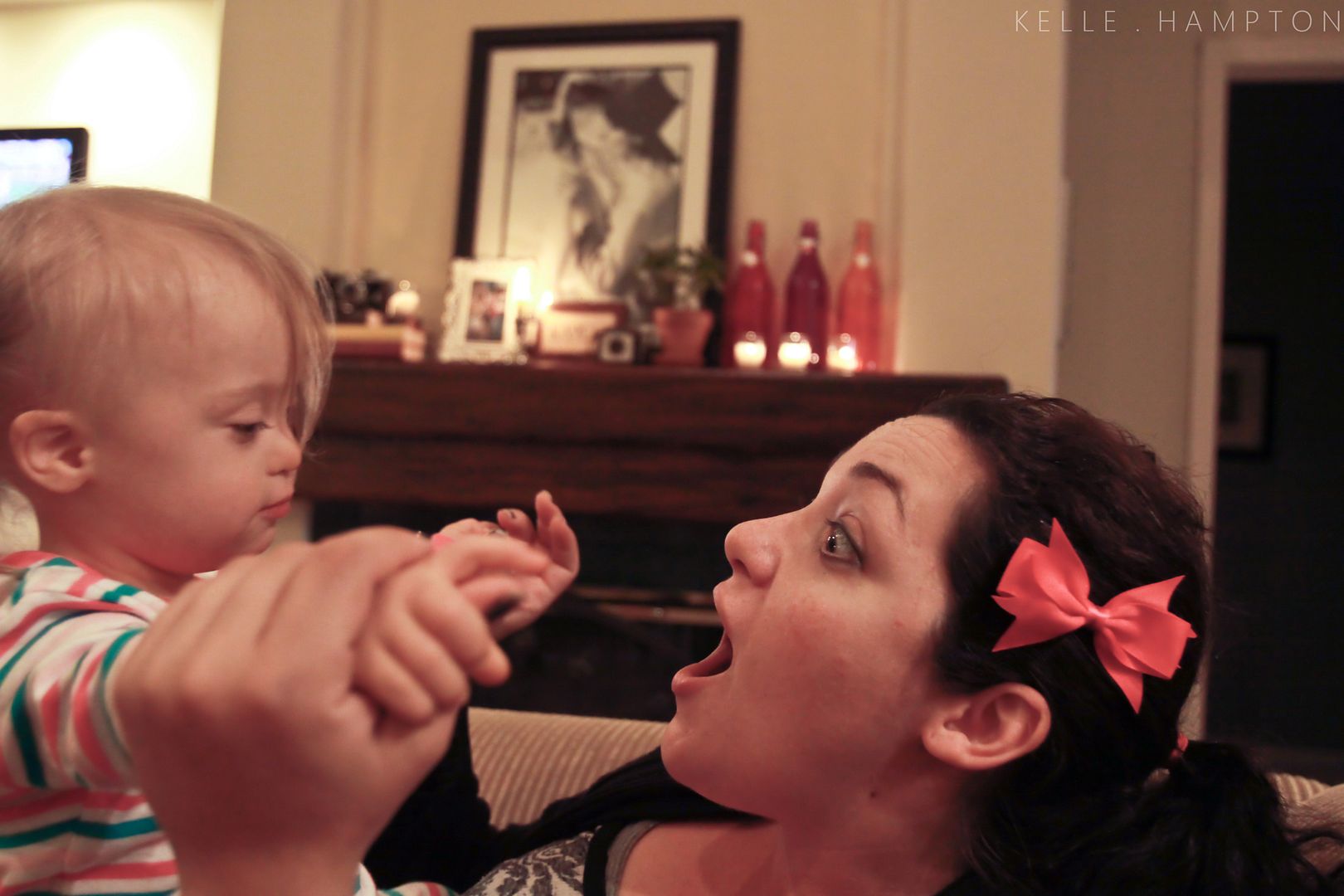 I am feeling content today. Exactly where I'm supposed to be–over my funk, productive, reflective, slow and steady.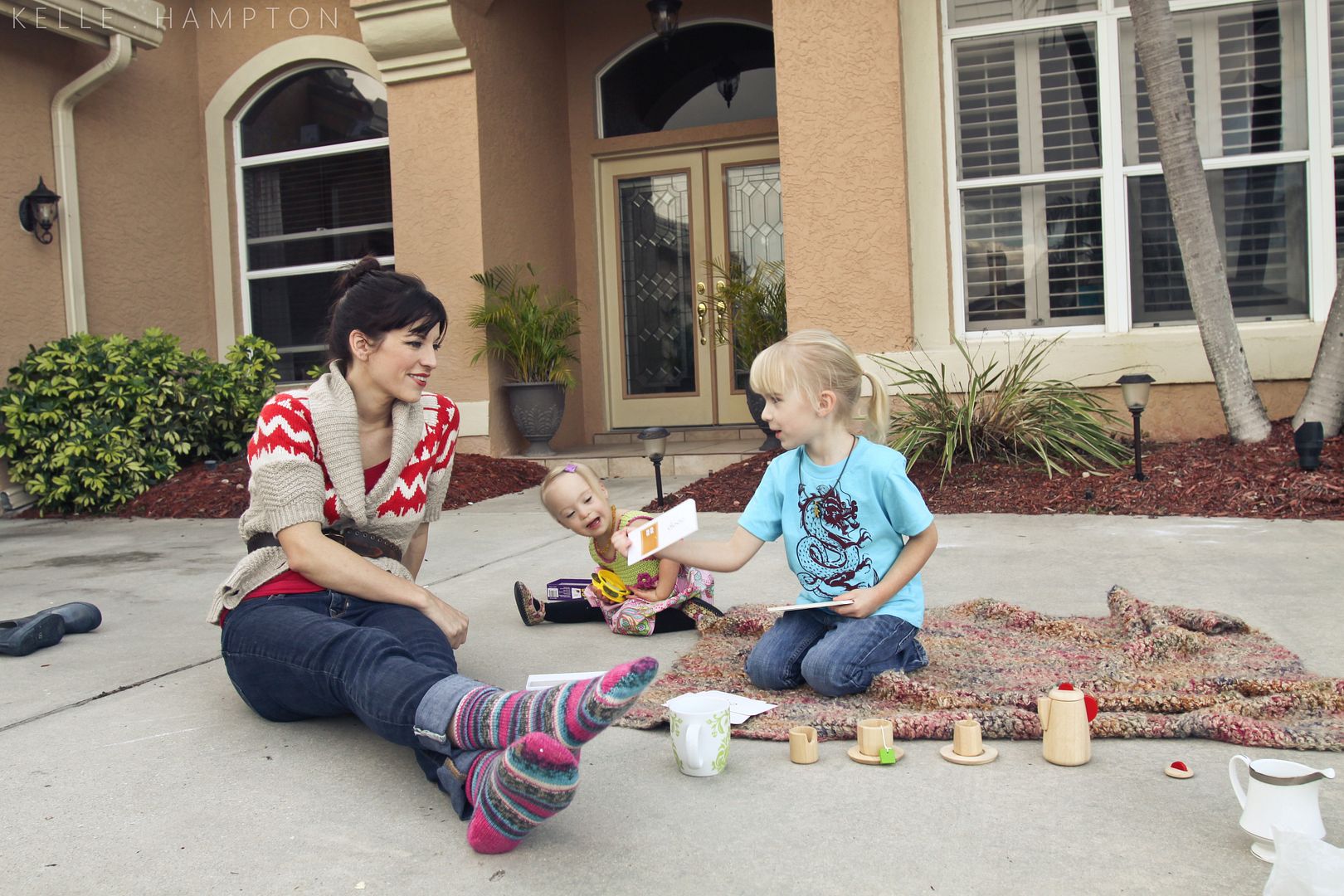 For all the times I write about an imbalance–feeling too busy, uninspired, a creative bang, a high, a low, a when's-it-going-to-iron-out–it's assuring to know, there is a rhythm to all of it. Right now, in this tiny moment of time, work and family feel so appropriately melded. I feel both inspired and at peace; motivated and content; excited and calm; and even if that balance shifts tomorrow, its presence right now is enough to remind me, it works out. Ebb and Flow, Shift and Settle.
For the first time since before kids, I'm traveling alone this week. Two nights without babies. While I am expecting a smidge of chest-constricting angst as I board a plane solo, I am surprisingly at peace, knowing this is good for all of us, and my babies will be well taken care of.
Bucket List #148: Take a trip to the big city…alone.
Check.

Lainey's Chinese Dragon tee, Happy Family

*****
Our new sponsor has a very generous offer for us this week. I am delighted to introduce Happy Family, a shop you'll find very useful if stylin' it up with more color and character is on your bucket list.
I posted this picture on Instagram (@etst) this week and received several requests for the t-shirt source:
Word: Happy Family. Stocked with hand screen printed tees, messenger bags, potholders and totes, Happy Family has fun, conversation-sparking goods for men, women, children and babies.
..and my funky camera tee:
Happy Family is donating 20% of all their proceeds this week to Nella's 2 for 2 Fund–an even better reason to shop! Please mention Nella's 2 for 2 Fund in the seller notes.
Happy Shopping!
*****
We are almost only $10,000 away from our goal of $200,000 raised for the NDSS for Nella's second birthday. 2 for 2 will continue until Nella's Tea for Two party next month. It's not too late to share, to give, to continue the efforts of many…to make a difference. Thank you so much for everything you've done to support our community.
*****
Wednesday's post might look a little something like this, sans sweet baby along for the ride.