Right now, from where I am sitting, I can hear my mom reading to Lainey on the couch. It is quiet except for the sound of her voice that sings the words like a kindergarten teacher–softly but with good enthusiasm. I don't know what the story is, but I've picked up something about three big white birds and a handsome swan.
Savory whiffs of homemade chicken pot pie are escaping from the oven, and cooling on the bay window ledge right now are two perfect pies–one apple, one mixed berry.
My mama's here.
This means a number of things–that the Scrabble board will come out from its dusty hiding place in the closet, that we'll set out on bikes for evening rides, that the meals of my childhood will resurface this week, that the hole that's been growing on Lainey's puppy blanket will finally get patched and sewed, that we'll watch at least two wholesome Hallmark movies and talk about them when they're over, that we'll search eBay for European shoes and quilts and dolls back from when they made them good. And we'll make pies. Because that's what my mom does.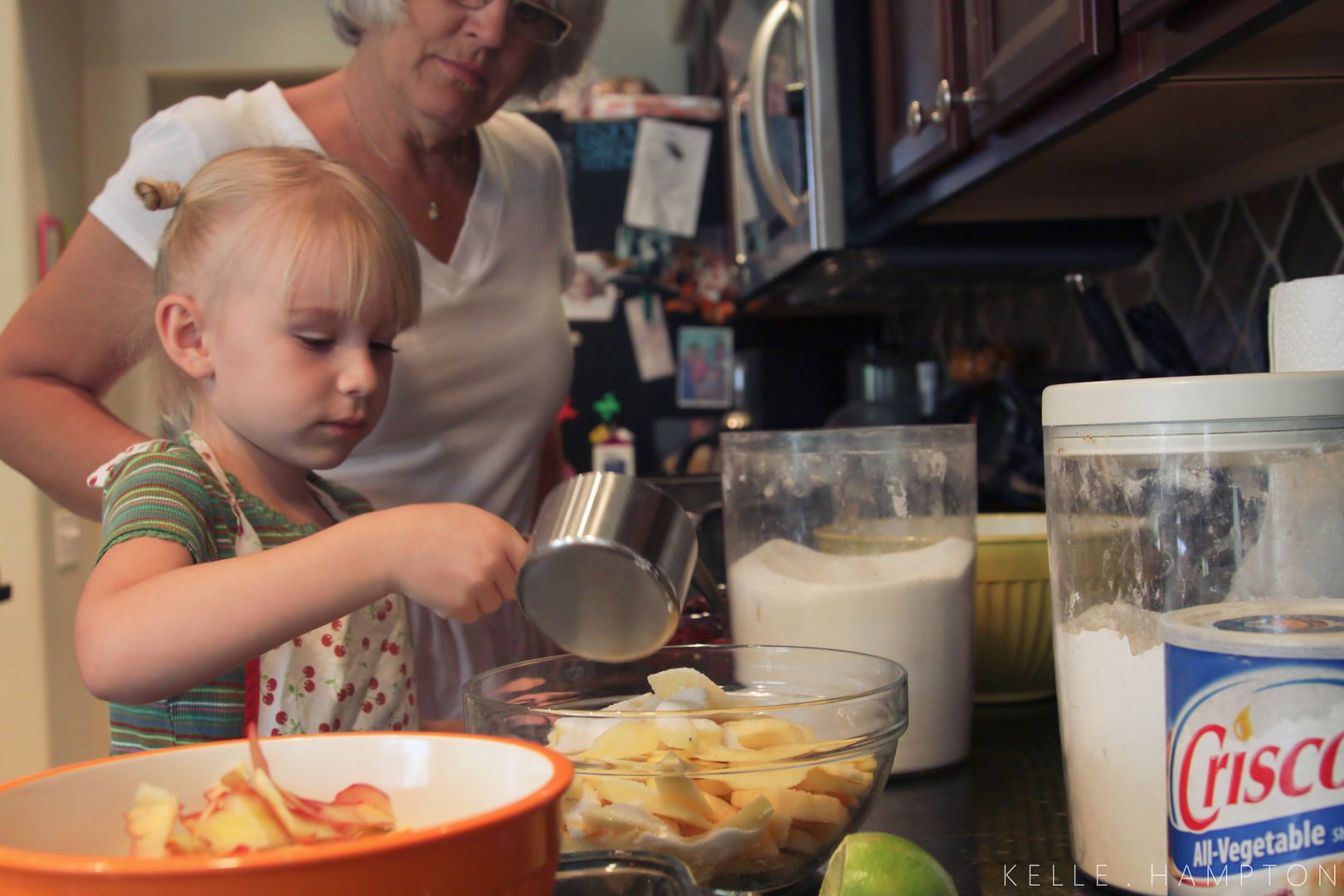 There is the other part though–the bigger picture part where I think about legacy and generations and how much my perpective changes as I get older. How much I appreciate my mom more and what she did for us when we were little, what she does for us now. And having her here and listening to her sing to my kids or watching her transform my meager pantry staples into the World's Best Casserole, I can't help but fast forward and wonder, what will it look like when my girls are grown?
I hope I do the best character voices in stories for my grandkids. I hope they save their tattered security blankets for me to patch up on my visits. And I hope I make some mean pies.
I struggle with a good even pie crust, so I watched my mom today, studying her method. She said it's easy. "You just have to show the crust who's boss."

Bonus of mama visits? I get to be a tour guide–taking her to our favorite places and revisiting them with new enthusiasm. She and George like nature and flowers and outdoor adventures. They know the names of birds, and they bring their own binoculars.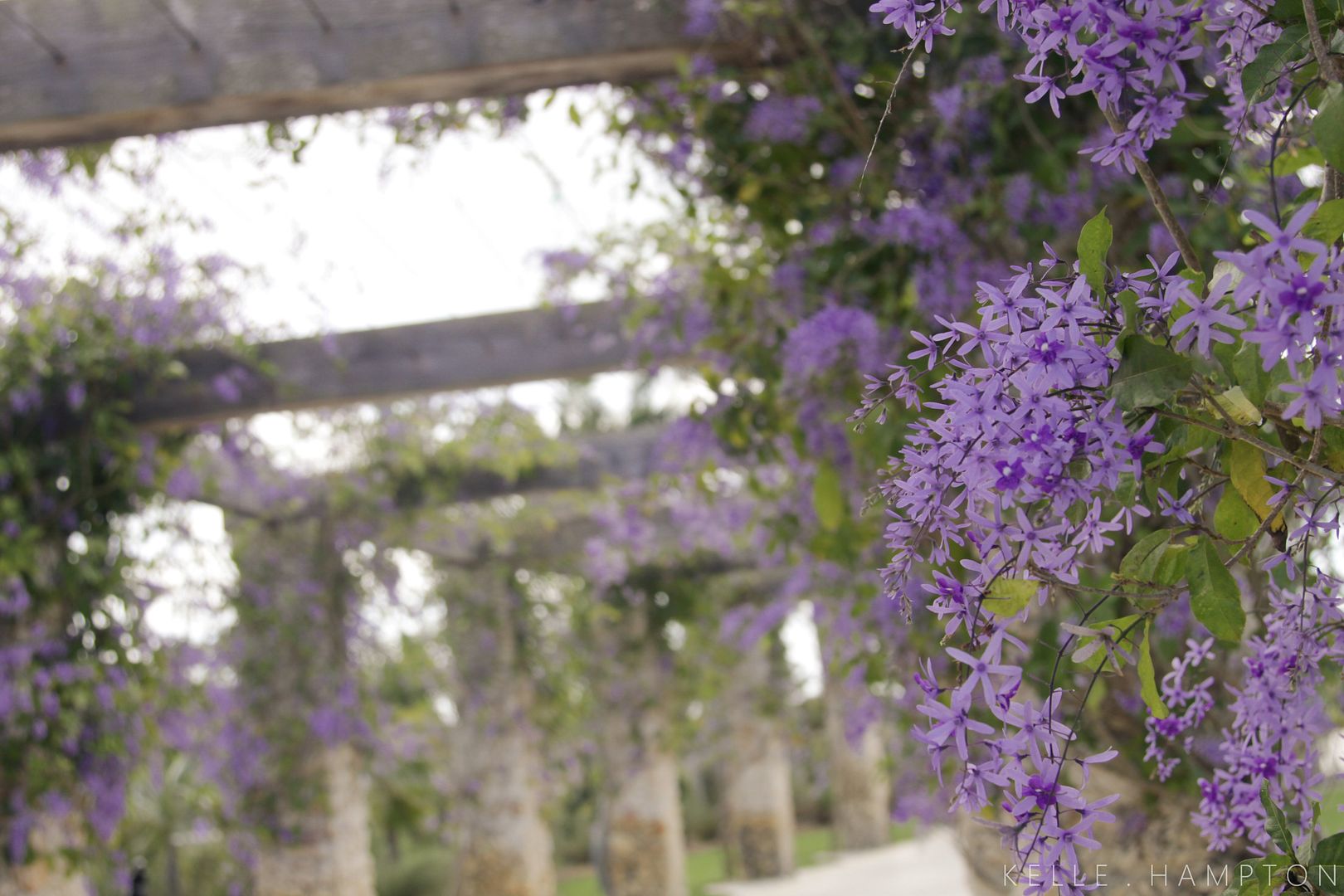 Lainey was excited to introduce her friends to her grandma and grandpa yesterday, to show off for them in ballet, to tell Aleena "you can call her Grandma Krissy too."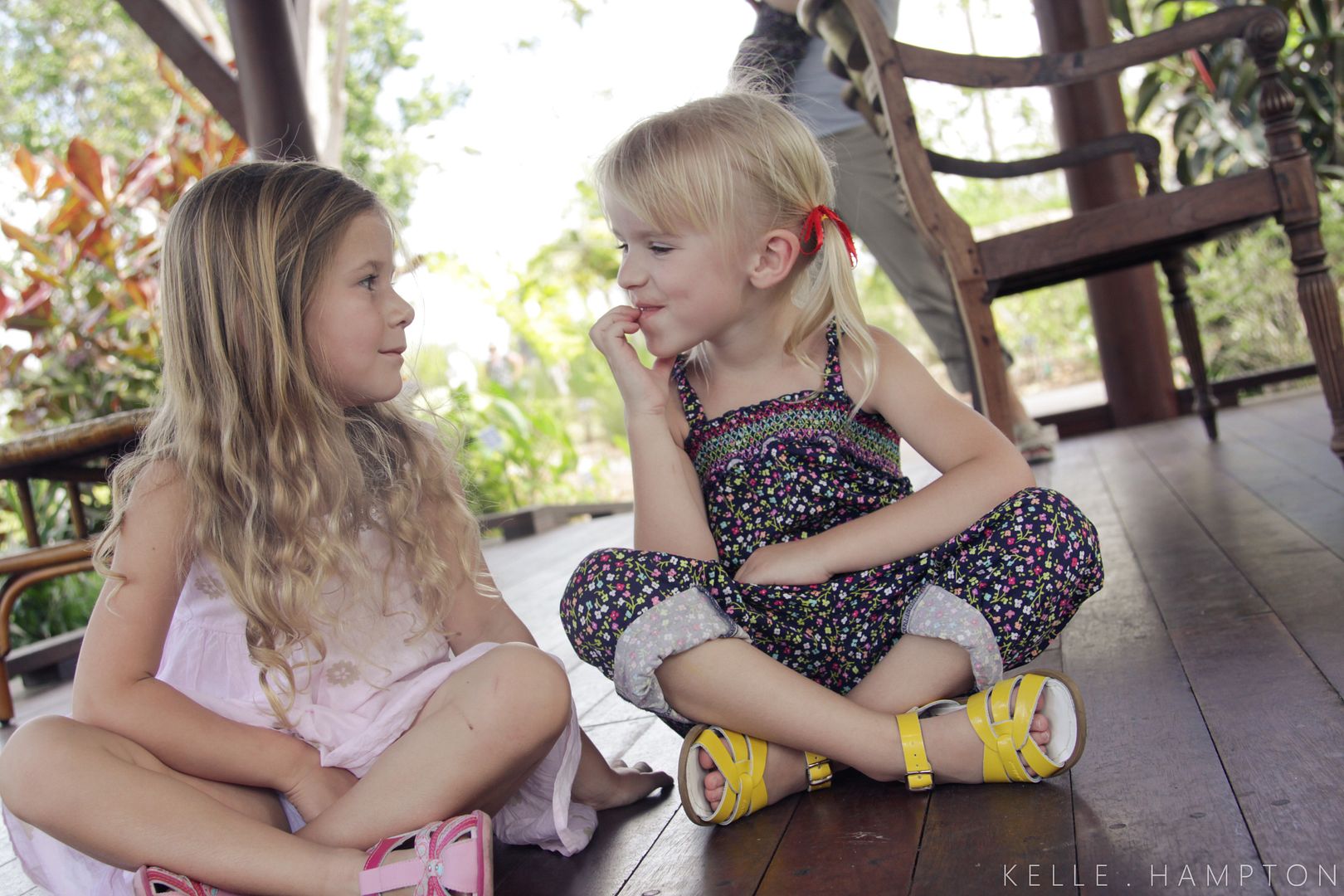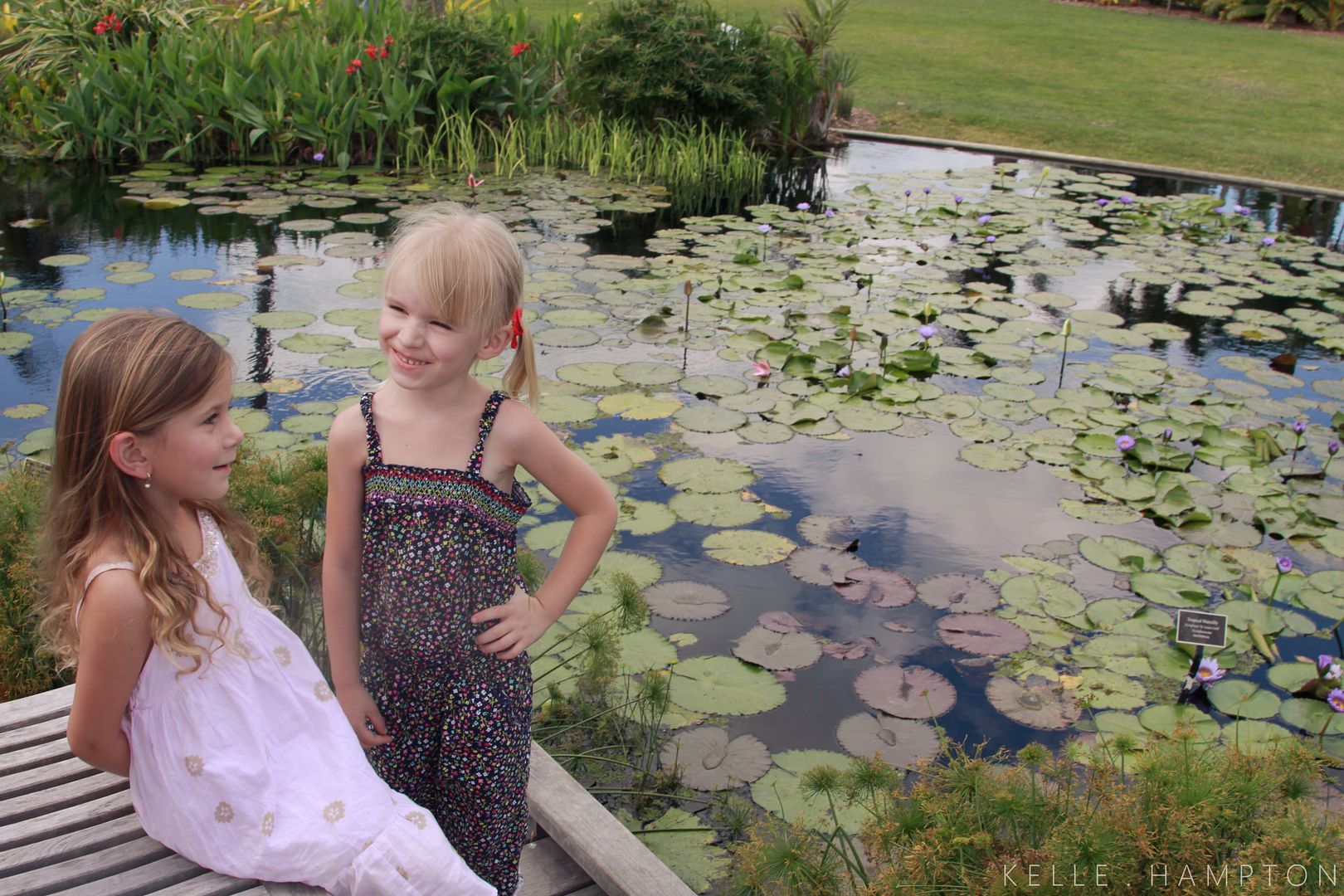 And I, as Kelly Corrigan would say, like being in that middle place, hugged between needing a mom and being a mom, still learning and taking and yet teaching and giving at the same time.
As I watch my girls whisper to their own baby dolls, wrapping them up in whatever they can find for blankets, kissing their heads, gently toting them along on our trips and attending to them in the car, I can only smile and be assured that the cycle will continue.
They are just beginning–little blocks of love and affection, praise and guidance slowly building their foundation. And while sometimes I wonder what the middle place holds for Nella, I at least find comfort in the fact that her foundation is strong. We are in control of that, and that is empowering. We'll cushion her up good–love on every side, and yet we'll push her forward too. And you can be damned sure, Sister's going to know how to make pies.

P.S. Sister has mad typing skills.
We finished our afternoon at the pool today, Lainey bravely jumping with big splashes to impress both her mama and her grandma and Nella watching quietly from her float.
This middle place? Best view in the house. I look back for inspiration, I look forward with motivation.
That's what mamas do.
*****
Being that it's mid-March and the promise of warmer and sunnier is on everyone's mind, we've been dipping in the pool a little more frequently and making plans for Isle of Capri.
This, of course, means swimsuit time. The perfect swimsuit, to be exact. I've proclaimed my love in the past for the fabulous vintage swimwear Popina offers, and this year I think I've found my favorite suit yet (close tie with the yellow). Popina offers a range of tankinis, highwaist swimwear and vintage styles. They are comfy and butt-hugging in just the way you want your butt hugged.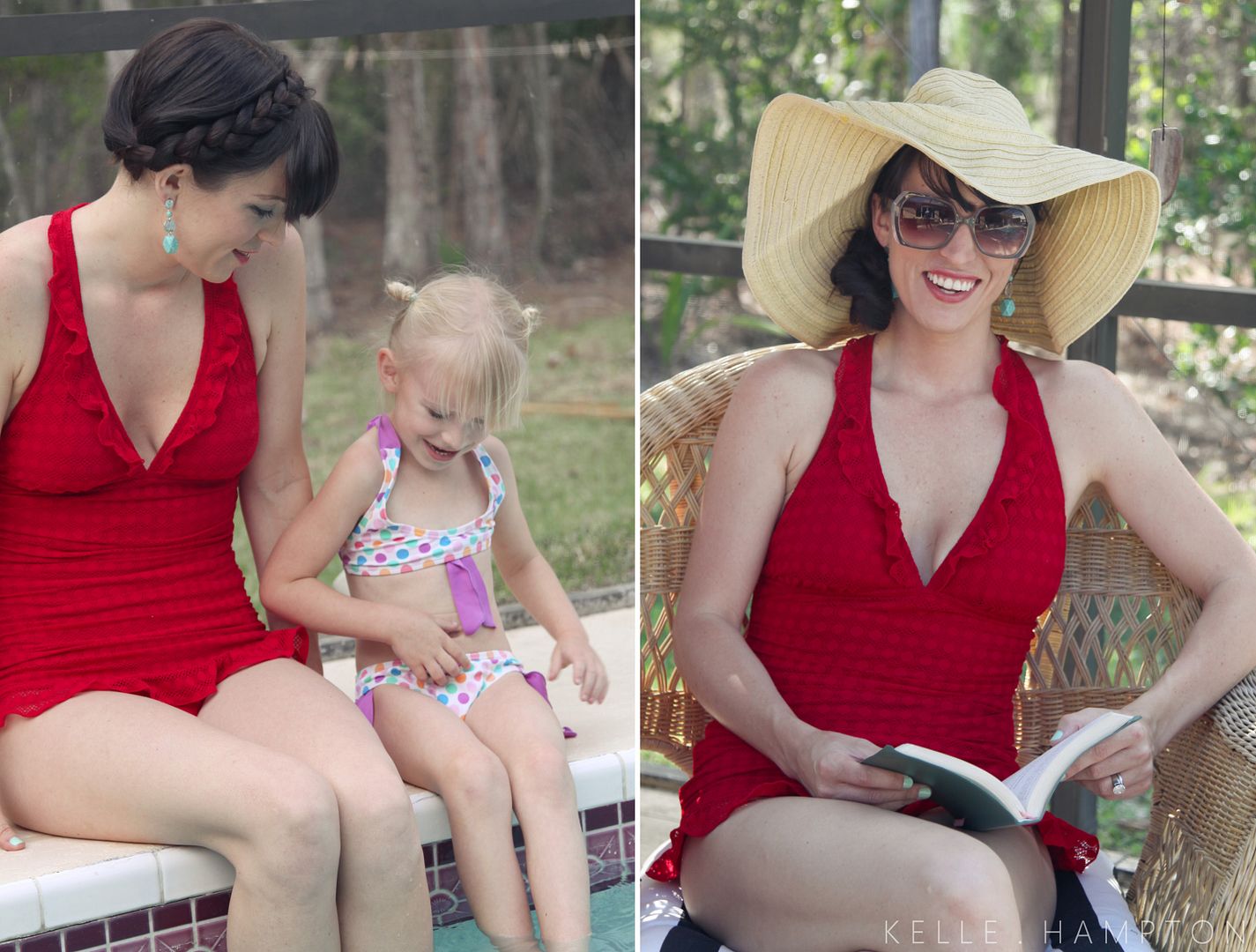 Jantzen Vamp Suit

Popina is offering a 15% discount right now, using code kelle. And one lucky commenter on this post will win a free swimsuit, courtesy of Popina Swimwear (winner announced Friday). Find a big hat, a pair of Jackie O's, tell Esther Williams to move over and get ready for some sunshine.
In your comment, tell me, what's one of your favorite things you learned from your mama? And if not from your own mom, then maybe from someone else's mom.
I learned to be content. To love simple things. To use dish cloths, not sponges. And to never stop hugging and kissing my kids. Even when they're all grown up.
*****