This post is another Hallmark sponsored post. I am being paid by Hallmark to write it, but all writing, ideas and opinions are mine. Thankfully, Hallmark and I share the same idea–that little moments are to be celebrated and that good people, good efforts and good intentions deserve a spotlight. See Hallmark Life is a Special Occasion for more details, like them on Facebook, and/or sign up for their e-mail messages HERE.

Upon our arrival from Baltimore Monday evening, we walked in the house to find a (surprisingly) spotless kitchen and a stack of mail on the counter, the bills and coupons and car wash ads of which Brett had thankfully already weeded out. Hidden between a couple packages and my favorite catalogues was an envelope with Lainey's name printed on it.
"Oh Lainey, it looks like you have mail!" I announced. And just like her mail-loving mama, my girl came running, her shy smile enhanced with a sideways tongue that curls up and around her top lip when she's extra enthused.
She tore open the envelope herself, shooing away helping hands and pulling the enclosed card to her chest in a moment of sole possession—"It's mine, not yours" clearly evident from her grip. She pulled it away long enough to notice a photo of her friend Sammy printed on the front of the card. Her smile stretched even further. Without even having to read the card, she knew what it was.
"It's Sammy's birthday," she informed me. "I think I'm invited to her party." More shy smile. More tongue.
She insisted I call Sammy's mom right that second and tell her yes, Lainey was coming; Lainey couldn't wait. And for the rest of the night she carried that card, propping it up within eye contact while she played and transferring it with her when she moved from room to room.
To Lainey, it was personal. Her own mail, a token of friendship she could hold, she could touch, she could pull out whenever she wanted to be reminded that she had good friends and a party on the horizon. If she's lucky, that card is one of many that will follow over the years.
Tonight Sammy's birthday invitation is tucked into a Minnetonka shoe box—Lainey's own little Ark of the Covenant protecting her most precious things. Like sparkly lip gloss, a homemade pipe cleaner necklace, an old Gap credit card and a wrinkled dollar bill.
And it got me thinking, we've all acquired letters and cards we've saved over the years–things we couldn't throw away because maybe they made us feel so good when we first read them that we knew we'd want to repeat that emotional swell. Or maybe we were hanging on to a time we knew was fleeting—like first birthday cards that preserve our babies' memorable celebrations or handwritten notes from grandmas whose legacies strengthen once they are gone. Either way, the gift of written word is both permanent and renewable. The cards and notes and e-mails I've saved over the years are hardly one hit wonders. They are timeless—some reread on occasion when I need a hit of confidence or motivation, and some saved simply to become relics in the Family Hall of Fame. I envision a night not so far away when I pull out the old boxes of pictures and cards and letters on worn paper. I'll spread them out on my bed and invite my girls to come sit while I tell them about why I saved each one. It will be one of those Marmee-and-her-Little-Women moments I look forward to except the 2020 version when things are delightfully more imperfect. Like maybe I won't be wearing a petticoat.
So, what's in my box?
Today I pulled out a few old boxes–one of which, I'm sorry to say, is titled "Box 'o Love," its contents ranging from pictures of the early days of dating to love letters and anniversary cards Brett and I have traded over the years. I'm even more sorry to say there are embarrassing quotes scribbled all over its surface—including both Elizabeth Barrett Browning and—Oh God, cringe, here it comes…Olivia Newton John.
I had forgotten all that I had saved. I've never been so proud to be a hoarder.

Lainey's First Birthday Card
Her very first card. It came a week before her birthday when our friends and neighbors, Matt and Dede, were so excited to give her her new rocking horse that they brought it over a week before the big day to watch her open it. It came with the perfect card–because Dede always finds the perfect cards–and I remember making note that it was the very first birthday card my girl had ever received and should be saved.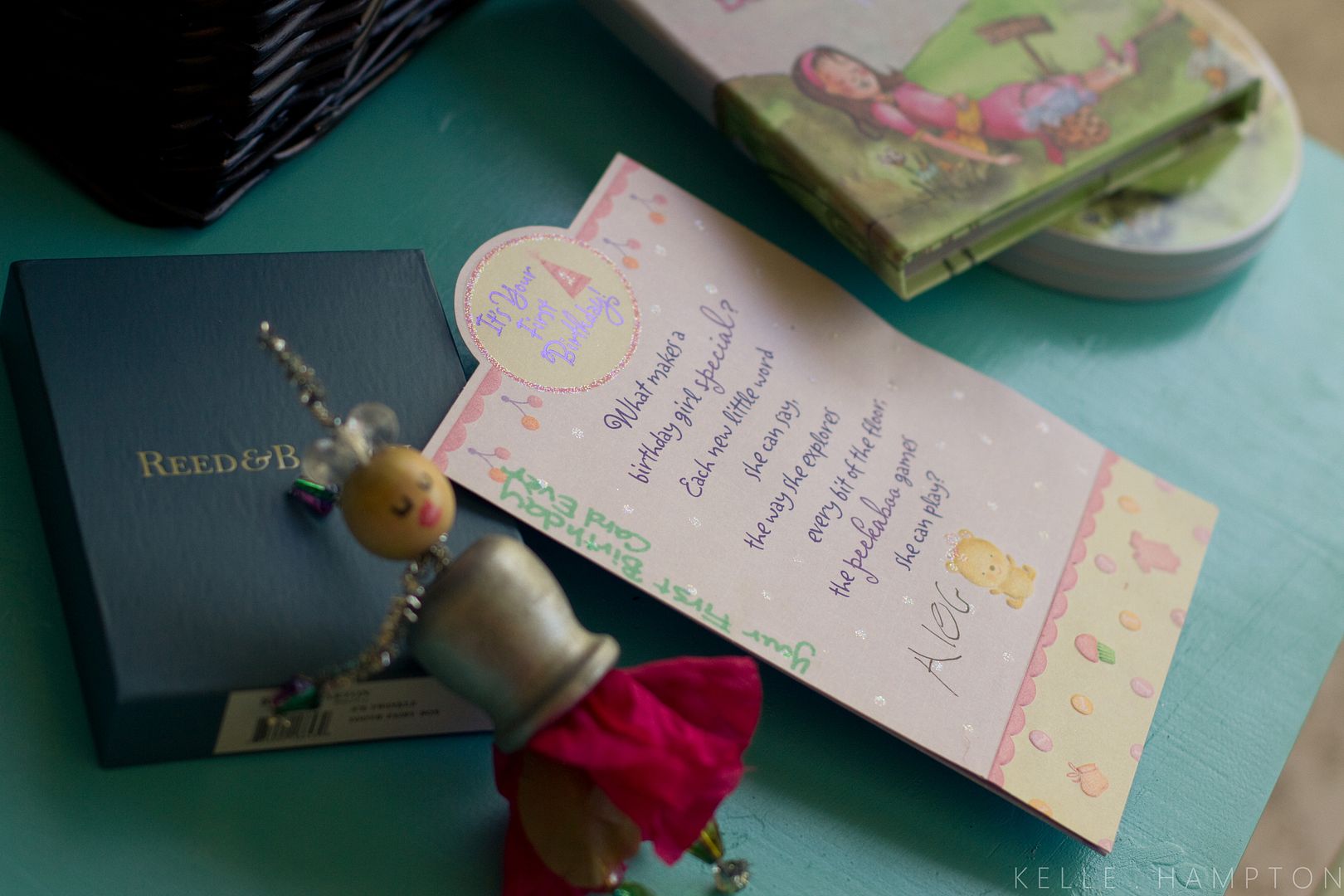 Student Teaching Card
A young girl named Abby gave me a card my last day of student teaching. I cried reading it because Abby wasn't one to speak up about feelings, and I had underestimated the impact a short teaching experience could make in one child's life. It reminds me to be aware of my potential to positively affect others.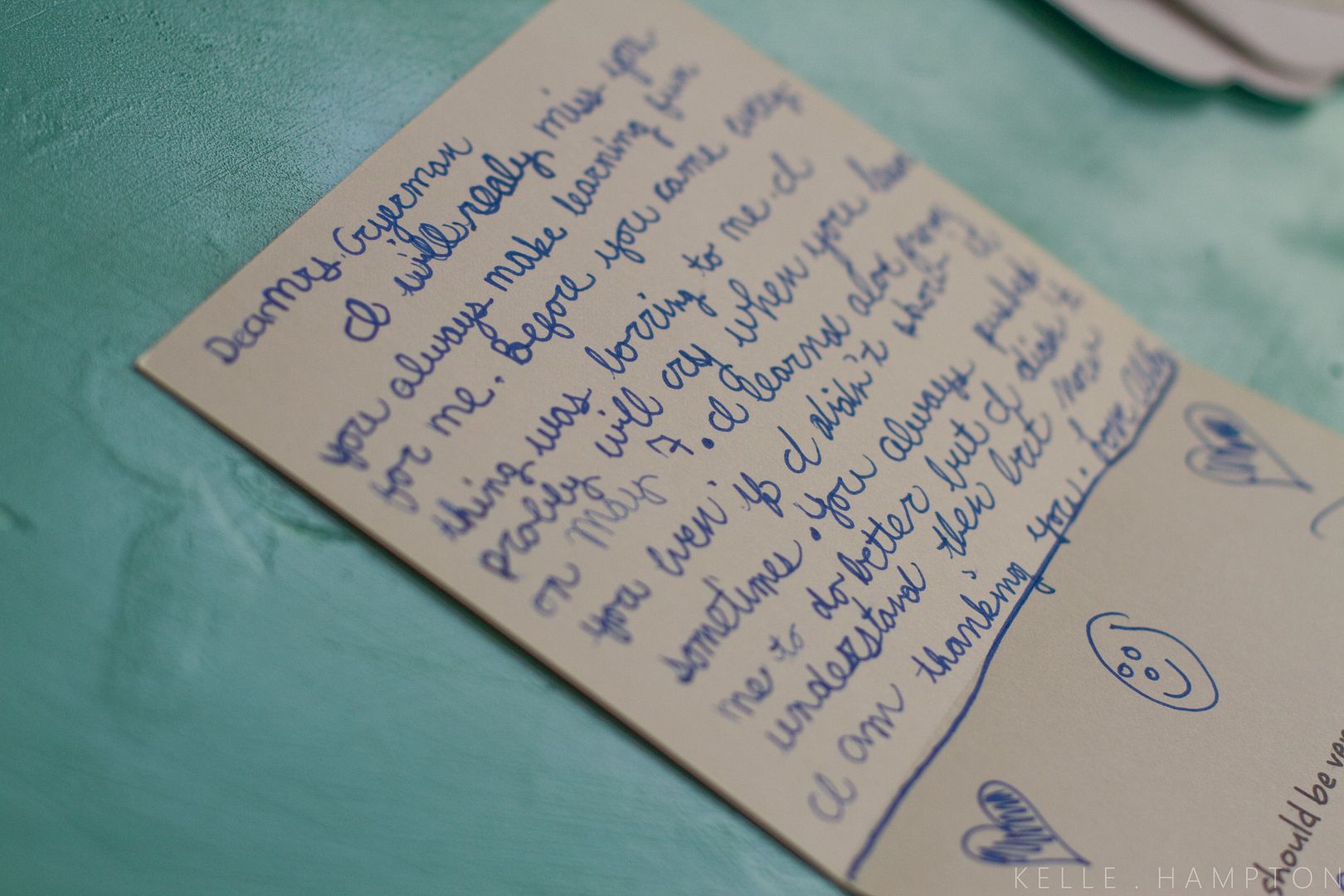 Letters for the Future
I started writing these when Lainey was about four months old. They are sealed in envelopes printed with different occassions with which they will be presented. The seal is not to be broken until it's read by my daughter. I figure some day when she's really mad at me, a different perspective might help iron out our problems–the perspective, of say, a mama smitten with her baby, telling the future girl inside that mamas make mistakes sometimes.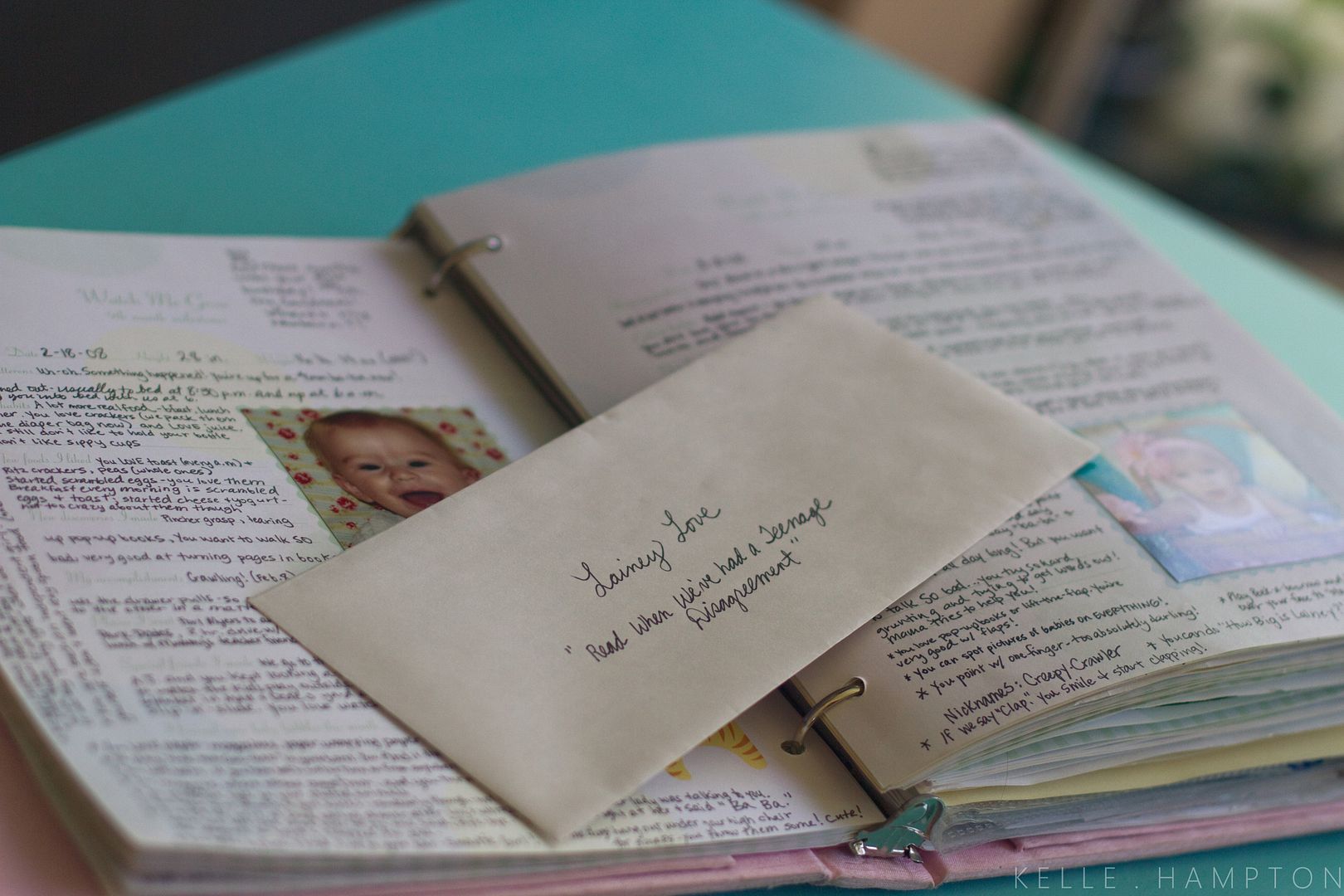 Nella's Wishes
I couldn't read them for a while after she was born. There's a whole stack of them–wishes and love to our sweet girl, all written by friends who attended my baby shower when Nella was still somersaulting behind the tight skin of my middle. On the back of each card is a different photo of my pregnant belly–and scribbled on the front are cherished words from friends who awaited her arrival. I can't wait to read them to her someday–to tell her just how much she was anticipated; how much she was loved before she even made her big debut.
My Index Card
Brett is a man of very few words when it comes to cards which nicely balances my need to fully express. He relies on Hallmark writers, marking a very special occassion when he adds more than one line to the pre-printed sentiments of holiday cards. So it was indeed something special when, after one year of marriage and a baby, I found an index card–nothing fancy–lying on my night stand one morning, with several sentences–all of them heartfelt, none of them forgotten. I love that card. I love that it is simple. I love that it is now bent at the corners and worn in the middle–I've read it many times. There's no photo of it because it's ours and it is precious, and some things Marmee likes to keep for just her little women.
There are many more words I've preserved in places where I can read them again–e-mails and quotes that are filed away in folders for bad days and needed confidence boosts. As many times as I've enjoyed them and refueled, I am reminded I too have the ability to make someone's day–to send an e-mail or a card that just might be read again. That might be saved in a moccassin box next to lipgloss and a wrinkled dollar bill.
Do you have any letters or cards you've saved? What correspondence from your past still motivates and reassures you today? Hallmark and I would love to hear your stories. In your comment, please share how others' words have helped make your life a special occasion.

To see other Hallmark posts on this blog, click HERE.