I write from the kitchen tonight–a make-shift office erected at the island counter where I can feel the unseasonably cool air seep in from the back doors and I can hear the rhythm of crickets that has replaced Pandora for the moment. It is late and the rest of the house sleeps–the girls finally tucked into familiar beds, though they adapted quite well to the temporary ones we enjoyed for the last four nights.
I hesitated on deciding the participants for this last trip, almost making it a quick solo trip, but so grateful it ended up involving both girls.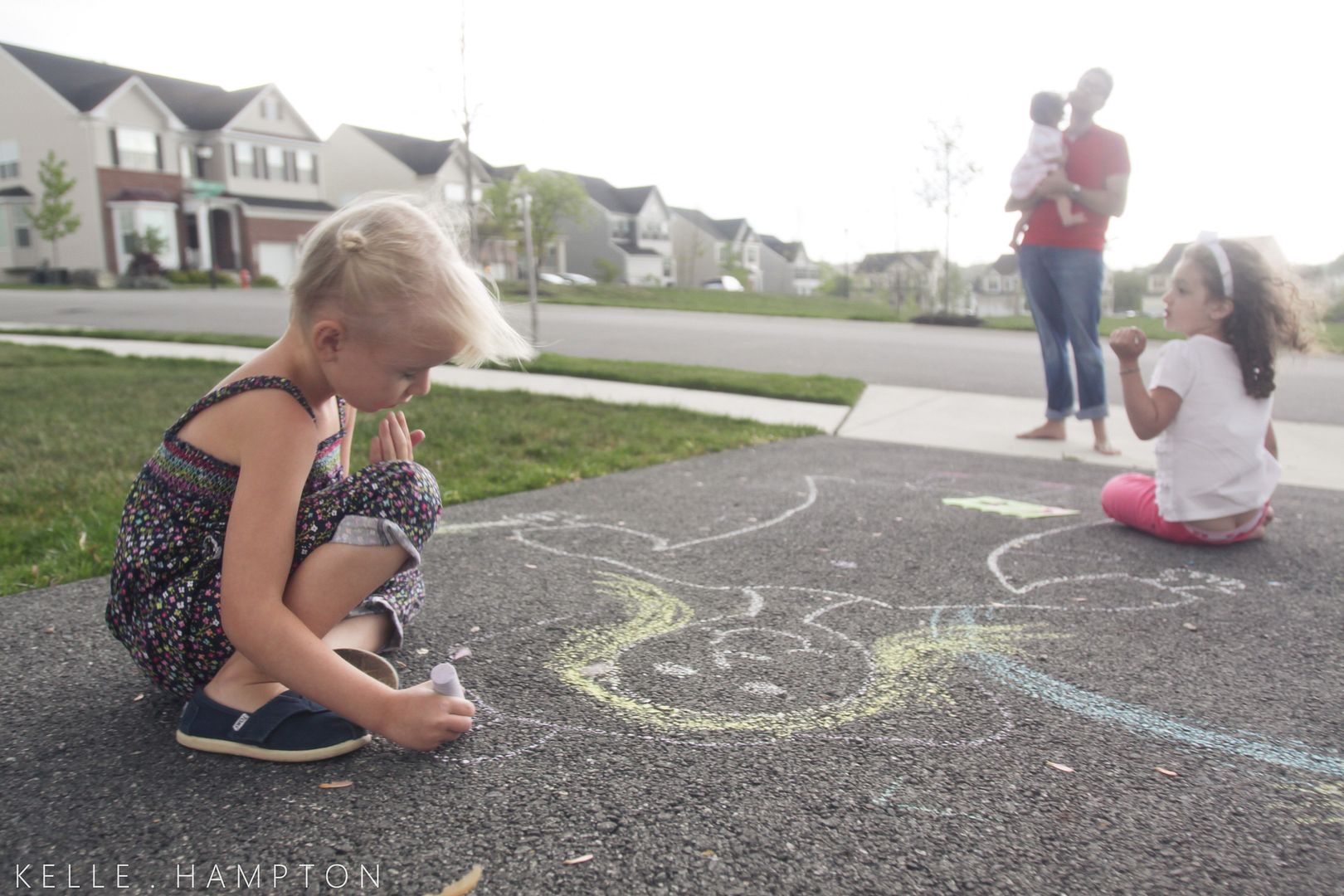 They acted as experienced travelers today, contentedly entertained with puke-bags-turned-puppets and pretzel snack refills.
Thanks to the lovely Perlin family, we did Baltimore the way it's supposed to be done. All the way.
Our favorites this weekend:
*****
The White House Garden Tour.
More specifically…
The many combinations of White House photos possible during the garden tour: White House blurred out to the right, White House in the foreground, White House in the background, child flying next to the White House, family in front of the White House, couple with one child in front of the White House, couple with two children in front of the White House…you get it. Hey, we weren't the only ones.
There was this not-really-a-Secret-Service-agent-but-wants-to-be-one-someday chick directing everyone to PLEASE KEEP WALKING because the hold-up to take pictures was causing some major traffic jams. In one particular area where everyone was clogging up pedestrian lanes, she promised that if we'd just keep walking, there was a much better place to take pictures ahead where–and I quote–"the White House will look much more centered in your photos." We laughed and concluded she was totally lying and certainly just saying that to clear us out. So we kept taking pictures like true rule-breaking badasses. A little further down the path, a beautiful clearing with breath-taking White House views opened up. I hate when not-really-Secret-Service-agents are right.
The "new clearing" photo:
I will also tell you–just for added information–that there are little grass guards separating the visitor paved path from the White House lawn. Do not cross your foot onto the grass. Do not make jokes about crossing your foot onto the grass. Do not accidentally fall onto the grass. Just stay away from the grass.
More things we love about Baltimore/D.C.:
*****
Street Carts, Food Trucks, Ice Cream Stands
*****
Washington Monument
One of my favorite parts of the trip. We slipped our shoes off, unleashed our kids, and I had the pleasure of watching my girls reunite with northern dandelions. Nella knew to blow their wispy seeds. It's instinctive, I guess.
*****
Mrs. Napkin Head at a "fancy restaurant" in D.C.
(so fancy in fact that when we asked if they had grilled cheese, the fancy waiter said "Oh, it's very fancy." And upon invitation to elaborate what's in the grilled cheese, he simply reiterated, "but it's very fancy. It's a fancy grilled cheese.")
Well I'm a fancy Napkin Head. There was also a fancy plastic toothpick grilled into my burger, so it was free. Fancy and free.
*****
Rainy Baltimore Sunday
I have decided one day of far-away adventure should include rain. It gives you an excuse to relax, to explore less touristy destinations, to discover the coziness any given city offers.
We escaped into the theater to watch Chimpanzee with the kids on a rainy Sunday afternoon.
A: I liked it. B: I want a baby chimp. C: If you are the theater employee who cleaned the fifth row back in Theater 9…I'm so sorry.
*****
Baltimore Crab Dinner
I actually thought I had a one-up on Baltimore here. I mean, I live in Seafoodville. But you ain't had crab until you've had Baltimore crab. Drenched in delicious Old Bay seasoning, Baltimore crab is an experience. It's dumped onto paper-covered tables and soon overtaken by the ones who know the game which, I learned, is enhanced with cold beer, a wooden mallot and plenty of Wet Wipes.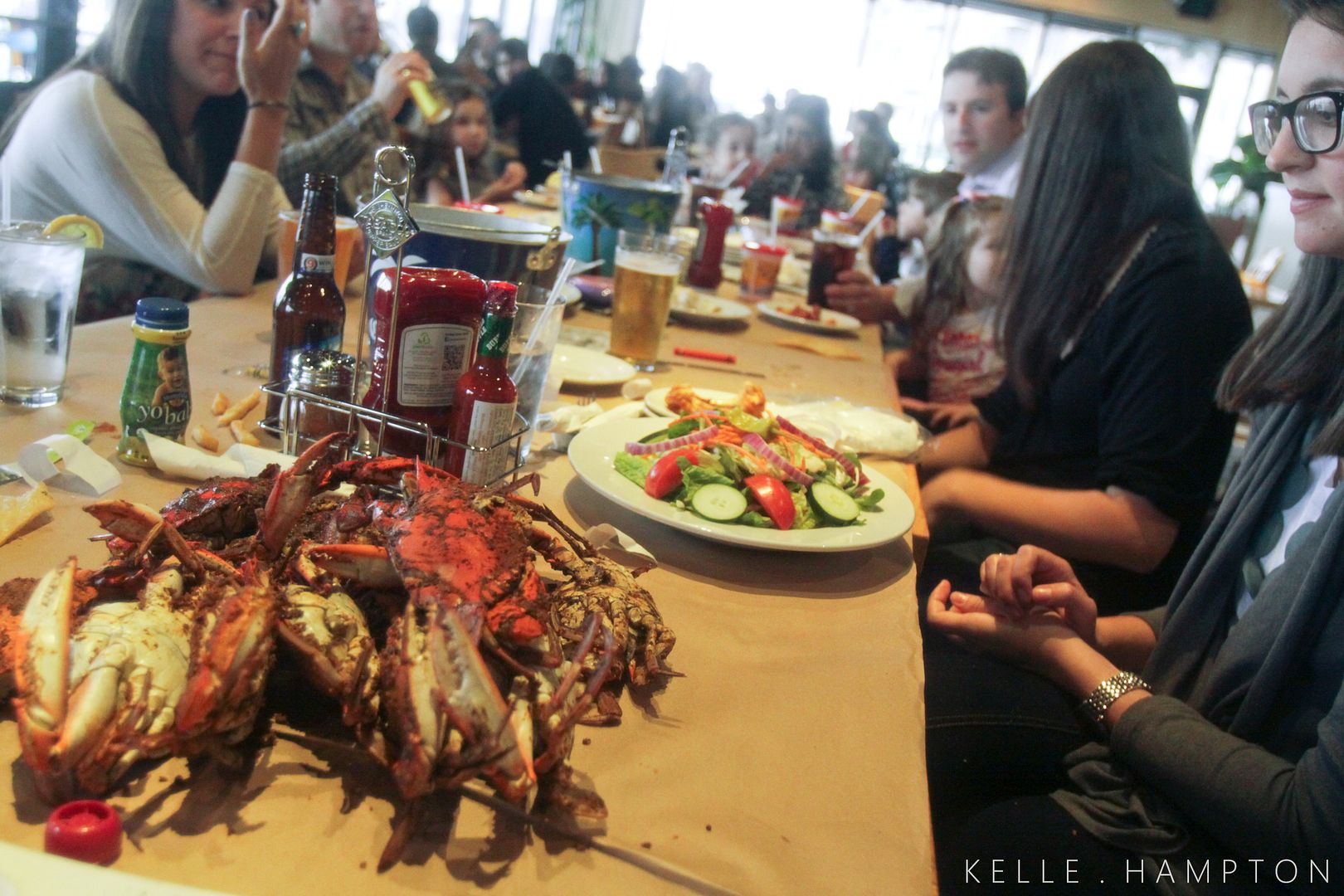 Two crabs in, and I was a pro, sucking sticky Old Bay off my fingers and making my way through the shell to the best meat.
I've been sworn in, the event made official by the nicest Bawlmers whose company made our dinner a lively and enjoyable occasion.
****
I am so thrilled with opportunities to introduce more of the world to my girls and happy to return home where we belong.
Thank you to the Perlins and to all the wonderful people in Baltimore who welcomed us and showed love to my girls. What character your city holds!
*****
Last week's Friday Photo Dump:

Friday Phone Dump photos are taken on the Instagram iPhone app (free) and dropped into a 12×12 collage using a photo editing software (Photoshop Elements works). I am @etst (enjoying the small things) on Instagram if you want to follow the feed.
*****
Last week's Giveaway Winner for the $75 Melody Joy Shop Gift Certificate is Comment #386, Ali:
I am halfway done with Bloom :)…. and if it werent for the laundry and my sweet newborn that wants to eat every 20 min, I would be finished! I also want new jammies now. Thank you for reminding me that the mom I am now to my girls, will be resembled in the teenage years. I forget the reflection I create. It was a simple, but forgotten thought. Thank you. Ali


Congratulations, Ali! Please send your contact info to kellehamptonblog@comcast.net with MELODY JOY GIVEAWAY in the subject line–perfect timing for some birds nest jewelry Mother's Day gifts.
*****
Nella Designs is returning to sponsor this month, expanding their collection of beautiful silhouette wall prints and stationery to include custom jewelry. Our wall prints have been transformed into a unique pendant of my girls. Another hit on Instagram–I promised I'd share details.
Check out Nella Designs' many perfect Mother's Day gifts, and maybe conveniently leave your computer screen up to drop some hints. Silhouette pendants can be made from photos of couples, kids, families, pets and more.
Use Code SPRING for 10% off your Nella Designs order.
*****
We are happy to be home!