After three weeks away and over 4,000 miles worn on our tire treads, we are now only three hours away from home. That's three weeks times 4,000 miles plus three hours equals—well, crackers. Crackers everywhere in our car. Smashed into the carpet, buried under car seat fabric, wedged into the plastic grooves of floor mats. We've exhausted all road trip games, we're all ready to be home, and all cries are now answered simply with "Here, have some crackers."
We're already talking about how we're going do the whole walking into the house thing. We've been driving six hours, we're bored, we needed something to talk about.
"I say we don't carry anything in. We get the girls and go inside and celebrate," Brett suggests.
"Ooooh—good idea," I applaud him.
"And let's video tape it. I think the girls are going to be so excited to be home. It's going to be awesome."
I love that he says this.
I've never been very good at ending happy events like holidays and vacations, but it's easy when you slide from happy vacation to happy home. From Chicago adventures and book signings to hammock naps, dune climbs and lake wading, I've been deprogrammed, ready to reestablish our home routines step by step—most familiar and well-established but some new, inspired by travel.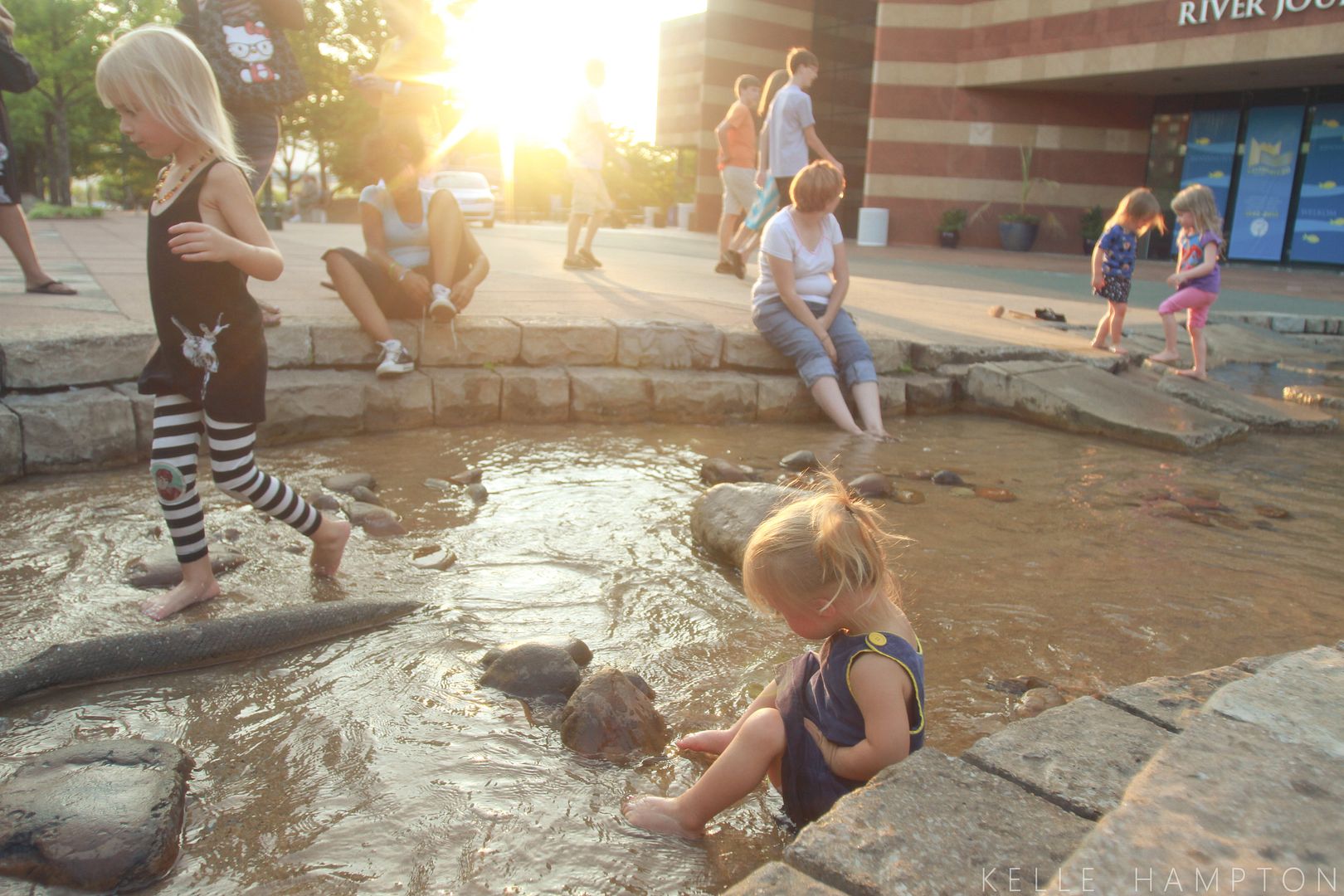 Playing in the city creek at sunset in Chattanooga last night.



The thing I love most about visiting other people and places is witnessing the wonder of differentiated cultures and learning new things—routines and methods that are interesting, most of which are different from ours and shed light on how wonderful it is to be unique and how fascinating different ways of living truly are. I like to see the way people organize their homes, how they relax, how they make time for family, how they experience adventure. I like to see how towns exist and function—what shops are thriving, how they are designed and decorated. Some of the things we learn and see, we take home and implement in our own home. And they can be as simple as falling in love with my friend Rebecca's wood salt box that her grandpa made her and deciding a homemade wood salt box is a very charming thing to have in a kitchen indeed.


There's something cozy about giving my girls a bath in someone else's home. I always love it when my friends' kids all climb in our tub. It's very "Mi Casa es su Casa."
The last days of our trip were spent in Carmel, Indiana and Chattanooga, Tennessee.
In Carmel, we reunited with my friend Rebecca and her husband John, who graciously opened their beautiful home to us.


Lainey's knee-patch leggings, The Measure



Nella liked the carpet so much, she fell asleep on the stairs. She slept there for two hours.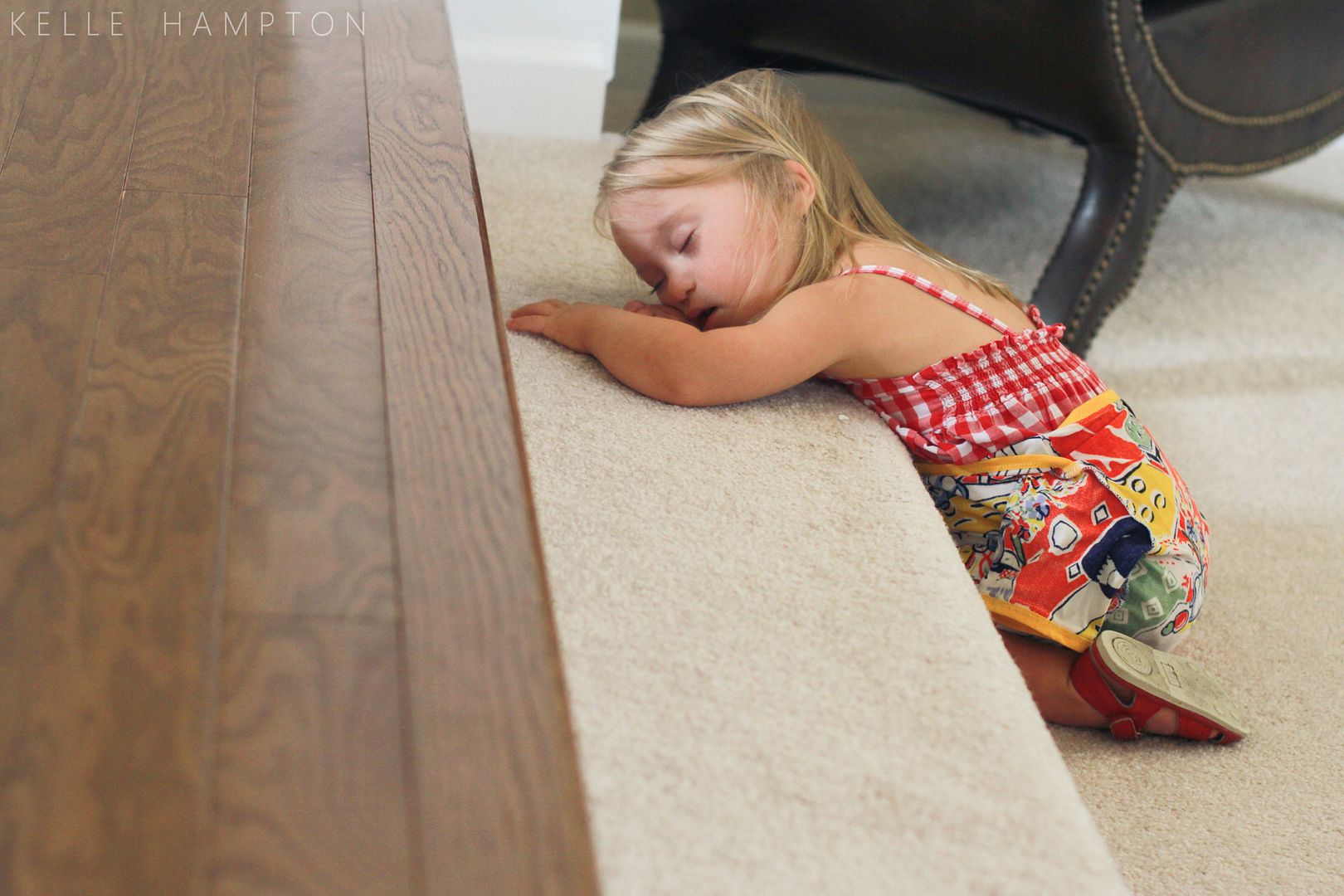 Downtown Carmel afternoon:
And last night, we stopped in Chattanooga for sunset and dinner before driving on to Macon, Georgia to sleep off the driving hours.
Chiseled right into the cement of downtown sidewalks, in front of the Tennessee Aquarium, is a pebbly shallow stream where kids gather in the heat of summer. It curves and staggers into mini waterfalls and calls for little ones to drench their clothes—even if they have no back-up outfits.
Even if there're no more diapers.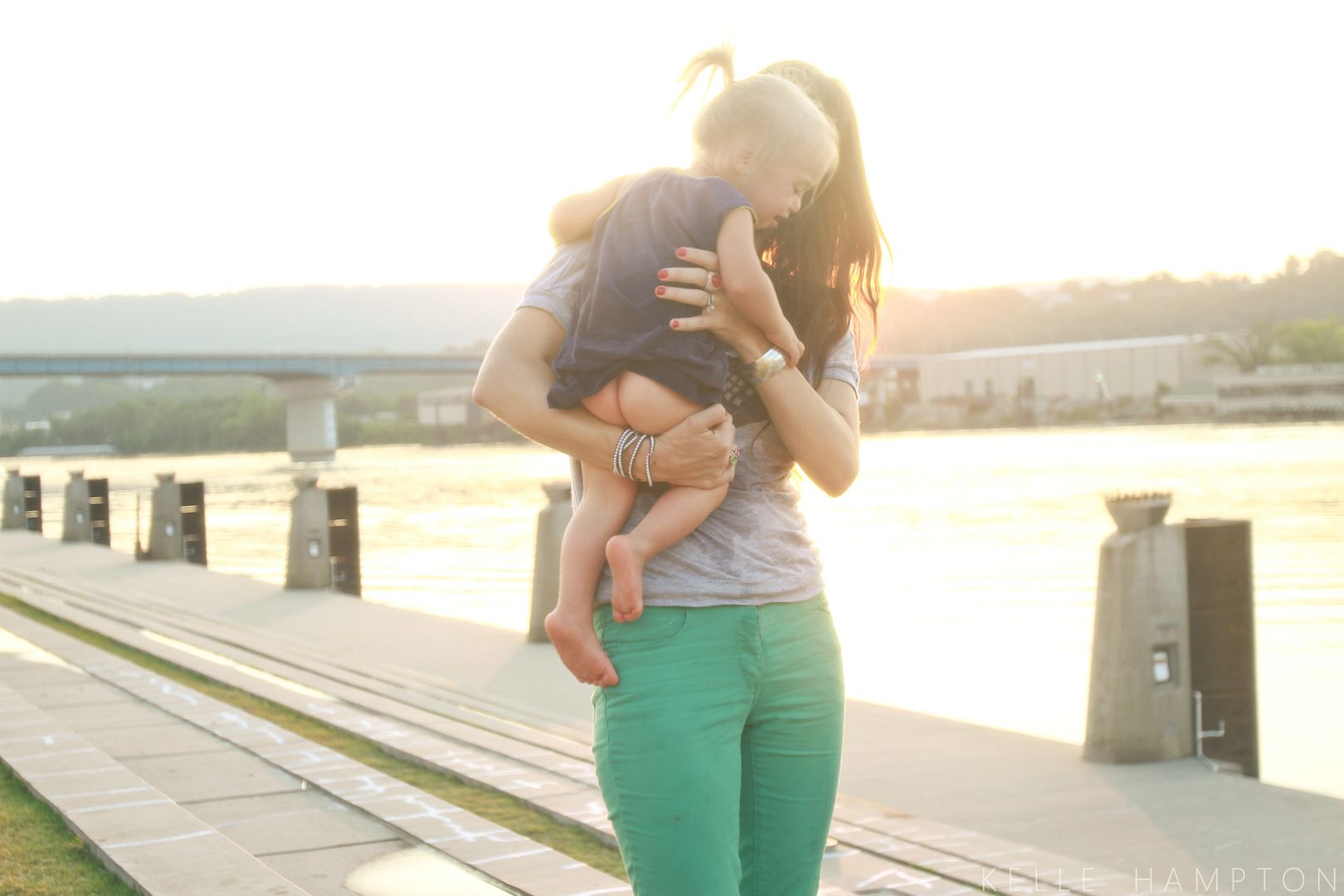 The Tennessee River sidles right up next to downtown Chattanooga, and the Smoky Mountains rest stately in the background—the grand combination providing an epic place to watch the sun set.
We did just that, and it was one of those moments—one of many on this vacation—where I stood in awe, in gratitude, in perfect contentment. "I'm so happy to be right here, right now," I thought.
Ice cream topped off the evening.
As well as the sounds of bands that loudly echoed into the streets from bars that were crowded with summer enthusiasts.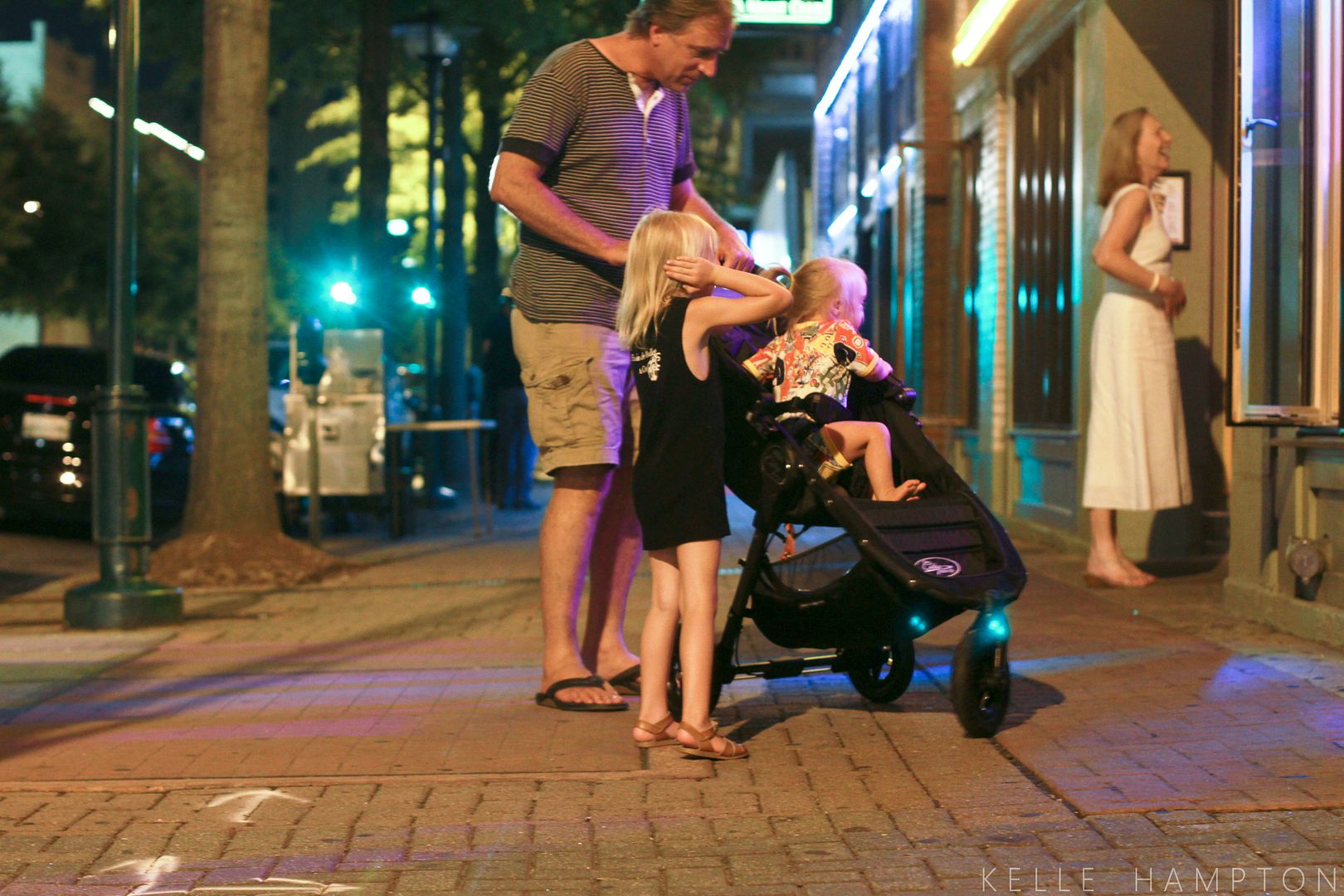 *****
This week's Friday Photo Dump:


Friday Phone Dump photos are taken on the Instagram iPhone app (free) and dropped into a 12×12 collage using a photo editing software (Photoshop Elements works). I am @etst (enjoying the small things) on Instagram if you care to follow the feed.
And your #enjoyingthesmallthings photos. (If you use Instagram and have a photo that makes you happy, share it by using the hashtag #enjoyingthesmallthings. Yours may be chosen to be shared in a Friday post.)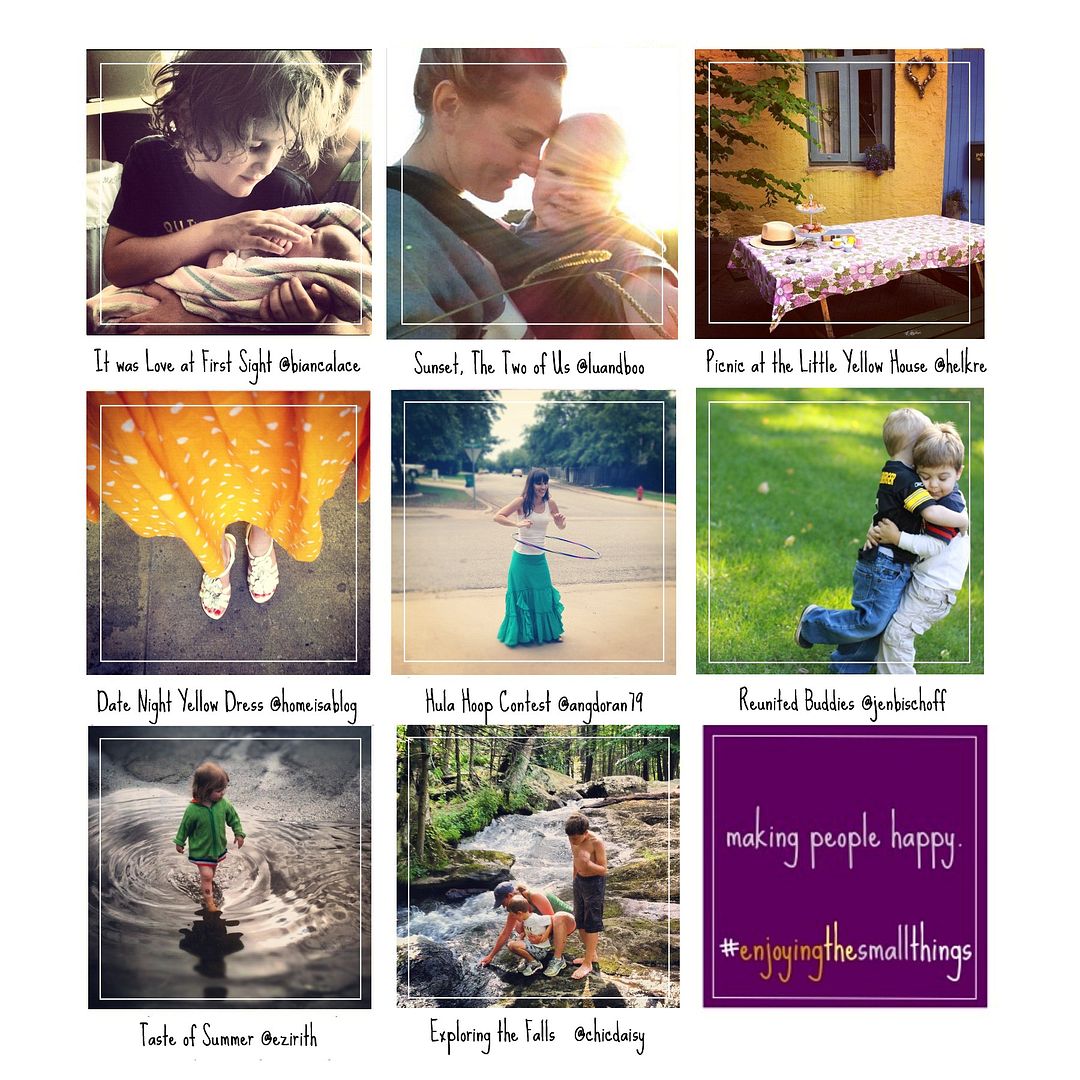 *****
And now, I'm publishing this from home, settled in for only an hour but so ready to continue sinking back into our space this weekend.
This is my last vacation post–so bittersweet. What a trip this has been. My girls were so wonderful. Cooperative on the long drive. Fascinated with new places just like I dreamed they'd be. There were a lot of "wow"s.
Find ways to be fascinated. "Wow" is always such a wonderful word to say. And these past three weeks have been just that.
Wow.
The last day of our vacation, the first day of our summer at home.