This post is a Hallmark sponsored post. I am being paid by Hallmark to write it, but all writing, ideas and opinions are mine. Thankfully, Hallmark and I share the same idea–that little moments are to be celebrated and that good people, good efforts and good intentions deserve a spotlight. See Hallmark Life is a Special Occasion for more details, like them on Facebook, and/or sign up for their e-mail messages HERE.

So the first day of kindergarten happened today, and I'm still processing all of the emotions (there's a lot to process). Until I write about how these first couple of days felt for all of us, I'll start with something easy…what we wore.
During first day preparations last night, I happened to check Instagram to see my dad posted photos of my own first day of kindergarten. Which brings me to the notable interjection of why in heaven's name did I show my dad how to use Instagram? It is now only used on his behalf to post photos of the past (my buck teeth and permed bangs) and Photoshopped works of art with my head on other bodies. I digress.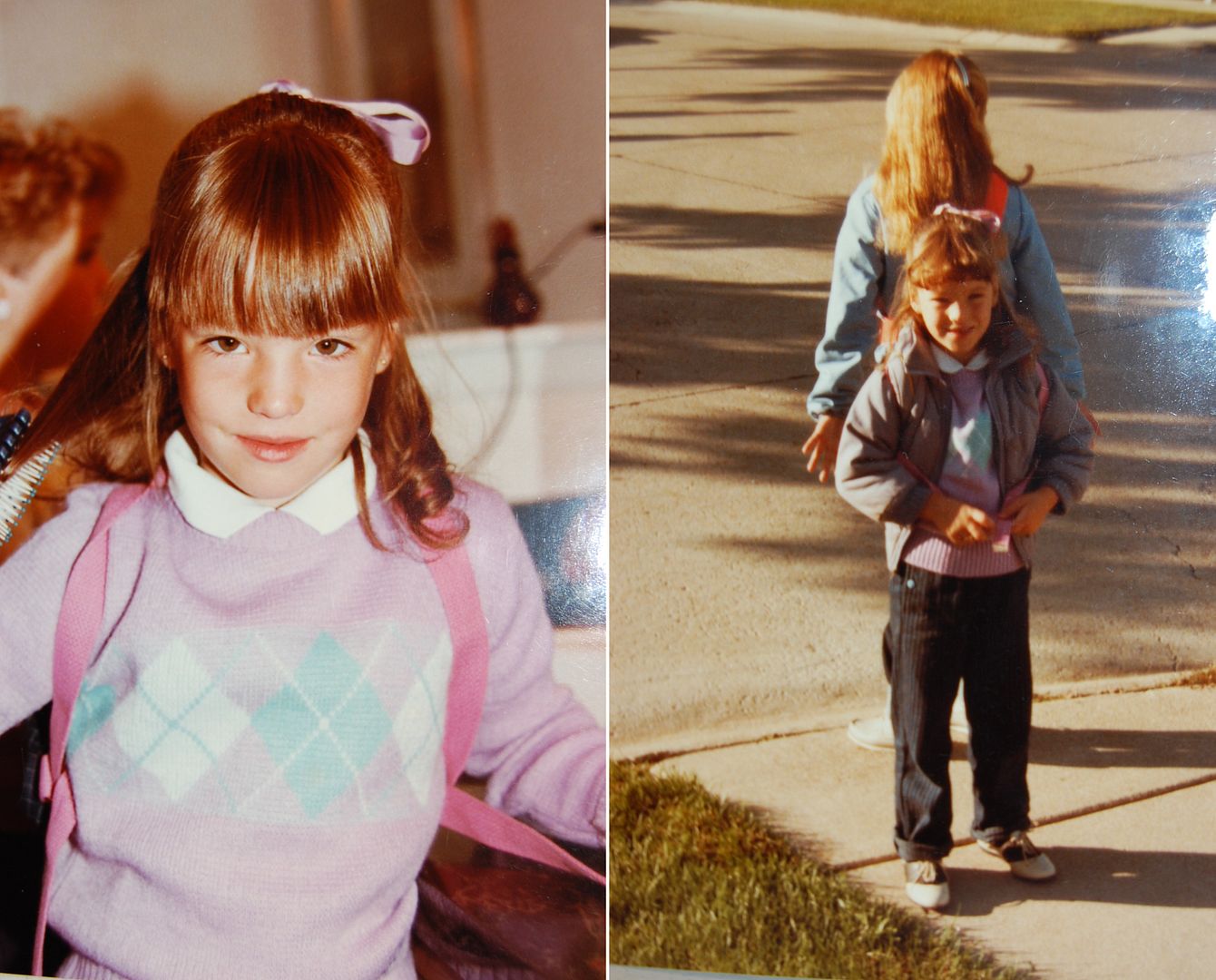 Looking at those photos from twenty-seven years ago, I can't help but smile. My mama's style is repeating a generation. I love my girls in saddle shoes; I dig collars tucked over layers; and cuffed pants, a good bang trim and hair ribbons are little girl essentials in my book.
I noticed after the comments on a few photos I posted to Instagram yesterday that a little one's budding style whether it be independent or parent-influenced is fodder for mama discussion much like breast feeding vs. bottle or homeschooling vs. public. Some mamas frown on cartoon character clothing while some hold true to "whatever makes them smile." Some mamas love school uniforms for their ease and equality while some love the expression interchanging outfits provide. And all mamas fall somewhere along the line of rooting for our kids' creativity and independent style while still breathing out our own to them, perhaps even unintentionally, by the choices we make. It's why Lainey slips on a Bears jersey on Sunday afternoons in the fall–because she knows it makes her daddy smile.
And my girl's first day of school outfit? It says a little bit about us both. It says I only have two kids right now and can manage to find the time to evenly part hair and tie ribbons. It says Mama loves tweed, Lainey loves red, and the apple doesn't fall far from the tree because I see my own mama's style in there too. It says this is probably the last year she'll be happy to wear t-strap little girl shoes with double buckles. It says we did a potty practice in it twice before school to make sure she could unbutton and reposition on her own.
And as much as it matters to me–this nostalgic first day and what she wore–my girl sadly doesn't quite get it yet, evident by tonight's preparation for Day Two tomorrow.
After packing her lunch tonight, I held up three dresses for Lainey. "I pulled these from the dryer, and they all smell good. Which one do you want to wear tomorrow?"
She didn't even have to look up to answer. "Nuffing. I'm not going back to school."
I smiled. "Alright then, so the striped one it is. Let's go brush our teeth."
Do you remember any of your first day of school outfits? What do they say about your own style? And what do your kids' back-to-school ensembles say about you or your child's style this year?
Oh, and I'll be back late tomorrow to talk about the memorable first day. It was very hard for both of us. But in one day…we've learned so much.
To see other Hallmark posts on this blog, click HERE.