This post was intended to be written on Friday, but Friday swallowed me whole. I was so physically, mentally and emotionally exhausted, it wouldn't have come out right–of this I am sure. And in between the first day of kindergarten and new home routines, a little storm called Isaac came rolling in this weekend, intimidating South Florida enough to close schools today. Lainey's thrilled, thank you very much.
So, kindergarten…
After I dropped Lainey off at school Thursday and had my parking lot cry (followed by coffee shop cry, call-to-Brett cry, and call-to-sister/mom/dad/cousin cry, respectively), I set out to find her the perfect pair of gym shoes. It wasn't really about the shoes but more about me needing to occupy my time–a mission I gave myself that subconsciously represented wanting to fix her sadness, wanting to make her happy some way, somehow. So I hit every shoe store in Naples, looking for the perfect shoes. Salesmen showed me their latest and greatest, but nothing said Lainey.
"No, no shoelaces," I'd argue. "She can't tie yet."
Somewhere between the fourth and fifth store, I realized I was being silly and yet that's part of motherhood too. We cope with things in silly ways sometimes, and Thursday I shopped for shoes like my child's acceptance of kindergarten depended on a velcro, thick-soled, quality-stitched, not-pink, adorable pair of tennis shoes.
I bumped into Heidi halfway through my shopping, and she had news from the underground–a text from another mom who had seen Lainey at recess.
"Dina just texted me. She saw Lainey at recess!"
"She did?" I asked, hopeful. "And?"
Heidi's eyes widened and she flashed a fake smile. "And that's all. She talked to her."
Rule of Life #421: When your best friend's lying to you, her eyes get big.
"Oh my God, you're so lying. You're trying to spare me. What else did she say?" I asked.
"Shit. I knew you were going to ask me that." Heidi paused for a minute, carefully planning her next words. "She was crying, Kelle. She was sitting by herself, crying."
And that? That's like taking a bullet.
Heidi started crying before I did. "I'm sorry. This sucks, doesn't it? Let me go up there. Will they let me go be with her?"
"We can't," I answered. "You don't know how badly I want to. But, she's just got to go through this, and it sucks."
Dad, I know I've said shit and sucks in one post, but it's all I had last week.
It sucked.
But then it got a little bit better.
*****
The drop-off was the hardest part of motherhood yet (give or take a couple of traumatic birth experiences, hospital stays, a life-rocking unexpected diagnosis–we can call that a given, right?). I sensed her anxiousness, I felt her grip, I listened to her soft sobs as she begged me not to leave. I hugged and reassured and prayed she wouldn't see my tears. I brought my camera thinking if there's one time to take pictures, it's the first day of school. But the only time I pulled it away from me was to snap a photo looking down-the only photo we have from the morning she started school.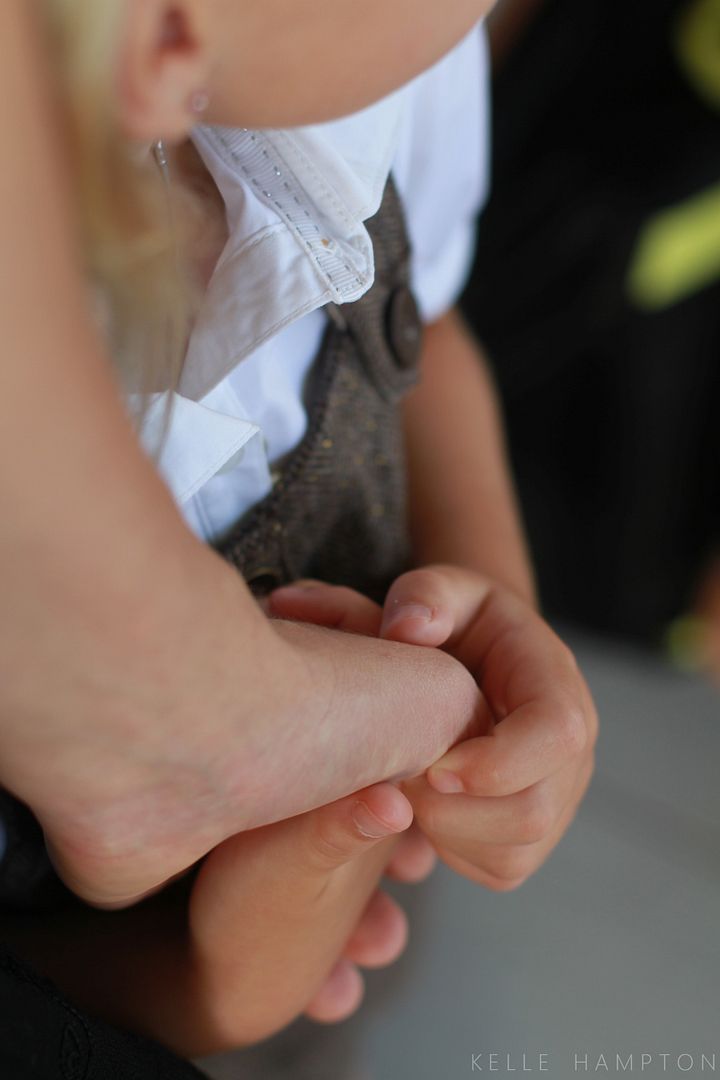 Two wonderful teachers who know just what to say and exactly how to comfort–they peeled her away from me while she cried, after my last quick hug, and I walked out the door where my friend was waiting. We hugged for a good minute and then sat in her car in the parking lot for another half hour before I sent her back up to check on Lainey. She returned, smiling. A good report: no crying, sitting on the carpet with the other students and a smile from the teacher who looked up from her book just for a moment to whisper "Excellent"–a word she indeed knew would be carried by the messenger back to the mama.
I thought about Lainey all day. I knew it wouldn't be easy–lunch and recess and joining another class for art. I know my girl; I knew there'd be tears. And I'd be lying if I said I didn't imagine some Black Hawk Down rescue–running in that school to sit by her throughout the day–knowing how big she'd smile, how good she'd feel to have me there. I think I surprised a lot of people–even myself.
"I thought you'd rent a helicopter," my dad admitted. In fact, he sent Heidi to pull me from the classroom that first morning–unbeknownst to me–assuming I wouldn't be strong enough to peel away from Lainey myself. Moments after The Great Peel-Away of 2012, I watched from the parking lot as Heidi, practically in her pajamas, came tearing around the corner in her white minivan, and I had to laugh when she looked shocked to see me standing there. (Sidenote: That damn white minivan always shows up. Always. In fact, if you want to be "the friend who shows up," I'd suggest you start by getting a white minivan.)
Heidi quickly explained. "Dude, I came to get you out of there. Your dad texted me that he couldn't get ahold of you, and he was sure you were in that classroom and never leaving. I'm here on official business. I thought for sure I'd have to pull you out. How did you do it?"
We both started laughing, mine still through tears. "You guys underestimate me. I know this is part of it. I knew I'd have to leave."
*****
I watched the clock all day. Showed up forty minutes early to make sure I got a good parking spot, checked in as a visitor, waited against the wall outside her classroom and watched for the door to open with that final school bell. And when it opened, the first one out was Lainey, holding the hand of her teacher, swallowed by that backpack half her size, smiling her coy little closed-mouth grin when she saw me.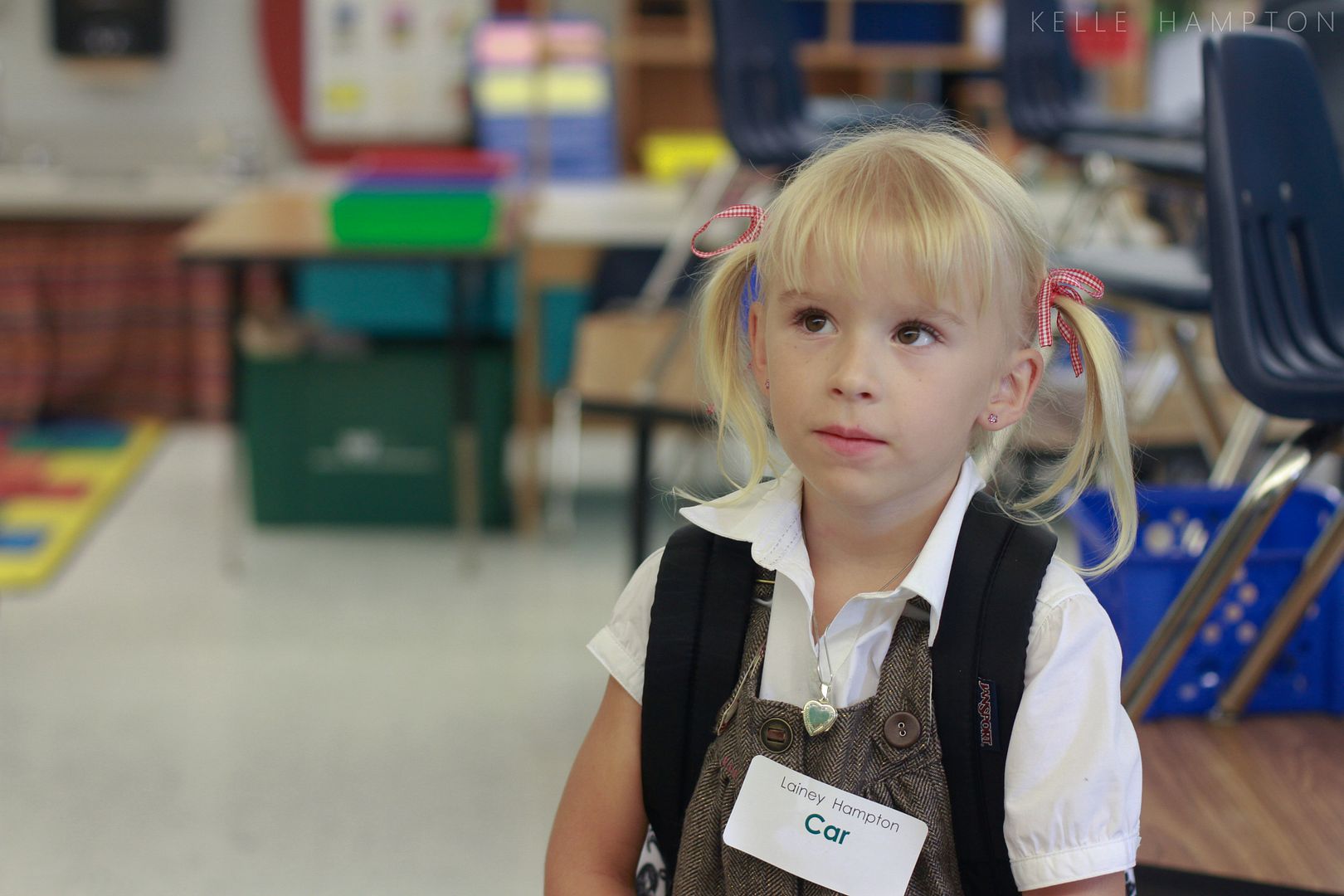 Lunch and recess and switching classes for related arts is hard and will take some getting used to. But in one day my girl, who last week reported she was "nervous of learning," was proud to tell me that she loves her classroom and adores her teacher. While students walked to buses and made their way to their parents' cars that afternoon, my girl knelt down and unzipped her backback. She couldn't wait to show me the picture she drew at school. "It's me and you," she pointed out, smiling.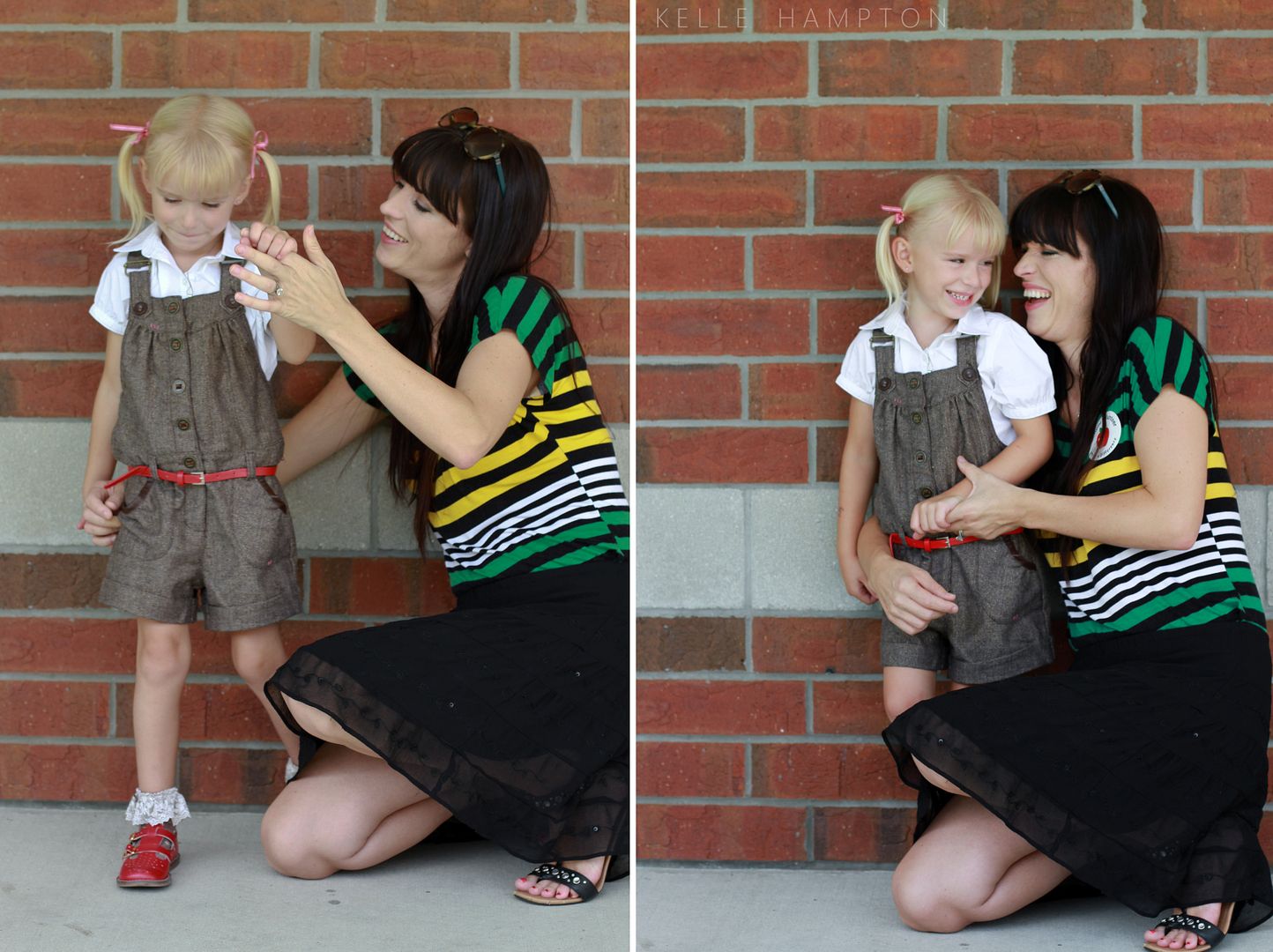 When we returned the second day of school, she still didn't want to go. She cried at recess again, and I cried to hear that. But it was already different. She didn't grip my hand so tightly, she didn't need to be peeled away. I saw confidence that had bloomed in one short day–the same kind of confidence that has appeared, without fail, so many times in my own life when I had to work a bit to find it. It's there.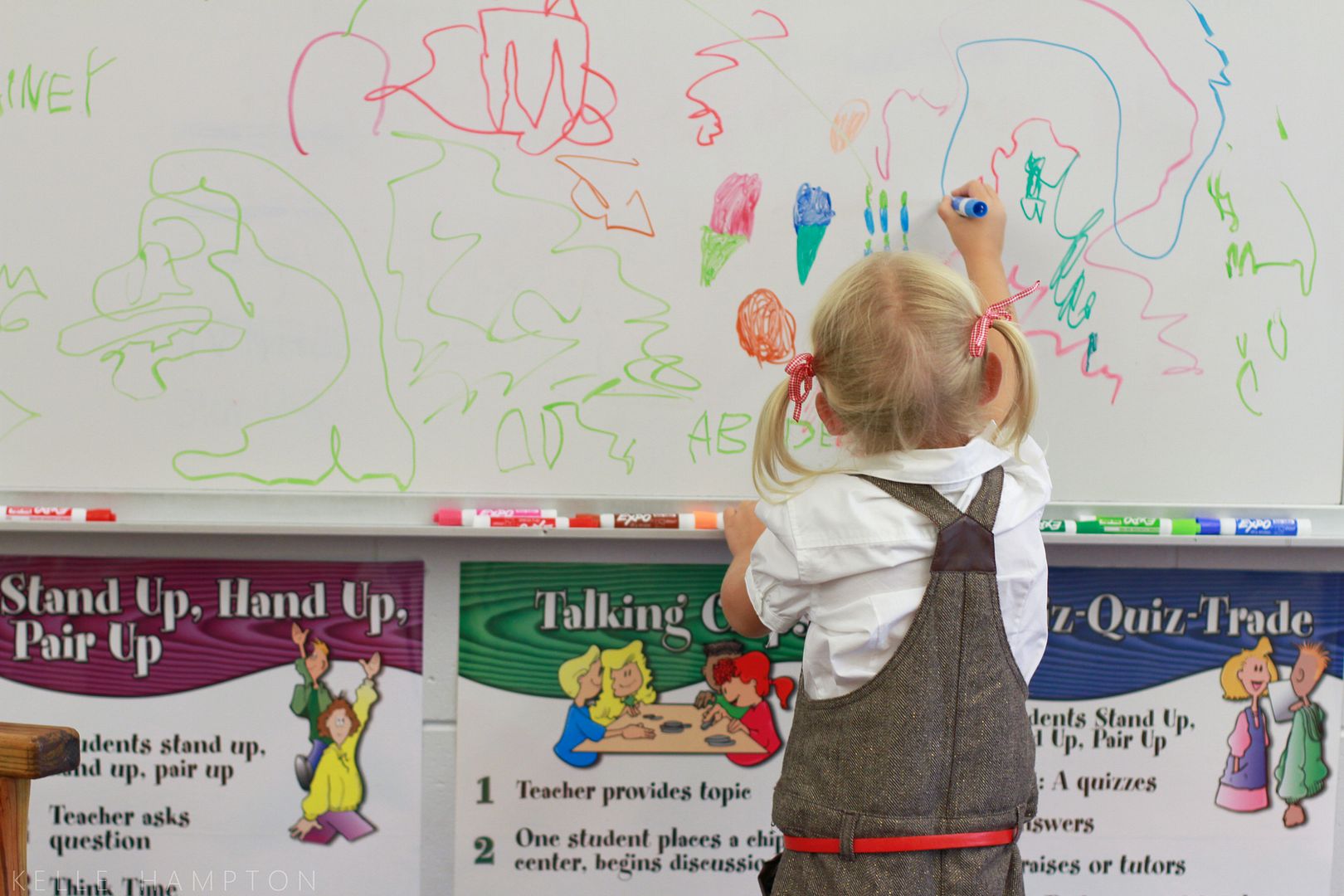 Self reflection is so very much a part of these motherhood moments. I have thought about why this is so hard, what I could have done to make it better. We chose not to do daycare or preschool for Lainey, and I don't regret that decision at all, even though it may have made this transition a little easier. I wonder what things we can do to help smooth out these first few weeks, and we are trying lots of fun ideas–some our own, and some wonderful suggestions of yours. The thing is, there are a hundred billion ways to raise a child–to nourish them, to teach them to think on their own, to instill confidence, to show them kindness, to challenge them to be respectful, to educate them, to show them the world. And when you choose a way to do these things–a way that fits and feels good for your family and your child–I think it's only natural to wonder if maybe one of the 99,999,999,999 other ways might have worked better.
A wonderful friend e-mailed me on Thursday after the morning report, and her reassuring words spoke right to my vulnerabilities:
"This is NOT the report I was hoping for. And yet…it makes sense, sister. You have created such a heaven at home that everything without you is going to feel a bit hellish at first, right? And isn't that sort of perfect? She's gotta find her little slices of heaven without you. She's gotta grow eyes like her mama's eyes–eyes that find beauty in the little things in her own little school life. You've been finding joy for her, and now she has to channel her mama without her mama."
What a challenge that is for all of us as parents, no matter how old our children are or when and where they go to school or how shy or outgoing they may be–encouraging them to find beauty in their surroundings, even if we are not there to point it out. As we get ready for the rest of the week and the four school drop-offs we face in the next four days, I'm thinking about opportunity. For Lainey, of course, it exists in the classroom, through the insecurities, and moment after moment at school when she continually recognizes ways to be happy and learn and make friends and find reassurance in her own abilities. For me and Brett, that opportunity exists at home–in seeking creative ways to talk about school, to role play scenarios of timidness and confidence, to prepare her every night and every morning to give it another shot.
This is all new territory, and hell, are we ever learning. It feels good though. I knew it was coming from the day she was tiny, when kindergarten seemed nothing but a far-off dream.
And it will come again, soon enough.
The plus side? Well, there are many of them, one of them being the whole school experience. Like playing house. There will be musicals and school fairs and late night texts to other moms asking what time the field trip starts, and I'm still in that "this is so cool that I have two kids" phase. Because sometimes I don't really believe it.
After the drop-off Friday morning, a few of us kindergarten mama friends huddled at the front of the school and rehashed. One held a jammied baby on her hip, I held my styrofoam coffee cup, and school procedures commenced around us while we made good mama conversation. I liked it. I felt like I did when I bought a vacuum for my first condo. I just felt–I don't know–like a real grown-up. Because lots of times, I don't.
The moral of the story:
She'll be fine. She'll do great.

Mark Poulin's cupcake necklace makes things happier.
We all will.
As my sister reminded me last week, "Our job is to prepare our kids for a life beyond us." What an empowering task.
Oh, and the gym shoes? Found 'em. They are perfect. They are Lainey.
*****
Friday Photo Dump:

Friday Phone Dump photos are taken on the Instagram iPhone app (free) and dropped into a 12×12 collage using a photo editing software (Photoshop Elements works). I am @etst (enjoying the small things) on Instagram if you care to follow the feed.
And your #enjoyingthesmallthings photos. (If you use Instagram and have a photo that makes you happy, share it by using the hashtag #enjoyingthesmallthings. Yours may be chosen to be shared in a Friday post.)
*****
Dashing Bee online children's consignment shop is returning in sponsorship with a newly renovated site and new inventory. You can search items by size, by brand, by gender and clothing article and get what Dashing Bee is known for–quality, brand name gently used children's goods at a fraction of the price. Dashing Bee updates their inventory daily and is a great place to shop for inexpensive outerwear for the coming season.
A few of my current favorites on Dashing Bee:
*****
I'm still settling in to new routines. I have clothes to lay out, a lunch to pack and a girl who needs a fully present mama for bedtime tonight. Goodnight.