So, let's talk about letting go but hanging on just a little for yet another time (you'll have no problem finding Cut the Cord posts from the archives).
Okay, let me start with a photo–the only photo I took at Lainey's 2-day cheer camp which consists of nearly 100 girls (I think I counted over 70), all ages, who learn a few cheers in preparation for performing with the big girls at a high school football game. She wanted to do it and was fine with the fact that she didn't know anyone who was participating. And I thought this was awesome. Growin' up and stretchin', that girl is.
Cute pic, huh?
Brett saw it and was all, "Oh my God! Why is she alone? Why is she in the back? She can't even SEE!" Which is funny because a:) this picture was taken during the closing huddle at the wrap-up of the camp and is a horrible representation of what it really looked like (fun and happy); and b) this is a perfect example of a parenting optical illusion.
You know the drawing that shows either an old haggard lady or a beautiful young woman depending on where you focus your eyes? There's hundreds of similar scenarios in parenting–experiences that shape our kids, and we as parents will emotionally volley back and forth between two perceptions: they're sad, their heart is breaking, they're going to be traumatized (translation: we're sad, our heart is breaking) or they're learning about themselves, this is good for them, they're developing tools to face challenges in life and be amazing.
I'm sensitive to both scenarios, and what I really want to do more than half the time is run in, knock everybody down and hold my kid. But I don't. Because I know that to teach my kids how to be truly happy in life, I have to know when to let go. If you keep a plant in a little pot, you might keep it alive but you're going to stunt its growth. I want my kids to stretch their roots, so we constantly move to bigger pots until someday they find a stretch of land where they'll want to be planted to grow on their own. But listen. My lawn chair won't be far, and I will have reserve watering cans on standby for the rest of my life.
We moved to a bigger pot this week. It looked like a gym full of girls, and it was loud and crazy–clapping and giggling and shouting and lots of synchronized high kicks. For a second, I could have seen it as too overwhelming for a little bird who's still trying out her wings. I mean, she ties her shoes with the bunny loops and hasn't even lost a tooth yet. But she wanted to do it. And she got right in there the first day, barely turning around to see if I was watching her.
She held her own in a swarm of girls–smiling, carefully following directions, mimicking every clap and kick and "BIG G, LITTLE O, GO! GO!" And I watched from one end of the gym, alternating between waving, smiling and using my eyes to transfer psychic thoughts of I'm right here! I see you! You're doing great! and putting on my game face–This is no big deal. I'm so confident you're fine that I'm just going to read this book and pretend I'm not acutely aware of your neon pink sweatshirt in my peripheral vision at every moment.
Kids are like bees. Don't let them smell your anxiety.

I kept my helicopter parked through this whole cheer camp thing. I sensed her uneasiness in the middle of that gym, surrounded by all those girls she didn't know; but I sensed too that she wanted to work it out on her own. I didn't jump in to fix it for her. I smiled and waved and sat by the bleachers, but I also read a book and even left the gym to take a call (gasp!).
Lainey left the camp tonight with a permagrin, a new herkie ambition and a chant we'll be hearing for months. BIG G, LITTLE O, GO! GO! She grew.
For the record, I see a beautiful young woman in the drawing.
*****

Might I add, I'm glad his pot is still just a little one. Baby herbs need their mamas.
And papas.

And this one's pot is cracking. Sister's had some attitude this week, wanting to do everything herself.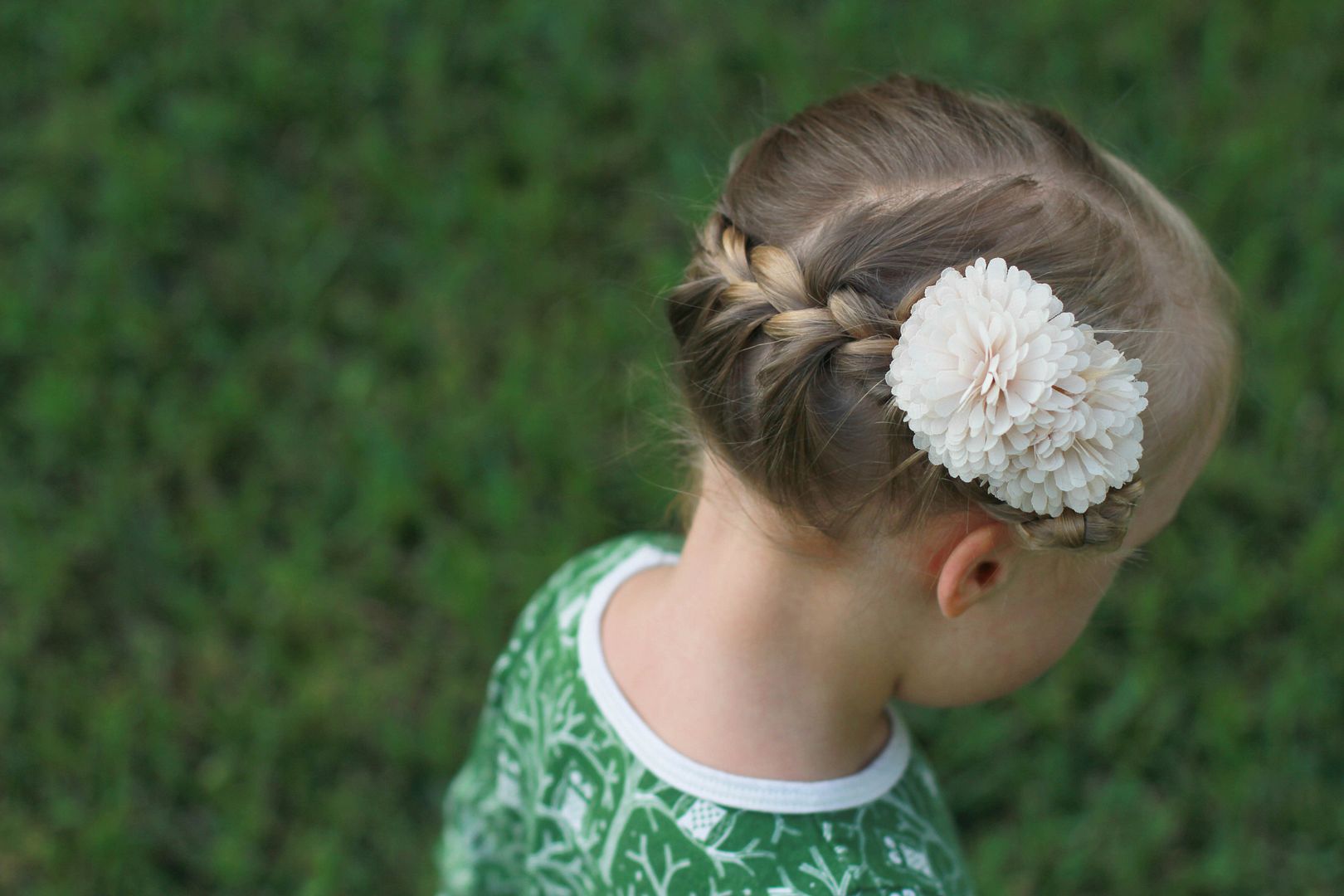 Happy October, Friends. It's Down Syndrome Awareness Month, and I'll be sharing more later. I must tell you how awesome you all are though. The Be Your Tee campaign and our 626 shirt goal? Um, how about 2029 shirts sold? That's $15,000 raised for the NDSS–and one of Teespring's top ten t-shirt campaigns ever. We'll be bringing more designs for teens and adults soon. Thank you, thank you.
And a virtual computer hug. Can you feel it? I hope so.