Dash threw a truck at my foot yesterday, and–wait, hold up. Let's talk about the truck for a moment because I bet you're picturing one of those cute little matchbox trucks.
Exhibit A: The @#&*ing truck.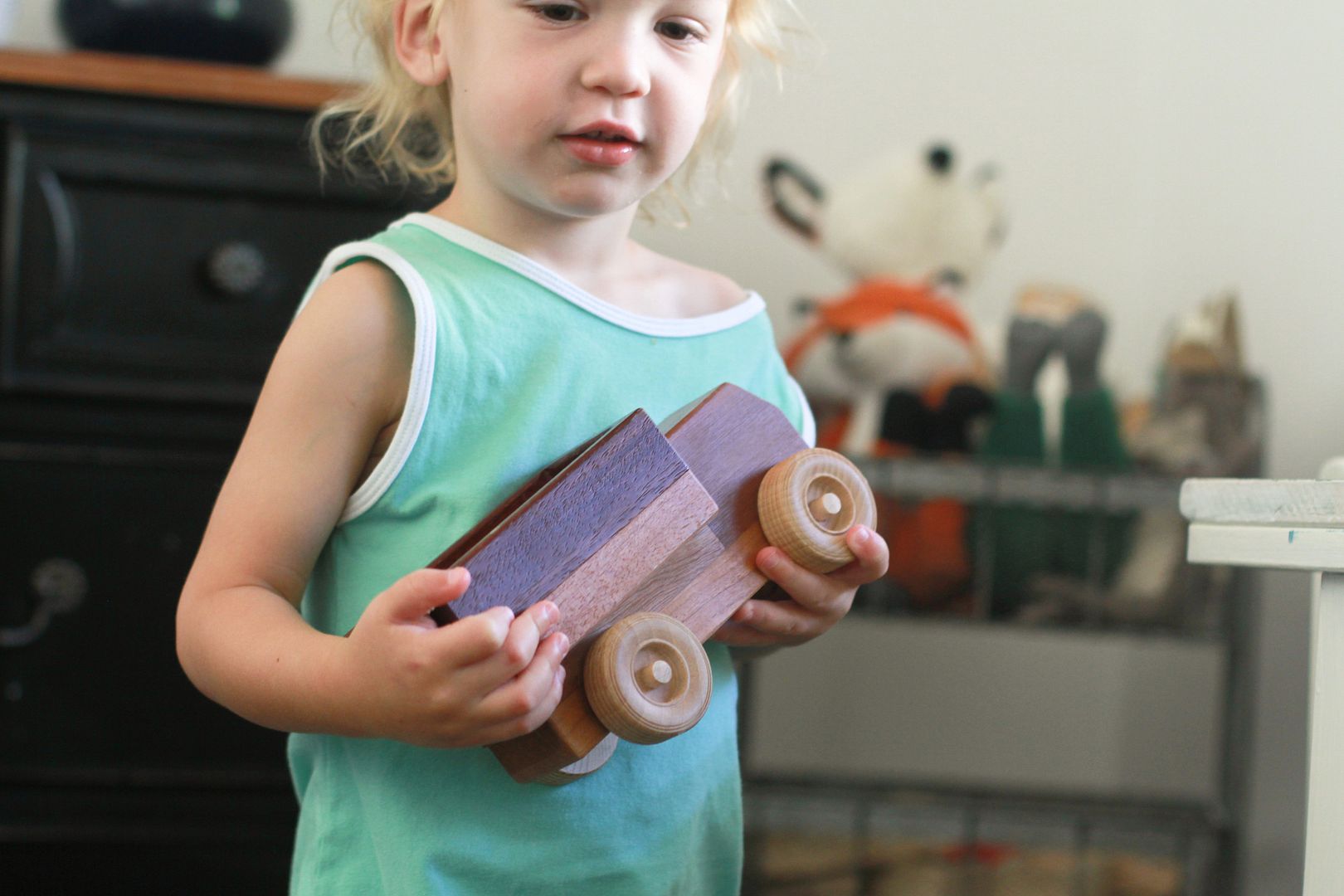 Changes the story a bit now, doesn't it? All ten pounds of the truck–multiplied by six from Tom Brady's throw force–landed on my middle toe. Let me tell you something, nothing brings the crazy out of someone more than sudden pain inflicted by a toy. I once had a friend–a kind, patient man–whose toddler son hit him in the head with a glitter baton in front of a bunch of people. In two seconds, we all watched dad go from patient Jesus to raging animal. Kid ended up in time out and we ended up laughing for years about parenting's temporary insanity due to sudden pain. No glitter batons in this house. The saving grace of yesterday's moment was found in Dash's hysterical giggling because apparently watching your mom jump and moan and breathe funny is hilarious.
The toe is now purple and the truck is gone. Dash and I hugged it out, but the rest of the day followed suit–messes, messes, losing it, messes. Heidi showed up unannounced at my door at 6:00 with a fully cooked dinner because that is what Heidi does.
But enough about my lemons. We specialize in lemonade. We've been planning a School's Out barbecue, and I wanted a special summer treat for the kids. Lainey and I experimented for the first time with cake push pops this week, and they were surprisingly easy to make. We wanted them to look like glasses of lemonade, and I love how they turned out.
A regular 'ol lemon box cake works fine for the cupcakes, but we made our own buttercream frosting. I mix one package of powdered sugar, one stick of butter, a teaspoon of vanilla and enough milk to get the consistency I like–a little thick for these push pops so that when I tip the pop to layer the cake, the frosting doesn't fall out.
Lemonade Push Pops
What you'll need:
lemon or vanilla cupcakes
tinted yellow buttercream frosting in a large Ziplock or pastry bag
treat pops containers (we used these which come in a 12 pack and include a stand–you can wash and reuse them)
fruit sour strips (I wanted yellow ones to cut into a lemon slice, and we found ours at Target)
paper straws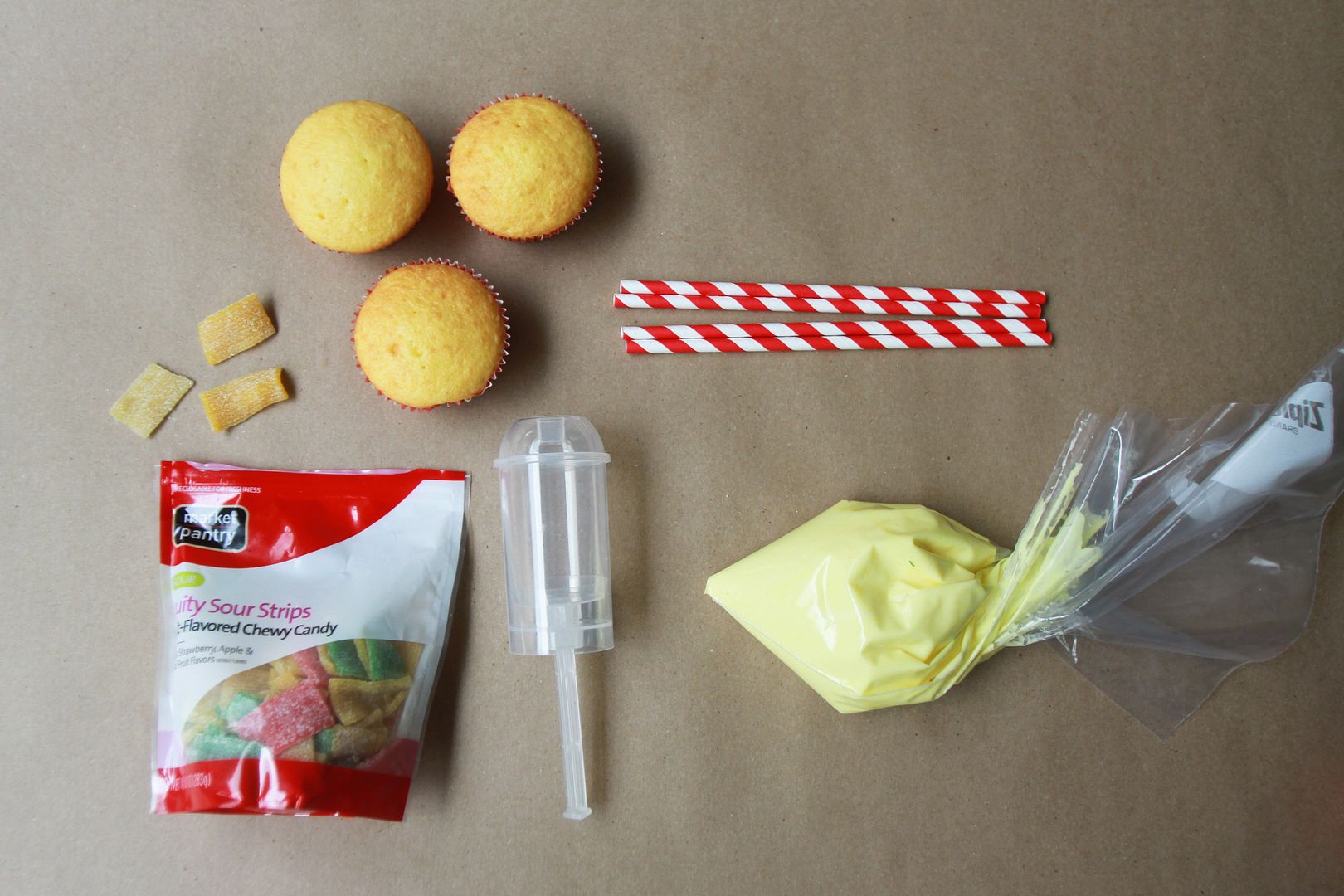 Pull paper liner off cupcake and slice cupcake into three layers.
Holding stick in place at the bottom of push pop, tip push pop upside down and use like a cookie cutter to cut one cupcake layer to size.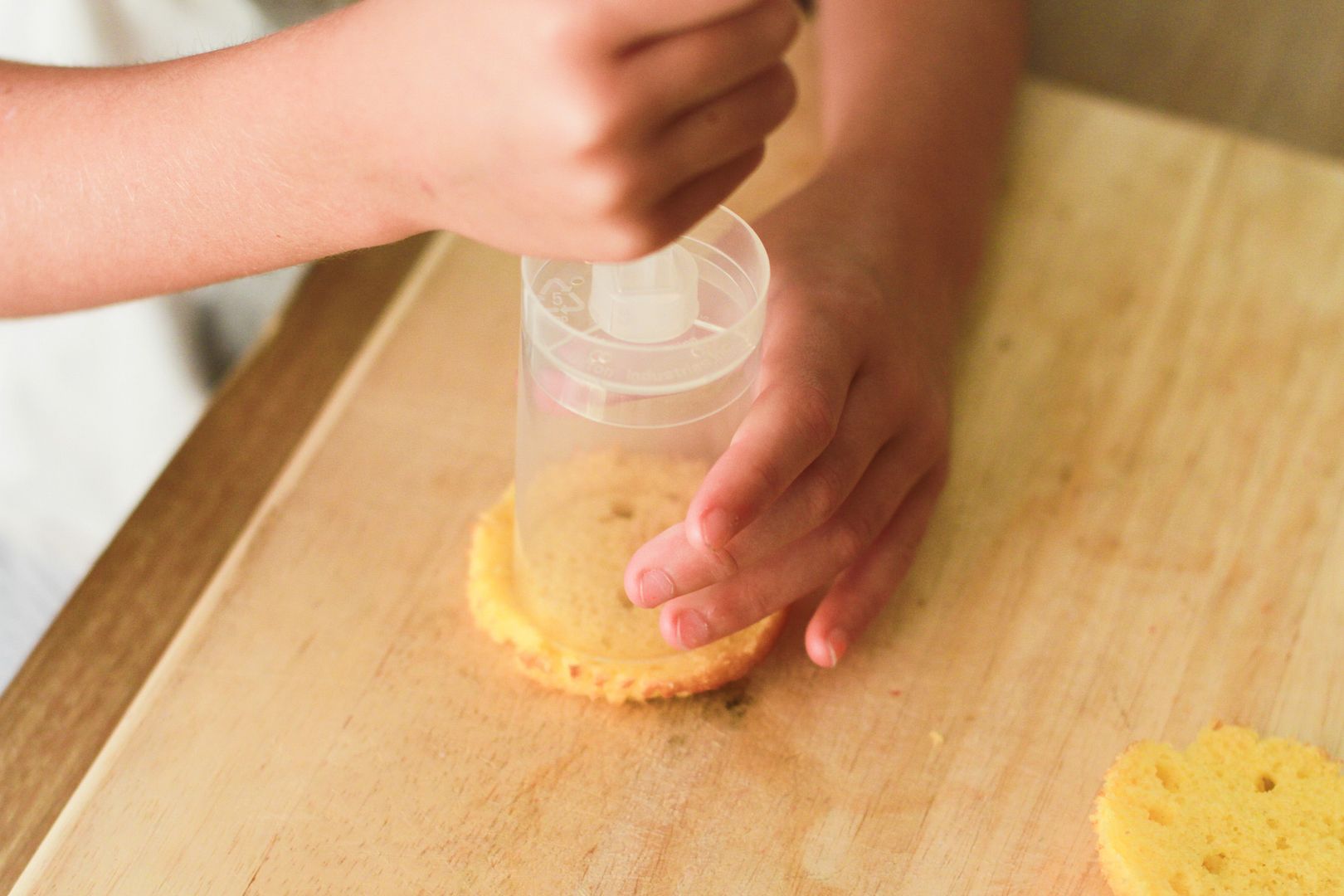 Gently push cake circle into bottom of push pop.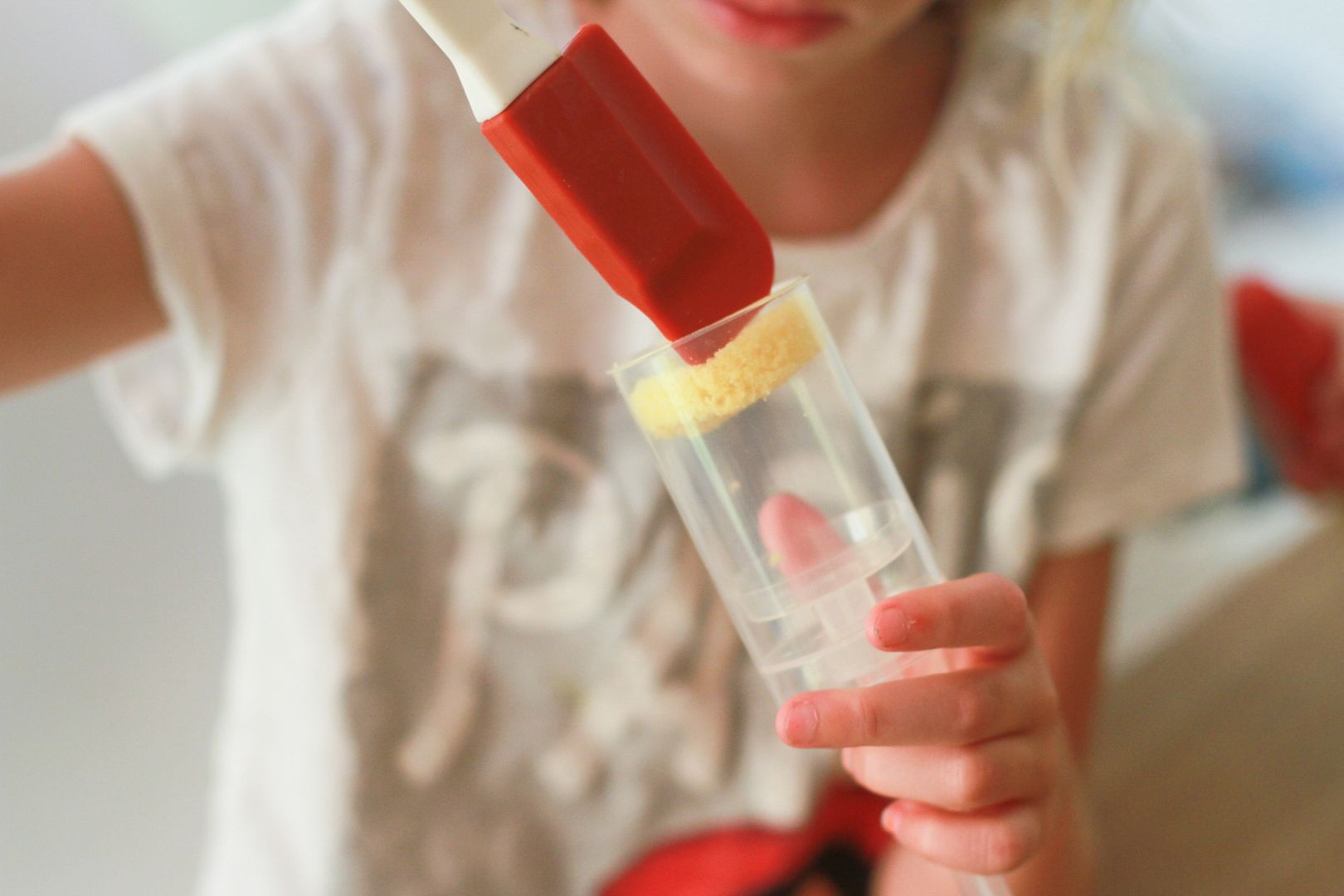 Using the frosting bag, pipe an even layer of frosting onto the first layer of cake.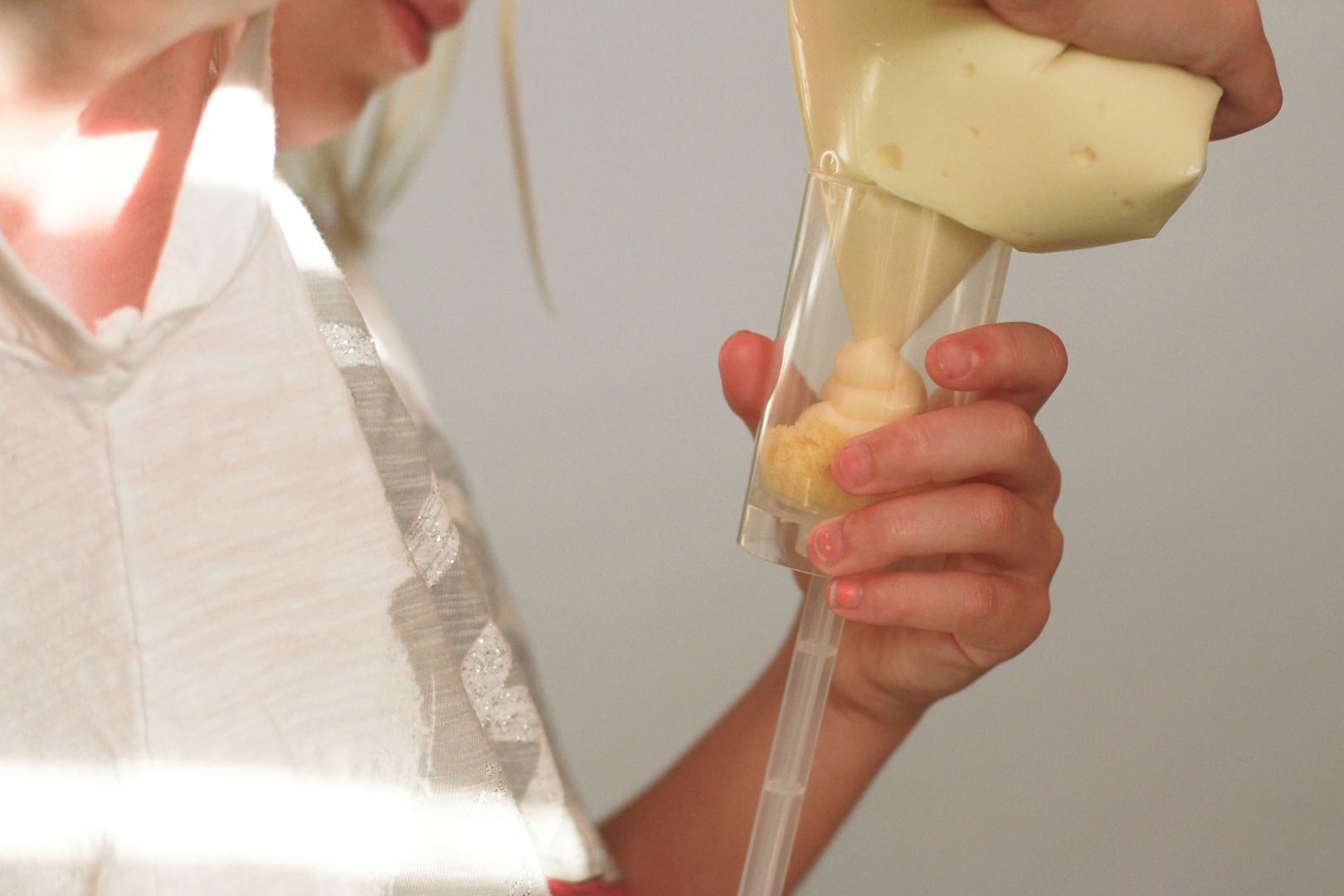 Repeat for each layer. If your frosting's thick enough, it should stay in place while you carefully tip the push pop upside down to cut the next layer.
When your push pop is full, add one more layer of frosting. Cut a sour fruit slice into the shape of a lemon wedge, add a slit on the bottom and add as garnish to your lemonade glass.
Push paper straw in (cut to size).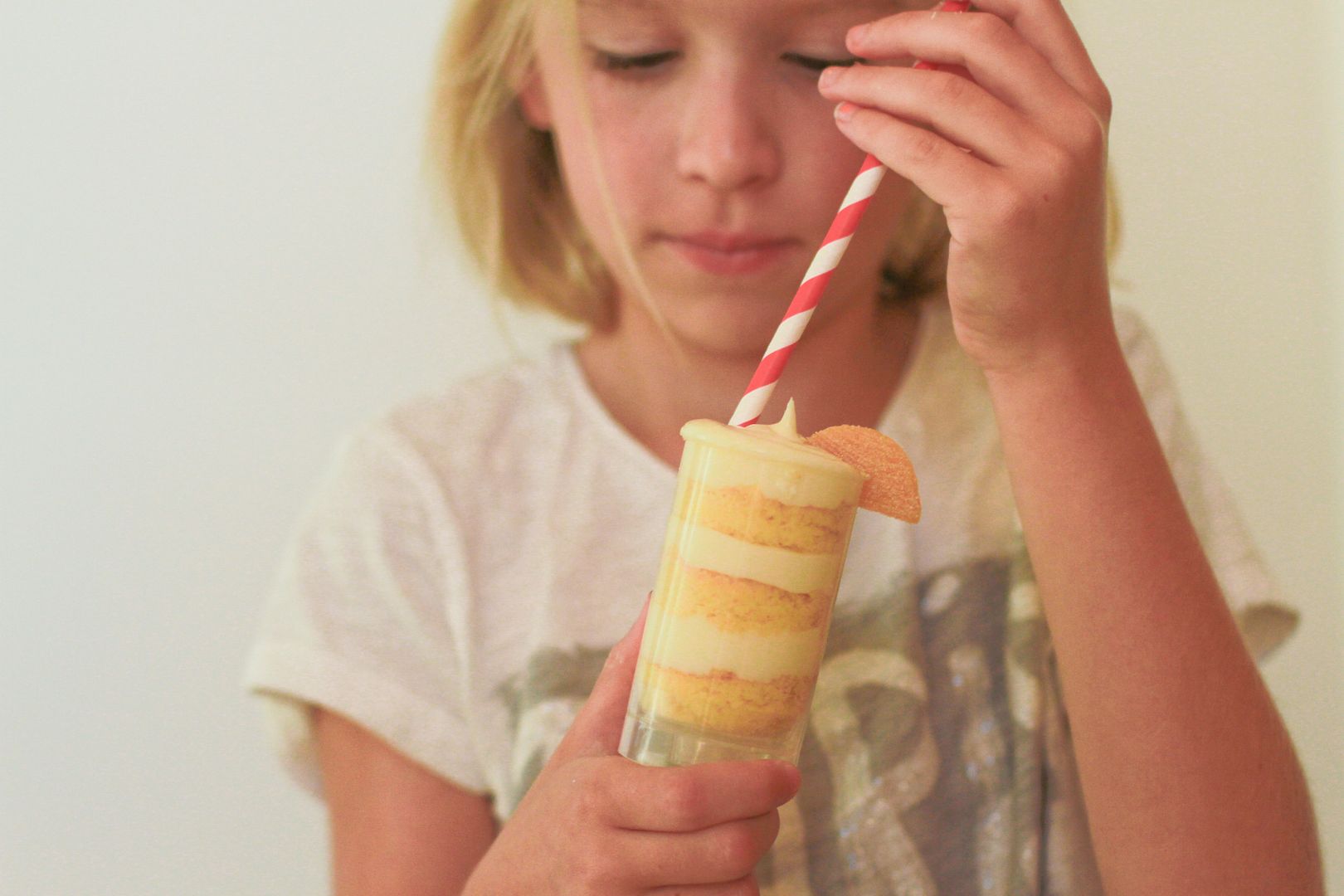 Voila! A refreshing glass of lemonade…and you get to eat your cake too.
We cut little holes in a sheet of artificial turf (found in Target's dollar section), and placed it over a box to display them.
And the only thing better than lemons-turned-lemonade cake is this:
Babies pushing dogs. Gets me every time.