Happy Friday!
We're getting ready for some birthday celebration here this weekend–Lainey's turning 8. To celebrate, she and her friends are having an art party tomorrow, and the night before your eighth birthday is a very exciting night indeed.
A very special gift arrived for her today, a piece of art created by Nichol Brinkman from Pink Cheeks Studios whom I've featured here on the blog before–she made Dash's mobile. I got a little teary when I saw it–it so perfectly captures Lainey and sends the message I want my kids to know…that they can be a great many things–no boxes, no labels. You can wear frilly dresses AND love sports. You can cry easily AND be a fierce leader. You can dip your toes in art and music and science and writing, and as you long as you love it, you're good. "A great many things" was one of my favorite lines in a scene from the Little Women movie, written about here:
For some reason, I feel at times that I need to fit in to a definitive box of what kind of person I am–what kind of mom, friend, wife, writer, home decorator, clothes-wearer, photographer I am. As if I have to choose only one. Last I checked, there was such a thing as overlapping circles on a Venn Diagram, and I find that many times in life, I belong in the gray in-between of "A Great Many Things." And, instead of pushing myself toward one clear area, I'm accepting that it's okay to be a hodgepodge mess of everything. …I'm not really the just-one-thing kind of girl (except when it comes to husbands; for the record, I'm cool with having just one man). 
To my children: Don't box yourself in. Explore your options, stretch yourself, have fun with trying out new things. Conforming to a niche might make you feel like you have to stay there–and think of all the fun explorations outside of that niche you'd miss trying!
I gave Nichol the idea of Lainey's great many things, sent some pictures over (she got exact outfits down!), told her all the things my girl loves to dabble in–and look at the beauty she put together! My scooter-ridin', arabesque-in', beach-explorin', canvas-paintin', world-awaits-her, almost-8-year-old in art: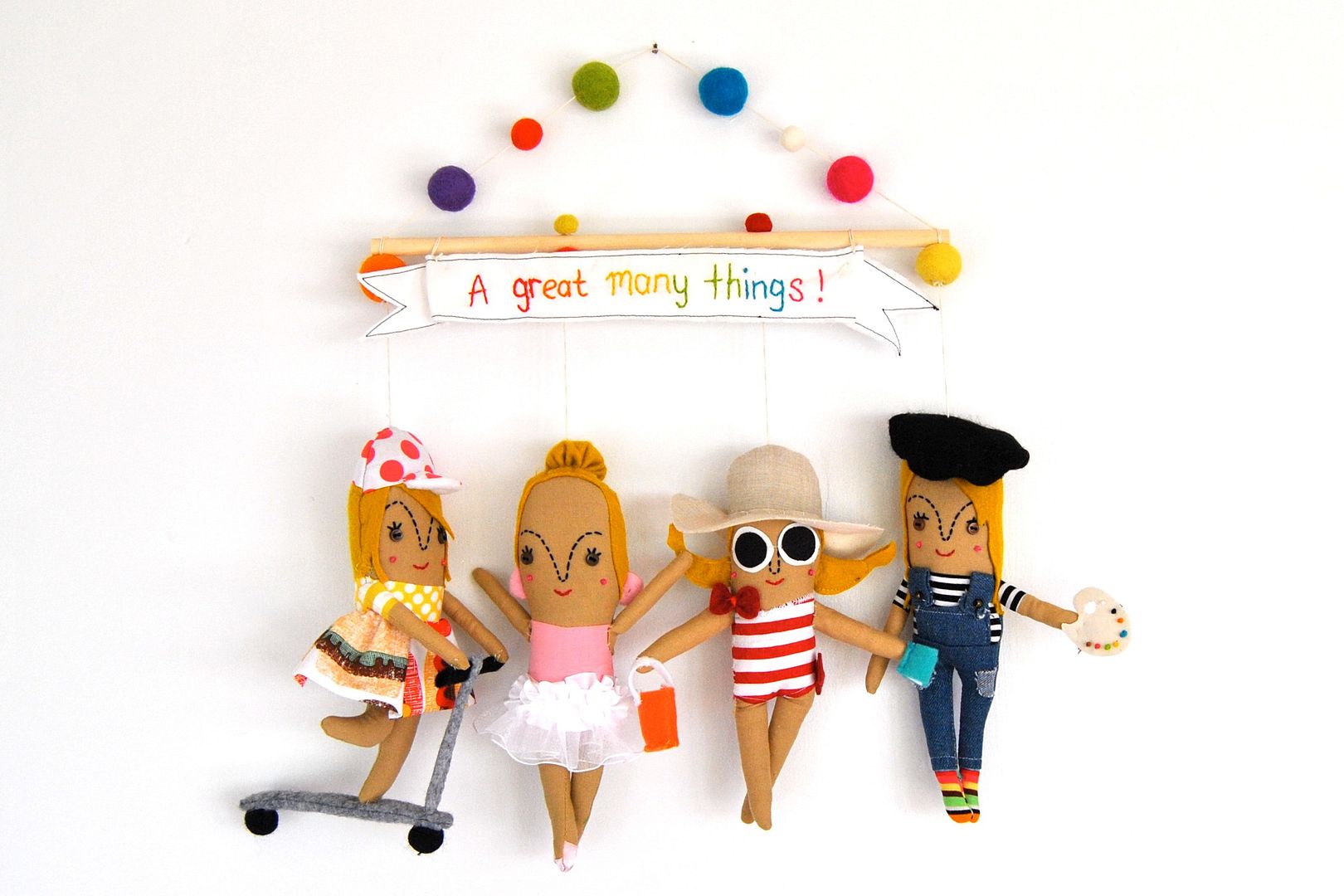 No Boxes here.
You can check out more of Nichol's amazing art–mobiles, wall hangings, customized and personalized beauties at Pink Cheeks Studios. Let's just say if there's a hurricane coming our way, these are coming with us.
And some more Friday Faves today with the Great Many Things theme…so much to explore.
For Explorers
1. Children's Guide to Insects and Spiders
2. Monarch butterfly wings
3. Live Caterpillars (we just released our butterflies this week–enjoyed another fun round and learned so much)
For Designers
4. Seedling Create Your Own Designer Doll (adorable!)
5. My Wonderful World of Fashion  (we have this and love it–great for restaurants and road trips)
6. Seedling Fairy Wand
For Makers
7. P'kolino Hexagon Colored Pencils
8. Bahia Kids Apron (on sale at Anthropologie)
9. Let's Make Great Art Placemats
For Musicians
10. Sunnylife Beach Sounds (play music at the beach and park in style)
11. Kids 6-String Guitar Toy
For Writers
12. Story Time Cards (ages 3 and up, story starters. Just got this for Lainey and Nella–thought it would be a fun activity for the together and an opportunity for Lainey to help Nella with speech and imagination)
13. Stone Soup magazine (we love getting our Stone Soup in the mail–great for cultivating child writers!)
14. 642 Things to Write About Young Writers Edition (questions such as "The entire neighborhood is beige and gray but at the end of the street sits a bright blue house. Who lives there?" or "What does your dog do when you go away? Does it go on adventures or guard the house?" and "Congratulations, you've just won a trip to Mars and it leaves in ten days. What will you pack?")
Happy Weekend!