The summer enthusiasm portions somehow got a little mixed up, because I'm certain I got two helpings and someone's missing their share. I'm trying not to blow the bucket list in one day. Because right now one whiff of barbecue smoke on a Friday night on the cusp of June has me all Let's have a lemonade stand right this second. Kids, get your sunhats. Brett, plant a strawberry patch. Light the sparklers! Cue the s'mores! I want Mungo Jerry piped in on driveway speakers. I want tents in the front yard. I want to erect an outdoor neighborhood theater where Parent Trap plays on repeat and we pass out free snow cones and cold Cokes in glass bottles. I want a sail on top of my minivan and a life preserver strapped to my fender. And dammit, SOMEONE GET ME SOMETHING FRUITY TO DRINK IN A COCONUT WITH A STRAW.  I am one bird chirp song away from slipping into a floral caftan and ordering flipflop potholders from a Lillian Vernon catalogue, so hold me back, man.
Our mama friends texted a lot this week, setting up pool parties, breakfast dates and making summer plans. And we begin looking forward to one of our favorite annual adventures, our stay at Poppa's lake in Michigan.
.

Look at Baby Dash!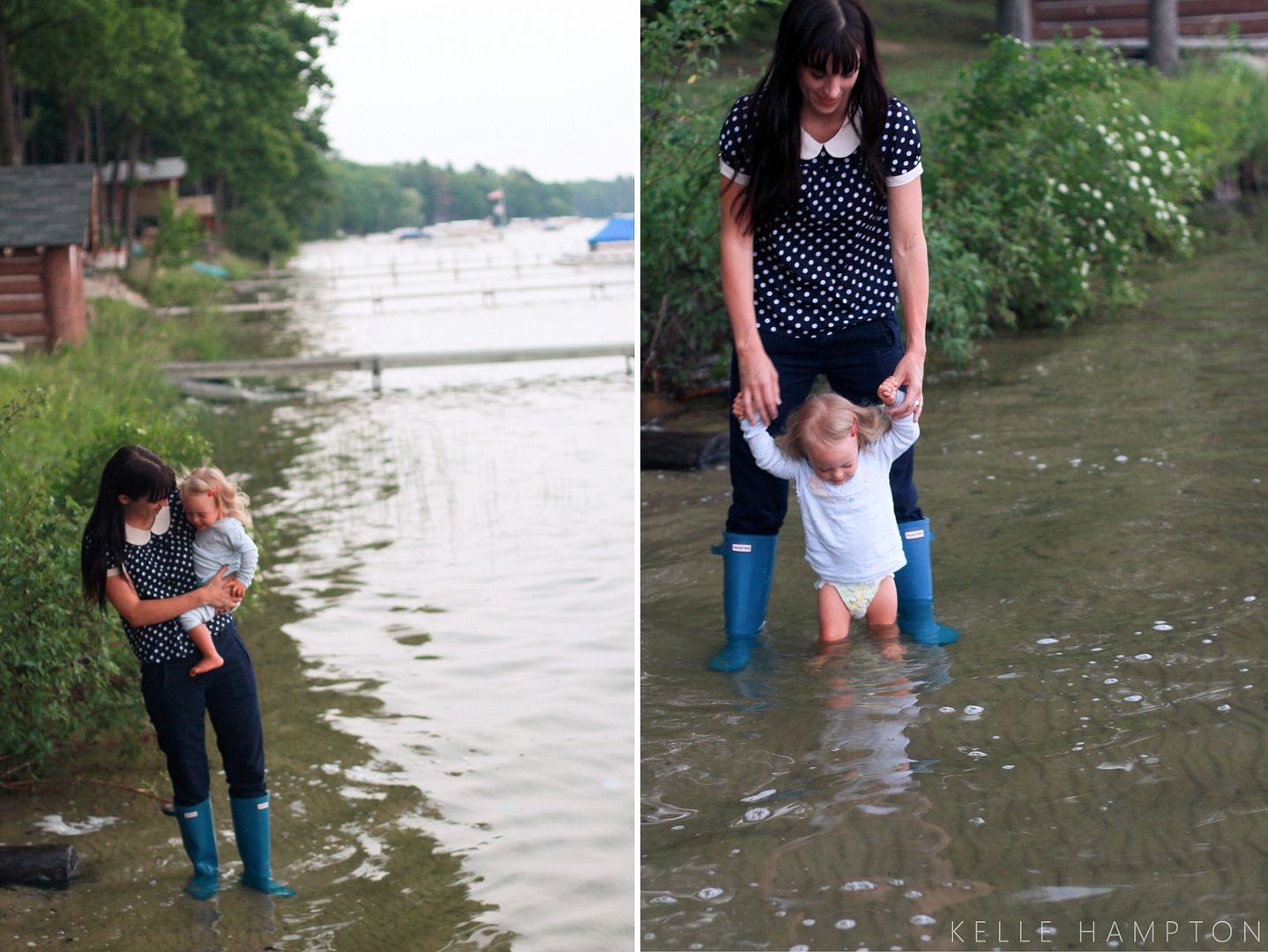 With dock dreams on our mind, today's Friday Faves are lake-inspired goodies.
1. Hatley Fishing Lure Pajamas, unisex, adorable (this shorts version for hot weather)
2. This is where Brett gets excited and steps into the blog arena because, quoting him, "I know this stuff better than you do." Fishing is his territory, so per his suggestions:
For bigger kids (Lainey's age): Zebco Spincast  with a real hook where you can actually catch fish, For toddlers: Kid Casters Safe Hook & Training Lure (when dropped in water, lures expand to sponge fish) and this adorable play fishing pole with magnetic pretend bass from Small World Toys.  Plano "Take Me Fishing" Tackle Box is a nice accessory–a kid-sized box filled with tackle. Why, thank you Brett.
3. Wooden Sailboats, Magic Cabin. Santa brought us a Magic Cabin wood sailboat two years ago for Christmas, and it's beautiful. Floats in water and works great as a toy but serves as art in Dash's room when it's not in use.
4. Kids Campfire & S'mores Play Set from Learning Resources. Have an indoor fire with this set under blanket tents on rainy days or drag it to the back yard for afternoon campfires. It comes complete with s'mores, play lantern, hot dogs–and no need to worry about fire safety.
5. Nature Connection Workbook  Love, love this workbook. Encourages you to continually learn and explore throughout the summer with ideas for observing and recording nature. Drawing guides, fun scavenger hunts, interesting information, talking guides and lessons.
6. Honest Bug Spray from naturally-derived essential oils. Keep it in that cute tackle box up there.
7. Good Night, Lake is a lake-inspired take on Goodnight, Moon and a great read before bed for summer getaways. S is for S'mores is a camping alphabet book with beautiful illustrations. And The Firefly Night is a counting poetry book with kid-level information on fireflies (including the importance of catch-and-release) and an endearing daddy and daughter adventure.
8. Keen Newport Sandals (these navy ones for boys), When we used to jetski a lot and were walking on slippery boat docks and climbing in and out of the water, we all had Keens. Great slip-proof soles, vented to keep cool and dry, summery and earthy.
9. Classic Summer Inner Tube from Tube in a Box. When it comes to lake lounging, I like a good old-fashioned river tube. This one comes in several sizes including a big one that fits several kids sitting on it (like a tire swing).
HAPPY FRIDAY!