"Hold Dash," she says, skipping to the couch where she climbs into her spot—the same spot she's sat to hold him since his pink wrinkled feet were stained with ink from his birth certificate prints. She pulls a pillow under her left arm to prop his head up–as if he needs it–extends her arms and waits, beaming with such big sister pride, you'd expect a swaddled newborn to be handed to her followed by camera clicks and flashes. Instead, skinny toddler legs awkwardly dangle as I attempt to cradle and transfer Dash—all 37 inches of him–into the space on her lap without a kick to her face. He smiles and plays along; he knows the drill.
"Oh, look at the baby," I coo, tucking a blanket under Dash's chin while Nella pats his legs and snuggles him close. They both giggle, realizing this is a bit silly now, but no doubt enjoying the charade—him, for the attention; her, for the chance to be the biggest, the nurturer, the one he looks up to.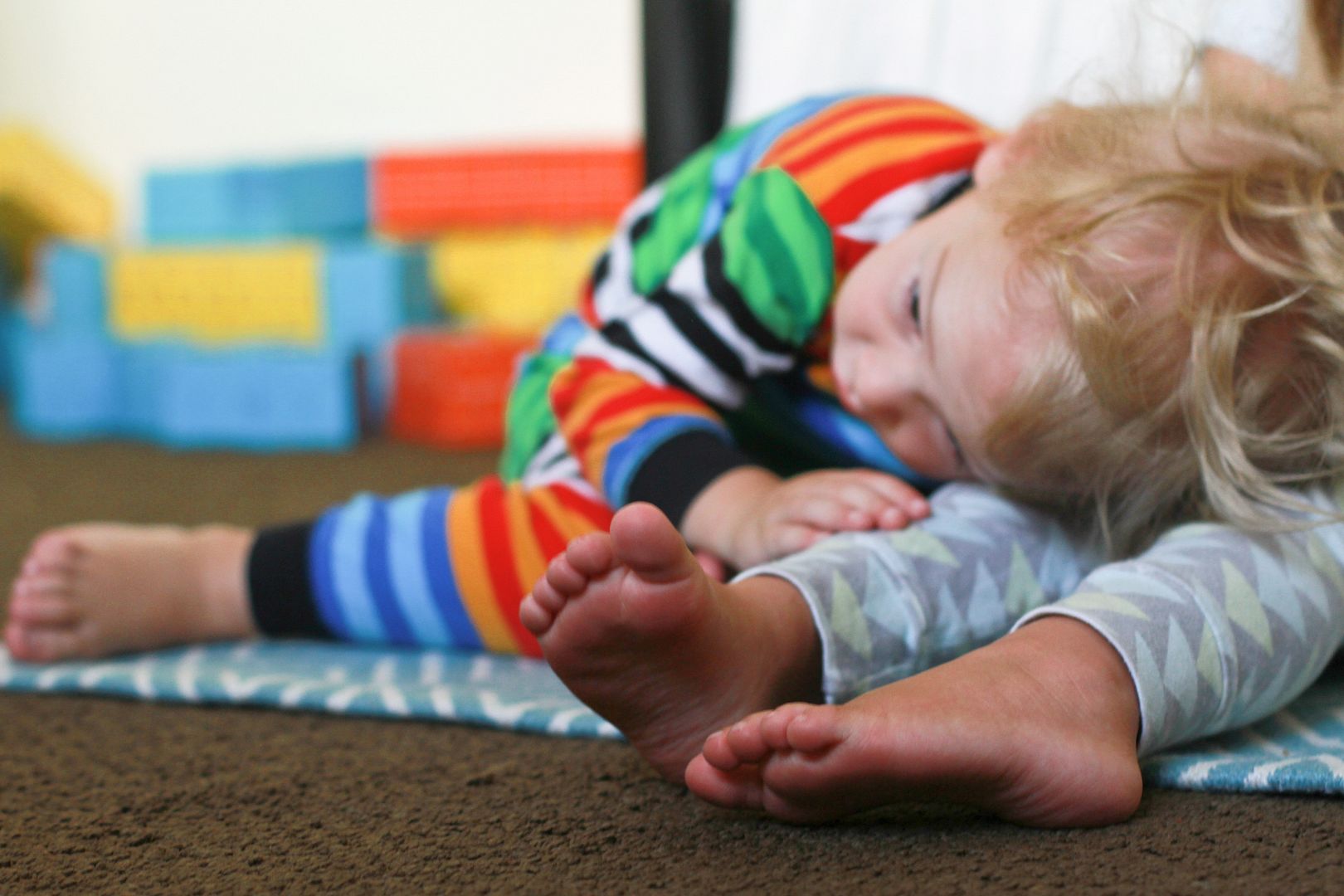 Later in the day, they swim together. Nella wears a life jacket and sits on the first pool step where the sisterhood of Barbies is currently gathered, their naked bodies floating in a circle. She talks to her dolls excitedly, words pouring out so quickly, they overlap into jumbled phrases that are broken by laughter and occasional talking tos—"No Barbie! You bein' mean!"—because sometimes those girls get out of hand. Dash joins her for a moment, but the promise of underwater adventures granted by his new swimming skills is too good. He's off, away from the edge, free from a life jacket, kicking, paddling, pushing distance and depth and breath limits. He jumps and waits for us to clap, again and again and again. Nella smiles and claps too.
In a blur of two years, he's caught up to a place we knew he'd get to, a place we talked about before he was even born. He's mastered what she's mastered, chasing the next thing—a surge of new vocabulary words, a size 10 shoe, the discovery of how to slip a key into a door, turn it left and unlock it with a click!—with a speed we'll never get used to. Her baby–the one who once sucked the finger she crammed into his mouth when he fussed; the one she patted to sleep, pushing our hands away when we tried to assist–is no longer a baby but nearly her twin, a bond strengthened by the sharing of everything–height, clothes, cups, car seats, secrets, conspiracy theories. One never requests a Popsicle or a cheese stick or a pretzel bag without asking for one to share. "For Nella," Dash asks. "For Dash," Nella says.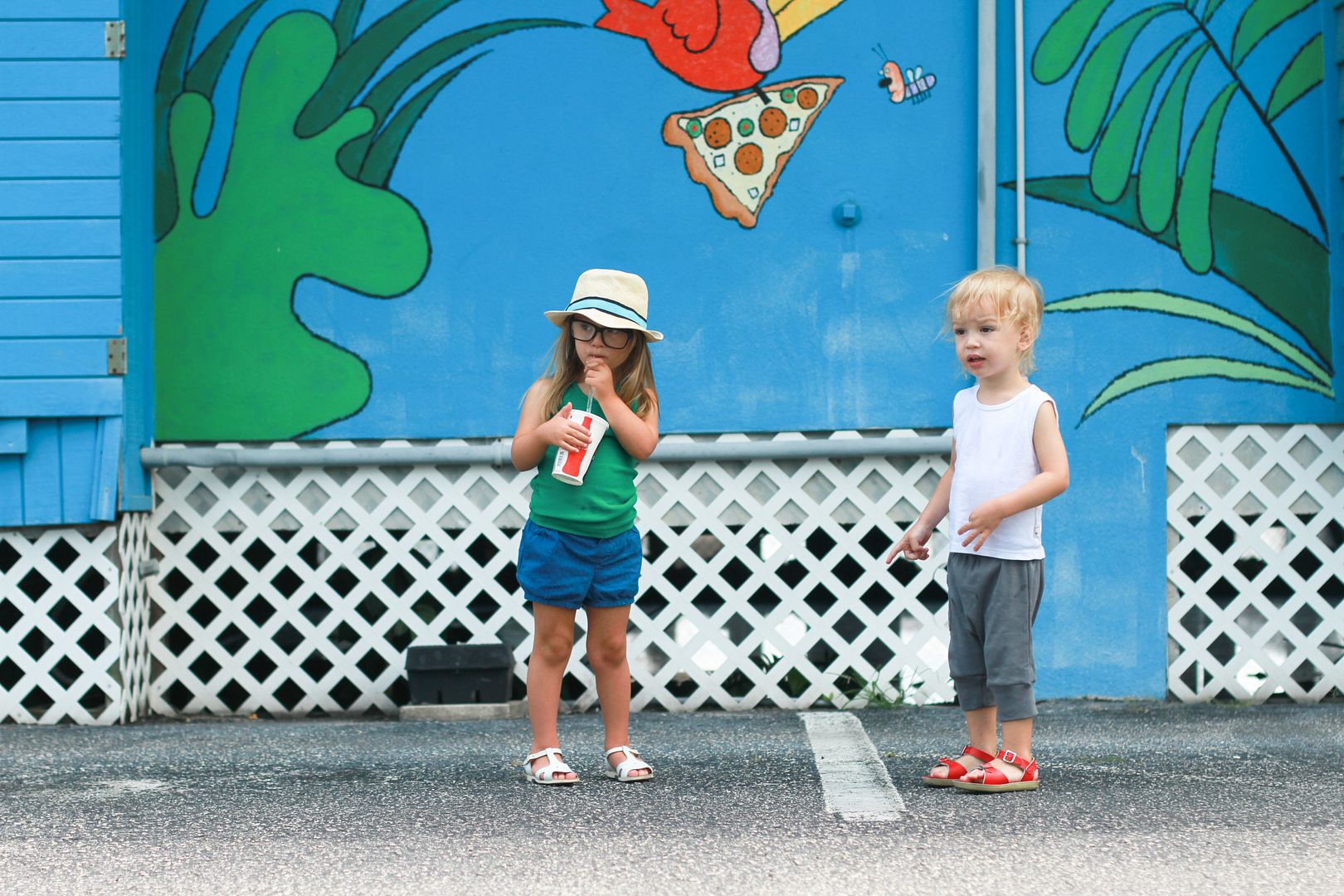 While their bond will never break, their window of campatibility is slowly closing, and I feel it for her. She wants to be bigger, the helper, the teacher and he's often helping her now. The flip side is, of course, that he pushes her along, becoming another valuable resource in her life. Here, let me show you how to climb this bookshelf. Hey Nella, follow me. I Shawshank'd a secret tunnel into the locked pantry. She's learning so much! Siblings are motivating forces–I have mine to thank for attempting many new things. And with the added power of one, two, three, four comrades behind her, Nella's going to do just fine. Before I find our rainbow though, let me make note of the clouds. My clouds look like little bursts of sadness here and there, worries for her feelings and, undoubtedly, projections of my own misperceptions–daunting phrases like left behind that, when I really think about it, aren't true at all, but still…they're there. It will be hard to watch her struggle to do things that are easy for her brother and sister, and the sadness of that cloud can feel heavy sometimes.
But…
We are all moving forward, falling behind, on the heels of some before us and smoothing a path for those behind us always, at the same time. The importance is that we're on the track together.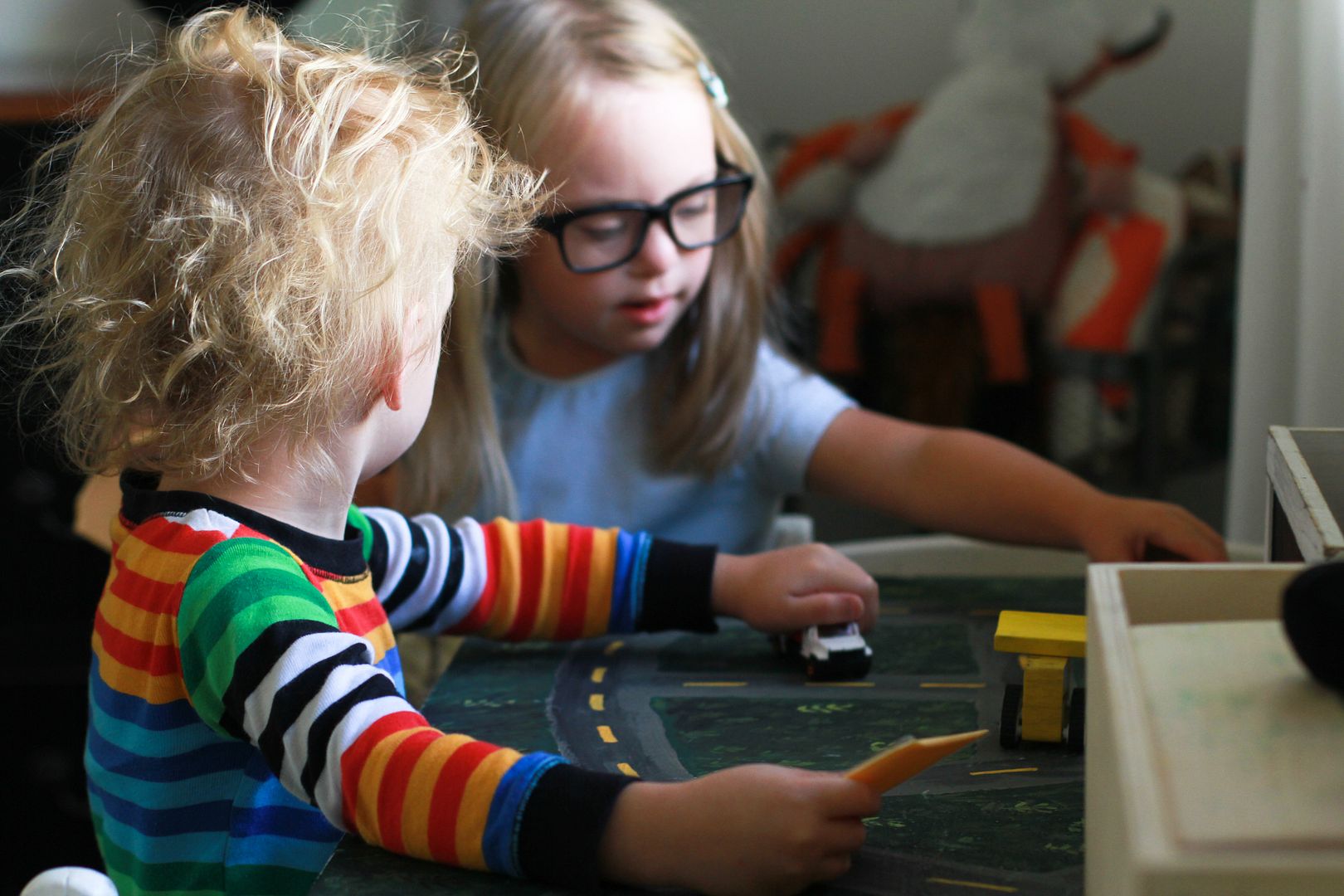 Nella received her end-of-the-year preschool report card last week, a gentle informative assessment comprised of a group of indicators generalized by educators as age-appropriate preschool standards. Always excited to see her sister's school progress, Lainey pulled the report card off the counter and tried to make sense of it. "Tell me what it says," she asked, handing it to me.
I read first the note that was stapled to the top of the report card above the assessment, a smart teacher's way of saying: Read this first. Nella does not equal her abilities. Nella equals the little girl I hug and teach and celebrate every day. 
The note focused on the joy that Nella brings to the classroom and on the incredible progress she's made this year and ended with "I'm going to miss her so much next year."
Lainey smiled. "What did she get?"
"Well," I explained, pointing out the rubric, "there's M, S and N. M means 'most of the time,' S means 'some of the time' and N means–" My mind jumped to "none of the time," but I stopped and looked back up at the key. N doesn't mean "none." Do you what N means? N might be the most valid measure of competence and progress, equally applicable to us all.
Needs more practice.
We are all so focused on mastering tasks. In fact, we're beyond that. EXCEED, we think. Brett took one look at the honors list in the program at the last graduation we attended and laughed. "5.0? Seriously? Dude, when I was in high school, I would have thrown a party for a 3.8." The truth is, the best lessons in life aren't mastered or exceeded. They are locked in the "am learning" stage. And thank God, because otherwise I'd feel like a big fat failure.
I haven't mastered mothering without meltdowns.
Or loving without judgment.
Or trying without flopping.
Or running without breaking to massage that pain in my side.
Or freely writing what I really feel.
Or valuing my self worth without comparison.
Or making all the right choices for a life best lived.
But I'm learning.
My life report card would consist of a stapled note noting my positivity, my big heart, my great use of color. And underneath it, a giant N. Needs more practice. 
And I'm happy with that assessment.
I approach Nella's progress equipped with the same things I use to approach my own: Perspective and Action. We celebrate the magnificent opportunities that dwell in the assessment of "needs more practice." And we show up for practice every day.
I finish reading Nella's report card to Lainey, giving credit to the importance of each grade, celebrating the "most of the time"s and "some of the time"s and the familiar place of "needs more practice." When I'm finished, Lainey takes the paper from my hand and scans it over.
"What's this?" she asks, pointing to a letter chart with circles.
"Those are the letters she knows."
She studies it carefully. "It says she doesn't know R. Yes she does."
"Exactly," I smile. "It's just a piece of paper, Lainey. Report cards don't show who you really are."
The report card is still lying on the counter this morning when I wake up. Dash is first to join me and finds his way to a stack of cardboard blocks while I make my coffee. I hear a few crashes, some blocks being flung to closet doors, and in my head say another thanks to Brett for picking up the cardboard ones to temporarily replace his former wood weapons of choice. Nella soon wakes up to join him in his room and I leave the two of them alone to do their thing. The alarm of prolonged silence though soon calls me to check on them, and I peek around the edge of the door.
"Clean up," Nella says, stacking blocks against the wall where they belong and directing Dash toward the last two left under the table. He runs to get them and passes them proudly to the boss, the big sister, the teacher, the helper, who finishes the clean-up job.
Dash looks to Nella, clearly in charge, for the next command. She spots me from around the corner and another idea is sparked. "Take a bath," she says, pulling an arm out of her sleeve in preparation.
"Take a bath," Dash repeats, two steps behind his sister who's already in full trot down the hallway.
They both drop an article of clothing near the living room rug, too excited to wait for the bathroom, and right before I ask them to pick it up, I notice the other treasures left in the living room–the lone ballet shoe, the sports bra, the towel, the tape measure and the open book next to the empty glass.
Our family just needs more practice.
As for the assessment of these two?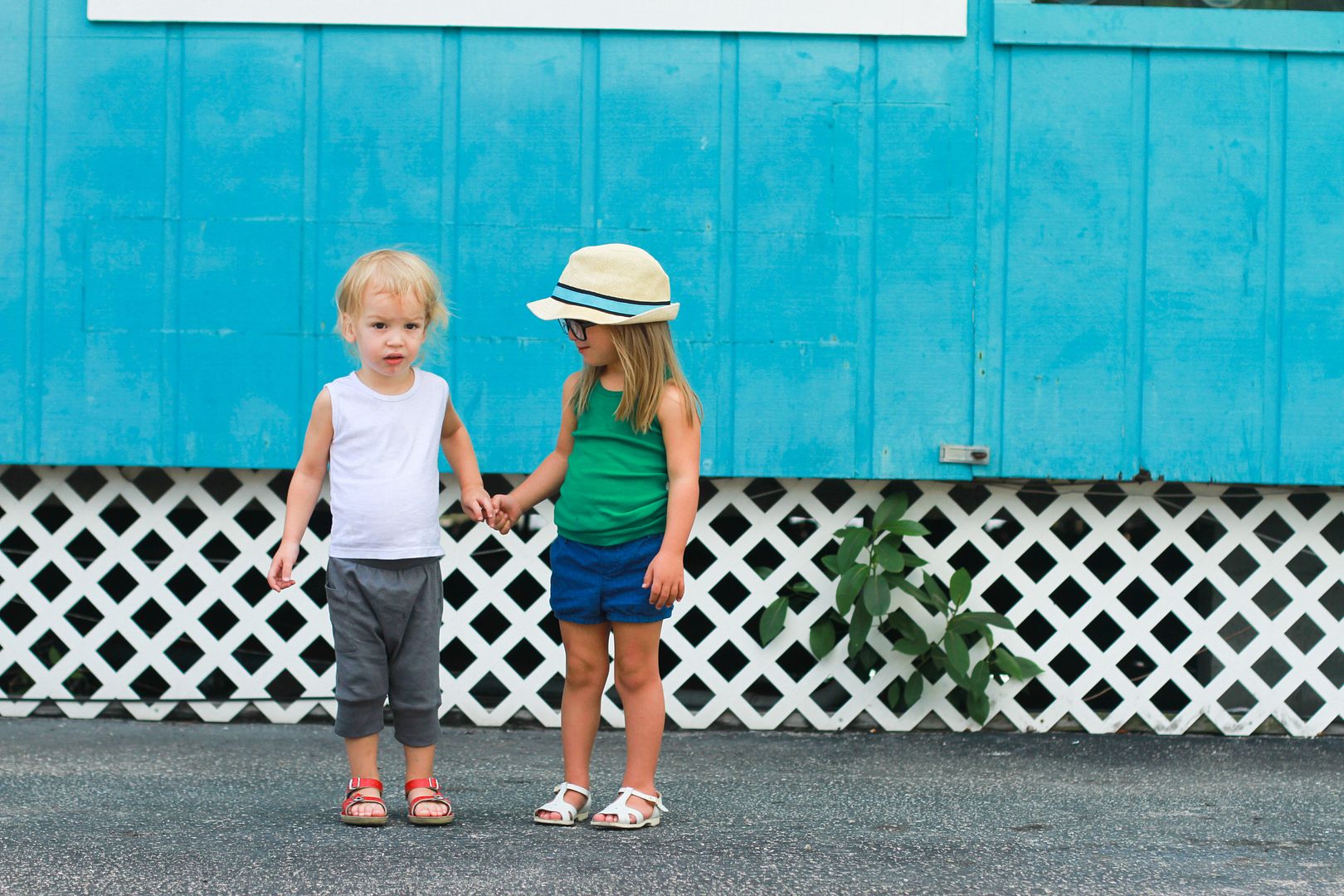 They fight "some of the time."
They listen "most of the time."
But that space in her arms where she's held him a hundred times? He'll fit forever.