We finished The Marathon Week–also known as the last week of school–ending with a sleepover last night that included Lainey's list of "37 Things I Want to Do at Our Sleepover." Needless to say, I need a nap. We have a few more weeks of Florida fun before we head north to see family, but we're already planning our road trip which brings me to today's Friday Faves–our family favorites for car entertainment and convenience on long trips. I made this old road trip guide a few years ago for what still remains as my favorite road trip of all time. Every time I watch this old movie from the trip, I feel all the feels again.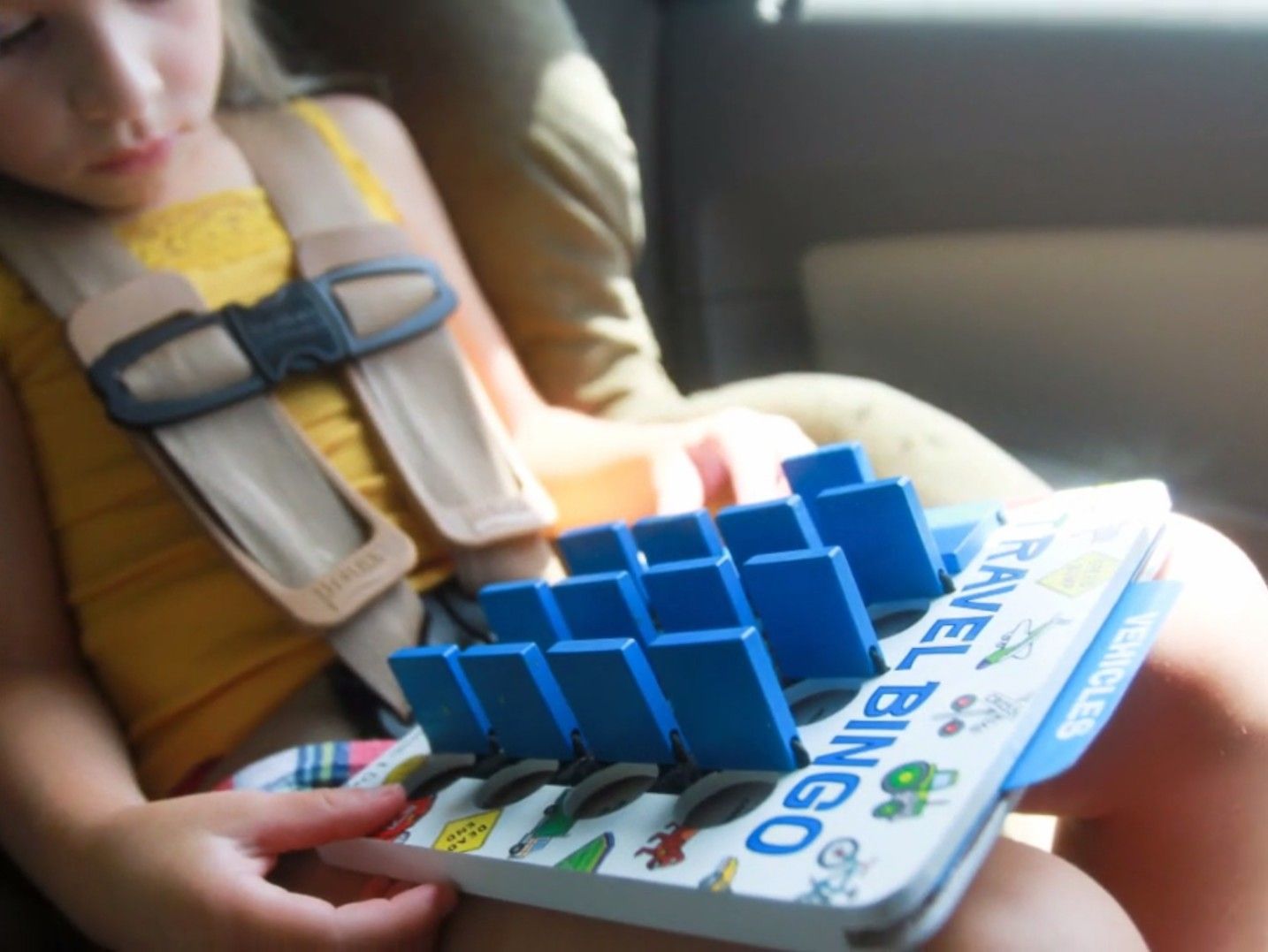 We do bring iPads and screen entertainment on long trips, but we switch them up a lot with games, drawing and screen breaks because, frankly, we all get bored and tired of screens. Our hittin' the road favorites this year: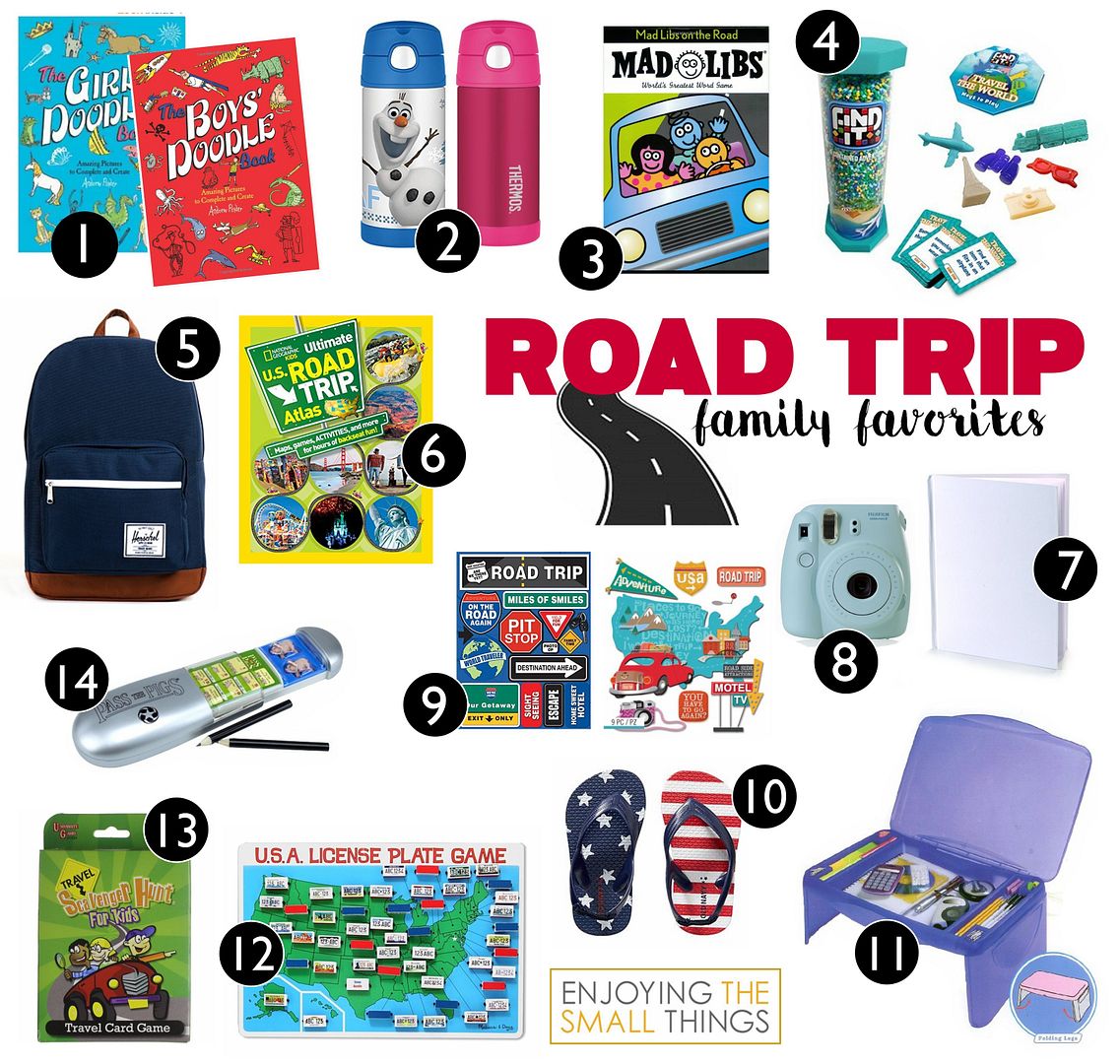 1. We love the Doodle Books series (Boys Doodle Book, Girls Doodle Book) which give kids lots of creative ideas and starters for illustrations. Lainey loves to draw but sometimes gets stuck in the dog/princess/palm tree/flower rut and can't think of anything else to draw. This book takes care of the rest. A few people asked about the illustrations on my last post and what drawing resources we use. Our most used drawing books are  20 Ways to Draw a Dress for clothes and accessories (series by the same author, Julia Kuo, also includes 20 Ways to Draw a Shoe and 20 Ways to Draw a Tulip) and Let's Draw Happy People by Sachiko Umoto–both authors are great for kids and adults alike. We use several different brands of art supplies, but I've found a great inexpensive line at Michael's called The Artist Loft. We use their watercolor colored pencils, watercolor paints, chalks, brushes and drawing pads, and most are sold in $5 packs.
2. Kids Thermos. We've done the water bottle, juice box, sippy cup–you name it–route on trips, but our best solution has been giving each kid an insulated Thermos for the trip. Everything stays cold, it's easy to keep track of, no trash to clutter the car, we end up using them later for school lunches (so it's a good investment), and I can refill them as needed. I bring one small cooler on road trips for milk/water/juice.
3. Mad Libs On the Road. These are a great way to be part of the car games, even if you're driving. The kids can ask for your answers, fill the stories in and read them out loud from the backseat, brushing up on some language arts skills while they're playing. Result? Hilarious. I remember Mad Libs when I was a kid. We tried to use as inappropriate words as possible to make the stories funny and then put names of people from our church in them. It was basically a giant rotation of Pastor Pat/Deacon Russ/Brother Bob completing sentences with butt/bra/poop/toot. Toot's as bad as it gets when you're a 12-year-old sheltered homeschool girl. And yes, everyone was referred to as Deacon, Brother or Sister. Sometimes I have to stop myself from addressing Brett as "Brother Brett". Mind games.
4. Find It Games. This will keep 'em busy forever. Tiny treasures are hidden inside this tightly-packed cylinder, and you have to spin it, shake it and twist it to reveal them one by one as you cross off your search list.
5. Hershel Backpack. Instead of dragging suitcases in hotels every night as we make our way north, I pack the things we'll need for overnight in a backpack so that we can easily make our way in and out of stops. This is especially helpful if we arrive late at night and are carrying sleepy kids in. It also works great for day excursions along the way.
6. Kids U.S. Road Trip Atlas by National Geographic. This kid-friendly activity guide is full of fun facts and information about each state, maps, photos and games that not only entertain kids but teach them some history and geography while you travel.
7. Hardback Blank Books. Stock up! These versatile blank books have so many purposes. Kids can write and illustrate their own stories with them or use them to document their travel adventures. Decorate the cover, tape photos of your trip on the inside pages and add fun travel stickers to transform it into a road trip scrapbook.
8. Fuji Instax Mini Camera. A great kid camera with instant gratification–pictures that print out as soon as you take them. Kids can document their own favorite memories from the road trip and use the above blank book to preserve it all.
9. Road Trip Stickers ( 3-D fun ones from Jolee's Boutique or these road sign ones) for your scrapbook
10. Cheap flip-flops. On long drives, my kids kick off their shoes and get comfortable. When we're stopping to quickly use the restroom or grab food and the backseat's covered with pillows and blankets and travel games, it's nice to have flip-flops stuffed in the seat pockets for a quick grab-and-run so we aren't frustrated searching for that one lost sandal. These cute stars & stripes ones from Old Navy are only $3.
11. Travel Lap Desk This one folds and stores flat plus the lid lifts up to store crayons, books, etc. Last year, we got cheaper ones from Joann's that worked great but didn't fold up or store things. Either way, it's nice to have a lap desk for coloring and games or to use as a tray for meals on the go.
12. License Plate Game. We had so much fun with this last summer, and the game is so well made with attached pieces that won't get lost. It's a great way for kids to learn some US geography and a fun challege to pass the time.
13. Travel Scavenger Hunt. Another fun way to involve everyone in the car. We used these cards on our Tampa Spring Break trip this year, and it was a blast–searching out cars to find a dog, a person with red hair, someone singing while they drive. :o)
14. Pass the Pigs. It's kind of like Yatzee, but simplified with cute pigs. One of our family's favorites–even the little kids can roll and keep score–Pass the Pigs is an easy game to play in the car (you'll need that lap desk or something flat to roll the pigs on).
Hitting the road this summer? Have any lifesavers that have made your travels with kids easier? Do share.
And Happy Friday!