This post is sponsored by thredUP. There's a 40% off code at the end of this post just for you.
Tomorrow is June. June. I am diving into that summer dream pool cannonball style. My heart beats to the rhythm of "Hot Child in the Summer," and if I had a nickle for every vision of lake adventures in Michigan I've now had, I could buy you all a push-up (popsicle, not bra)  from the beach store up the street. With those dreams come a summer wardrobe–sweet sundresses, sailor style, seersucker, summer whites and sandals. When packing for summer travel, it's fun to have a few new things to wear, but with a large family, new things for everyone adds up quick. My dears, you need to know about thredUP–women's and kids' high-quality secondhand fashion, curated in an online consignment boutique–and tons of it. The best part? The search filters are amazing. You can search your favorite brands and then add size, style and color filters to find exactly what you want–up to 90% off retail price. And thredUP offers an incredible range of brands, including so many of our favorites–J. Crew, Madewell, Zara, Mini Boden, Peek, Olive Juice, Hanna Andersson and more. For $200 and some change, the kids and I got completely outfitted for summer adventures–four outfits for mom and an outfit for each kid. I actually had to pare down my cart because the excitement of finding so many of our favorite brands for less got me a little excited, and my eyes got bigger than our closets.
Here's how it goes. You shop online and get all excited about the amazing prices on your favorite brands. You pick out some cute things for summer adventures. You check out. You wait. Then this darling polka dot box shows up on your steps, and even though you paid less for secondhand, you'd never know it. Not only are the clothes like new (and two of ours were brand new–with tags!), but everything is hand-folded, wrapped up and packaged pretty–with a cute sticker, mind you. I'm a sucker for stickers.
Look at these brands! All in perfect condition.
You didn't think I'd end this post without a montage of the new outfits now, did you? Everybody knows the best movie scenes in the whole world are outfit change dressing room scenes, preferably with a good song. Julia Roberts in Pretty Woman, Christina Applegate and Cameron Diaz in The Sweetest Thing, Carrie Bradshaw in her closet in the Sex and the City movie. Check 'em out.
What was in the box for me?
The BCBG dress still had tags on it, and it's light and flowy for summer. Plus, pockets!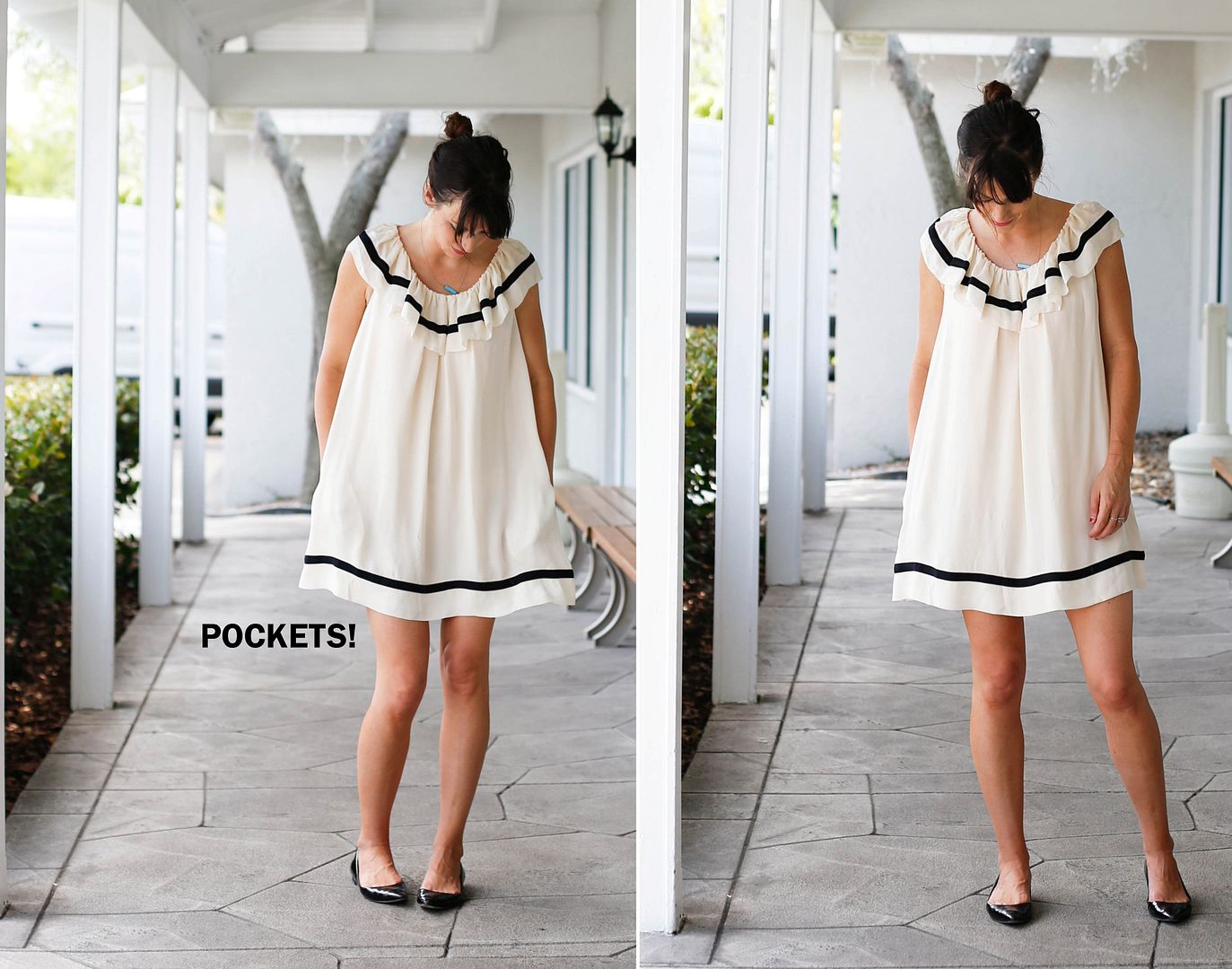 The J. Crew pants are super fun and funky–and a tad retro.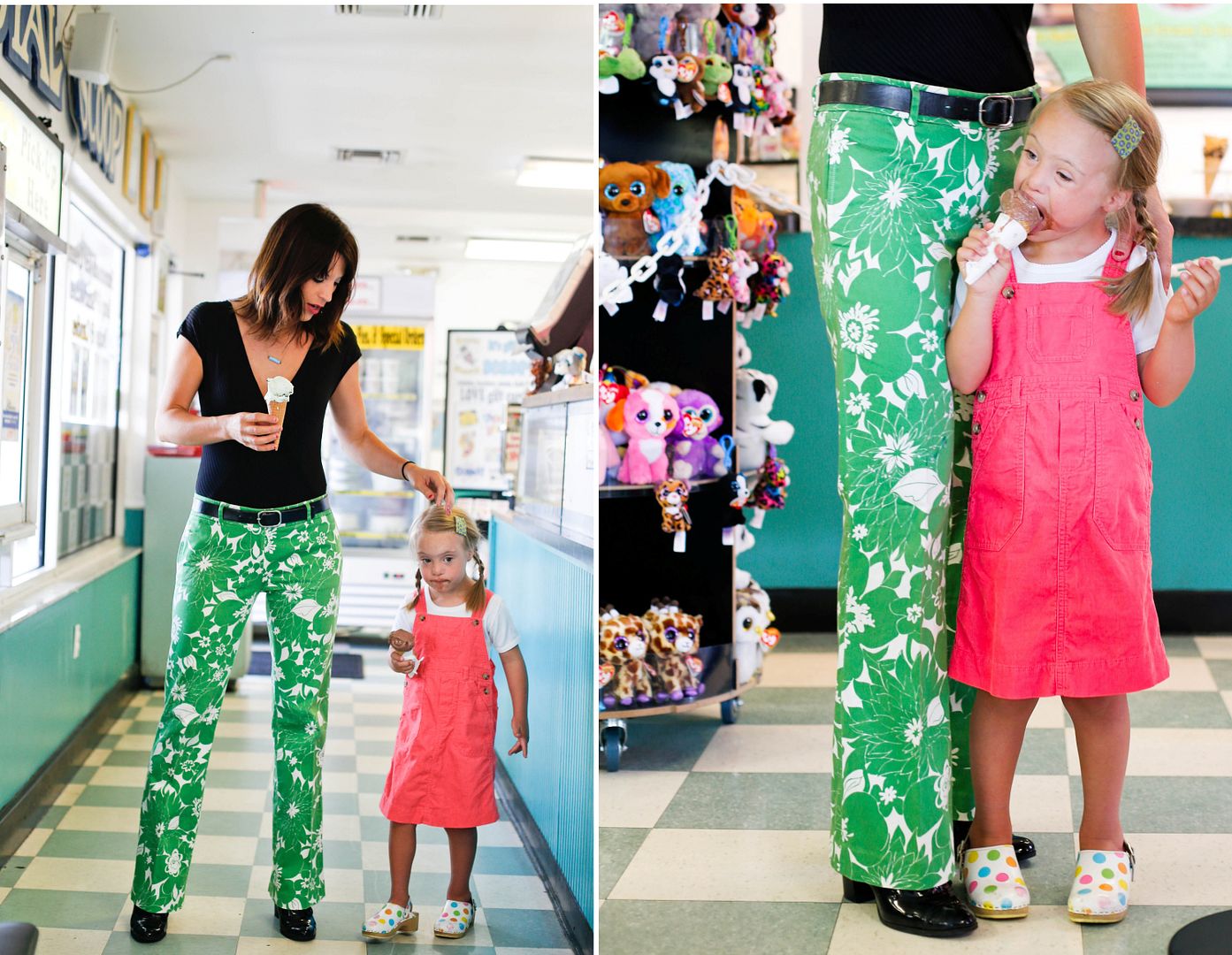 And this Theory dress–the fabric is divine; I'll live in it this summer.
Of course, I couldn't check out without stripes. This knit Trina Turk tank looks good with the Gap red cords and fulfills my wardrobe color palette trifecta–black, white, red.
Nella's romper is also thredUP–Gap, brand new with tags. It was $8.99, and there's a similar shorts romper currently on Gap's site for $39.95.
Gap plaid-cuff jeans for Dash to grow into, and a Peek cardigan (LOVE!) for Nella and Dash to share. We don't wear a lot of sweaters/sweatshirts in Florida, so I don't like to spend a lot of money on them, but we do use them on cool mornings in Michigan.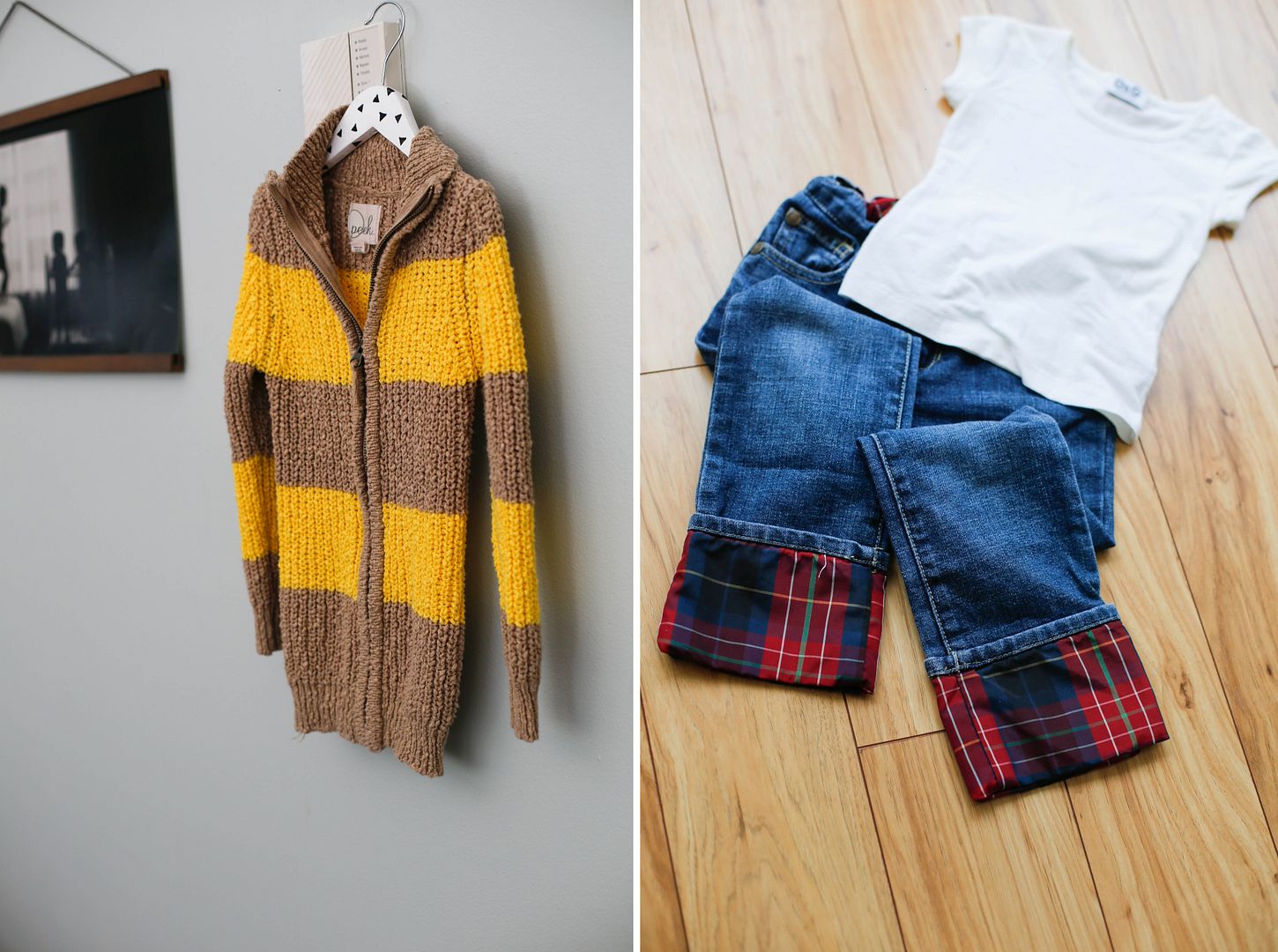 Lainey picked out this Abercrombie top and Mini Boden denim skirt–both like new and versatile for summer. The skirt was $7.99, and it retails for $36.50 (still currently on Mini Boden's site).
And last but not least, Nella got this Ralph Lauren cord jumper and a white Petit Bateau white tee to go with it. A lot of these things will fold right into the school year and fall wardrobes for us too, so double score.
I've bookmarked thredUP and will definitely head over there to search my favorite brands before buying new–the money saved is too good!
If you're cleaning out your closet and paring down for summer, consider ordering a  thredUP Clean Out Bag. You fill it with the items you no longer want (consult  website to see what they do not and not take, and what the payout is), and place it on front of your front door for pick-up. Look you, you responsible recycler!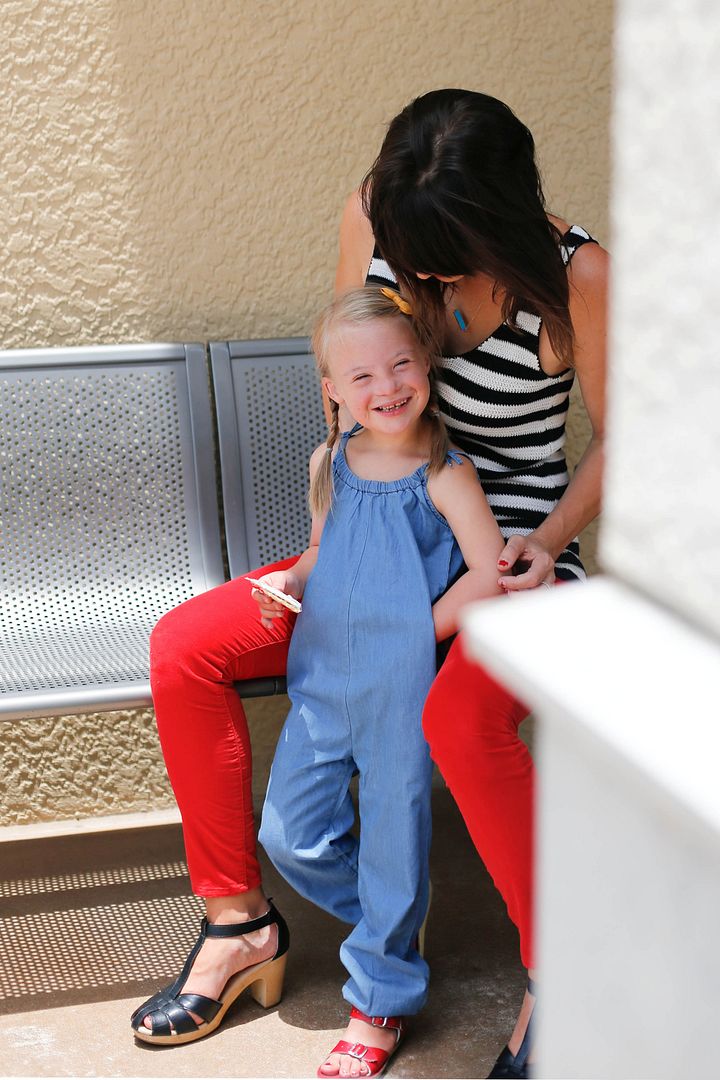 The kind folks at thredUP are offering 40% off your entire order, valid for first time shoppers only. Click here and use code KELLE40 to get your 40%  off offer (discount up to $50, expires in 7 days).
So pack those summer trip suitcases and save your money for the important things of vacation like–oh I don't know–I Heart Daytona Beach keychains and polished rocks from China.