The kids and I leave today for our epic annual road trip to Michigan where we'll spend the rest of the summer. My niece is traveling with us, and after a whirlwind day of preparing yesterday, I proclaimed to everyone in the most shhhh-she's-saying-something-really-important voice I could muster, "We leave the house at 8:00!" Brett poked my niece and laughed, "So, basically noon."
In an effort to win this one, I'm whittling all the things I had planned on doing before leaving this morning down to only the most critical. So I'm repurposing a favorite blog post from last year–one that certainly stroked a lot of buried childhood memories for readers. Which–speaking of–can we stop here a moment and pay tribute to the buried past of Blockbuster Video? I was packing the relics we now refer to as DVDs to bring the other day and recalled the memory of hitting up a Blockbuster on a Friday night as a kid. And you know what? I miss it. There was something special about having to get off your butt and make the effort of driving to a video store to see a good movie. The anticipation that came from waiting. The sensory cocktail you experienced when you walked in–the candy, the popcorn, the "Coming Soon to DVD" promo video that played far above hearing specialist recommended volume from the giant TV hanging from the ceiling. All those new releases lined up in alphabetical order against the wall. We'd start at A and ever so slowly make our way around the perimeter of the store–giving extra time to the display in the middle where employees made their recommendations because we were curious to see what kind of movies "Mitch" liked (Ew, Candyman and Alien 3? You're out, Mitch). Trying to convince my mom to rent Scent of a Woman, hoping she wouldn't flip it over to find the rating (not a chance), and settling on The Mighty Ducks instead (whatever happened to Emilio Estevez?). Waiting in line with knots in my stomach knowing it was quite possible Mitch would scan Mighty Ducks, stare at his screen for a minute and then inform my mom that Wild Horses Can't Be Broken was still checked out and there was currently a $23.62 fine. Yeah, Blockbuster, man. Totally miss it.
Crap. That paragraph just set my 8:00 leave time back.
With no further ado, the "Where Babies Come From" adventure from our road trip last year, originally posted July 1, 2015.
Where Babies Come From: Cabbage Patch What-the-Hell Magic
Setting: Helen, Georgia.

Our first stop in Georgia delivered gorgeous weather, a river tubing adventure and some picturesque landscape…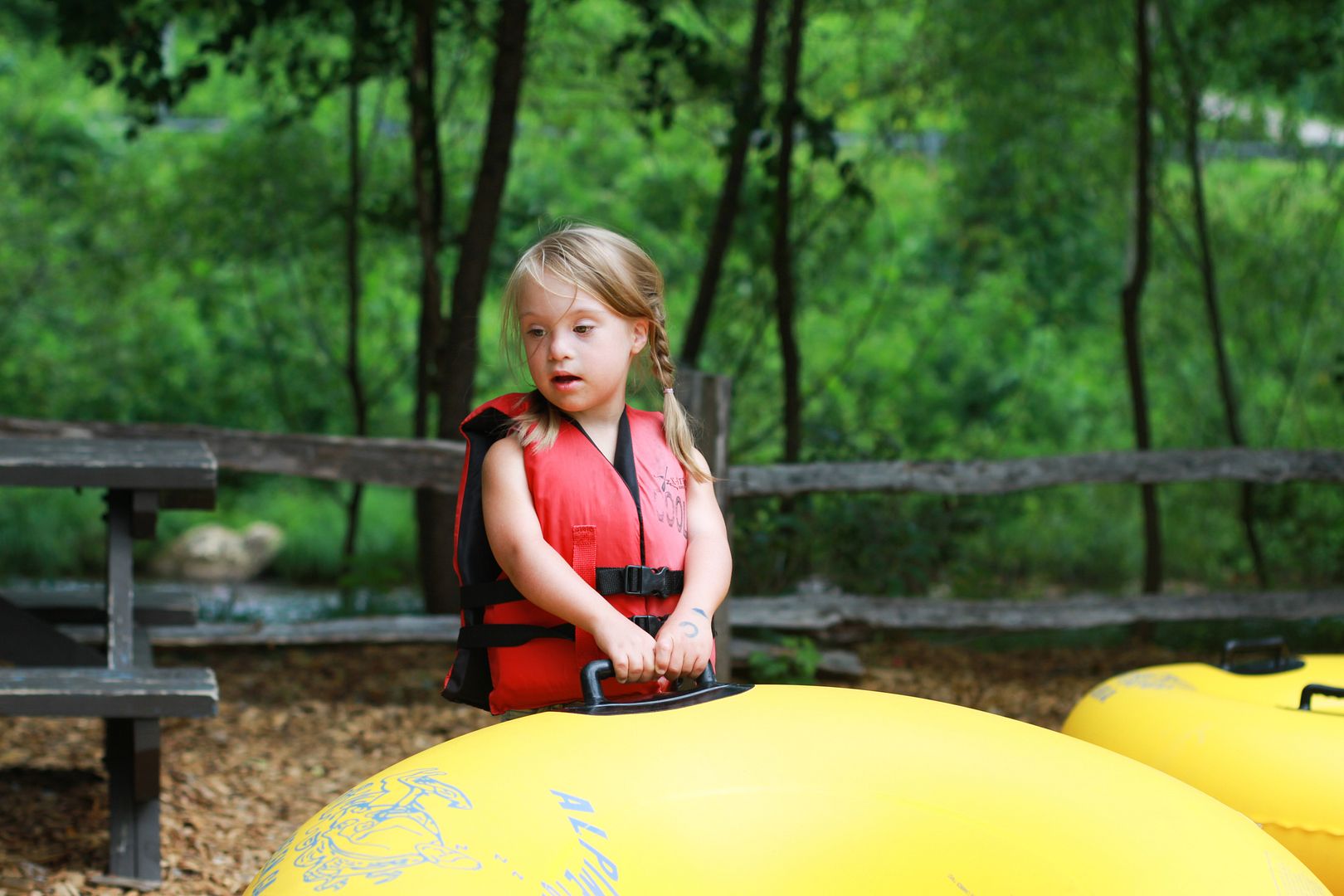 …but first, Babyland General Hospital, brought to you by the I Don't Know What the Hell portion of the trip.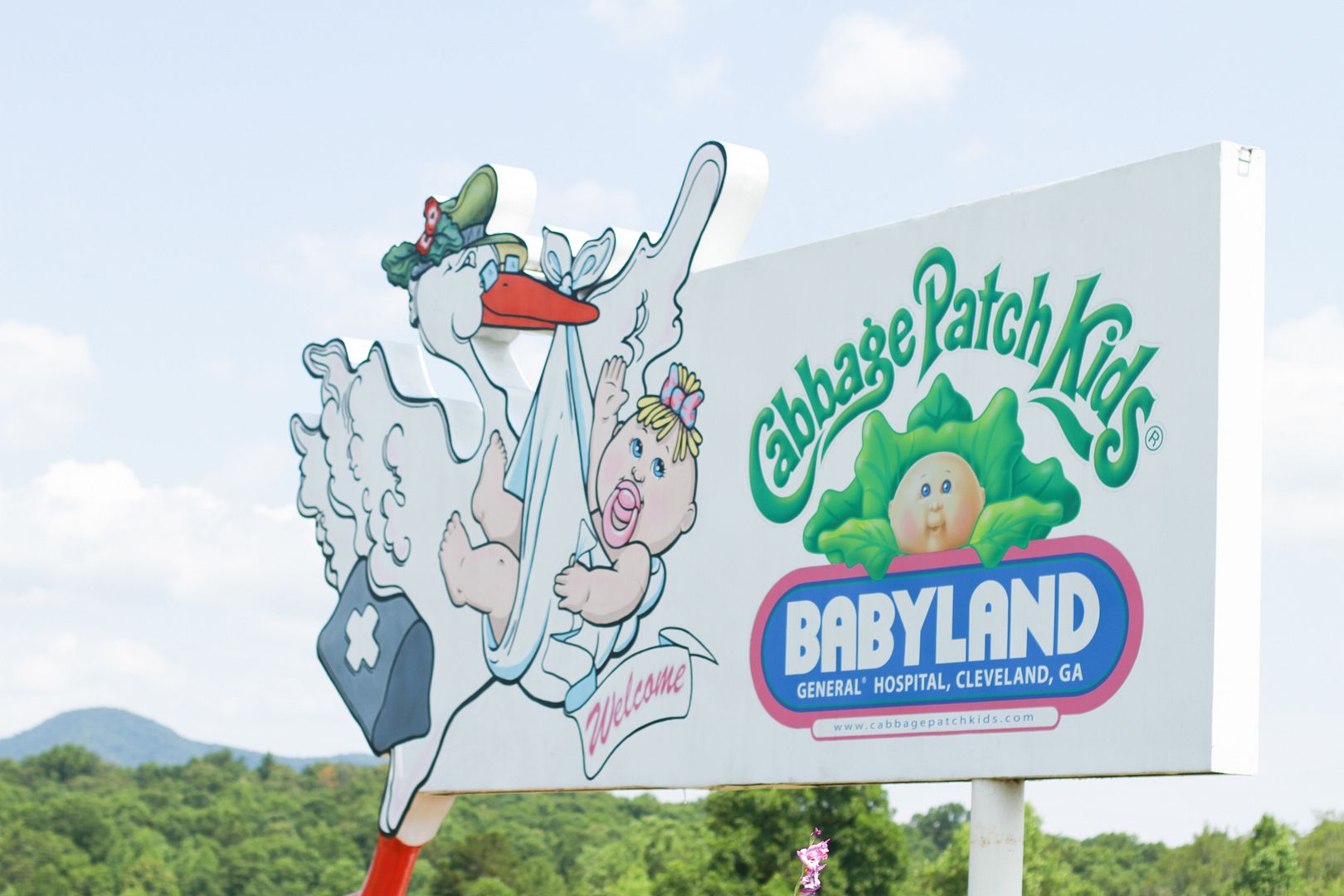 Somewhere in the mountains of Georgia on our way to Helen, a sign emerges: Babyland General Hospital THIS WAY. It has a Cabbage Patch Kid logo on it, so I did what any other 6-year-old-trapped-in-a-37-year-old's-body would do. I held up traffic to pull a U-turn.
"We're going to Babyland, kids. Let's go see where Cabbage Patch Kids are born."
"What's a Cabbage Patch Kid?" Lainey asks. And wherever it is that dolls go to die, Glennis Willamina rolls over in her grave.
"Cabbage Patch Kids were the coolest dolls you could own when Mommy was little. I had one. Her name was Glennis Willamina."
A side road directs us to a plot of land where we are greeted by giant stone statues of cabbages with baby heads coming out of them–don't worry, this gets weirder–and an impressive plantation-style structure, the hospital.
And inside? Sweet Jesus. Let's just say they aren't kidding around with the whole hospital thing. Nurses wearing scrubs and stethoscopes roam the facility, encouraging you to listen for announcements of "a live birth" and letting you know that all the babies in the nursery are available for adoption. I pick up a doll from one of the many cribs and take a long whiff of its plastic head.
"Oh my God, it smells exactly how I remember." Sweet baby powder and childhood magic. "This is so weird."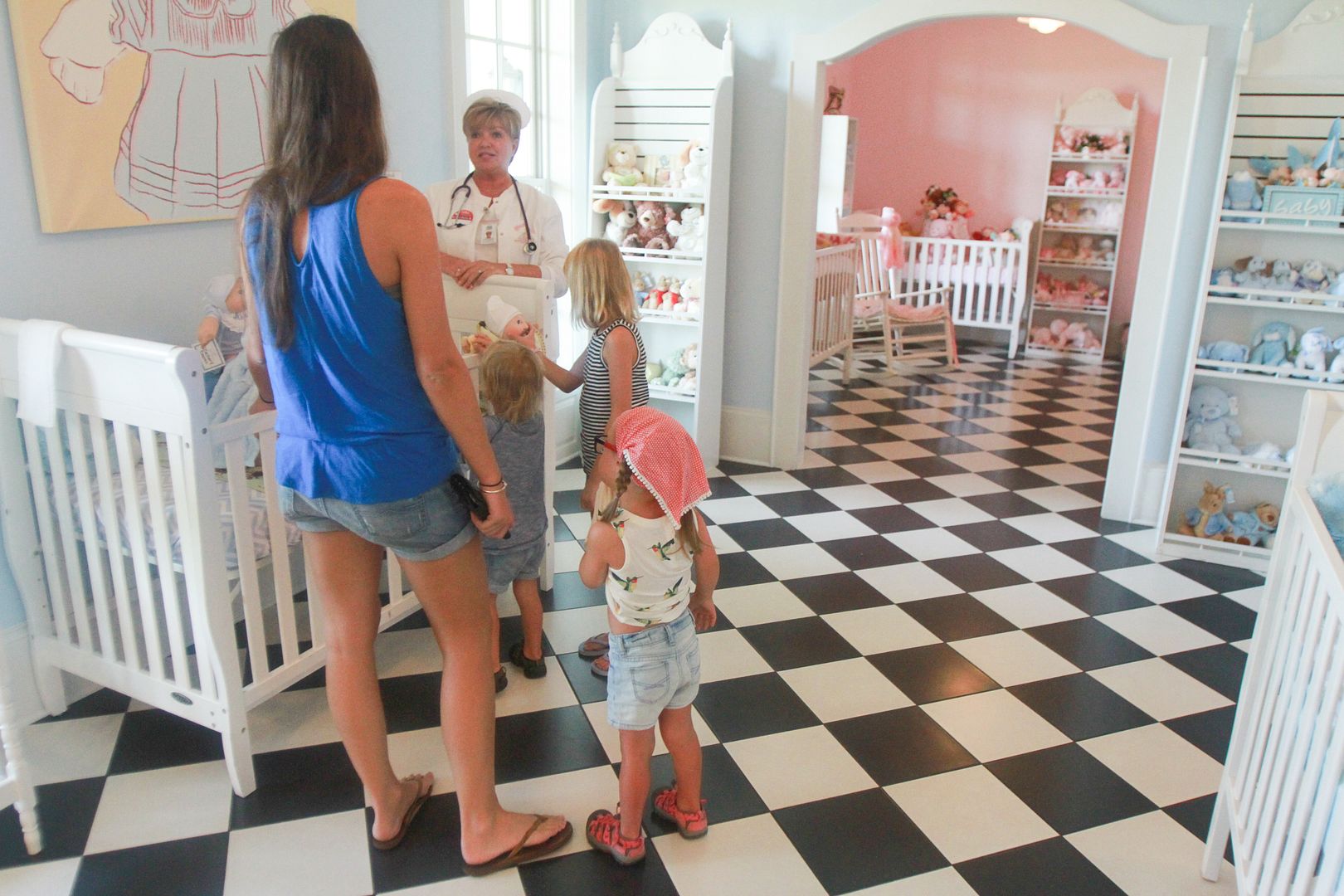 What's weirder is watching a live cabbage patch birth at the magic crystal tree where a whole crop of Cabbage Patch Kids are, um…photosynthesizing?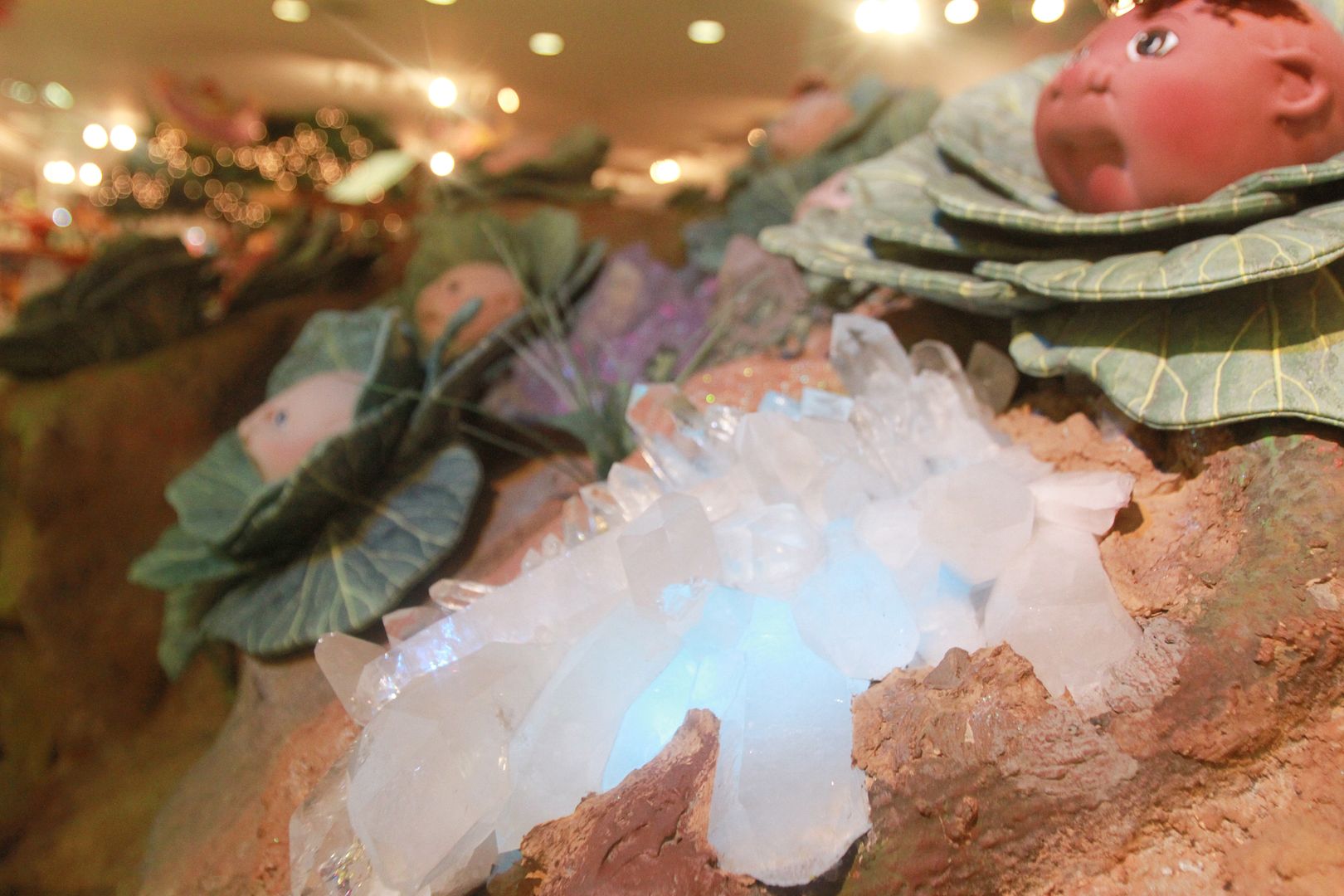 These heads? They move. Yes, move.
A Plus for Imagination, Xavier Roberts. In fact, I'm kind of disappointed Xavier Roberts didn't marry Lisa Frank because can you imagine their babies? Too magical for this earth to handle, that's for sure.
When a mother cabbage goes into labor, all are called to the tree to come cheer her on. That's when my dad calls.
"Can't talk. At the magic crystal tree. Cabbage is in labor. Head's crowning. Gotta go."
There's an I.V. with green juice. And the nurse sterilizes the cabbage's–er, "area" and checks to make sure the baby's not feet first to rule out a "branch delivery." And everyone has to yell "PUSH! PUSH!" while the nurse buries her arm down a cabbage for much longer than I was comfortable with and finally pulls out a head. Cue clapping. Cue baby's first immunization of "imaginocilin." Cue half the crowd tearing up from the magic of it all and half, like me, left in a cloud of WTF.
"That was the weirdest thing that I ever did see," my friend Ragan says. I'm a little bit stunned. So I react appropriately.
"Kids, get in line. We're adopting a baby."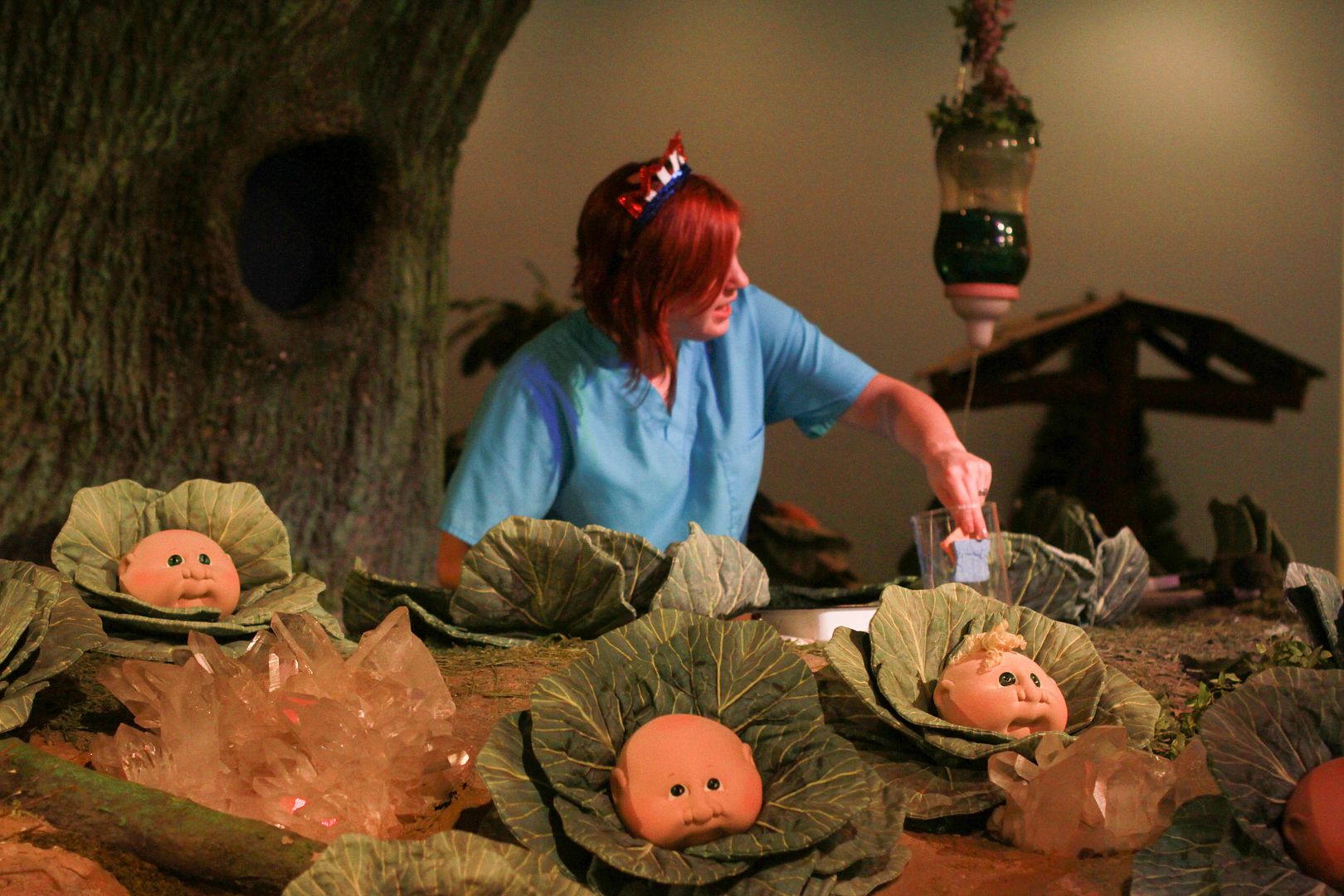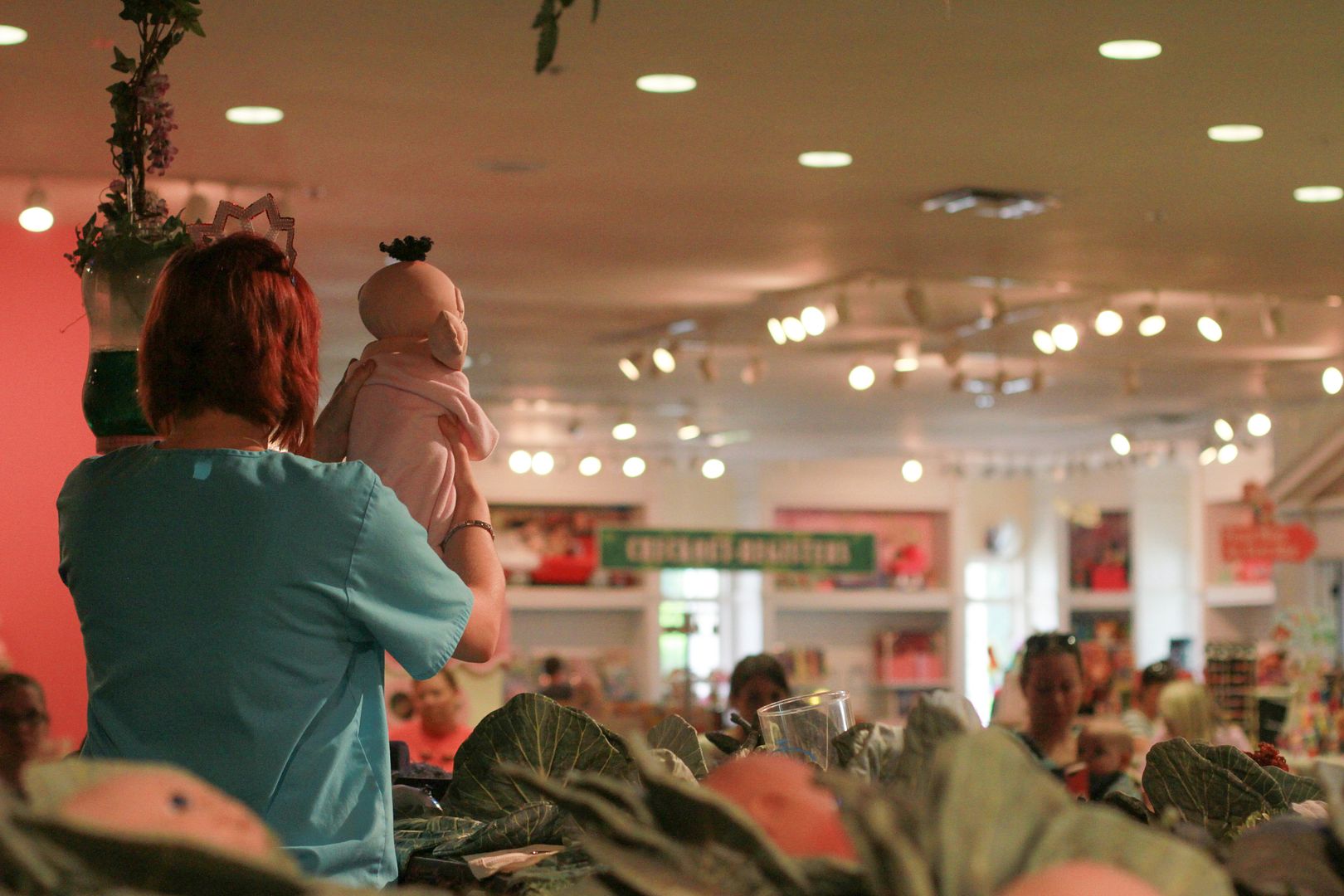 Was it special? Indeed. Should you go to Babyland General if you're in Cleveland, Georgia? Hell, yes. If not just to see for yourself.
(Lainey, holding her right hand up and saying her adoption pledge before filling out paperwork)
The kids named their new baby Millie Jackie (Glennis Willamina rolls over again), and I have to admit, we're all in love. "Mom, why do you keep smelling her head?"
She's the real deal. Cute as a button.
And when we're not sniffing Millie Jackie's head, we're enjoying summer from the Chattahoochee River…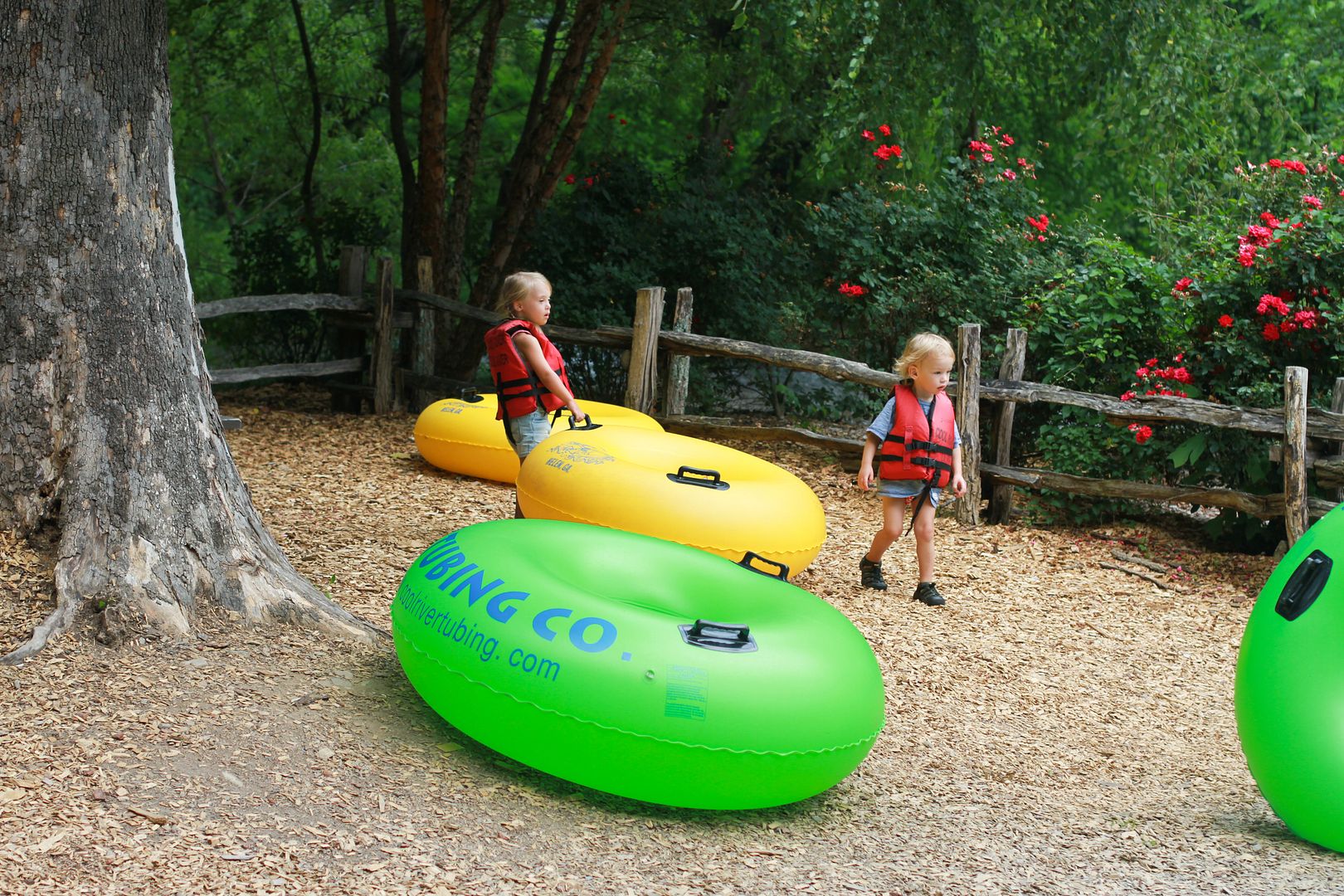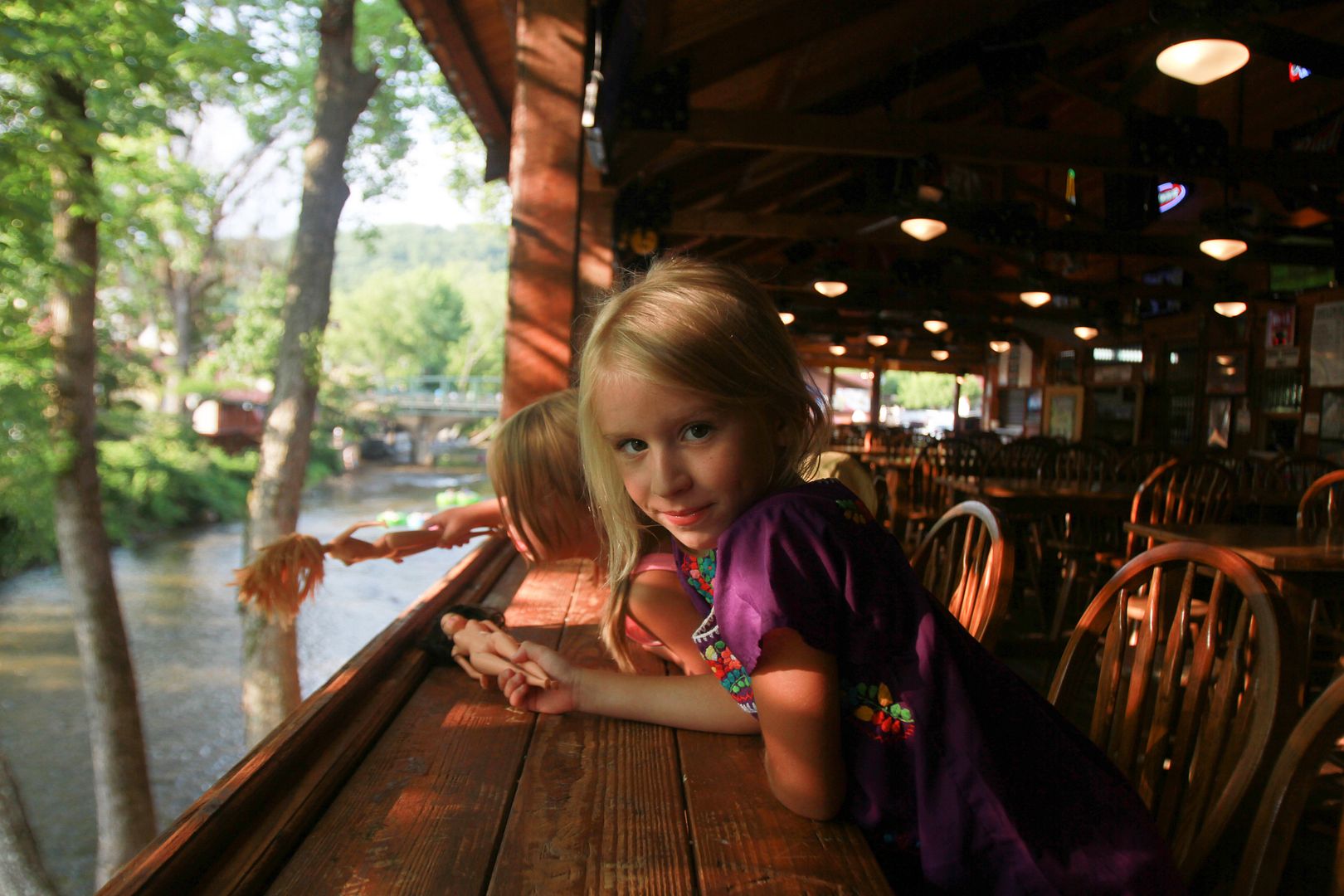 It was Take Your Naked Barbie to Dinner night in Helen, Georgia this week.
Why can't we just have normal experiences with dolls?
Moral of the Story: The 80's are alive and well and reside in Cleveland, Georgia. Revisit with caution.
So here's the real question…do you remember your Cabbage Patch's name?