I finally got our summer reading list put together. I've been collecting books, digging through reviews and finally took the time to put it all together for anyone who wants suggestions. With no further ado…
BOOKS FOR MAMA
I tend to be drawn to memoirs and other non-fiction books, but I do try to read some fiction for variety. I've committed to reading the same chapter books Lainey reads, so that covers my fiction for the year. Plus, kids' chapter books are so great for adults too (Harry Potter much?). Non-fiction picks for moms:
Stop Here, This is the Place by Susan Conley.
I wrote about this book last summer and how much it inspired me, and this new one has me even more excited. A photographer and writer team up to share photos and little stories that make you appreciate this glorious window of childhood. I cannot wait to dig into this, preferably while lying on a pontoon boat, sipping something good.

It's Okay to Laugh: Crying is Okay Too by Nora McInerny Purmort
I'm halfway into this book, and it's truly wonderful–touching, funny, highly entertaining.
Shrill by Lindy West
Last summer, I heard an interview with Lindy West on This American Life and was thrilled to see her book out last month and quickly snatched it up for a summer read. West uses her wit and humor to powerfully take on issues of self-awareness, womanhood, body image and more.
Traveling Mercies by Anne Lamott
It's an oldie, but I've never read it, and you can't go wrong with Anne Lamott. After a friend sent me an excerpt the other day, I threw it in the summer read tote.
The 52 Lists Project by Moorea Seal
A fun writing project to start this summer, this beautiful journal is full of weekly list prompts (list your favorite characters from movies/tv shows, etc., list your favorite quotes, list your favorite qualities about yourself) that help you dig into some self-discovery areas. Lists are interspersed with gorgeous photographs.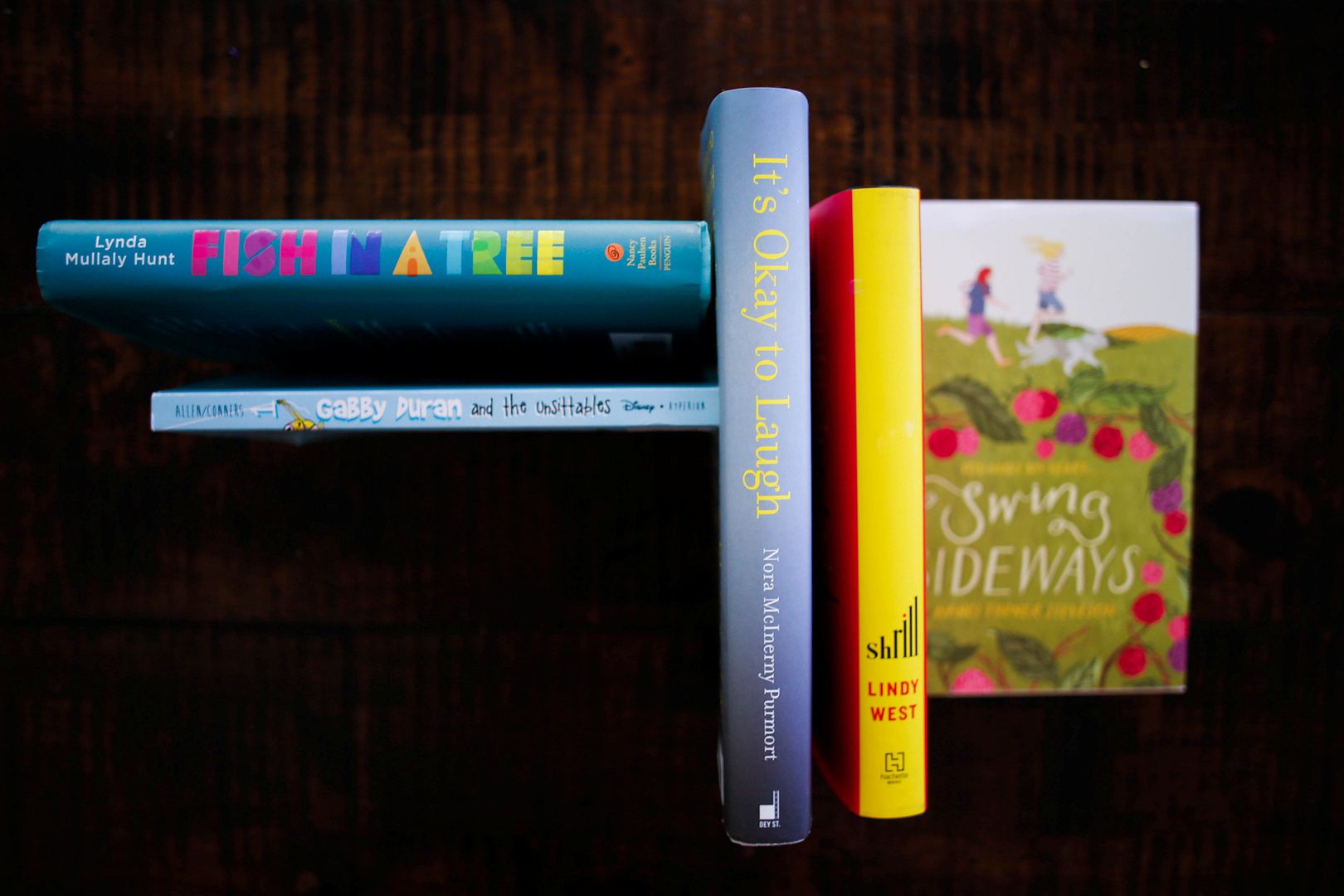 CHAPTER BOOKS FOR KIDS
There are so many different suggestions for kids' books and ideas for encouraging kids to read on their own. I'm all for kids choosing their own books, but sometimes they pick books based on covers alone (don't we all), and that leaves us with a lot of puppy and kitty chapter books that aren't always engaging and never get completed. Our schools here use the Sunshine State Reader program–a compilation of books Florida puts out every year that includes a variety of genres and selects books for their wide appeal and literary value. I used to think the list was used as incentive too much (schools run reward programs for how many books you read off the list), but it's been really successful at our school and the books chosen are always so so good–taking a lot of the work out of finding great reads. Three of our kid summer selections come from the new list for 2016-2017 school year. Also, I doubt we'll get to all of them over the summer, but I'll be happy if we can finish 2! I read all the book summaries to Lainey and let her choose the three that sounded most interesting.
Fish in a Tree by Linda Mullaly Hunt
I'm really excited about this one–reminds me a little bit of  the kids' book Wonder which slayed me. This one's about a girl who has dyslexia and struggles with fitting in at school.
Gabby Duran and the Unsittables by Elise Allen and Daryle Conners
For science fiction lovers–Gabby Duran gets a top secret babysitting job and discovers who new charges are aliens.
Half a Chance by Cynthia Lord.
The summary totally got me–lakeside summer adventures, photography contest and two kids who learn that photos can show more than people want to see.
Swing Sideways by Nancy Turner Steveson
Deals with a summer friendship between two girls. I started reading this on my own and loved the first few chapters. I ended up buying the audio version for us all to enjoy together on our road trip up to Michigan. Might need tissues.
We read The BFG together earlier this year–a great one to read before the movie (comes out next week!)
PICTURE BOOKS FOR LITTLE LITTLES (or big littles who love picture books…me, me, me!)
Prissy & Pop: Big Day Out by Melissa Nickelson
Based on the Instagram sensation pigs, this little adventure is chocked full of the cutest photos kids will return to again and again. I could barely turn to the next page without my kids wanting to go back and point and laugh again at every single picture.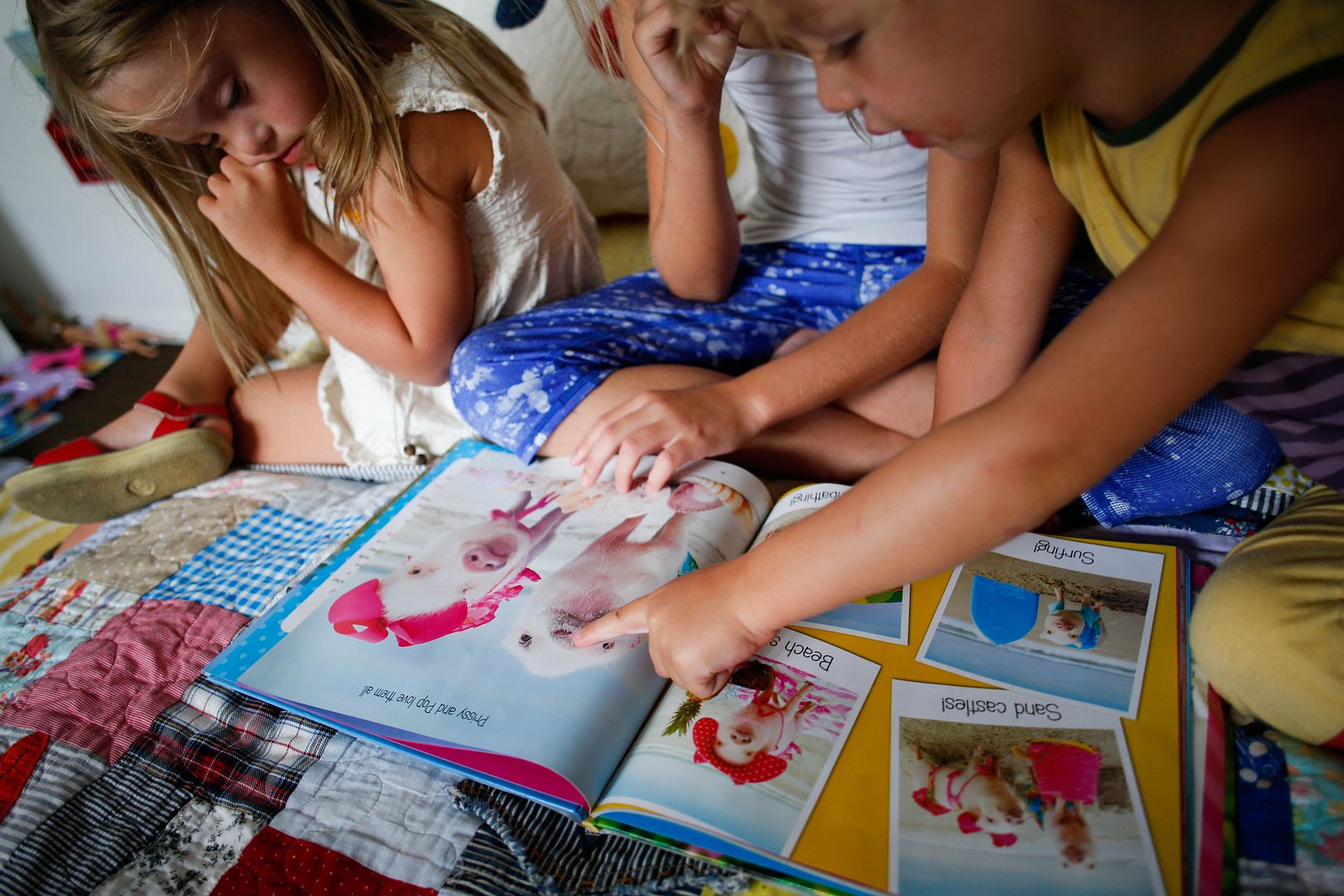 Good Morning Yoga: A Pose-by-Pose Wake up Story by Miriam Gates 
We fell in love with the Good Night version of this book last year, and I'm so happy to discover a new one. Such a great introduction to yoga poses for kids and sweet affirmations that go along with each one.
The 50 States by Gabrielle Balkan
This gorgeous hardbound treasure is a keepsake for families and a great addition to summer road trips and travels. Every state is represented with colorful illustrations, maps and fun facts about our country and the people who make it great.
Lastly, for anyone looking for fun reading incentives for kids, let me just say I believe in bribery. I fully support using it in parenthood, and I can't imagine doing this gig without it. You can have my stroller, the sippy cups–hell, take the iPad. But do not take my bribery. I need it. Yes, reading should be for fun and pleasure, but it's up against a lot of distractions these days, and sometimes it takes some creative convincing to pick up a book.
I found The Idea Box Natural Rewards at a darling shop in Santa Monica earlier this year (Brooke Rodd) and scooped them up. On each side of every wooden coin is a simple reward for kids–from "take the day off–no chores today" to a fun activity to do with mom and dad. I don't like to create too rigid of an incentive system because I don't usually follow through, but these are great for loose rewards, and I love that they don't hinge on buying something new (although I don't object to that either–Shopkins are KING).
Maybe kids get to pull one out after they finish reading a certain number of chapters, maybe a few for every book finished. Lots of flexibility there–but look, so cute, eh?
And one of the greatest ways to get kids engaged in chapter books is to read them yourself so you can talk about every chapter together. Make your own mini book club, even if it's just you and your kid.
Happy Reading! Feel free to add your own suggestions in the comments.