This post is sponsored by Arhaus, makers of timeless beautiful things for your home.
We've been home a lot lately–entertaining out-to-dinner plans but choosing instead to stay in and loving it. Our neighbors have been over more than ever, our house is hitting some record highs for staying clean, and things feel especially homey around here. It helps that it's September, and everything shifts toward gathering and making our home as cozy as it can be. As my brother explained the other day when we exchanged weekend home projects ("Restaining wood floors–you?" "Lighting candles, baking poptarts and painting the girls' bedroom."): "Fall is the gateway to loving your home." And it is–a season shift toward staying in. Football and chili nights, apple spice candle mornings, dinners with friends, holiday planning and a louder invitation to enjoy our spaces, to make them cozy, beautiful and replenishing.
I'm always switching things up and making little changes to our home from moving furniture around to folding a new hand towel in the bathroom, and it all makes me so happy. But the main space in our home–our open living room–has presented some issues for a while now. It just hasn't felt put together. I'm a make-do kind of girl and have made the best with what we've had and am so grateful we inherited some good hand-me-down furniture a while back, but it's definitely seen its day now. And with some other issues–a constantly cluttered bookshelf with exposed cords, some busy prints and accessories to overcompensate for what I couldn't fix, and a general "anything goes" decor plan, we just weren't feeling the homey vibes for which we knew the room held potential.
And though our room gets a lot of light with an entire wall of glass doors, the fact that you can see straight through can present more clutter and distract the eye.
So we needed a game plan to make our living room homey and create a put-together feel for fall. While we have a bucket list of big projects (wood floors, new fireplace wall/mantle, close off book shelf with cabinetry), we knew we could make the biggest impact for now with new furniture and a few creative fixes to our clutter problem.
1. We stained our coffee table, giving it a brand new look (and making some stains disappear!), and styled some curated accessories and books on top.
2. We simplified our wall prints.
3. I addressed my book hoarding issue and donated over 100 books, keeping only our favorites and the classics.
4. We painted the inside shelves under our T.V. black and housed the books in matching baskets–a huge difference (cords are hidden now!)
5. We changed the layout, making the sofas face each other and bringing everything closer to the center. 
6. And my favorite, new furniture from Arhaus. 
The result…
It feels so. much. better–clean and cozy and a place where we actually love to sit now. In fact, every time we get the kids to sleep and sit down to enjoy the last bits of the evening here, we spend the first five minutes talking about how good it feels to love our space.
As for choosing our sofas, I entertained a sectional but opted for two sofas for a few reasons: I love to change things up and a sectional would lock us in to one floor plan, I've always loved the classic look of two sofas facing each other and an important one–there wouldn't be a good place for our Christmas tree with a sectional, and Lord knows Christmas is a deciding factor around here. We also wanted a gray color that would work with a range of colors if we wanted to change the look of the living room over time by switching out the rug, accessories and throw pillows. We have a lot of blues in here now, but we could add warm tones, change it up with some black and white pops or even go with more wild color. Either way, these sofas are made to last and are a traditional style that will extend beyond changing trends.
If you recall, we have Arhaus furniture on our lanai as well, and I can't speak highly enough of the quality and durability. Our new Dune sofas for the living room are the same–solid and supportive with comfort that whispers "Sit down and stay a while." Plus they're made in America–handcrafted in North Carolina and constructed from natural hardwood, fibers and real down feathers.
Their Linwood linen collection of pillows and throws is beautiful–by far our favorite and comfiest pillows on the sofa.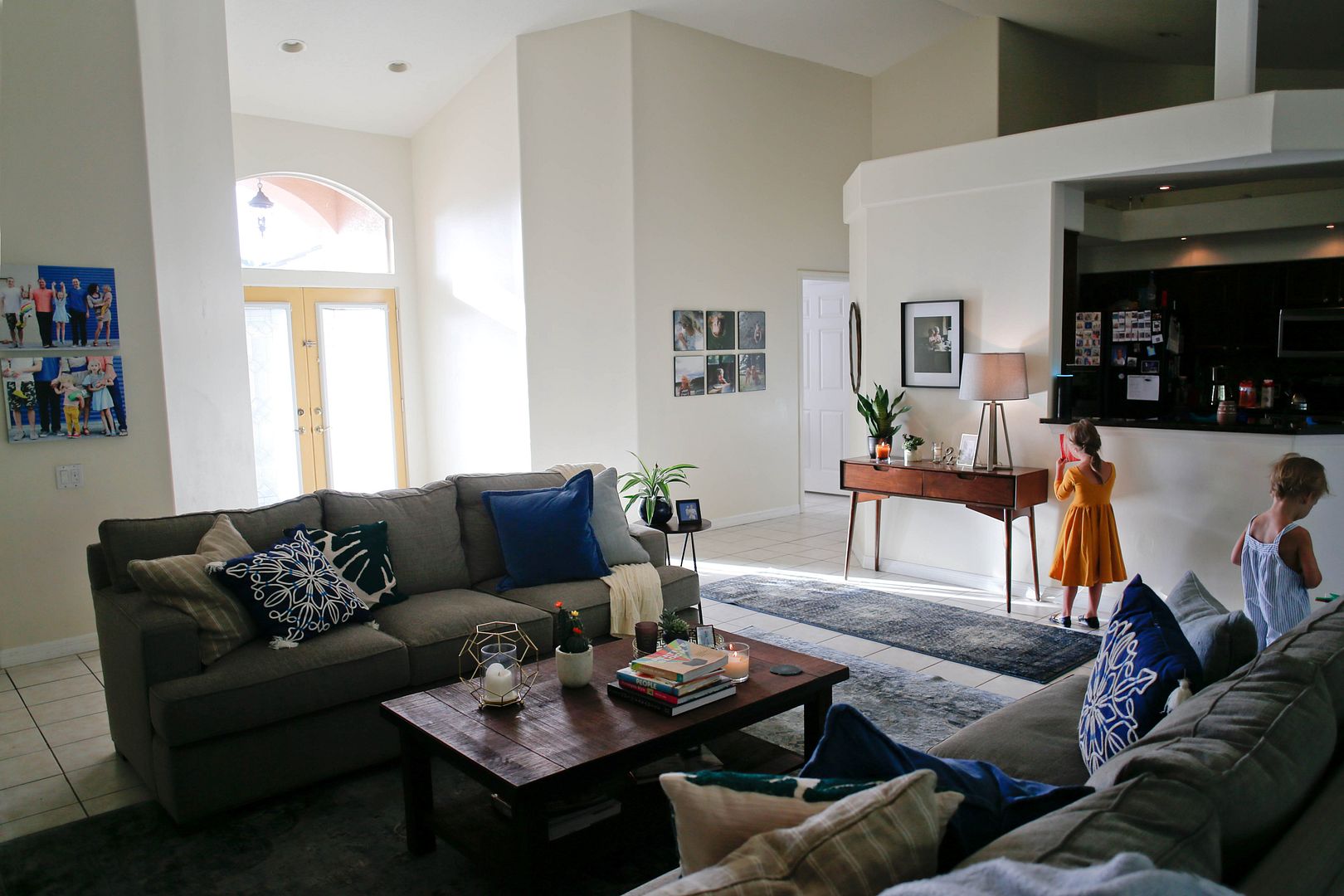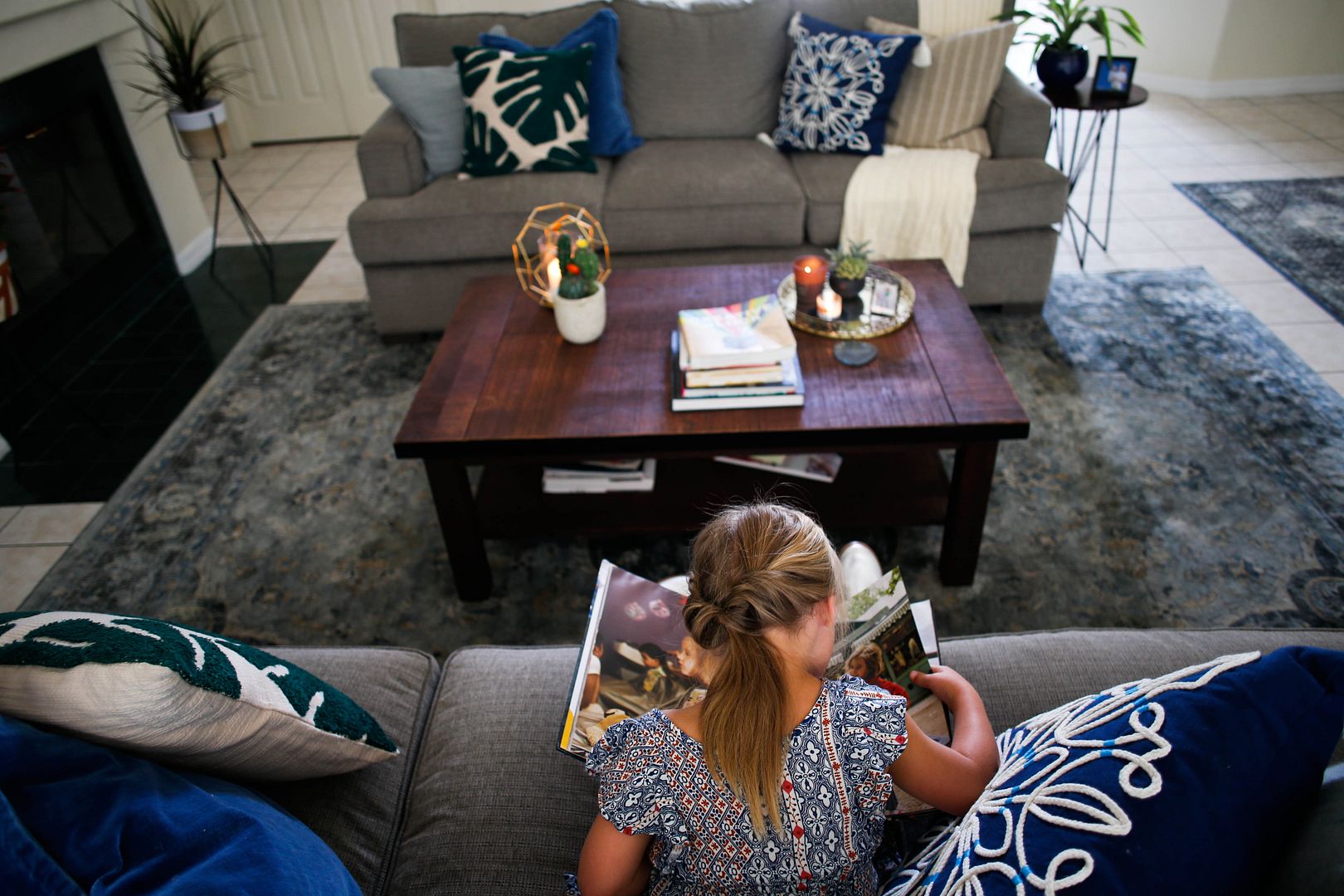 We're waiting on our Clarence floor lamp to finish off the room, but so far, we are so happy with everything–it's amazing how much some love into a space can bring so much joy. We're sitting in this room so much more, holding coffee cups and kids on our lap in the morning, and steering dinner guests toward this room in the evenings. And movie night has a whole new meaning–these puppies feel like beds when you lie down on them.
Because this room is so large and open and the first thing you see when you walk in, it sets the tone for our entire home. It now says "No!" to clutter and, this month, a resounding "YES!" to all things fall. Give me candles that smell like maple woods. A bowl of crisp Pink Lady apples. Wassail served to friends. Blankets draped around sleepy kids. Louis Armstrong crooning "When You're Smiling," and promises of the first fire in the fireplace later this year.
I can't wait for the stories these sofas will tell someday.
BONUS: These sofas prop up Nella's tree pose perfectly–our final check of approval.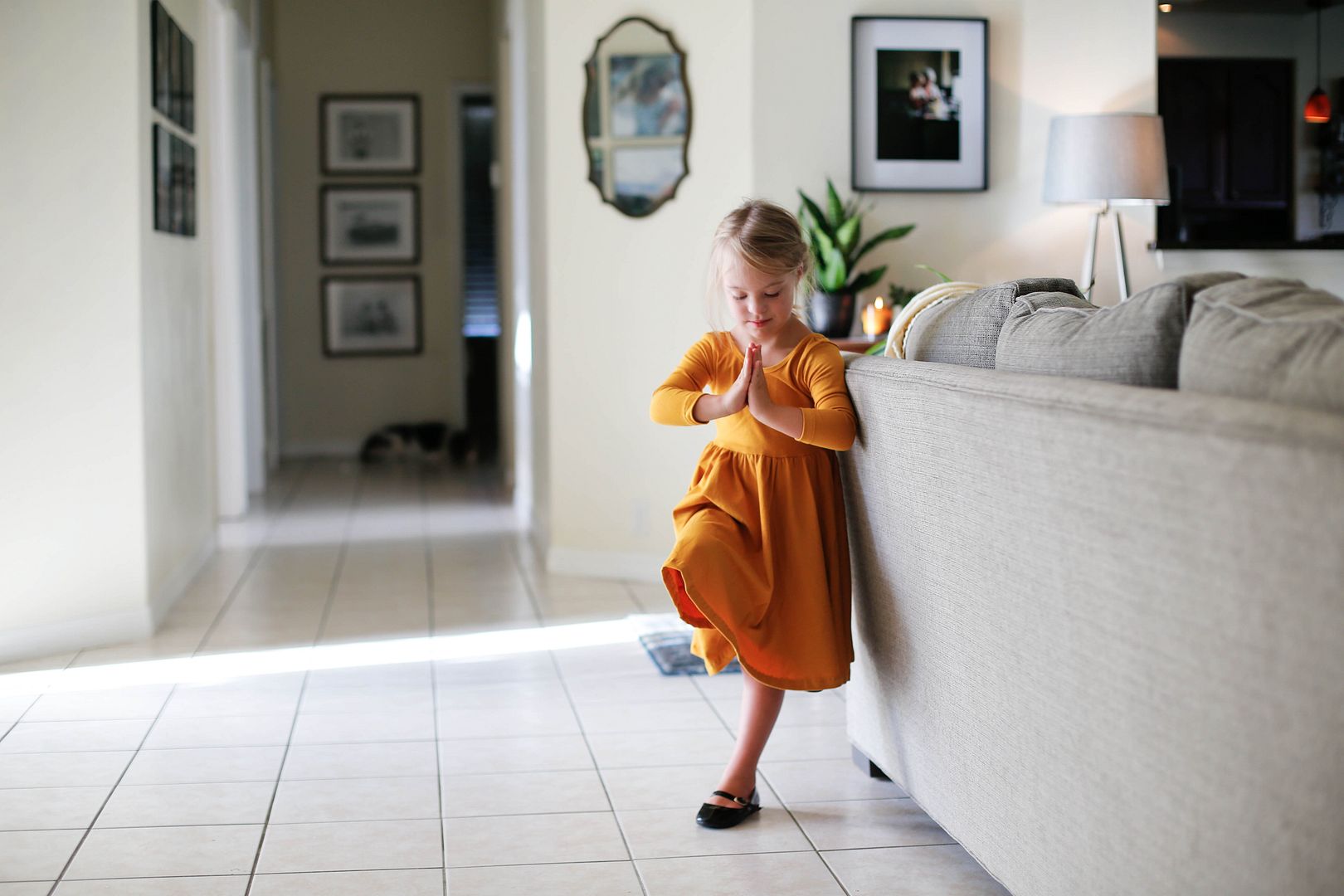 You want to know the best part? Our friends at Arhaus are giving away a $500 Arhaus gift card to one of our readers. Poke around their site for some wonderful home inspiration, and tell me–what's your favorite thing in your home and why?
And check out the Arhaus Warehouse Sale starting on Saturday, 9/10. You can save up to 60% during this great sale, and even more with their Gold Tag Treasures. Select inventory will be marked down for incredible savings. It's a great way to get your home ready for fall.