It's a weird thing having more than two weeks off of school after only getting three weeks under our belts, and going back feels a little bit like starting all over again. More than ever, we're craving routine, healthy habits and a normal rhythm in our home. While adventures away from home allow us to learn new things and make meaningful memories, living out of suitcases, climbing in a messy road-trip car and indulging in "When in Rome" splurges (caramel apples, donuts, Lucky Charms, ice cream–uughh) eventually strips away the feeling of stability that helps anchor my parenting. Yes, I'm all about the YOLO, but it means nothing if it isn't well balanced with responsible routines that keep our home base safe, calm and restoring. As much as I complain about things like doing laundry, cleaning the house, helping with homework and making school lunches, I find myself actually enjoying those things when our life gets busy or our schedules get out of wack because those are the things that recalibrate our routine and give me the satisfaction of knowing I'm nurturing my family in a good way. Nurturing is my jam.
So when we returned home and I had to completely rebuild my refrigerator supply (we threw out everything after 7 days of no power), I took great pleasure in filling my cart with nourishing food that somehow represented the feeling I want to restore in our home after having it disrupted by crazy ol' Irma. Fresh produce. Soup ingredients for cozy fall dinners. Lunch box foods that say "Let's pick right back up where we left off". While we switch up our lunch box choices a lot to keep it interesting, one thing that always works for my kids is yogurt. But if you've been down the yogurt aisle lately, you'll know that there are officially 546 kinds to choose from which I simply can't handle because too many choices shut me down.
Here's where you go–the #1 organic kids' yogurt on the shelf is Stonyfield® YoKids® yogurt, and it features between 25% to 40% less sugar than the leading kids' yogurt. Stonyfield recently announced a sugar reduction across its yogurt portfolio – and it started with YoKids. And because Stonyfield YoKids yogurts are certified organic, that means each cup is always made without the use of toxic persistent pesticides, artificial hormones, antibiotics and GMOs. Organic Certification matters because just calling something natural isn't a guarantee.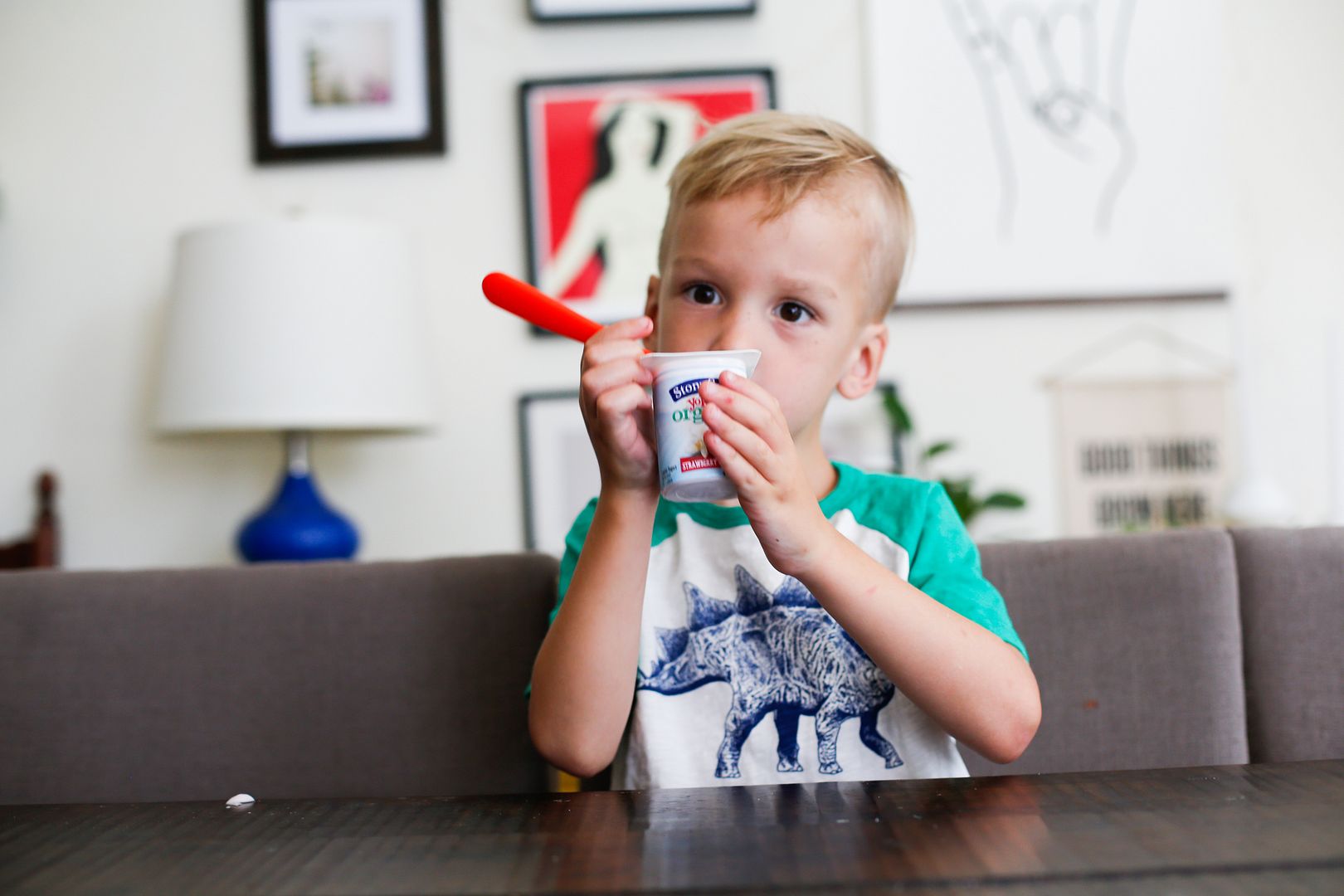 It comes in cups, pouches, tubes and smoothies, so it's super convenient for grabbing on the go and tucking into lunch boxes.
We also use ours to make our smoothies creamier…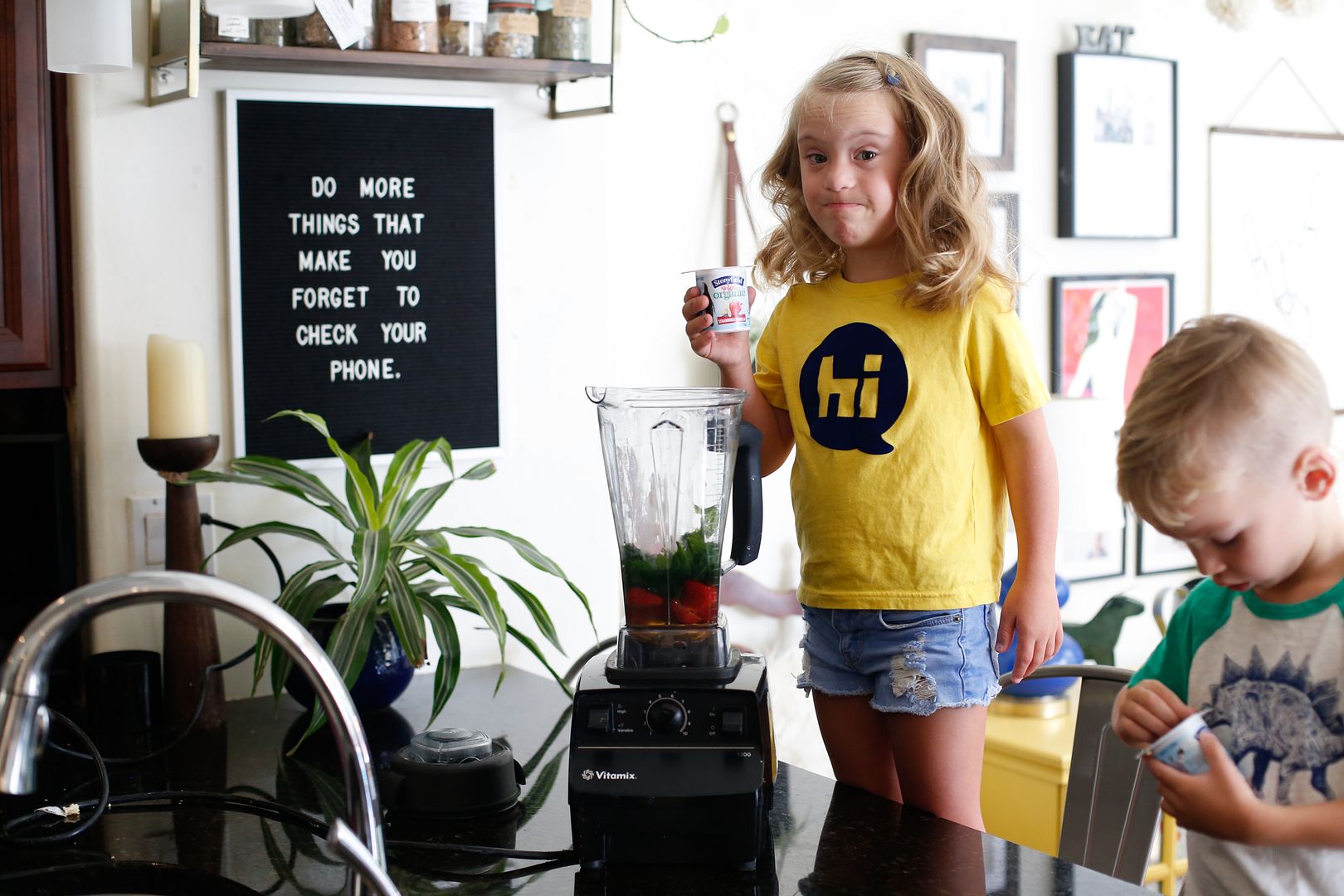 …and God forbid you pull out the blender in our house without asking the little ones to help.
While I like to add a lot of fancy things to my smoothies, the kids like theirs pretty basic–a little apple juice, frozen strawberries and/or pineapple, spinach and yogurt.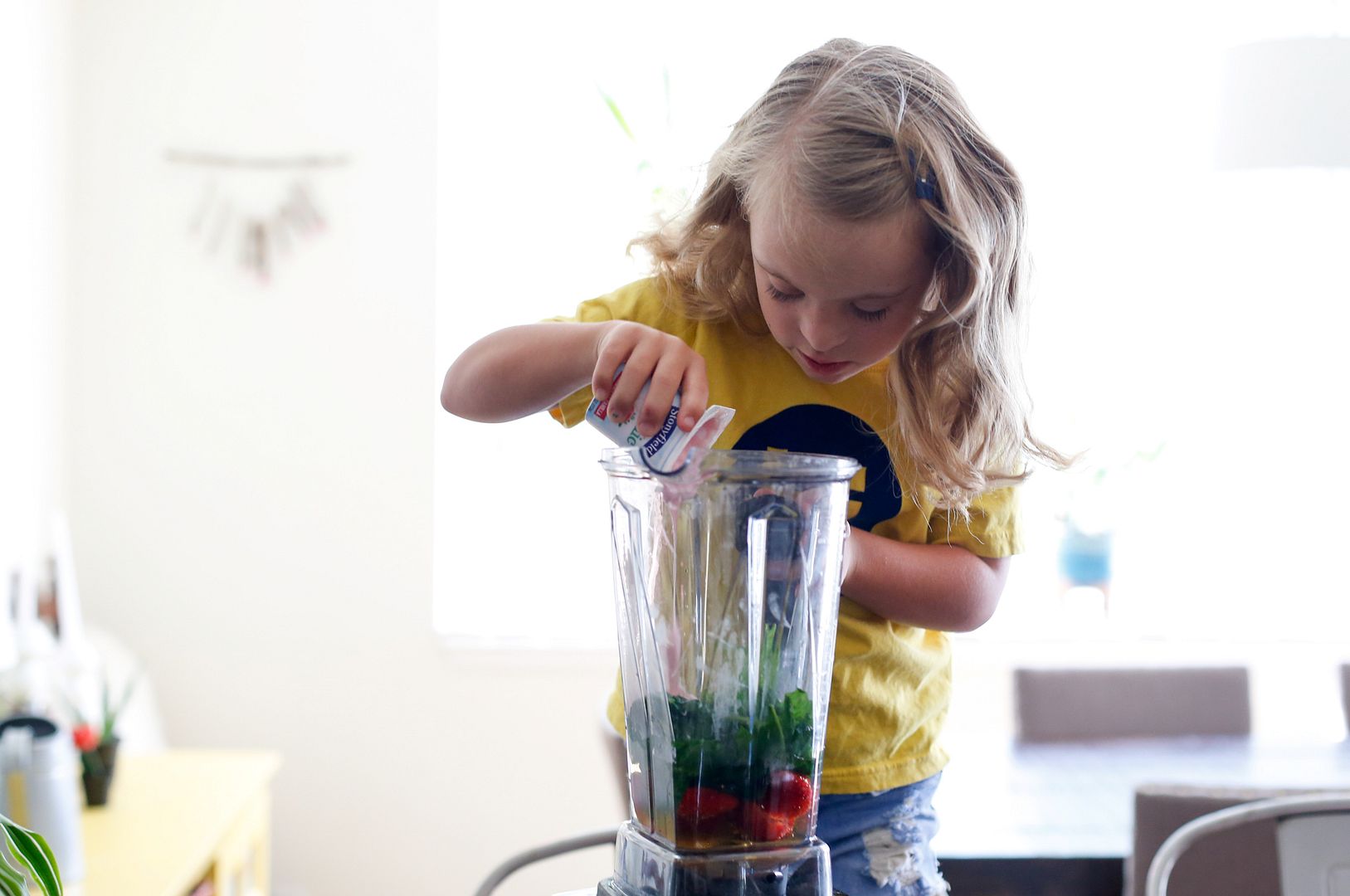 Dash fights for the rights to the on switch.
We always keep a box of squeeze tubes in the freezer as well. My kids love to eat them like frozen yogurt, and they work great for lunch boxes because they stay colder longer.
Also–great for sharing…even with dogs.
Now that my fridge is stocked, we are restoring all the good feels around here with music, cleaning and fall decorating.
Feels good to be home.