I've been looking forward to Harry Potter Movie Night pretty much since I gave birth to a child ten years ago. I've read a lot of books in my life and can't tell you where I was for most of them, but the Potter books? I think everyone remembers where they were for those–in my case, going to college, living with my grandparents, studying Wordsworth and Keats by day and J.K. Rowling by night. I drove two hours home on weekends to work in the hospital blood lab, a job that required me to man the phones and take tubes of blood sent from patient floors to their respective specialty rooms to be spun and analyzed. It was quiet on weekends, so Harry Potter came with me, and I vividly remember sitting hunched over the desk in my lab coat, turning page after page, stopping only to answer a phone or input a blood test when it arrived on the dumb waiter–sometimes unnoticed during a particularly harrowing event in the book.
Phlebotomist: "Ah, Kelle. You gonna get that? The dumb waiter alarm is going off."
Me: "Would you shut up? Syrius Black just died! Have some respect! Jesus."
It was amazing how quickly eight hour work days sped by when Harry Potter was with me. The elaborate imagination and detailed descriptions of that magical world transformed me, and I've waited over fifteen years to pass that on. And then came Lainey: "Dear God, please keep this baby healthy…and help her to love Harry Potter. Amen."
Here's the thing. We attempted to read the books together earlier this year, and even with the help of the Audible narrator's British accent, Lainey was–oh, this is hard. She was….wait for it. She was like, "Meh."
MIC DROP.
I repeat, I introduced my kid to Harry Potter, and I GOT APATHY.
Aw, hell naw. We're doing this again. THIS TIME WITH FEELING.
We're goin' straight for the jugular. Jump to the movie. Add bells and whistles. Which brings me to our fall bucket list and that little unchecked box next to "Watch Harry Potter with Candles, Butterbeer and Bertie Bott's Beans." We took care of it this past weekend.
So here's how we're going to do this: I will bring this movie to life. I will make you feel the magic. I will lure you with Honeyduke's candy and hook you with butterbeer.
Truth is, I love family nights and movies and end-of-the-year holidays, and this little party is less about forcing my kids to love Harry Potter and more about celebrating October in a fun, special way. And before I show you a peek at our little Potter party, let me also tell you that when you see stuff like this–fun parties for kids or holiday crafts and celebrations, for example–on my site or in my social media feeds, this isn't about attempting to be a good mom. I don't associate being a good mom with celebrations and details and parties. But I do associate being a good mom with doing things that make me happy and inviting my kids to witness my happiness and be part of it. This is more about me than my kids. Because I like creating things and celebrating parties and making space for the 10-year-old girl inside who never died. It makes me happy. And I think the best way to be a good mom is to do things that make you happy. For you, that might be Crossfit or home decorating or cooking or tending to your garden. For me, it's planning little celebrations and making them come to life. I loved this little family night so much, and more than wanting my kids to remember any of the details I planned, I hope they recall someday, "Remember that Harry Potter party we did when we were little? Mom was so happy. She was doing what she loved."
And it was simpler than it sounds. The family activity planned was simply to watch Harry Potter together as a family on a Saturday night. What I added? Four things:
1. Floating Candles. I hung twelve "floating candles" in the air with fish line. I didn't get as elaborate as this D.I.Y., but I followed a similar method, tucking flameless flickering tea lights into cardstock paper that I rolled around the tea light and taped in place. I then taped two strands of fishing line on the candle and strung them to the ceiling. It took me 30 minutes to make and hang twelve of them.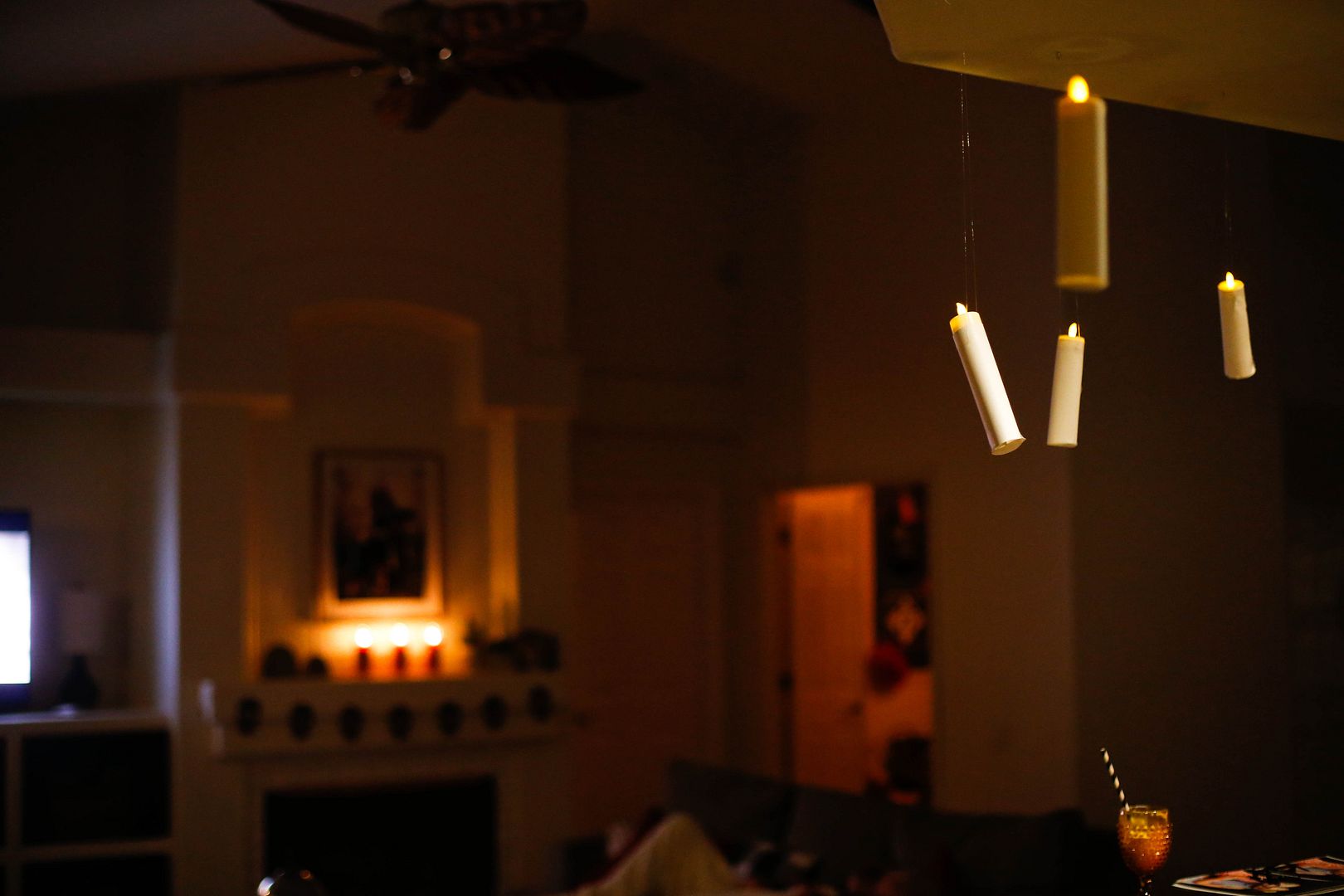 2. We made a candy bar to model the Honeyduke's shop in the book.
I poured melted Wilton chocolate melts in this frog mold for the chocolate frogs, and for the fizzing whizzbies, I poured chocolate melts into this bee mold but layered pop rocks in the middle. The fizzing whizzbies were definitely the favorite.
3. We made butterbeer.
I looked at several recipes, but a lot of them were just too rich (butterscotch PLUS brown sugar PLUS whipping cream PLUS condensed milk PLUS cream soda–whoa). Ours was pretty simple–I mixed vanilla ice cream with a tiny bit of milk and butterscotch topping in the blender. I poured cold cream soda in a frosted glass leaving room at the top for our butterscotch "foam" and then spooned the ice cream mixture over top. For the adults, we added some rum and butterscotch Shnapps. Totally delicious.
4. We dressed the part. 
I dug up some witch hats from last year's Halloween party, found Harry Potter glasses and drew Harry's forehead scar with eye liner. Dash dug up a cape from the dress up basket.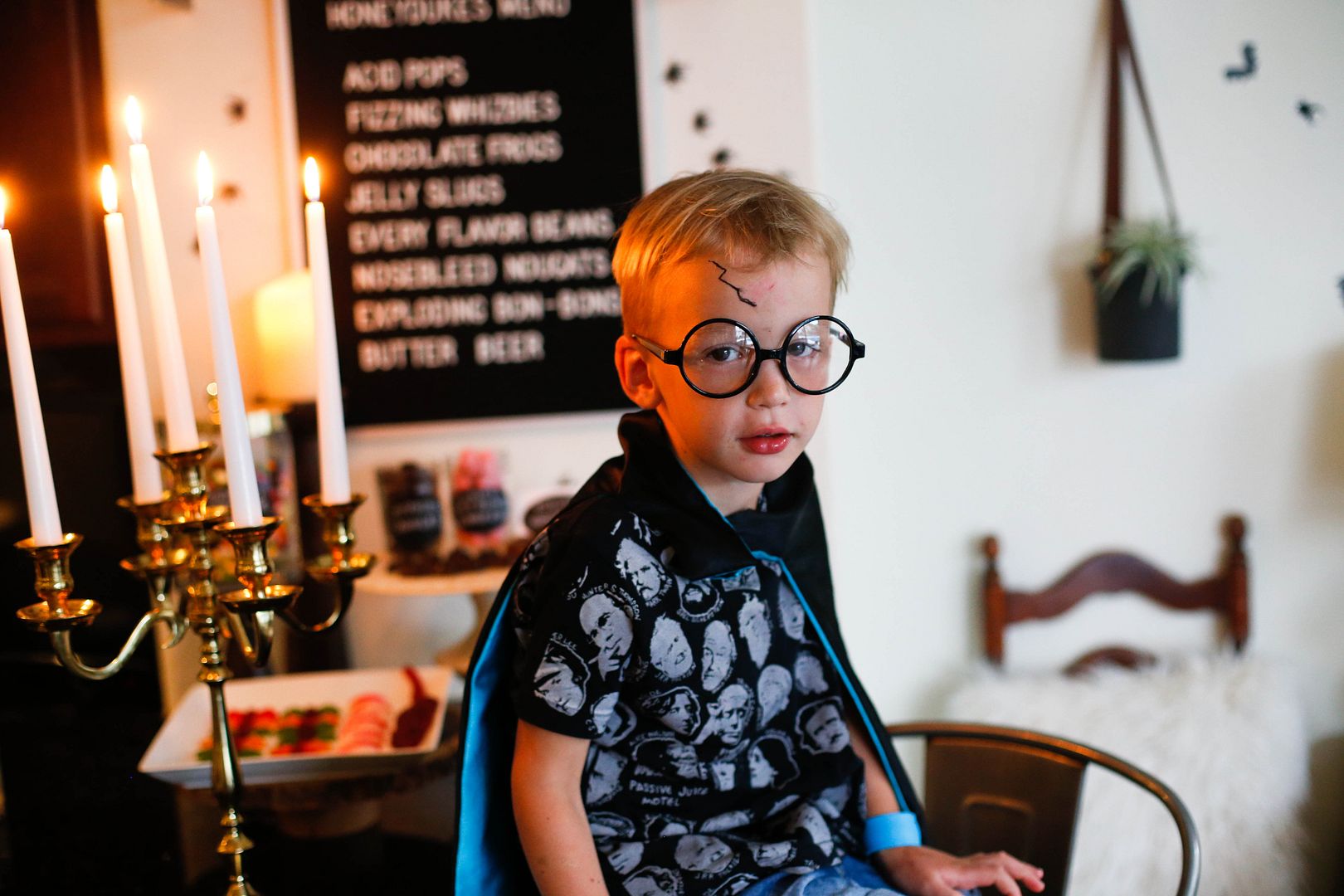 And I love that just when I wonder, "Is Lainey growing out of this? Am I too extra for her?," she comes out of her room with a wad of black pipe cleaners and hands them to my dad. "Poppa, can you turn these into a witch hat for Latte to wear?" because she believes, like I do, that my dad can make anything. Later, when Lainey's friend arrived for a sleepover, she came to me and asked if I could make a Harry Potter scar on her too and if we had another witch hat. Be still my heart, I thought you'd never ask.
And that's it. That's all you need to make it special. Candy, candles, a good drink and a hat. The rest, as they say, was…magic.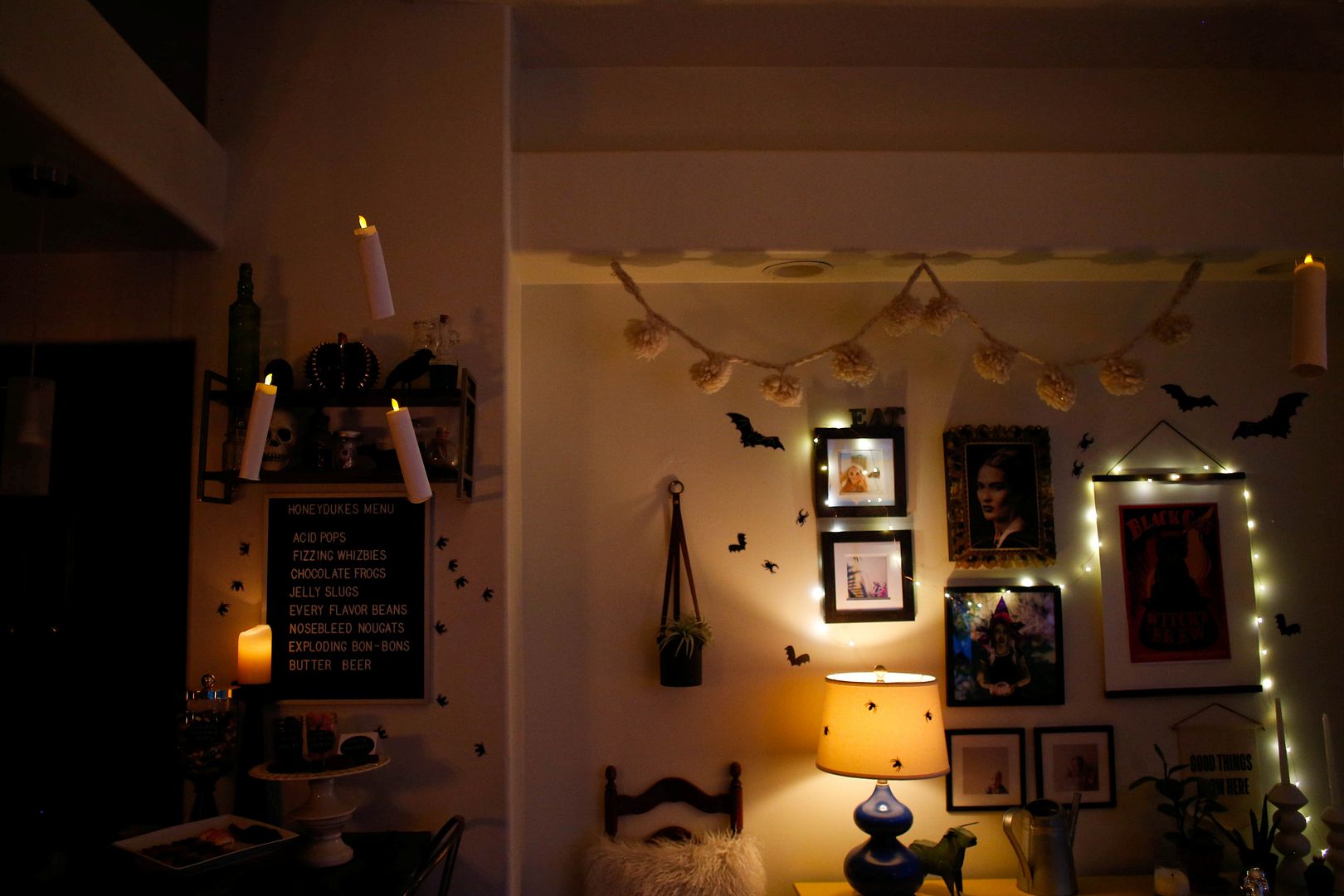 We've rekindled a love for Harry Potter, and I couldn't be happier about it. While Nella and Dash eventually fell asleep, Lainey was all in. And for at least a good hour, it was everyone…huddled together by candlelight, sipping butterbeer, entranced by the magic of Hogwarts…making one special memory.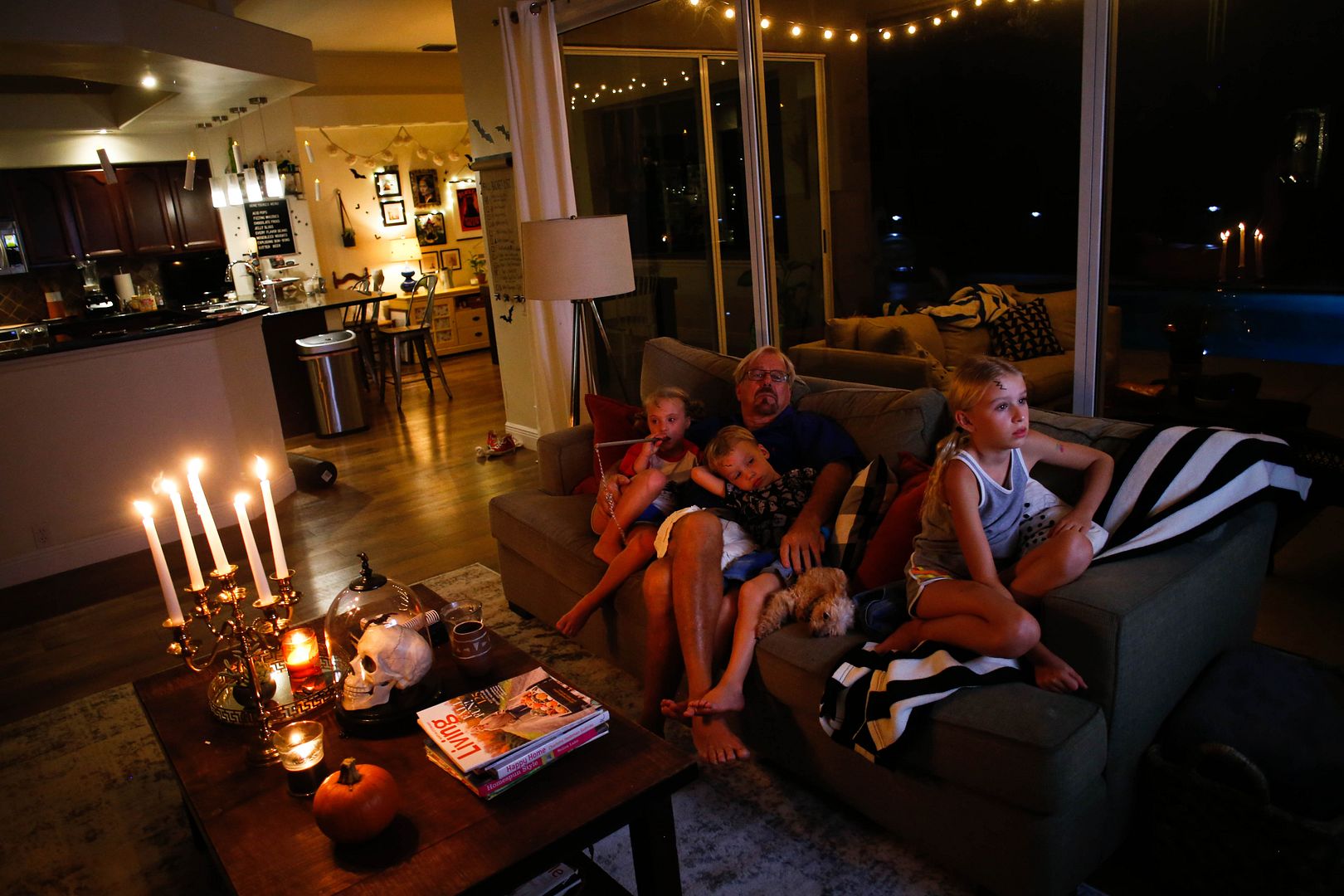 Honeyduke's Intermission:
And Brett got to bust out his new popcorn maker, so he's happy.
This scene at the end of the night:
Top night. I love these last months of the year and the little celebrations they hold.