We lost our beloved Sophie Wednesday night after sixteen wonderful years with her. She was blind and deaf and didn't have a lot of energy this past year, but she had love and spent her last days sleeping in Lainey's room and wandering around the house every now and then to find people. Every time I questioned whether I'd know when it was time for her to go, she'd give me a good tail wagging while she rested, letting me know she was happy. Her passing was unfortunately tragic (although many have told me dogs sometimes "go away" to die when they know it's time), and while the kids don't know all the details, we're all completely heartbroken and feeling her loss more than I ever thought I would. I always knew it would be sad when we said goodbye, but it's been since I was a kid that I lost a pet. And, while I've hugged friends with a good "there there, now" pat and tried to relate to their grief when they've lost dogs; I've never understood until now that losing your family dog is losing a part of your family, and that the pain of wanting them back to hug one more time, to whisper in their ear–even if they can't hear–and tell them "You MAKE this family–you're part of us, we love you so much" one more time is deep and recognizable. It's what has had us curled up in bed the last two nights, hugging each other all in one bed, everyone wrecked and crying but sharing one of those magic moments in life when our love for each other and what we have in this home is palpable.
Sophie came before me–she was Brett's dog–so really, she's the true matriarch of our family. But we never competed for that role. In fact, she was awful at doing laundry too which I think was her way of validating me and letting me know, "Sister. Yes. It's so hard."
She was better with the kids though–definitely more patient. I mean, look at her patient face.
Like a good matriarch, she humbly partook in childhood play, letting the kids dress her in bonnets and capes and baby clothes and, while obviously mortified, always took one for the team–like she was telling me, "Go ahead. Finish cleaning the kitchen. I got this."
When we made that triumphant entrance through the front door with the car seat, bringing each of our babies home from the hospital, she was the first to welcome them–tail wagging, never hesitating to come right up, gently sniff, commit her love and devotion and loyalty, her vow to serve and protect for life. She loved them all so fiercely, and I have countless memories of going in to check on a baby only to find Sophie already there, reporting for duty: "Look, how many times do I have to tell you? I got this."
Sophie was who we all wanted to be around when we were sad. When the boys had bad days in middle school and high school, they never stormed off to their room without making sure Sophie went with them. And yes, a quick nod from Sophie who made some good eye contact: "This one's a hard one. I got it."
She was fiesty and playful in her young years, grabbing stuffed animals and running with them, initiating a good tug-of-war, loving a walk around the neighborhood (but always veering off and pulling the leash where she wanted to go because, like I said, FIERCE MATRIARCH) and–my favorite–running around the living room in mad-dash circles after a bath, knowing her little show would start a fit of giggles from the kids. In her older years, she fell into a nice rhythm of rest and companionship. While she could not see or hear, she never failed in finding us and letting us know that even when it was hard, even when she was tired, she was still there for us–fighting age and body challenges to loyally serve with love for as long as she could. And GOOD LORD, the tears that are rolling as I type that. She modeled matriarchy like none other. And for those who are wondering if Sophie ever got to feel what it's like to fall in love, I can assure you she did. In fact, she waited until old age to do so. With kids running in and out of the house, she found many opportunities to slip out which led her a few houses down to Brandyn's friend's house and the love of her life, Mustang. Whenever we couldn't find her, we always knew where to look…secret rendezvous at Mustang's. Get it, girl.
I stayed up until 1 in the morning the night she died, digging into folders of old photos, looking for all the ones with Sophie–there are so many. And I realized as she showed up in the background in photos of so many events, so many milestones and holidays and memories, what a constant presence she has been in our family. The grief of her passing also represents the grief of the passing of time–the end of The Sophie Era. It was beautiful–some of our very best years.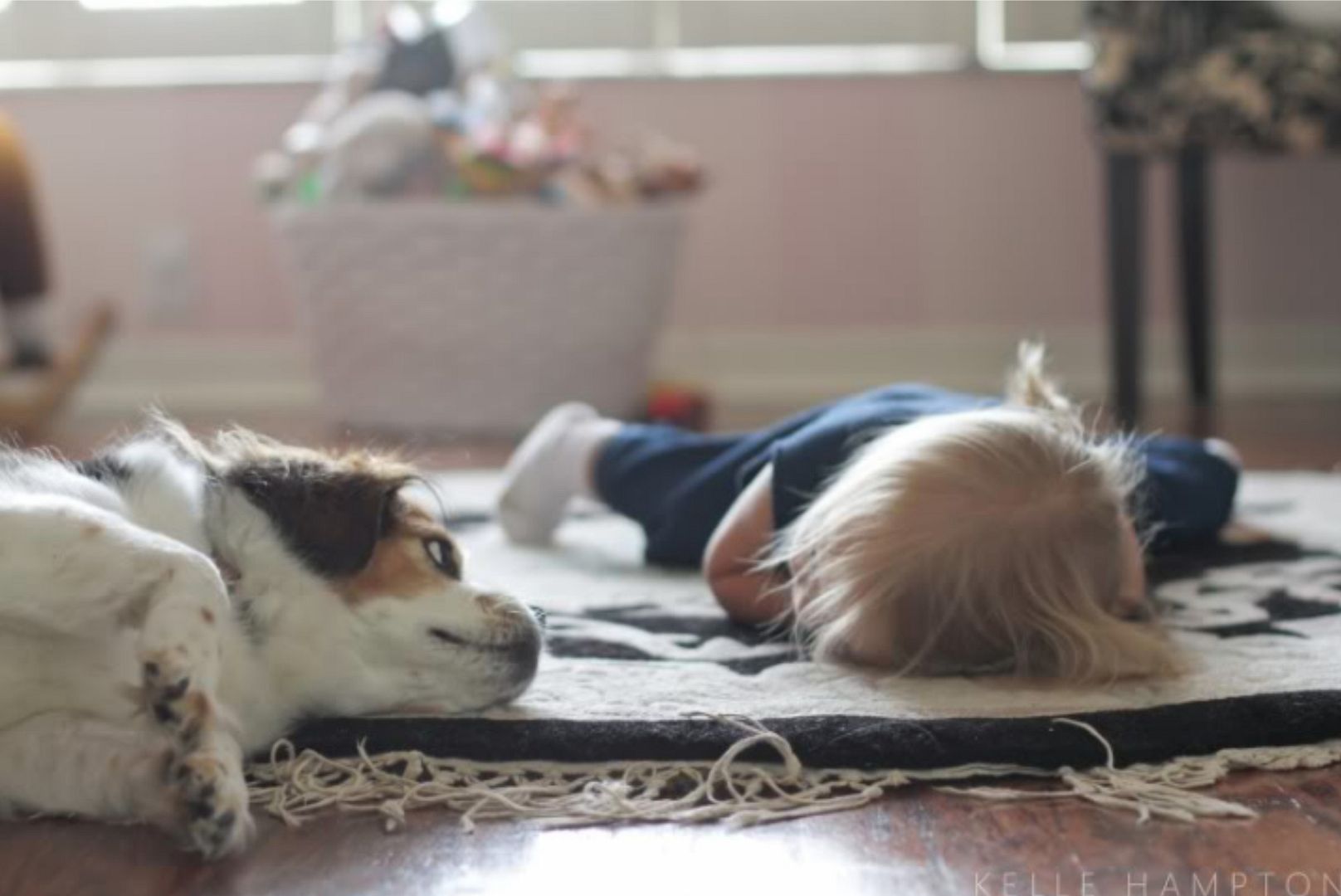 This is also the first real experience of grief for my kids. In a way, Sophie has given my children one of the most cherished gifts they'll have for life; for this delicate, beautiful, deeply important subject of loss and grief that will be part of their future began with her. Her loss will be the foundation, the first lesson that paves the way for the rest, and because of how we loved her and how she loved us, that lesson is beautiful.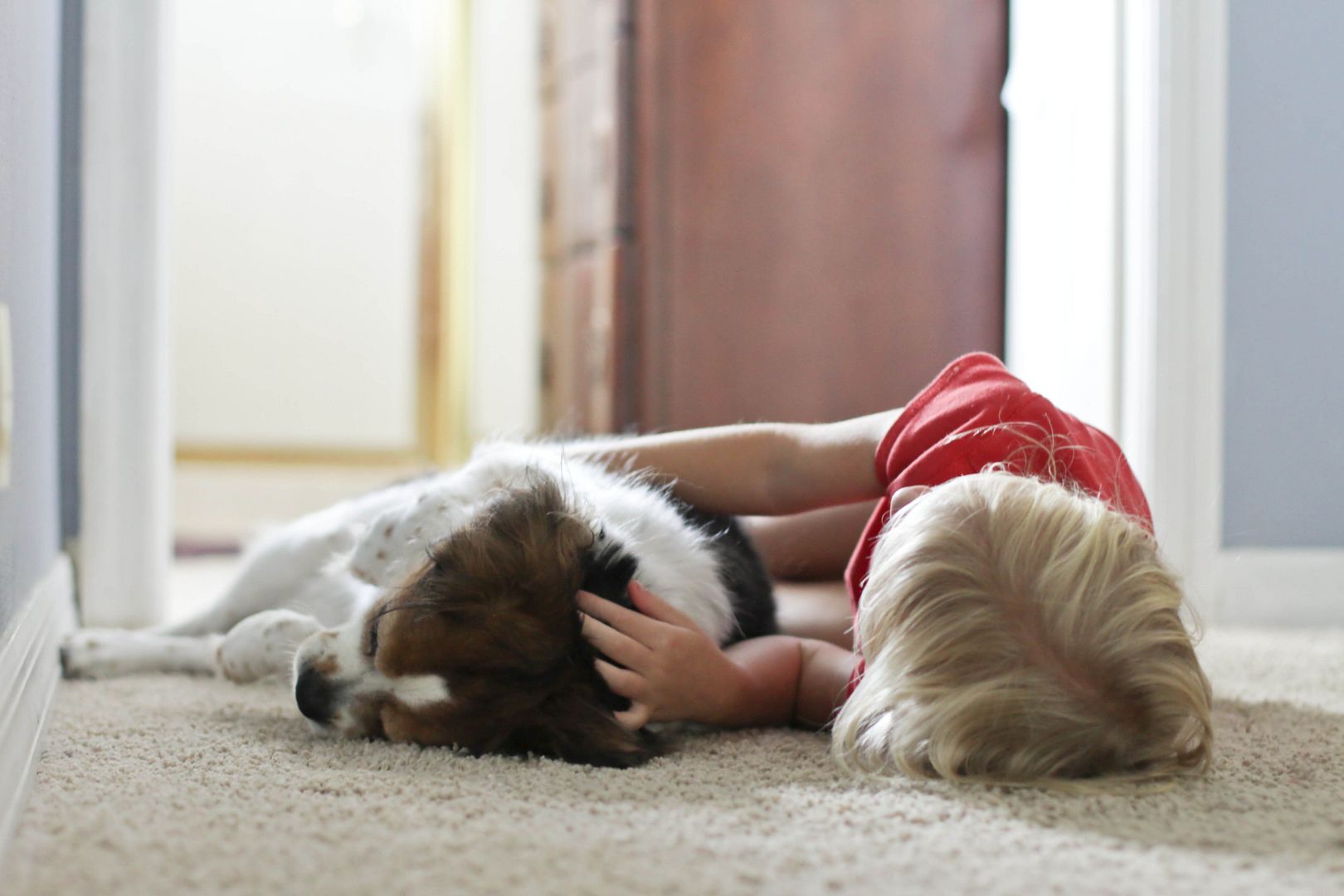 Sophie was most attached to Lainey these last months, choosing her to follow, her to sleep with, her to give her services of peaceful companionship. Telling Lainey that Sophie was gone and leading her through this grief has been gut-wrenching, one of the toughest parenting challenges thus far. I've held her–the two of us completely pretzeled together, crying–the past two nights until she fell asleep. "I miss her so bad. I love her, Mom. I love her so much. I want her back, I want her back, I want her back."
I do too, Baby. I do too.
While we've talked a little bit about death with our kids and have addressed some of the questions of what happens after, it's kind of awkward and out of place to introduce that subject without reference–"Oh hey kids, let's talk about death." I mean, important, yes, and I think it's something we should be talking about with and without reference, but the reference of real experience and relatable pain definitely gives us an opportunity to talk about these things in a way our kids remember. So what do I tell them? You know, I thought saying the right things about death would be a stressful challenge, but it hasn't been. I know people have a lot of different beliefs about afterlife and where pets go and heaven and how realistically we should approach these things with kids–we struggle to put a comma where a period might be–but I've found the most important thing you can do is talk about it. I have a lot of questions myself, but I find comfort in hearing everyone's ideas about what happens after, and I tell my kids about all the different ideas. I don't plan exactly what I'm going to say, and what comes out is sometimes messy, but I don't let the fear of saying the wrong thing keep me from talking about everything–all the ideas–and creating a safe place where my kids can create their own ideas. We take all the beliefs and throw them into a giant Love Stew and hope that LOVE is what stands out the most. It looks a little bit like this:
You know what Poppa thinks? Poppa thinks there's a heaven with everyone we love who's passed together, waiting for us. He thinks his old dogs Ginger and Max are taking care of Sophie now and that my grandpa who always loved dogs has found Sophie and that she's asleep on his lap. Doesn't that vision make you smile? And do you know what my friend Nici thinks? She lost her dog Alice, and she thinks that Alice's spirit is always part of the universe–that Alice shows up now and then to show her love. Sometimes she sees a special glow of light in the mountains where Alice used to run, and it makes her feel so happy as if Alice is letting her know her love still lives on. That makes me feel good too. Maybe Sophie will do the same. And do you know what Donna Nonna thinks? She lost her Tilly, and she feels Tilly's spirit still with her. Every morning, the moonlight hits the same spot of light in her kitchen, and she takes this little sliver of moonlight as an opportunity to connect with Tilly's love, even after all these years of losing her. She says, "I love you Tilly." Would that be something we want to do for Sophie? Maybe we can find a special spot that's ours and Sophie's and say I love you to her every time we see light in that spot.
It feels so good to talk about all these different ideas, to talk about what happens to bodies after death–that they are always a part of the Earth we all enjoy–and to talk about the fact that the spirit of love is greater than any proven law in science. We take what we know about death and add what we know about faith and love–that it lives forever and ever. All of these discussions and ideas and memories are comforting us so much.
And the boys? Well, Sophie was theirs first.
I think Brett was more scared to tell the boys than anyone else. Their love for her was evident to all, and the first thing they've always done when they walk into the house is find Sophie and hold her. Austyn has always carried just one picture in his wallet–a crinkled 3×2 photo of Sophie and Latte. They both arrived yesterday morning to have a moment with Sophie's body before we took care of it, and watching these two grown boys rock her and hold her and sob, shoulders shaking, is something I will never forget. Brett had a meeting and had to leave, but I'm thankful for the bonding moment I got to share with the boys after with Sophie. We wrapped her in one of the kids' baby blankets, Brandyn tucked his childhood stuffed animal next to her, and we huddled together, hugging and crying and talking about how much we loved her–what a good dog she was. I called Brett after they left and told him how much I loved those boys–how special that moment was.
And last night, friends joined us as we celebrated Sophie's life and talked about our favorite memories. We released two pink balloons and yelled, "We love you" into the sky as they gently floated away.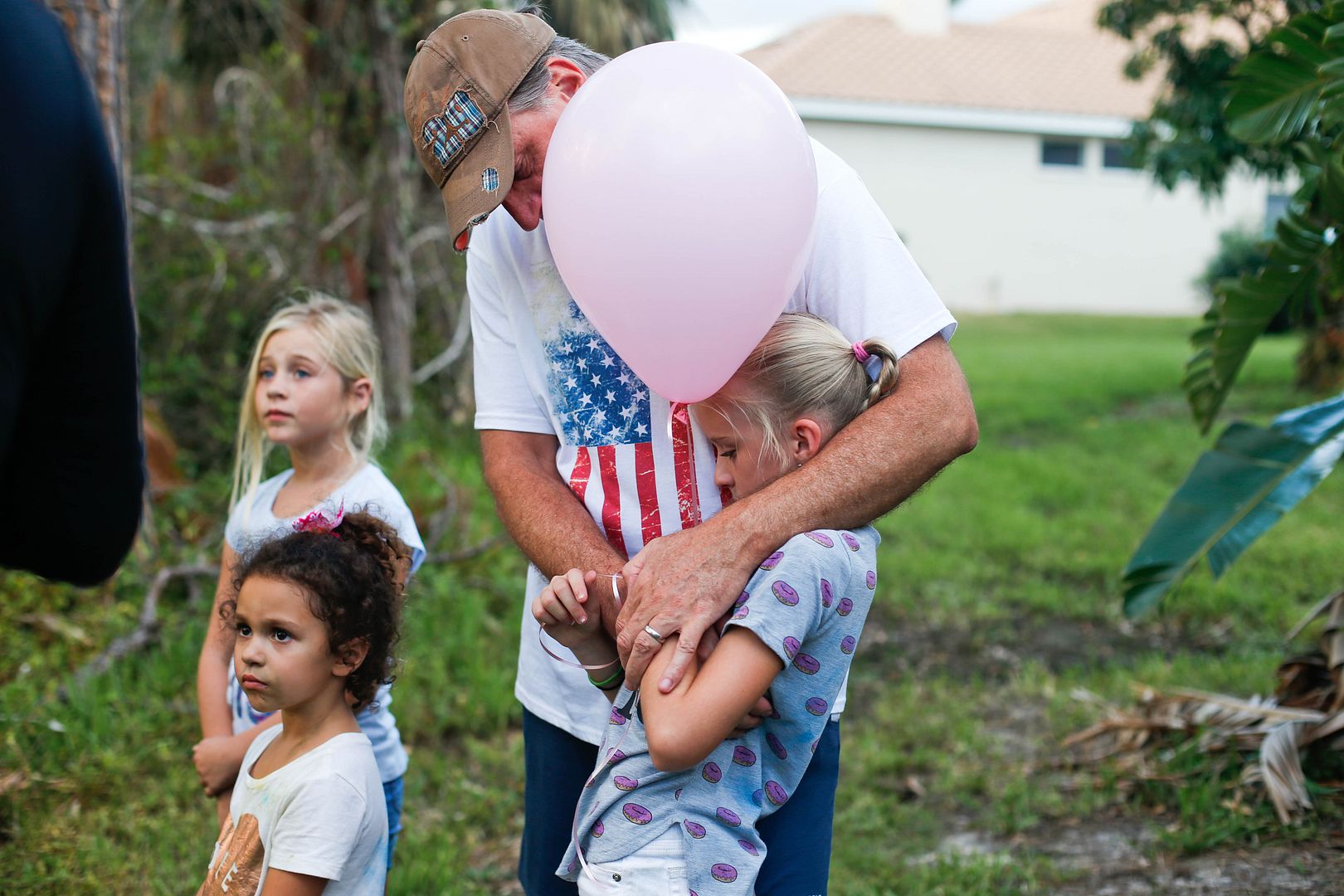 As my therapist friend Cynthia told me the other day, "This is your opportunity to model grief for them–show them how we celebrate and love and remember through the pain." It is a great privilege to take this pain together as a family and learn from it.
Several readers sent me this post, written just last week by blogger Julia Marcum after she lost her dog, and I've found it to be very helpful and relatable. We ordered Sophie-look-alike stuffed animals for the kids and have been finding many ways to honor and remember our girl.
The house feels like something's missing, and truly, we've lost a part of us that can never be replaced. I miss her quiet presence as I work alone while the kids are at school and would do anything to hear her paws scratch across the floor one more time.
"I didn't get to say goodbye," Lainey cried over and over the other night. I told her she gave her the best goodbye a dog could ever hope for–a life full of love, a warm bed to sleep in, a welcome to play, a lap to lay in, a family to call her own.
We'll miss you, dear Sophie. You will forever and always be loved by us.