It's no secret my favorite time of year is the three month stretch beginning with October. I love the reflection that comes with the end of the year, the way we huddle with our families and gather with our friends a little more and, as a lover of all things holiday, I love the fact that there are three holidays–all of them grand–that inspire our decor, celebrations and family memories. I get a little more into Halloween every year–perhaps because my kids are growing and I want to drink up all these wonder-filled years as best I can. But also simply because I love it, and I'd like to think if I had no children, I'd still be pouring soup into cauldrons for Tuesday night dinner and hanging spider webs across the trees in our front yard because it brings me joy. That said, I'm having fun this year adding celebratory touches and going all out for my own family rather than reserving the special things for a party with more people.
Evidence A: Our Halloween Tablescape.
I love creating festive tablescapes, and this one was not only so much fun to create but super inexpensive ($20), inspired by some bouquets of black and purple artificial flowers I picked up from The Dollar Tree. The kids think it's the coolest thing ever, especially with the dry ice potion fog, but it still looks perfectly spooktacular without it.
Here's what you need: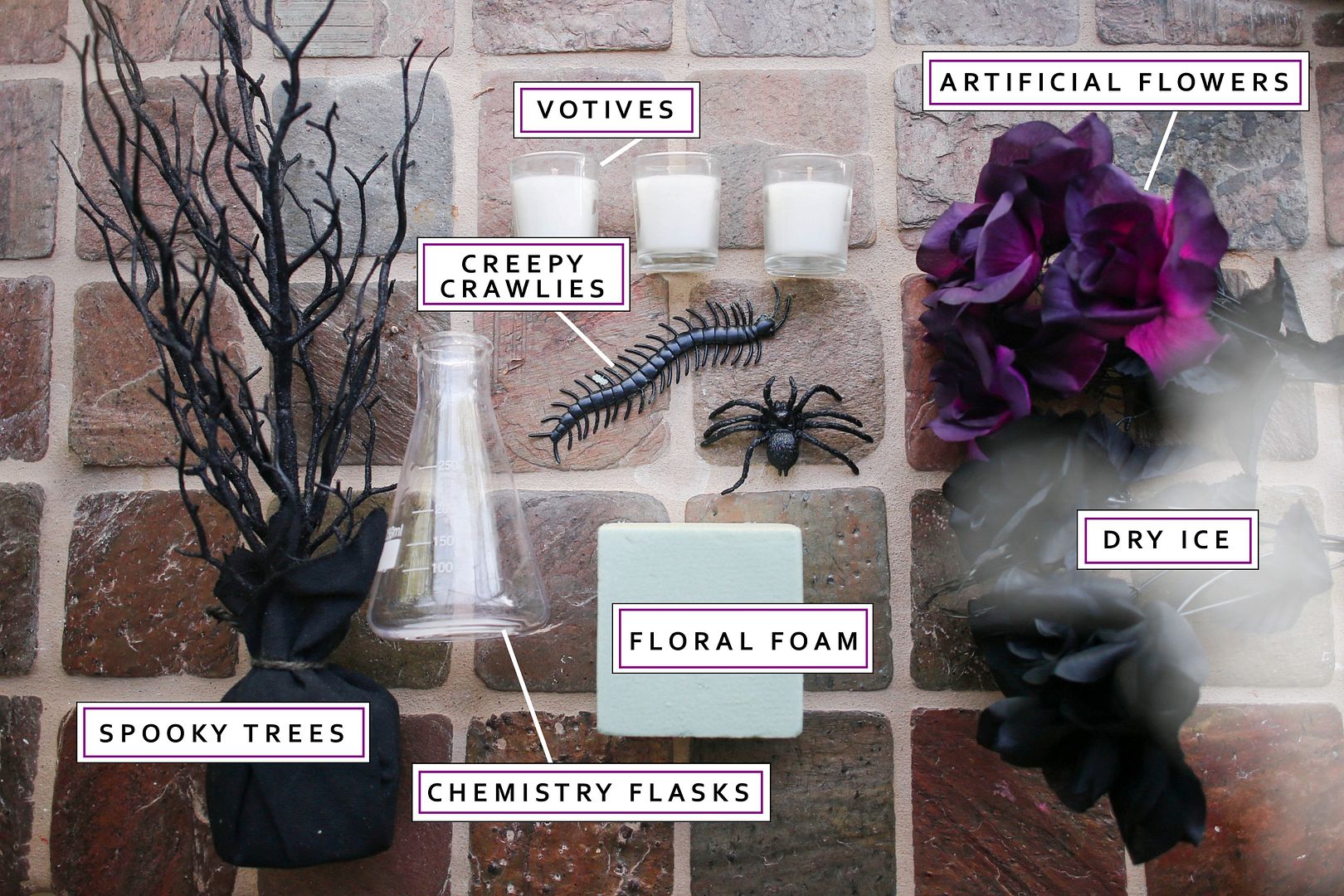 We picked up two spooky trees from The Dollar Spot at Target ($3 each), but I imagine you could bundle some foraged sticks together for free. We used about 7 bouquets of flowers. We found the chemistry Erlenmeyer flasks and beakers at Michaels in the Halloween section (currently 50% off–$2.50 for a flask!) and filled them with some water dyed with food coloring. You can find floral foam at any craft store, and the creepy crawlies anywhere they sell Halloween decor (I think these are also from Dollar Tree).
1. Hot glue your creepy crawlies on flasks and votives.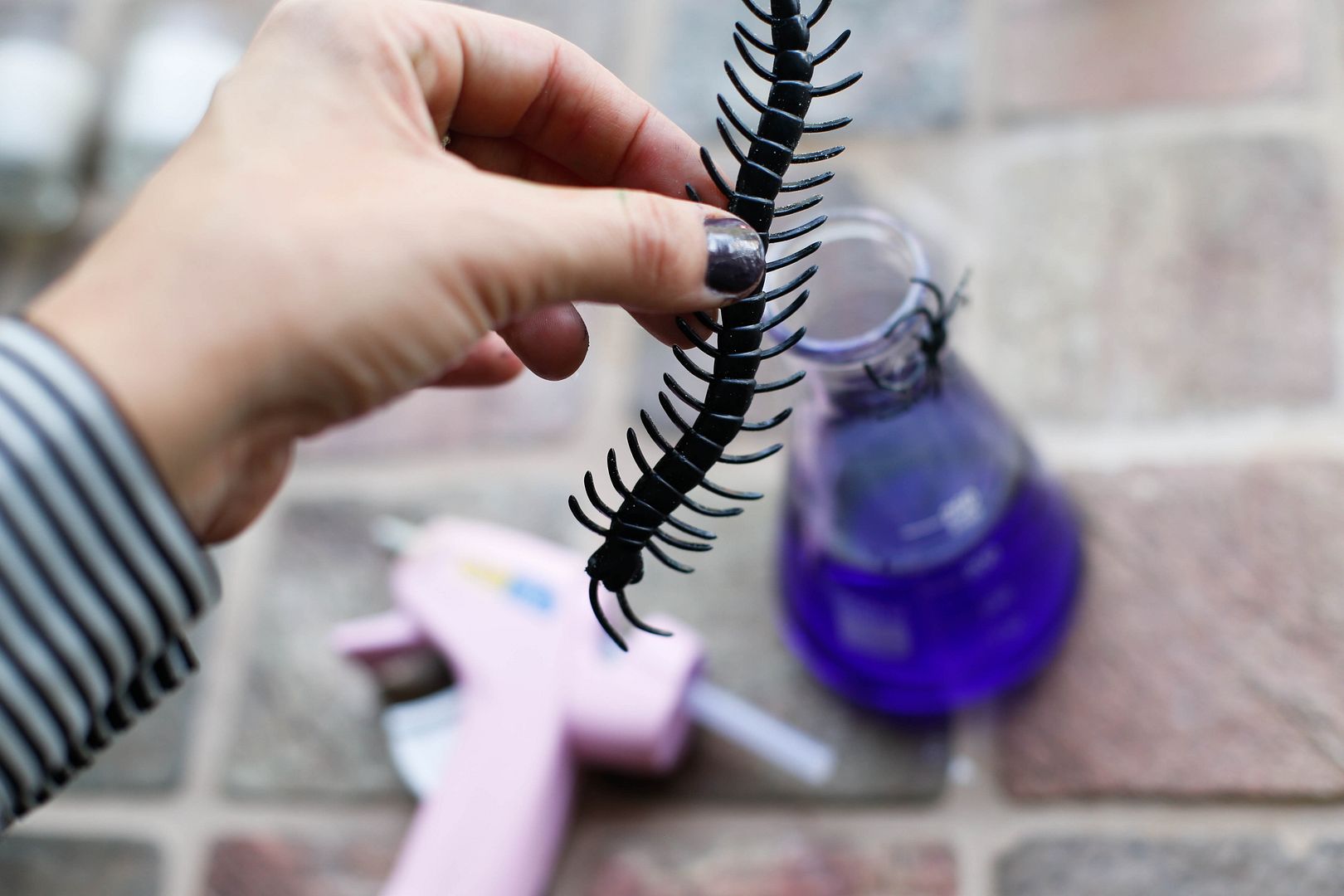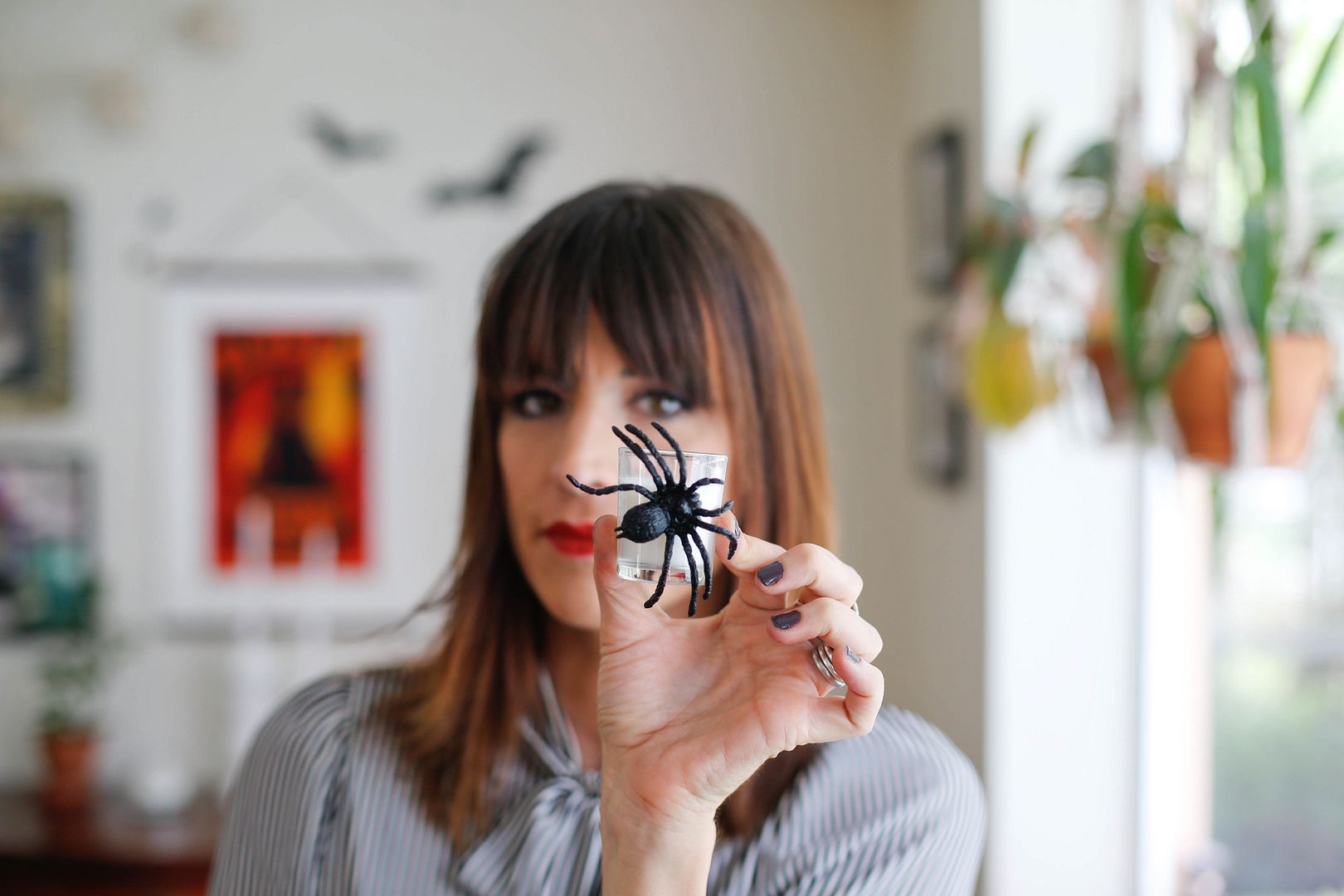 2. Slice Floral foam into 3-4 blocks (square or rectangular) depending on how long you want your centerpiece. Ours are about 5-6 in long, and we made four of them. Using wire cutters, cut bouquets down into individual stems and poke into floral foam blocks leaving one side clean (to set on table) but covering foam completely on all other sides.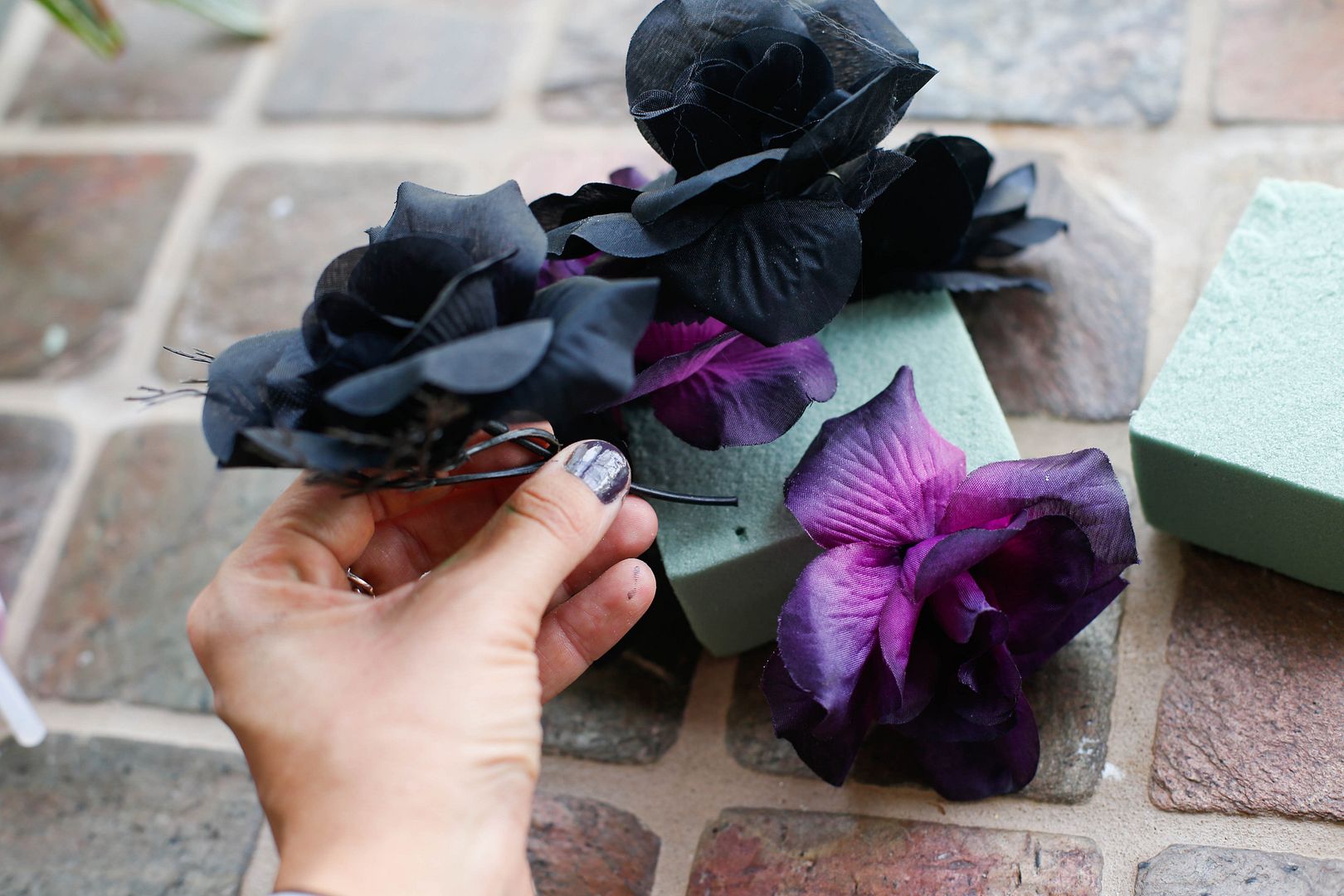 3. Arrange flasks and spooky trees (one on each end) across middle of table and tuck floral blocks and votives in between.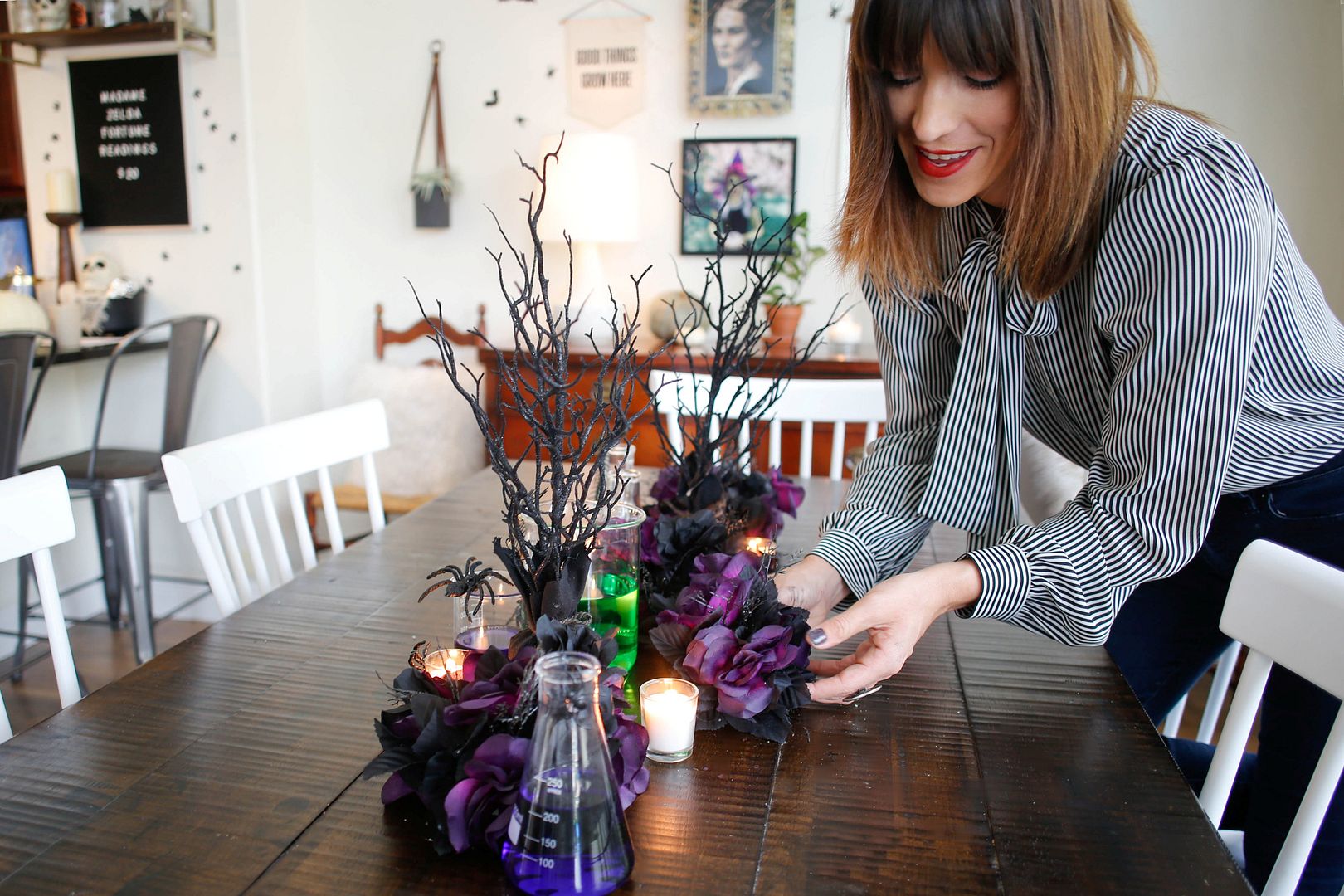 If using dry ice, drop a small piece (about the size of an ice cube) into each flask and beaker using tongs.
Our flasks bubbled and fogged for about 5 minutes, but if you put a bigger block of dry ice in them, they'll go longer. Last year, our punch bubbled and fogged for about twenty minutes with a large chunk of dry ice, and then we added more when effects started fizzling out.
Add some creepy crawlies to your dinner plates…
And Voila! Dinner is served.
Need some inspiration for spooky Halloween-inspired recipes? Check out these ones from Delish.com or our spooky party last year (might I suggest Witch Guts & Vampire Hearts…aka black spaghetti and meatballs).
We are looking forward to our Halloween party next weekend!