Of all the things I'm grateful that my kids get to experience, I don't think anything compares to the moments they share with their grandparents. There isn't a family dinner that goes by–a package of handmade goodies my mom sends, a story Brett's dad tells Lainey, a sleepover at Brett's mom's house, a moon walk with my dad–that I don't make mental note how lucky we are to have meaningful relationships with grandparents and so many memories stashed away. I have one living grandparent and she means more to me every day–and the memories of the ones who have passed have become comforting reassurances that often lead me home when I've wandered away from what's important and what I want in life.
Each of my kids' grandparents (we have 8 thanks to the blessings of remarriage and the beauty of family complexities) holds a special place and fills a unique role in our lives, but today I'm thrilled to be sharing a few of my dad's words on what grandparenting means to him and his tips for maintaining a meaningful bond with the littles…no matter how old they are.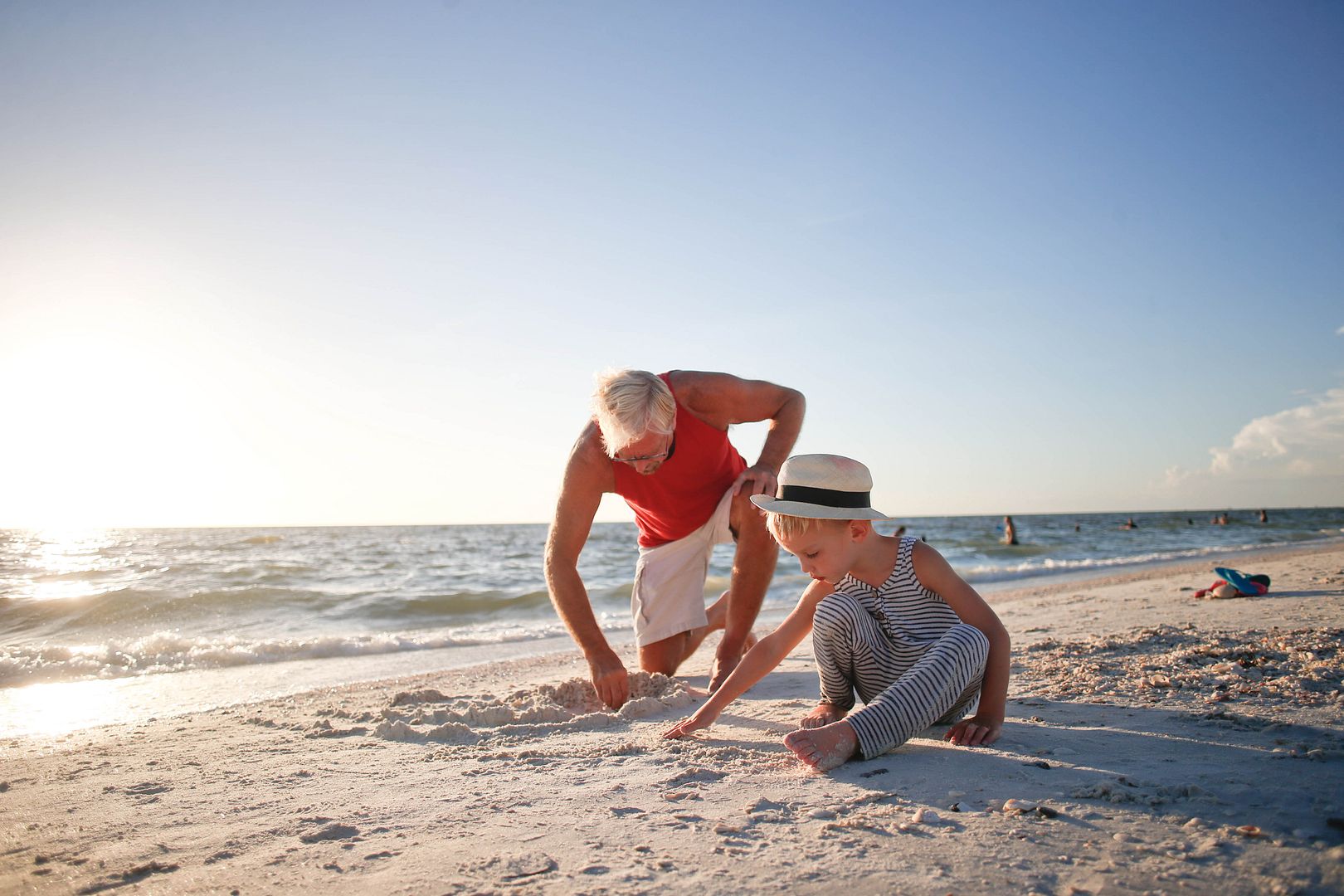 On Being Poppa
by Rik Cryderman
I've been introduced with titles I've been proud to hold, taken my place on the dais in the company of greatness, heard kind tributes that stirred my heart and made my eyes pool with tears, but there's one word that melts me and finally tells me I've climbed to the summit of all I've longed to ever be…That word is Poppa.
It begins every sentence their little lips launch or their teenage fingers text. It heralds each announcement they share in my presence. It's their personal password for plans they propose, "Poppa, maybe we could build a tree fort, you and me"…and, years later, "Poppa, can I bring my boyfriend to dinner on Thursday?"
"Daddy" was good—I thought nothing could be better, but "Poppa" tops it all, letting us do it all again, with a heart tendered by time, a mind enlightened by experience and a spirit humbled by age. And since my retirement, loving my grandchildren has become even more intentional, inspiring, invigorating. Listening to their uninterrupted narrative, attempting sound answers for their unending questions and accepting their sweet invitations to play, pretend, create and be amused—this trumps every greyhound tempting rabbit I ever chased in my career.
I have few memories of my own grandparents. Being the youngest in my family, I said goodbye to mine as a little boy, cherishing the few clear memories as treasures. The privilege to imprint my babies' babies with some stories that will echo when I'm gone, some lessons that will teach when I've left, some love that will warm when I can no longer hold them close—that is a blessing sacred and strong. To know them, really know them, and to let them know you—therein is the precious and powerful passing of the baton, firmly in the hands of the tomorrow you cannot enter, except through the hearts of your grandchildren.
If I were to offer advice to one new to grand-parenting, I would tell them:
Bring your grandchildren home. Just them. Without their parents. Make them your focus. Listen. With your heart. Make them feel their words are wise and wonderful. Let them teach you. Let them try things. Let them fail. Let them try again. Be playful. Be silly. Don't always be the wisest, the corrector, the one with the last word. Value their dreams, their differences, their dedication to the passions they pursue and the positions they hold. (It's easier when they're 10 and a Taylor Swift fan but more important when they're 17, and at a Bernie Sanders rally). Be a safe listener. This is critical with the older grandchildren. While the toddlers' antics and anecdotes are fun to share, the teen's issues and queries should be guarded as treasures. Be a vault not a voice box—and they will continue to trust…and talk—sometimes sharing things with you they bring to no others. Learn their language, know their loves, plot the latitude of their life. I've got Toca Boca on my IPhone and Shawn the Sheep on my Firestick, but I also know what Coachella is and can decipher the cryptic captions on my cool teen granddaughter's Instagram feed.
Tell them they're wonderful, the brightest, most beautiful, the bestest of all (making up superlative words is perfectly acceptable). Read them bookshelves of stories, but employ bold volume and exaggerated cadence to bring them along. Change your voice, use an accent, falsetto, deep bass.  And make up stories, with drama and details where they have the lead. If you scare them, hold them close and make the ending just perfect. If you want them to laugh, break the dyke on the silly—let it flow 'til they shake! Decorum's forgettable, but the ridiculous is remembered forever. Tell them stories where they are the champions, the winners, the greatest around. Let them know of your life—your strengths AND your struggles, your big moments AND your bumbled mistakes. Share your faith, without preaching, persuading or projecting. Share it as an anchor in storms, an ally in lonely times, a comfort in crisis. If it's part of you, show them, let them know you.
Create rituals, like simple repeated activities you can almost hear them someday tell their children, "Poppa always let me make pancakes all by myself." Keep their things in your home like you're hoping they'll come, and when they do, they'll see—you've been expecting their visit, there's room for them here. Buy a step stool to help them work beside you in the kitchen, reach the Oreos in your pantry, brush their teeth by themselves. Take their messes in stride, their fears as quite normal, and an occasional tantrum as a compliment—you're family, you're home. Hold them, hug them, give them a kiss. Tell them you love them, with eyes locked and voice sure. Be unexpected, spontaneous, serendipitous too—taking moon walks with flashlights, hearing bird songs before breakfast, sitting down on the curb with your knees on your chin, because the little boy beside you loves big garbage trucks and you've heard a distant roar that tells you it's coming your way. These are the things that will set your heart's rhythm and carve deeply your profile on the hearts of your grands. These are the things that, long after you're gone, will make the sound of your name bring a far away gaze and a sweet settled smile to the face of the little who stood on a stool right beside you and made "the best pancakes I've ever, ever tasted, and I'm telling the truth."