This post is sponsored by Blue Apron.
Of all the modern inventions that have made the hectic midlife-with-kids period easier (sliding doors on minivans!), one of my favorite offerings that enhances our quality of life right now is meal kit delivery services. I've written about Blue Apron several times before, and we've been fans for a long time, but there are several similar companies now that offer meals delivered to your home, each highlighting different perks for customers from the freshest ingredients to the easiest prep. We recently used and compared FIVE different services.
Let me be clear that Blue Apron is sponsoring this post, and I was already a Blue Apron user and fan before heading into this. They're not only uber confident that their meals and services stand out, they're cool and open to an honest report of pros and cons and how they stand against competitors. Sponsorship in no way ties my hands to only say good things about them. That said, for what we want in a meal kit delivery service and for what we appreciate in food, Blue Apron has us completely impressed.
If you want to see for yourself, you can try Blue Apron, and the first 50 readers who are ordering Blue Apron for the first time will get $30 off when ordering through this link.
Now let's head into the research kitchen, shall we?
Comparing The Best Meal Kit Delivery Services
We went head first into meal testing, ordering meals from five different meal kit delivery services and cooking multiple meals from these services for two straight weeks. We had friends staying with us cook with us and weigh in on their opinions, I had neighbors over to test, and one night my opinionated foodie best friend came and cooked with us and gave her opinion too. Brett kept a sheet on the counter and wrote notes on everything from things we noticed while ordering (how easy and user friendly the sites are) to meals we loved and recipes that were easy to follow. The notes sheet was covered front and back with writing curled around the sides by the end of the two weeks. I'll break down what we thought in terms of pros and cons for each delivery service we tested and then give a short summary of each.
Blue Apron's Meal Kit Delivery Service:
PROS: Always creative, delicious recipes with fresh ingredients that are special and upscale; easy to follow recipes with beautiful step-by-step picture instructions; a focus on sustainability and environmentally friendly–not only is their packaging recyclable, but they offer free USPS box ship back to Blue Apron to reuse; can easily pause or skip a week.
CONS: Can't choose specific delivery day (only delivers on Wednesdays for our area), can't choose the exact meals you'll get (can only choose extra ones you add on)–although I'll admit we've never had a meal we didn't like yet.
Summary: Because splurging on meal kit deliveries from time to time is a special treat for us, we want them to be special. I want the convenience of not having to think about dinner or shop for everything (check, check), but I also want to be wowed. That's my favorite thing about Blue Apron. It feels like a fancy restaurant meal, but it's made easy for me to follow directions and make (and those step-by-step picture directions! I LOVE them!).
We've been introduced to fabulous spices, herbs and produce we'd never used before, discovered creative recipes that can be easily reproduced, and are always impressed with the quality and diversity of ingredients. From beautiful tri-color potatoes to natural squid ink-dyed noodles (a nice Halloween touch for our October meal), Blue Apron continually delivers creativity and gourmet quality meals. And I love their attention to sustainability and the environment. Waste is a common complaint for meal kit delivery users, and Blue Apron is careful to make sure they're conserving where they can. They've even managed to pack their wonderful ingredients into the smallest box of all the services and offer free mail back for packaging materials so they can be reused. While I didn't at first love that Wednesdays were the only day we could choose for deliveries, I now love that I can expect them mid-week, right when I'm starting to feel scattered and exhausted. Sometimes we cook them the day they come, and sometimes we save them for the end of the week when we can truly enjoy the kitchen process, looking forward to the weekend.
Hello Fresh's Meal Kit Delivery:
PROS: Delicious, fresh ingredients; can pause or skip a week with one click on their app; 8 meals to choose from
CONS: Our recipes seemed a bit more time consuming/complicated; directions seemed more for experienced cooks on one of our recipes
Summary: We loved our meals and thought the ingredients were of the same quality and freshness as Blue Apron. We had sesame beef tacos one night which changed the way I'll dress my tacos (delicious brine-soaked cukes with chopped radish and cabbage). I did cut the sugar recommended for the meat in the recipe as I thought it was unnecessary. For another meal (rosemary half chicken), although it was deliciously seasoned, I thought it was a bit time consuming to prepare, had a long cook time and the directions were a bit vague and seemed to be geared more toward the Julia Childs type which I am not. As my friend said as she was attempted to follow the instructions for how to cut and piece the chicken: "Hello! I'm not a butcher!" Other than that, we loved the meals and quality of Hello Fresh.
Sunbasket Meal Kit Delivery:
PROS: Easy to use ordering, menu looks good, delicious fresh ingredients
CONS: Can't cancel or pause online (we had to call), no step-by-step pictures in the recipe (one of my favorite things about Blue Apron), can't choose delivery date (only on Tuesdays for our area)
Summary: Like Blue Apron, the ingredients sent were fresh and interesting (Brett loved the full dried pepper they sent for a little spice), but I've gotten so used to Blue Apron's 2-sided recipe cards that are so easy to follow and have step-by-step photos to lead you along, I didn't love that their recipes were short and included in a book that had other recipes from meals we didn't select. I also cut the sugar completely out from the suggested recipe (in a chorizo sausage chili). Deliveries, like Blue Apron, only come on one day, but my least favorite thing about Sun Basket was that it was not easy to pause or cancel deliveries. We had to call which was frustrating.
Plated Meal Kit Delivery:
PROS: Easy to use site; 19 recipes to choose from
CONS: For just 2 servings, it's a little more per person ($11.95 per serving as opposed to Blue Apron's $9.95 per serving); $7.95 shipping fee; meals didn't stand out as super special
Summary: While I love the simple branding of Plated's recipe cards and packaging and their food was fresh and tasty, our meals (beef and cheese empanadas and brown butter orecchiette with spicy sausage and peas) didn't stand out as super special, although it could have been the meals we chose. I did love that for something like empanadas where making and cutting dough would normally be a time-consuming process, the little circle dough was all prepared and ready to be filled.
Home Chef Meal Kit Delivery:
PROS: 11 meals to choose from, three different days to choose for delivery, fast and easy meals
CONS: Serving size seemed small; super basic ingredients–nothing special; dated recipes
Summary: Home Chef was my least favorite service, probably because of what I particularly want in a meal kit delivery service which is "Wow me!". Ingredients seemed very basic (see below), and the serving size was very small.
The chili we made was basically tomato paste, crushed peppers and meat, and there weren't any layered flavors (this was the serving size when I halved our chili for me and Brett).
Their fish cake recipe seemed a little dated, like something my grandma would have taken to the church potluck–made with mayo to hold it together rather than eggs, and no fresh herbs.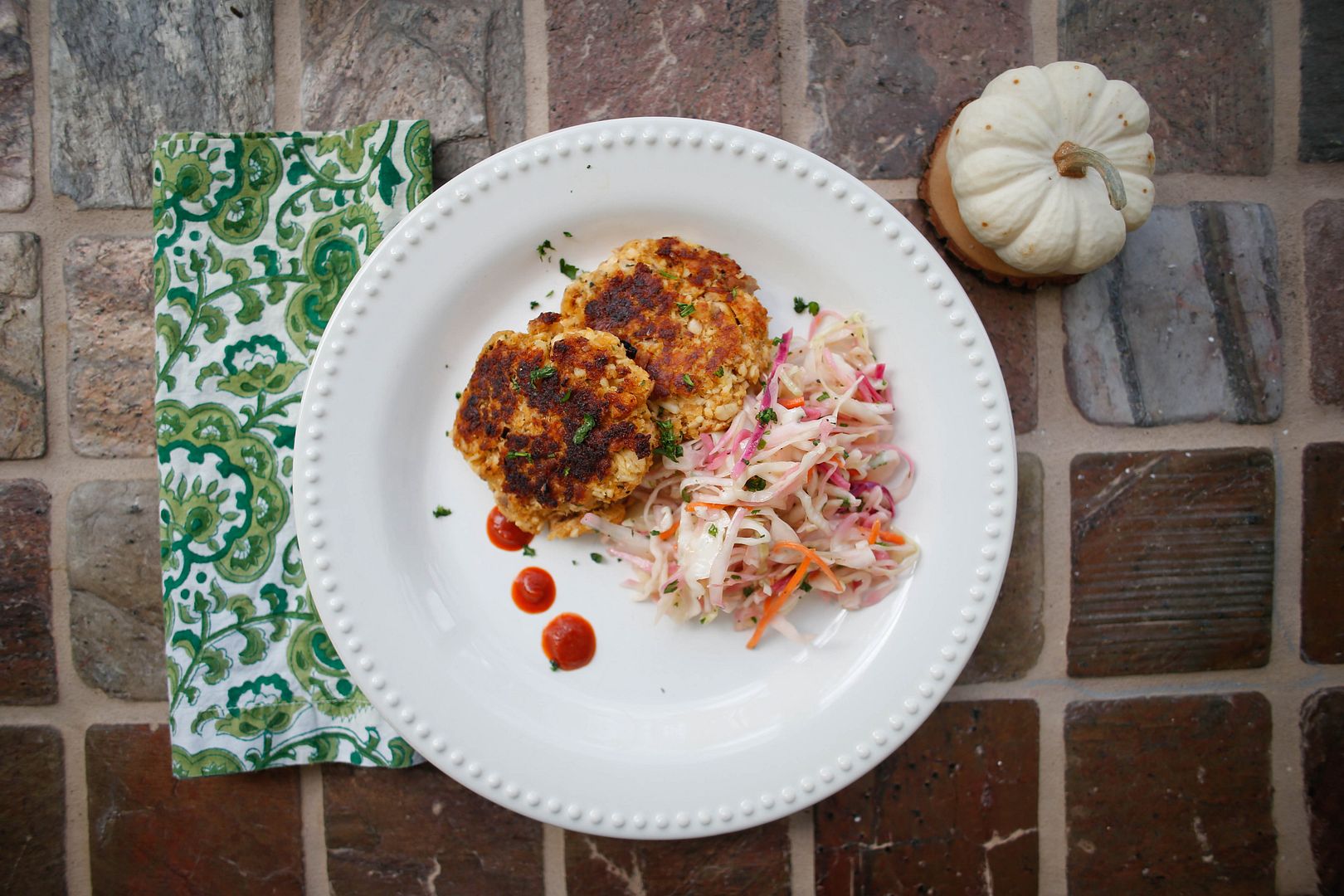 However, if you're looking for super easy and quick and don't care about special ingredients or a gourmet focus, it delivered.
The Verdict For The Best Meal Kit Delivery?
Overall, it was such a fun two weeks of cooking and sampling and sharing our kitchen with friends. Our neighbors signed up for Blue Apron last week ("Alright, we cave!") after hearing us talk about it so much, and we still sing their praises but are happy to have sampled some of the other brands out there as well. Brett is also a huge fan of Blue Apron, and one of my favorite things about the days our meals are delivered is that I'm pretty much guaranteed a kitchen date with my husband. It's now become a tradition that our Blue Apron nights are tackled together, and we make an event of preparing the meal–lighting candles, sipping wine, listening to Nina Simone and chopping and stirring together while we critique each other's techniques. He prides himself on keeping his cooking area cleaner (I'll give that to him), and I brag that I plate the meals way prettier (for God's sake, wipe the slopped sauce, Brett).
Want to initiate some cooking date nights? Skip a little grocery shopping for once? Order here and the first 50 meal kit first timers will get $30 off their order!