This post is sponsored by RetailMeNot. All of the holiday allowances in this post help save time and cushion my sanity to preserve this season so that I'm enjoying it rather than scrambling to perform in it. They also happen to include savings from Retail Me Not so that my wallet gets cushioned too.
"I'm all ready for the holidays and there's nothing for me to do except sit back and listen to Bing Crosby on repeat until December 25″…said no one ever. December can be an ironic month for many–the intention to gather, slow down and enjoy our bounty can often just create pressure that makes us feel stretched, stressed and anything but bountiful.
I, of course, don't hide the fact that I love this time of year. We create bucket lists, plan holiday adventures and get dizzy with excitement over parties and decorating and watching loved ones to open gifts that we put our hearts into. But I wouldn't enjoy it if my expectations didn't come with the cushion of allowances I give myself–to simplify where I can and use as many resources available so that celebrating the season doesn't mean stretching ourselves thin or feeling guilty for what we did or didn't do.
Whether it's scratching the homemade meal you planned and ordering pizza instead for Polar-Express-and-living-room-fort night or laughing at the fact that you never found the time to finish the homemade gift you planned for your sister so you ordered her those red shoes she's had her eye on instead (20% off though, so yay!), RetailMeNot basically serves as the hubbub of savings for you this season with thousands of coupons, deals, cash back offers (that can be combined with codes!) and discount e-gift cards. Instead of rummaging through old mail for that pizza coupon you may have saved or scrolling through e-mails for holiday deal offers, RetailMeNot puts all the best deals and savings out there in one easy-to-find spot. We used deals we found on RetailMeNot for all of these holiday allowances this year:
1. Permission to knock off both "Decorate a Gingerbread House" and "Christmas Cookie Baking Extravaganza" with a pack of store bought gingersnaps and some candy. 
Pssttt: here's a little tip. World Market has these dangerously delicious gingersnaps that serve as the perfect blank canvases for frosting and sprinkles. They also have the best pack of Christmas cookie candies I've found, all packaged in one easy-to-store container.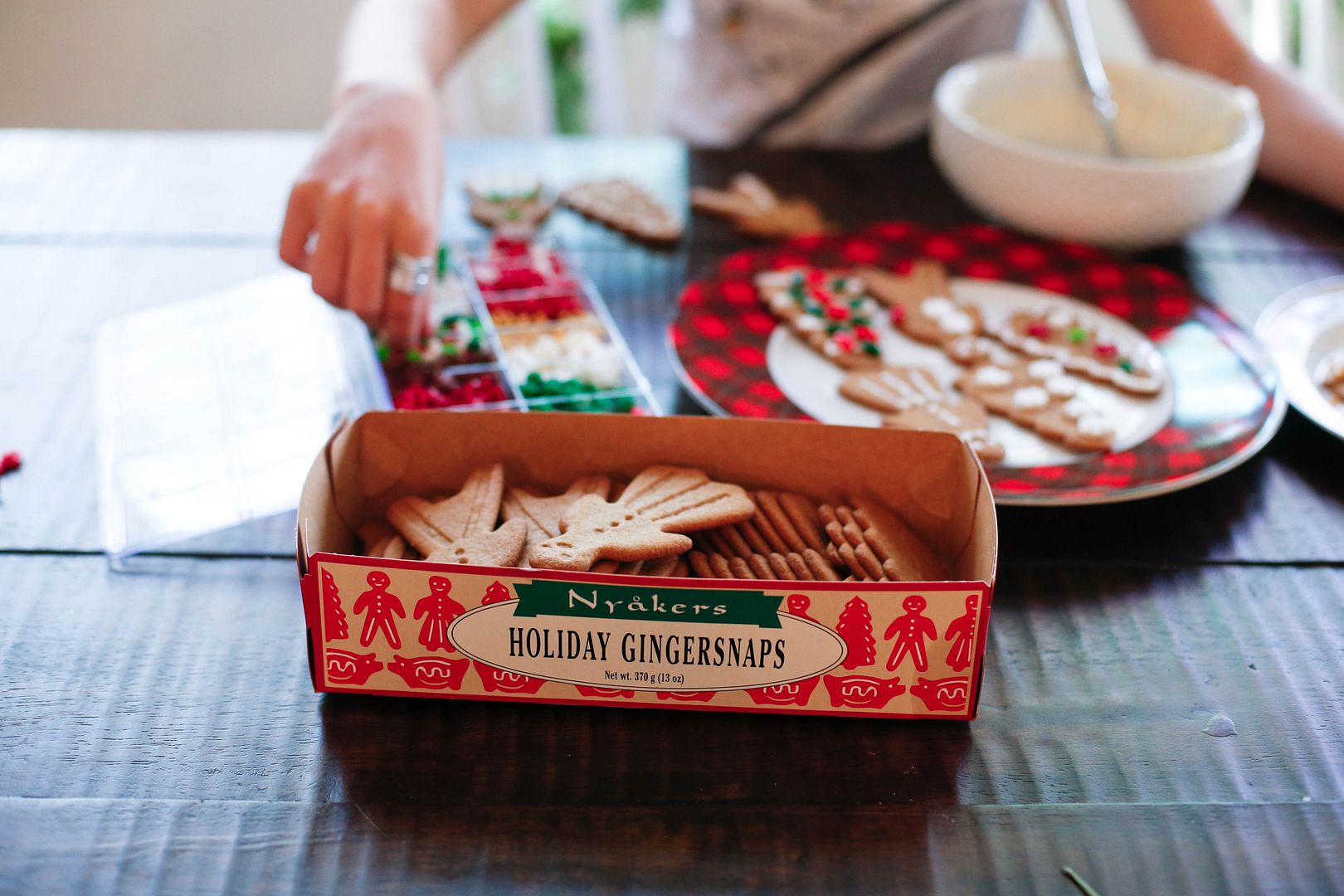 While we love baking cookies, not everyone does–not to mention the mess. So if you're looking for a cookie cheat, this is the perfect solution. RetailMeNot has several current offers for World Market right now from food (so many great specialty holiday food items there!) to gifts.
2. Permission to order out as many nights as you please in December.
Hear ye, hear ye: If you have fed your family from January to November and they're all still standing, your job is done. You put in your time, you did your deed, here's your gold star. They just enjoyed the most extravagant spread of food for the year on Thanksgiving, they'll be fine with whatever from here on out. This month, you have the freedom to order pizza, subs, sushi and count them all as "special holiday meals." In fact, let the kids eat on T.V. trays while watching Home Alone–they'll love it.
We never remember to keep the coupons in our mail-outs for local restaurants, so we use RetailMeNot to find great food deals…like 25% off for Papa Johns the other night.
3. Permission to be a sentimental heap at the holidays. Oh, this one's hard for me–I always feel like I have to rein in the feels because mine are wild stallions. Whoa, horsey! But, you know what? It's the holidays, and if I want to roll into a fetal position and cry it out at the ending of Family Stone or go all mushy gushy over the Hallmark ornaments that remind me of my kids' first Christmases, then so be it.
(little Goodnight Moon…Nella's pick at the Hallmark store with a $5-off-$10-purchase code we found on RetailMeNot)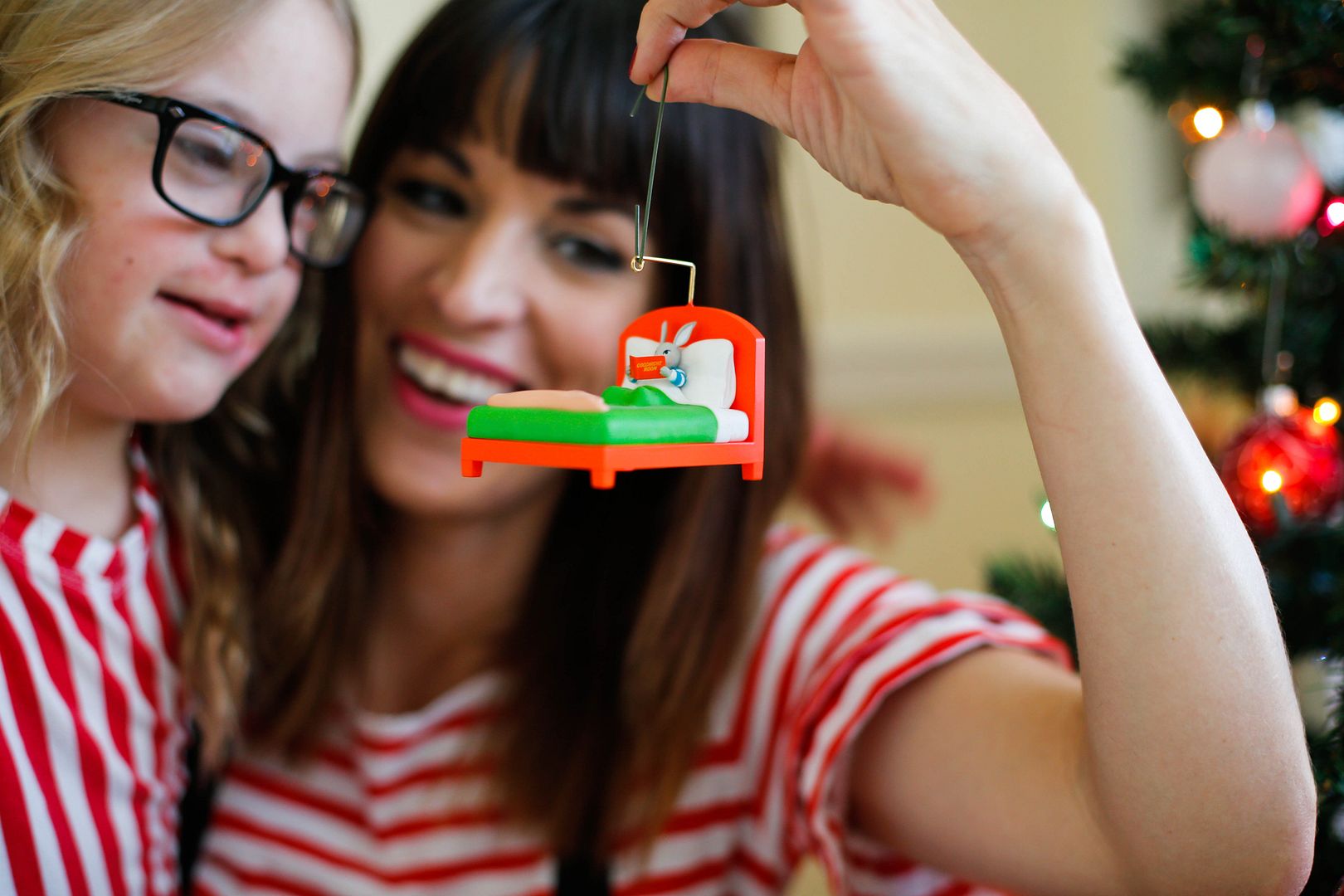 I have a heart, and I intend to let it bleed all the emotions this holiday.
4. Permission to celebrate however you like.
Don't like telling your kids the whole Santa story? Very well then. Take Santa to the moon? Very well then too. Elf on the Shelf stresses you out? Honey, you're in good company. Two hours of Elf on a Shelf preparation for the lego tower in the shape of the Empire State building you made him build last night? High five, you go girl. There are so many ways to celebrate the season and opportunities for both wonder and imagination as well as simplicity and gratitude. You find what works best for your family, what draws you together, what makes you come alive, what aligns with your values and your beliefs. This season is about love, and whether or not you sprinkle magic glitter all over it really doesn't matter. Each of our traditions are unique and tell a different story, and that's what makes the holidays so colorful. No matter what my neighbor believes or how many holiday ideas I read about online, I give myself permission to create our own family memories in the language of love we speak.
Ours happens to come with a side of glitter.
(The kids fell in love with this teeny tiny bottle of magic reindeer dust, another Hallmark deal on RetailMeNot).

5. Permission to not get the most thoughtful/unique/homemade/perfect gift. 
Listen, I love to find unique "Wow!" gifts just as much as the next person, but that puts a lot of pressure on the giver, and sometimes receivers aren't into handmade pottery mugs like I am. There's nothing wrong with an easy click-to-buy gift card. I buy gift cards for my nieces because I was a teen girl once and know that shopping for makeup in Sephora at that age with money that isn't earmarked for books/gas/paying your mom back is the golden ticket. And we buy gift cards for teachers because I was a teacher once and know that a go-buy-something-fun-that's-not-related-to-your-classroom nudge is a huge hug from parents. RetailMeNot has a large collection of discounted e-gift cards that you can send to loved ones far away without facing the post office, or you can print off and creatively package for someone near.
And now that you've given yourself permission to enjoy these holidays in whatever fashion works for you, here's a little bonus gift from our friends at RetailMeNot: They're offering $200 to one lucky winner. To enter the giveaway, click here to sign up for RetailMeNot, browse their website and comment back on this post with the deal you're excited to use for holiday shopping this year!
You can download the RetailMeNot app to save on everything, and when you snag a great deal, share your savings on social media with #DealBrag.
Now I'm going to give myself permission to lie on my couch for twenty minutes and finish this book I've reading.