Nella Cordelia Hampton came home today.
…and our new story begins.
We don't know what will be written, but we know it will be a beautiful story.
As much I wanted to be home…away from the walls of the room that seemed to close so tight on me so many times this weekend…away from the confusion…away from the darkness of a sterile room…when it was time to leave today, I wept. Because I wasn't sure if I was ready. I haven't felt enough the deep grooves of my defining moment that happened in that sacred place.
I want time to stand still. I want the world to stop. I feel like I am holding on to a weak branch while flooding currents move around me and I'm not quite ready to let go and join the rush of water that will move us forward. And so I grip a little tighter…not because I am afraid. But because I just want to feel this moment a little while longer. Drink every blessed breath of it…the good, the bad, the beautiful. My hospital bracelet still hugs my wrist, and I'm not prepared to cut it off just yet.
I am beginning to write the story of her birth that will be shared soon. It is painful, it is beautiful, it is raw and life-changing, and I am so very afraid I am going to forget one of the millions of moments that are slowly shaping me into the character I know I am meant to be.
People keep asking me if I'm tired of hearing that this is so meant to be…that we were chosen. And the answer is no. Because I believe it. I believe this is divine and purposeful, and if you met and held this breath of heaven we are so blessed to love, you would wish you too could be chosen. Because she is so special, there are no words to describe the magic she is weaving in so many hearts. And oh the love she has propelled me to. For my big sister daughter who has revealed more beauty and love and has carved a bit deeper this weekend the grooves on my soul where she belongs. For my husband who has held my hand and demonstrated such love and support and this unearthly fatherly magic that words cannot describe. For my family who loves so beautifully and challenges me to always rise to the occasion. For our friends who were so amazing and there for us this weekend, numerous hospital staff members made it a point to comment they'd never seen anything like it. Room 221 will never be the same. And for you…I am touched and inspired and comforted and moved to the core from your support. I am simply awestruck by the beautiful words of your comments and e-mails and have spent hours just weeping and taking it all in. Every single comment and e-mail is being printed to be put in Nella's book. Thank you for carrying us through this.
There were moments early this weekend where I thought I couldn't breathe. So many times I cried out, "I want to go back. I want to rewind. I want to do this over again and have a different ending." And tonight, I tell you, I want to go back. I want to rewind to Friday morning and do it all over again. Feel every moment. Deeply. Yes, I want to go back, but this time…I want the exact same ending as we have.
There is so much beauty…so many divine moments…so much love to recount, and I am piecing it together to tell the story of her birth very soon.
In the meantime, some promised pictures of the angel who is going to take the world by storm…
…and she's taking her sister with her.
My Two Girls. It's not what I envisioned.
No, it's better. Lainey & Nella, I love you so.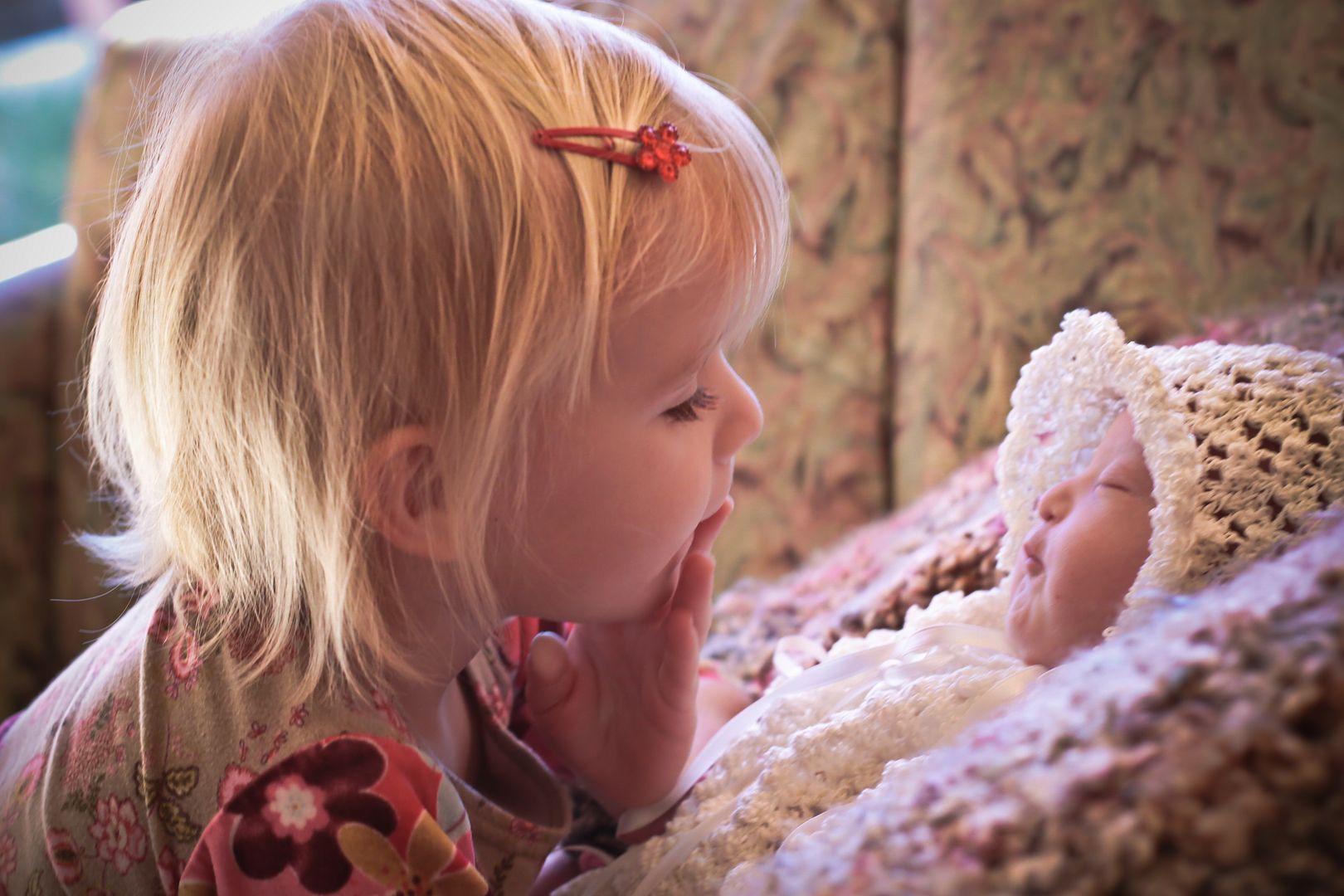 We are resting and taking it all in the next few days. And feeling very, very blessed.
Yes, there are challenges ahead, but those challenges will write a better story for us in the end. I am so excited for this journey.
So much love. And when I say so much, I mean even just a portion of what we felt from loved ones and strangers this weekend…because just a portion would be enough to fill you forever.
~k