It's 10:15 on Saturday night, and Brett and I have just realized we are the only ones left in the restaurant where we came for a date but ended up being seated next to a couple we haven't seen in years. I taught fifth grade to two of their six children who are now all grown up, and for the past three hours, we've talked about the all-consuming task of raising children, specifically the crucial teenage years leading up to the tipping point, when every effort you've made–from driving them to soccer games, to following through with those broken curfew consequences–finally pays off and they metamorphose into flight. "Mom? It's me. I got the job!" "I met somebody." "I got an offer in California. Can you help me move?"
"All these years," my friend says, "and, boy, do we have stories. But after six kids and only two left to graduate, we're almost there. They're out there…making it."
It starts from the second we fold up that hospital receiving blanket and tuck it in the keepsake box, and it never ends–preparing our kids for this "bigness" that the world holds for them; tucking lessons of discipline and resilience in their belt, granting them experiences, exposing them to the world so that one day when they pack up all the Christmas ornaments I've been saving for them all these years and the bedding we bought for their first apartment, hug us goodbye and drive away, we can wave and cry and miss them and yet know that there is more for them out there in the world than there is at home. That all the prerequisite courses of being an adult we gave them prepared them for something bigger.
Rewind to last November. I'm in Washington D.C. with my friend Liz from Ruby's Rainbow, visiting a group of students with Down syndrome attending George Mason University's Mason LIFE program for students with intellectual disabilities.
We have spent an entire day following the students in the program, attending classes with them, visiting their dorm rooms, accompanying them for their weekly independent grocery shopping trip and talking with their professors and student mentors.
I am inspired and hopeful and yet a little bit emotionally raw, as I often am in these situations, simply because I love these people so much. I love my daughter, I love that she's opened up my world to the heart of this community, and I feel the love I feel for Nella in every person I meet. And I know behind every student I'm following–watching her raise her hand in class to answer a professor's question…
…or compare juice prices at the grocery store…
…or talk about what she wants to do when she graduates–"disability advocacy policy in the education field," as my friend Madison tells me…
…is a mom, like me, who once held her baby, stunned with a diagnosis, wondering if the world we all prepare our kids to be a part of is big enough for her child.
I get to spend time with several of these moms on our trip, stashing advice from the ones who've been on this road longer than me and huddling close to the ones who are right there with me. I sit next to one of them–Emily, a new mom of a 9-month old baby girl at home–during an award ceremony where our friend Liz, the founder of Ruby's Rainbow, is being recognized for her work granting scholarships to people with Down syndrome. Also being recognized is Mark Hubler, a 52-year old man with Down syndrome who attended college on a Ruby's Rainbow scholarship, graduated last year and is traveling the country as a motivational speaker now. We spent the evening with him the night before at dinner, scooting our chairs closer to him and howling with laughter from the stories he told; and now Emily and I sit side by side in the audience as he walks to the podium to speak. He unfolds his paper while the first slide of his presentation appears on the screen–a black and white photo of a baby with familiar almond eyes in a high chair–and begins.
"When I was born in 1964, doctors told my parents, 'Put Mark in an institution.' But my parents said, 'Heck, no.' My parents gave me the opportunity to be part of a family."
I feel it again–all the worries I keep buried and this surge of love for Nella so overwhelming that it damn near breaks me–and tears begin to spill as the screen scrolls from baby photos to teenager photos and finally a picture of Mark, 51 years old, in cap and gown, holding his college diploma, smiling while John Lennon's "Imagine" plays overhead and Mark bellows into the microphone, "We need real jobs! We can do it! We can do it!" I cannot stop the tears as the room fills with applause and Mark holds his hands in the air in victory, and all I can think is how his mother is somewhere in this crowd watching, and how her heart must be completely wrung out with pride–how in 52 years, you can go from a small world that had no place for your son to a wide and welcoming one because you fought hard and never stopped believing.
Eight years ago, right now, we were getting ready to celebrate our first World Down Syndrome Awareness Day. We celebrated it on the beach, in a dedication ceremony with our friends and family. We cried, lit sky lanterns, set them free into the sky and promised to be the village that Nella needed to thrive. She was tiny. She wore pearls and the gown my mother sewed, and as we held her close to us on the beach that night, we were still sad and scared and overwhelmed by the fear of the unknown.
We know so much more now, and I cry less because I'm worried and more because I'm grateful–inspired by the possibilities for her life.
For the last two years, I've asked you to help us in supporting an organization that is close to my heart but more importantly, one that is changing the future for people with Down syndrome from "Your road stops here" to "There is more." And today, I ask you again to join me in support as Ruby's Rainbow begins their two week 3-21 Pledge in preparation for World Down Syndrome Awareness Day on March 21. Last year, Ruby's Rainbow was able to grant 35 new scholarships with your support for a total of 109 scholarships–and that's after just 5 years of being off the ground.
What is Ruby's Rainbow? Ruby's Rainbow is an organization that grants scholarships to adults with Down syndrome who are seeking post-secondary education, enrichment or vocational classes, not only helping these individuals live a better life with more opportunities, but creating awareness of their capabilities. Are these programs working? YES. Oh my goodness, yes. Not only are employment rates dramatically improving for individuals with Down syndrome who graduate from these college programs, but their social skills, life skills, confidence and overall quality of life has drastically been made better. I've talked to numerous parents of kids in college programs and Ruby's Rainbow scholarship recipients who say they've never seen their child happier–thriving, contributing, hanging out with friends, saying yes to new opportunities. I've followed these students in their classes and watched them interact with their peers, interviewed their professors and mentors, and have a resounding "Yes! This is changing the future." The once very limited world of opportunities available to these individuals is expanding, and so is their happiness.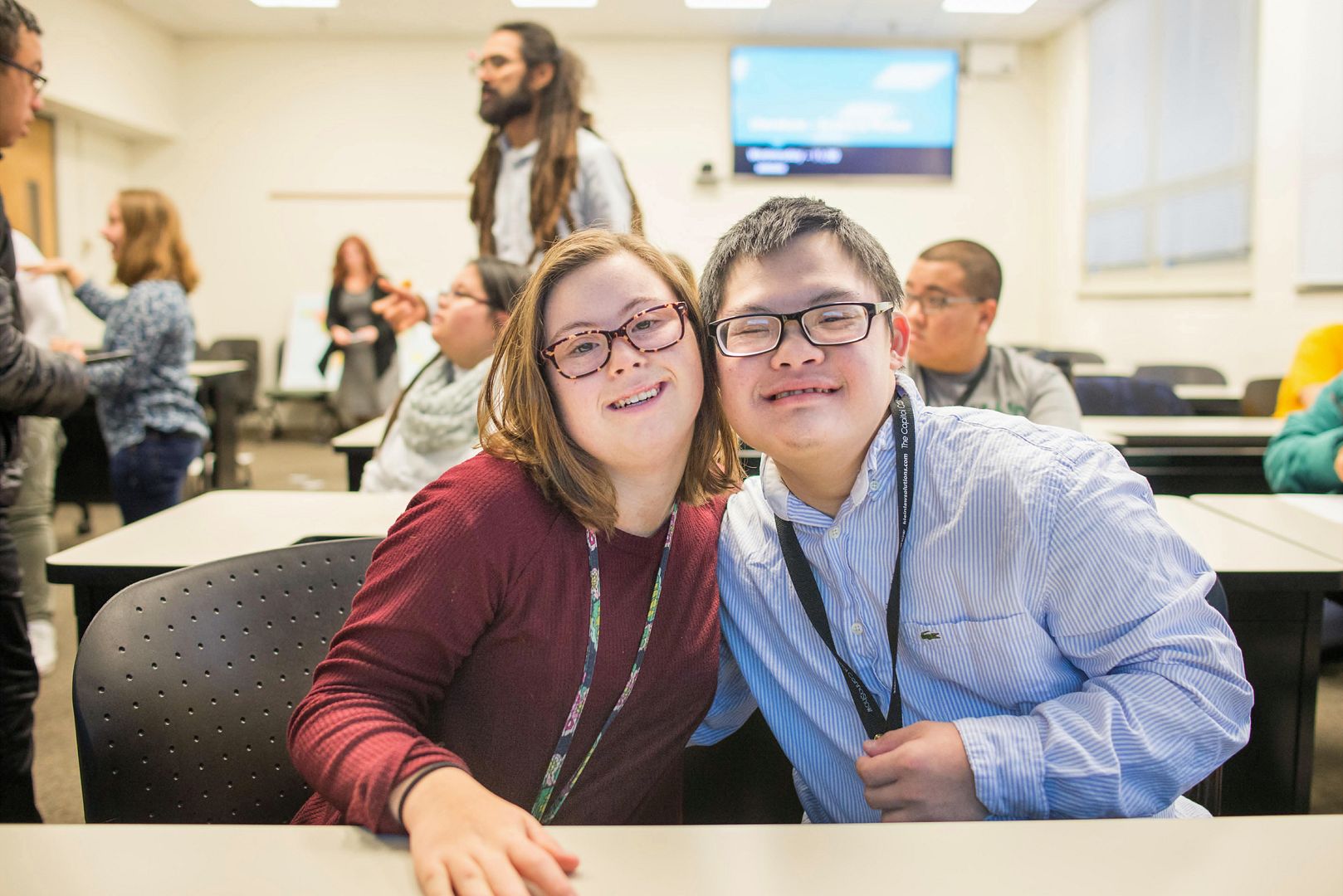 And what Ruby's Rainbow is doing for the hopes of new parents? It's life changing. Take it from the parents of baby Walt who fought a very brave battle but passed away last August. His parents continue to support Ruby's Rainbow and advocate for people with Down syndrome (a $5,000 Ruby's Rainbow scholarship will be awarded this year in Walt's honor):
While I sat in silence by Walt's bedside, I came across Ruby's Rainbow through an Instagram hashtag. I quickly realized as a parent of a child with a little extra and at that moment, a child who was in critical care, I wanted more than anything to give my Walt hope and a future. I wanted more than anything for him to be healthy and happy. I wanted more than anything for him to be able to go to college. I wanted more than anything for our Walt to be independent and have self-worth. That was the moment Ruby's Rainbow became a piece of our Walt's hope and his future.
Every child deserves the pursuit of something bigger–learning more, taking risks, making friends, chasing dreams…
And you can help.
Take the 3-21 Pledge. 
1. Donate $21–more if you can, less if it's a tight time–to Ruby's Rainbow.
2. Pledge to be kind to people of all abilities.
3. Share the pledge with THREE friends, asking them to do the same.
Social media has given us so many opportunities to raise awareness and invite people to feel more than their own story, and sharing is a big component of Ruby's Rainbow's success with their mission. If you're a parent of a child with Down syndrome, here's how you can share the pledge:
"Friends and family, f you're ever wondering how you can help parents of kids with special needs feel supported and loved, how you can help make the world a more accepting place for our kids, I have something you can do. It would mean a lot to us if you donated $21 to Ruby's Rainbow. For our child and his peers, it grants them the opportunity to dreams we all want for our kids. For your child, it grants him a college experience that includes knowing someone with Down syndrome."
For me? Well, if you've been reading, you know our story. But, in a nutshell, it looks like this:
Thanks to Ruby's Rainbow and the work of others who continue to fight for more opportunities…
These dreams that I thought I had to put to rest the minute my child was born…I can put to life again.
For the next two weeks, I'll be sharing on my social media channels, along with Ruby's Rainbow, more inspiring clips and stories of the work of Ruby's Rainbow from our friends. Please help us make these next two weeks Ruby's Rainbow's best pledge year ever. They have so much more work to do–and applications already coming in from kids like mine who want to learn more so that one day, moms like me can pick up the phone and hear, "Mom? It's me. I got the job."
$21. For the price of a bouquet of roses, a new book, a dinner entree…you can make a difference in someone's future. Donate Now.
****************
Special thanks to Heather Rodriguez Photography for providing the beautiful photos in this post.