This post is Born Again. And by that, I mean it's sponsored by our friends at Børn Shoes.
If you've been putzing around Target aisles in your free time lately (that's how everyone handles free time, right?), you'll know spring is in full force. Like Peeps have taken over the world and pastels are running for president (and possibly could win in this race). This pleases me to no end for a multitude of reasons, but I'll shave them down to three. A): Cadbury eggs. B): Babies in Easter dresses. C): Spring fashion.
We're going to go with C on this post because I'd need more than one post to take on Cadbury eggs.
Spring brings all these feelings of newness for me. I want to change things up, rearrange furniture, try new things, and that extends into what I'm wearing. This spring, I've pulled a few new looks by switching up some things I already had in my closet with a couple new pieces.  So I'm jumping on the flare jeans trend, swishing in some flowy dresses, and tweaking the sophisticated pencil skirt into a more casual look. The big question is…what shoes do I wear with these?
My friends at Børn Shoes always take care of this question perfectly, providing an impressive selection of styles for the new season. Their edge? Comfort! Comfort, comfort, comfort so that you don't have to hobble around chasing the kids, sacrificing well-being for looks.
Flare Jeans
My flares were the biggest challenge for shoes. I like flare jeans when they're really long and worn with some height, but not all heels are comfortable enough to run errands and do the mom thing all day. Solution? Børn Fatema sandals. 
The perfect heel height for flares with no uncomfortable hobble! They're soft and supportive with a peep-toe to show off your spring pedicure.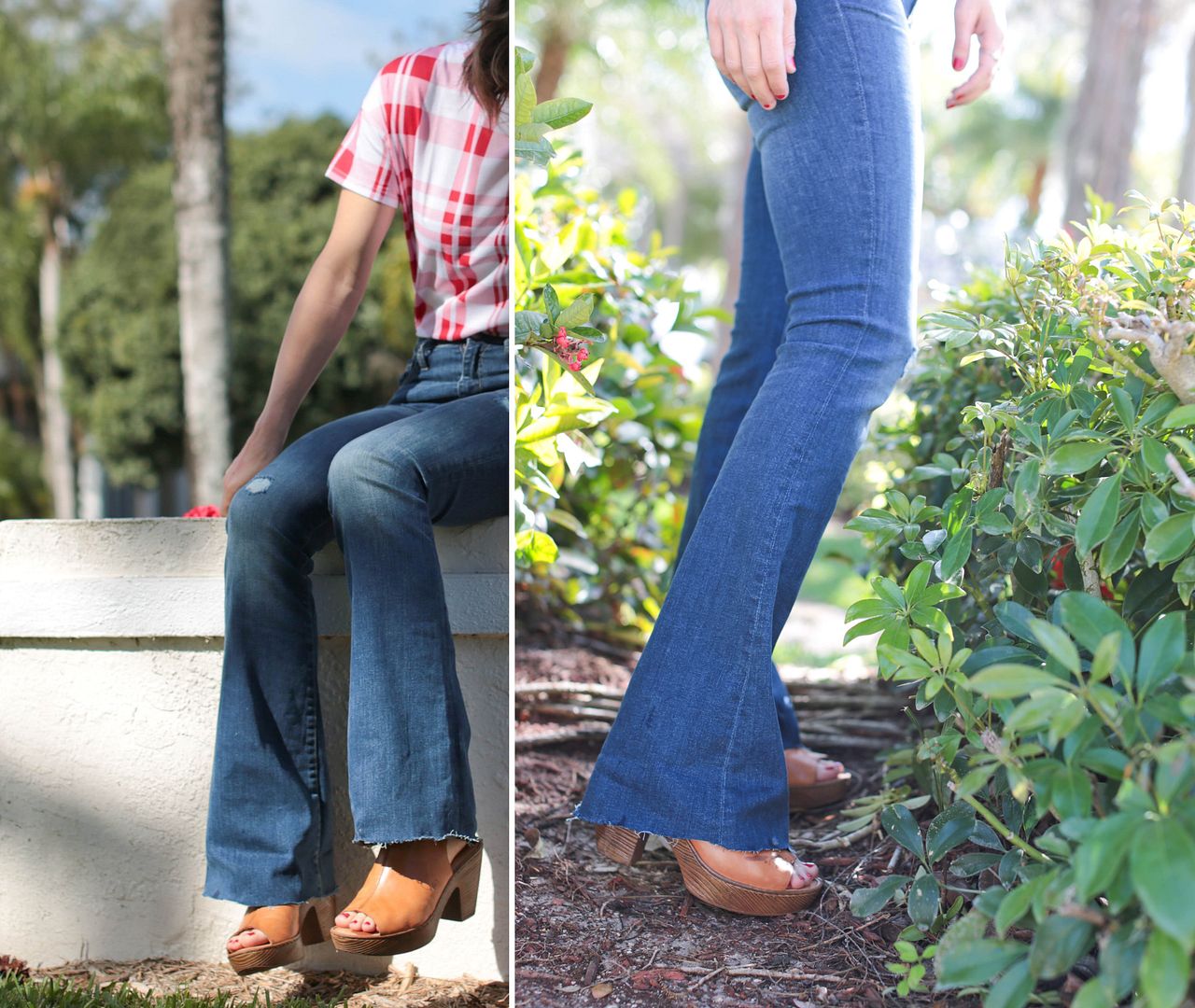 And I love that they have a little retro vibe that pairs perfectly with flares. Now play The Doors and get me a lava lamp.
Spring Shoe Challenge #2: Flowy dress.
Did you know flowy isn't even a real word? I find this despicable.
So my flowy dress challenge is that all my sandals felt like they were taking over the outfit–clunky and standoutish (standoutish isn't a real word either, by the way) when my dress was light and airy. I needed something light and simple that would blend well with the dress instead of compete with it. Voila! Børn Stephane. I love how simple these sandals are, making them versatile for just about any and everything you'd wear in warm weather–shorts, jeans, dresses, skirts. Heck, you would wear them naked around the house and forget you had them on.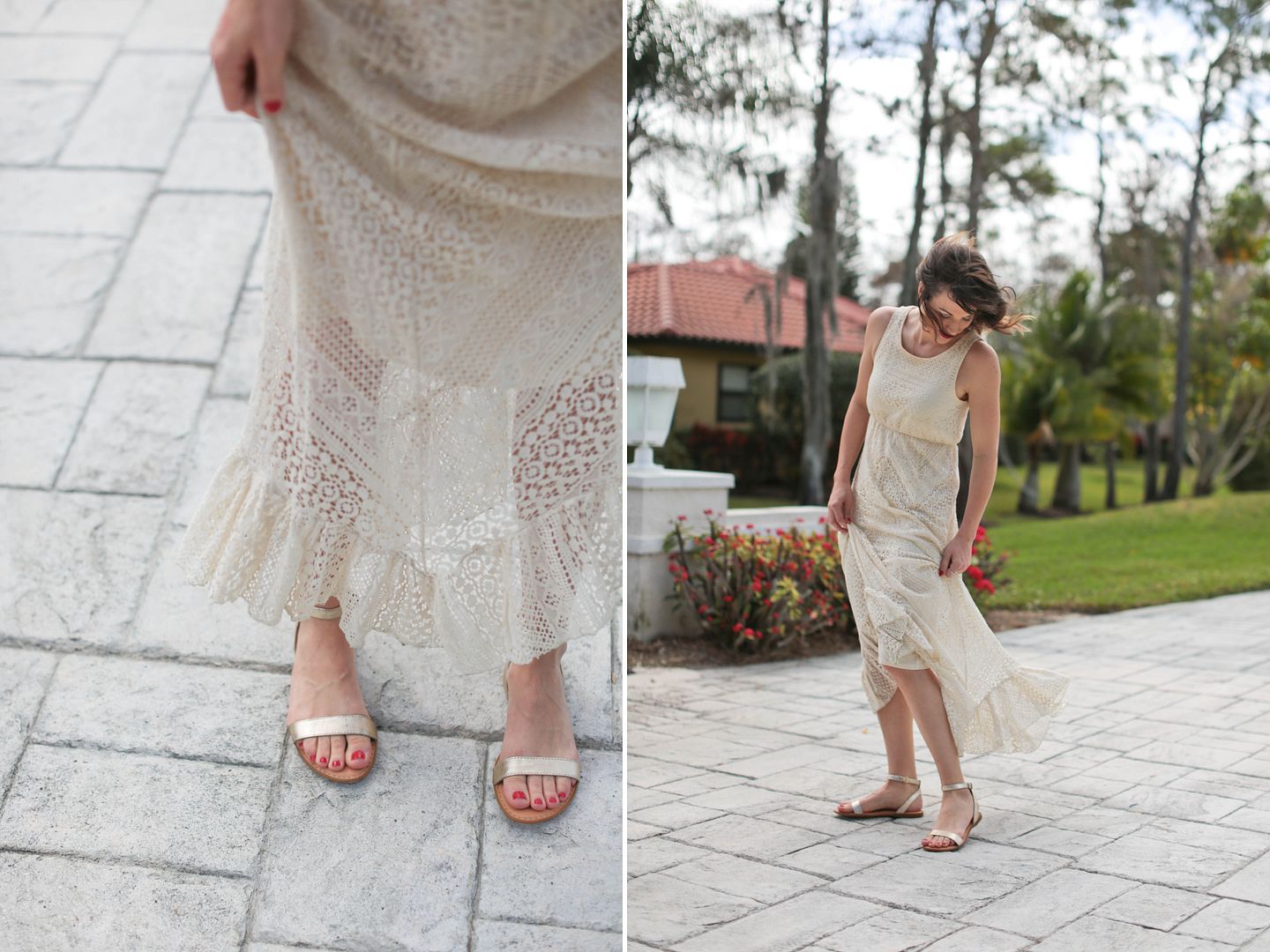 Pretty metallic finish too…
Finally, my favorite challenge–Make a Pencil Skirt Casual.
I have this great high-waisted pencil skirt with a fun flap/slit detail, and it's been sitting in my closet for a month. I wanted to wear it more casual than out to dinner with heels, so I paired it with my favorite Led Zeppelin tee, but needed the perfect spring shoe to finish the look.
Børn's Marcia gladiator sandals pulled this look together perfectly, and I love it. Plus, they are ultra comfy, and I'm totally taking them on spring break.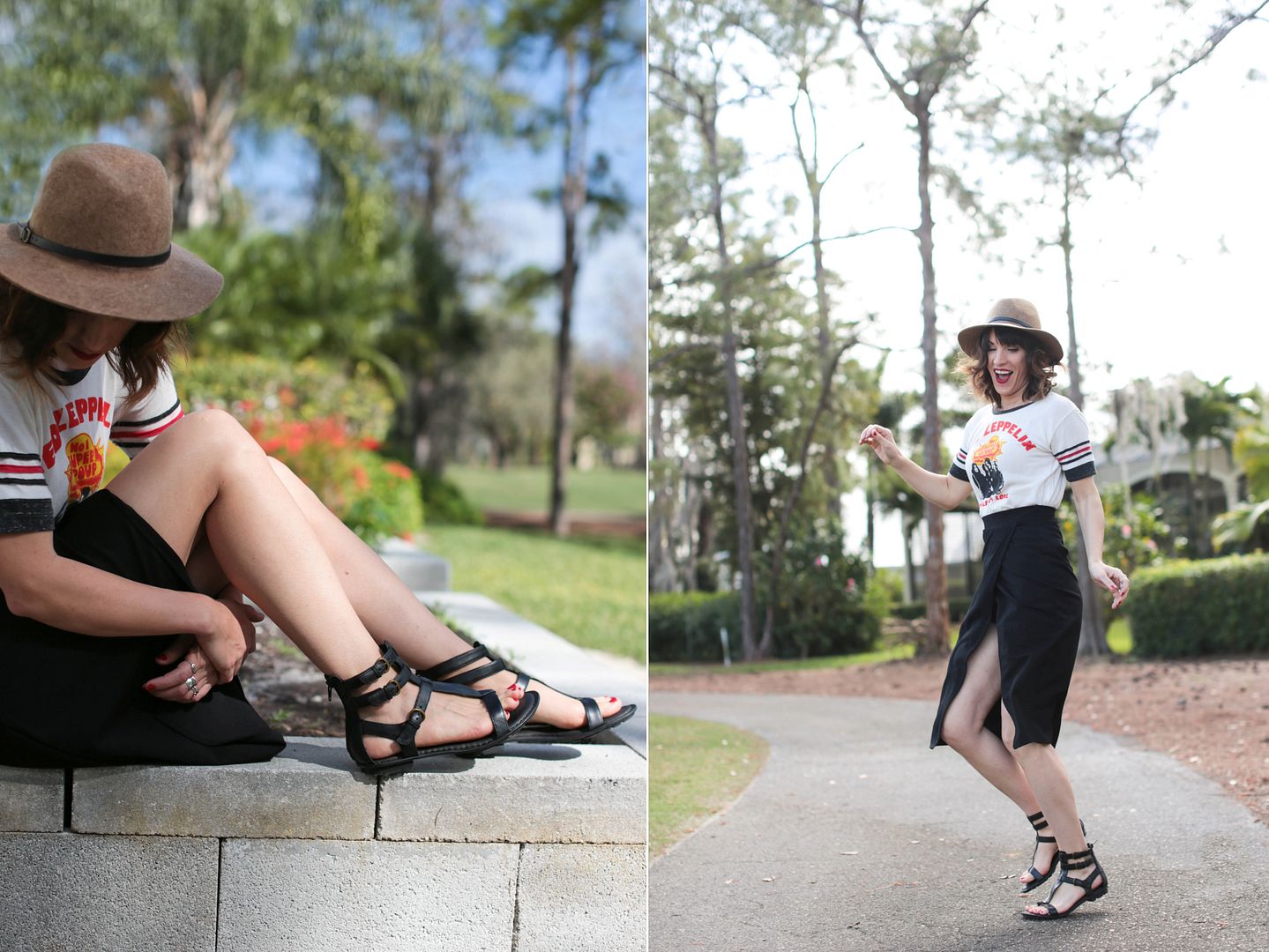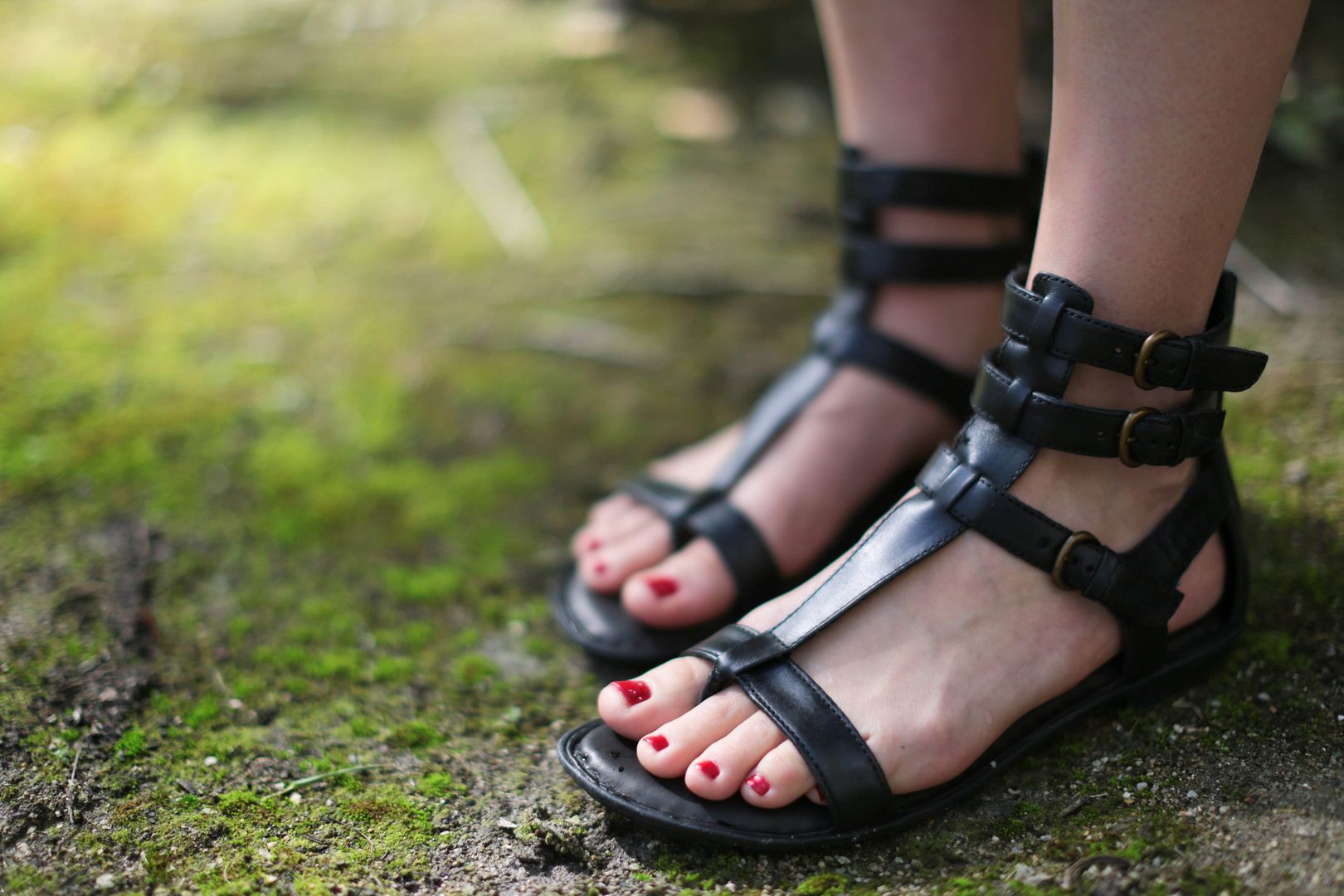 I love the gold burnished buckles–three for good luck.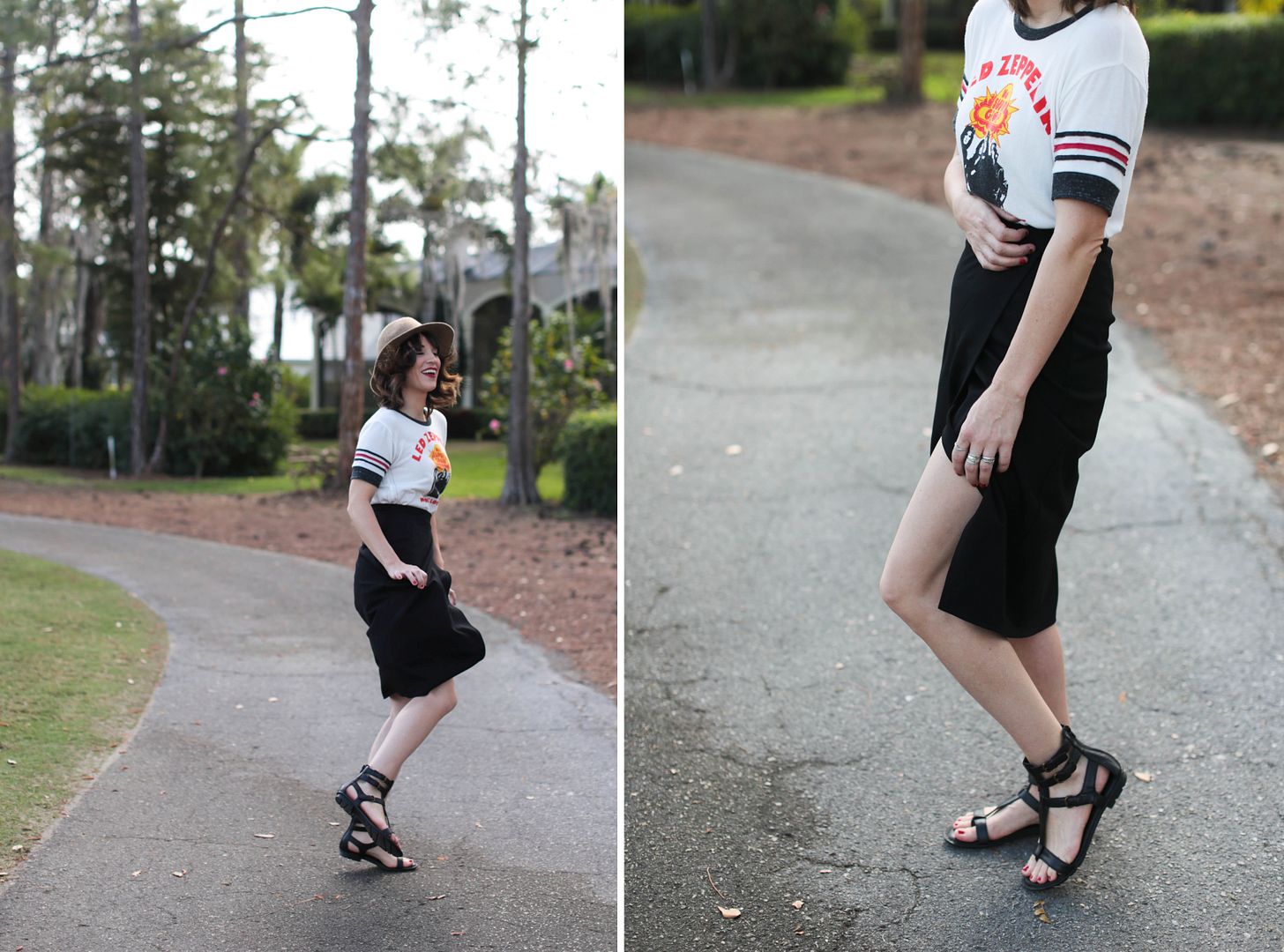 This is where I'm reenacting Kristen Wiig in Bridesmaids: "Its a great color, its a great length, it's fun, you can twirl, you can… you can move in them, you can spread your legs apart."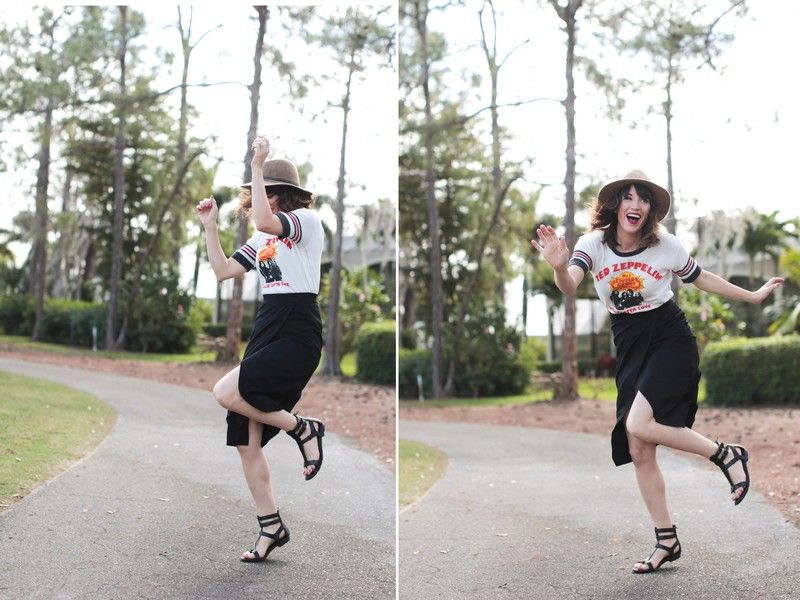 So basically, I can move on with my life because the great spring mystery of "what shoe to wear with this" is solved!
And the best part? Our friends at Børn have been amazing supporters of anything we do for Down syndrome awareness. They're the first to say, "How can we help?" and this month, they're helping our #3-21 pledge once again.
ADDENDUM: Giveaway closed now…but please keep reading and donate *shoeless* if you can ;o)
Børn has generously offered a free pair of Børn shoes (ARV $100-$200 each) to the first five (5) readers who donate $50 or more to Ruby's Rainbow 3-21 pledge–helping to provide college scholarships to adults with Down syndrome.
Click here to donate. Then e-mail a screenshot of your completed donation to [email protected]  with BORN SHOES in the subject line. I'll be watching e-mail like a hawk, and as soon as I have 5, I'll hop on here and add an addendum that the giveaway has been closed (but, of course–keep giving ;o) ADDENDUM: GIVEAWAY CLOSED.
Thank you again to Børn for supporting our mission. And, okay–for keeping us comfortable, cute and happy. It all matters.