As our family and children's personalities have grown and changed over the years, we've switched up our kid spaces many times, mostly for practical reasons (new baby, the need for an office, changing sleep habits), but also just for fun (creative itch, changing kid interests). There are lots of spaces in our home that make me happy, but my kids' rooms have always been places where I especially love to nest, the ultimate goal this cozy vision of tucking them in at night amid warmth and comfort and all the little things that say "You are loved" and feeling like these little spaces are colorful reflections of each child. It also helps if toys and books and all their little treasures have a place so that rooms stay somewhat orderly.
Dash's space was in limbo for a while as we knew he wasn't going to be in a crib much longer and we'd eventually switch things around when the girls got bunk beds. This room that once was an office and then Lainey's nursery has been a pink baby/toddler sister room for Lainey and Nella, a shared baby/toddler room for Nella and Dash, a shared big kid sister room for Lainey and Nella and now, finally, Dash's boy cave. I love the outcome.
Using mostly what we have allows us to switch things up. Instead of all new bedding or furniture, we save a lot of money by switching less expensive things that still add a lot of character–pictures on the wall, a coat of paint on an end table, a little D.I.Y. project and new sheets.
The D.I.Y. project in this room is the peg board on the wall, something I've been wanting to install for a while. Total cost with paint, peg board and materials was around $40.
What I love about it:
1) Display. It goes all the way to the ceiling, breaking up the wall a bit bit yet still keeping the large open feel to the room. I'm no minimalist and have a hard time deciding what stuff gets displayed and what doesn't–I love it all! There's no way I could have displayed all these beloved treasures with no peg board and maintained any kind of order. Containing it all to the pegboard creates an organized display that not only has character but functions as an extra place to put things. Which brings me to….
2) Extra Storage! I can hang hats, toys, pictures, kid art, etc. We can also easily create a few small shelves here later if we want to add more storage.
3) Changeability. We love to switch things around a lot, and now we can do it without hammering more nails into the wall. Simple move a peg, slip in another hook and Voila!
I'd also love to brag report that this pegboard work is all mine, no help. I'm all for a good D.I.Y. when it comes to glue guns and paint brushes, but power tools and accurate measurements? I'm out. Which is why I asked my dad and Brett to help me with this one. Thing is, I got tired of waiting and, like many other projects in my brain, wanted it done yesterday. So I girl powered through this one and found myself in the lumber aisle of Home Depot, feeling like a complete fraud, but doing my best to pull off Legit Home Improvement Lady by myself. I only felt like an ass once when I pointed out the pegboard sheet to the burly guy in the lumber area and asked, "Think this will fit in my minivan?" And he answered, "I don't know, M'am. I've never seen your minivan." So I winged it. Loaded this thing out on a little scooty cart, only crashing into a curb twice. And then? Delivered a 15-minute free comedy performance to the people of the Home Depot parking lot which, might I add, none of whom offered to help. Don't ever underestimate the weight or awkwardness of an 8-ft. sheet of pegboard. Just ask my bloody shins or the cut between my thumb and forefinger or maybe my ass as it was hanging outside the end of my van while I hoisted this thing up enough to clear the back seat head rests. Ask the man in the truck two parking spots over who watched while I ran back and forth–side seat, back seat, front seat, side seat–pushing, pulling, lifting, cursing, wedging, pleading the girl power gods to please let something loose so I could at least say I bought a piece of pegboard by myself and carried it home. I called Heidi TWICE from the parking lot with a "Sweet Jesus, so help me God if you don't have to come up here and help me shove this mother $#&er in this van so I can get it home without Brett telling me, 'I told you to wait for me.'" Let me tell you this: the girl power gods are alive and well. We cleared the head rests. We shut the door. We brushed the blood off our shins and we drove home with 180 degrees of blind spot, singing GLORY BE. We spread drop cloths out on the driveway and had this thing painted before Brett could say LUNCH BREAK. And when he got home that evening? He just smiled. Nothing else because he knows and I know and we all know how this story ends. This pegboard is going up on the wall tonight and it might be crooked and it might be a little jagged and it might have some blood germs on it, but I'll be damned, this project is getting done. NOW.
I'll admit, I took his help for one little thing–I needed an extra hand to hold the board when I used the electric saw (NOTE: I USED AN ELECTRIC SAW), and I needed an extra hand to hoist the board when I screwed it into the wall with a power drill (NOTE: I SCREWED THIS SUCKER TO THE WALL WITH A POWER DRILL). Also and perhaps most important, I used a stud finder. Like took the time to borrow one from the neighbor and put batteries in it and actually read the directions on how to use it. And measured where to put the screws instead of drilling holes all over the wall on the off chance it might land a good spot. I'm LEGIT HOME IMPROVEMENT LADY now who does things the proper way!! (For how to install a pegboard, follow these perfect and easy directions). The bottom is only a teeny tiny bit crooked, but I will proudly point that out to my kids with a "Your mama is imperfect, but she tries!" And when it was all said and done, Brett loved it too.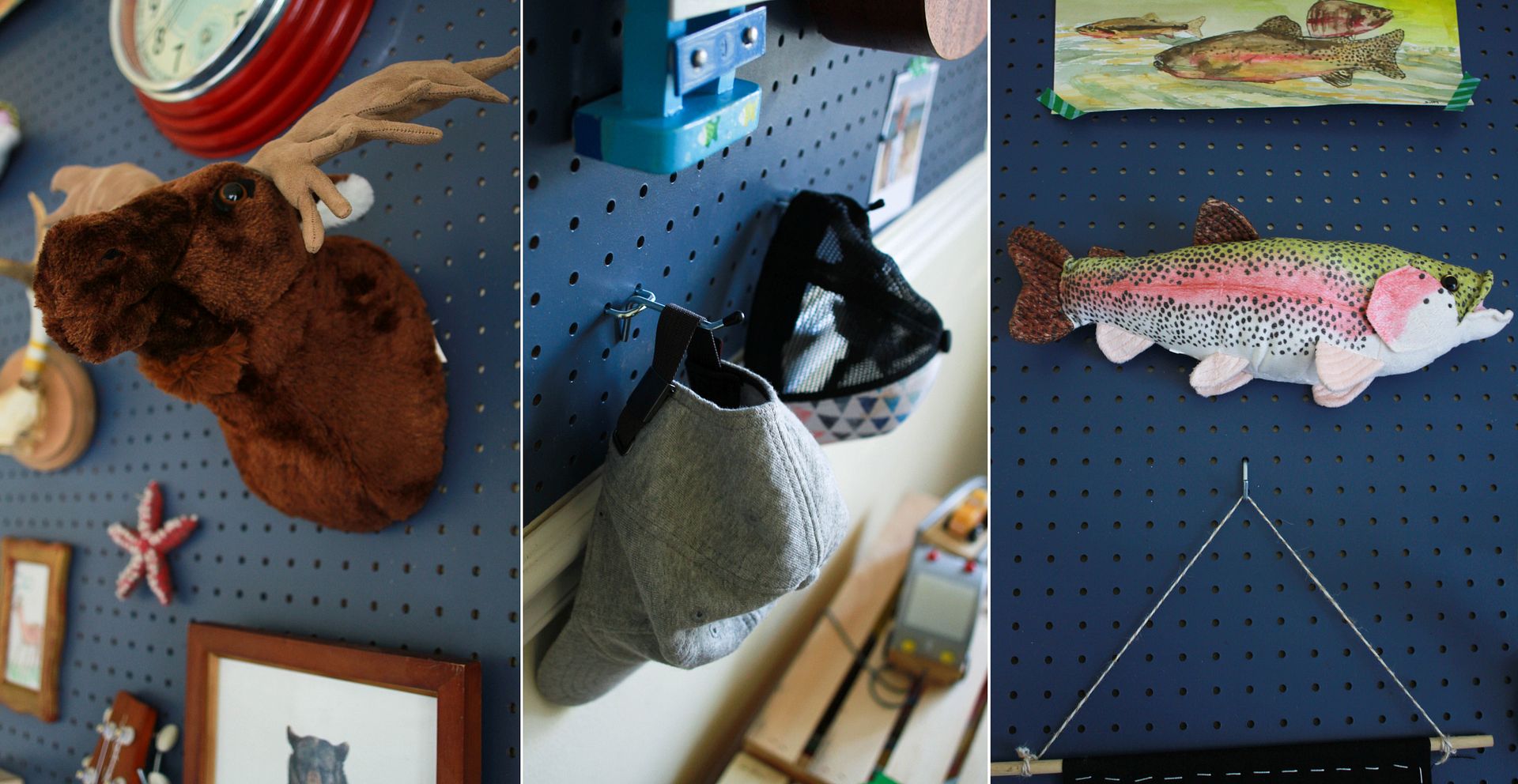 Moose Head Wall Hanging, Rainbow Trout, White-Tailed Deer, Black Bear
My favorite thing on here: the teeniest tiniest pair of red Keds from when Dash wasn't 8-feet tall and didn't have Michael Jordan feet.
And without a crib, we now have the loveliest space for play and cubbies for all the toys. Nothing new bought here–just gathered some crates and baskets together.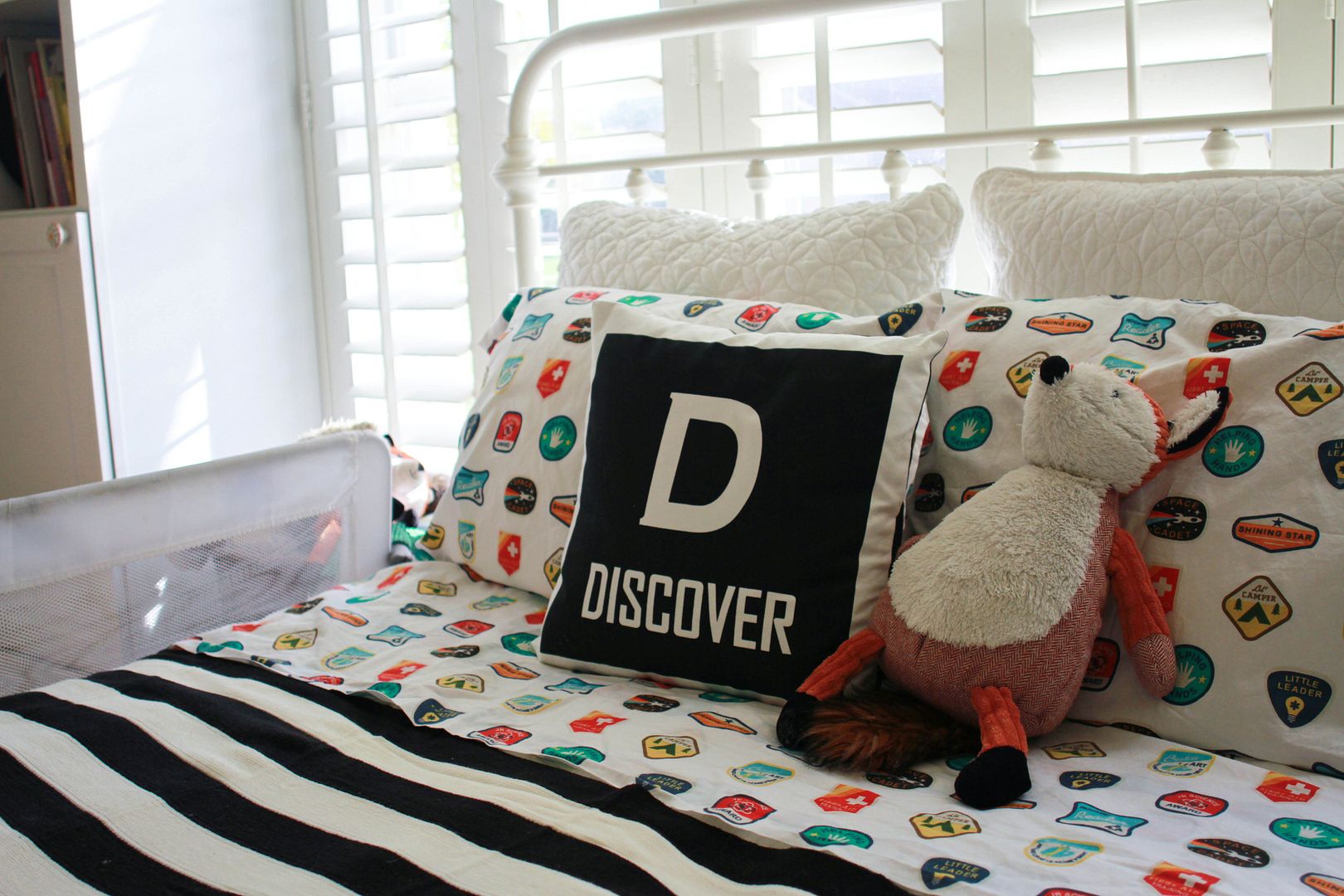 I dug up an old white matelasse coverlet we already had and added the sweetest camp badge sheets from Land of Nod.
I think sheets and pajamas are my favorite thing to buy for my kids. If you're budgeting for new bedding, get a white, versatile comforter. You can change the entire look of the bed over the years without switching the comforter by getting new sheets, adding a blanket, changing a toss pillow. I love these sheets so much. They match my wild and adventurous boy and with the soft edges of the bed frame, it's a perfect mix.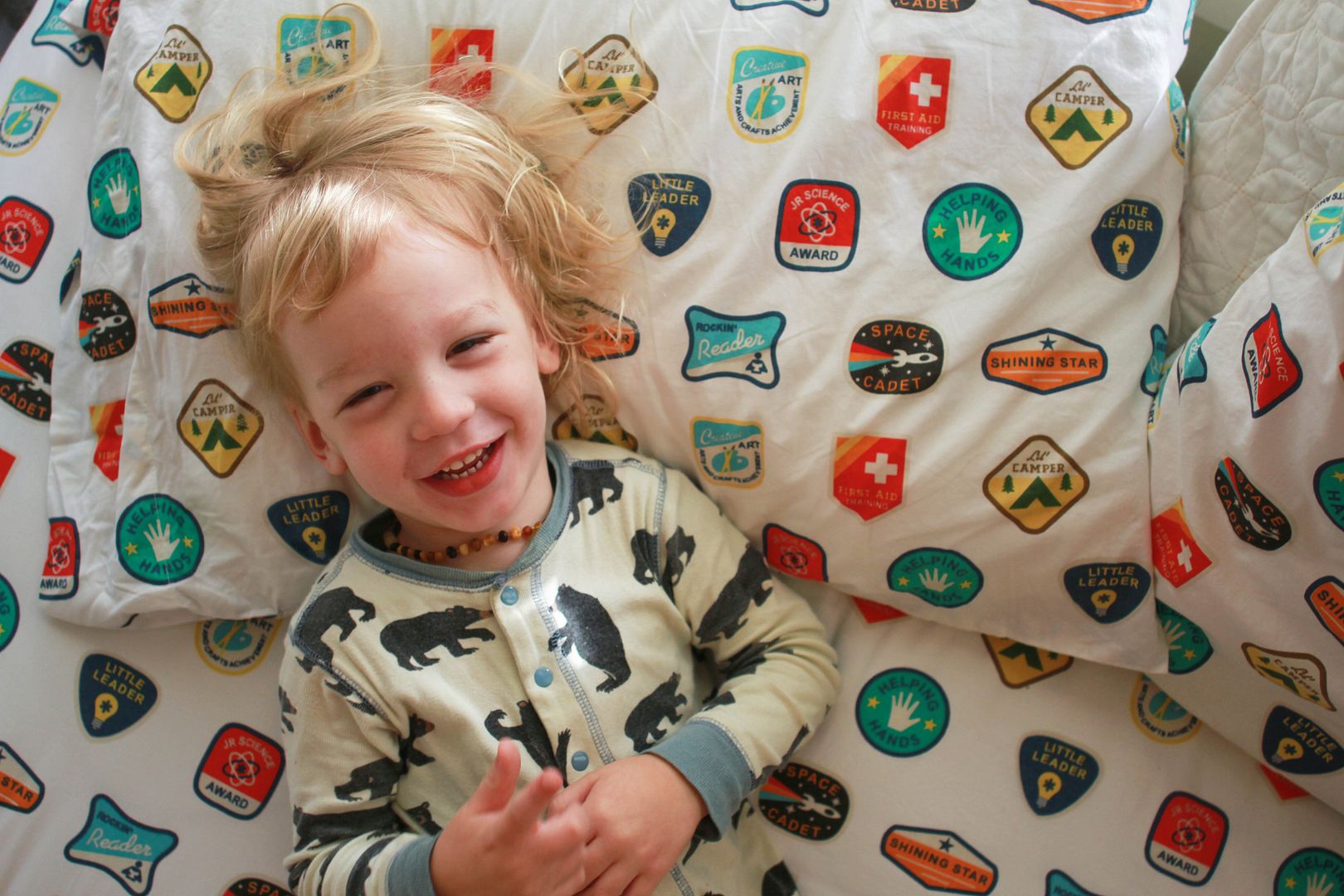 The black and white stripe blanket is an IKEA throw.
Wall Color: Behr Opal Cream, Pegboard Color: Behr Durango Blue
It's Dash's pad, but all the spaces of our home belong to all of us, and we often find ourselves piled up–the entire family–on this bed. Feels refreshing to have some new creative flavor in this room and space carved out for his next boyhood adventures. Not to mention some girl power under my belt…oh the places this power drill will take me!