I don't even know where to begin.
And so I sit here, just staring at the screen, wanting so badly to be able to take this storm of feelings and find words that are worthy.
For starters, we'll use Bryan Adams'. Because they were playing the moment my hands reached out and grasped her tiny little self…the moment I pulled her close and kissed her head.
When you love someone, you'll do anything.
You'll do all the crazy things that you can't explain.
You'll shoot the moon. Put out the sun. When you love someone.
The celebration of her birth was a bit like her birth day–planned and prepped with anticipation of perfection. And, a bit like her birth day, the unexpected came–cold winds and languid skies. It wasn't the way it was supposed to go but, turns out, it really was.
And while the house wasn't ready for an indoor party, everyone came together and made it work. We passed out sweatshirts and blankets, lit a fire, cleared tables, and watched as huddles of bodies joined inside, outside, wherever…and it didn't matter. We had our village and our family. And that's all I ever need.
The rest is…well, cake.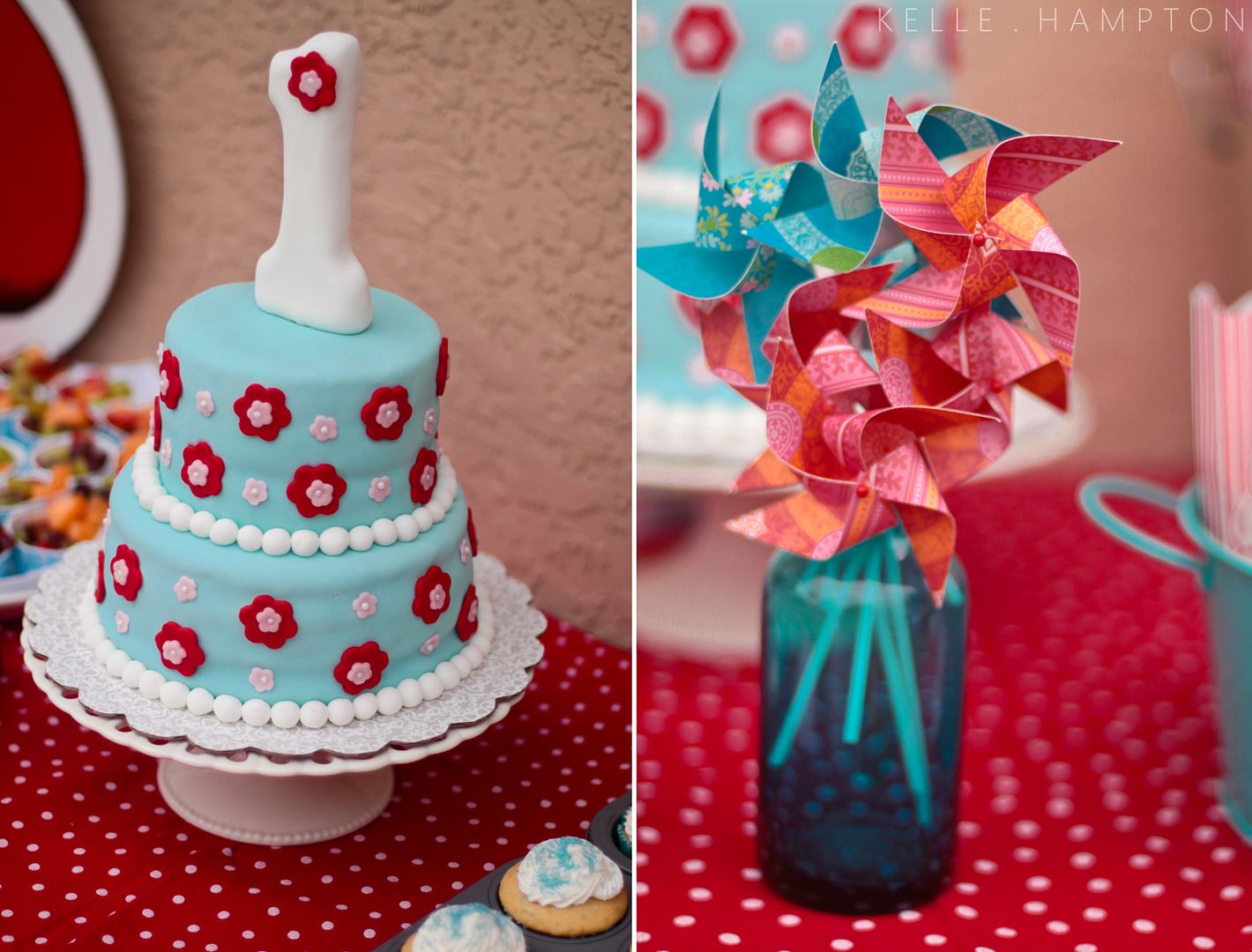 Pinwheels: Elizabeth St.
Cake: My talented friend, Amy

Our girl had a party. And it was just as it should be.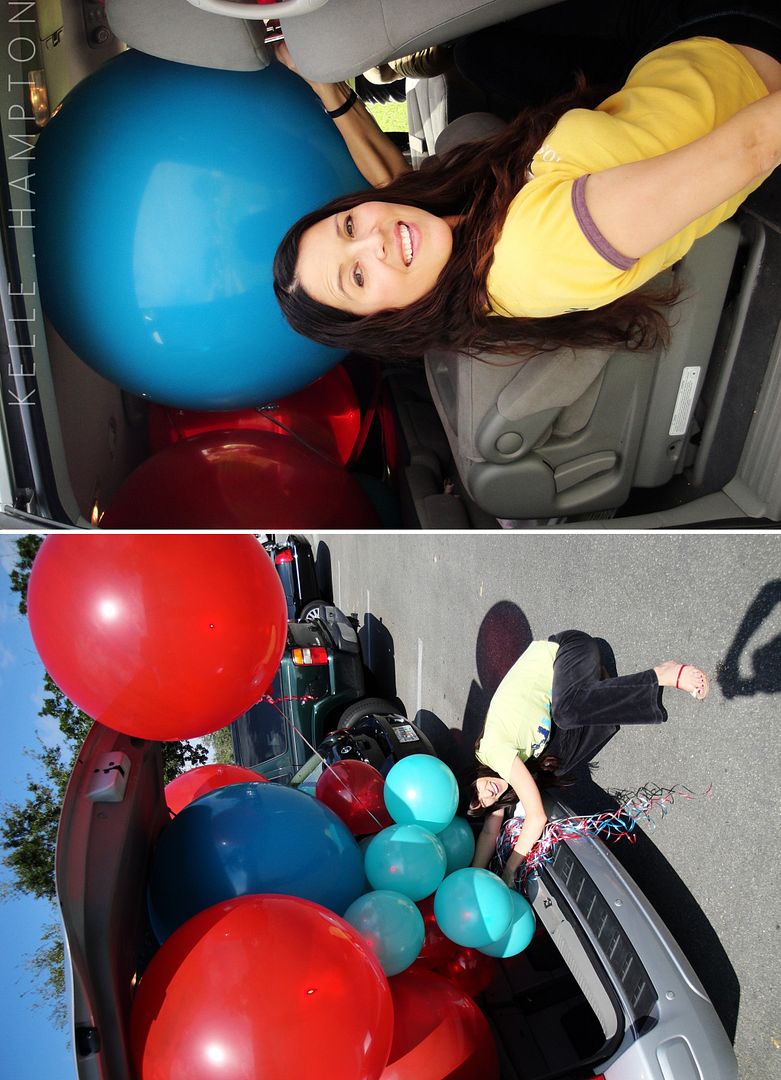 Going to pick up our balloons was perhaps the funniest experience ever. We stuffed and pushed and crammed for fifteen minutes to make them fit, and my friend Nadya ended up having to lie on the floor underneath them to make it home.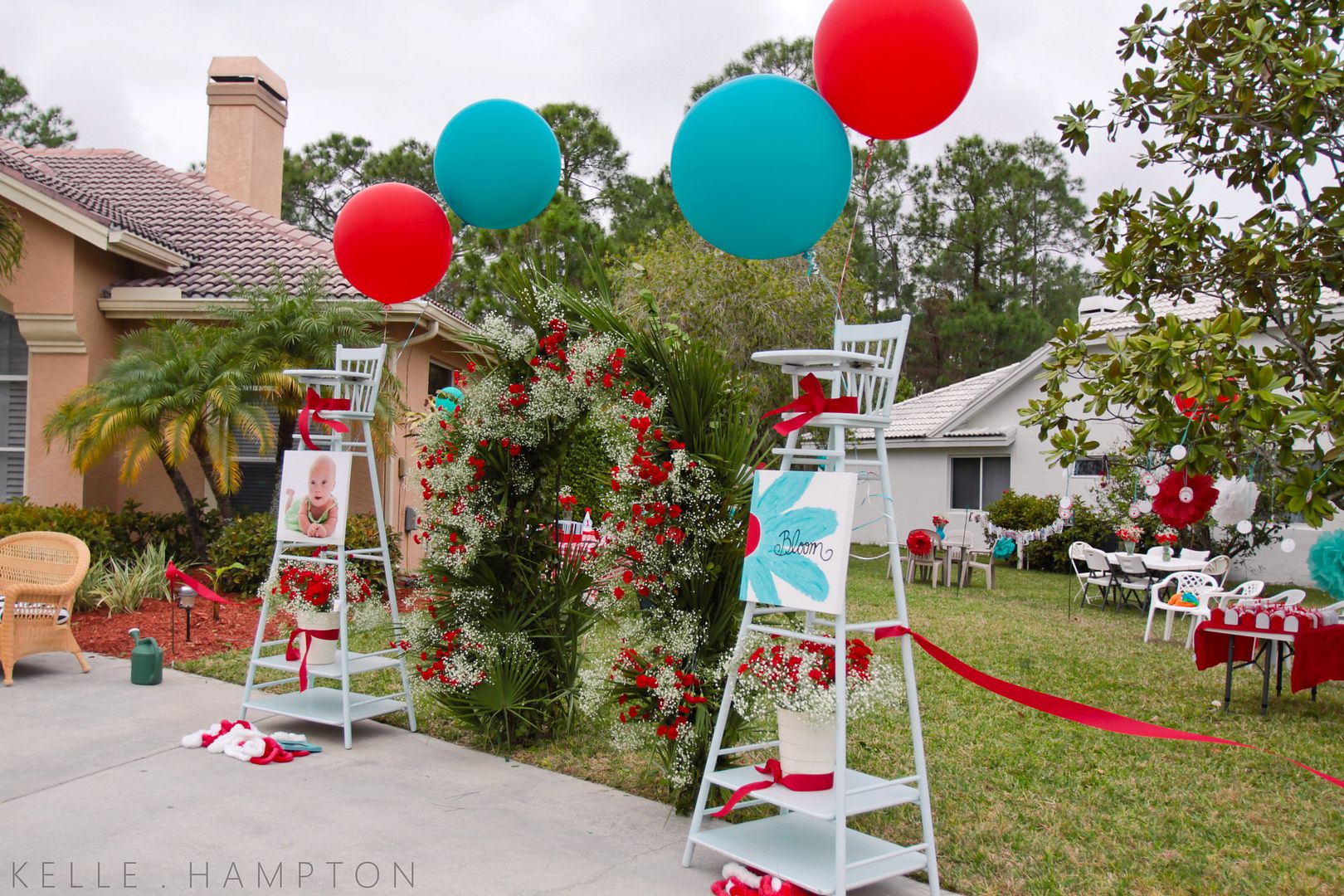 Thank you, Gary, who spent three hours creating that arbor. And Nana Kate gave us the giant high chairs which were discarded Baby Gap display props. If you give a girl a giant highchair, whatever is a girl to do?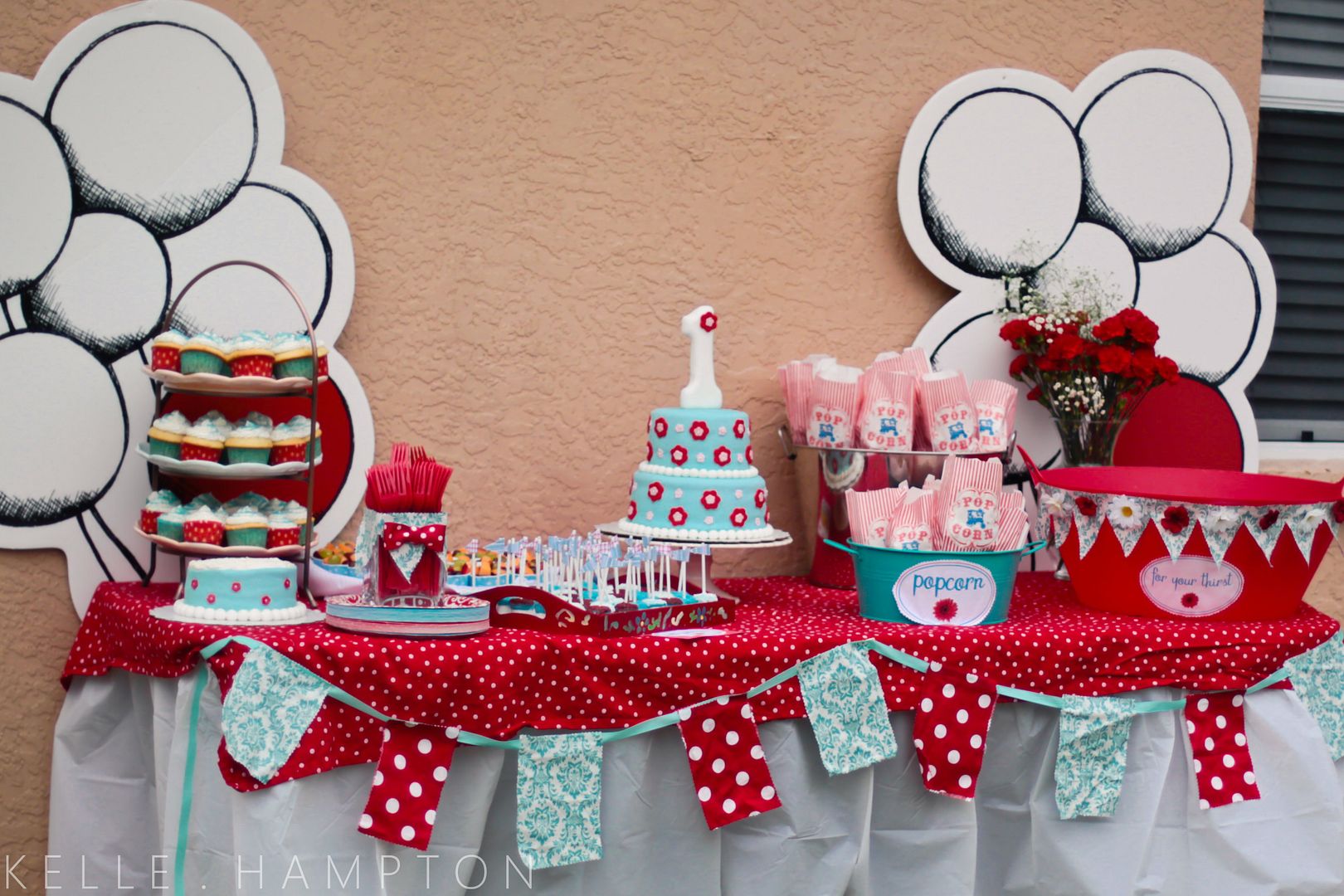 Nella and Lainey's birthday outfits from Dream Spun Kids on Etsy

Marshmallows dipped in blue candy melts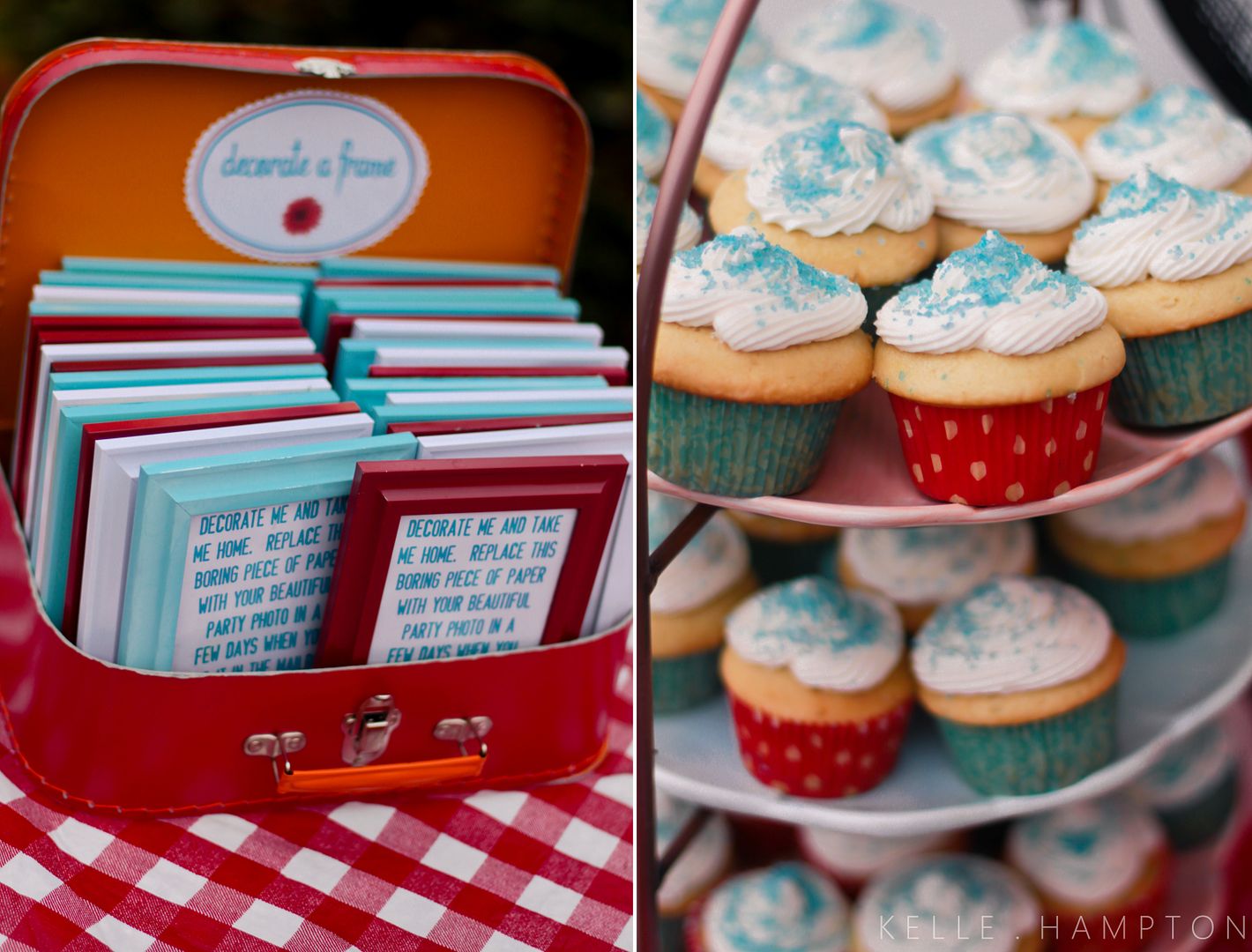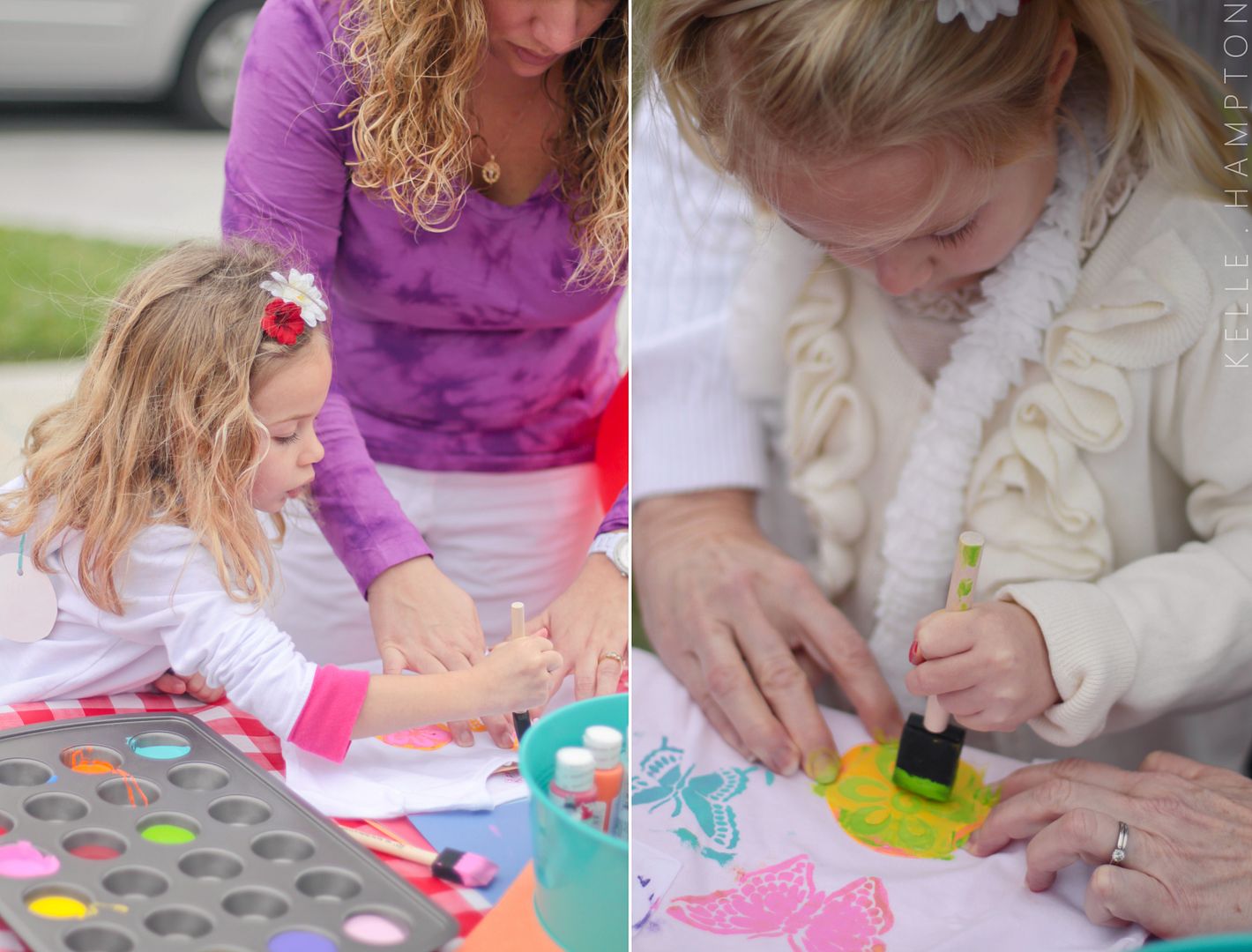 Hair Blooms, gifts of our new sponsor, Little Lesiw.

Nella and her therapist, Jonah.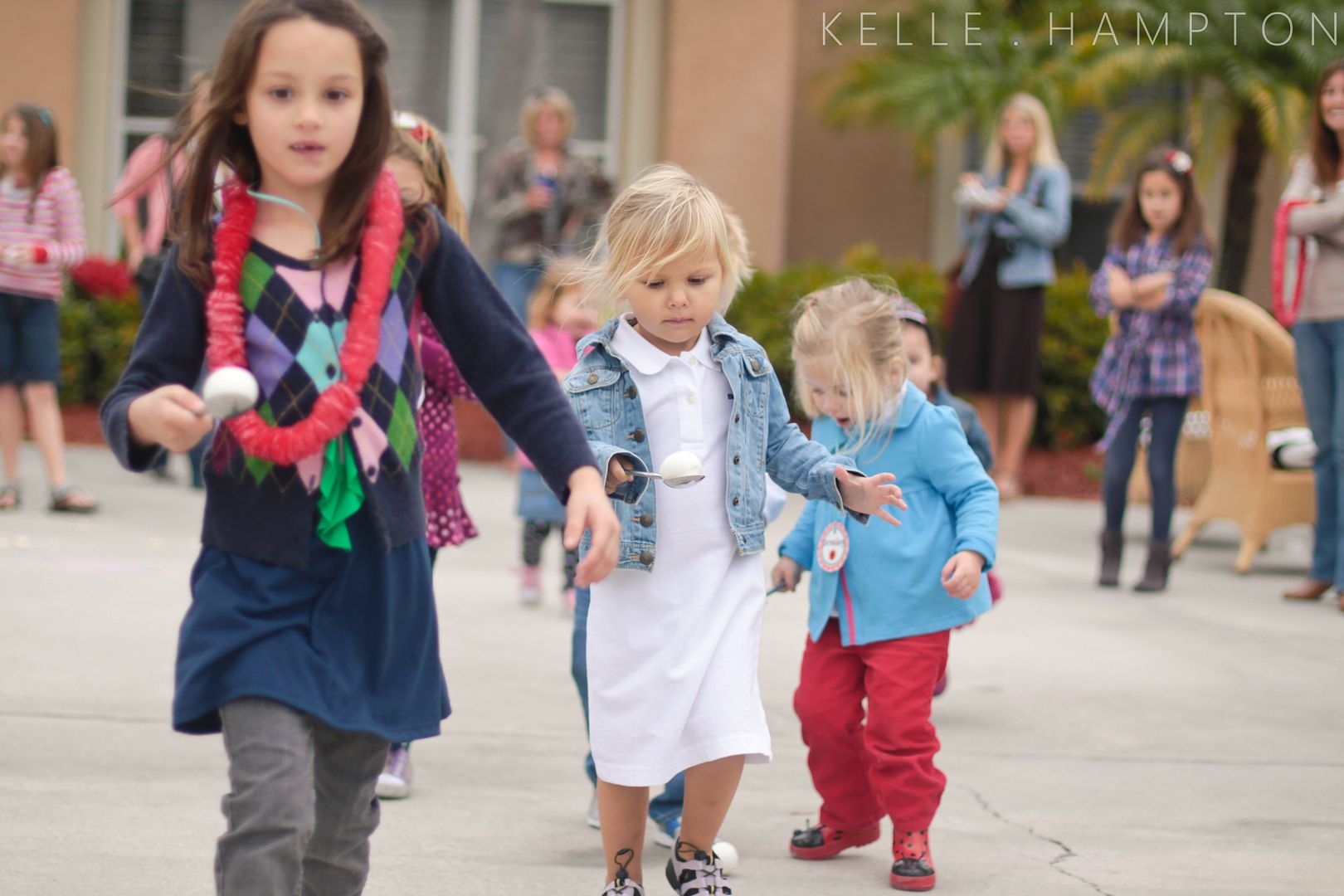 My favorite moments?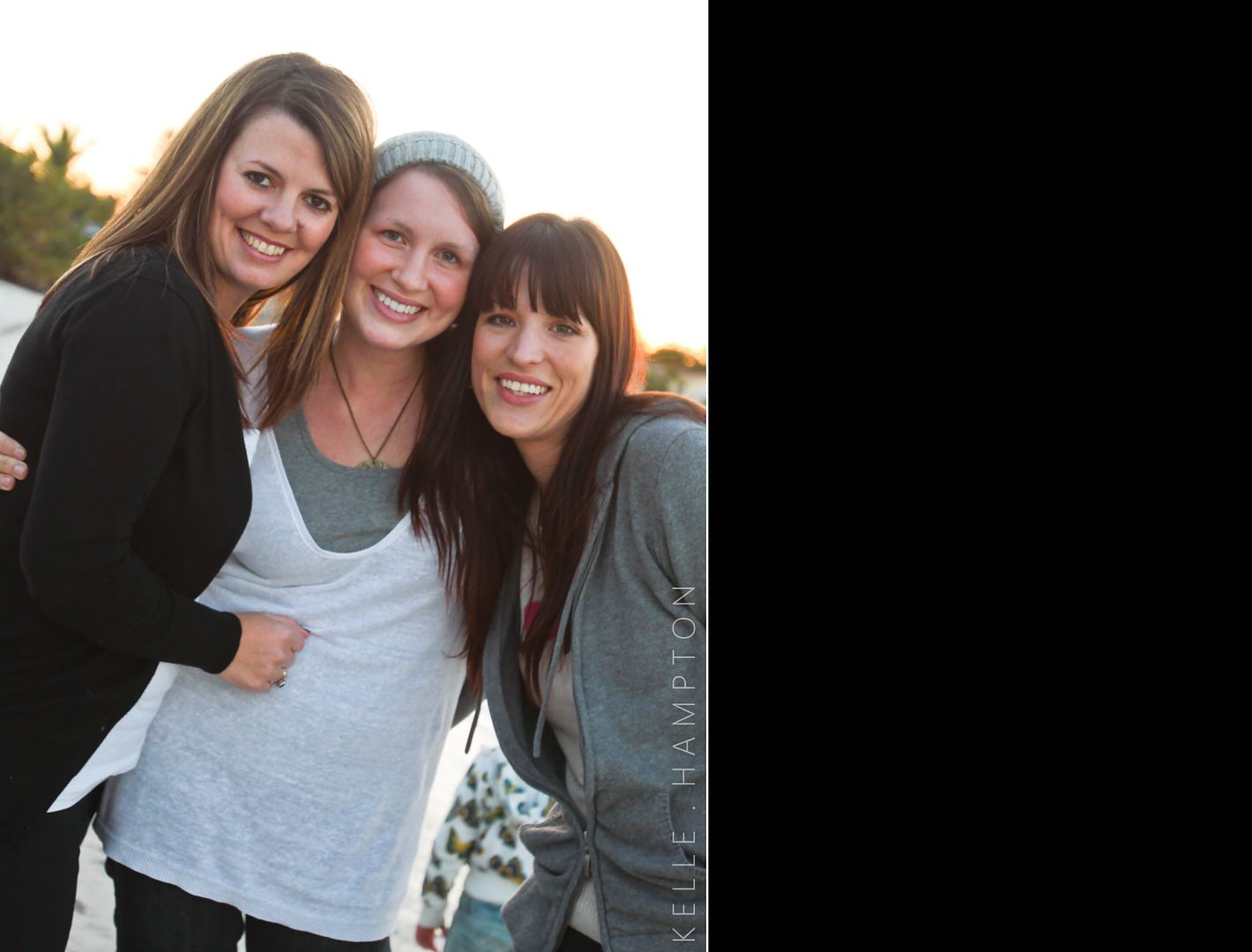 Libby was a blog reader who e-mailed me a crazy idea a couple months ago and, long story short, she, her sister-in-law and their families flew down to be part of our weekend. And they belonged here.
Libby has her own story. She began a new journey this year as well–a different journey–but one that, like ours, took some time to accept and some courage to overcome. Libby is undergoing chemo for lymphoma and raising her precious little girl, Ava, at the same time. And I have to say, I am so inspired by her story, her love and the opportunity of spending the weekend with this amazing mama.
Thank you to my new friends for being here.
For those of you who have done this, you know what that first birthday means. It's a medal of honor, a celebration, a flag at the peak of a summited mountain. It is a memory of that very day, and it is bittersweet. Mostly sweet, hardly bitter, but even so…at 4:24 p.m., the very second she was born, I held her close and cried. Because I can't forget–don't want to forget–that second that changed my life.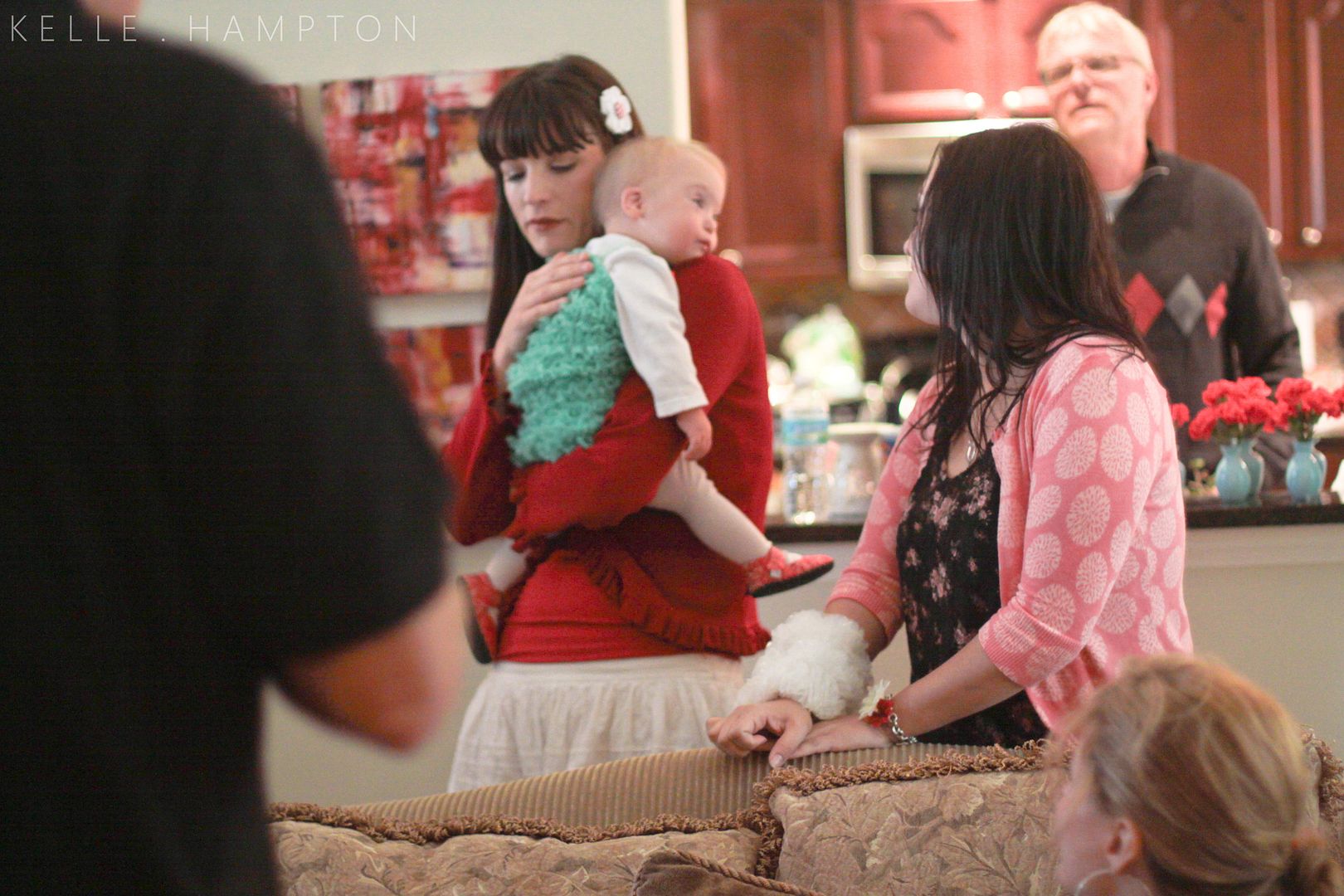 Overall, I searched for moments of meaning and found them. I mined my heart for any rawness, any unsettled grief, and prepared to feel a bit sad, but mostly? Mostly, I felt peace and love and contentment. The events of last year have been sewn together seamlessly with our present, and I hardly recognize anymore where the past shifts into right now.

My favorite photo of the day, my sister bears.

Happy Birthday to our beautiful, magical, much-loved girl.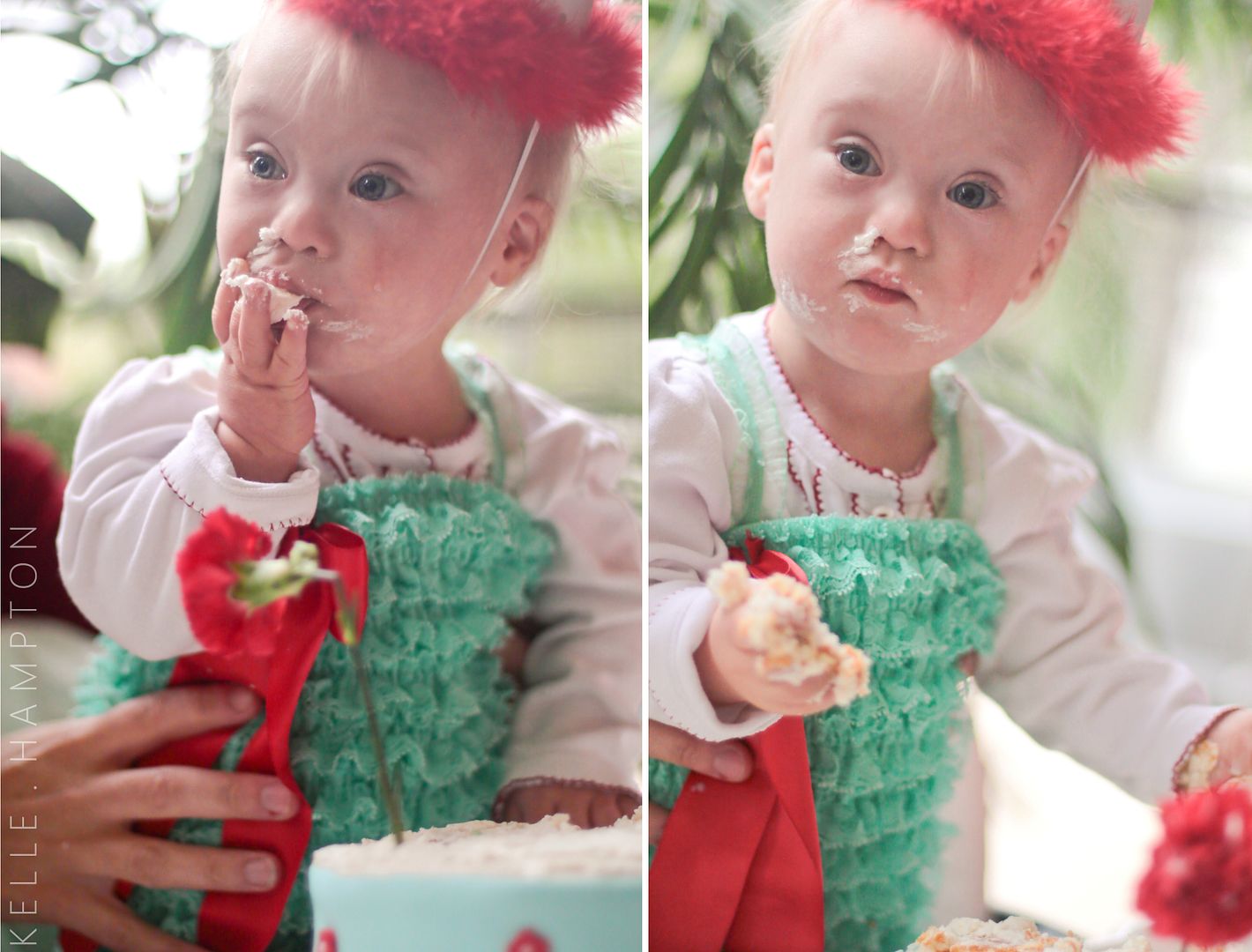 Saturday evening was an unforgettable celebration of growth and strength and the very capable women in my life. It deserves a second post, so more to come.
There is more I'd like to say, but I am so emotionally drained. This week, I will revisit the room where she was born. I will return to the sacred ground of the place that began my journey and make a toast to the beautiful pain of that room. I will let it go and, at the same time, I will save a small piece. Because I want to remember.
Thank you for all your kind wishes here in this space, in my e-mail, on Facebook, in your thoughts. There has been so much love this year, and I am better for it.
I am thrilled to announce that the total online and offline total of Nella's ONEder Fund surpassed our $15,000 goal. It surpassed our $47,000 goal and our $63,000 goal. I'm excited to report that you all have helped us wish our girl a happy birthday and spread love to thousands of families. Friends, together we raised $101,144.
…and it's still growing. (Thank you to Dana Wainstein who spun off her own fundraiser to help Nella in honor of her son, Jake, and raised over $6,500). Thank you to every one of you for giving and for sharing. I never dreamed it could happen like this. But, then again, I never dreamed a year ago that a little moment could change my life so wonderfully.
I keep coming back to this quote today. A dear friend (thank you, Kleidy) shared it with me after Nella was born, and today, it means so very much.
Awareness born of love is the only force that can bring healing and renewal. Out of our love for another person, we become more willing to let our old identities wither and fall away, and enter a dark night of the soul, so that we may stand naked once more in the presence of the great mystery that lies at the core of our being. This is how love ripens us -by warming us from within, inspiring us to break out of our shell, and lighting our way through the dark passage to new birth. ~John Welwood
Basking in new birth today. Two days into her second year, and it's going to be good.
Feeling blessed and in love and grateful for every experience that continues to shape our family.
For those of you who liked the little blooms party favor, we're happy to have Little Lesiw on as a new sponsor. I knew Rachel was sending me a box of goodies for her new sponsorship, but I had no idea how amazing that box would be. I got it the day before the party and gasped when I opened it to find it was filled with the most beautiful, well-crafted barette and headband blooms–enough for Lainey's friends with lots to keep. Okay, I stole some for myself too. The fabric choices alone are worth a trip to her site for some happy browsing. Check her out. For one week starting now, 10% of all her sales are going to The ONEder Fund. In addition, you get 25% your entire purchase using code NELLA25 at check-out until the end of this month.
And a lucky random commenter on this birthday party post will receive a $100 gift certificate to her store. You'll have no problem spending it, I assure you!
As my sister shared in her post a year ago, yes…it was a beautiful day.