We were no sooner home from Vail Wednesday evening just long enough to peel off long-sleeved shirts and drop suitcases where they'll no doubt sit unzipped for at least a week (cough*month*cough), and I was already in my office for a quick preservation of what I was feeling before it faded and folded back into cutting sandwiches for school lunches, gathering dropped underwear around the house for another round of laundry, and sifting through the Valupak envelope for coupons I'll save but never use. From my suitcase, I pulled a Ziplock bag full of Colorado dirt and skinny pine cones I had collected from the creek we walked along last week, and poured it into an empty jar. VAIL, FEBRUARY 2017–I scribbled on a torn piece of paper, attached it to the outside of the jar and placed it on the memory hall of fame shelf in my kitchen where it joins jars of soft white shells from Dash's first trip to the beach, red clay from the ground outside the sewing co-op in Rwanda, tiny pebbles from our writing retreat in Ojai, piles of coffee-colored snail shells from the Michigan lake where we've had so many summer adventures, and other Earth treasures from memories that stood out over the years, needing to be commemorated in driftwood, smooth stones and dirt dug from sacred ground.
And then I clicked around the Internet, collecting the songs we listened to on the trip, ones that will now always remind me of this tiny window in our lives and our family and how grateful I felt last week to be standing under the cold blue sky while the snow fell, surrounded by mountains, watching my kids with their red cheeks and chapped lips take up space in that immense scene–catching flakes on their tongue, forging trails on snowy paths, running back to me to get a glove adjusted, a boot tied, a nose wiped–and feeling so much love and peace and enjoyment for where we are right now. I collected songs just like I did dirt and pine cones and tucked them in a playlist where I can listen to them again when I want to revisit this feeling. I collected "If I Needed You"–the song that made me cry when I heard the musician start singing it as we walked into the old lodge Saturday night on the ranch where we made one of the best family memories ever.
I tucked in an enchanting country version of "Twinkle Twinkle"–the song he sang for Nella that night–and "Hallelujah," Johnny Cash's "Walk the Line" and, of course, John Denver, because–duh–Rocky Mountain High.
When friends and I heard Deepak Chopra speak a few weeks ago, he talked about learning to separate ourselves from our experiences by thinking of them as a dream that we had…we wake up to a new day, and yesterday and the things that happened to us were just a dream. I'm not very good at separating myself from anything, so if we're going to go that route, let's just say I'm the BFG and I'm trapping my glowing vacation dreams in jars so I can save them and relive them and blow them to my children when they sleep. Because those glumptious phizzwizzards fuel us and remind us of what we seek–togetherness, an acute understanding of our presence in the world, and an appreciation for mountain creeks and beach sunsets and also finding a cool pub with cold beer in a new town. Come on, Deepak, you know that's important too. Memory hoarder for life, I am. For the record, routine home days and stirring cream into our coffee at the same counter where we begin every morning also reminds us of what we seek–togetherness, an acute understanding of our presence in the world, and an appreciation for a spoon that clinks against your mug like a morning wind chime, good-smelling dish soap, a little granola left in the bottom of the bag and a still-sleepy kid on your hip. Going away to inhale new air, coming home to breathe it out.
A rambling intro to say…come with me. Come with me to a small ski town nestled at the base of a mountain in a national forest full of magic.
You don't need to ski–we didn't. It is enough simply to stand in that little town and look up; to see what is often viewed as an inconvenience–cold and snow and ice–in its greatest element, in unspeakable beauty that belongs in the world.
It makes you feel small in the greatest way.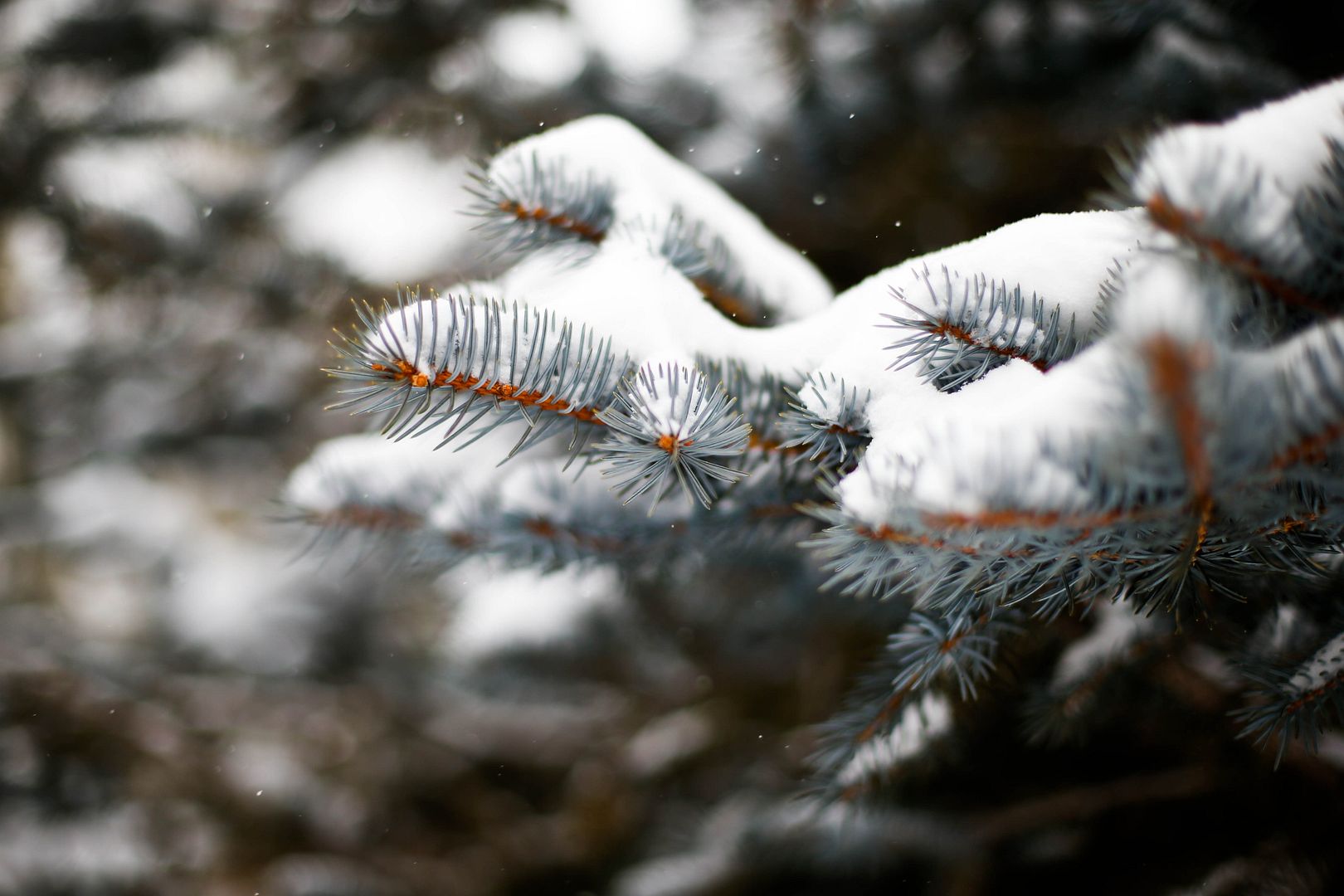 Brett's parents know this feeling of small greatness well as they are committed to traveling and drinking up as much as the world has to offer in landscapes and people and experiences. They are good at adding to their own memory jars and have tucked away adventures from Iceland to Africa and invited us to come with them for this one in the mountains.
They also value family and little moments, and my favorite memories of this trip by far were made in pajamas and fueled not by scenery but by love.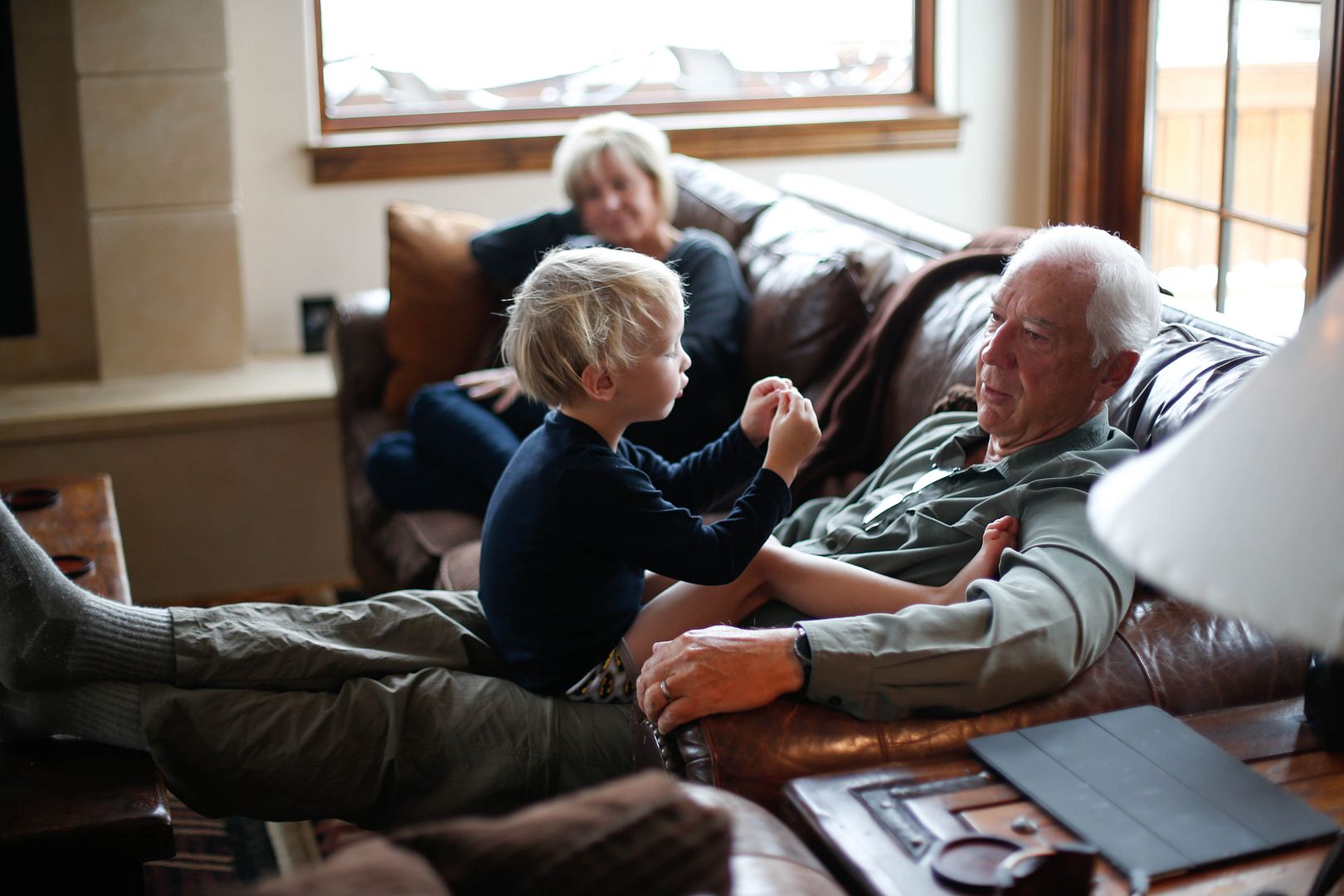 My kids got to experience the childhood thrills I know growing up in the Midwest–running–breath held, half naked–to feel the snow…
…and hopping through the steamy cloud above a hot tub to sink in and warm up.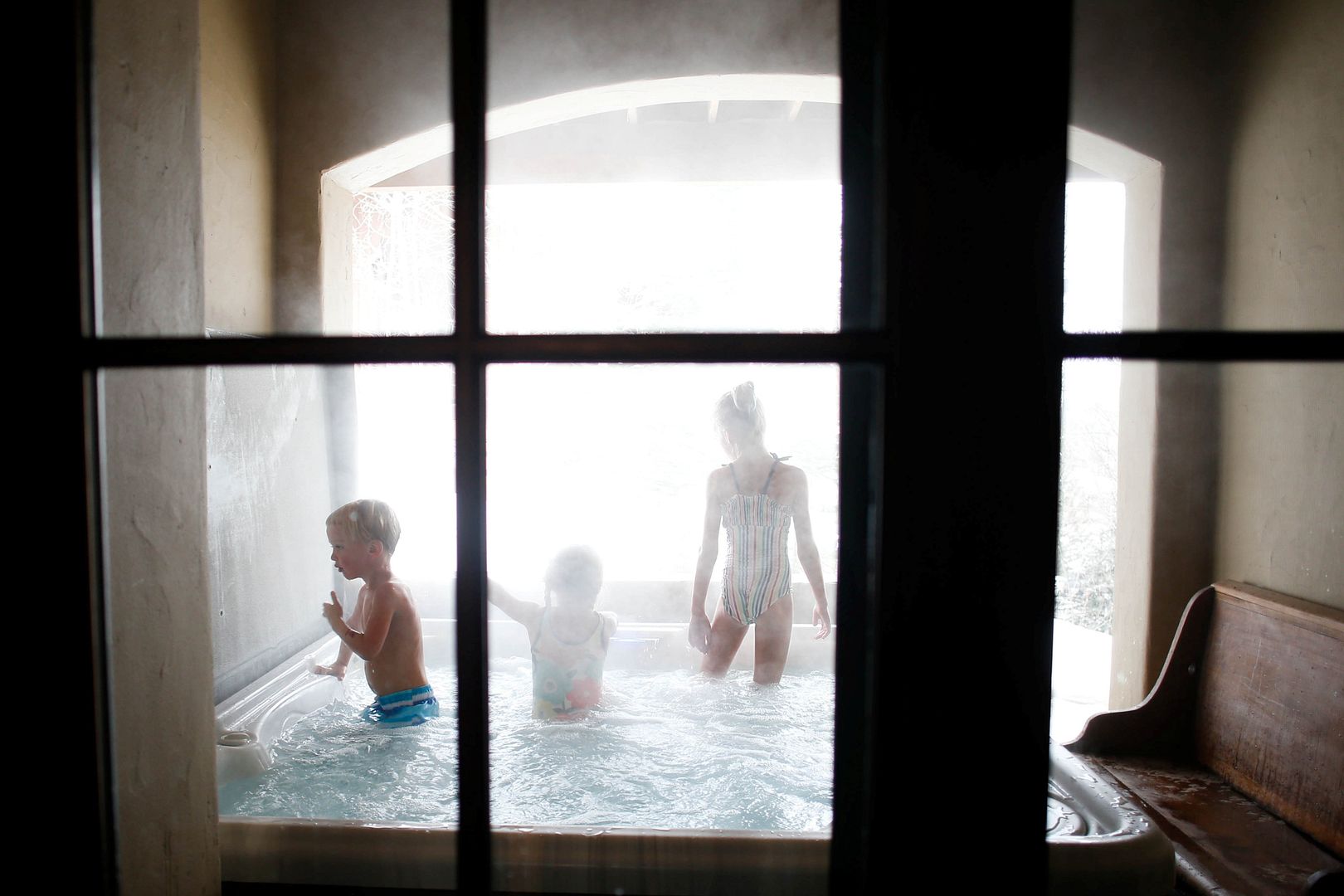 Sacrificing dry pants to make a snow angel…worth it.
Testing fresh snow for packability. Too powdery but so pretty.
Searching for sledding hills and letting the incline from a barely there ditch qualify.
Kicking snow off boots…
…and huddling closer to keep warm.
Vail was the perfect place for following the prescription our family currently needed–adventuring little and resting a lot.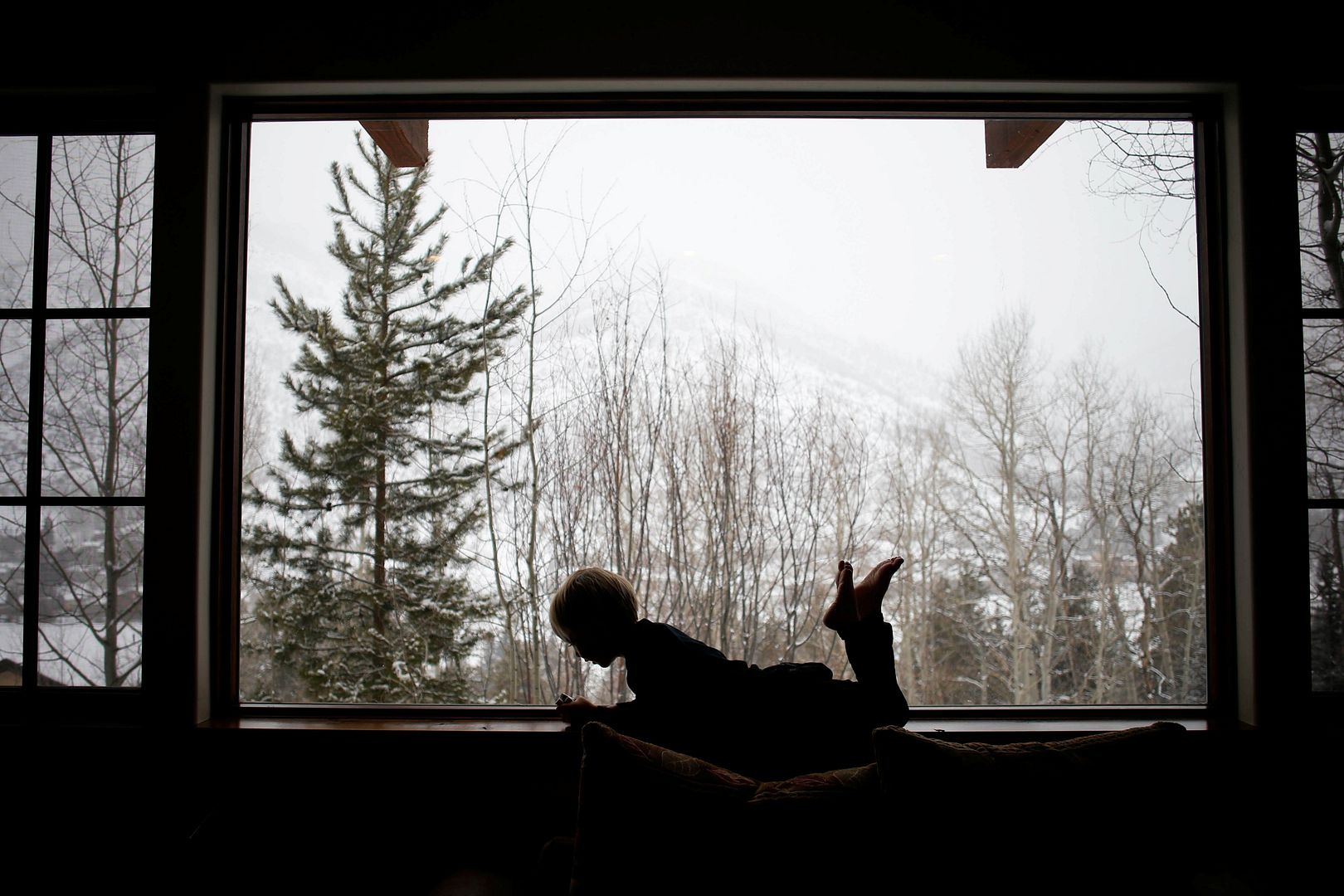 (Vail Village)
My three favorite memories from the trip:
1) An evening sleigh ride dinner at 4 Eagle Ranch…
…nestled in the little town of Wolcott, just outside of Vail.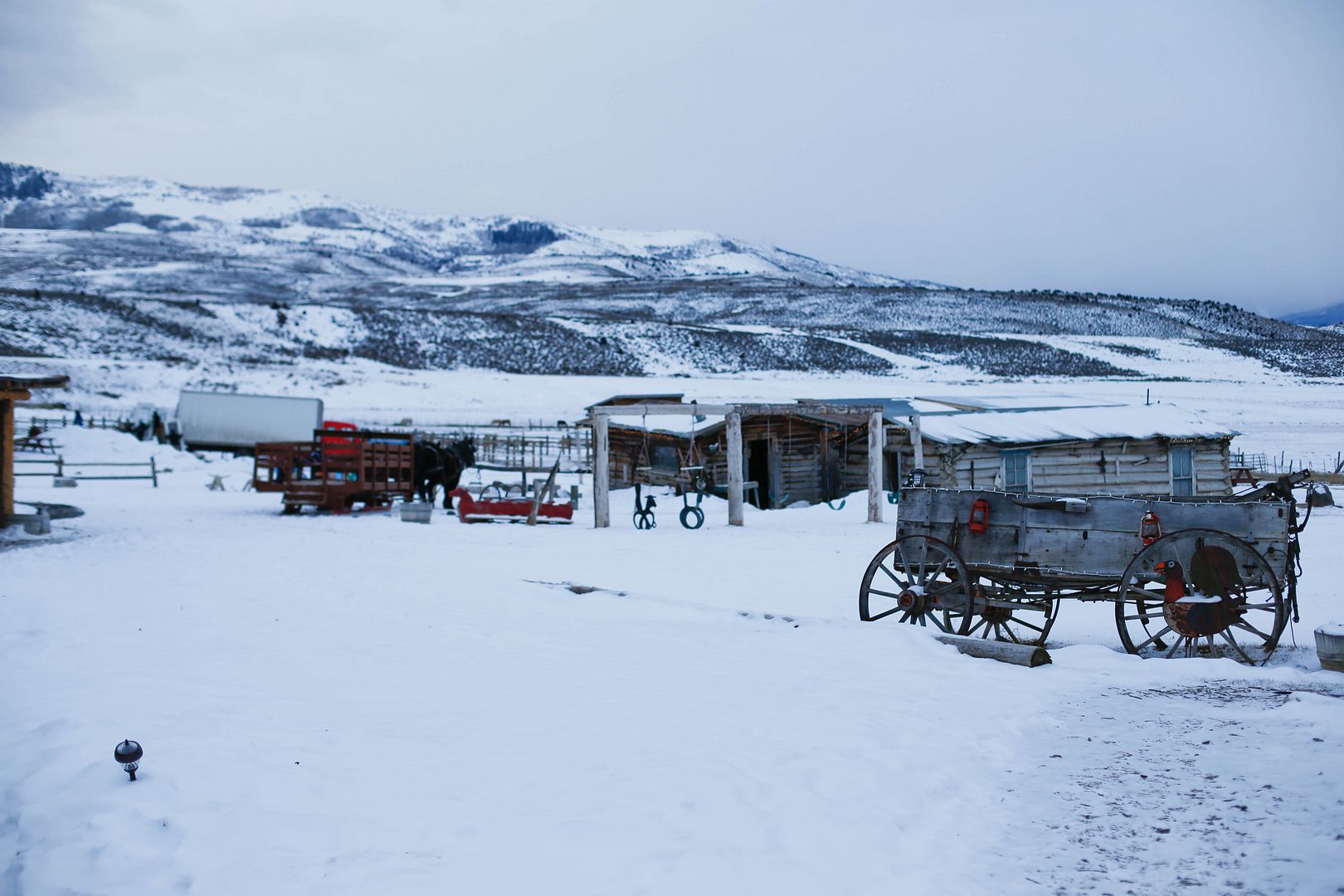 Brett's parents planned the evening and, let me tell you–for years, I have talked about a hypothetical experience at the top of my bucket list. I dreamed it up in my head and imagined there was a big cozy lodge tucked in the snow in the mountains somewhere, and there was a crackling fire and twinkle lights and music–definitely music–wine, hot cider and family–all of us together. I have described this scene in bucket list conversations, even though I didn't know where it would happen or if it really existed like I imagined, but when we arrived to the ranch, out there in the middle of the cold nowhere, and walked into the lodge and heard the music and saw the fire crackling, I started to cry. "This is it," I told Brett. "This is what I have dreamed of for so long."
"She's crying," Brett laughed to his dad.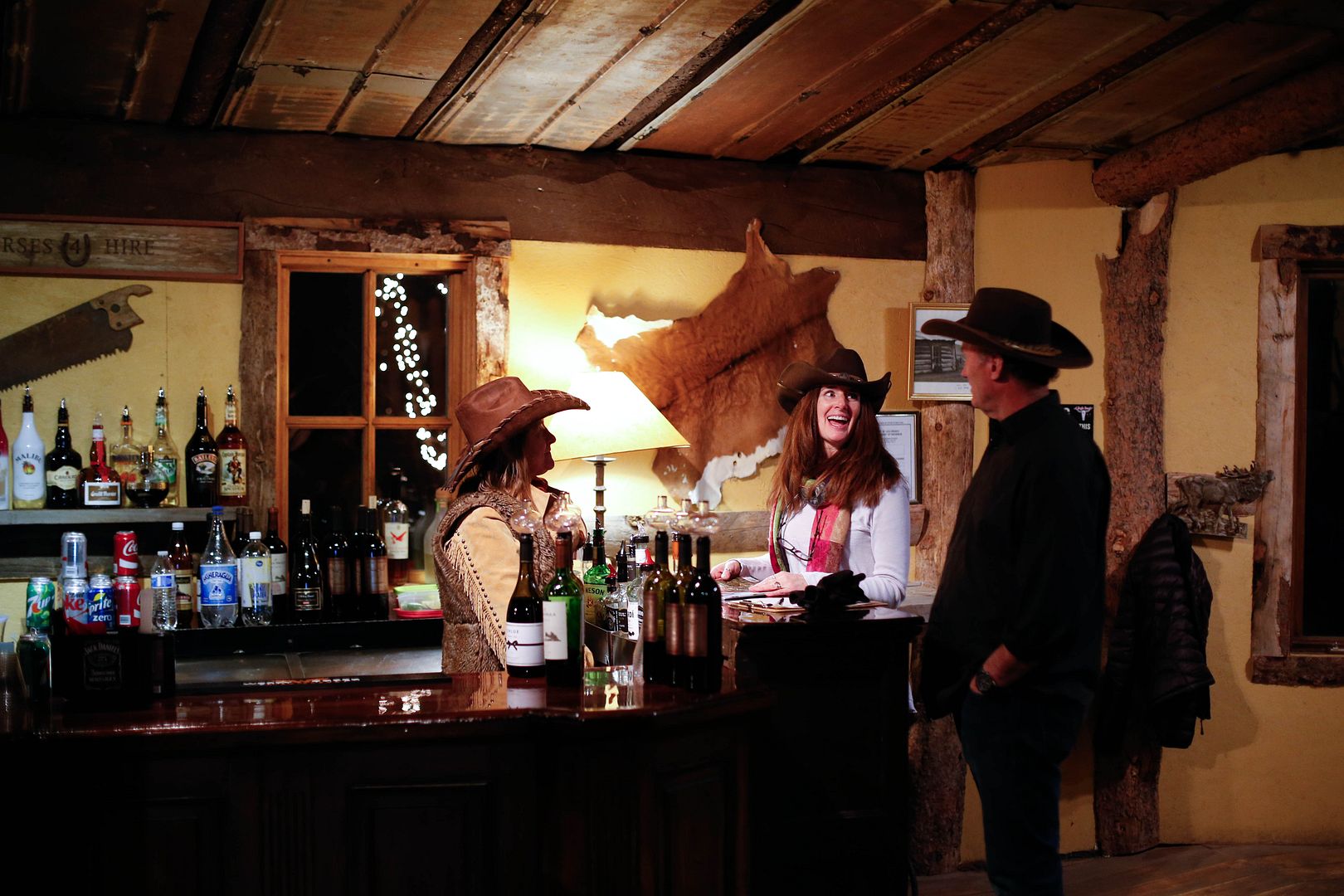 It's the kind of memory my kids will never forget but struggle to recall all the details thirty years from now, retelling the story when a  "Describe a memorable trip from your childhood" card gets pulled from the Table Topics box at the Thanksgiving dinner table.
"Wasn't there, like, a cat roaming around in the bathroom?" Lainey will ask. "And there was a swing set, right?"
"Oh my God! Yes! Good memory!" I'll laugh.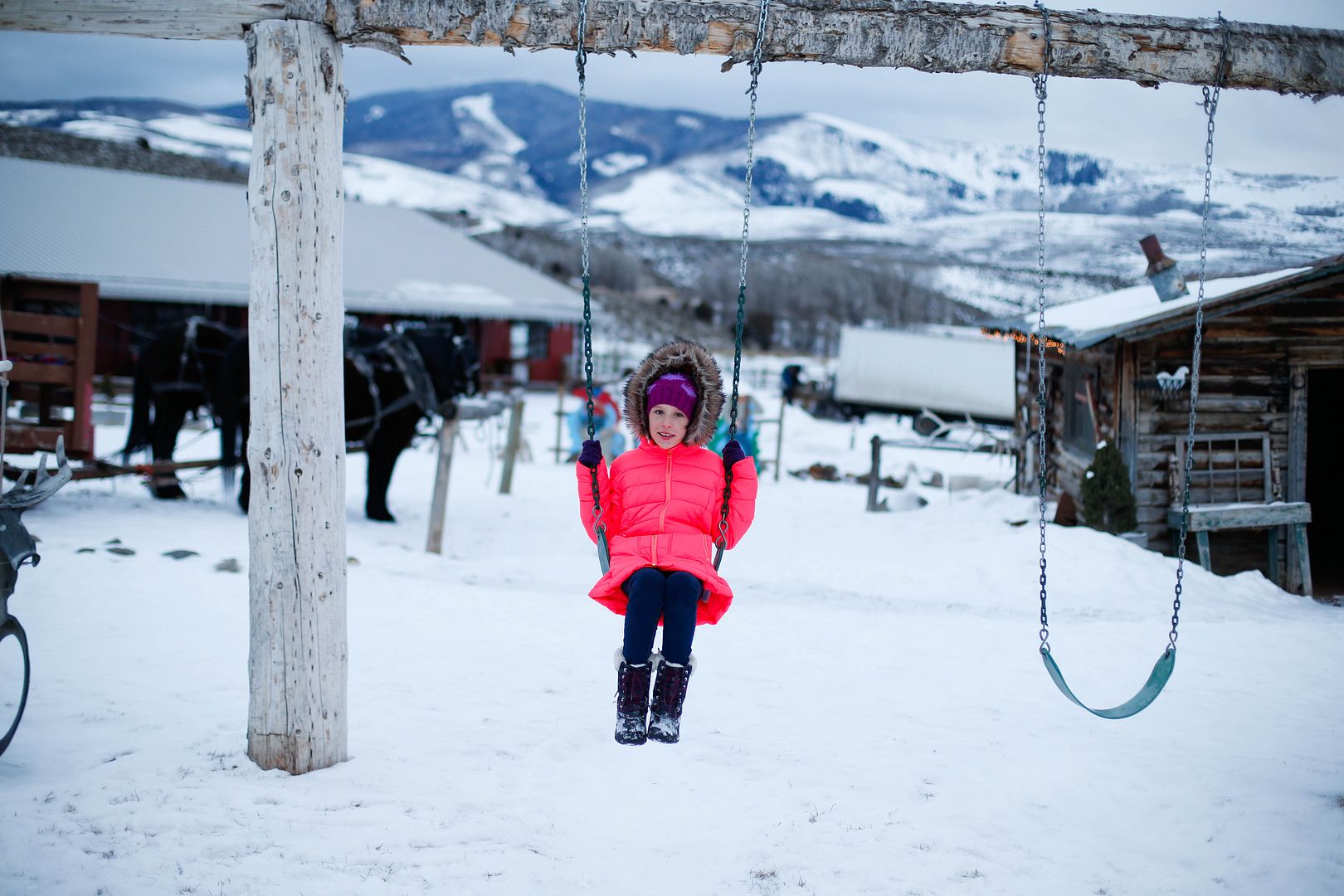 "Dash, do you remember the names of the horses?" I'll ask. And we'll all smile because of course he'll still remember after all those years.
"Nip and Tuck," he'll answer.
And I'll tear up remembering how little he was–mesmerized by the snow, those horses, hopping around the dance floor under the star lights with his stick horse.
I'll remember it like it was yesterday but wonder, as Deepak says, if it was all but a dream.
And the sleigh ride. Brett's dad has told us the story of one of his most precious memories with his own beloved grandpa–it was a sleigh ride late at night in the dead of winter. My kids now have their own sleigh ride memory with their grandpa.
We stayed and danced far past the kids' bedtimes because every song the musician sang was our favorite song and we didn't want it to end. And when we finally called it a night, I hugged Brett's parents, thanked them over and over and then looked back at that little place of magic lit up against the night and whispered my gratitude for what we shared there as we drove away and kids slumped into our laps falling asleep.
And the takeaway of 4 Eagle Ranch besides–oh, I don't know, one of the most magical nights of our lives?
A genuine cowboy hat for Brett from their trading post.
He wore it for the rest of the trip, and now I'm trying to make cowboys hats in the Florida 'burbs a thing.
Favorite Memory #2: Nella's walk.
I now have a sacred memory of a walk with each child far away from home, just me and them, when I felt so connected and in love with the moment that surely the world could end at that very second, and all would be well (Lainey's was in Chicago, Dash's–New York City). I had left the house for a long walk alone, and when I returned, Nella was standing by the door all bundled up. "She's been waiting this whole time," Brett told me. "She wanted to go with you."
"I'll go again," I said, lacing my boots back up, "Just me and her this time."
We walked a long ways–way longer than she'll usually walk without whining or asking to be held–and much of it was uphill, in the cold. She never complained. We held hands, made sled tracks where the trail allowed and threw sticks in the creek and watched them slowly float away.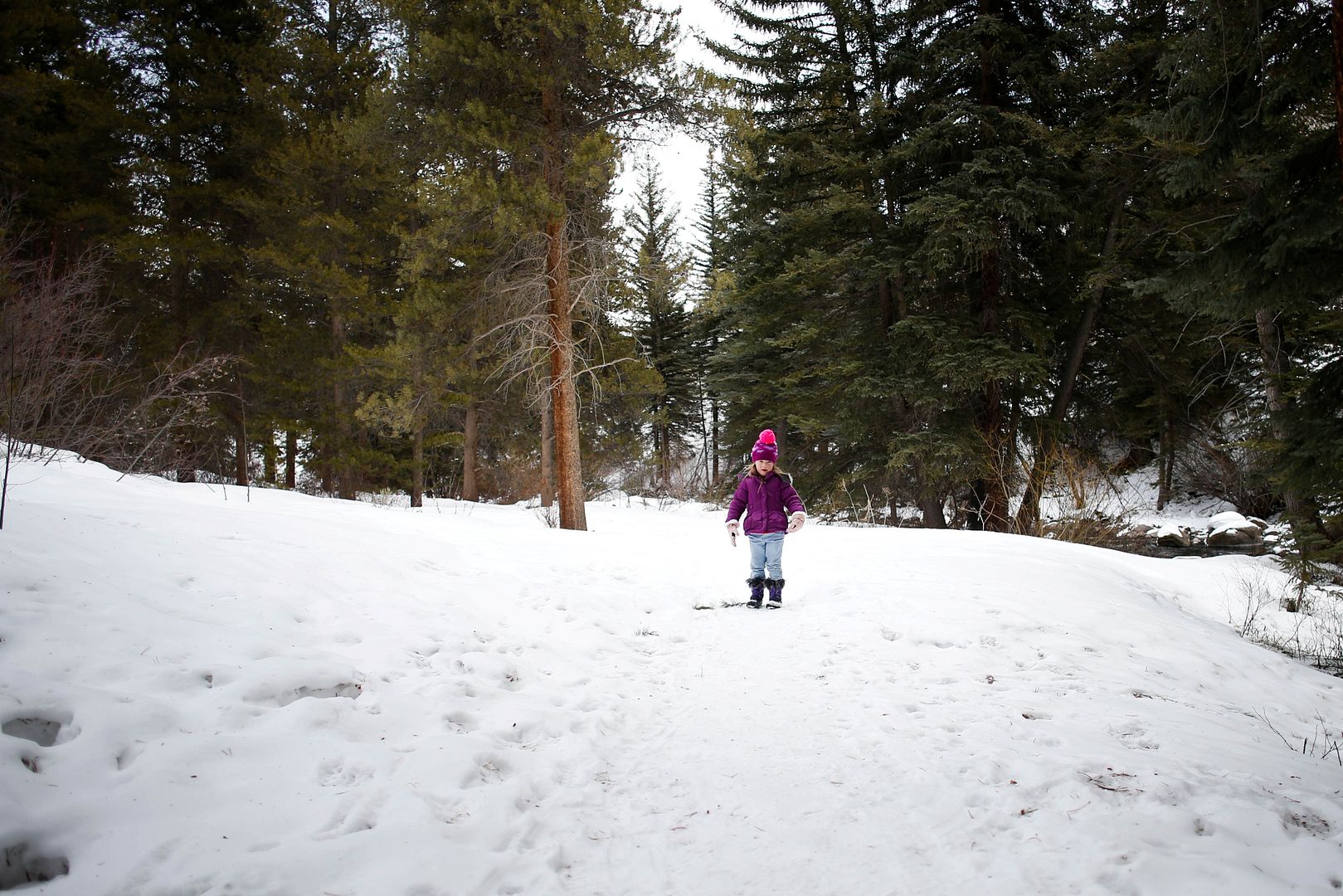 We found a deserted playground, rode swings against the wind, watched our breath paint the air and finally trudged back home where she said "I love you Mommy" not once but three times along the way, for no good reason other than we had shared something special.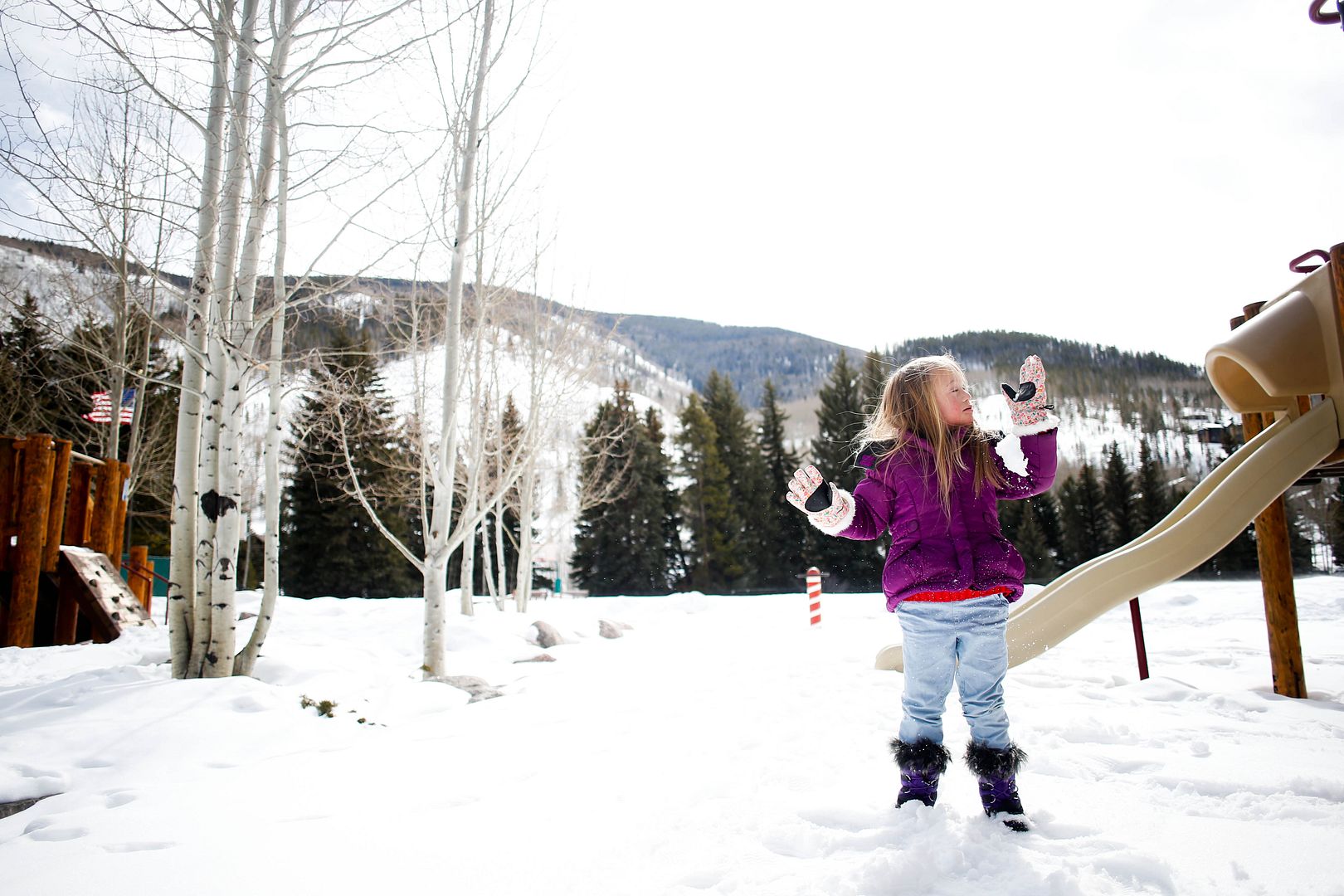 And Memory #3: That same walk, that same path, repeated as a family. A bit more complicated with all of us and accompanied by some tears over falling in the snow, cold fingers, who got to ride the sled and "I don't want to walk anymore," but so very us, perfect in its own way…and led by the almighty cowbay hat.
Think you have to be a big skier to have fun in Vail?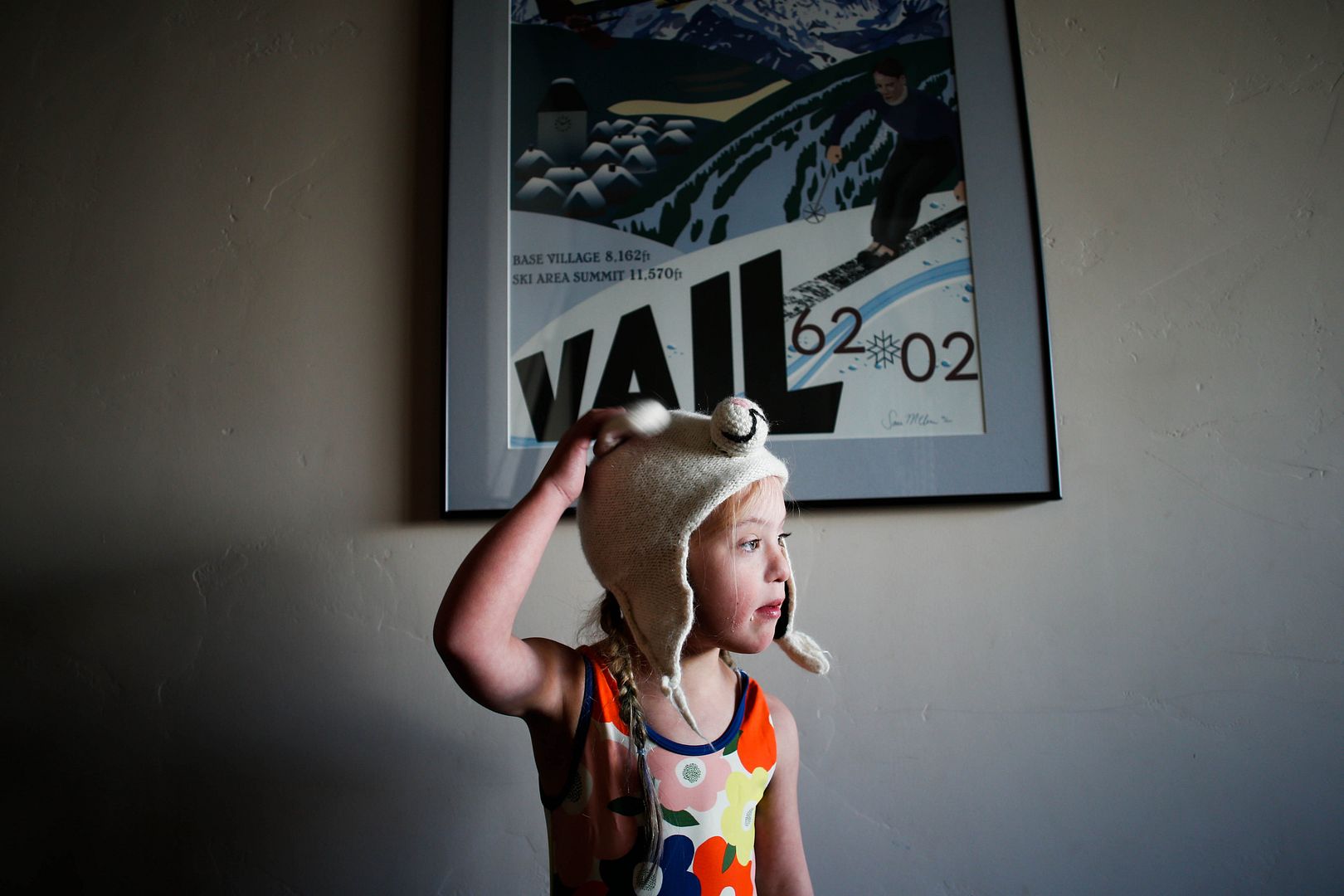 Not if huddling up with family is your thing.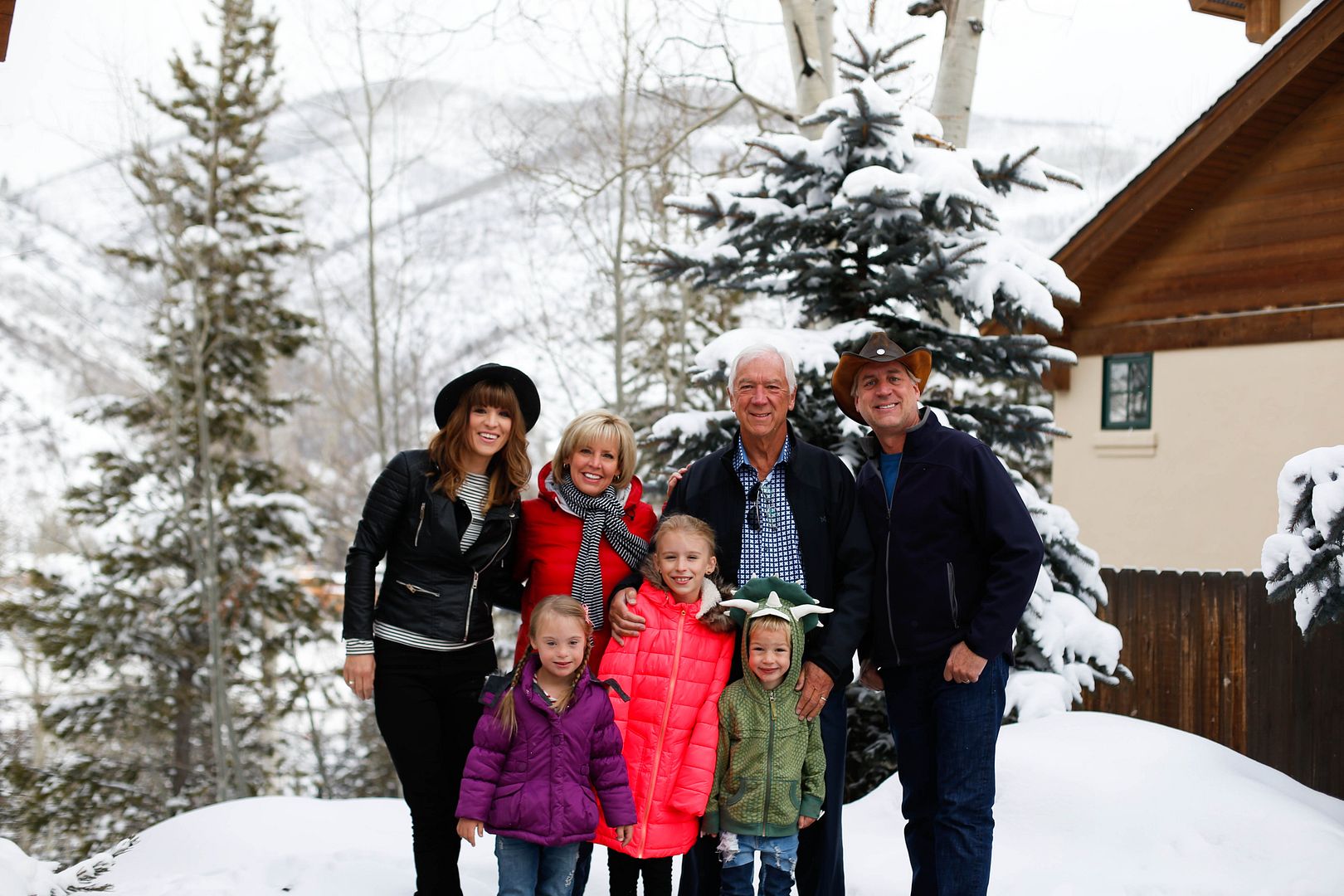 Our lips are chapped…
…but our memory jars are full.
…and a huge thank you to my beloved in-laws who see the beauty past spilled hot chocolate, fighting kids and prolonged fits in the backseat over ill-fitting mittens. xo
Happy Weekending.