so, that's about as true of a statement as 'i know vince vaughn' because i saw him once standing in a plaid shirt on the corner of michigan and ontario in chicago one summer when he was filming the breakup. (and, for the record…i said 'hi,' he said 'hi' back and i think he winked at me. or maybe he had something in his eye, but there was some definite twitchage going on. and, although security nearly had to pick me up and move me aside, i tell you…he winked.)
i've wanted to say 'i sew' for a very long time. have all these ideas in my head of little outfits for her i've wanted to design. choosing my own fabrics. quilts, curtains, little bonnets for little heads. i imagine sitting in the breakfast room, one foot on the sewing machine pedal, the other stretched out to rock the foot of a cradle with a sleeping baby (let's just say for the sake of imagery and for the sake of when this far-fetched vision might actually come to fruition, it's baby #5…or maybe #15…because i am part dugger, you know), and sipping tea while the needle whirs away, locking up the seams of some lovely waverly print or a buttery cotton for a nice little dress.

of course, my imaginary life seldom arranges perfectly with my real one and, being that i detest following directions, sewing something that turns out half-way decent could be difficult. (which is why i decided not to audition for project runway. 'cuz i swear, i once considered it–for a split second–before i remembered it's kind of about knowing how to sew. and i don't.)
but then i found out about these patterns that have a magic little four-letter word stamped on them…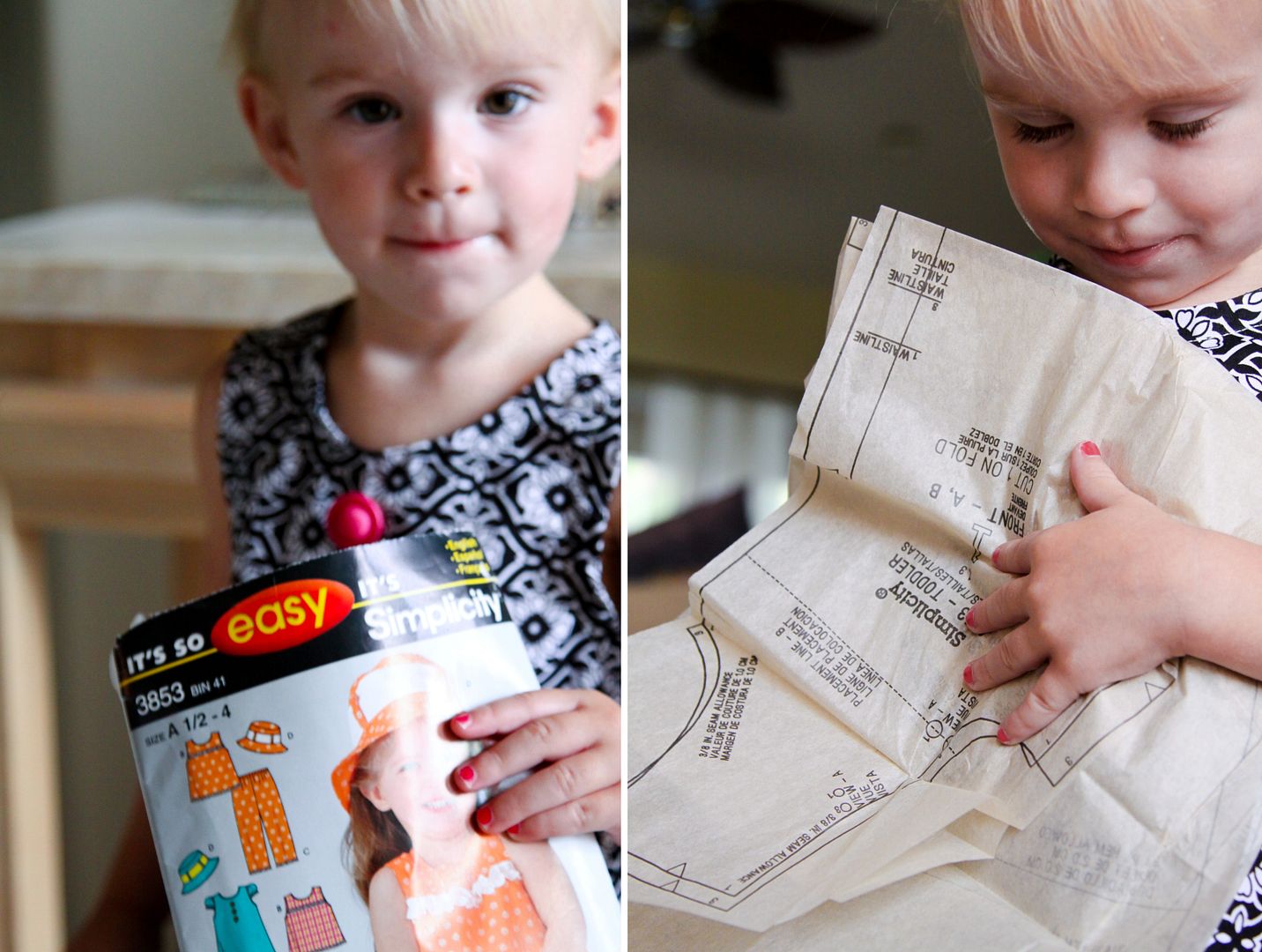 easy.

of course that's not to say i still didn't rip out seams or curse when the bias tape got all locked up on a nasty curve (that statement, of course, thrown in just so i can sound cool saying 'bias tape' to all you sew folks. i've never said 'bias tape' in my life, i don't know what it is and i still don't know why you need it, but it feels full-blown authentic to say it. next week, if you're lucky, i might casually throw in an 'edgestitch,' a 'placket' here and there…maybe some 'interfacing' if i get a little crazy. this coming from one who laughs every time i say 'bobbin'. seriously, say it. bobbin, bobbin, bobbin. it's funny.)
so anyway, with all said, i may not sew in the plural sense but i sew-'ed'. once. yesterday…and i made a little dress for my girl all by myself. followed a pattern and everything.
mama was here to help, but she knew i wanted to say i did it by myself and was very good to lead and not take over…
ready? my first ever sewing creation.
(and adoring black tights lately. we'd wear them with everything if it wasn't a hundred degrees outside)


(and i'm aware that last button is a little skee-jawed, thank you)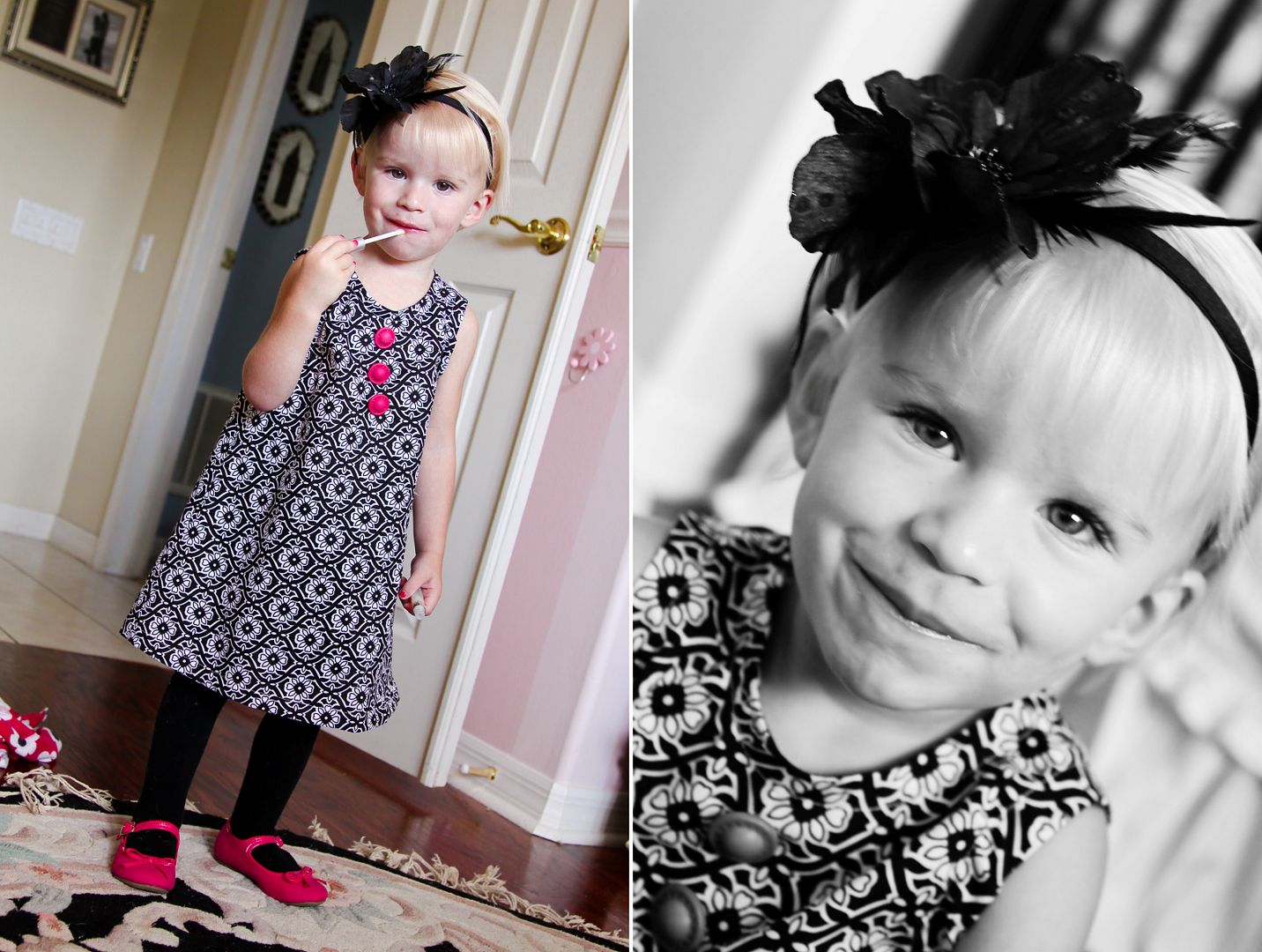 and i'd really like her to wear it every day and shout to the world 'i made this,' but then again the really cool sewers–you know, the ones who don't force the word 'bias tape' or giggle at 'bobbin'–they play it cool, right? like they wait until someone asks where you got the dress and then they look down and mumble something like, 'oh this old thing? i threw it together with some old scraps.'
i'm working on it. 'cuz someday, i'm gunna be a cool sewer. i promise.
in the meantime, i can take pictures. and i don't giggle at 'aperature' or 'white balance' either, just so you know.
last night, sweet lil' mover and shaker, devon, graced the lense. an almost-tyke who wanted to go-go-go, so we snapped-snapped-snapped as fast as we could before he was out of focus.
and he, like most other florida tots, did not like our prickly naples grass.
…but he sure did love his daddy…
so there you have it. not a seamstress. but loving new challanges…and my sweet little who will don her mama dress for day 2 today.
i sew! i sew! i sew!