A scene from our morning:

The wall needs a finished paint job. The phone doesn't work either. But the socks. The socks are fabulous, eh? I knew it when I clicked the purchase button on Ebay, smiling in my certainty that it was $3 well spent to make my running escapades more fun, a little daring. Except I didn't know that when you roll the top of the socks over, it says Gay Pride. Which is totally cool but funny. I like my pride socks. And starting my mornings with coffee at my $10 Craigslist desk. This office is definitely a summer project. Inspired by this and this and this.
*****************

Running photo-a-day challenge. Running friends document each run and text a photo to each other, a fun way to stay accountable. I smile every time my phone dings and I click to find a picture of my sweaty friend.

I am logging my miles for Lilly and my friends Kate and Colleen. Colleen's sweet girl, Lilly, has D.S. and has gone through many physical challenges. She is scheduled for another surgery soon and friends are joining in logging miles, reminding us to run like hell toward the future and always in the direction of becoming better and stronger.
*****************
Excitement brews 'round these parts as tomorrow is the last day of school. Our sliding glass doors will soon be water-stained from the cannonballs and bellyflops of teenage boys who swarm to our pool when the sun is hot and high. The summer to-do list will soon be constructed and taped to the refrigerator–a constant invitation to satiate our appetite for adventure. This summer we will finally visit St. Augustine, I will french braid my hair with flowers, and we will dangle lights across our lanai so that it feels like a summer campground.
It feels like summer already.
We are fortunate to live close to several parks, each offering its own special perk. Shade awnings and sylvan walking trails at one, plastic slides that don't burn your thighs at another. In the June heat though, we gravitate to the park that offers summer solace…water. Cold refreshing water that playfully spouts from the ground, creating puddles that make the perfect shallow pool for Nella.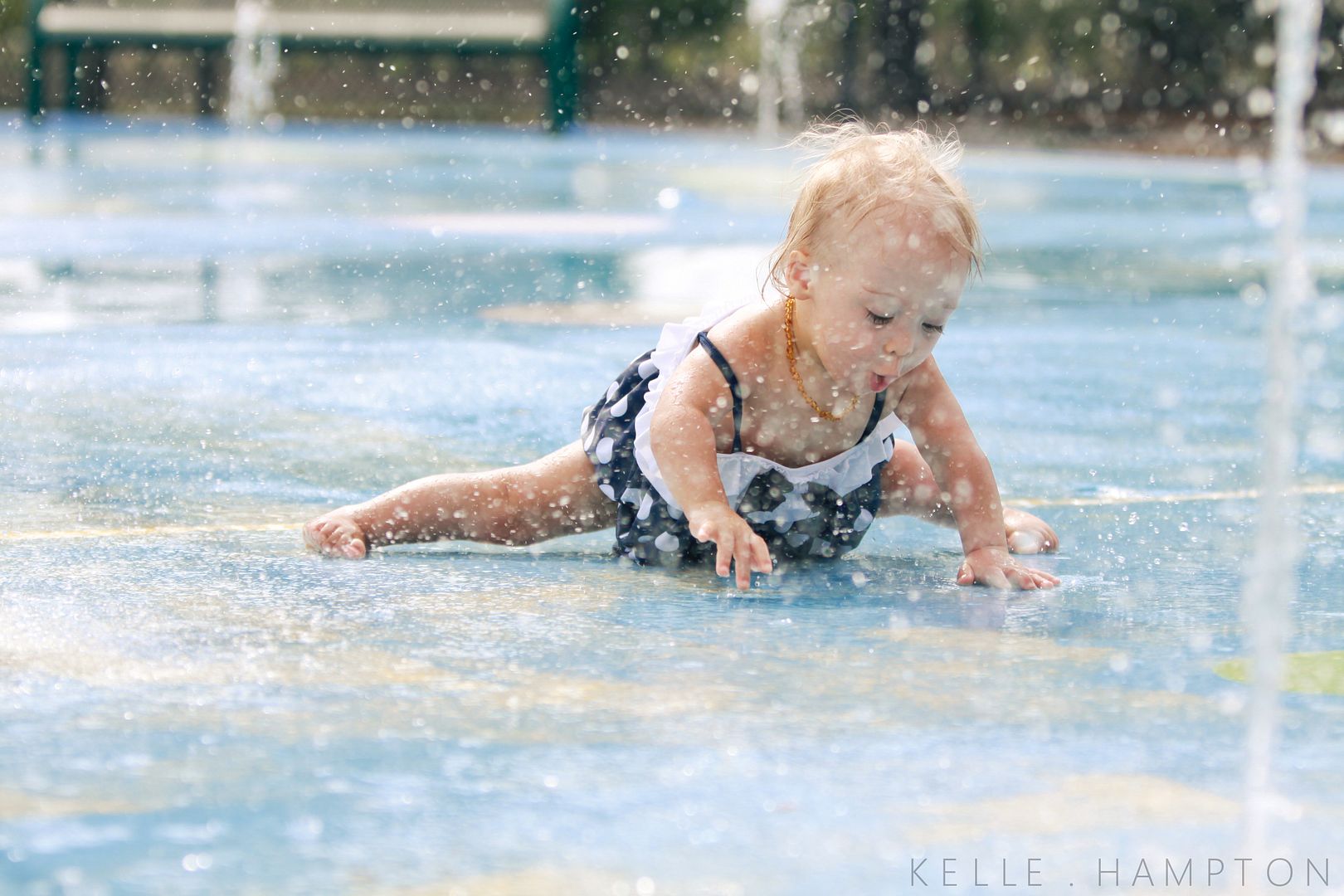 Capturing an "oh" now is like documenting Big Foot. This is the elusive Water Park Oh, valued slightly lower than The Beach Oh but worth more than The Bath Oh.
And if we're not dodging man made geysers at a park in the summer, we are wading in our own pool. When I was little, I thought if you had a pool it automatically meant you were super rich. Because in Annie, it finally clicked just how well-off Mr. Warbucks was when she discovered he had a pool ("inside the house? Oh Boy!"). In southern Florida though, having a pool doesn't make you any more rich than having a swingset in your back yard does. Pools are abundant, and when your plane is ascending from the Fort Myers airport and you look out your window, the ground below is literally marbled with blue rectangular shapes as far as you can see. Hundreds upon hundreds of swimming pools that slowly shrink to tiny blue dots and gradually disappear as the plane slips into the clouds.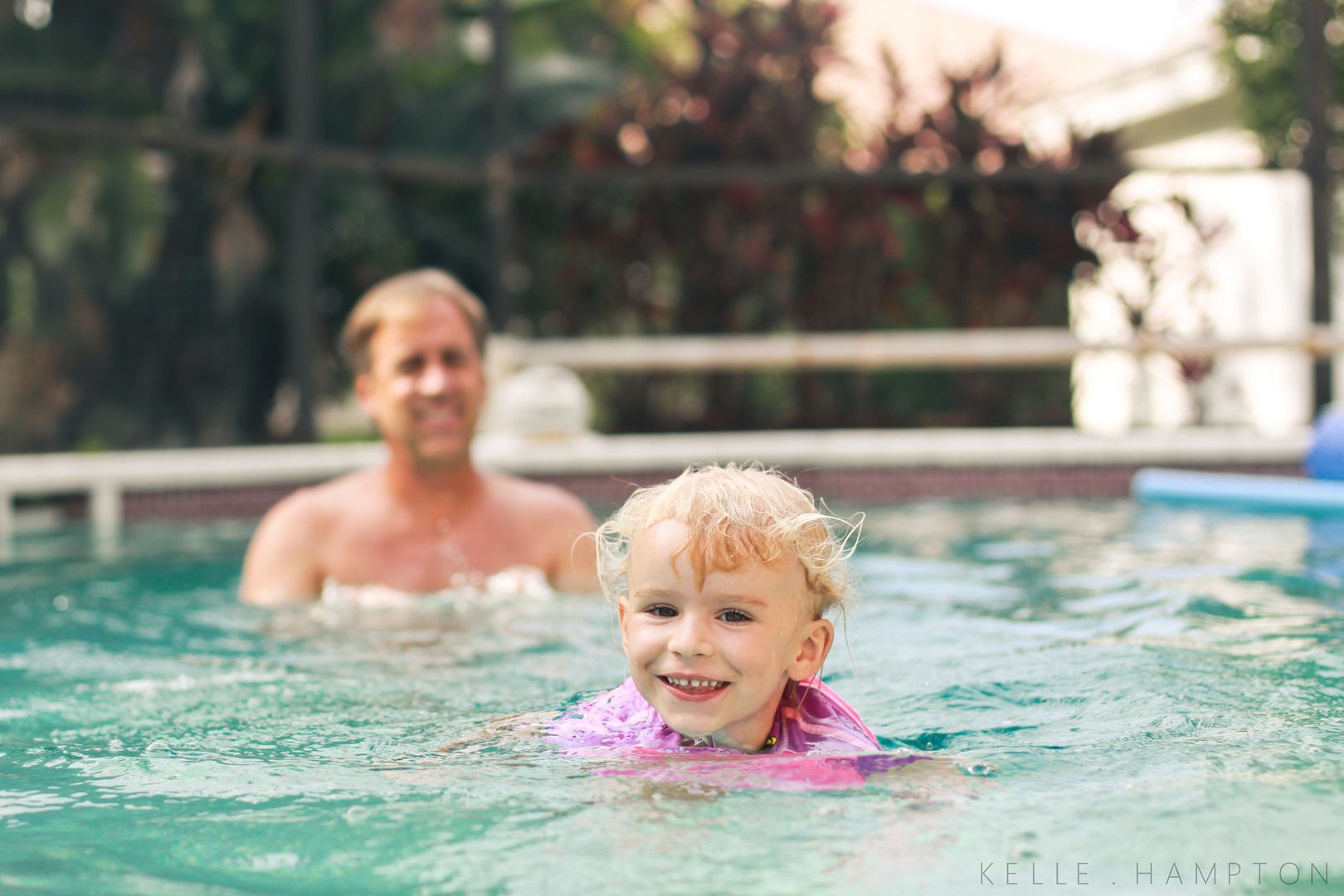 Like this badass Esther Williams-esque bathing suit? I'm in love, and I'll tell you about it and give you a coupon code in a moment.

******************
I am completely embarrassed by my temporary thank-you card paralysis. I used to be good at it. Really good. I had boxes of thank-you cards and linen stationery I had collected over the years organized into drawers and tins of pretty stamps always at hand. I never let any longer than a week lapse after receiving a gift before a hand-written note was in the mail, and now I feel good if I remember to send an e-mail. While I never expect or need a thank-you when I give a gift, I'm uncomfortable with my gratitude relapse especially because Lainey is old enough to understand the important lesson of saying thanks. Together, we revisited the topic when she learned how to make her own thank-you cards for birthday presents the other day.
It was long and tedious, but she discovered not only how to neatly write her name in the process but how to tell her friends that they were appreciated. She scripted, I wrote, and I had to laugh as I penned out things like "Dear Sofia, I like you. Thank you for my present. Wanna come to my house? Hey, you can wear my green hat. I like macaroni. Love, Lainey"
Opportunities to teach our kids big life lessons like Don't Steal and Be Kind often present themselves overtly. I love the challenge of finding ways to teach our kids the less obvious smaller lessons of life. Like expressing gratitude with hand-crafted thank-you cards, stopping to pick up a littered soda can, or pulling out a few cookies from a fresh batch to save for a neighbor. I think about these things more now that I have kids. I don't necessarily preach a sermon about why we do them every time the opportunity arises. We just do it, and I know that the repetition of our actions and the occassional mention of "wouldn't this make Nana Kate happy?" will seep into the characters of our kids. Because really, these are the bigger lessons. You get a handle on these and Don't Steal won't be an issue.
****************
Summer calls for fresh produce or a trip to "the market" as Lainey calls it, a local outdoor produce mart a few miles from our house.
Nella ate this piece of watermelon down to the rind and cried when all that was left was a green gnawed-off stub.
I am not allowed to handle any produce. Lainey insists on picking out every peach, bagging each tomato and pushing her Fisher Price cart, heaped with toppling fruit, with no help to the car. She is careful in her selection, turning canteloupes like rotisseries, scanning apples for bruises, trading rotton strawberries for juicy red ones. And my favorite? The way she says avacodo. "Hot-oh-cod-oh."
***************
Lainey recently requested a breakfast date–just her and Mama. She wanted to eat donuts at "a special place." In keeping with her "meager hills are mountains" mentality, she chose her favorite fountain in front of a stretch of office buildings as her special place. Which basically means we sat eating donuts in our pajamas outside a plaza curb while people behind their office windows laughed at us.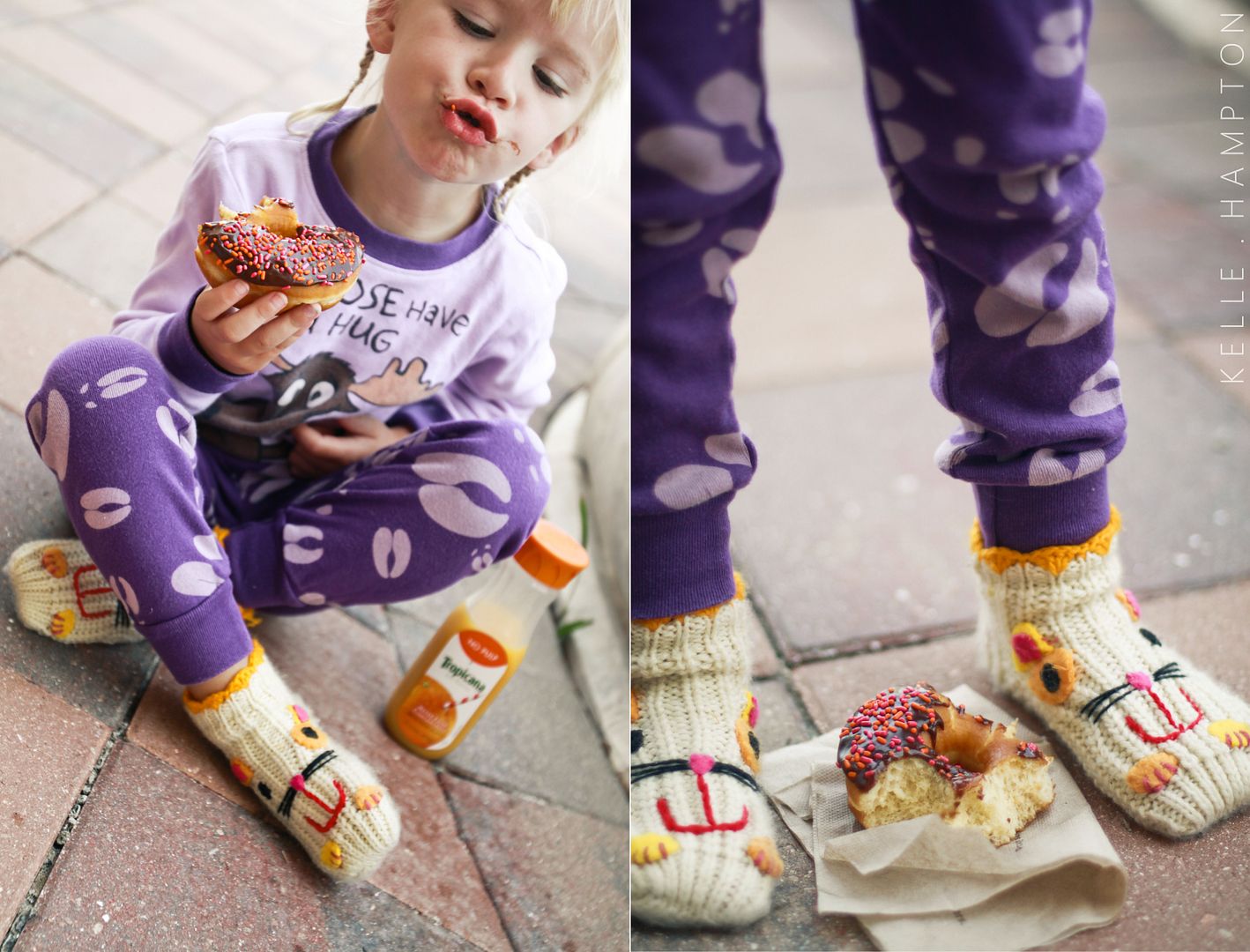 If hills are mountains, then certainly parking lots are pictureque piazzas.
Either way, my girl was satisfied.
**************
The leisure aura of summer is slowly creeping into our routine, and we happily welcome it. Even the mundane errands suddenly take on a new vibe, and trips to Costco become slower-paced while we wind our cart through aisles of beach towels, pool rafts and picnic baskets.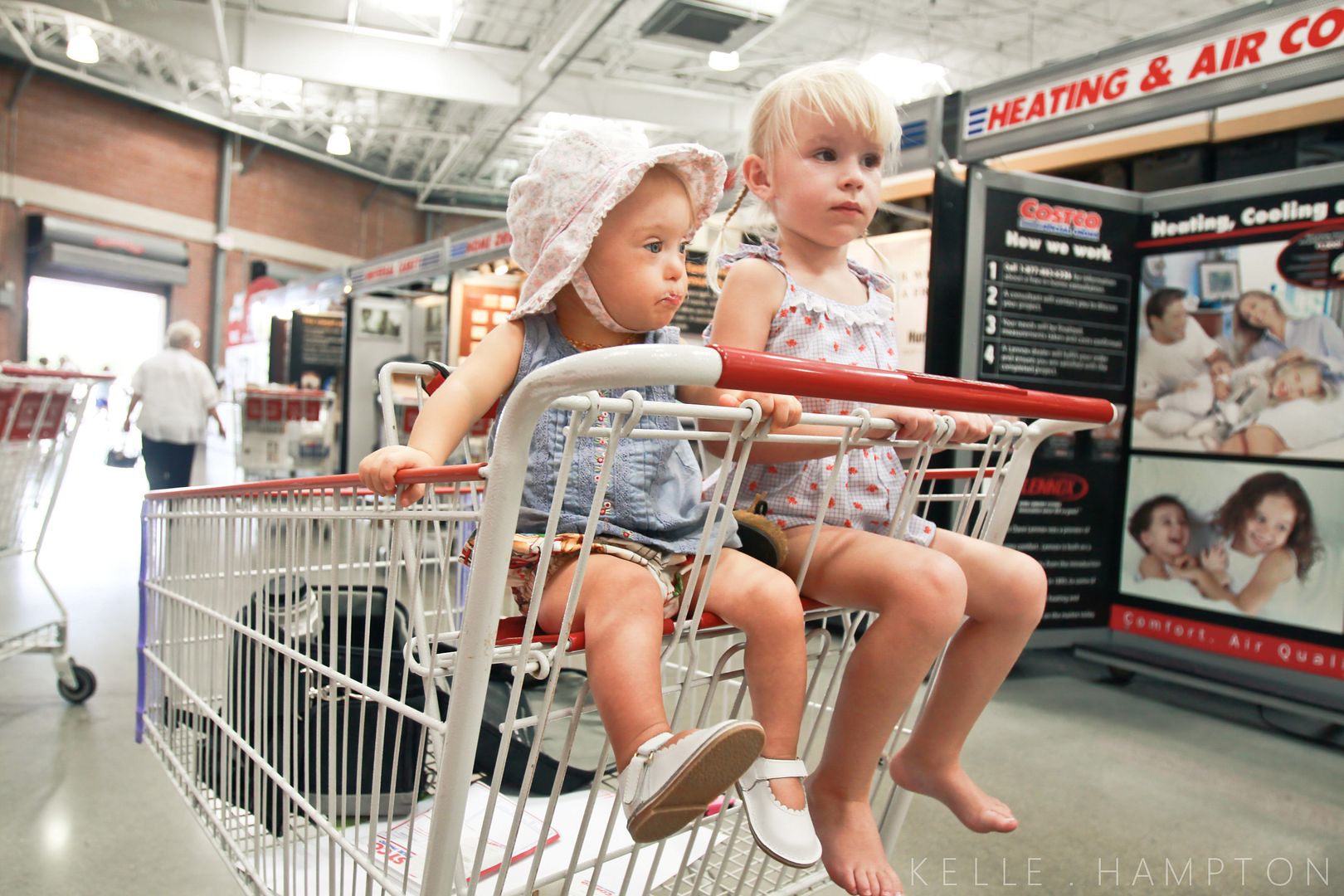 Now about that great suit. Popina Swimwear is renewing their sponsorship. Specializing in vintage inspired swimwear and the fantastic Jantzen swimsuits, Popina offers a great selection of suits that fit well and look great. They kindly sent me another suit, my favorite one yet. I feel very Esther Williams when I'm wearing it. In fact, I pretend I'm her when I'm practicing my full twist and split spin synchronized swimming moves. In this suit, of course.
I love it so much, I wore it as a shirt with jeans later in the day.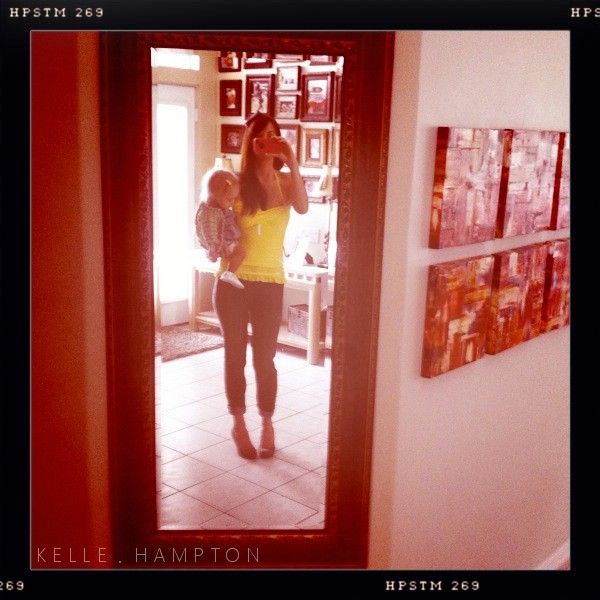 Use Code "kelle" for 15% off your order, coupon code good through end of June.
Sunshine beckons and I am itching to be off the computer and out doing something more productive. Have a fabulous day!